The Time I've Loved You: Episode 11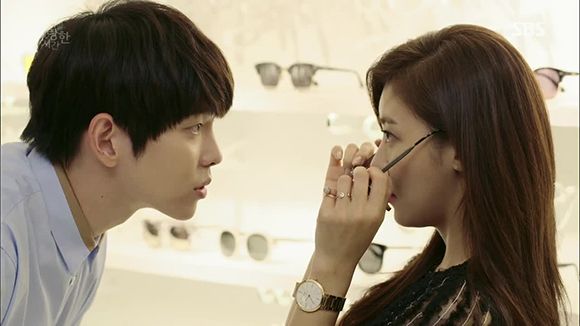 Awww yeah, these two are definitely where the action isn't. Get ready for more of the same this hour with some minor variations, though it's already an improvement over last week since things actually happen… slowly. If there are two constants that can be said of this show, it's that you always know what they're selling even if you don't know what they're saying, and that Seo-hoo's still the worst.
This week's recap delay brought to you by Dramabeans, KCON, and copious meat consumption. Regularly scheduled programming will resume next week.
SONG OF THE DAY
Every Single Day – "너와의 거리 (Our Distance)" from the OST [ Download ]
Audio clip: Adobe Flash Player (version 9 or above) is required to play this audio clip. Download the latest version here. You also need to have JavaScript enabled in your browser.

EPISODE 11 RECAP
Dae-bok sends Hana a text for her to come back to the house since Seo-hoo's there, and while Dad would be content to not give him the time of day, Mom lets Seo-hoo say what he's come to say.
"I'm sorry. This time I won't disappoint you," Seo-hoo tells her family before adding, "I will marry Hana."
They barely get time to react to that bombshell before Hana drags him out of her house. It's interesting how she caters to him even though she's upset with him, and him just confronting her on the issue seems to get her to back down. (Seo-hoo: "Did I do something wrong?" Hana: "It's not something you did wrong, but…")
She tries telling him that he should've consulted her first before bringing up marriage in front of her parents, and Seo-hoo obstinately defends his actions because he's really going to marry her.
Hana sighs that the problem isn't whether they get married, and asks him to try considering her position. He asks whether her dragging him out of the house was her "position" before that he's trying his best, and he's going to get very angry if she fails to acknowledge that. How dreamy.
Dae-bok texts Won to tell him that Hana dragged Seo-hoo out of the house, and he finds her sitting alone in a nearby park. He debates whether to call her but just texts instead, acting like he doesn't know what really happened. Hana doesn't volunteer any extra information.
They continue on that way via text for the rest of the evening, with Hana remaining unaware that Won is the only other human being around.
She goes home to find her parents' door closed, while Dae-bok offers his two cents on the matter: he'd honestly thought his sister had Dissociative Identity Disorder when she came back from Paris after dating Seo-hoo there.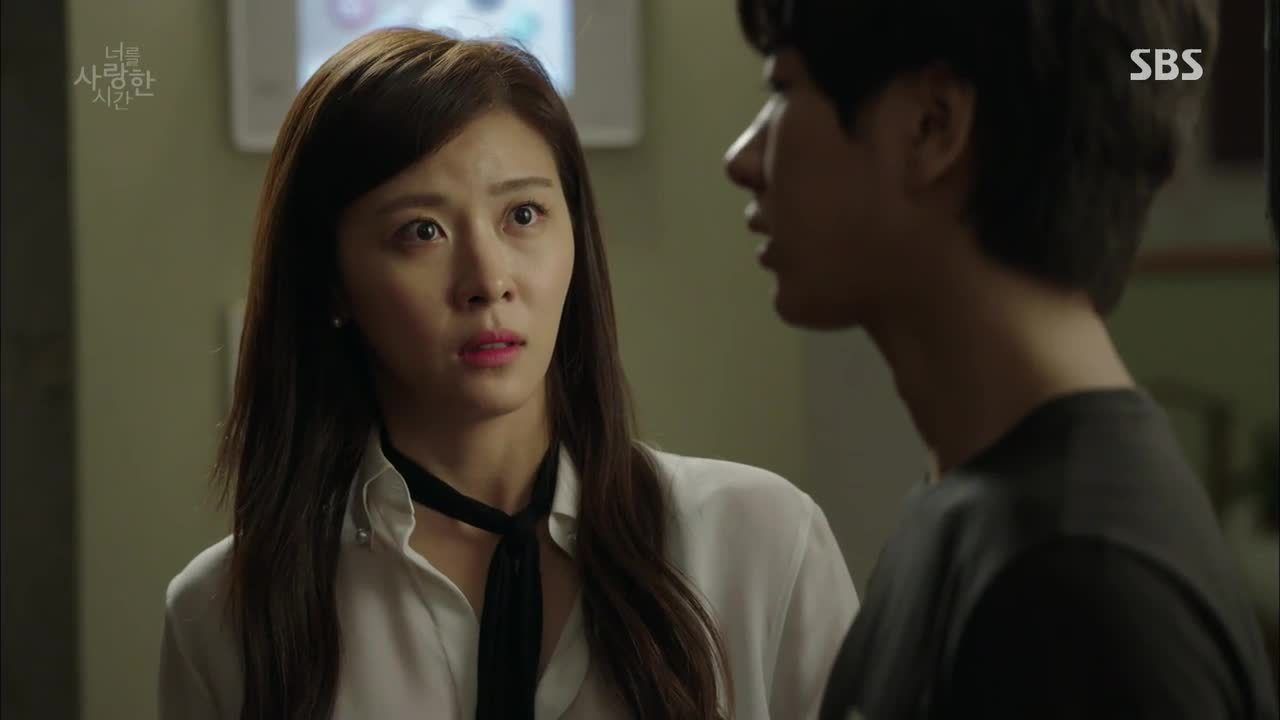 He admits that seeing her change so much so fast was scary, but seeing her after her breakup with Seo-hoo was worse. Therefore, he can join the club of people who are against her getting back together with that "rabbit jerk."
Later that night, Hana thinks about how upset her whole family is over Seo-hoo, but remembers how he promised he was trying his best. I guess that's enough for her.
Hana goes out with Na-young and newlywed friend Jung-mi, who both give her differing opinions on the whole Seo-hoo situation. Jung-mi sees the bright side of Seo-hoo, and thinks that Hana shouldn't have dragged him away in front of her parents—after all, he was there to talk about marriage.
Na-young is the voice of reason, stating simply that she doesn't like him after he left for three years, came back, and told Hana's parents he was going to marry her. Hana's kind of stuck on the matter herself, and just sighs that she wishes Seo-hoo was more cautious, while Na-young warns that she doubts he'll ever think before he acts even if he were to come back from the dead.
Brief cut to Hana at work, where she sees a pamphlet for their company's collaboration with Seo-hoo and texts him: "I know you're trying. Thank you."
Won has a needlessly extended scene where he does nothing but teach the newbies how to properly open champagne and wine on flights, and Mi-hyang notes that his enormous one month trip certainly seemed to make him more charismatic.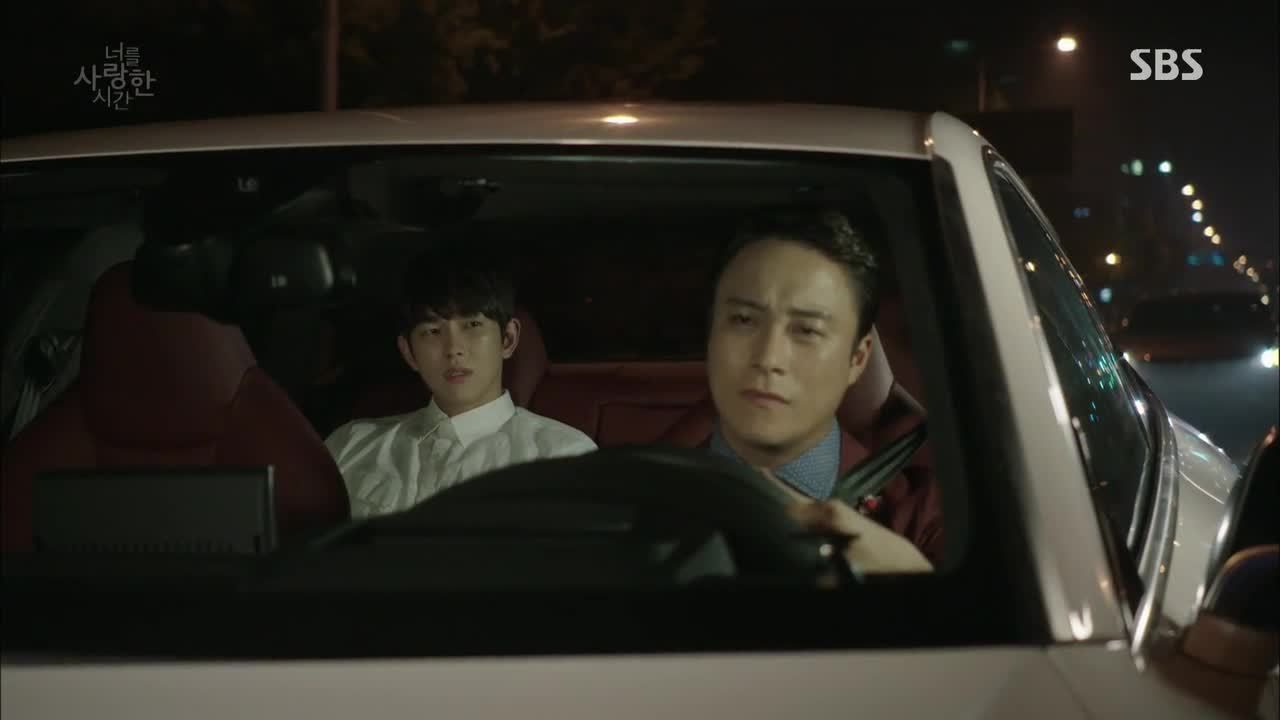 The president of Seo-hoo's Big Bad Agency is arriving soon, which Seo-hoo takes to mean that he should play hard until she gets here, since she'll take up most of his time.
His manager sighs that the only reason why Seo-hoo doesn't want to be busy is because of Hana, and uses her name to double as the number one (since hana means one) when he says sarcastic things like: "Of course. It's really important to never lose the one."
Hana runs into Won while getting some snacks for her mom, and Won figures that she and Seo-hoo must've had a fight if she's alone. After a lot of small talk, Won finally works up the courage to ask how she's been, which Hana calls out as a necessary question that came pretty belatedly in their conversation.
Still, she says she's doing well at work and with Seo-hoo. When Won asks if she's bragging that her relationship is going well, Hana claims to know that what he really wanted to ask was whether Seo-hoo is giving her a hard time.
"I'm telling you now that I'm fine and everything's going well," she adds, a bit too emphatically. As if to prove she's trying to convince herself more than Won, Won stops walking with her just to watch her instead, and she fails to notice.
Hana brings her loot home to Mom that evening, and only after an unrelated apology does her mother note that Hana has had a lot to be sorry for lately. "Then what should I do? I like him," Hana says.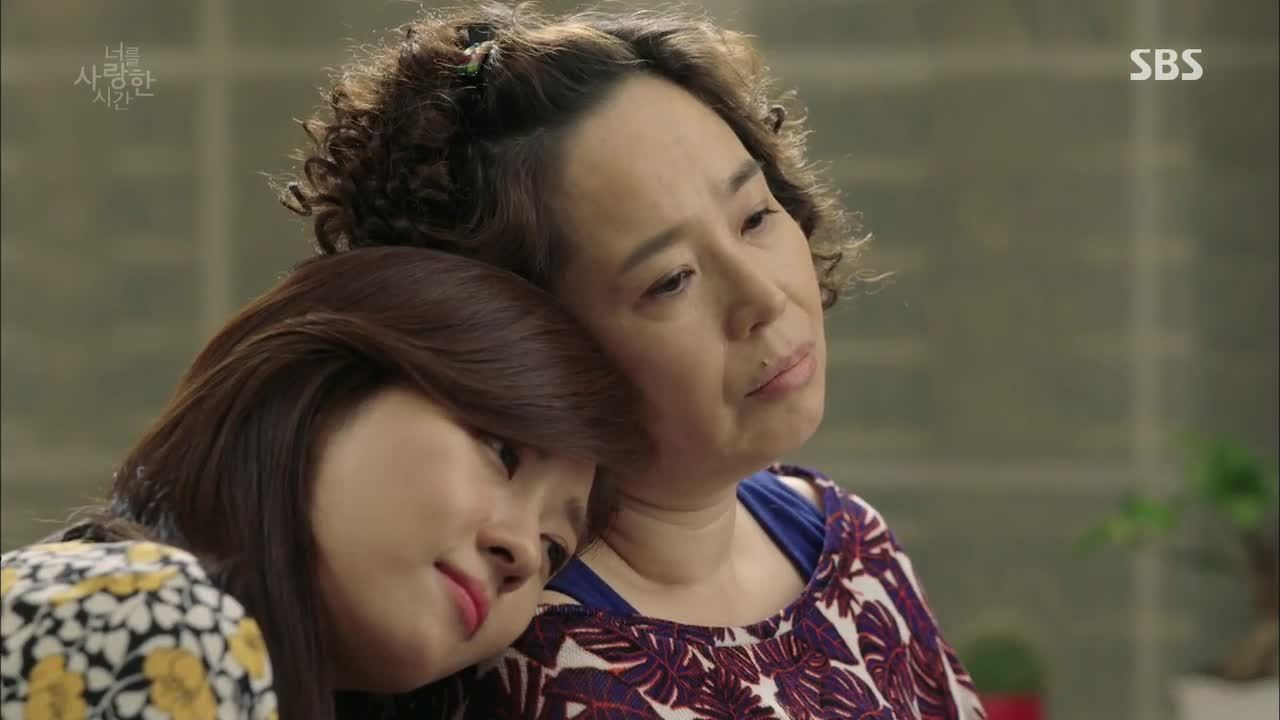 Mom isn't happy about it, which prompts Hana to ask why she hasn't said they can't ever date. And that's because Mom knows that saying something like that would change nothing—besides, she knows how stubborn her daughter is, and if it was something Hana would give up just because she said so, she wouldn't have done it in the first place.
But, she warns her daughter, falling in the same place twice (so, breaking up with Seo-hoo again) would be pathetic. Hana doesn't seem to register any of the risks, and instead asks how Dad's been taking things.
After another quick cut to Won at work, this time preparing a bus that'll give food to the needy on behalf of their airline, we cut back to Hana meeting Seo-hoo at his new apartment.
He claims he got it because she wasn't comfortable at the hotel, causing Hana to remark, "You really are the same." She flashes back to a similar situation when he'd gotten a new apartment and gave her the keys on a sparkling rabbit keychain.
"This is where I'll be living now, and where you'll be," he'd said with a smile. Hana blinked before asking if she was being proposed to just like that, and he pulled her into an embrace by way of answer. In the present, he shows her a closet he's also stocked with purses and shoes just for her.
Won's airline hosts an outdoor event giving out free food and even haircuts to country ajummas, which Won jokingly claims to know how to do because of his time in the army.
So-eun earns points with the ladies by speaking in their dialect, and actually manages to grab Won's attention without meaning to this time.
Hana and Seo-hoo go on a sponsored trip to a fine sunglasses boutique, where she helps him pick out the perfect pair. He seems visibly shaken by a call he pointedly ignores—must be the president from his Big Bad Agency.
She tries on his pair and he goes back to being normal (or his version of it), as he looks her in the eye and tells her, "Have I told you that I like you because you're pretty?"
Things get a bit awkward in the car when Hana tells funny stories about her friends only for Seo-hoo to dryly remark that he can't find her anecdotes funny unless he knows the people she's talking about. But then he gets a call from President Min of his Big Bad Agency, which cuts the date short.
Manager Yoon meets with Director Byun to talk about options should the benefit concert be postponed (no one mentions that it was outright cancelled before), before checking in with Hana. He tells her that Seo-hoo's agency president is coming into town, and that he didn't tell her because hd didn't want to concern her.
But he's telling her now because there could be problems with the collaboration because of it. Hana calls Seo-hoo without luck, and only starts putting the pieces together when she remembers how strange he'd been acting around his phone lately.
Mi-hyang's autograph from Teacher Park included an invite for a date, so she gets all spruced up just to go to a little restaurant that serves messy gamjatang, or pork bone soup.
Teacher Park is much more nonchalant about the date than she is, though he wants them to meet often like this for food and tea. He doesn't really respond to Mi-hyang playing coy—after all, they're past the age for that, aren't they?
Hana happens upon Won at their nearby corner store and sits down for a beer with him, though she keeps the talk to work and not personal affairs.
After telling him that she got the Jumei project back at work, he tells her that their newlywed buddy Chang-soo missed his honeymoon flight. I'm guessing the small talk is because they don't want to address the elephant in the room.
Dad is your typical dad when he doesn't address the topic that's been putting distance between him and his daughter, instead acting like nothing happened at breakfast the next morning.
Seo-hoo picks President Min up from the airport, and seems visibly uncomfortable when his boss slips her arm into his and suggests he take her sightseeing. Won's brows furrow when he sees the two of them getting into a car together.
Seo-hoo unenthusiastically asks if President Min has come into town just to stop him from doing what he wants to do. "Do what you want to do," she says with an easy smile, "except for what I say you can't do."
Reminding him that he wouldn't be anything without her, she tells him that he'll be leaving in a few weeks for a schedule in Venice that'll take two years. He tells her he has no plans on leaving Korea, and picks up on her not-so-veiled threat that she'll leave Hana's company alone… for now. She knows that he's dating, and probably knows that Hana's working on his collaboration.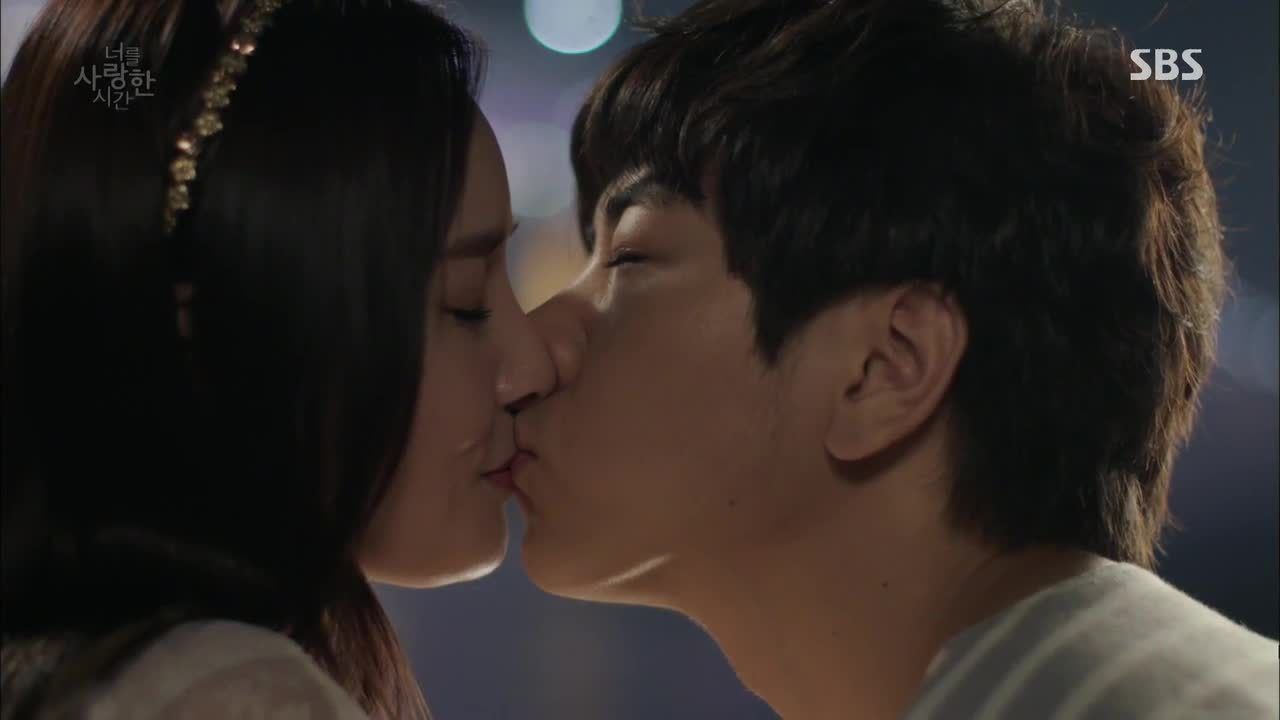 While Mi-hyang blames Won for making it difficult for her to accept a date with Teacher Park (now that she knows Seo-hoo was his apprentice), Won gets schooled by one of the Three Stooges for being too cold to So-eun at work.
Assistant Hong tells Dae-bok that there was a scandalous relationship between President Min and Seo-hoo, before pouting that he only ever wants to hear about Seo-hoo, and not about her.
To soothe her worries, Dae-bok kisses her on the cheek and then on the lips. I know, I know—he was born in 1989, but he still looks indecently young next to her.
Hana finally asks Seo-hoo if there's something going on with his agency, and he responds that it's just normal stuff, like contract issues. When she asks if he's really okay, he jokingly asks if she's worried about him or the collaboration project before assuring her that there's no reason to worry.
Seo-hoo finally gets to meet Hana's two girlfriends like he wanted to, resulting in an awkwardly stilted dinner. Both girls become visibly uncomfortable when Seo-hoo grabs Hana's hand and holds it under the table on his thigh, and if he picks up on it, he doesn't do anything about it.
He manages to say somethings that win Jung-mi over, like how he never got to meet them initially because he was in and out of Korea, and wasn't able to meet them recently because he was too busy dating Hana. Na-young mutters under her breath, "Then why didn't he show up for three years…"
Hana wants to avoid that question, and Seo-hoo kind of does and doesn't by saying he had "circumstances" which prevented him from coming the past three years. "That's why I'm being careful right now," he claims. "I won't make the same mistake twice."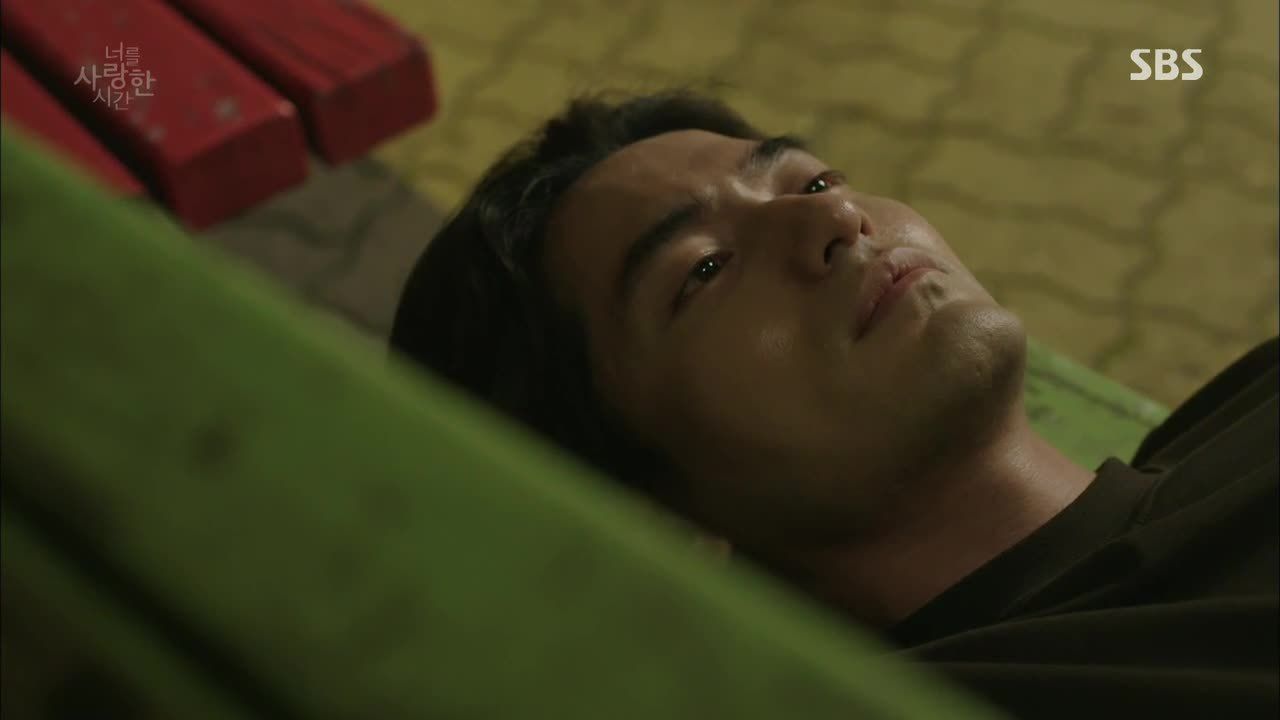 Her friends are under the impression that Won isn't at the dinner because of work, when in reality he's lying alone on a park bench brooding. When the subject of him having met Won is brought up at dinner, Seo-hoo comments on Hana and Won's closeness in a way that says he isn't really a fan.
Then he drops the same bombshell on her friends as he did with her parents: "Even if I marry Hana, they'll still be close, right?" There's silence between Hana and Won on the car ride home until she tells him they should talk.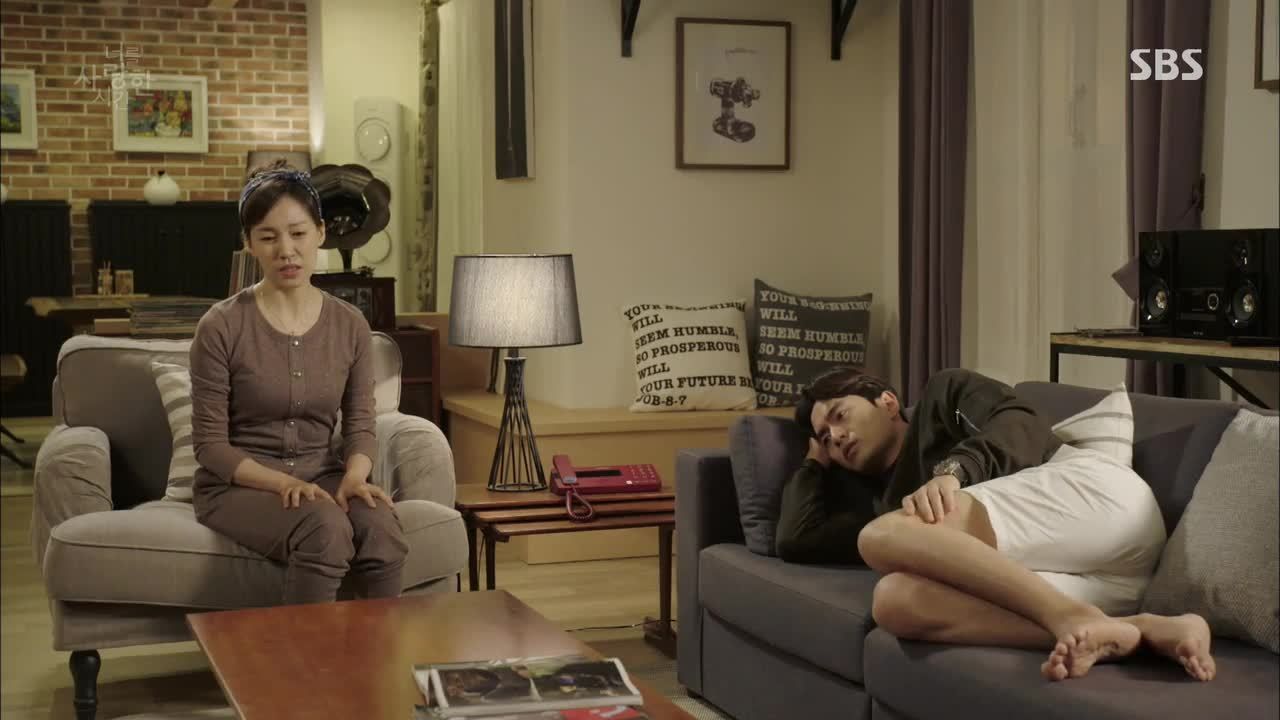 Won switches to brooding at home, where Mi-hyang confronts him over Hana dating Seo-hoo again—what else would explain his mood lately? When she finds out for sure, she chastises Won for his terrible, terrible timing and mentions that the last time she ended up this distressed about him and Hana was when Hana first started dating Seo-hoo.
But through her complaints, Won is able to figure out that she's pining over someone and asks if she's in a relationship. "I was thinking about it, why?" she barks defensively. She'll have no more talk on the subject, since she's embarrassed as is.
Hana and Seo-hoo go for a very slow walk to discuss their problems, most notably with Hana wondering why they keep getting into uncomfortable situations when they just got back together. Seo-hoo: "We got back together and I said I want to marry you. What's the problem?"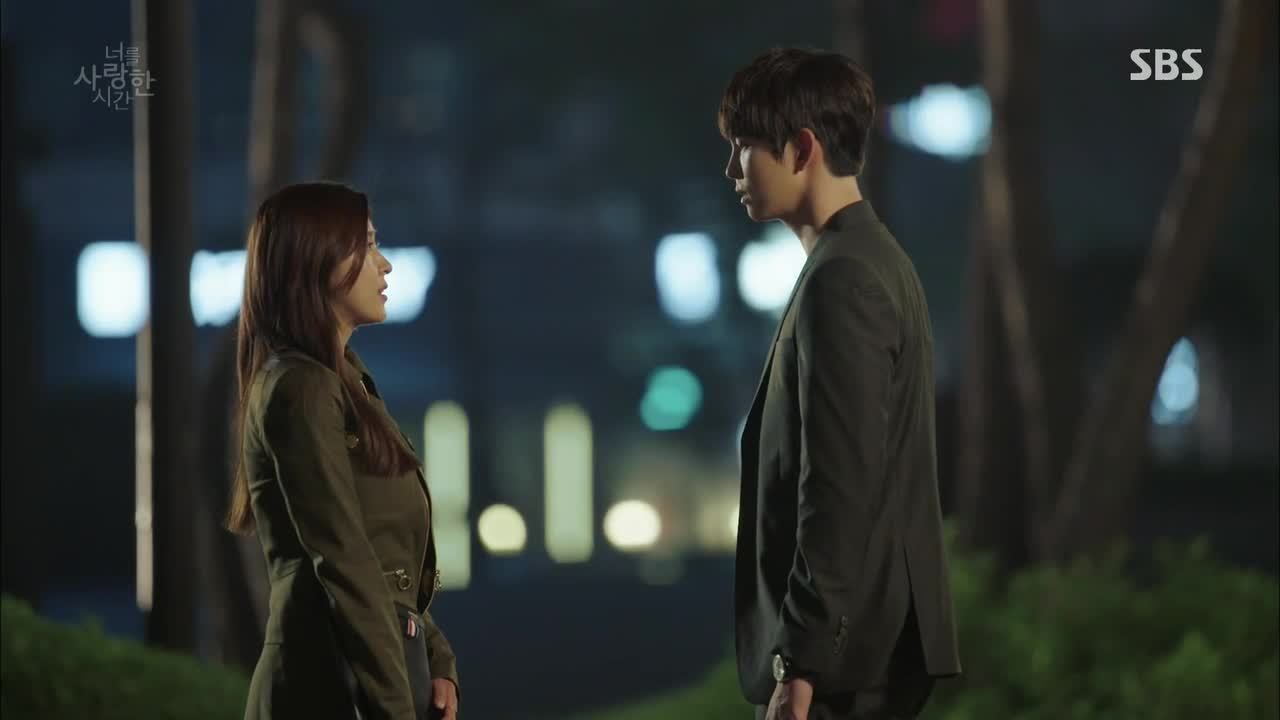 She tries to placate him by saying that whatever the reason for his three year absence, she's back with him and trying her best. He doesn't like the word "trying," even though she puts it in the context of her trying to forget the past and think only about loving him.
What he wants to know is if she's acting this way because of Won, which seems to come out of left field. She doesn't understand what Won has to do with their problems, causing Seo-hoo to angrily wonder why she hasn't asked why he was gone for three years. Why haven't you just told her?
"What difference would it make if I knew that? I thought if we met again then our past has to be forgotten, because it will hurt us if we bring it up," Hana returns, once again proving that she's not the brightest crayon in the box. "I'm trying to say nothing happened before and forget about it."
But he can never forget that she was crying in Won's eyes that day, and even smiling at him despite the pain he caused. Tears spring to his black shark eyes as he adds, "When I said I wouldn't make the same mistake twice, I meant I won't lose you ever again. Whether it's because of Choi Won or not."
There must only be one road to get to everything around their houses, since Won bumps into Hana brooding on a park bench on his way home. He knows she's upset about something, and thinks back to Seo-hoo getting in the car with President Min. Is this going to be another case where he sees something suspicious he should report to her but doesn't?
He asks her what's going on, because he can tell something's wrong by looking at her face. She insists it's nothing still, and it's because she knows their relationship is one where they can just look at each other and know, she doesn't want to discuss things further.
But Won stops her by the wrist and tells her as comfortingly as possible, "Oh Hana, I told you I'll be your friend. Didn't I tell you that I'd be on your side?" Hana: "I know. That's why, because you know too much… because you know everything… I can't say anything to you. Our relationship now has to be that way." She pulls herself free from his grasp, and leaves.
Hana runs into President Min at work the next day, and the tension between the two turns weirdly confrontational when Min compliments(?) her on her work with Seo-hoo's project. Alone. "Please take good care of our Seo-hoo," she says with a manufactured smile.
Won's thoughts drift toward what Hana said last night while someone else conveniently spouts all the wonderful features of their aircraft, and he gets the same housewarming invitation for the newlywed couple as Hana.
But Hana encounters more gossip at work, this time about the scandals Seo-hoo had with his sponsor/President Min while overseas. It doesn't ease Hana's worries when she calls Seo-hoo and receives no answer, or when Assistant Hong notices that Seo-hoo's not coming around the office the way he used to.
Hana and Won both end up buying toilet paper as a housewarming gift for Chang-soo and Jung-mi without knowing it, and are accused of doing their gifting in a "buy one, get one free" sort of way. Besides, toilet paper is considered a good housewarming gift since it's said to bring luck and long life to the couple.
The old friends talk about Won's last serious girlfriend in college, though Hana denies their claims that she hated that girl. But then they figure out that Hana's trip to Paris—and her subsequent relationship with Seo-hoo—happened because she moved the dates to take graduation pictures with Won.
Na-young's all, "So you met Seo-hoo because of Won?" She also notes that their destiny must be really off-kilter if they were meant to be lovers, which Won awkwardly laughs off.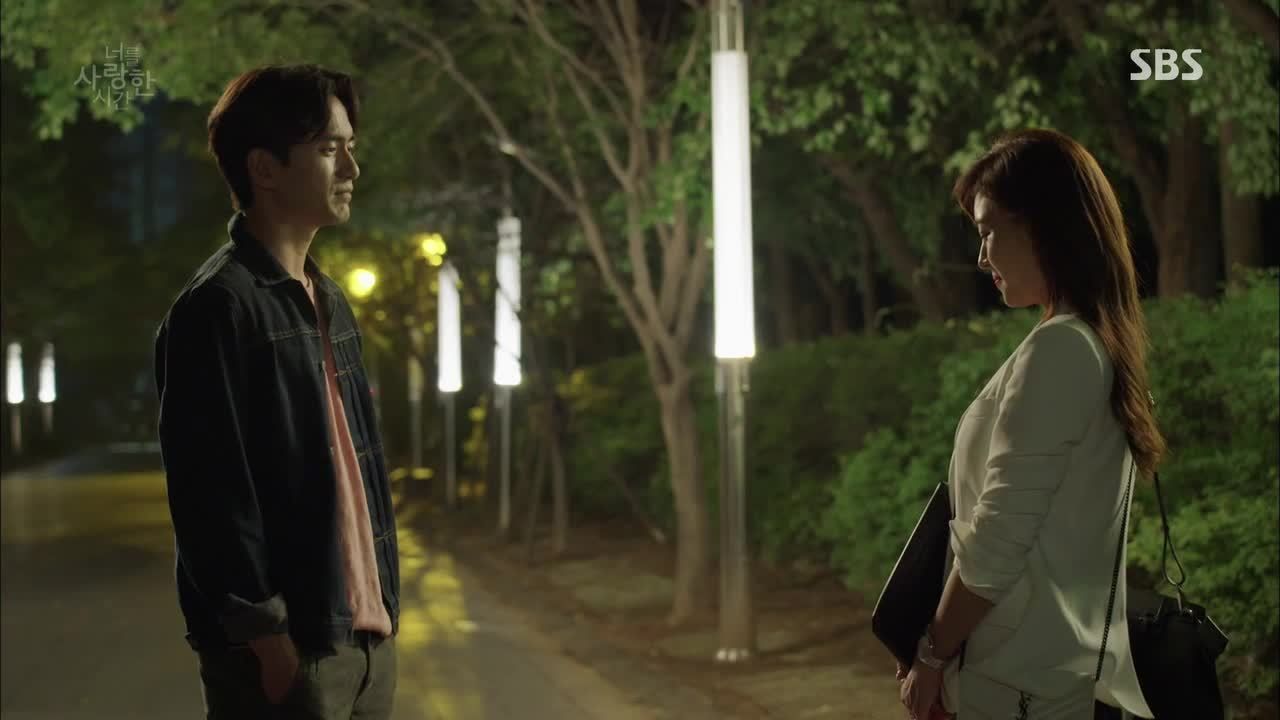 Later, when Hana comments on how the two newlyweds just act like best friends because that's what they were first, Won mentions that their relationship is nothing to sniff at either. "Don't you think our relationship is something great? After all this time, what don't we know about each other?"
Even she acknowledges that they know everything about each other, which is exactly his point. He doesn't want her claiming she can't tell him something and that that's how their relationship has to be.
"Let's not get to where we can't even be friends," Won says with a smile. "Let's go back… to that place where we had fun and were happy."

COMMENTS
Does he mean their super secret rooftop? I'd say that they haven't gone there since Won's hotly contested confession, but that'd mean that whatever he said to Hana in that park was a confession, and that people cared enough to hotly contest it. I don't think either of those things happened. Some words were said, verbs were included, and both of them left that conversation more confused than when they started it.
But then Won's magical one month trip happened, which seems like such a bizarre span of time to use when he'd just decided against a two year overseas training opportunity for Hana. He'd plainly told her that their relationship wouldn't be the same if she dated someone else, only to come back a whole thirty days later and say instead that nope, everything was going to stay the same—he's always going to be her friend, and he'll always be on her side.
Even though Won is about as cryptic as everyone else is in this show about their true feelings, I alternated between feeling sorry for him and being angry at him for his inaction this episode, which I guess is a step up from feeling nothing when he got five whole minutes of screen time last week. I can understand shifting the focus to Seo-hoo as a romantic rival if it was meant to highlight Won as being that much better for her, but instead this whole ordeal is making Hana look worse and Won look almost simple with his inability to just say something.
So it's something of a step forward that he did finally say something at the end, even though all his confrontations with Hana are probably a lot less direct than she actually needs right now. He's a lot less direct than she actually needs right now, which is where I can kiiiiind of see where Seo-hoo wins her over by being creepily confrontational even if that doesn't make him any more honest. But at the same time, if Hana's so wooed by being ordered around and controlled, why are we even wasting our breath here?
It bothers me that Won sees the forest for the trees when it comes to Hana and Seo-hoo but says nothing, since this'll mark the second time (that we know of) where he's seen Seo-hoo engage in suspicious behavior with other women without telling Hana about it. I get where he might not want to interfere with her relationship and otherwise influence her decision-making at all, to an almost detrimental degree—… wait. Y'know what, I don't think I get him after all. Or Seo-hoo. Or Hana.
On second thought, especially Hana. If history exists for us to learn from our mistakes, then it's not something to forget. Forget throwing us a bone, I think it's more important that she throw herself one first.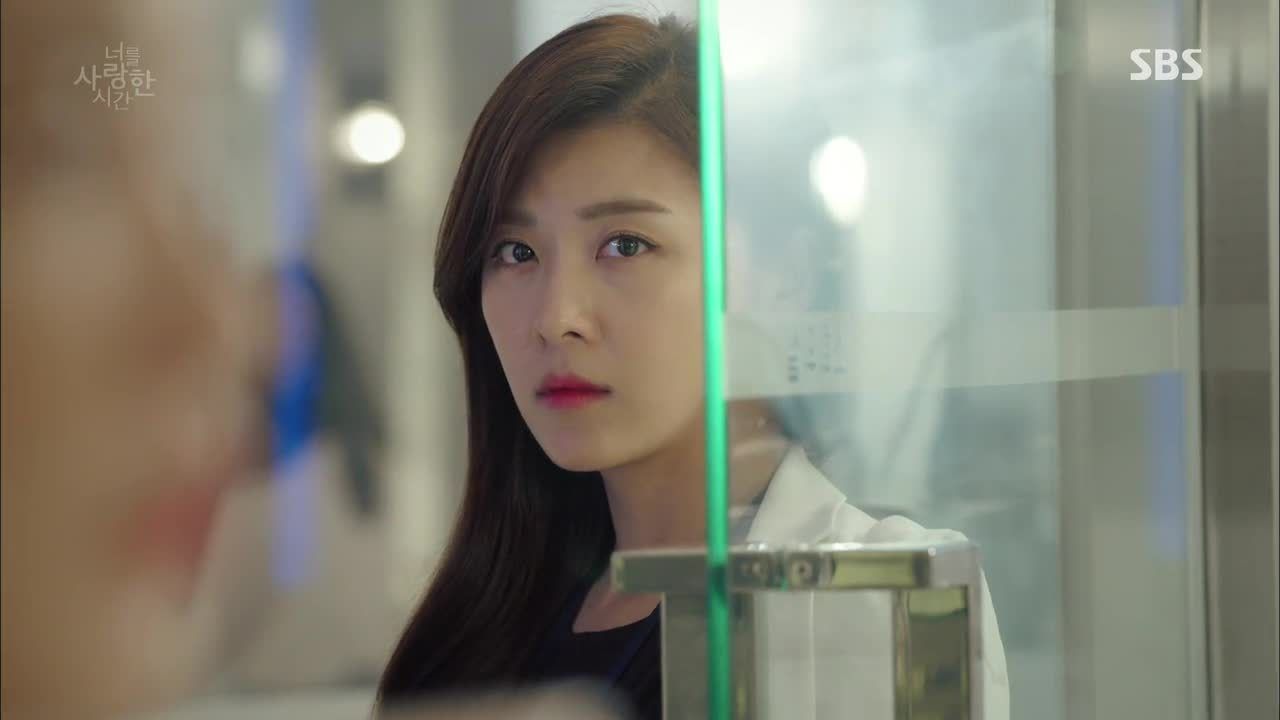 RELATED POSTS
Tags: featured, Ha Ji-won, Lee Jin-wook, The Time I've Loved You