The Time I've Loved You: Episode 12
After all this time, some major problems the show set up for itself are finally addressed—though the conveniently timed pseudo-explanations may (nay, will) leave you with more questions than answers. But at least there's some forward progress with Won, even if it took seventeen years for him to just change his mind. At the end of the day, it comes down to honesty and openness, of which no character has in spades. Or even in travel size. Or at all.
SONG OF THE DAY
HISTORY – "난 너한테 뭐야 (What Am I To You)" [ Download ]
Audio clip: Adobe Flash Player (version 9 or above) is required to play this audio clip. Download the latest version here. You also need to have JavaScript enabled in your browser.

EPISODE 12 RECAP
Now that Won wants them to go back to being the way they once were, Hana mentions how she felt like she'd lost him as a friend when he went on his endlessly long thirty day trip. But then she worried that she was being selfish by wanting to be that close to him again.
Won smiles at her and says that just because they've spent seventeen years together doesn't mean that they have to become lovers or anything. "I think it has a deeper meaning to it than that," he adds.
"As friends?" Hana clarifies. "As friends," he replies, then takes her by the hand. She jokes that she'll support his relationships in the future, and he jests back that supporting isn't enough—she has to refrain from judging his girlfriends too harshly.
Cue Seo-hoo, who's seen some of the exchange and breaks things up by grabbing Hana's hand. "Whether you two are friends or not, I won't tolerate you being close to Hana," he growls before dragging his girlfriend away.
Seo-hoo tears into Hana once they're alone for going straight to Won after they fought, and this time, Hana actually defends herself and tells him he should've asked her why she was with Won before jumping straight to being angry with her.
Won is her friend, she adds emphatically, just like he was the day Seo-hoo left her and today. He doesn't believe her, which only rankles her more—why doesn't he believe her? Why did he leave her three years ago without saying a word when he could have just confronted her like this? And didn't she not care about this one episode ago?
"Despite what everyone said, and even though my family didn't approve, I chose you over my longest friendship. Because even the memories of being hurt by you didn't matter at all to me. Because you are someone I can't push away," Hana says.
Seo-hoo pulls her into an embrace then and says he's sorry. Hana's anger instantly melts away, while Won is left to wander home in sadness.
Hana has a frosty meeting with President Min at work the next day, since she won't just lie down and take it when the agency woman casually tells her to leave the collaboration project, since the benefit concert she's been planning with Seo-hoo might be cancelled.
When asked whether she's discussed this with Seo-hoo, President Min simply says that she's the one who represents the company. If that's so, Hana replies, then her job is to take care of her artist's reputation—and how is she going to do that when she keeps canceling his scheduled events?
President Min takes offense to this, since she's not used to being criticized. "I'm not criticizing you. I simply don't understand," Hana clarifies. She doesn't take President Min's answer that there will always be things in this world she can't understand, and says that's not an excuse in the world she lives in.
She calls Seo-hoo for clarification, but he just tells her not to take President Min seriously and to continue on with the benefit concert as planned.
On one of his flights, Won recognizes one of his old high school teachers and asks if he remembers him. The old man does, and flashes back to when he'd spotted a freshly beaten Won staring forlornly out the window.
He'd looked outside and saw Hana there, and drew the inevitable conclusion that Won liked her, though Won vehemently denied it. He'd admired Won for his writing talent back then, even though he'd cautioned Won not to become a writer, or else he'd end up hungry.
In the present, his teacher wants them to meet again, since he still has the script Won wrote in high school. Then he takes Won by the hand and adds that he should live every moment without regret. So-eun watches the exchange and sighs that Won really is something special.
Seo-hoo holds a fan signing event for Hana's company as he promised, which President Min watches with a sour expression.
Meanwhile, Mi-hyang goes on a date with Teacher Park at a jjimjilbang, which she is not happy about. But no matter how much she complains about wanting to break up already, Teacher Park takes it all in stride and just says he'll call her even after she says it's over.
Hana brings groceries home to make a meal for her family, and when Mom is all, No no, you don't have to cook, it's because she really doesn't want Hana to cook. No one does since she's awful at it, which send Dae-bok running over to Won's for help.
Of course, Won is the only one who would defend Hana's cooking, even though he's tasted its terribleness before. But when Dae-bok shares what he knows about Seo-hoo's scandalous relationship with President Min, Won remembers seeing them together at the airport.
The faces of Hana's family mirror the sad face on her shirt when she presents her homemade dinner to them, only for them to be surprised when it's actually good.
Won is devastated to receive word that the teacher he recognized on the flight has passed away from cancer and attends his funeral. Hana and their other high school buddies are also in attendance, and find that their late teacher left files for his former students by year.
One of their old classmates notes that this is only the second funeral he's attended for someone in their high school—the first being for a kid named Dae-yoon, who was a close friend of Won's. He looks uncomfortable when Dae-yoon's name is then brought up to Hana, who remembers him vaguely, but had no idea he liked her.
The files left behind by their teacher are full of photos of each of them (it's less creepy than it sounds, I hope), including one he took of Won when he was staring out the window at Hana. But in Won's file he's also included the script scenario he wrote, which he'd rather hide from Hana.
President Min pays an unwelcome visit to Seo-hoo, acting the part of the chaebol mother with how she gloats about being able to control Seo-hoo's dating life. Seo-hoo wants to end their contract, saying that he only made the agreement because of Hana.
So of course, President Min makes the jump in logic to justify getting rid of Hana in order to keep Seo-hoo bound to her by contract. She threatens him with telling Hana the real reason why he couldn't go to his engagement ceremony three years ago. (Writers v3.0: "Great news, guys! He's not an asshole, he's just a misunderstood noble idiot! Please like us now. Please, please like us.")
She just has one more thing to ask before she leaves: Why Hana? She doesn't need his answer though, since she smiles slyly that she always did like his immature side.
Seo-hoo goes running straight to Hana and pulls her into his arms before she can even ask what's happening. But even when she does, it's not like he's about to tell her anything even remotely resembling the truth.
He takes out his angst on the piano, and even though it's clear something's wrong, he refuses to open up to Hana. She mentions that he didn't even ask about her teacher's funeral today, and he asks about it robotically. How can she still be surprised that he's so inconsiderate?
Won pays a visit to the aforementioned late friend Eun Dae-yoon's grave, and remembers how his friend had entrusted him with love letters to give to Hana that he never delivered because of his own feelings for her.
"I'm not going to be sorry anymore for failing to deliver your letters back then," we hear Won say in voiceover, as tears stream down his face. "Now I can finally be honest with my heart's true feelings. I'll leave the immature and childish boy who couldn't confess his feelings back then here with you."
Won finds Hana walking home dejectedly after such a hard day, and she appreciates having him walk ahead of her, since it means she doesn't have to worry about her facial expression. Won, similarly, finds the same benefit walking where she can't see his face either.
She's her usual dismissive self when he asks whether she sorted things out with Seo-hoo, but she gets an unusual reaction out of Won when she asks to read his script scenario. He stops in his tracks, and any attempts to talk her out of seeing it don't work, so he just has to agree instead.
The Three Stooges want to do something for Won's birthday coming up, and all cheer in unison when he agrees to take them out instead. So-eun brings the boys coffee, which Won accepts gratefully before bowing out quickly. Not the effect she was going for, I'm guessing.
Despite her earlier protests, Mi-hyang joins Teacher Park for a much fancier date, though she's not prepared for the guests he's invited: Hana and Seo-hoo. Hana's also taken by surprise, and awkwardly lets her hand drop from Seo-hoo's grasp in front of her.
When they get a chance to talk in private, Hana's first reaction is to apologize to Mi-hyang, even though Mi-hyang doesn't see a reason for her to be sorry. "I understand Won's feelings, but I understand yours too," she claims.
Relieved, Hana plays the strength-based arcade game outside her and Won's local corner store. Won knows something must be up when he spots her, so he takes her to a spot where they can drink beer and talk. Whatever happened to their rooftop hideout, anyway?
Hana sighs that she doesn't understand why she feels anxiety even when everything in her life seems to be going well, though Won claims that sometimes it's more stressful to deal with everyday things rather than extreme situations.
Going to their teacher's funeral reminded Won of when his father passed away after being ill for so long, and he's specifically reminded of the last moment they shared staring into each other's eyes before he died.
Hana remembers that moment in his life and how Won cried, which seems to surprise him: "Even in those days, you were there." Of course, Hana replies—that's the history of their loyalty to each other.
To honor that history somehow, Won offers himself as a human punching bag instead of the arcade game. Hana gives it a go, but he catches her fist before it can hit his face, totally shocked that she was actually going to punch him if he hadn't stopped her.
Mi-hyang feels like she has to tell Won that she ended up going to lunch with Teacher Park, Hana, and Seo-hoo, but his reaction is practically a non-reaction aside from him wanting to meet the man she's dating. He reassures her that she has no reason to feel guilty for liking who she likes.
The next morning, Hana leaves Won with some healthy cookbooks addressed to "the friend who dodged my punch" on a post-it. Assistant Hong finds Dae-bok at his part-time job and asks why they can't make their relationship common knowledge, to which he replies that it'd look bad for her to be dating her boss's brother.
Until he can get his own big time job, he'd rather keep things quiet for now. Assistant Hong is so enamored with him that she'll do anything he says.
Won visits his old high school to do a special alumni presentation, where he takes questions from the class about his job and life. He admits that his original dream was to be a movie director and not a flight attendant, and that he gave up on that dream because he didn't have enough talent.
He says all of this very positively, but gets caught off guard when a line of more personal questioning ends up with one student asking him if he also gave up on making his friend-who-is-a-girl into his girlfriend.
It gives Won pause, enough to admit to the class that he shouldn't have used the term "give up" in the first place—especially with youngsters who are still new to the whole concept of having dreams and goals.
"Rather than saying I gave up, I think I should say I'm waiting for something better to come along. Even though I'm a flight attendant now, if a chance arose, I could become a movie director. In the same way, a friendship has a chance of turning into love," Won tells the class in a moving monologue.
Walking the same path he and Hana used to walk together, Won remembers hiding his script scenario (entitled Summer Day) from Hana back in high school. In the present, he calls himself a fool.
After a messy cut in and out of Hana's office where Director Byun tells her that the benefit concert will be canceled, Hana meets with President Min to ask why she's so insistent on canceling the concert when it'll be the second time they've canceled a domestic concert.
If you thought President Min got her position because of her business savvy, think again—the only reason she gives for canceling two concerts is that Seo-hoo will choose her over Hana.
The speech that follows has been said by every generic chaebol mother ever, all "Settling down with a girl would waste his talents" and "You can just date and then break up with him." The only difference is that President Min isn't Seo-hoo's mother, but the dynamic is the same old, same old.
Visibly shaken, Hana calls Seo-hoo to ask him to come to her—only she won't tell him where she is. "Just come and find me," she sniffles. "There aren't that many places for me to go. Honestly, I'm not even sure where I am right now. I'll be waiting. Come find me." I solemnly swear that I made none of that up.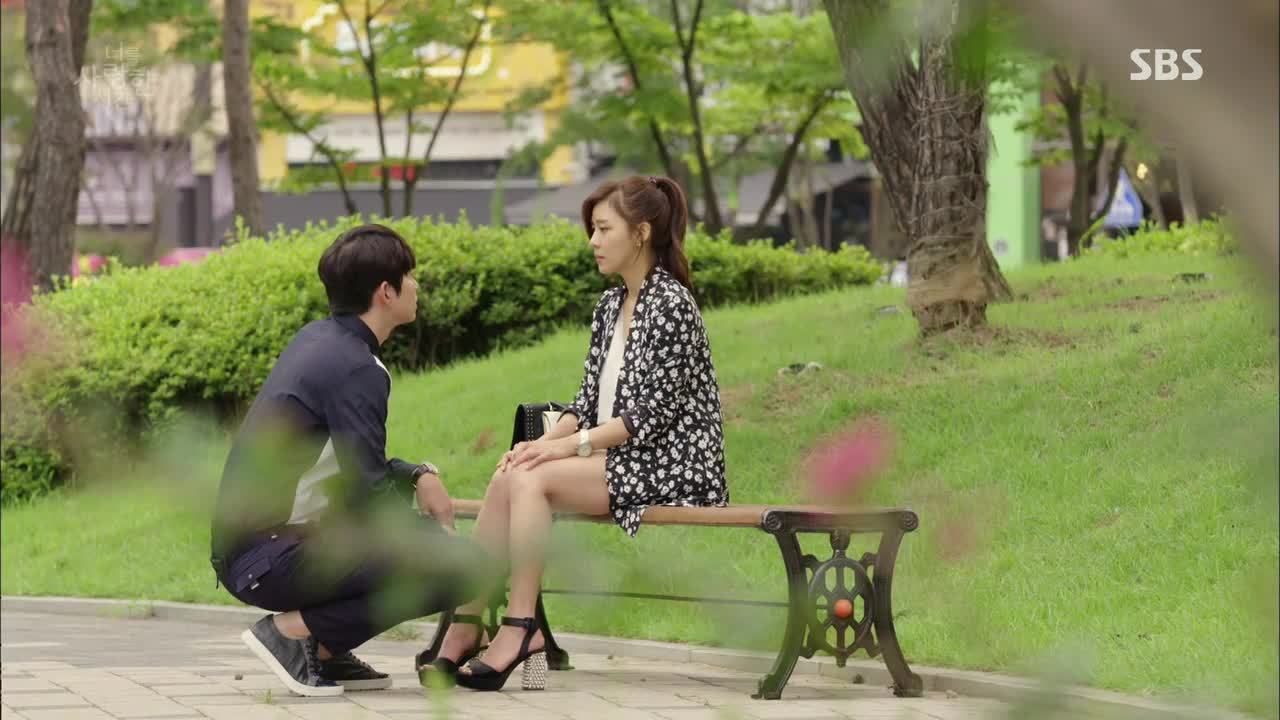 Seo-hoo finds her at the only park she ever goes to, because it was the last place they had a fight. He kneels down to break the news to her that he'll have to go to Austria for just one week to sort out the performance dates President Min committed him to without his consent.
When Hana finds out that he'll be going with President Min, she begs him not to go. It'll really be over between them if he leaves this time, even though he tells her it's because of work and he'll be right back.
"If you really have to go, then don't come back," Hana all but cries. "I don't have anything else to say besides that." Except she does, because she tells him that she'll imagine bad things during the time he's gone. When he asks what kind of things, she answers in such a vague way that I'm not even sure she knows what she means.
She's so adamant about not wanting him to go that Seo-hoo asks if something happened, to which Hana's only answer is, "Just don't go. Just stay! Can't you do that?" He reminds her that it's just one week, and she drops her head. If he's already decided, there's nothing she can do but whine.
Dad's suddenly changed his mind about liking Seo-hoo, and the irony isn't lost on Hana as she says in voiceover: "I wanted to be able to talk to my family comfortably about starting this relationship over again. But I never thought that those kinds of casual remarks would make me so sad."
Then she buries her face into her pillow and sobs uncontrollably.
Won makes the Big Decision to let Hana see his high school script scenario by leaving it in her mailbox ("To my friend with a strong punch"). At work, he sees Seo-hoo and President Min before their trip together and likely figures out what's going on.
Hana doesn't respond to a text Seo-hoo sends her to remind her that he'll just be gone a week, and that he'll be able to do the benefit concert once he returns. Instead, she sits down to read Won's script from beginning to end, unable to put it down.
Won thinks about what his late teacher said to him about not living with regret as well as the high school student who asked him whether he'd given up on love with his best friend like he gave up on his dream.
Hana finishes the script looking like she's about to cry, and rushes out of her office…
…Only to find Won already waiting for her. He knew she'd be walking home alone because of Seo-hoo, and came to escort her. With his script in her hands, Hana says, "Long ago, when you said that you would never love me… I believed that until now."

COMMENTS
It's rather convenient that Won just happened to run into his old high school teacher who just happened to have kept a script that just happened to say everything he couldn't say over seventeen years because he just happened to finally forgive himself for the guilt he felt toward his friend who just happened to like Hana in high school and who just happened to have died for reasons unknown, isn't it?
All this time spent wondering why Won said the things he did back then, and we get less than five whole minutes to not only address the problem, but also to come up with a solution? Talk about much thunder but no rain. If we're to follow Won's short and mostly silent journey this hour, then the only reason he distanced himself romantically from Hana was because he didn't deliver letters from his friend to her before said friend died? I was at least expecting a traumatic death, or more than just a passing mention about how close he and Won were.
But it feels like a detail shoehorned in at the last minute when we find out in just one episode that Won not only had a friend who liked Hana and died, but that he's been holding himself somehow responsible all these years and decided somewhere off screen that he was finally going to stop doing that. Why now? I get how his teacher's death could have reminded him of his friend, but if his friend was the only thing holding him back from pursuing Hana, then it's not like he'd ever forgotten in the first place. And simply because it's been over a decade of severely repressed feelings, I have a hard time buying that he just snapped out of it because his teacher told him to live without regrets. Or because someone mentioned that he might've given up on Hana the way he gave up on his movie career.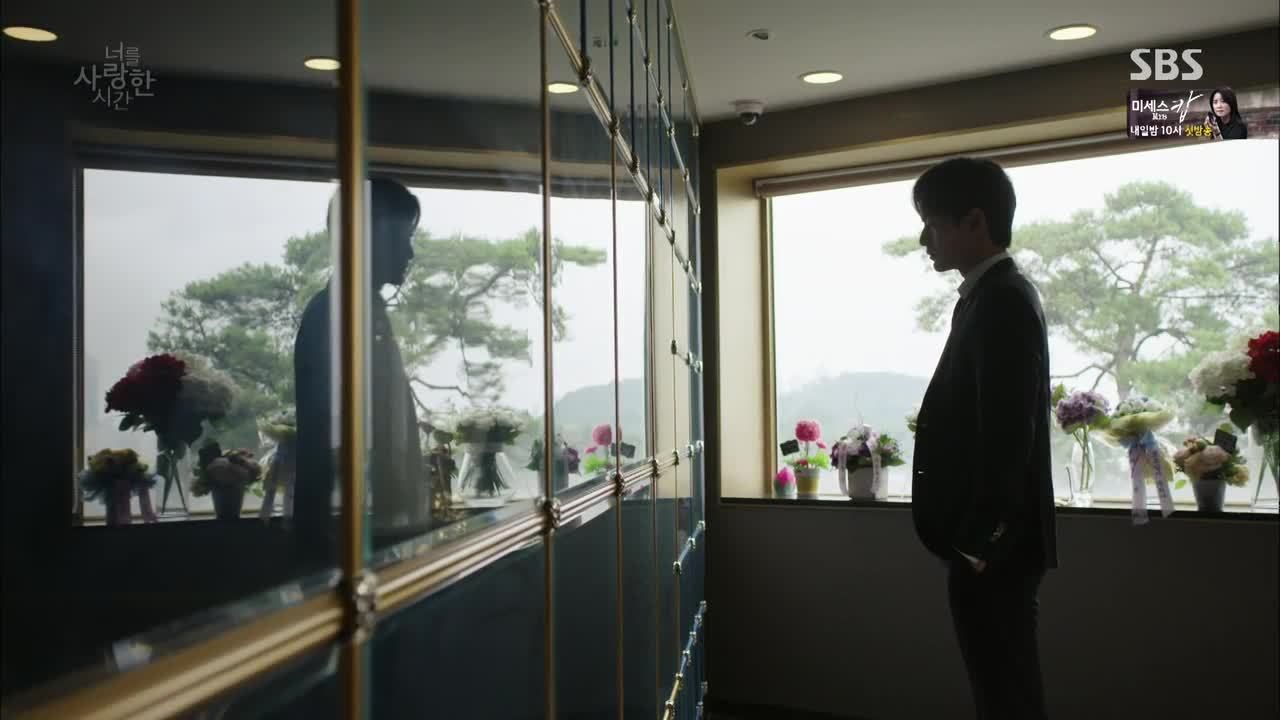 It would've been different if these were things he maybe knew in the back of his mind but never acknowledged, if not for the fact that everyone in his life but Hana seemed obsessed with reminding him that he needed to just do something already. So maybe something someone said just finally stuck, and/or this was a point the writers wanted to be at by now so they had to rush things along.
That feeling of sudden and jolting forward movement in what was previously a vacuum felt a bit like being in a car that keeps stopping and starting, only the stops take hours and the starts are just brief sputters from a dying engine. Because it's just bizarre that Hana was like a brick wall until now, enduring the disapproval of everyone she knows and even risking her relationship with her own family (for the second time!), because she didn't want to leave Seo-hoo. But out of the 18930238902 red flags she could've and should've picked from to make her stand, she suddenly and arbitrarily decides that this trip will be the deciding factor in their relationship? That everything she was willing to give up before is nothing compared to how she feels right now, and that him going on this trip is somehow worse than him leaving her without explanation all those years ago?
Trust me, there is no universe where I'd be on Seo-hoo's side, but I want so desperately to be on Hana's side that it's upsetting when she makes that so impossible. It'd be different if she was threatening to end things with Seo-hoo because of all the crap he's put her through, but instead she made everything vaguely hinge on one trip after an equally vague conversation where we can only hope she was being coy when she said she didn't know where she was—because I'd rather believe that than the alternative scenario, in which she could've just, y'know, used her eyeballs but didn't.

RELATED POSTS
Tags: featured, Ha Ji-won, Lee Jin-wook, The Time I've Loved You