The Time I've Loved You: Episode 16 (Final)
There's nothing that'll surprise anyone here, which shouldn't come as a surprise to anyone who's been following along. But alas, we've finally reached the end of a road with way too many unnecessary detours for its own good, one where the destination is so padded and fluffy (and two hours long!) that it theoretically should make up for the journey, and whether it does is or not is up to you. If nothing else, there's at least plenty of Hana and Won—but you know what they say about having too much of a good thing.
SONG OF THE DAY
Taeyang – "Eyes, Nose, Lips" [ Download ]
Audio clip: Adobe Flash Player (version 9 or above) is required to play this audio clip. Download the latest version here. You also need to have JavaScript enabled in your browser.

FINAL EPISODE RECAP
After showing off some shoes and their features, Hana is the last to leave work after a long day. She calls Won on her walk home and asks if she can see him tomorrow instead—she's too tired today.
The next day, Won finds that he has a parasitic attachment in the form of Hana, who clings to his back as a form of support so she can spend less effort walking.
He turns around so he can hold her in his arms instead, which turns into them falling onto the couch giggling and kissing… until Mi-hyang walks in. Hana's mortified after she goes, but Won is all, Let's just pick up where we left off!
Hana, unimpressed, jokingly throws a pillow at his face. Won stops her from leaving by enveloping her in a bear hug that succeeds in getting them back on the couch.
Teacher Park caters to Mi-hyang's every whim when it comes to her pregnant appetite, and offers his house for them to live in after she complains about finding Won and Hana in her house. Mi-hyang thought he'd say that, and already prepared the moving van.
Remember when Dae-bok stole Won's Confession Script from his sister's room? Thanks to a link sent from Na-young, Hana finds a webtoon entitled "I Will Never Love You" written and drawn by none other than Dae-bok. It's almost a frame-by-frame likeness of Hana and Won's high school days, but in cartoon form instead.
Hana takes her brother to task for it when he gets home, though he claims the webtoon is super popular and that the people really love her and Won. (At least someone does.) Their parents don't openly say they're proud of their son, but they become absorbed in reading the comic online nonetheless.
Won is the next one to read the webtoon, but he's proud of Dae-bok for chasing his dreams and not at all upset that his story was stolen. What does upset him is that Hana's suddenly become a workaholic, and it's interfering with plans they've made together.
She continues that fight into the next morning, claiming that there's nothing wrong with her being dedicated to her work. He says she's always complaining that she's tired, and while he's not telling her to stop working, he thinks that a little moderation would be good for her. Besides, they haven't spent any time together recently.
Hana defends that she's only getting so much work because she's responsible, only for Won to shoot back that if she was so responsible, she wouldn't be changing their plans all the time. "What's your priority, exactly?" he asks.
She sputters that she always spends the weekends with him, but Won counters that it doesn't really count as time spent together when she's just working int he same room as him. This isn't something they'll resolve today, so they huff and puff and part angrily.
At work, Hana's idea proposal for a new project is passed over in favor of Assistant Hong and Min-ji's idea. Since Team Leader Hwang is now pro-Hana, she tries to cheer her up by saying that her team members flourished only because she's such a good leader.
Na-young calls Hana to recognize that it must've been hard for her to see her hoobaes take the limelight away, to which Hana asks her, "Am I being too childish?" Yes.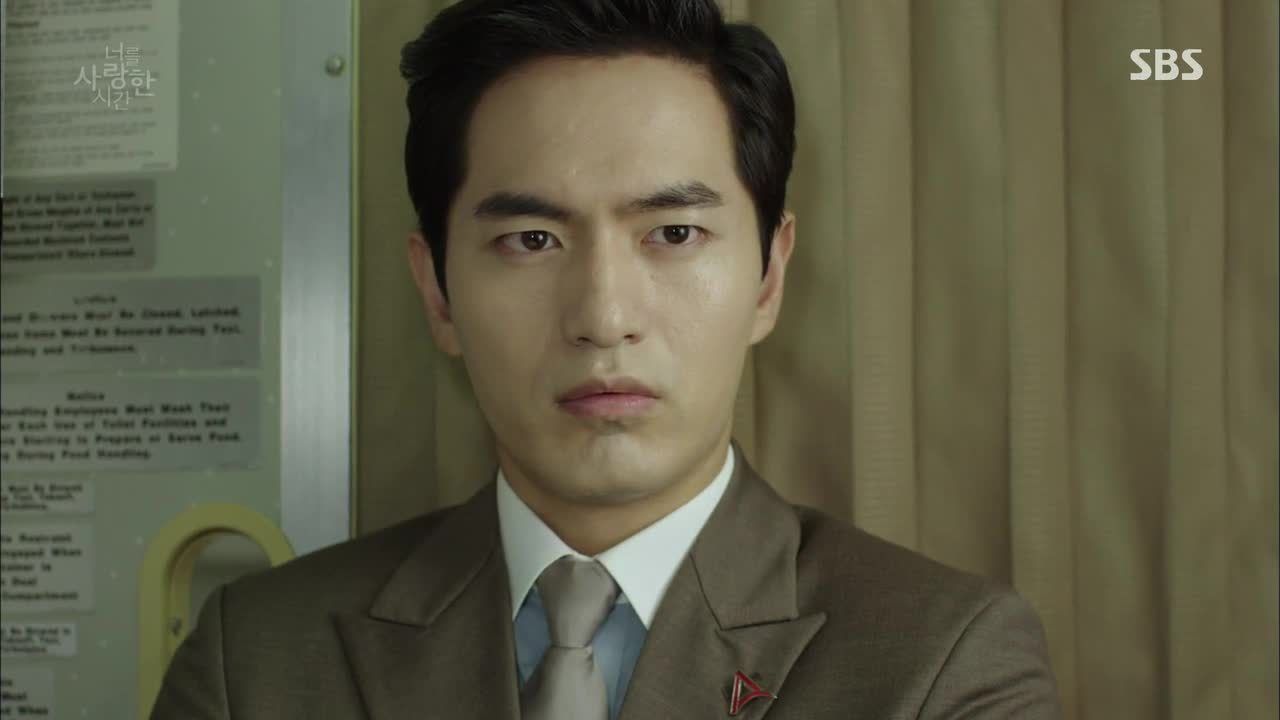 Won worries to one of the Three Stooges that his fights with Hana are just going to get more frequent, since he can't seem to stop himself from fighting over minor things with her.
His coworker tells him to keep at it though, since it's a fight for dominance Won has to win. Watch this be the one piece of advice his coworkers give him that he actually applies.
Hana works late again, and thinks of Won when she sees her ex and Min-ji being all cute and cozy. Meanwhile, Won's mother sends him a pair of traditional wedding hanbok—one for him and one for Hana.
Mi-hyang tells Won that she's going to move in with Teacher Park, give birth to her child, and then get married. Won is surprised by her progressive stance, but Mi-hyang makes it seem more like she's old and may as well do what she wants.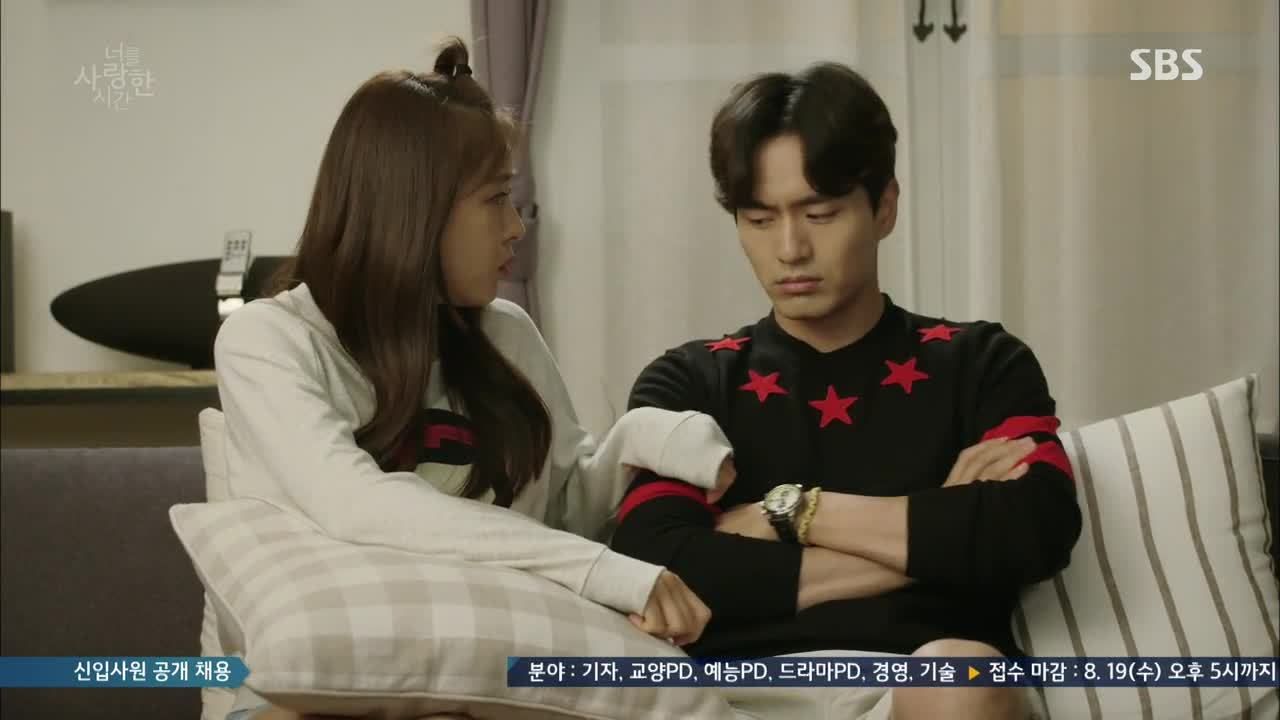 Hana goes over to Won's house when he doesn't call her after getting home from work, and it's clear by his one-word answers to her questions that he's upset. She turns up the aegyo as she tells him that she gave what he said some thought, and realized she has been working a lot.
At the same time, she was passed up by her hoobaes, when she wants to be recognized for her work too. Won scoffs that thanks to that, he's becoming less of an interest for her, and when she pouts to the contrary he adds tersely, "Just don't forget that there are a lot of things more important than work."
She knows he's still angry, so she calls him up to tell him to go to his window. While staring at each other from their rooms, Won can tell Hana's feeling sorry, so he wants her to apologize. She does.
Then he wants her to say the magic words he wants to hear, which are: "My number one priority is Choi Won, not work." His anger eases a little, though his smile seems to give away more.
So-eun gets asked out to a movie by one of the Three Stooges, and even when he's rebuffed, he tells her he'll wait for her regardless. When she asks how long he'll wait, he says an hour, maybe two—but she tells him it'll be at least a year's wait. He still clings to that little shred of hope.
Won goes over to Hana's house for dinner, and is given one minute to visit Hana in her room by her father (no funny business). He brings her the hanbok-inspired dress his mother sent before enveloping her in a back hug and asking what's in her room that reminds her of him.
She points to an alarm clock he gave her, and says the rest aren't as visible—the necklace, the whistle, the script, and some eye cream. Won vows to do more to increase his presence in her room by giving her more things, even though Hana insists that he's already given her the gift of being by her side.
Hana comes down to dinner wearing the dress Won's mother gave her, and though the style is more classic than she's used to, she twirls in it and loves it all the same.
All of a sudden, Won tells her father, "I want to live with you." To her mother, he says, "I love you." Then he holds Hana's hand for them to see as he declares that he wants to grow old with them as their son and Hana's husband.
As to whether he's proposing to her family or to her, Won says he's proposing to both of them. If Dad is the person he wants to live with, and Mom is the person he loves, then what does that make Hana? "Hana is… just mine," Won replies. He turns to her for verification. "You're mine, aren't you?"
She agrees, even though she's still a bit taken aback by the suddenness of it all. That's when Dae-bok bursts in to say that his webtoon is in talks for a movie deal now, but in order to assuage his noona's anger for taking her story, he promises her eighty percent of the sales when they get married.
"Then give it to me now since I'm getting married," Hana blurts before she realizes what she's saying. Everyone picks up on the way she said she mentioned marriage so easily, which serves as her acceptance of Won's proposal.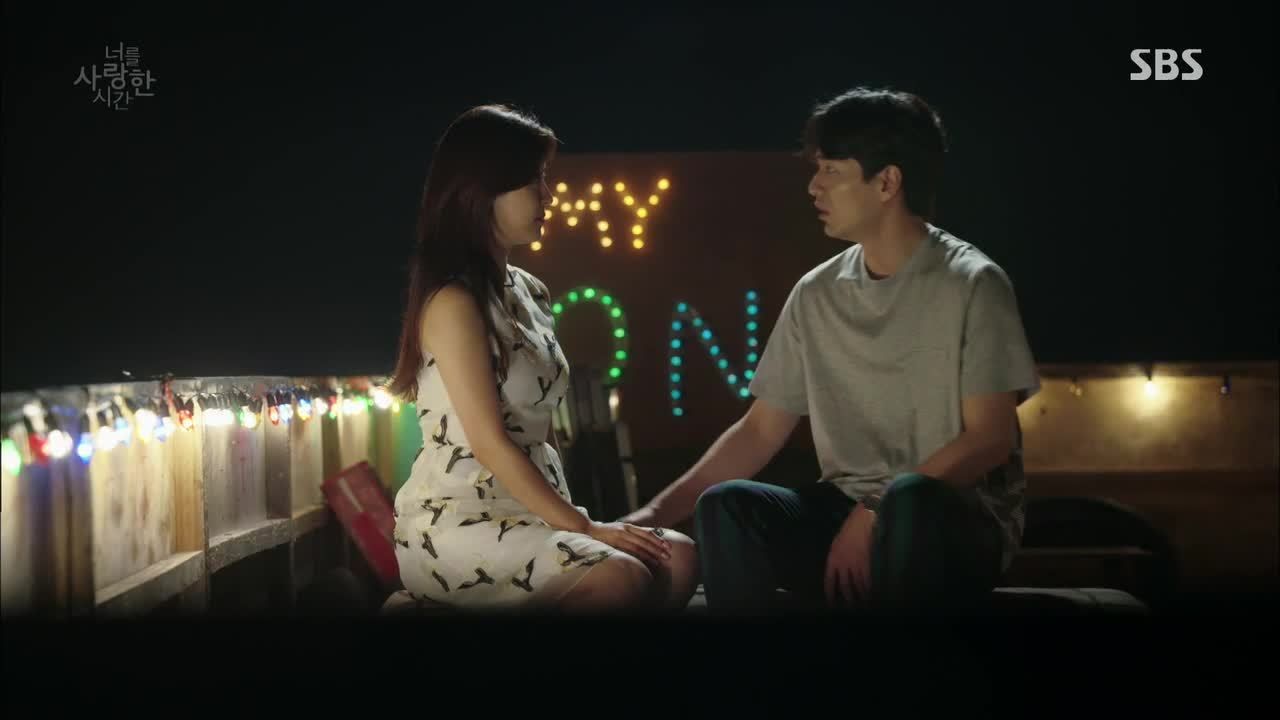 On their rooftop hideout later that night, Hana admits that she never once thought they'd get married, only for Won to say that he first had the thought in high school. She'd helped him so much after his mom left that he knew then he wanted to live with her. And then didn't do anything about it for seventeen years.
He's shocked that she never considered it, though she replies that she didn't need to when she knew she'd always have him by her side regardless. But of course he naturally doesn't take it well when she tells him she's going on a business trip, and even though he's acting childish, he childishly asks Hana if she still likes him.
Of course she does, Hana says with a smile. Cue him grabbing her in another bear hug and loads of laughter.
Manager Yoon arranges a meeting for Hana and Seo-hoo, since he's come back to Korea for a concert. Their meeting is amicable, with Seo-hoo noting how nice it is to see Hana smiling. Hana, in turn, says he's changed too—he has the air of an accomplished musician now.
"I tried really hard," Seo-hoo admits. "I have to succeed that much in exchange for losing you." He didn't say that to make her feel bad, and Hana doesn't take it that way. Instead, she says that he's best with a piano on stage, and any fan of his music would think the same.
Seo-hoo asks if that means she's a fan, to which Hana nods. He tells her his hopes that they can meet comfortably like this should they ever run into each other again in the future, and Hana agrees. They both smile.
While flying to her business trip destination, Hana is given a flower from a steward who claims it's free. Then a ring box is presented to her by a steward who says he thinks she dropped it while boarding…
…And she looks up to see none other than Won. He wasn't set to work today, but changed his schedule so he could escort her to her destination. He kneels in front of her, opens the box, and asks if she'll hang out with him for the rest of their lives.
The passengers start chanting for her to accept his proposal, and Hana takes the rings in her hand before giving her reply: "Fine, I'll hang out with you forever." Their special moment is commemorated with in-flight pictures.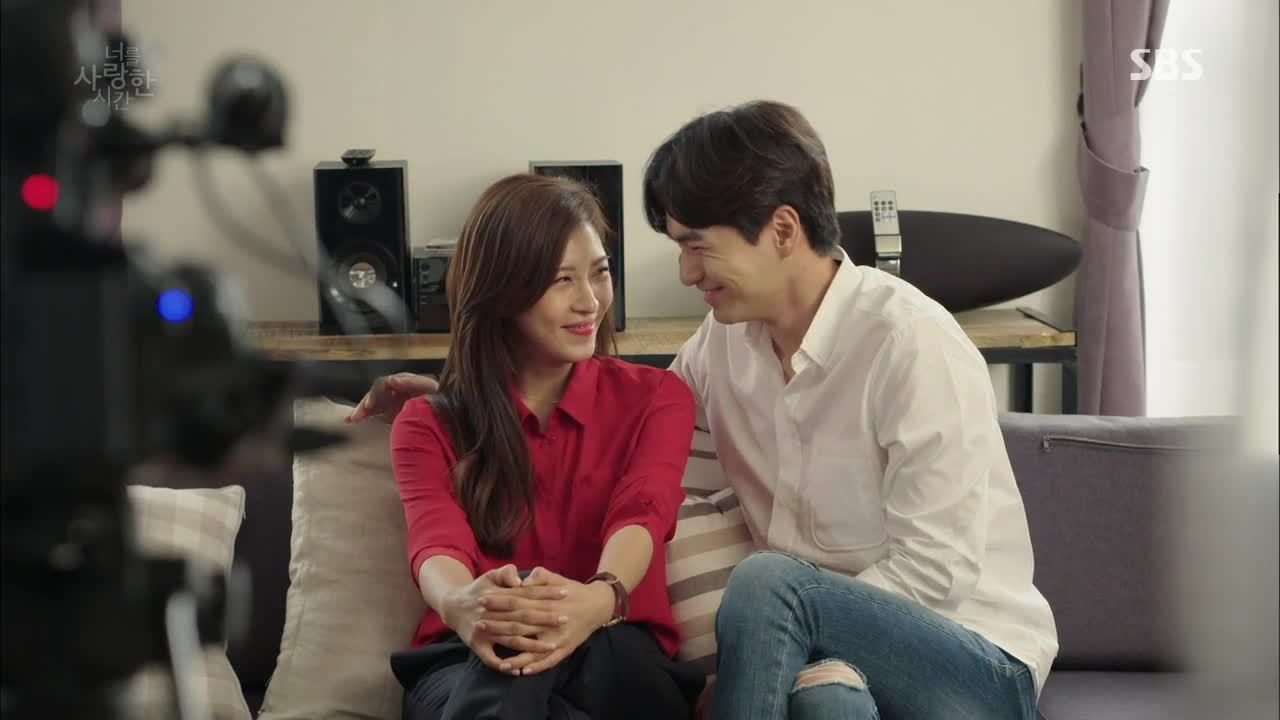 Now that Dae-bok is famous for his webtoon, Hana and Won are interviewed, since it's their story. The interviewer thinks they've been through quite a journey and asks Hana to describe her feelings about her upcoming marriage.
Hana smiles before she says it'll be like living with her friend at her friend's house for the rest of their lives.
It's their wedding day, and Hana gets dressed with the help of her friends in her room. Mom comments that she and Won are amazing, since even married couples would be tired of each other after spending as much time together as they have.
Her father's only advice is that loving is easy, but living together is hard. Unlike Mom, he's not upset over the small wedding Hana's chosen to have, which takes place on the street outside. It's cute that they'll be coming from their own houses and meeting in the middle.
Everyone they know is in attendance as Dad walks his daughter down the modified aisle, where Won waits with an enormous grin. As Hana passes by guests holding up pictures from her and Won's past, she thinks back to all the times they'd hurt each other because they couldn't be honest.
At the same time, Hana realizes that without those hurdles, they wouldn't be where they are now. That's when her father gives her to Won, who happily declares, "Let's go to the house you'll live in!"
As they walk down the improvised aisle, we hear Hana say in voiceover that they didn't need anything fancier than this. They follow the path Hana says they've both taken countless times up to Won's house, which will now be her new house. And with that short jaunt, their little wedding has come to an end.
Won elatedly promises their small group of guests that they'll live well before kissing the bride in front of them. I'm guessing they already signed their marriage licenses since no wedding ceremony actually takes place. No vows? Nothing?
In an effort to make his familiar house look a little different for her, Won decks out the place with heart balloons and other decorations. There's an awkward moment where he hugs Hana for a long time before breaking off and whooping, "I'm married to Oh Hana! Manse!"
Hana has to stop him from his balloon-punching energy spree to set some ground rules: if there's ever a time where they're angry at each other, the person who committed the wrong has to do their best to comfort the other with presents, aegyo, and free coupons.
And, she adds, they'll have to allow each other time alone—but Won finds that thought repugnant. Maybe in ten years, he allows. But for now, he presents their wedding bands and says the "Will you take this man to be your lawfully wedded husband" ceremonial words in a much more intimate setting.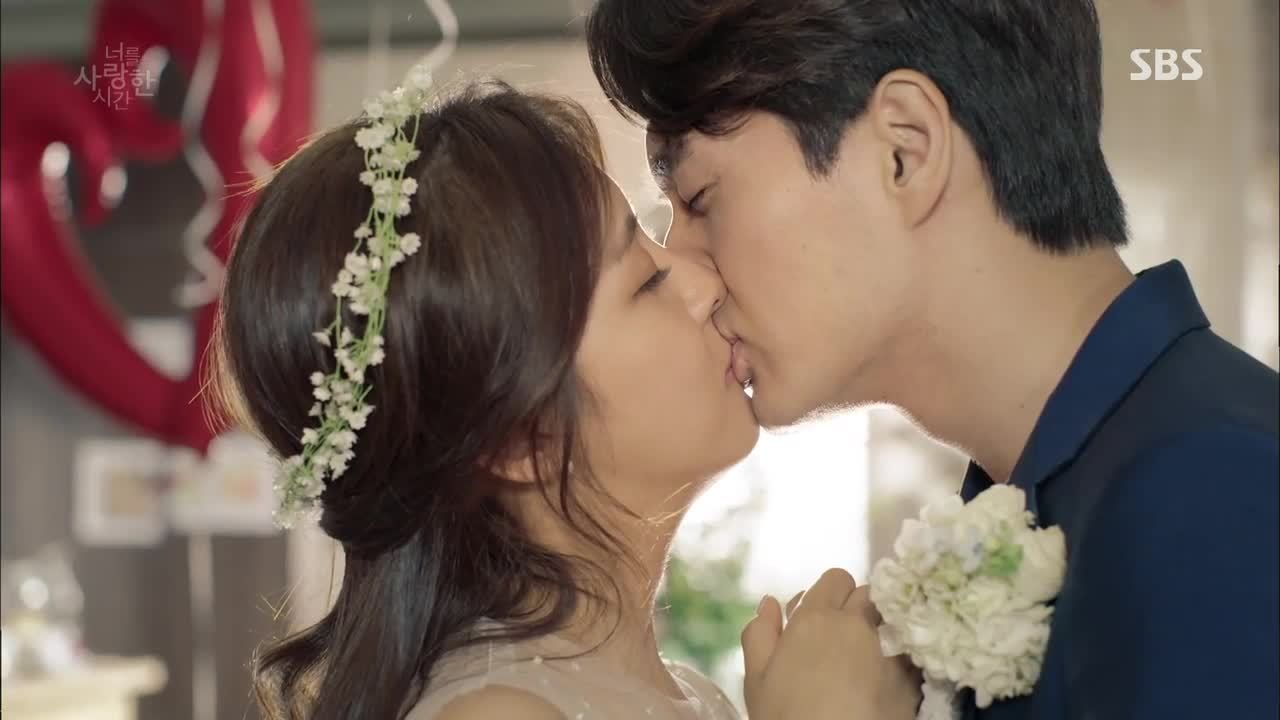 Hana gives her "I do," then asks the same of Won. Will he cherish and love her until the day he dies? He gives his "I do" before taking it a step further: Will she love him until death, and then when she's reborn again? "I promise," she says. Won: "Me too."
They kiss in their new home as Hana says in voiceover, "In this very familiar place, we have to try our hardest to fill our lives with new moments of happiness."
Eight months later. Summer.
In a house filled with pictures of their wedding, Won annoys Hana in the early morning by singing Taeyang's "Eyes, Nose, Lips" loudly in the shower. If Hana's going to complain about how she's not getting her quiet time in the morning, then Won feels free to complain about waking up with cramps from her sleeping with her legs slung over his at night.
But of course, no one's really complaining, so Hana can only get so frustrated. Won is like a puppy following her around during her morning routine, happy enough just to watch her put on makeup and shoes so the paying public can watch her put on makeup and shoes.
Quick cut to Hana doing well at work, and then to Dae-bok drawing a webtoon version of Assistant Hong at her request. That's really all there is to it.
Once at home, Hana takes a look at her calendar and realizes something's amiss. Yes, it's exactly what you're thinking—she's pregnant. Despite all the work she's mired in, she reveals this to Won, who's over the moon at the prospect of becoming a father.
Mi-hyang has a healthy baby girl with the support of Teacher Park, and while she says the baby is ugly at first, she eventually takes to it. I'm trying here, but I literally can't add anything that will make any of these scenes seem like more than they are. It's just so boring.
While looking at pictures of Won's new niece, Hana reveals some thoughts she's been having about their future to Won. She envisions holding hands with their child, who'll be holding one of Won's hands. At the same time, she envisions a baby on Won's back, and a baby standing in front of him.
"So how many children is that?" Won asks wonderingly. Hana adds that since he wanted her to prove her love for him, she'll prove it by giving birth to children who look like them.
Still, she cautions that the future is about to get a whole lot more chaotic, and she may not always be able to hold her anger in. "I'm still afraid, and everything's vague," she says, but Won envelops her in his arms and tells her that he'll help her with everything. "Thank you, Hana. Thank you."
They buy a sponsored set of wedding bands for Hana's parents in order to butter them up for the news that she's pregnant. Mom's upset at the bit of trickery, but Dad isn't, and happily places one of the bands on Mom's hand. "Thank you for marrying me and living with me," he tells Mom.
Hana hands the reins for one of her big work projects over to Assistant Hong and Min-ji, who wonder what's come over their boss. She reveals that she's pregnant and will be focusing on her new life now, but she'll still support their work.
After a brief cut to So-eun dating the coworker who liked her, we make it back to Hana as she opens the invitation for Seo-hoo's upcoming recital. Oh come on, he did not take eight months off his European tour to do a domestic concert when all that fuss was made over canceling every domestic concert he had. And if this is a different concert, then it makes all that hubbub even more moot than it was before.
Hana sends him flowers and a note wishing him the best for his performance, and Seo-hoo vows to do better than his best just for her. He smiles despite looking like he's about to succumb to a wasting disease.
Meanwhile, Hana has to contend with Won, who's angry at her for missing their dinner date the night before because of work. But that's just one of many complaints he has against her, prompting Hana to retort back with her own list of Won-related complaints.
Since there'd be no end to the things they could whine about, Hana packs her suitcase and takes it all the way to her parent's house next door. This must be a common thing, since neither Mom or Dad blinks an eye as she carts her suitcase upstairs, before Won comes to help her cart it back down to his house.
They make up after their argument, and Won tells her that he signed them up for lamaze classes so she can learn how to help herself through a natural birth. Won's all excited about the idea of filming the process too, but Hana's not for lamaze classes and definitely not for a straight-to-DVD horror movie.
"We went from being longtime friends to being a married couple, and we fought and made up countless times. We hated each other and then we loved each other, repeating the cycle over and over again. You must give as much love as you receive. We learned to put that into action so we can maintain our love," Hana says in voiceover.
We find her leaving work for the airport, where she holds up a sign for Won reading: "I will miss you every day and wait for you. I love you, One To One!" She has to explain how their names both mean "one," and when Won gets it, he kisses her and laughs.
As they walk away arm in arm, Hana gives one last voiceover: "That magic that turns everyday life into something special thanks to a certain someone. It happens in me and in us every day. Because we love [each other]."

COMMENTS
No no no, you don't get to cop out with that last line, The Time I Waxed Philosophical. You don't get to act like you were an innocuous slice of life drama that made magic out of those small, everyday little moments. You don't get to act like you were just shining a meaningful light on the special snowflake that is our shared human experience by telling an overly simplistic yet somehow confoundingly convoluted story about friends turning into lovers. Yes, magic can exist in the smallest places sometimes, but this show was not one of those places.
Still, there was never a point where I didn't want to care about these characters, and that has never been made clearer to me than in this episode. I wanted to care so badly that I started getting angry that I just couldn't anymore, even as Won and Hana professed their love, got married, got pregnant, and had stupid arguments for the sake of having stupid arguments because the writers thought that it'd make their relationship seem more realistic. (It didn't.) There were things happening on-screen that, in some alternate universe, should have mattered—but somewhere before or near the midpoint the show just lost its way and took any emotional investment I might've had with it.
I know that people can change in relationships, but who knew Won would transform from a guy who supported Hana wholeheartedly in everything she did—even when she was with an absolute douchebag who he saw being super shady with other women (twice!)—into a guy who gets easily annoyed at every little thing? Were there hints of this needy, whiny version of Won before that I totally missed? As soon as his relationship with Hana became official, he got way too close to becoming another Seo-hoo for my liking. It was probably supposed to be cute(?) that he didn't want to be away from Hana long enough to give her personal space or to let her work without making her feel guilty about it. Right?
And really, while we can point to a myriad of factors that contributed to the show's decline, it all seems to source back to the writer switch that took place after the first two weeks. It's hard to say whether the show would've stayed on track had it kept its original writers, but there was an undeniable sort of charm about those first four episodes that went extinct over the course of the series, turning what was supposed to be real life and real people into pantomimes instead. Motivations would change at will because the only time a character really stuck to their guns was when Hana decided she'd start over with Seo-hoo, until she just decided to stop doing that one day.
It's kind of a shame, because if she'd handled the breakup differently, or if we felt at all like her reasons for breaking up with him were because she'd finally realized what a dirtbag he was, maybe she could've brought us back into her world. Everyone makes mistakes, and her turning into a black hole void of personality could've just been chalked up as a big one—but then everything revolved around the Hana who sucked while she was with Seo-hoo without spending any time on the Hana who broke up with him. It was all setup and no payoff, so much so that I still don't think Hana ever realized internally that Seo-hoo was bad for her, probably because she never realized internally who she was or what she wanted.
That same trend of spending too much time on the problem and not enough on the solution can be traced back to the show's early stages, which is why the payoffs we did get ended up feeling so unearned. Motivation means everything, and when that's not properly laid out, the rest of the story falters. At the same time, deciding to spend two episodes on Won and Hana's court-mandated happily ever after doesn't count as a solution, because the transition from Won and Hana as friends into Won and Hana as lovers failed somewhere along the way.
But that's neither here nor there at this point, since a book could (but really, really shouldn't) be written on how this show went went awry, and also how there is zero historical precedent for a show that's switched writers out and actually gotten better. All you can do is learn from this, dramaland. Learn from this.

RELATED POSTS
Tags: featured, Ha Ji-won, Lee Jin-wook, The Time I've Loved You