Twenty Again: Episode 1
It's a promising beginning for Twenty Again, which starts off by putting our heroine in some sad places but does so with a nice touch of humor—she may feel sad, but the show maintains a lightness and sense of comedy that promises a more buoyant future. I like this approach, because I don't want to zoom too quickly past the setup phase of the show, but also don't want a first episode to misrepresent the tone of the rest of the show by being overly heavy or fraught. I'm certainly rooting for our heroine—Choi Ji-woo is adorable—to pull through and show everybody what she's made of, and that keeps me on the hook and wanting more.

SONG OF THE DAY
Twenty Years Old – "다시, 스무살" (Twenty Years Old Again) [ Download ]
Audio clip: Adobe Flash Player (version 9 or above) is required to play this audio clip. Download the latest version here. You also need to have JavaScript enabled in your browser.

EPISODE 1 RECAP
At a beachside festival, a young couple dances, enjoying a private moment as the boy leans in for a kiss. We hear a voiceover of their introductions: She's HA NORA, and he's KIM WOO-CHUL…
…and they're on the cusp of divorce twenty years later, in 2013. Now all grown up, the couple (Choi Ji-woo and Choi Won-young) sign a legal certificate agreeing to be "divorced in practice," which must mean they won't be legally divorced just yet.
Wife Nora doesn't seem thrilled about the choice, while husband Woo-chul has to work to hide his grin. He puts on a serious face to give the appropriate lip service to Nora about how the decision is hard, but for the best.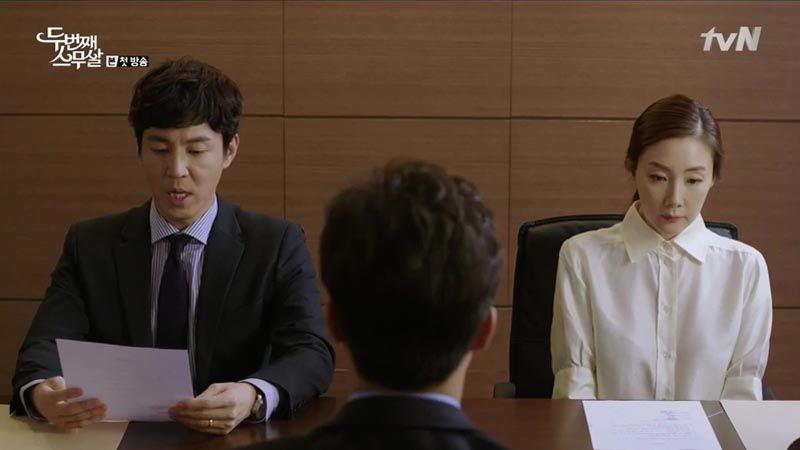 She nods, and he suggests going out for lunch together. Nora demurs, telling Woo-chul she left him a snack in the car—she knows his habits and schedule so well that she's anticipated his needs. He remarks to himself that she ought to just sign the papers already, though we're left to wonder why she's reluctant to finalize the divorce.
Woo-chul is a psychology professor at Woocheon University, and as he drives to campus, he parses Nora's parting comments for every grammatical error—her speech is full of slang and common slips, while Woo-chul seems very uppity about his education. Also image-conscious, based on the way he tosses the sausage stick he's eating aside before a student sees him with it.
Thus far everything in Nora's life has been registered in her husband's name, but now she's secretly registered for prep classes with the help of a friend, whom she repays in cash. RA YOON-YOUNG (Jung Soo-jung) tsk-tsks at the idea of Nora going to college at this late age, that she's got nothing in her name, and also "for deciding to live again with the jerk who made things that way."
Yoon-young finds the husband ridiculously pretentious, always talking about Freud and Tolstoy and the War of the Roses, but Nora defends him and assumes the blame for being ignorant of those topics. Yoon-young rolls her eyes, and Nora points out, "See, you're tired of me too, because I don't understand your words." Aww, Nora, you're not the problem in this dynamic!
Yoon-young can't believe Nora turned out this way, and we flash back to 1993, when Nora takes a job working on a farm. She's bad at it but insists she can do better, although she just ends up falling into the cow dung she's shoveling.
Her grandmother gets angry when she finds out, even though Nora swears that she didn't take the job because she's earning money for that arts school. But Grandma decides that it's time to move to Seoul and get Nora to that school, since she knows Nora badly wants to go there.
Nora has dancer dreams, and is soon installed at the school, while Grandma runs a neighborhood snack shop (Granny's Ddukbokki). A snappish ballet student whines at Grandma to only serve her five pieces of the carb-heavy ddukbokki, and when she can't control herself and eats it up, she blames Grandma for it.
She tracks Nora down to order her to make Grandma only serve her five pieces, and Nora points out the obvious: She could just eat five pieces.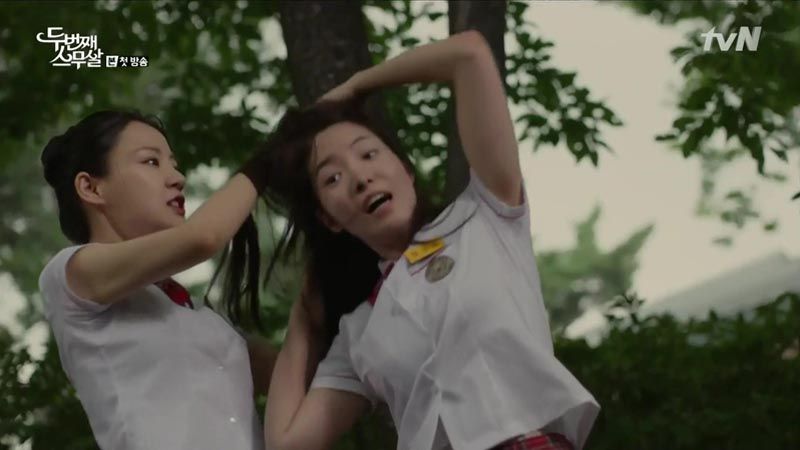 Aha, the ballerina is young Yoon-young, and her temper flares and the scene escalates. She pushes Nora around, but every time, Nora just pops back up and says simply, "Just eat five." She's so indefatigable that Yoon-young ends up the scared one, calling her crazy.
Present-day Nora is confident she can succeed at her college goal, even reciting husband Woo-chul's words about how there's nothing more attractive than a person who works hard. Yoon-young asks, "What if he still wants a divorce? Would you still go to college?"
Nora looks glum and asks, "Why would I?" When asked what she'd do then, Nora jokes that she could sell ddukbokki.
Turns out Granny's Ddukbokki is still in business (though without granny herself), nearby the school and frequented by a long line of students. A man (Lee Sang-yoon) picks up an order and delivers it backstage at a theater department, where the students gape in amazement—he's their director, CHA HYUN-SEOK.
Hyun-seok directs his actors in rehearsal, talking the lead through the emotions he should be feeling about his longtime first love. He adds a few cynical words about first loves in general, and how most people think of them as a beautiful thing, although there are those that are pretty awful, too. That's firsthand experience talkin' right there.
That night, Nora welcomes her son and husband home, though both are indifferent to her care. Son MIN-SOO (Kim Min-jae) rejects her food, while husband Woo-chul rejects her wifely gestures, like looking after his clothes. He separates their beds and pulls off his wedding ring, and though she gets teary-eyed at that, she reluctantly follows suit.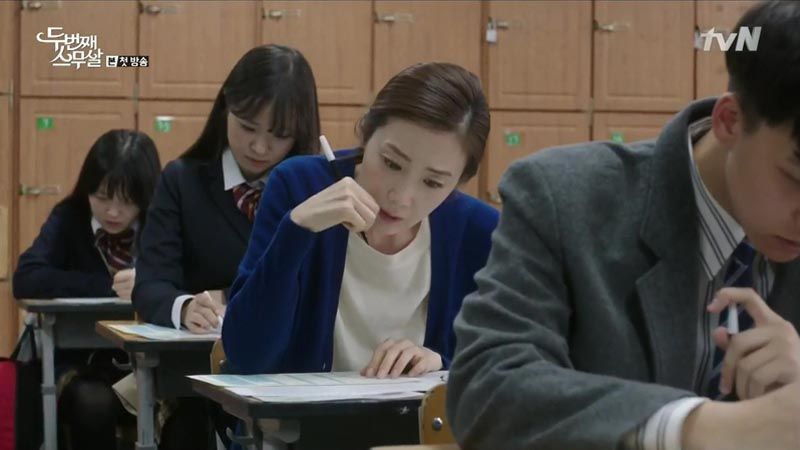 In the ensuing days, Nora juggles her normal housework with the prep classes she's taking in secret. She studies on the side, staying up late in the bathroom to keep the family from catching on. A full year passes, and the following autumn, the big day arrives for university entrance exams. Nora sends son Min-soo off in the morning with motherly concern… and then her BFF Yoon-young assumes the mom role for her, taking her to sit for her own exam.
When results come in, Nora slumps in disappointment, but Yoon-young says it's a decent score. Woo-chul walks his son through the application process, and Nora chooses to apply to Woocheon University, where her husband teaches and her son is also applying. She calls it her safety choice.
Then the day arrives for admissions results… and to her dismay, she's denied from both Woocheon and another school. She cries to Yoon-young over the phone, "What do I do if Min-soo's dad takes that certificate to the court?" Ah, is she counting on college to save her marriage from divorce, because she's too stupid for her husband? Oh, honey!
At home, the mood is equally dire: Min-soo gets rejected from his first choice school. But he does get into his safety—Dad's school—and Woo-chul is satisfied with Woocheon University as Plan B. Furthermore, now that their son is heading to college, Woo-chul tells Nora to make preparations for divorce. They've kept up appearances for his sake, but they can soon put that to rest.
Nora glumly contemplates her divorce papers while watching the latest news about a Woocheon professor caught for taking a bribe from a student for admission. Just then, she gets a call from Woocheon congratulating her on her admission—it's late (did the briber lose his spot?), but she's now in. Yayyyy! I mean, I knew this was coming (obvs) but I'm just so glad for her.
She bolts up in excitement and heads to school, where she stops someone to ask for directions. It's our theater director Hyun-seok, and his face freezes at the sight of her—and then he turns and walks away without a word. Nora chases after him and asks if he's really Cha Hyun-seok, treating him with casual friendliness when clearly this means more to him. She says he's changed a lot and that it's good to see him, while Hyun-seok is all brusqueness and bad manners.
She thinks he must not recognize her, and he says curtly that he vaguely recognizes her, maybe from high school or something: "But I don't want to know who you are now, and I'm very busy. Got it? Go."
She's left wondering if she's really changed so much that he can't recognize her, and what turned Hyun-seok so mean.
Meanwhile, Hyun-seok is mortified at his overreaction, berating himself for not acting more cool and just saying he didn't know her. Ha, he was so very much the opposite of cool.
Nora pays her deposit to the school, then gathers the family at dinner to make her happy announcement. Only their reaction isn't so much happiness; instead, they stare with dropped jaws and horror.
Min-soo does the typical (but totally hurtful) teenage thing of lashing out at his mother, asking, "Did you give birth to me just to embarrass me?!" Yes, son, everything is always about you. The thought of entering the same class as his mother is so terrible that Min-soo says he'd rather take a year off to reapply next year.
Woo-chul takes her to task for sneaking around for the past year to prepare for college exams. She says she wanted to surprise them, but Woo-chul calls it suffocating, that she would waste her time in the wrong place and still fail to understand that their issues aren't just a matter of education credits.
Nora says it makes him unhappy to be stuck with someone he can't talk with, so she wants to become that person. I actually feel a teeny bit sorry for Woo-chul, whose frustration at her thinking is palpable, and he pleads with Nora to let him go—he's 43 and doesn't want to live the rest of his life meaninglessly. "Give me freedom, please," he asks.
A month passes, and Woo-chul reminds Nora to go in to get her physical results. On her way in, she sighs that it would be nice if she had a terminal disease, because her life seems so blank in front of her. But it's not a sentiment she actually means, because when the doctor tells her that her stomach pains are late-stage pancreatic cancer, she's stricken.
When he tells her to return with her guardian, Nora wells up in tears and says she doesn't have anyone. She leaves the room distraught… and we see that the name on the chart isn't Ha Nora, but Han Ora. Pwahaha.
But Nora doesn't know this, and sheds tears at the bus stop, thinking she only has six months left to live. She sits there in a funk for hours, not even noticing when a man sits down next to her and pockets her cell phone.
Upon arriving home, she checks on Min-soo, but can't bring herself to tell him she's dying. She broaches the topic with Woo-chul indirectly, asking what he'd do if she died. He doesn't take the question seriously, thinking she's just wasting her time worrying and saying that in the case of dying young, you should do more things for yourself. All people die, and humans are ultimately lonely beings, he says.
"That seems so," Nora whispers. She spends the night brooding to herself.
Meanwhile, director Hyun-seok reads the reaction to his announcement of his new theater production titled "You and Now Project," which is about healing and comfort and doing what you can for yourself in the present moment.
At home, Nora receives a call from the school reminding her that today is the deadline to register. The man adds that the reminder isn't customary, but because she's a bit older…
At that, Nora snaps, asking what's so old about 38, and if people her age shouldn't go to school, and if she should just die then. LOL. I know that in her mind this is very serious, but she's so adorable as she exclaims that she doesn't need their school but she wants her money back and will go in today to take her deposit. Harrumph!
Nora storms onto campus, but that indignation fades as she watches a performance—it's theater majors celebrating their graduation. Nora watches, transfixed, and sees her own high school self running by, leading her into a flashback.
Nora and her dancer friends put on a ballet-inspired performance to a pop song (Kim Gun-mo's hit "Bad Meeting"). Aw, is that geeky boy holding the sign a young Hyun-seok? He's adorable.
And then, present-day Nora reads the words printed on the back of the theater students' shirts, and the wording is remarkably familiar. Twenty years ago Hyun-seok's sign read "Arts school is not a tactic to get into university," and today's message reads "We did not come to university just to get jobs. We go to university once, and we live once."
She sighs, "Who doesn't know that?" But then one last message displays: "The choice is ours to make." She takes off running, and nearby, Hyun-seok sees her dashing off and thinks of high school Nora.
She tells the employee that she's not canceling her registration after all, but now needs to come up with the rest of the tuition in under two hours. It makes her think of how her grandmother used to stuff a pillow with cash intending it to be her college fund, and she goes home to pull out that pillow (…from inside another pillow. Simple Nora cracks me up).
Starting to cry, Nora thanks her grandmother and tells her she's going to school with her money, and that Grandma must feel proud.
Then it's time for freshman orientation, and Min-soo's part of the MT festivities for the politics and economics department. He's terrible at games and gets progressively drunk, and his sunbaes aren't about to let him off the hook. They pour cups and cups of punishment drinks, and as he's swaying looking queasy, a girl pops in and offers herself to drink for him. She downs drink after drink, impressing all the guys and thoroughly winning Min-soo's admiration.
The guys ask her name, but she hears that this is the wrong department and hastily excuses herself and gets the sunbaes to promise not to punish Min-soo with more drinks. The boys nod like fools, because she's pretty.
Min-soo finds her vomiting outside and offers his handkerchief. She's OH HYE-MI (Sohn Na-eun) and displays a really cute mix of confidence and uncertainty ("You came to see me… right? I saved you… didn't I?"). Min-soo's surprised but not displeased, and when she asks for his phone, she says, "If you give this to me, we're dating."
Yoon-young hears about Nora's health and scolds her for not telling her family. Nora says she couldn't do that to Min-soo, who's worked so hard and just barely started college. She gives it three months—she'll let him enjoy the college experience fully, and not nag him about anything, and give him all the money she can. "It's his youth, our Min-soo's twenty-year-old youth."
Yoon-young asks, "What about you—do you even know what youth is?" Nora tells her that's why she'll be going to school after all: "Now that I'm dying, I want to do the things I couldn't do before I die. I'll attend without Min-soo knowing."
Next up: Picking classes. It's a race against the clock (and other freshmen) to enroll in classes before they fill up, and she picks (among others) a psychology class (that happens to be taught by husband Woo-chul), a marriage and family class, and a theater class (taught by Hyun-seok).
Hyun-seok has been told of another project in the works elsewhere that resembles his You and Now Project—and interestingly, the "Healing to Overcome Trauma Project" is written by a psych professor, Woo-chul. Hyun-seok looks over his class roster, and Nora's name catches his eye.
The new semester opens, and Nora is dismayed when Min-soo launches himself into his studies right away, wanting him to enjoy more of his college life. But Dad advises him to do well now to pave the way for the rest of his life, and Min-soo agrees.
It's only now that Nora drops the bomb (casually) that she has a class to attend too, and makes her way to an English lecture. She's dressed nicely for the occasion—so much so that the moment she steps inside, the students quiet, assuming she's their instructor, and snicker when they realize she isn't.
The students are assigned in groups for a homework assignment, and her teammates are eager to work without her, telling her just to follow along when they present. Behind her back (or rather, under her nose) they text back and forth about how much this sucks and how old she looks and how she doesn't even have a phone.
Nora leaves the class wondering if there was literally a memo she didn't get, a little in awe of all the things she doesn't know. She gets to her next class a little early, listening to the conversations around her and frustrated that there's so much slang she can't comprehend.
Then Hyun-seok enters, to her surprise, and she dips her head in dismay at the thought, recalling their last encounter. Still thinking he didn't recognize her, she's expecting him to be shocked, only to have him barely glance her way.
He asks his class whether they're aware of his course's famously brutal flaw, and the majority happily confirm that they know, but enrolled anyway. He means the three team assignments they'll have to complete, and Hyun-seok singles Nora out to ask whether she knows and why she took his class.
She repeats her name, waiting for that moment when he'll remember her, but he continues in his cold way, and after he makes her take off her hat, he feigns surprise and asks if she's a student's parent. Aw, is he trying to force her to quit by being extra mean? He repeatedly calls her ajumoni, and at first she thinks he doesn't recognize her, which gives way to the realization that he does.
He tells her to leave if she can't answer his questions, then roars, "Get out NOW!"

COMMENTS
Aw, why ya gotta be so mean, Lee Sang-yoon? I know, I know, you're harboring twenty years of hurt and you're really still in love with her and you're probably just trying to get her to drop out of your class, but come on. Be mature.
Actually, I don't really want him to be mature, because I find his immaturity and pettiness hilarious. I just don't want him to hurt Nora's feelings too much, when she's just a sweet, good-natured, caring person who wants an education okay? I really feel casting was a winner here, because I'm not sure I would care about anyone more than I do the way Choi Ji-woo plays Nora, in that curious mix of vulnerability, insecurity, and matter-of-factness. It's almost amazing to think of Choi's long-standing image as a glamour queen, all sophistication and designer brands, though her real-life personality has come through here and there.
I also appreciate that the characters don't seem like bad folks, just selfish ones. I was hoping that the husband and son wouldn't be too terrible to her, and so far I like the balance that's been struck—they take Nora for granted and look down on her for being uneducated, but their dynamic seems fairly true to life. Min-soo's bratty but not a hateful son, embarrassed of his mother in the way all teenagers are, saying mean things that I'm sure we've all said or thought about our mothers, which make us wince given the distance of time and maturity. I want for the drama to give him the chance to make things right and show his mother more kindness in the moment, rather than looking back later with regret, and I'm hoping that the show draws that relationship out with poignancy. 'Cause I'm totally all ready to cry about it!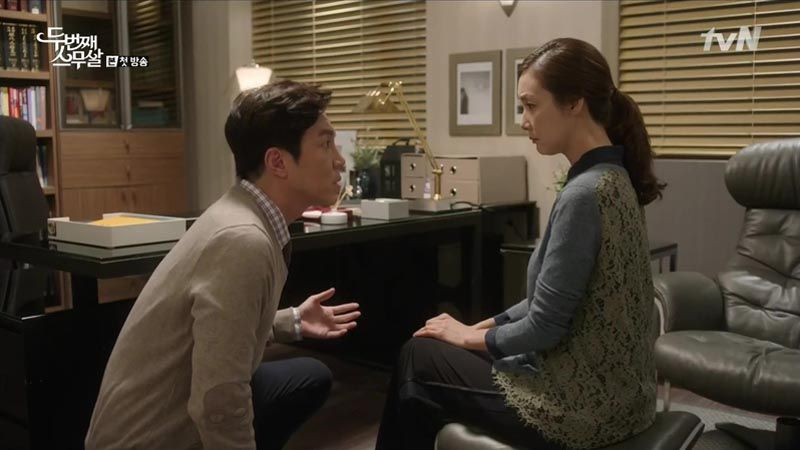 Even the husband doesn't seem terrible, even if he is a pretentious twat much of the time. It feels like their marriage was more a mismatch than anything else, and I'll give him the benefit of the doubt in presuming he did his best upon knocking up an 18-year-old girl when he was 23. And I agree with him in believing that their marital problems are much more complex than Nora believes—she's grasping at straws by thinking that she can turn herself into a partner Woo-chul will want more if she educates herself. It's understandable that education is her great regret and also great insecurity, the thing her grandmother always wanted for her. But she's treating her marriage/divorce with tunnel vision, and I understand Woo-chul's frustration at not even being able to agree with the wife on what's wrong.
But in the long run, that's what I like about the setup, because if she's gonna have a new love interest, it helps to know that her marriage was already not working, and that the thing that makes Hyun-seok our hero is that he'll get Nora in a way that she's not being gotten by anyone else. She shouldn't have to reinvent herself to be worthy of love or respect; she can reinvent herself for her own sake, but it shouldn't be for her man. That said, I wouldn't mind seeing her twist Hyun-seok up a little before winning him over, 'cause come on, he's being really mean! He's earned himself a little punishment, no?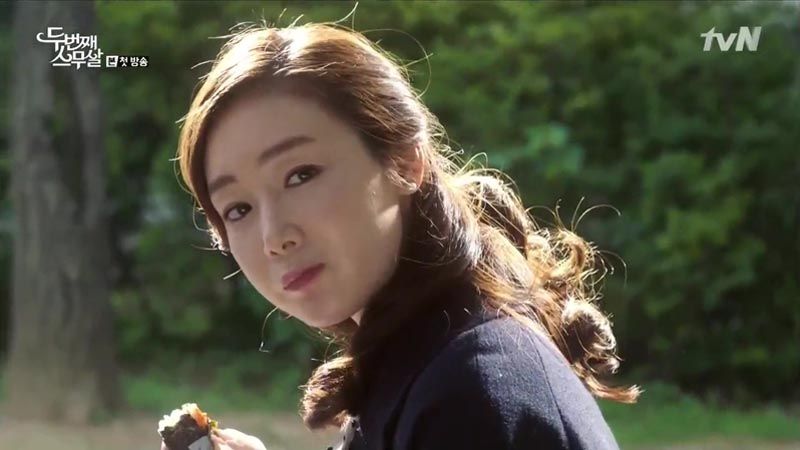 RELATED POSTS
Tags: Choi Ji-woo, Choi Won-young, featured, first episodes, Kim Min-jae, Lee Sang-yoon, Twenty Again