Kim Hye-soo completes main trio for tvN's Signal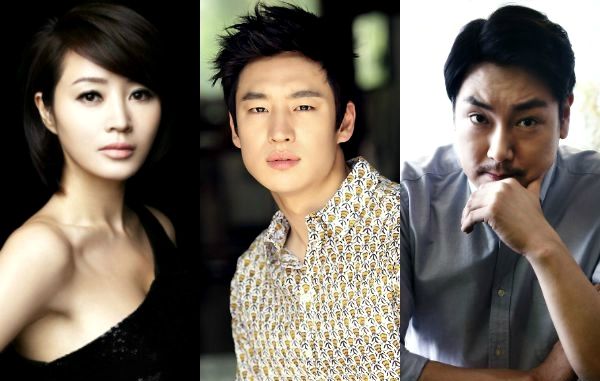 Well that's an impressive cast lineup. It looks like a movie cast for starters, and a really good one at that. Kim Hye-soo (Chinatown, God of the Workplace) is the latest addition to tvN's new crime mystery thriller Signal, the newest drama from PD Kim Won-seok of Misaeng and writer Kim Eun-hee of Three Days, Ghost, Sign. Lee Je-hoon (Secret Door) and Jo Jin-woong (Full Sun) are already confirmed, and Kim Hye-soo has signed on to round out the leading trio.
The drama inspired by Memories of Murder is about cases that have gone unsolved for long periods of time. Two groups of detectives — one in the present and one in the past — communicate with each other via an old two-way radio, and are able to collect clues to solve cold cases. Wouldn't a time-traveling wormhole radio be more useful to the past detectives than the present ones? Eh, maybe it's only a one-way radio.
Lee Je-hoon stars as a profiler on a special detective task force that tackles this particular type of case. He distrusts cops, and has a witty personality. Kim Hye-soo has been cast as a detective on the same task force. I'm guessing she's his boss, but either way I like the idea of a kickass detective character for Kim Hye-soo. Both she and Lee Je-hoon are specified as characters in the present day. Jo Jin-woong plays a simple, earnest, brawn-over-brains detective who was once a taekwondo athlete. We're not told if he's from the past or the present.
PD Kim Won-seok said, "Signal is a project where the combination of the three leads is very important. We put a lot of work into casting the best actors for the best script. All three actors were the first people I thought of when reading the script. I thought, 'How happy would I be if that happened,' but now that it's come true I'm unbelievably happy but also feel a tremendous sense of responsibility. I will do my best to make a drama that lives up to viewers' expectations."
Signal follows Answer Me 1988 on Fridays and Saturdays beginning in January.
Via DongA, Oh My News
RELATED POSTS
Tags: Jo Jin-woong, Kim Hye-soo, Lee Je-hoon, Signal