Last: Episode 11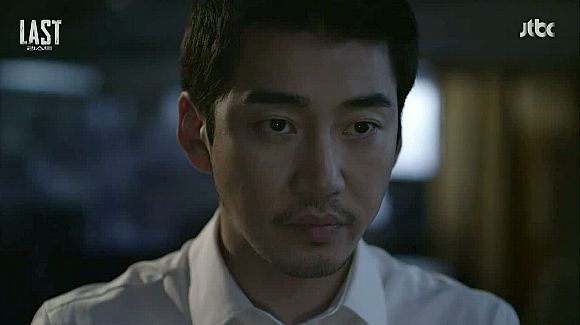 The more loyal Tae-ho becomes to Heung-sam, the more his friends start to distance themselves from him. It's unclear whether Tae-ho knows he's being used, but he's in danger of losing the people who actually care about him in favor of power and money. And as much as Tae-ho's gutsy attitude has saved his hide until now, he risks going too far to ever come back.
EPISODE 11 RECAP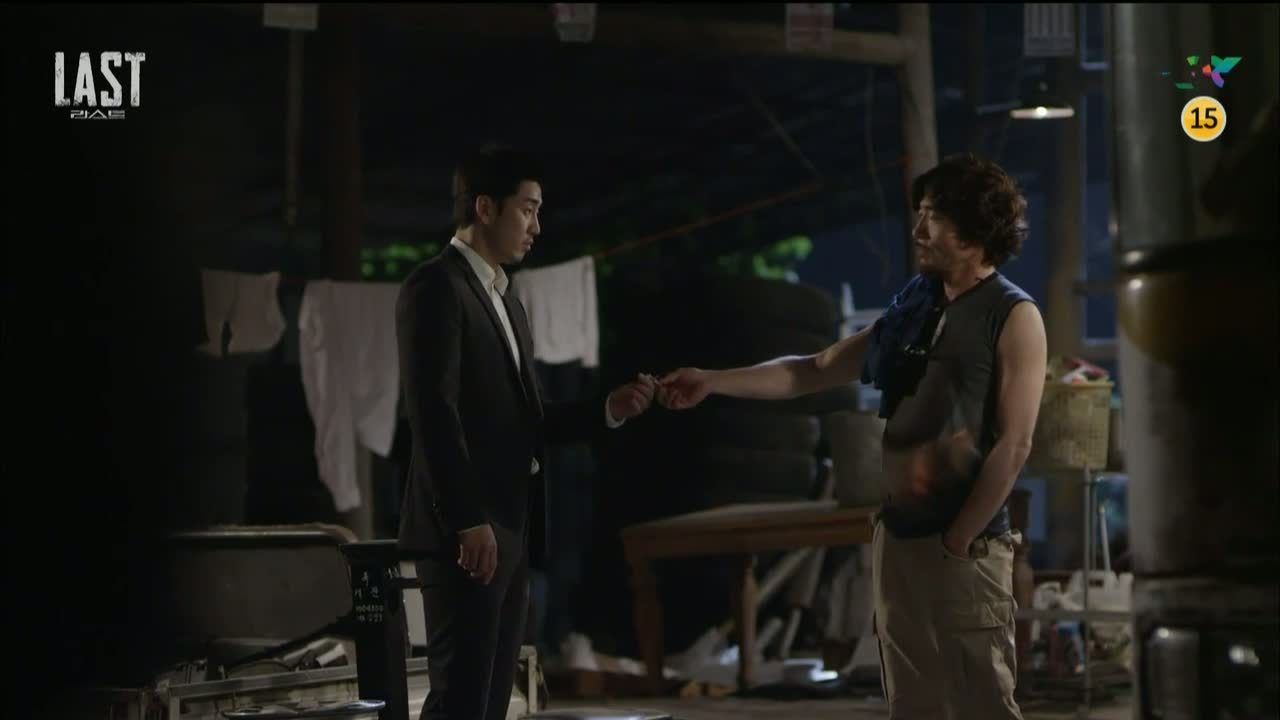 Jong-gu hands Tae-ho the locker key from Straw Cutter, saying that all he knows is that it's Heung-sam's Achilles' heel. Tae-ho says he's Heung-sam's right-hand man now, but he did learn one valuable thing from Straw Cutter — the less he knows of Heung-sam, the longer he can stand by him. He's not interested in betraying a boss that takes care of him.
He leaves the key in case Jong-gu is curious himself, but Jong-gu stops him to tell him that Straw Cutter didn't kill that man five years ago — he was taking the fall for Heung-sam. Tae-ho is stopped cold by this, and reconsiders the locker key.
He takes the key after all, though it's made obvious that it's not the same locker when he goes to see what's inside. He finds a piece of paper with Kang Se-hoon's name, and information that he's thirty-five and was adopted to Canada.
Heung-sam watches Chairman Yoon greeting a group of men at an airport, and it throws him into a memory from when his father was alive. Chairman Yoon had met with Heung-sam's father to inform him that he's now his company's CEO, having bought up all the stocks.
Heung-sam's father is furious at having his company taken over, threatening to tell about Yoon's excessive embezzlement. He clutches his chest and goes for his medicine, but he drops the bottle and collapses. Yoon stands over him and watches while Heung-sam's father gasps for help.
Heung-sam just happens to look in the window in time to see Chairman Yoon kick his father's medication under a table. Yoon leaves, and Heung-sam rushes to his father's side but while he's straining to reach the medication, his father dies.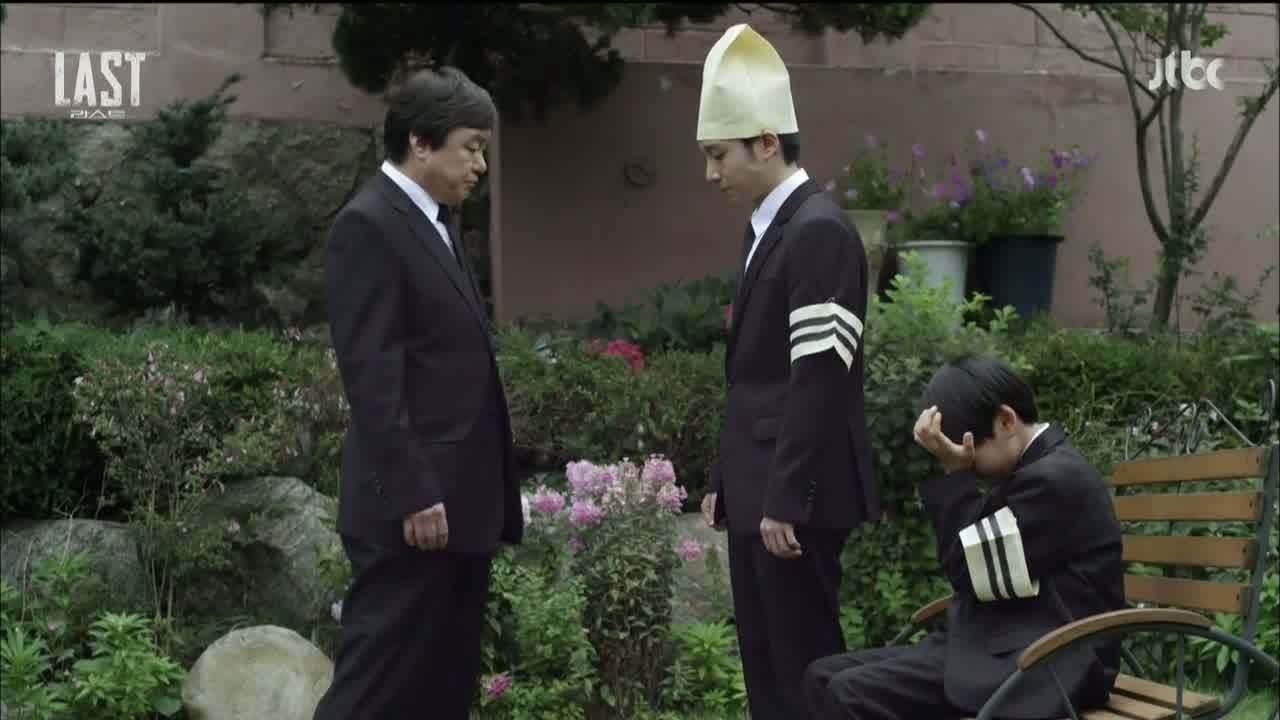 Later when Yoon comes to pay his respects, he admonishes Heung-sam to be the head of the family now and to find him if he ever needs anything. Heung-sam is furious and tells his little brother to remember that man — that's the bastard who killed their father.
In the present Heung-sam calls out to Chairman Yoon, loudly asking if he remembers him and his father. They speak privately and Heung-sam expresses interest in Chairman Yoon's project, pretending to be friendly. Chairman Yoon says he's sorry he never acted after hearing that Heung-sam's mother also died and that the brothers were separated, but Heung-sam says his father would have just been happy his friend helped make his business successful. He's definitely up to something.
Chairman Yoon asks after his younger brother, and Heung-sam says that he went to study in America and was in an accident and died. Chairman Yoon buys the lie, and Heung-sam's face takes on a steely expression of triumph.
He brings up Chairman Yoon's visit on the day his father died, and either Yoon pretends not to remember, or he truly doesn't — either way, that's awful. Heung-sam pretends not to notice and asks if Yoon remembers any last words from his father, because he died before he could say anything to his son.
Chairman Yoon claims that the company was losing money, which is the exact opposite of the truth, but he says he doesn't remember Heung-sam's father saying anything significant. But Heung-sam notices that Yoon starts to look uncomfortable and considers his job done for now, promising to see the Chairman again soon.
On the drive back to work Chairman Yoon asks Se-hoon about Heung-sam's company, unaware that he's talking to the man's younger brother right now. Se-hoon is deliberately vague about Heung-sam, just saying that he's got a lot of money. Yoon is unsettled, and asks Se-hoon to let him know if he finds anything strange.
Praying Mantis turns Tae-ho away when he comes to the penthouse, saying that Heung-sam has a visitor. Tae-ho is insistent, but Praying Mantis says it's boss's orders. Tae-ho snickers that he must feel slighted that he wouldn't let Praying Mantis kill Straw Cutter, calling him nothing but a doorman. Ouch.
Heung-sam is having a drink inside with Se-hoon, who asks why he confronted Chairman Yoon like that — he could ruin everything. Heung-sam isn't worried since Yoon gave Se-hoon the job of digging up information on him, and even crows that he probably gave Yoon nightmares.
Tae-ho does his own digging, and discovers that Se-hoon was apparently adopted to Canada at age three (remember, this is the real Kang Se-hoon's information, not Heung-sam's brother who now uses his identity) and ran away from home at seventeen. Tae-ho finds it strange that there's a drug possession charge on his record, but he supposedly went to an Ivy League school. It doesn't add up.
Tae-ho also asks Young-chil to look into someone named Steven Kim — the fake-ID seller that Heung-sam killed — and to find out more about Heung-sam's family. Hae-jin tells him about a party tonight at Granny's for Ship-jang's birthday, but Tae-ho says he won't be able to make it.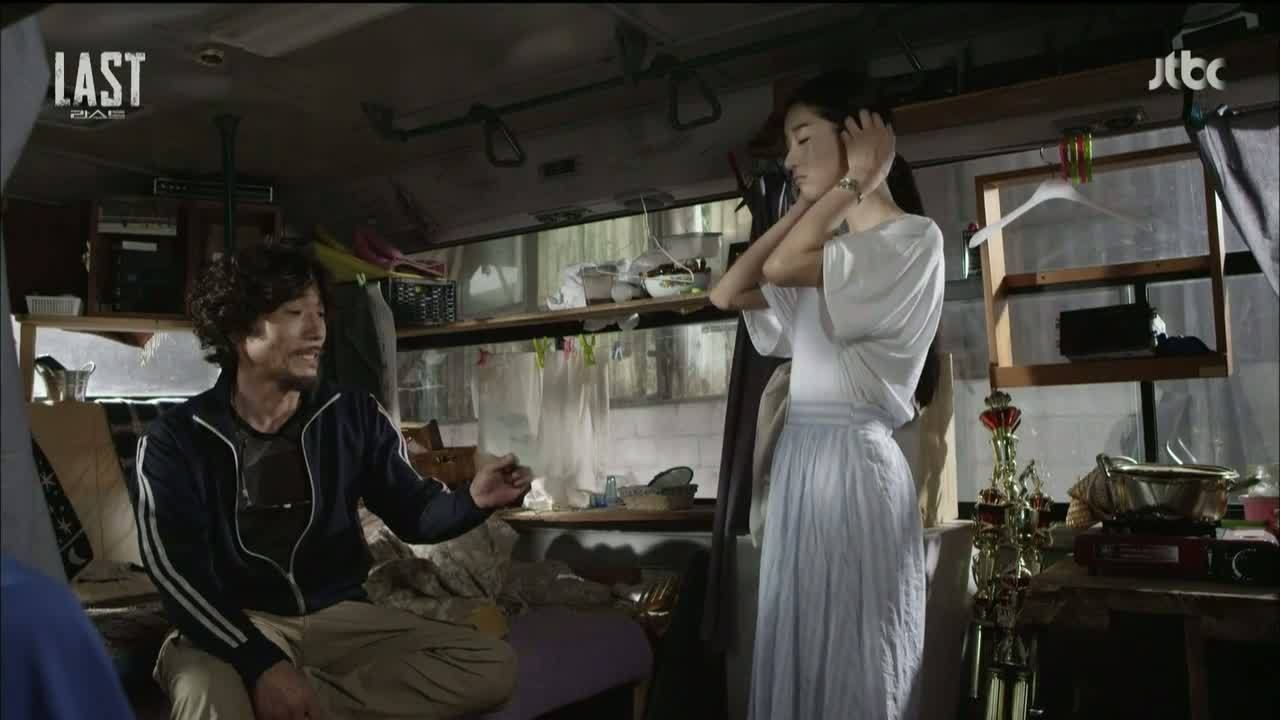 Nara goes to Jong-gu's place and finds one of the hobos there, Mr. Yang, who got kicked out of his regular spot for being smelly in the summer heat. Awww. He says that Jong-gu lets them stay here as long as they don't drink.
Nara gives Jong-gu the ripped-up address that she salvaged, fussing at him to go meet his daughter then apologize to Mi-joo. In turn he asks about Tae-ho, calling him the biggest of idiots, but Nara says Jong-gu's bigger for putting off a woman like Mi-joo for so long. Listen to the smart lady, Jong-gu.
Tae-ho finally gets in to see Heung-sam to go over the Mi Rae City project expense report he's drawn up. Heung-sam gives him a bonus and a week off, which feels more like he's trying to get rid of Tae-ho for a while when he practically orders him to leave.
Tae-ho asks about the song he's always listening to, and why he likes it so much. Heung-sam reveals that his father was always listening to it, and hums the tune ominously.
Mi-joo goes on a mission for Heung-sam, where she pretends to have trouble managing her golf equipment to get the attention of Chairman Yoon's son. It works, and he helps her and starts right in flirting.
Tae-ho walks in on Hae-jin and Young-chil fighting — uh oh, Hae-jin lost money on an internet betting site, and Young-chil is refusing to hack in and give his money back. Ha, but he did delete Hae-jin's account. That's a good friend, but Young-chil is ready to leave over it since he's tired of being taken advantage of.
After Young-chil goes, Tae-ho asks Hae-jin if his gambling addiction is rearing its ugly head again. Hae-jin takes offense to his meddling and says he's not Tae-ho's crony, that he's earned his keep more than anyone else.
Young-chil goes back to Seoul Station and sets up a place to sleep, and a friend tells him that the police have been cracking down and most of them have had to move away. Crocodile wanders by and asks if Young-chil was kicked out of Tae-ho's little group, and orders him to come with them to get a copy of his resident registration paperwork. Young-chil bravely refuses (and actually licks Crocodile when he grabs his face, HAHAHA) but he's dragged off anyway.
He ends up at Jong-gu's place later, bruised and sore. He cries that his father always taught him to use his name only in honorable ways, but Crocodile stole his paperwork for use in his fake ID business.
Jong-gu marches Young-chil down to Crocodile's headquarters and tells him to get his papers back, then goes for a lie-down, hee. Poor Young-chil is rumpled and intimidated, but he does demand his papers, and of course Crocodile objects. When Young-chil won't back down, Crocodile decks him.
Somehow Hae-jin gets wind of the situation and rushes in to protect Young-chil, and Jong-gu wakes and says to give him his papers now — he earned them by taking that beating. He warns Crocodile not to get too uppity now that Straw Cutter is gone. He's still Number Two around here.
They all go to the clinic to get Young-chil patched up by Nara, and Young-chil adorably claims that the beating was no big deal. Jong-gu tries to slink off when Hae-jin says that he knew about the situation because Jong-gu sent Mr. Yang to find him, and Young-chil bursts into thankful tears.
The guys hold Ship-jang's birthday party that night, with Granny spoiling them rotten with food even while she complains about them, ha. Tae-ho shows up after all, but only long enough to say hello and ask Young-chil to get his information by the next day. Nara looks so disappointed in him.
She chases after him to ask what his problem is, but she says she wants to give him one more chance based on Jong-gu's claim that Tae-ho's really not an idiot once you get to know him. She also tells him that she knows where Jong-gu's daughter lives but that he's too scared to go, so she's thinking of going herself.
She asks Tae-ho to go with her, but he says it's not a good idea. They should let Jong-gu decide when he's ready. Nosy Nara insists that this might help him get ready faster, and says she's going on Saturday if he wants to go with her.
Mi-joo finds Jong-gu surrounded by hobos and asks when he got to be so social, but he waves it off as nothing, as usual. She invites him out for crab stew and soju, but he reminds her he stopped drinking, so she turns to go. She admits that she mostly came to rub it in his face that a rich man gave her a golf lesson today, which seems to hit Jong-gu hard.
Heung-sam was definitely trying to get Tae-ho out of town, because he tells Se-hoon that he's got to finish the project blueprints by the time he comes back. At that point they'll be ready to make their move.
Se-hoon is distracted so Heung-sam warns him that it's crucial he make no mistakes. Se-hoon asks for more time, since Chairman Yoon intimidates him and his son Jae-sung is keeping a close eye on his department. He denies that this has anything to do with Jung-min, and Heung-sam tells him to keep focused.
Mi-joo goes drinking at a pojangmacha instead of back to the club, and luckily Heung-sam finds her just as she's fending off an overly-friendly man. He only cares how things went with Jae-sung since she's been ignoring his calls, and she says it was almost too easy to get his attention.
Heung-sam can tell she resents him and reminds her that this is her end of the deal in return for Eun-ji's location, but she's all Yes, this is how you always operate — it looks like a deal but it's really extortion. She tells him that Jong-gu ripped up the address, saying that he's changed so much he was like a stranger.
Mi-joo asks if he knew that would happen, but Heung-sam says he can't control people's emotions. Crying, she asks when he'll let her go, but Heung-sam sneers at her — does she even have anywhere to go? She calls him the devil, and he just says, "I know. Because this is Hell."
But despite his cruelty, when Mi-joo falls asleep on the drive back, Heung-sam gently cups her face with his hand to keep her from waking. The way he looks at her is so filled with regret and longing, it's almost painful.
She wakes up in a strange house the next morning, and finds Heung-sam drinking coffee on the patio. He admits that this is his house, the one he lived in as a child. He bought it three years ago, because it's where he grew up and where his parents died.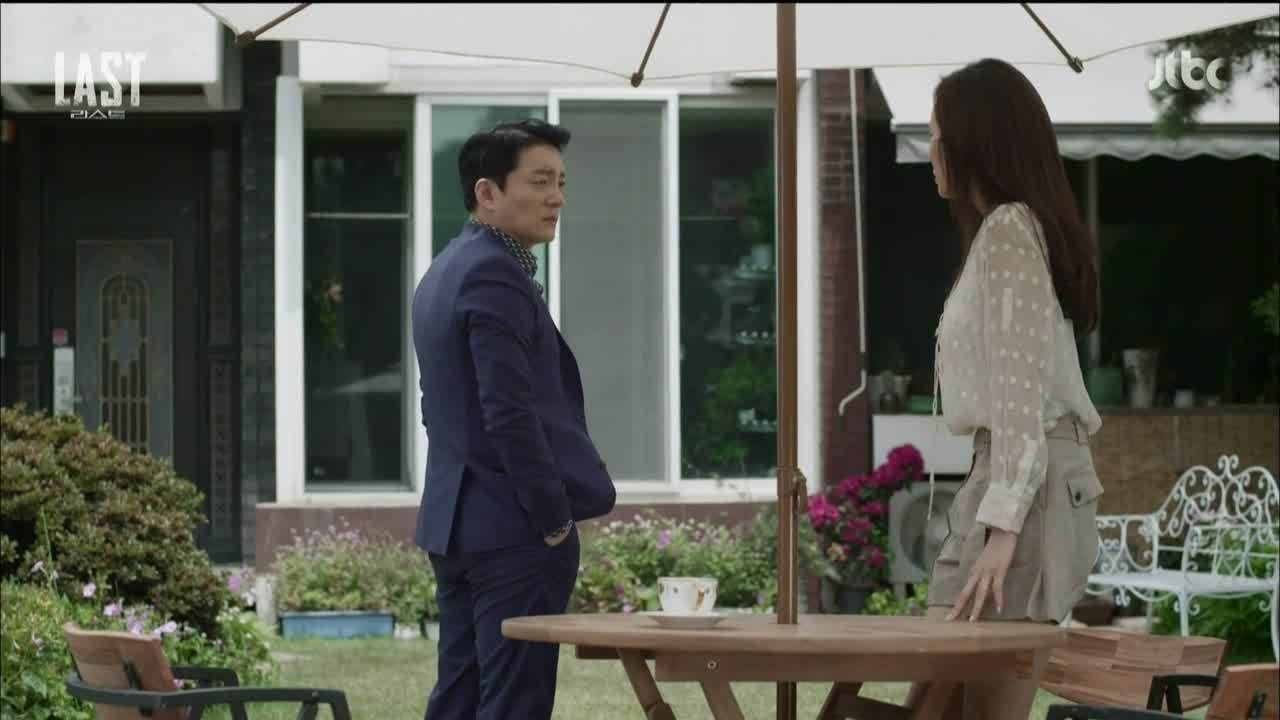 He tells Mi-joo that when this is all over, he's really thinking of letting her go. He says it won't take long, and that when it's all done he'll move out of the penthouse and live here. If she doesn't have anywhere to go, and only if she wants it, she can live here with him. He says sincerely that this isn't an extortion, just a dream he's had for a long time.
Young-chil tells Tae-ho that Heung-sam had a younger brother who studied in America and died in a car accident nearly fifteen years ago. There was even a death certificate and a funeral. Tae-ho asks if he was adopted at the age of three and Young-chil says he wasn't.
As for Steven Kim, there's record of him entering the country five years ago, but none of him leaving — he just disappeared. Tae-ho remembers Jong-gu telling him that Straw Cutter went to jail for a murder that Heung-sam committed, and grows even more suspicious to hear that Steven Kim sold clean identities to criminals.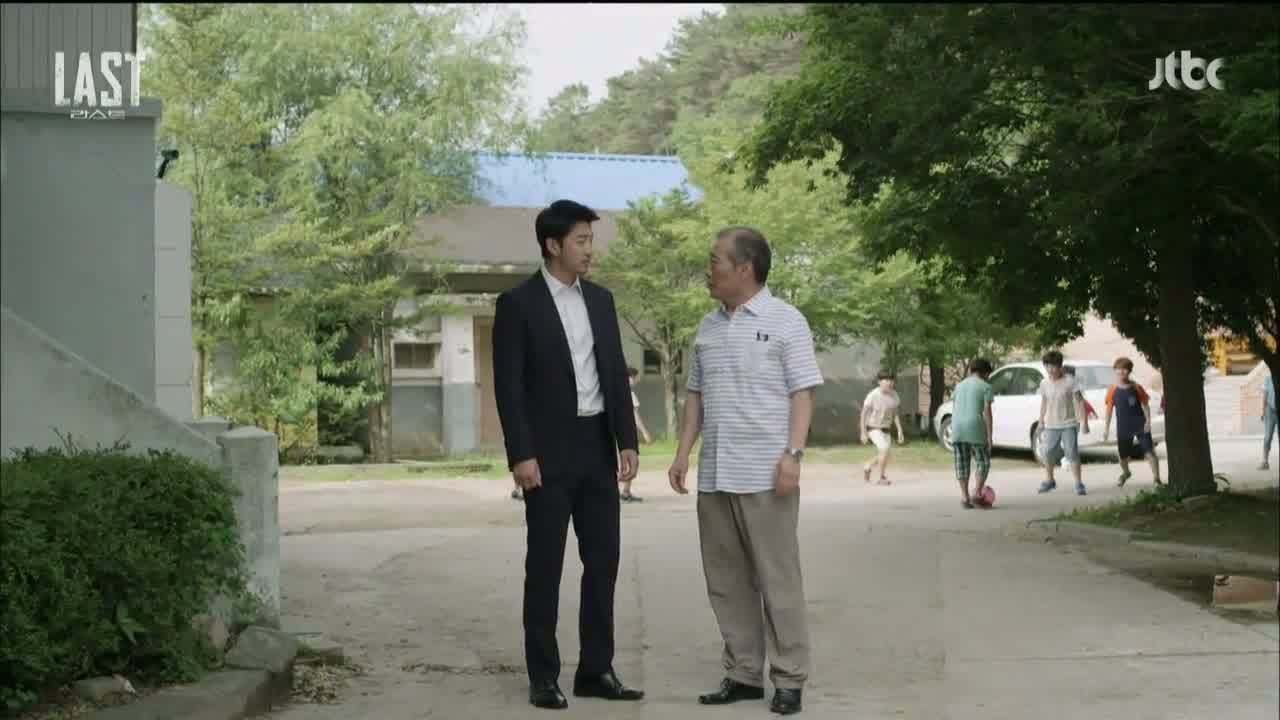 Tae-ho visits the orphanage where Heung-sam and his brother ended up, coincidentally named New Hope (the same name as Heung-sam's cover company). The orphanage employee says that the younger brother was the smart one, but that he doesn't know how Heung-sam got the money to send him abroad to study.
He also believes the younger brother, Heung-soo, died in an accident, and he when Tae-ho shows him a picture of Se-hoon, he says he looks exactly like Heung-soo. Tae-ho puts the clues together, that Heung-sam must have sent his brother to America, changed his identity, and killed the man who knew about the identity change. The question is, why go to such extremes?
Jong-gu approaches Ship-jang about a job, and though he initially balks, the Chairman tells him to take some guys to the company construction site and he's forced to say yes. Ha. Jong-gu gets home to find the hobos bunking at his place having a feast, and asks where they got the money.
Turns out, they all went to Crocodile to get their papers back like Young-chil did, and instead Crocodile paid them for them. Jong-gu screams at them — those names they sold for a few dollars will now get bankruptcies and criminal charges attached to them, and they'll never get good jobs.
When they argue that nobody will give them jobs anyway, Jong-gu becomes even angrier. He barks that the people who looks down on them the most is themselves, reminding them that they are all still human beings.
Daily collections are counted and found to be short, but Poison Snake explains about Crocodile having to pay off the hobos who all rushed him at once. He tells Heung-sam that they've been staying at Jong-gu's yard and believed he was behind them, and Heung-sam grumbles that Jong-gu sure has changed a lot lately.
Tae-ho meets with Jung-min and hesitates when she asks what he wants, prompting her to note that he's become very cautious lately. He asks how she met Se-hoon — who approached whom? She thinks he's just acting like a spurned lover and refuses to answer without knowing why he's asking.
He mutters that he can't tell her, and she says to ask Se-hoon himself then, since he'll be there in a minute. But Tae-ho has to leave by six o'clock, because Se-hoon's father will be joining them.
Se-hoon sees the two of them talking and hangs back out of sight, listening as Jung-min says it's true she doesn't know a lot about him. So she did some research and located his father, and Tae-ho asks if she means his adoptive father.
This makes Jung-min angry that he did a background check on her boyfriend, but Tae-ho is more concerned about whether Se-hoon knows his father is coming today. She admits it's a surprise, still asking why Tae-ho even cares.
Se-hoon approaches the table at this point and Jung-min ushers Tae-ho away, but he stops to say quietly to Se-hoon that it's nearing the end for him. He calls him Kwak Heung-soo, and Se-hoon's reaction is all the answer Tae-ho needs to know that he's on the right track.
Poison Snake confronts Tae-ho on his way home to gripe about him flaunting their seniority system, but Tae-ho says Poison Snake should feel bad for the same thing, with the way he betrayed Straw Cutter. Poison Snake just says that Tae-ho will die today, but by the boss's hand. Before he can react, someone knocks Tae-ho out from behind.
Tae-ho wakes in an empty warehouse, with only Heung-sam in the room with him. He's found out that Tae-ho investigated his past, and he is not at all pleased. Tae-ho tells him about the clue that Straw Cutter left for him, and admits he was curious. He says he needed to know everything in order to protect Heung-sam, but Heung-sam doesn't buy it. Tae-ho calmly says he can even confirm it with Se-hoon… no, Kwak Heung-soo.
Heung-sam says that Tae-ho is good at climbing back up off a cliff, but it won't work this time. He tosses a gun at Tae-ho's feet, telling him it's the same gun he threatened President Jung with and chickened out. He invites him to be a man today and pull the trigger — at his own head.
Tae-ho points out that he could always use the gun on Heung-sam, asking if he trusts him. Heung-sam retorts that he trusts Tae-ho's pride not to beg for his life, and tells him again to end this with his own hands.
A wily look enters Tae-ho's eyes, and he points out that if Heung-sam wanted that, he would have given him bullets. He knows this was only a test of his loyalty. "I'll show you then, just who I really am."
Heung-sam says that this is why he likes Tae-ho, and produces a single bullet. He tosses it down by the gun, and Tae-ho picks them up and loads the bullet into the chamber. He aims the barrel at his own head — then slowly turns it to point it at Heung-sam.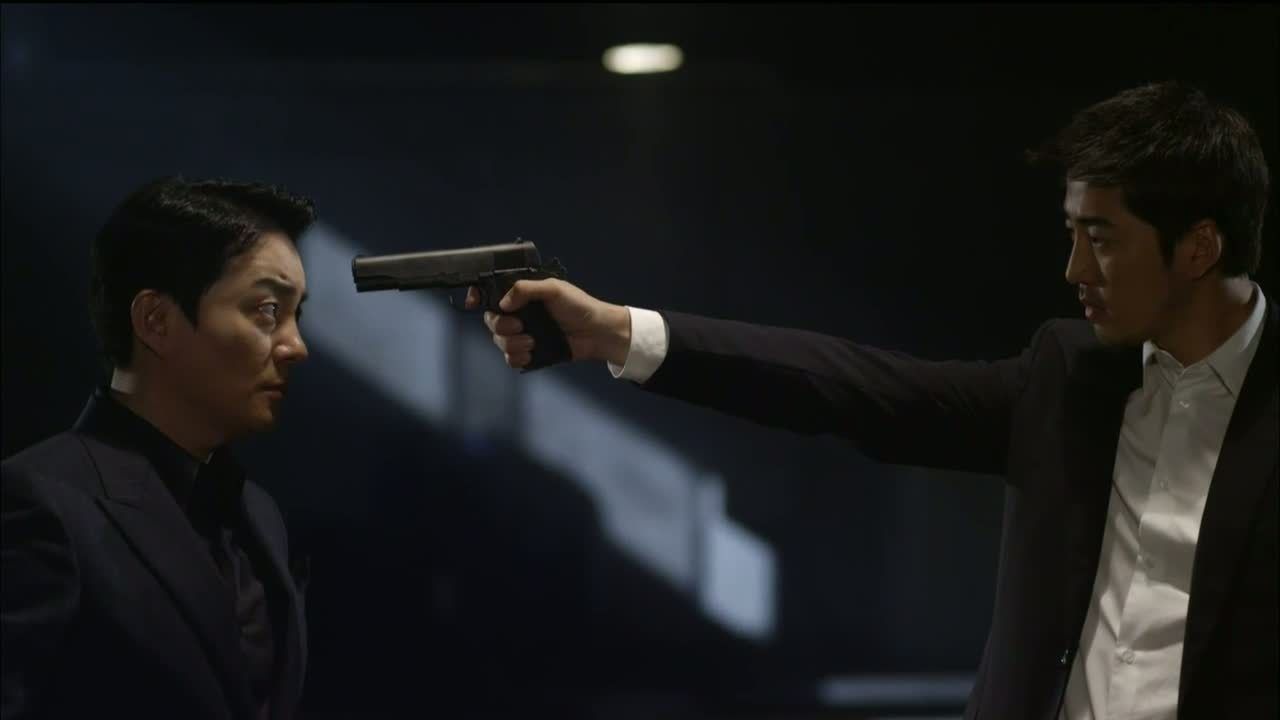 COMMENTS
Oh Tae-ho, this blind loyalty to Heung-sam isn't going to lead you anywhere good, don't you know that? Willful ignorance never got anyone anywhere in life, and closing your eyes when you know for a fact Heung-sam is bad news is only going to land you in hot water. Again. It's good that he took the time to do some research on Heung-sam and didn't completely shut his eyes to truth, but I still worry that he's only doing it in order to further his own hunt for power. If I felt like he was doing it for the right reasons, I wouldn't be nearly so concerned for our Tae-ho right now.
Not to mention, he's so focused on his own problems that he's starting to lose his friends now. Not being there for them is creating conflict in the ranks, and with Young-chil leaving (even temporarily) and Hae-jin starting to gamble again, it's all falling apart. Tae-ho's problem has always been that he thinks he can handle everything himself – it's never worked before, and it's not working now. Even Heung-sam did get where he got all by himself, he had six good friends helping him on his way to the top. "No man is an island" is a famous saying because it's true, and everyone needs their friends, or at the very least reliable and loyal employees, to be successful. If Tae-ho doesn't figure out fast what he's doing wrong and change his ways, and win his friends back, he's going to lose it all. He'll end up without money or power, and land himself in a worse situation than when he first entered Seoul Station if he's not careful.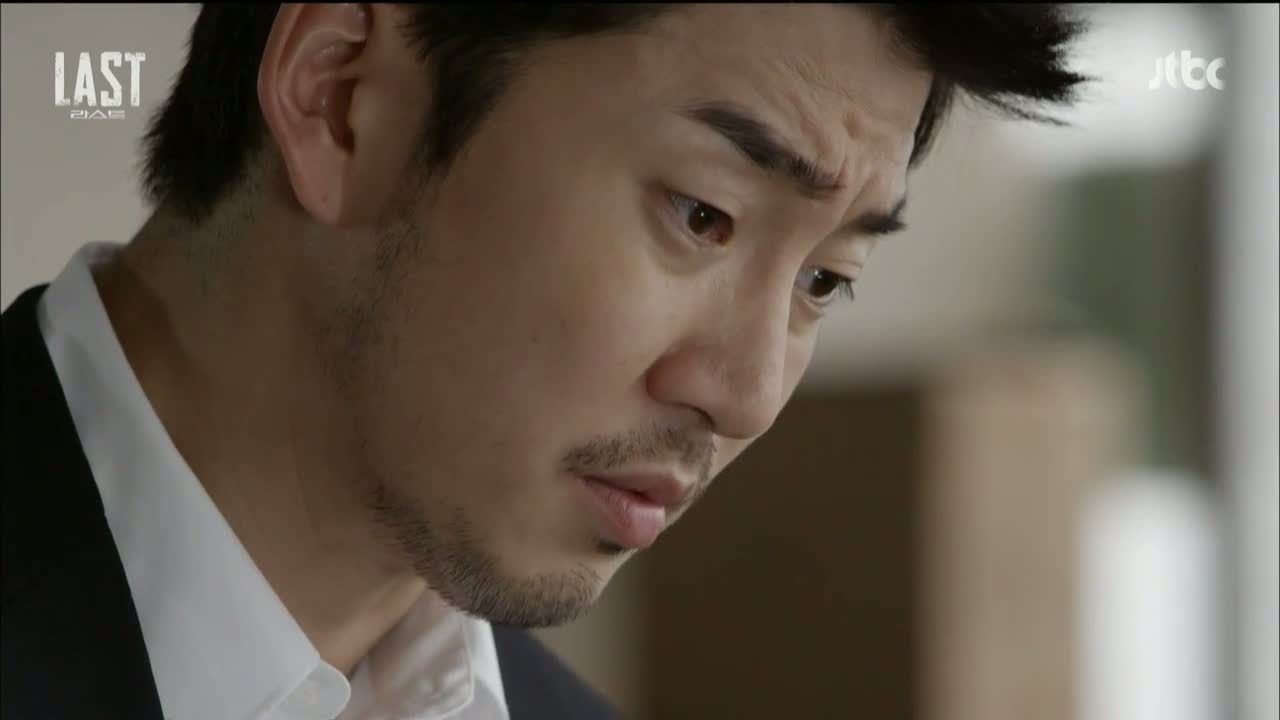 But on the other hand it's what makes Tae-ho such a great character, because he's not a clear-cut "good guy" type. He fully embraces the selfish, power- and money-hungry sides of himself, and doesn't fool himself that he's really a good person. He knows he's not, at least not at this point, and he's honest with himself and with others. If anything, that honesty gives me hope that it will be his saving grace. Once he wakes up to realize that he's going about everything in the wrong way, that honesty with himself will help him come to his senses and change.
Speaking of changing, Jong-gu is practically a different man these days. I don't necessarily feel that he's trying to be a better man, at least not for any purpose like that if he's better Mi-joo will love him, or that if he's better his daughter will want him. It feels to me that he's actually been working at maintaining his image of the rough, drinking, doesn't-give-a-shit thug, and now he's just tired. He's too tired to pretend indifference any longer, too tired to keep up the ruse that he doesn't care about anyone. It's as if this better man is who he really is, now that he's kicked the drugs and the alcohol, and he's not so much changing for the better as reverting to his true self. We see that he does care, very much, and not just for Mi-joo. He cares about the men in Seoul Station, and it kills him to see them throw their lives away. When he yelled at them that the people who put them down the most is themselves, I felt like that was the most honest we've seen Jong-gu so far. No wonder Mi-joo, the one person who truly knows him, loves him. She knows the deeply caring man that he is.
I just hope that Tae-ho hasn't pushed Jong-gu away so hard that he can no longer help him. If Tae-ho could use anyone's help right now, it's Jong-gu's — he's the only person who can stop him from going right down the path to Hell that Jong-gu has already walked.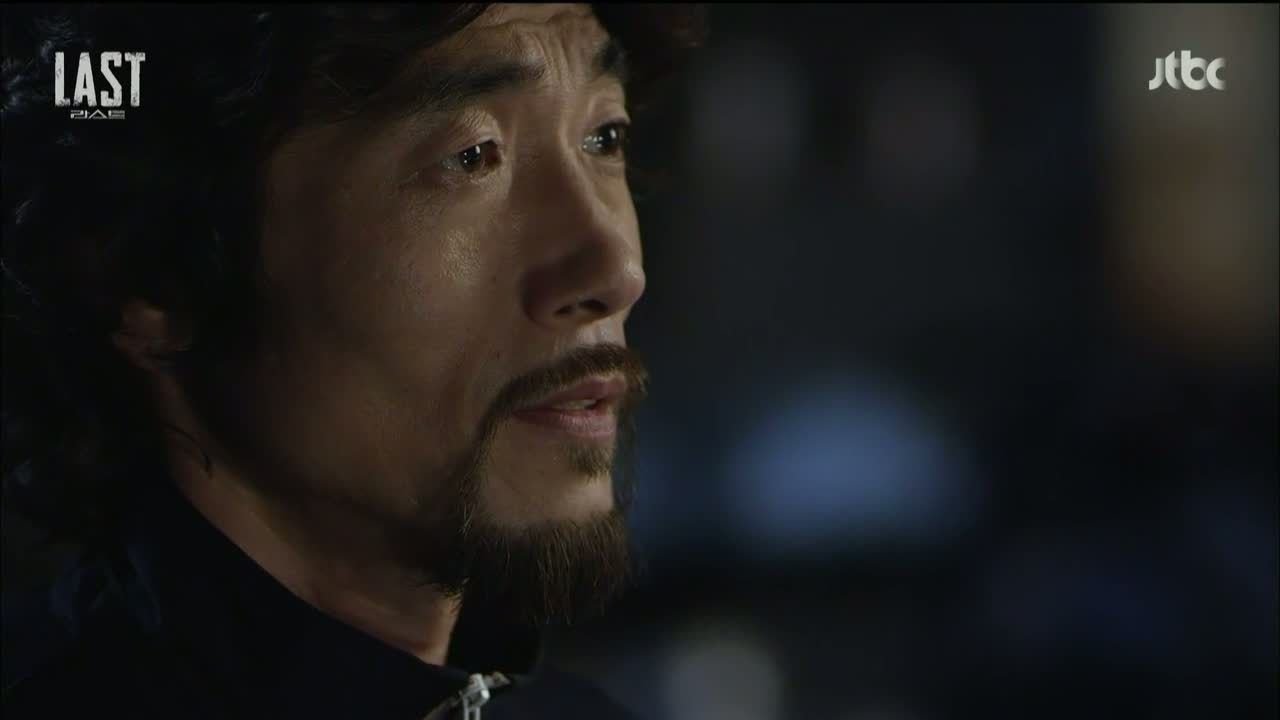 RELATED POSTS
Tags: featured, Last, Lee Beom-soo, Yoon Kye-sang