Retro bobs and mom jeans for Answer Me 1988
It's about time! We finally have a look at the cast of the highly anticipated friendship-romance-nostalgia drama Answer Me 1988, or at least some of the cast, with these stills featuring three of the ladies of the bunch. They are: leading lady Hyeri (Hyde, Jekyll, Me) and her two buddies, played by Lee Min-ji (Seonam Girls High School Investigators) and comedian Lee Se-young (SNL Korea), all in high school and all rocking delightfully frumpy '80s fashions.
You've gotta give it to the Answer Me franchise: They go all-out with the hairstyles and clothing of their throwback eras, opting for realistic (thus often amusingly tacky) looks rather than hipper, more flattering re-creations of the past. What I particularly love about the above shot is that if you don't look closely at their faces, it kind of looks like we've just got three Shim Eun-kyungs. Hee. It's Sunny times three.
The pictures below feature Hyeri solo, and while I'm still a little nervous about how her acting will fare, I always enjoy when actors go for character over looking pretty, and I trust the writer to bring out quirky, comedic traits in everyone. For instance: Is that rice stuck to her face? That's a nice touch.
I hope this means the boys are next up (and soon), because I can't wait to see Go Kyung-pyo and Park Bo-gum sporting acid wash and hi-tops. Maybe paired with high waists and Members Only jackets, topped off (literally!) with some gloriously feathered hair. Let's put aside the fact that none of the main cast were even born till the '90s, shall we? I… don't even want to think about that.
Answer Me 1988 follows current Friday-Saturday drama Twenty Again on tvN, and premieres in October.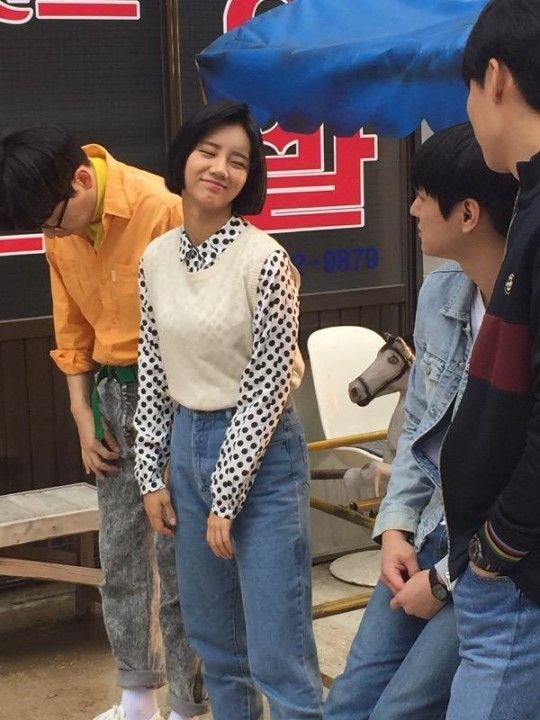 Via Asiae
RELATED POSTS
Tags: Answer Me 1988, Hyeri