Twenty Again: Episode 3
It's no easy business being twenty, even the second time around. Our ajumma freshman takes a long hard look at her life up until now, and comes up pretty short when she measures up the last twenty years. Thankfully it gives her a fresh outlook on how to spend what little time she has left and makes her even more determined to do college the right way, which means a happy uplifting episode for us, about living your life with no regrets, no matter what your age.

SONG OF THE DAY
Roy Kim – "날 사랑하지 않는다" (You Don't Love Me) for the Twenty Again OST [ Download ]
Audio clip: Adobe Flash Player (version 9 or above) is required to play this audio clip. Download the latest version here. You also need to have JavaScript enabled in your browser.

EPISODE 3 RECAP
Grouchy professor Hyun-seok prods Nora for an answer—why in the world is she attending college in secret? He threatens to ask her husband, and she panics at that, which effectively answers his first question about whether her husband knows.
So now he just wants to know why she's going to college, and she asks why he's curious about it in the first place. He calls it a habit, that he can't stand not knowing something he's curious about. She calls it a threat, but he insists it's a deal—she answers and he gets her into the psych class she needs.
Nora scowls, then says it's because her husband told her that no one would befriend her in college and she'd be a lonely outcast. He told her to just stay at home, but she wanted to go to school. Hyun-seok steps closer and asks why she'd want to go to college when she dropped out of high school, and Nora points out that she already answered his question and kept up her end of the deal.
Then all of a sudden she apologizes: "I'm sorry. A long time ago, twenty years ago, I wronged you, right? I wronged you badly? I'm really sorry… but I don't remember." Ha. Hyun-seok just stares incredulously and flashes back to high school, just after they first met.
Nora asks him to play that Kim Gun-mo song and tries dancing to it, and when her friend Yoon-young calls it a stupid idea to mix the two dance genres, Hyun-seok hangs his head and says he's sorry. But Nora stops him and asks why he said he's sorry when he did nothing wrong. She calls it fun and nudges Yoon-young to join in, and he starts to direct them.
In the present, he's the one to ask her, "Why are you saying sorry when you did nothing wrong?" But all she does is apologize more, to his ever-growing frustration. She adds that he won't have to see her face again because she dropped his class like he told her to, and he's so flabbergasted that she'd even listen to him that he assumes she's mocking him.
Nora apologizes for that too, and he barks at her for apologizing over and over, which is so unlike her. She shrinks back and says it's because he's being so scary, and he goes slack-jawed: "You… are afraid of me?"
She says it's because he clearly hates her so much, and by now he just doesn't even know what to make of her. She says he'll never have to see her again and scurries away, and he wonders to himself if she's changed or if she's just acting.
He thinks she was crying earlier because of that psych class, and chases after her to offer a new deal: She stays in his class, and he'll get her into the psych class she wants. He blatantly lies that his class is in danger of being canceled if she drops it, and makes the call.
Hubbie Woo-chul gets a text in secret code from his girlfriend Yi-jin, wanting to meet on campus. They have a stealth date on a pair of benches by pretending to be on the phone, and she asks about why his meeting with Hyun-seok over the theater project went so badly.
Woo-chul says he's too prickly to even have a conversation with, but Yi-jin is full of praises for Hyun-seok, about how he's so popular that they had to work extra hard to convince him to teach, and how he's handsome, and brilliant, and frank. Woo-chul is already jealous, though he flatly denies it.
Nora only now wonders how Hyun-seok knew that Woo-chul was her husband, and he offers another trade, answer for answer, if she'll tell him why she's in school. He insists that she go first, and she scoffs, "Are you really the Cha Hyun-seok that I knew?" He's just as skeptical: "Do you think that you're the Ha Nora that I knew?" They're so petty, I love it.
She half-lies that she's going to school because she wanted to match her husband's level and surprise her family, and Hyun-seok deflates, disappointed that it was such an obvious reason. He gives the boring version of his answer too—that he found out about Woo-chul being her husband through a classmate—and they part ways wondering why they bothered.
Hyun-seok's assistant Sang-ye asks about Nora rejoining the class at the last minute, and he sighs that he's already regretting it. She's curious about his behavior, since he's not the type to keep someone around if he doesn't like them, and ventures a guess: "Is Ha Nora the bitch-bitch-bitch?" She says that he got drunk once and talked about his first love, calling her a terrible, frustrating, and unbelievable bitch. He doesn't bother denying it, and adds stupid to the list.
Nora comes home that night to a new divorce contract addendum, outlining the three-month extension she asked for. If she doesn't adhere to the deadline this time, she'll have to give up a store that they own. Woo-chul blabbers on about how mistakes become habit when they're repeated, and Nora just signs it and tells him not to regret this in six months (when she thinks she'll be dead).
Nora cooks a giant breakfast the next morning, but Min-soo says he's studying in the library and waves off Mom's concern, as always. Dad says he's going to stop by the library to chat with him later today, and judging from the look of panic on Min-soo's face, he wasn't planning on going to the library.
Sure enough, his girlfriend Hye-mi has packed a picnic lunch for their day trip, and pouts when he calls to cancel. A round of footsie in the library puts a smile back on her face, but she's upset when Dad arrives to take Min-soo to lunch, forcing her to eat their picnic lunch by herself at the next table over.
Min-soo is stiff and formal around Dad as usual, but Dad tells him to ease up a little, since he's an adult too now. He gives Min-soo some spending money and tucks his new Woocheon University contact card in there, and Min-soo tries to hide his shock over Dad becoming a professor at his school.
Dad says that his being here as a professor is totally different than Mom wanting to attend as a student, and that it should help Min-soo out down the road. Min-soo agrees quietly, and at the next table, Hye-mi breaks her heart-shaped rice ball in half and shoves it in her mouth.
She doesn't understand why they can't be a couple, and Min-soo tells her that he signed a contract with Dad (the man sure likes his contracts) that if he dated anyone he'd go to army. Pfft, I'm with Hye-mi on this one—why would you sign something like that, dummy?
He gets hilariously dramatic as he says that he never imagined he'd meet someone like her, and says that they'll just have to date in secret. This campus, I swear, secrets everywhere!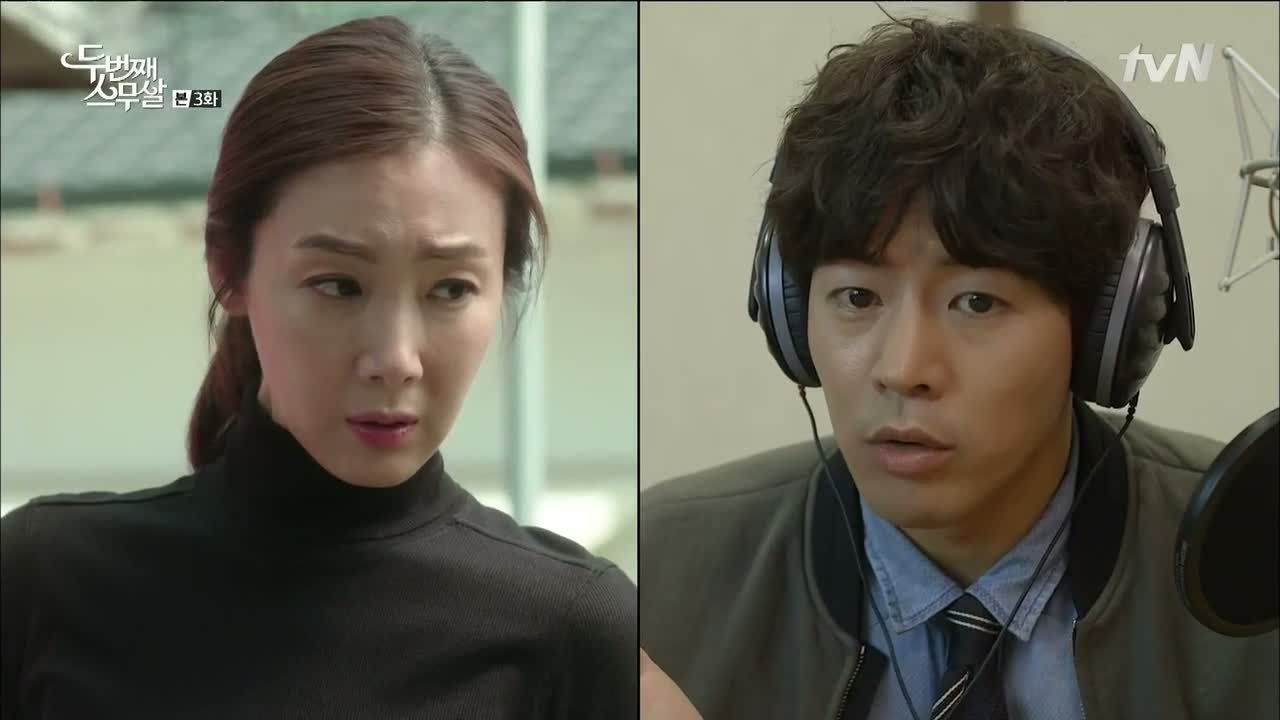 Nora packs up the breakfast that her family didn't touch and takes it to a retirement home, where a group of grandmas are happy to see her again. She says that she won't be coming by anymore, and lies that her husband got a job abroad.
Hyun-seok just barely makes it to a radio appearance on time, and gets asked about his latest theater project, which will feature real people with real problems. He says that there are over 3,000 submissions from people wanting to participate, and that 70% of the problems are about death.
Nora happens to be listening to the broadcast as she hangs up laundry at the retirement home, and at first she scoffs when she hears Hyun-seok talk of death so cavalierly, thinking that it's easy for someone not dying of cancer to say. But then she starts to really listen.
He quotes Mozart, who said that death is the key to happiness, and explains that once you accept the fact that every person will die someday, it will inform the way you live today. No one can escape death, so it's up to you to decide how to spend your remaining days. He says that this is why people write last wills and autobiographies, and says that he's working his way through his bucket list right now.
Nora gets inspired and begins to write her story down, beginning with her father who died of cancer when she was two, and her mother who remarried and left her when she was four. Grandma raised her, then she had Min-soo and raised him…
She gets stuck here, with nothing left to add except, "And then I die. In six months…" Damn, is that really what her life amounts to? She rips the page out angrily and crumples it up in her hand.
She thinks over her life again, and we follow it in flashback, as she dreams of becoming a dancer, gets into performing arts school, and gets noticed by Woo-chul while she's dancing on stage.
A whirlwind romance led to her pregnancy, and she followed Woo-chul abroad to Germany, where she raised a sickly Min-soo on her own while he was busy studying. Then they returned to Korea when Min-soo was a toddler, and her youth had come and gone in a flash.
She stands now in the middle of a crowded street, getting lost in the sea of people. She struggles not to burst into tears and calls Yoon-young to say that she did the math, and her life amounts to over 33,000 hours lived. But the time she has left is only 4,320 hours.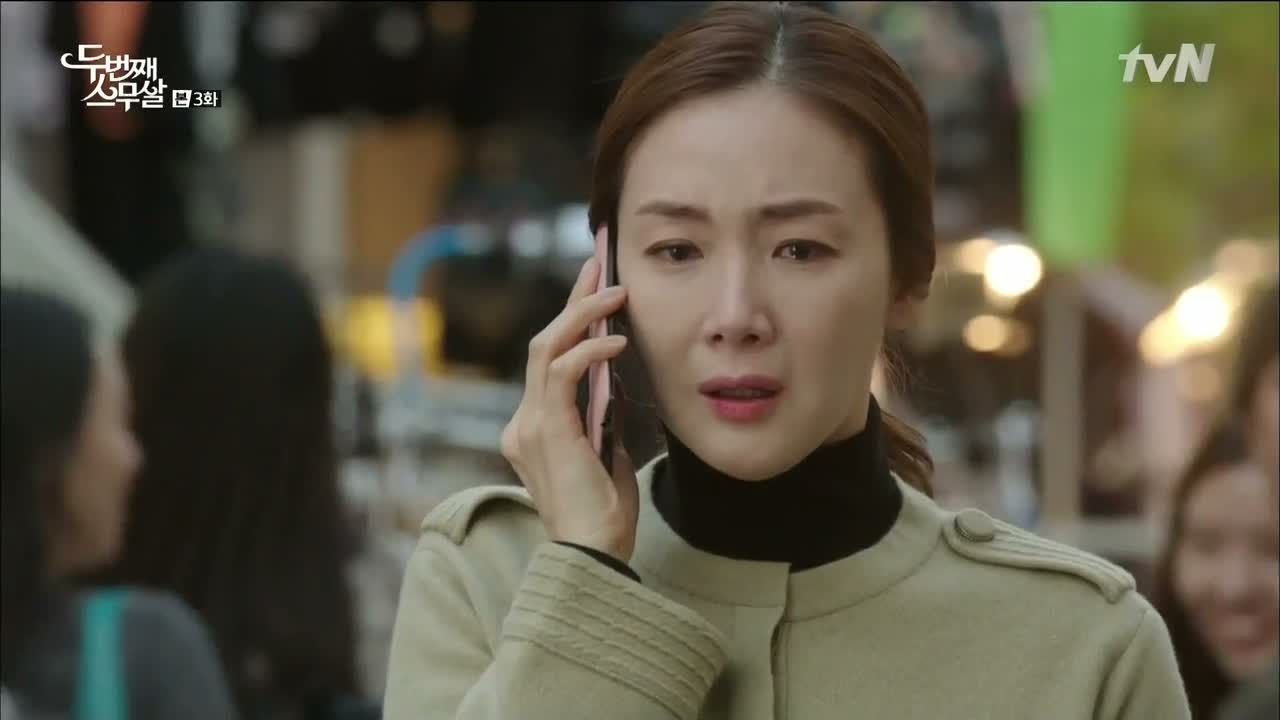 She asks why it's so unfair, and why she didn't know that you could just suddenly die one day: "There are so many things I haven't done yet. What should I do? I'm going to try everything."
She decides right then and there to try everything she's never done before, and goes shopping for a whole new wardrobe, a new hairstyle, and prepares for class at a PC bang. She hides her various new purchases all over the kitchen at home (did she put her backpack in the fridge?).
She stands outside Min-soo's door and tells herself that she'll make sure that he gets at least three months to enjoy college life and just be twenty without this burden. She then makes a bucket list, and number one is to make up with Min-soo.
She writes down various options like writing him a letter or making him a lunchbox, or "What if we got locked in an elevator?" LOL. There's a cartoon and everything. Number two is to live like a real college student, and three is to dance again.
When she returns to school, she looks like any other college student in jeans and a sweatshirt, with her hair up in a ponytail. She looks over her club options and decides on the hip-hop dance club Bounce.
Her cranky classmate Soon-nam is the president of Bounce, and he gives his club a lecture about how they failed so miserably at freshman recruiting that everyone joined the other music club and they have no new members. He shows them the video of Nora dancing with the other club, and orders his dance minions to track down and recruit this girl now, or he'll have their heads. He's a mean dance dictator, but he's so cute.
Nora makes her way toward the Bounce clubroom, and is surprised to find Soon-nam there. He assumes she's tracked him down because of their homework assignment, and is annoyed that she hasn't dropped the class. She apologizes and says that they'll be trading partners in a month anyway, and uses the chance to interview him for the assignment.
Soon-nam rattles off his personal info without enthusiasm: He's 25, already back from army, can drink three bottles of soju, likes to dance, and hopes to get a job before graduating. Oh and marry someone young and pretty, which he adds pointedly.
She says she'll send her info over chat, and gets his phone number. He asks how she knew to find him here, and that's when she remembers that she came to join Bounce. He gapes, "Ajumma, this is a dance club! Hip-hop!" She nods that she knows, but there's only once dance club on campus.
Soon-nam: "Ajumma, are you per chance my stalker?" Hee. She says it's a coincidence, and that on the poster it said that they'd accept anyone regardless of age. Soon-nam takes a breath and then suddenly blurts in banmal, "Hey you! What's your name, clean this up right now!"
She's taken aback, and he explains that in a club, they stick to strict hierarchy by entering class—that means he'll call her "Hey you, Ha Nora." He does it in an effort to scare her away, but she readily agrees to follow the rules, and happily notes that he remembered her name. You can practically see his brain exploding.
The camera lingers on the video of Nora that he just minutes ago screamed at his minions over, as he tells her that she can't join. She argues that the poster says they'll accept anyone, even aliens, but he says that she's scarier than aliens to him, and he'll quit if she joins. She leaves for today, clearly intent on trying again.
Hyun-seok begins class and exempts the three tardy students from random group selection, putting the latecomers together in one group. Naturally that includes Soon-nam and Nora, and Park Seung-hyun—the girl from her literature class who returned her phone from the subway. Soon-nam asks for a chance to pick another group at random, but when Hyun-seok shoots him down, he tells the girls that he's dropping this class.
Sang-ye notes Nora's new appearance and tells Hyun-seok that Nora seems determined to succeed, and that Hyun-seok has passed on from curiosity to just pestering her now. Hyun-seok says Nora stole a freshman spot from some other aspiring student (does he think she got in with her connections?), so she'll have to pay her dues.
Yi-jin asks Hyun-seok out for a beer that night to consult him about something, and it happens to be the same bar where Nora's department is having their freshman welcome night. Nora runs in late and introduces herself to the group, and manages to join in on the drinking games without too much trouble.
Things start to take a turn for the creepy when their department advisor crashes the party. He's apparently infamous for being pervy with all of the female students, especially the new ones, and plants himself down between two girls and starts getting handsy. Gross.
The sunbaes all know this, but all they can do is try and steer him away with drinks or have the girls run away to the bathroom at intervals, and Nora watches with increasing discomfort as he moves on from girl to girl, putting his hands all over them.
No one does anything to stop him though, and Nora is about to follow suit and just leave, but then he moves onto Hye-mi and insists on a one-on-one consultation about her future. Nora flashes back to high school, when she and Hyun-seok banded together to get revenge on a trench coat flasher. She sure was spunky then.
The professor gets more and more lecherous by the minute, and the sunbaes attempt to invite him out for another round and fail, and Hye-mi looks over at them desperately hoping for a save. Finally Nora can't take it anymore and blurts for him to stop. Everyone looks over at her in shock.
Nora stands up: "Take your hands off of her! Our bodies are our own!" She says that women hate being touched without permission, and rattles off the count of every unwanted advance he's made tonight, calling it sexual harassment.
The professor gets all indignant and storms out as if he's the wronged party, but then the others at the table start clapping for Nora. Aw. The girls all rush to her side, calling her awesome, and Hyun-seok witnesses it all from another table.
Yi-jin has called him there to try and convince him to work with Woo-chul on his theater project, but he turns her down and turns down the university's funding too, rather than have them meddling with his work.
She gets huffy and reminds him that she's the board chairman's daughter, but he doesn't care, thinking it strange that she cares so much about him working with Woo-chul. Yi-jin storms out and drops a file on the way, and he notes her pen, engraved I ♥ W, with some curiosity.
By then, the welcome party has dwindled to just the freshman girls, and they all cheers to Nora and egg her on to drink. Yaaaay, she has friends!
Woo-chul sighs at the giant stack of mail that's been building up in their mailbox, and misses one sitting at the bottom from the hospital. Nora stalks her son Min-soo in the library and waits until he leaves his desk to drop off a health drink, and Hye-mi frowns when she sees it, thinking that her boyfriend has a secret admirer.
I still don't really understand the point of Yi-jin's class on marriage, but today she lectures on Sartre and de Beauvoir's open relationship, and says that it was possible because they were intellectual partners. More importantly, their next assignment is to be a campus couple with their partners.
Meanwhile, Pervy Professor bullies the senior students in the department with thinly veiled threats about them not getting jobs lined up before graduation. The other freshmen welcome Nora and relive her badassery from the other night, but when Nora says she doesn't understand why Pervy Professor's behavior has gone unchecked for this long, the sunbaes mockingly call her Joan of Arc.
They point out that it's not like she needs a job after college like they do, and they wonder how she could be so obtuse about why they have to kiss Pervy Professor's ass. The most senior sunbae comes in and orders Nora to apologize to the professor, and Nora doesn't see why. She says that everyone here witnessed his behavior, but now all the other freshmen bow their heads and look away.
Nora encounters more gossip about her in the cafeteria, and one of the sunbaes accuses her of acting like the victim in all this. (She uses slang, which Nora has to look up in her binder of college slang words that she's typed up and printed out, LOL.) Soon-nam is sitting at the next table over, and asks his friend what all this is about.
Nora goes looking for Hyun-seok and calls to ask where he is, so he gives her the address to his office (and home, I think?). She asks what she did that was so wrong, and starts to tell him about Pervy Professor, but he already saw the whole thing and anticipated the backlash from students.
He says she should've listened to her husband and just stayed at home, sighing at her attempt to communicate with students when she's stuck two decades in the past. He tells her not to think lightly of students in this generation—they spend six years to get into college and another four just to get a job, and he says she'll never know what that's like.
She asks what she's supposed to do now, and he tells her to ask her professor husband, then mockingly remembers that she can't because she's preparing to surprise him. He basically reduces her college career to a meaningless romantic gesture.
She can't believe how mean he is, and says he grew up to be a really weird adult. Or he never grew up at all, just sayin'. She says they were friends once, but he tells her coldly not to act like she knows him anymore, and to clean up her own mess. Damn.
Her eyes are brimming with angry tears as she spits back that she's leaving, and that she's never ever going to ask him anything ever again. Then she tacks on a string of childish faux curses, a la you mother father grass hole! and storms out.
She runs so fast that she drops her notebook, and he calls out to her, but then picks it up and starts to read. It's open to a page where she's written a letter to Min-soo, in which she tells him that she has pancreatic cancer just like her father did, and now has five months left to live. Pwahahaha.
At the same time, Nora goes to her doctor's appointment, where she's finally told that she was given the wrong diagnosis because of the name confusion with Han Ora, and that they tried to call and tell her via mail. She doesn't care about any of that and asks, her eyes full of hope, "So I'm not dying? I don't have terminal pancreatic cancer?" He confirms that she isn't dying, and she breaks into the biggest smile.

COMMENTS
Heh, I can't wait to see how Hyun-seok changes from here on out. I'm just glad that he discovered Nora's terminal illness secret before she learned that she wasn't dying, because there's so much comedy to be gained from this misunderstanding, not to mention some heartfelt emotion too. I do think we got enough out of it on Nora's side today, enough to motivate her to think of her life differently, and to act on it. Part of me regrets her finding out the mistake so soon, but I do want to see her happy, and I'd much rather spend time on figuring out what she really wants to do with the rest of her life, and not preparing for death at every step. Death was clearly just a device to get her enrolled in school, but it serves as such a good motivator when it gets her to look back on her life and really ask herself what she's accomplished.
Obviously it's no small feat that she raised Min-soo at such a young age, giving up her dreams and her youth in the process. But what matters is her own personal estimation of her life, and how little she feels like she got to try and do compared to all the things she wanted for herself at eighteen. College the institution doesn't matter nearly as much as her newfound desire to try everything, but it happens to be a really good vehicle for her to do just that, at just the right time in her life when she's trying to discover who she is. I love that she doesn't need to become a new person in order to start doing better in school—she just needed to decide for herself that she was going to make the most of every second and every experience, and brave the humiliation factor to get what she wants. When she marched into the hip-hop dance club and asked to be a member, I was cheering so loudly.
The department politics are probably going to put a big damper on Nora's short-lived popularity at school, but I don't mind her remaining an outcast as long as she isn't totally alone. I would've liked a bit of subtlety instead of hitting us over the head with Pervy Professor, but at least we got a good moment of outspoken sass from Nora, which was refreshing. In many ways, I prefer a slower build for her socially, one friend at a time. It's more meaningful if one or two people are willing to be her friend even when she's still the outcast. So hurry it up, Soon-nam, before you lose your chance! It's going to make my day when he has to eat his words about her joining his club.
Hyun-seok is being a serious poopypants right now, but the childishness is what saves him from being a complete jerk. I mean, he's assy, but it cracks me up that he's so confused by Nora. To him, she's still the beautiful popular girl who deigned to talk to his nerdy self, but she's so unlike his pedestal teenage version of her that he can't figure her out. Because he assumes that she left him and lived this charmed life. His anger is coming out in all the wrong ways, but it makes sense that he'd assume that college is a joke to someone like her, and that she's playing dress-up because she's a bored, rich housewife. It's presumptuous, but not outside of reason. But now that he's properly shoved his foot in his mouth, there's all sorts of ways to redeem himself, starting with how he treats her after learning of her cancer. And once he finds out about the divorce, well then, he'd better give Woo-chul a run for his money. And Nora had better give him a hard time about it.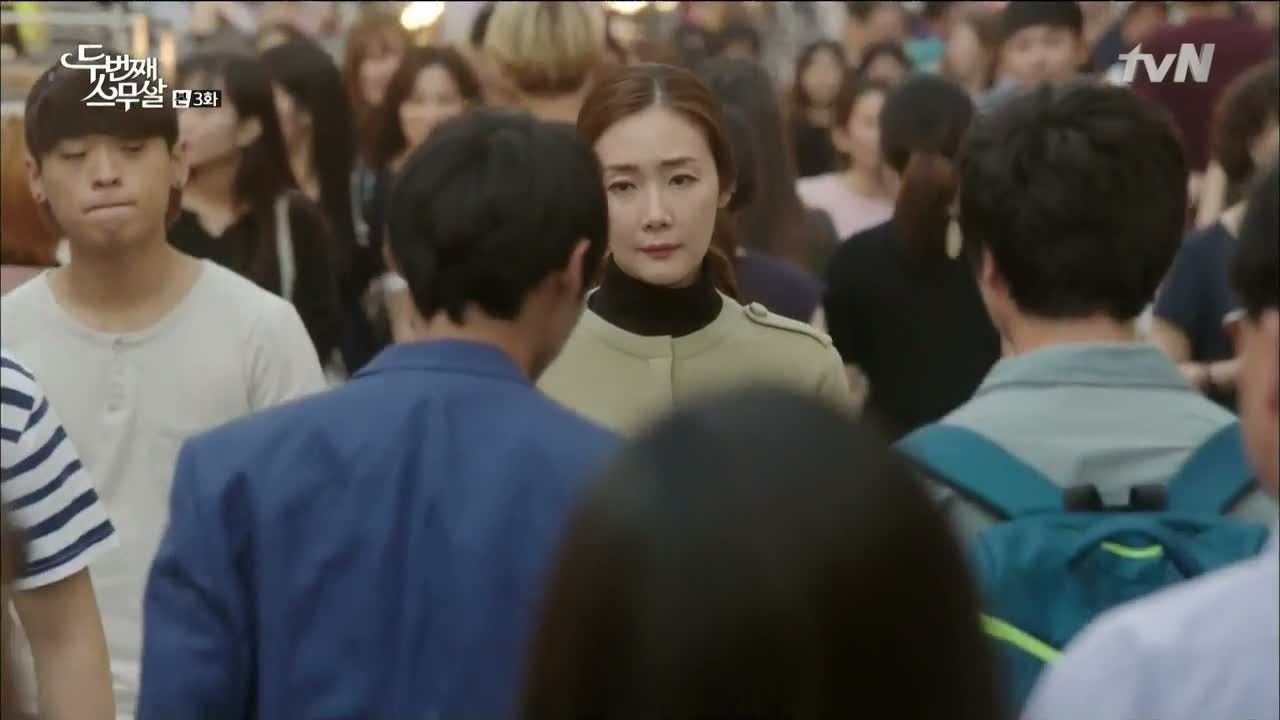 RELATED POSTS
Tags: Choi Ji-woo, Choi Won-young, featured, Kim Min-jae, Lee Sang-yoon, Twenty Again