Twenty Again: Episode 4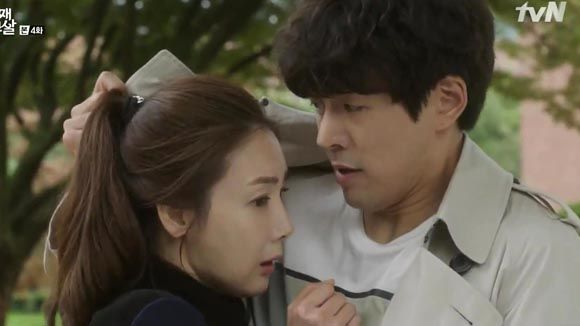 Ah, hello hilarious misunderstandings, I've been waiting for you. I figured the emotions of the opening week would soon give way to the lighter (but still heartfelt) comedic moments, and now we're there in full swing. It's a good place to be, with characters behaving in cute, hilarious, and frequently childish ways. But the poignancy is still there, and while it hurts to watch every time life kicks Nora down, we're starting to see that she's not entirely alone.

SONG OF THE DAY
Lee Seung-chul – "한번 더 안녕" (Hello once more) [ Download ]
Audio clip: Adobe Flash Player (version 9 or above) is required to play this audio clip. Download the latest version here. You also need to have JavaScript enabled in your browser.

EPISODE 4 RECAP
Reading Nora's letter to her son, Hyun-seok realizes that she (thinks she) is dying. It makes Hyun-seok recall every terrible mocking thing he's said to her, and at least he has the grace to feel terrible about it. Muahaha, you deserve some misery, meanypants. I mean, I'm sure I'll love you soon enough but right now you should really suffer.
He can't believe she's really dying, while across town, Nora gets the misunderstanding cleared up with the doctor, who says she's healthy enough to live till a hundred. She leaves in the best spirits and tells her friend Yoon-young the good news, and they do a happy dance right there in the street.
Yoon-young can't believe the hospital put her through that emotional turmoil, but Nora takes the cheery view, saying it gave her a chance to re-examine her life. She uses Hyun-seok's term "well-dying," a take on "well-being" that means accepting that death is inevitable and living all the better for it.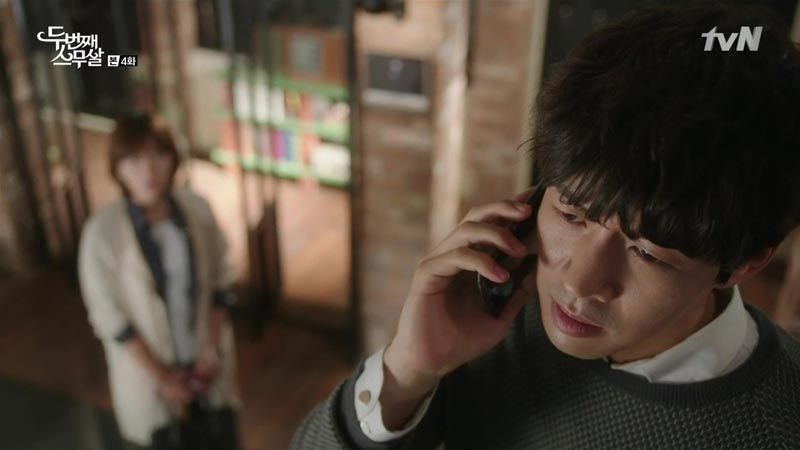 Hyun-seok's teaching assistant Sang-ye arrives at his office loft, only to be told to cancel his evening appointment and go away. She's surprised, since he's never one to cancel something, and guesses something's wrong.
Nora calls to ask about her lost notebook, and Hyun-seok gruffly lies that he doesn't have it. Why did you lie, Hyun-seok? I love that she often prompts him to do irrational things he can't quite understand.
Nora complains to Yoon-young about how mean Hyun-seok is to her, and wonders where she lost her notebook. She says she needs it now more than ever, because although she's not terminal, she's been inspired to live fully. She even credits Hyun-seok for the lesson, reciting his words on how overplanning for the future isn't always good, and that it's important to live in today, before it turns to yesterday.
Yoon-young is impressed at Nora's upbeat turn, which reminds her of Nora's teenage self. Nora explains that initially she thought she of going to school because there was nothing left for her to do at home, with husband and son always out. But when she started writing down her life story, she realized she had nothing to do because she'd never lived for herself. When she started writing down her bucket list, she found there were so many things she wants to do.
Hyun-seok flips through Nora's notebook, reading through all her plans and thoughts, including the illustration of himself where he's being punched in the face (and labeled "bad jerk"). He notes how mundane her bucket list is, with wishes like sleeping over at a friend's house, going to an MT, and traveling alone. He can't find any mention of the husband and wonders if he's in the dark about her illness.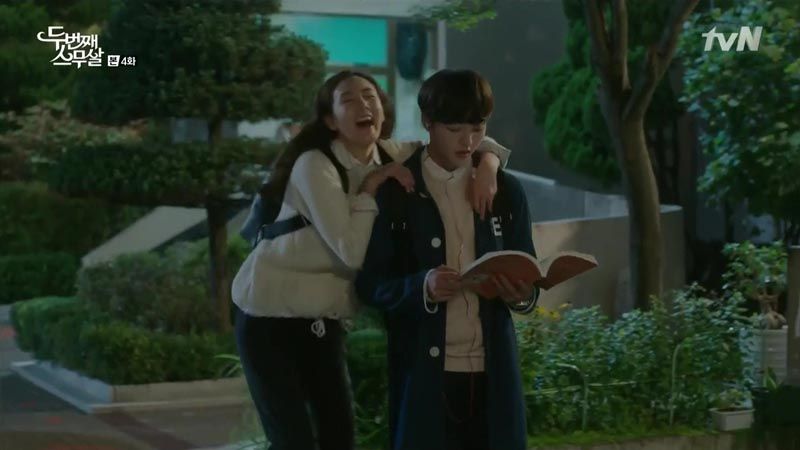 That night, Nora gets home just as Min-soo's arriving, and greets him enthusiastically by slinging an arm around his shoulder. Woo-chul sees from the parking lot, and father and son are left wondering at the change in her behavior. It's interesting to think they may never have known her being spunky or alive.
At school the next day, Hyun-seok finds himself watching Nora closely, and sees her running into her department sunbaes, who are still ticked off about standing up to Pervy Professor. She recalls Hyun-seok's words about how she'll never understand the pressures the students are under, and apologizes for putting them in a tough spot, but stands firm about not owing Perv an apology.
Fuming, the eldest sunbae orders that a separate chat group be created just to exclude Nora, which gets overheard by both Hyun-seok and Nora's classmate Seung-hyun, who looks conflicted. The other freshman girls are also conflicted when they get the text notification, though not for too long: Despite being grateful to Nora for speaking up, they shun her when she walks by.
Assistant Sang-ye chats with a colleague about Hyun-seok's sudden canceled plans, which is so unlike him that the colleague speculates that he's dating. Sang-ye denies that (and seems to have a crush on him herself), just as she sees Hyun-seok through the window… stalking an oblivious Nora across campus. HA. He just looks so obvious.
Nora arrives at dance club Bounce to track down her marriage class partner Soon-nam. She asks to do part of their couple assignment now, and when he turns her down, she offers to meet very early or very late so that nobody sees them together. Soon-nam's annoyed as usual to see her, though he's heard of the new chat room and seems to feel twinges of worry, with a side dose of curiosity upon hearing about her dancing past.
Hyun-seok follows Nora from the Bounce room to the convenience store where she buys lunch, with her notebook still in hand—he totally means to return it, but just can't figure out how. I'm presuming the direct approach is out of the question for some really good reason. He gets the bright idea to leave it near the secluded bench he saw her at before, and goes through a whole rigmarole to make it look like it was dropped there accidentally.
He sees her approaching, then spies Woo-chul heading right for her from the opposite direction. Recalling that she didn't want him knowing of her attendance, Hyun-seok yanks Nora aside, pulling up his trench coat to cover her head. She's totally confused, but when he whispers that her husband's approaching, she ducks closer into his chest. As he passes them, Woo-chul tsk-tsks at the (seeming) public display of affection.
But that attracts attention from passing students, who whip out their phones to take pictures. Hyun-seok directs her to run on the count of three, grabbing her hand as he runs toward that secluded bench. He asks if it's okay for her to be running (you know, given her condition), then smiles adorkably when Nora finds her notebook dropped nearby. He's so proud of himself.
Hyun-seok advises her to take off her jacket (so people don't recognize her in the photos), then leads her to an unassigned locker where she can stow her books instead of lugging them around. He also contemplates calling Woo-chul to share what he knows, but decides against it.
Assistant Sang-ye witnesses the exchange at the locker and asks if Nora is the reason he rejected school sponsorship. She points out that he's worked ten years on this project and can't lose it so easily. Plus, it's unlike him to let personal feelings interfere with work.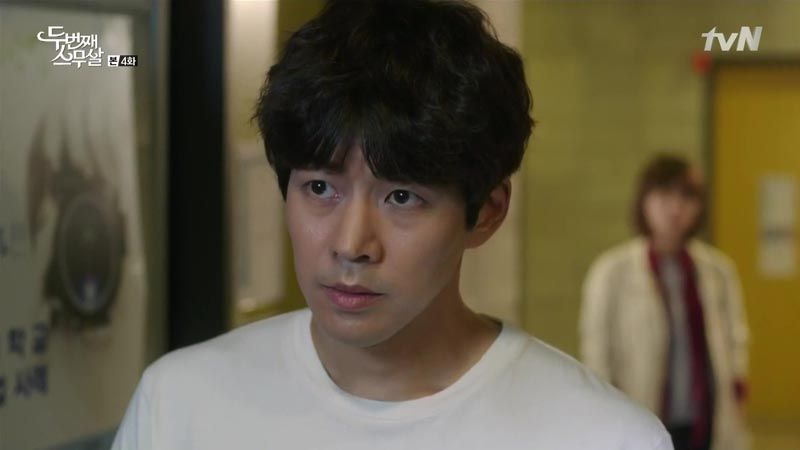 He tells her that Nora's husband is Professor Kim Woo-chul, then posits a what-if scenario where he's dying in six months—how would Sang-ye feel if he kept that truth from her? She agrees that it would be a disservice to the loved one to keep that kind of information secret, and wonders who he's referring to.
Woo-chul is dismayed to hear that Hyun-seok rejected funding just to keep him out of his theater project. His professor girlfriend Yi-jin had wanted to persuade Hyun-seok and present it to Woo-chul as a surprise gift, trying to help him establish a strong reputation at Woocheon University. She apologizes for stepping in, but as luck would have it, Hyun-seok calls to ask for a meeting.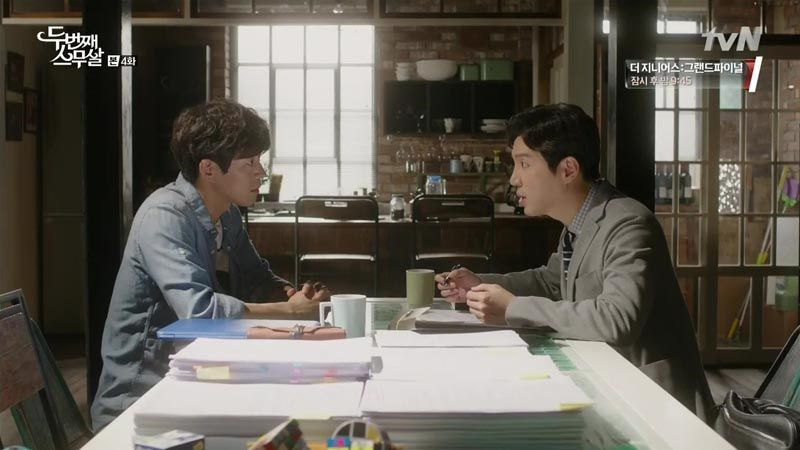 Woo-chul leaps to take the meeting, and works to impress Hyun-seok with his ideas, like incorporating survivors who'd lost their loved ones to large disasters mourned by the entire nation. Hyun-seok asks how Woo-chul would feel, hypothetically, if he heard his wife were dying, but only gets a vague answer about every case being different.
Hyun-seok notices that Woo-chul busts out a fountain pen identical to the one Yi-jin dropped, engraved with "I ♥ W." He abruptly cuts the session short, deciding that this collaboration won't work. He cites their differing approaches to the project, though it's likely more about deducing that the pen means "Yi-jin (I-jin) loves Woo-chul."
He fumes, imagining himself marching up to Nora and berating her for giving up her dreams and leaving her grandmother behind to be with a cheating bastard like Woo-chul. He stops himself, though, lamenting that Nora had to come back in his life so pitiable.
In the library, Hye-mi pouts over the health drink that's on Min-soo's desk, upset to hear that somebody's been dropping them off regularly, though he doesn't know who. She complains that he's too popular among the female sunbaes, and flashes back to the beginning of the semester, before she'd met him. Her friend had pointed him out to her as the cutie who lives in the library, who'd been turning down every advance from a girl. That's when Hye-mi first took an interest in him, and afterward planned the orientation run-in when she'd drunk his beers for him.
She says that girls keep giving him gifts because they don't know he's dating her, and he promises to tell the drink-giver the next time he encounters her. He promises that he doesn't care about any girl in the school other than her, explaining that it's really important for him to study and excel.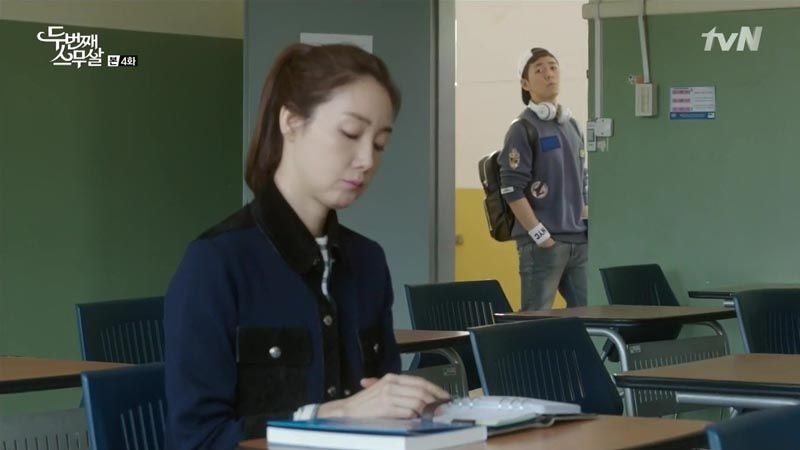 Nora waits in an empty classroom, unaware that the room got switched. Grumpy dancer Soon-nam sees her while passing by, and moments later Nora gets a text from Hye-mi alerting her to the swap. Soon-nam finds the new classroom where everyone's gossiping about the department uproar, with the sunbaes worried about their futures and whether Pervo is going to retaliate by suing for defamation.
When everyone starts saying that it would be easiest if Nora just quit school, Soon-nam can't take it anymore and storms into class, berating them for being cowardly and hypocritical. Hilariously, nobody knows who he is, but he says that while he's not in their department, he's speaking up "as someone ashamed to be a fellow twentysomething." Awwwww. I knew he'd turn a corner, but I hadn't even hoped for something this great.
Outside the room, Nora hears his tirade and sees him leave (though he doesn't see her watching).
Afterward, she thinks over the students' criticism of her (for not having to worry about getting a job or get along with professors), as well as Hyun-seok's words that she's in no place to judge.
The next day, Hyun-seok is waiting at Nora's lunch bench with the excuse that he was given porridge, which he hates. He insists he was just in the area and that she should eat it instead of her convenience store food, and his sudden thoughtfulness is so strange that she wonders if he's the one with a terminal illness.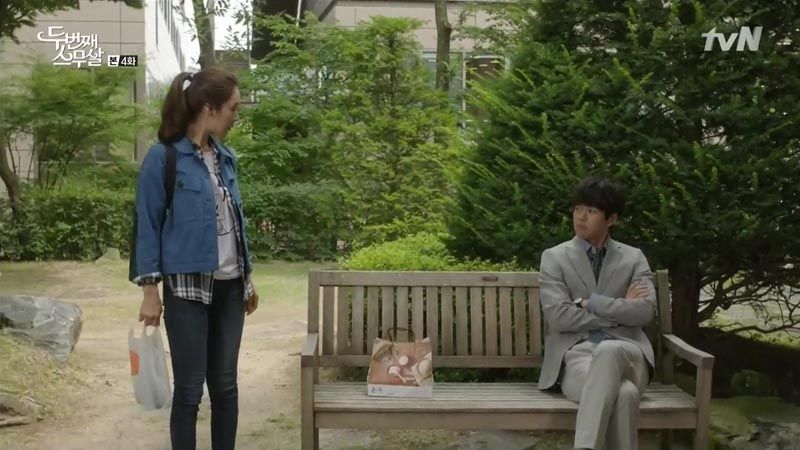 Hyun-seok calls both Woo-chul and Yi-jin for a meeting, and shocks them by saying pleasantly that he will work together after all.
As he leaves, a former student snaps a picture of him on her phone, which triggers a memory: On the night Pervy Professor was groping the girls at the bar, a girl had been recording it on her phone. He discusses this with assistant Sang-ye, who doesn't believe the girl will step up. Not when it's obvious she'd be ostracized too.
Hyun-seok is determined to figure out a solution, now that he knows (thinks) that Nora is going to school to fulfill her dying wish. Moreover, keeping this as a surprise for her husband suggests she loves him a lot, which Sang-ye agrees with. He vows not to let Nora die pathetically, made an outcast for doing a good deed, and uses Nora's words: "We were friends once."
In a flashback, we see Nora coming upon Hyun-seok at the creek as he works through an idea for a performance using some leaves. She likes the sound of it and joins in, and calls him Seo Taiji—people thought Seo Taiji was really strange when he first debuted, but now he's got the reputation of a maverick and creative trailblazer.
Hyun-seok is bashful at the flattery, but she says she's serious, and proposes a bet to prove that in twenty years, he'll be Korea's top theater director. They'll make a time capsule to open then, and see who was right.
So with new determination, Hyun-seok concocts a plan with Sang-ye, which involves engineering a run-in with video-recorder Seung-hyun. He hires the messenger service where she works to deliver a document to his office, acting surprised when she arrives.
He invites her to eat pizza with them, and as they chat, Sang-ye brings up the harassment incident and wonders how Nora will fare. Does Seung-hyun agree with her peers in thinking that the ajumma should just quit school? Seung-hyun is sharp enough to guess that the professors called her on purpose.
Woo-chul and Yi-jin celebrate the project with wine meant to celebrate his divorce, and she sighs about their marriage plans being delayed. They're so image-conscious that she has their whole courtship timeline mapped out to look respectable on the outside.
Nora googles what it's like to be an outcast at college, sighing to read of similar cases of older students being shunned. That's when Seung-hyun calls her over to the bar where she works, where she hands over a drive containing the video. She explains what it is and leaves the choice to "unni" to decide what to do with it.
Burdened by the responsibility, Nora imagines the worst-case scenario where she's jailed for making wrongful accusations of sexual harassment, and she downs drink after drink. Seung-hyun notices with increasing worry, and finally ends up calling Hyun-seok.
He finds Nora completely sauced, and she explains that she can't go home yet because she has a really important decision to make, but hasn't been able to come to a conclusion—she wants to keep going to school, but is afraid she won't be able to.
He asks if she wants to go to school that badly, and she says she wants to do everything she couldn't do at twenty "before I die," and experience campus life. Tears start to form as she says plaintively, "It's just that I'm twenty years late—is that a crime? I just wanted to live as a student. Why do I want to keep going to school, when everyone hates me so much? You do, and the students do too. With things like this, why did I step in?"
She sobs into her arms, and Hyun-seok says softly, "Because you're you. You stepped in because you're Ha Nora."
In the morning No-ra wakes up in her own bed, still clutching the flash drive, with Hyun-seok's words ringing in her ear: "Are you lacking courage? Think of when you grabbed Ra Yoon-young's hair." Slowly, memories from last night come back to her, like Hyun-seok driving her home. She's never blacked out before and wonders if her recollections really happened.
A short while later, Pervy Professor gets an email in his inbox: Nora gives him the simple ultimatum to hand in his resignation today, or have her send the video file to the gender equality board. One look at the incriminating video has him gulping nervously.
He starts to call his attorney, but Hyun-seok appears at his door to advise against it. He suggests that Pervy resign rather than letting the case go to the authorities—because Hyun-seok intends to testify as eyewitness.
Nora tells herself she did the right thing, then refers to her bucket list, since one of her main goals has just been endangered. She'd wanted to live as a real college student, making friends and joining clubs, and now she pencils in a big question mark next to that item.
Hyun-seok calls and prods her for a thank-you for helping her last night. As soon as she thanks him, he claims a favor and tells her to come over to his office right away.
Nora does, and tries to get him to clarify what happened last night, because she recalls him saying things he shouldn't know anything about, like the story about Yoon-young. Maybe she dreamed it up.
Hyun-seok doesn't answer, just instructing Nora to sort through boxes of potential stories and pick out usable ones—stories that were already sorted and rejected, as Sang-ye had said earlier. HA. Inventing reasons to keep her around, are we?
So Nora gets to work reading through the submissions, and when a visitor arrives to meet with Hyun-seok, he instructs her to make her introductions. Which is when she looks up and gapes—it's Woo-chul, who's gaping right back at her, while Hyun-seok smiles his huge Cheshire grin.

COMMENTS
What are you up to, Hyun-seok? I don't expect it'll make sense until next week clarifies his intentions, since obviously this doesn't work with what we know so far. But I do like this idea of Hyun-seok as a sort of fixer in Nora's life, a (really, really grumpy) good-deeds elf determined to ensure that the next six months of her life go as happily as he can engineer… from a distance, of course, without giving up his outer facade of too-cool-for-school aloofness. I'm sure that cold shell won't be able to remain unmelted for too long, and the fun is in watching him struggle to cling to the excuses, and to convince himself that he doesn't care as much as he does. For that reason I'm glad that they made him so assy to start with, because if he'd been super-sweet and hapless, it would just be too sad watching him be all mopey and lovelorn about Nora now. I hated him (a tiny bit) when he was the jerk, but it makes things so much more gratifying now.
There's an interesting layer of irony in Hyun-seok enacting his "well-dying" philosophy in the way he treats Nora now, to make her last six months worthwhile and valued, to give meaning to her death when he totally wouldn't have done that knowing she isn't actually dying. He's in the position of teacher here, espousing these words of wisdom and putting together this big project about showing people how to heal and be happy in the everyday, and the thing spurring him to do this for Nora is a false belief.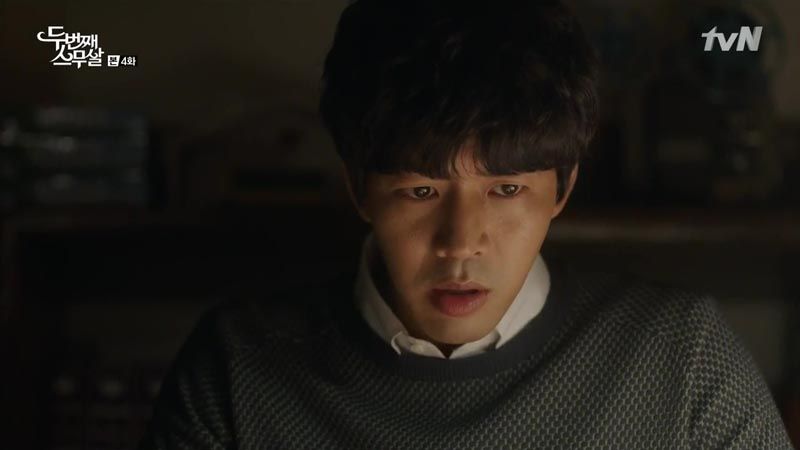 I want to see Hyun-seok undergo a healing path as well, which means it would be good to see more of his life story at this stage, now that we've got a pretty good handle on Nora. I want to understand what happened to make him so hardened, and in a way that goes beyond the one-liner comedy premise where he was so upset that his first love moved away that he couldn't get over her.
I'm curious to see how long they'll draw out this misunderstanding of Hyun-seok's—it's a fantastic one for comedy as well as relationship development, but also one that you don't want to drag out too long, lest the misunderstanding start to feel artificial. It's something we encountered in Warm and Cozy, and despite that drama's flaws, the terminal-illness mix-up was probably the best thing about it, and added zing to the first half.
It also adds angst to Hyun-seok's romantic conflict, since he believes Nora's in love with her husband—I really enjoy that misconception, but don't want it to linger too long and give him too much unnecessary pain. I'm not ready to call Woo-chul a cheater because I can see a case where Woo-chul has done his best to be honorable, and went through appropriate steps to dissolve the marriage. But it's how Hyun-seok sees him, and that opens us up to lots of fun, petty exchanges. Whether Hyun-seok tries to patch up the unpatchable, or get Nora to mend her heart and move on, I'm looking forward to all the comical crossed wires to come. The pettier, the better.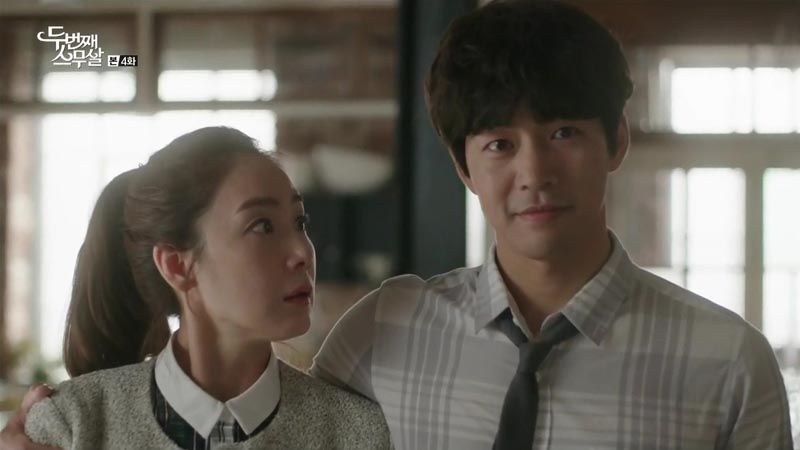 RELATED POSTS
Tags: Choi Ji-woo, Choi Won-young, featured, Kim Min-jae, Lee Sang-yoon, Twenty Again