Twenty Again: Episode 6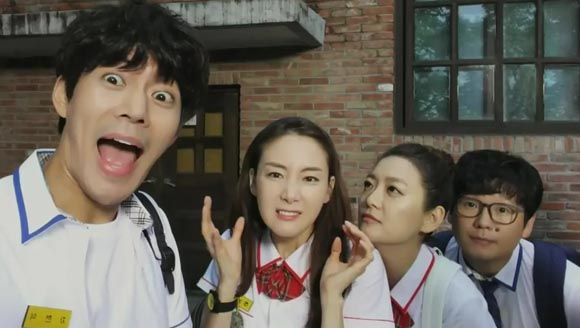 Aw, I love this episode, which is all sorts of feel-good and satisfying. I love a drama where most of the characters are decent people who come through, and it's especially satisfying to see that Nora has more people who'll come through for her than she'd thought. And it's better still to see that more than saving damsels in distress at key moments, this drama's really more about giving those damsels the tools to help themselves. Maybe it's the less dramatic option, but ever so much more useful in the real world.

SONG OF THE DAY
Yoo Sung-eun – "오유야유" from the Twenty Again OST [ Download ]
Audio clip: Adobe Flash Player (version 9 or above) is required to play this audio clip. Download the latest version here. You also need to have JavaScript enabled in your browser.

EPISODE 6 RECAP
Nora sees her husband with his girlfriend at the theater, and is stunned speechless. She watches Woo-chul carrying Yi-jin's purse and sliding his around her waist, and then Hyun-seok arrives and claps a hand over her eyes.
Not that it helps, because she's seen enough to realize the truth. She pushes Hyun-seok aside and goes back for a second look, and it's unmistakable.
Nora hurries out before she's seen, and Hyun-seok follows her outside. She's so stunned she barely registers him, making up an excuse about needing to meet Yoon-young.
Nora leaves deep in thought, thinking to the incident in 2011 when Woo-chul had brought up, seemingly out of the blue, how ill-matched they were as a couple. He says she must be tired of trying to match his preferences, and although she replies that it isn't difficult for her, he asks, "Can't we split up?" He's tired of always teaching her everything, and while he credits her for trying hard, he but feels they're ill-suited.
Then we jump to 2013, after the couple finally decides to divorce upon Min-soo's university enrollment. Yoon-young speculates that Woo-chul has another woman on the side, but Nora doesn't think so—he's never spent a night out, and he's always answered his office phone at night, even when she called from a pay phone. Nora sighs that he must really just be that tired of living with her ignorance, while Yoon-young exclaims that it's his fault she never went to college.
As Nora walks home, Hyun-seok follows slowly in his car, watching in concern when she suddenly bursts into laughter. He worries that the shock made her snap.
Yoon-young calls and hears the story, and is appropriately angry on Nora's behalf. She asks why Nora ran away, though, and Nora confesses that she was afraid of confronting Woo-chul—her husband and son have been her whole world since she was eighteen, and the idea of being all alone terrified her. Nora breaks down in sobs, and Yoon-young is on the verge of tears herself. Behind them at a distance, Hyun-seok watches.
He's in a stormy mood when he returns to his office. Sang-ye apologizes for stepping in and guesses that Woo-chul is having an affair. Hyun-seok says he'd wanted to let Nora die with her love for her husband intact, upset that he couldn't make that happen: "How could I make her die the world's most pitiful woman?"
Sang-ye asks what they can do now, and he replies that he has to help her do everything else on her list.
Woo-chul sits Nora down at home that night for one more attempt to get her to quit school and divorce him. He hands her an envelope of the month's living expenses, explaining that he will continue to provide for her until June, when their contract stipulates that they divorce. But her tuition—that, he has no intention of paying.
He reminds her that if she breaks the contract, she won't get the store they own, which they'd agreed to give her in the divorce. On the other hand, if she quits school and fulfills the contract, she'll get the store and the apartment initially agreed upon. She glares and thinks privately that she knows why he's doing this, while Woo-chul speaks in an infuriatingly calm, reasonable tone about how Nora should do the practical thing.
As Nora pounds away at a dried fish in the kitchen, Woo-chul starts in again about how this is all for the best and how she shouldn't cling foolishly to water that's already been spilled. She asks pointedly if he's having an affair, which puts him on the defensive. Flustered, he just complains about the fish nobody's going to eat, and she snaps, "I'm going to eat it!" Furthermore, she says she'll think over his terms and dismisses him firmly, and her assertiveness isn't something he's used to seeing. I love that knowing the truth is making her sassy.
In the morning, Hyun-seok watches Nora arriving at school, with her husband and son each arriving separately. He approaches Woo-chul and asks how he and Nora liked the performance last night, pretending to think they went together. He balls his fist when Woo-chul lies that he gave the tickets away, but sees Nora in the distance and cuts the conversation short.
He finds her at her locker and asks about last night, but she gives a vague answer and excuses herself because she's on cleaning duty for her dance club. He follows her there (of course he follows her—I mean, he's adorable, but also totally a stalker now) and assumes she's taking out her frustrations by working, which makes him worry about her health.
Hyun-seok calls Yi-jin as she's on her way to school, asking to see her right away and making her wonder at his continued interest all of a sudden. Her father, the important school board director, sees Hyun-seok as potential match material for Yi-jin, whom he's pressuring to marry, even if Hyun-seok's family background is a little lacking for his tastes.
When Hyun-seok greets them, director dad asks if he's still unmarried, and Hyun-seok plays along as though he'd be happy to be set up on a date. Dad asks what his ideal type is, and Hyun-seok looks at Yi-jin for a pointed moment, and then answers that she's married to Professor Kim Woo-chul. Haha. He says that was in the past and they're just friends now, sighing that he missed his chance to pursue her in high school.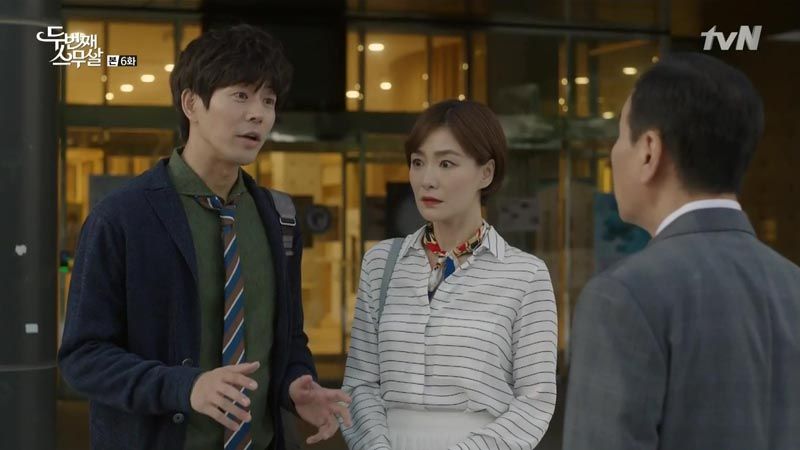 Min-soo finds a note tucked into his book at the library, which turns out to be Nora's map of campus that she'd been using to avoid running into both Min-soo and Woo-chul. She tells him she won't get in his way and tells him not to worry, apologizing again.
In the marriage class, the photos from the homework assignment are shown, and Nora takes particular interest in Hye-mi, now that she knows she's Min-soo's girlfriend. She thinks proudly that her son did well on that front, though I'd beg to differ.
Yi-jin explains how in making them simulate couple scenarios, the class encountered issues real couples face, like disagreeing on preferences. She explains that the next partner assignment will focus on the differences between men and women. After class, Min-soo arrives to meet Hye-mi, and casually asks about the older student in the department. Hye-mi just says she's not very close to her or interested, and Min-soo doesn't ask further.
Nora finds her new friend Seung-hyun looking up part-time jobs, and is amazed to hear that she works three jobs and is putting herself through college. She asks if there might be any jobs open to people her age.
Hyun-seok calls Yoon-young to ask for her help, and explains how he saw Nora's notebook and the will she wrote to her son. He wants to help her fulfill the items on her bucket list, and Yoon-young realizes that he must not know that the diagnosis was wrong. And like the awesome best friend she is, she decides, "I've got you now." Muahaha.
Nora arrives on campus wondering why there are so many high school uniforms around, just as she spots Yoon-young waiting for her—dressed in her old high school uniform. She drags Nora off to change too, since April Fool's at college means the students wear their high school uniforms, and she's a proper college student too.
Better yet, waiting for them is Hyun-seok in his own uniform, looking uncannily like his teenage self. Oh, this is so great. They are too cute for words.
Yoon-young plays this off like it was her idea, saying she threatened Hyun-seok into participating. Despite her embarrassment, Nora lets her friends lead her away to have fun for the day.
As they head out, Woo-chul drives in and stares at the trio, agog. Hee, I love that Hyun-seok makes eye contact as he purposely slings an arm around each friend, and Woo-chul's eyes bug out of his head.
Hyun-seok takes them to their old high school, where they're met by a fourth classmate—Dong-chul, who used to eat off their plates at Grandma's ddukbokki restaurant (and who, I believe, runs the ddukbokki stand now).
Nora looks nostalgically at her old school, imagining her teenage self here in the hallways. Hyun-seok gets caught in a memory of his teenage self being berated by the teacher for being too unconventional, then pushed around by other students. Adult Hyun-seok follows Teenage Hyun-seok outside to his old resting spot, which is also where the girls had their hair-pulling fight.
Teenage Hyun-seok had been reading here when he'd seen that fight, and had been ready to step in when Nora had stood up for herself just fine. He'd been impressed with her pluck, and had taken to visiting Grandma's shop regularly.
He's pulled out of his flashback by Nora, who calls him over to pull childish pranks on him. In a flash, he imagines them as eighteen again, laughing over silly jokes, insisting he was just letting Nora think she tricked him. While Dong-chul fluffs his ego by saying he grew up really impressive, Nora sneaks up behind him to trip him.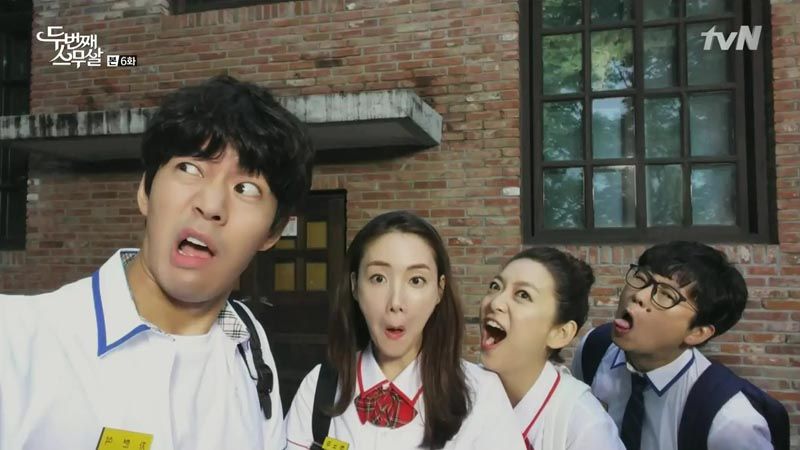 They take a series of the most adorable sel-cas ever, and then walk through the neighborhood looking for Nora's grandma's old restaurant. There's been so much change that she's worried won't be able to find it. But when she rounds a corner, she sees the old location (albeit transformed into a modern high-rise) and is flooded with memories.
Flashback. Teenage Nora assures Grandma that once she starts school, she'll bring all her classmates here to eat, but it's Grandma who tells her to keep their relationship a secret. She's heard that a lot of Seoul arts school kids are rich brats, and doesn't want Nora to suffer for being poor. Grandma tells her to pretend she doesn't know her, to Nora's horror, and says that the eyes and heart can say what the words can't.
These thoughts spur tears in Nora now, but Hyun-seok lightens the mood by poking her face and leading the group away for the day's finale event.
Woo-chul is distracted through his drive with Yi-jin, and his preoccupation has her in a snit. When he suggests driving to a certain location, she asks pointedly, "Why, does your legal owner like it there?" She also asks why he never mentioned that Hyun-seok and Nora were friends.
Woo-chul assures her that he's never had an interest in his wife's friends before, and Yi-jin sighs that it feels like their future plans are growing farther away. Woo-chul declares that he's putting all his focus on the matter… just as his mind drifts to Nora looking chummy with Hyun-seok.
Min-soo accompanies Hye-mi to a club, not knowing that farther back in line, his mother's waiting to get in as well. Hyun-seok unsuccessfully tries to convince the bouncer that Nora is really a freshman, and even a bribe gets rejected firmly. Nora wonders why Hyun-seok is so insistent on getting in, and Yoon-young replies, "You wanted to go" before covering up for her slip.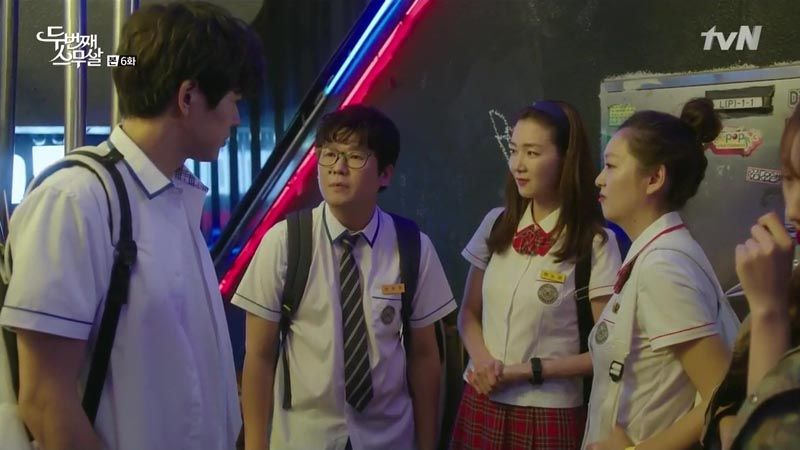 Nora suggests they just go somewhere else, but Hyun-seok insists, "No, you have to do the things you want to now, or you might never get to." She agrees with that, and Dong-chul suggests a different place.
On the dance floor, Hye-mi gets all into the dancing while Min-soo feels uncomfortable and excuses himself to hang out at the bar. That leaves Hye-mi dancing by herself, and when a boy comes up to her, she shoots the boyfriend a huffy glance and continues dancing, to Min-soo's ire.
Ha, Dong-chul takes them to a much less hip club, but it's blaring old-school '90s kpop, and they jump into the dancing. This was totally a better choice anyway, I'm just sayin'.
Back at the trendy club, Min-soo is pretty drunk by the time he decides to get on the dance floor, and when Hye-mi suggests they leave since he clearly doesn't enjoy dancing, he insists he's going to dance. He watches dancer boy's feet closely and mimics the movements, and finds that he can follow along pretty well after all. Hye-mi lights up and joins him in the dance. I still really don't care about this couple, but better dancing than acting, I say.
Club Old-School ends on a high note too, and the four friends head to the bus stop feeling great. Yoon-young and Dong-chul are insistent on taking the bus home like proper high schoolers despite the embarrassment, and head off together.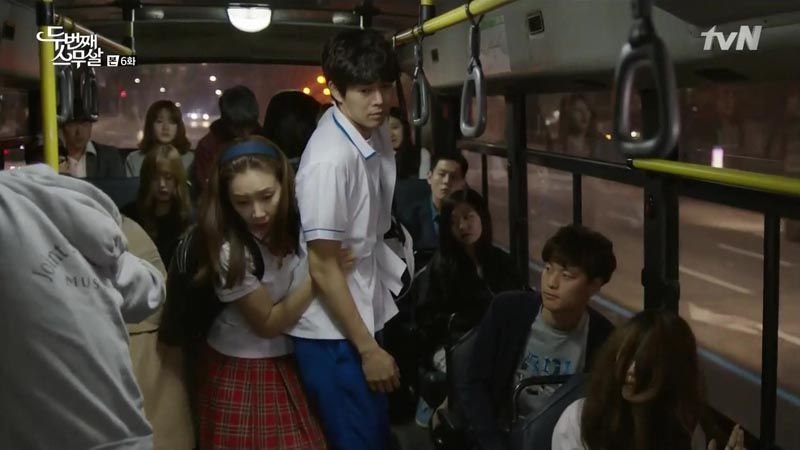 Nora and Hyun-seok take the next bus, where their uniforms draw strange looks from the other passengers. Nora shuffles behind Hyun-seok to hide, and when the bus suddenly stops, she grabs him in an inadvertent back-hug to keep from falling. She apologizes and quickly lets go, though he sure doesn't seem unaffected. Then he watches her reflection in the window, noting how she smiles in contentment.
At home, Woo-chul eyes the clock darkly and wonders why Nora's so late. He thinks back to seeing the three friends leaving school, and wonders what Hyun-seok's smirk meant.
As Hyun-seok walks Nora home, she sighs that today being April Fool's must be why the entire day felt "like a lie." Not fake, but like something unreal. She wonders wistfully, "Will I have another day like this again?" She tells him that she remembers everything now, and that she must have been suppressing those memories: "It would just make me long for those days again, and go back. All this while, I…"
She finishes the thought in her own head: "Living was so overwhelming, and lonely, and difficult."
Out loud, she just thanks him for the day. He says gruffly that he didn't do it for her—he wanted to do it, and she just got roped into it.
Nora adds that of everything, he's "the most like a lie"—he changed so much. He asks, "I got really cool, didn't I?" She shakes her head, saying, "No, twenty years ago, when you were directing you were cool."
He looks at her curiously. Nora says, "Whether you wanted to do it or not, to me, it was an unforgettable gift. So I'll forgive you for being mean at first."
She thanks him again for the day and skips inside happily. Watching, Hyun-seok says she ought to have lived like today the whole time.
Nora arrives at the elevator just after Min-soo does, and he gapes at the sight of Mom in her old uniform. He's nervous enough about himself, since he skipped studying to go play, and together mother and son go tiptoeing inside. They get caught together, heh, and Woo-chul is startled at the sight of them sneaking in together.
Nora explains that it was uniform day, and when Woo-chul asks where she was, she says plainly, "At a club." Min-soo's shocked too, and she tells him to try clubbing because it's really fun. When Dad balks, she replies, "Playing for one day doesn't ruin the whole year. There's a time for playing, too."
Hyun-seok flips through the photos shot today and wonders sadly, "Are you… going to die like this?"
Nora, meanwhile, draws more cartoon additions to her notebook, this time drawing Hyun-seok all cool in his sunglasses and uniform. She flips back to the angry picture where he's being punched in the face and realizes that she hasn't asked him yet why he was so mean to her at first. Then she figures that it just matters that they're friends again.
The next day, Nora gets busy on her job hunt, though she gets turned down when she tells them her age up-front. On the upside, Seung-hyun calls asking if she's still looking.
Over at Dong-chul's ddukbokki shop (which bears the same name as Grandma's shop from back in the day), Hyun-seok chides Dong-chul for being inattentive to the sauce. Which, by the way, was Grandma's secret sauce, which he credits for getting him out of debt. Dong-chul sighs that he wants to go back to acting though, and Hyun-seok encourages him to pursue what he loves until Dong-chul reminds him that it would mean giving up the shop and never tasting Grandma's ddukbokki again.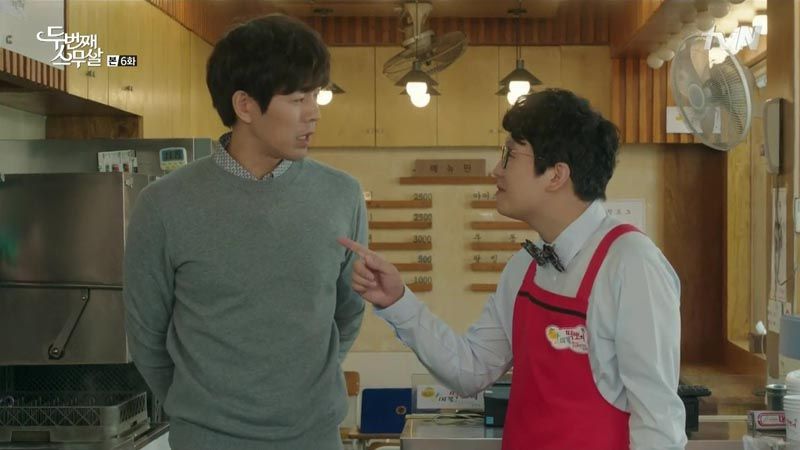 Dong-chul asks why Hyun-seok didn't tell Nora about the shop or Grandma's funeral. Hyun-seok just replies that the truth will become known in due time.
Hyun-seok calls Nora to his office for work that evening, and lays out the ddukbokki in preparation. Aw, that's cute. But when he calls, she's busy at her new part-time job and forgot about their meeting. He demands to know where it is, and storms into the convenience store where she's being trained on clerking, grabbing her wrist and pulling her outside.
She's utterly confused as he faces her with frustration, saying that he really intended to let her go without asking anything. But why is she spending her time working—and why does she have to work in the first place—when she's short on time already and should be filling it with all the things she wants to do?
She finally gets some idea when he says she only has six months, and that pancreatic cancer is really painful. He admits that he knows, and asks why she's doing all this.
Nora replies, "I'm not dying!" His eyes widen. "That was a misdiagnosis," she explains.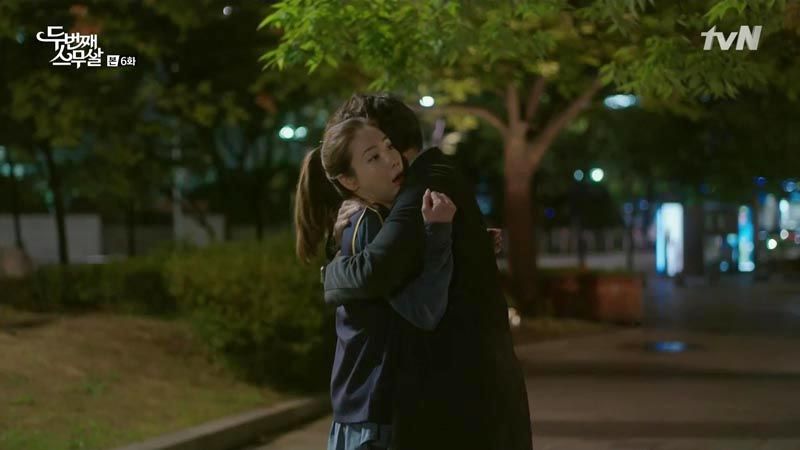 His mouth drops open. "You're not dying? You're… not dying? You're not dying?"
His eyes get bigger and bigger and he bursts out, "Ha Nora, you awful girl!" He grabs her arms and goes through about a dozen emotions at once, looking upset and tearful and exasperated, while all she can do is say she's sorry.
But then he breaks into a relieved smile and grabs her in a tight hug.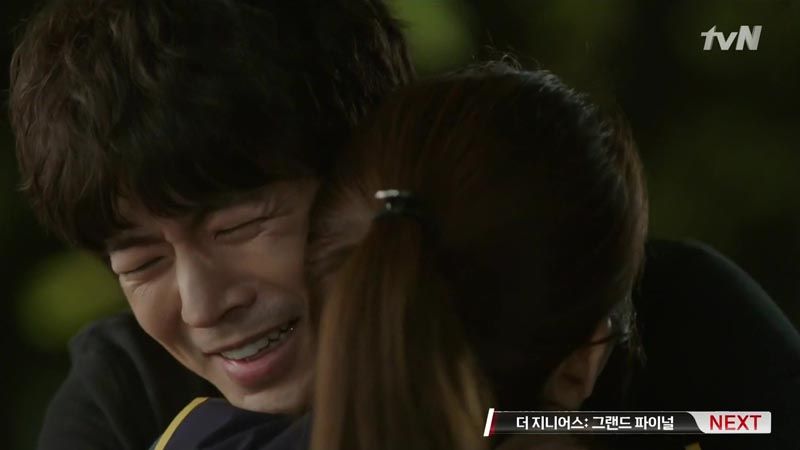 COMMENTS
All together now: Awwww. I love Hyun-seok so much. So much! At the outset he certainly acted like a jackass, but I have to give him a ton of props for the way he's handled Nora's (supposed) terminal illness, and for putting herself first, always. And his reaction to the truth was both hilarious and nicely understated for the lack of drama involved. I cracked up at how many emotional miles he traveled in that last thirty seconds, going through frustration and disbelief and irritation all the way through to relief and gratitude in superspeed, and was gratified that in the end, all of that melted into just plain ol' happiness. Because at the end of the day, Nora's not dying, and that's what matters.
I love that we got the friends together for the trip down memory lane, because it just adds to the reminder that Nora was once a totally different, vibrant person. I like that Hyun-seok draws that person out of the current Nora, but it's nicer still to see that she still has a gang. It's not just one person who loves her—she has a whole circle.
Her fear at confronting her husband about his affair rang true, because she's only been a housewife for twenty years and has very few friends. But she's building herself a support system, and that, to me, is more valuable and important than if Hyun-seok were to swoop in and solve her problems. It's the whole teach a man to fish lesson in action, and that's what makes him such a good friend. I mean, I'm sure I'll love him as the love interest too (frankly we haven't seen much of that yet—get on that, Twenty Again!), but this episode was particularly gratifying for the friendship angle, and for the small steps she's taking to establish independence.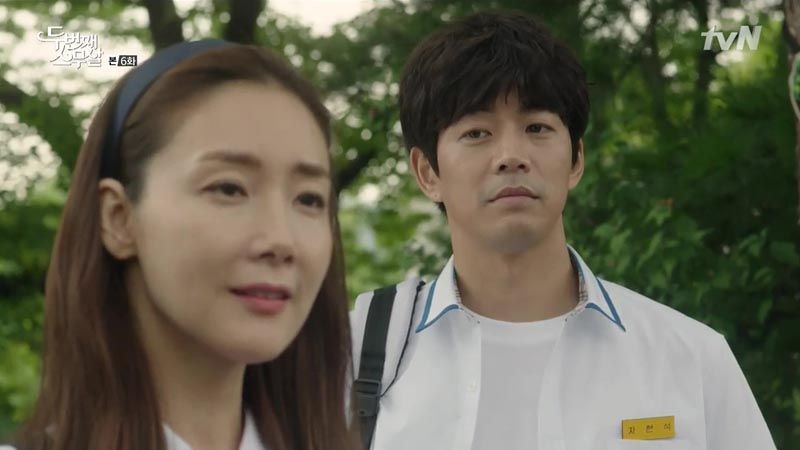 It's important, too, that Hyun-seok sees Nora for herself, and that doesn't mean just the person she presents to the world but all the stuff underneath and in between the lines. Not that I think that others are at fault for not seeing what Hyun-seok sees—he has additional information, while people in Nora's current life don't. We can take issue with Woo-chul for a lot of things but I don't blame him for feeling distant and unconnected to Nora all these years, because she hasn't been showing him her true self—and given that she got pregnant during something of a fling (they weren't dating, hadn't known each other for long), I doubt Woo-chul has ever truly known Nora. Nor has he cared to try. It's no wonder the recent changes are keeping him off-kilter, because as far as he knows, this is all coming out of nowhere.
It's Hyun-seok who sees the bigger picture, seeing how she's lived in a state of emotional stasis for twenty years, suppressing everything about herself because she valued her husband and child more. I was almost about to be annoyed that he wrist-grabbed her out of the store at the end (I know Korea still finds wrist-grabbing romantic, but by god, I refuse to give in on that score), but I found his outburst touching because it was, again, motivated by doing the best thing for her. I believe that if it were possible, he'd fulfill all of Nora's wishes without her ever knowing of his existence, completely out of sight if he could swing it, like the world's crankiest fairy god-stalker. Well, I suppose he may have to give up the stalking now that he knows the truth. If he doesn't have to sneak-help her anymore, can they just skip straight to the smoochy bits? They've got twenty years of catching up to do! Chop chop.
RELATED POSTS
Tags: Choi Ji-woo, Choi Won-young, featured, Kim Min-jae, Lee Sang-yoon, Twenty Again