2015 Busan International Film Festival's opening red carpet
Is it red carpet season already? The various year-end awards ceremonies for films and dramas will start rolling in this month and go through the end of the year, but the red carpet festivities kick off with the Busan International Film Festival, now in its 20th year. The festival runs from October 1 through October 10, and stars gathered on opening night to promote their latest films. It's always fun when costars come together to these events, and that seemed to be the theme of the night.
Unsurprisingly, the color theme for the dress code was mostly black and white, but a few actresses managed to turn heads even without flashy color. It was a windy night, which seemed risky for some dresses, but it did make for some beautiful shots in motion. There are no awards tonight—just the red carpet—so let's get right to it.
Helloooooooo, Ha Ji-won (Chronicle of a Blood Merchant). She's the big headliner for her slit-up-to-here-and-down-to-there dress. I love that she took a risk with something like this, and though some of the individual parts are a little weird—the squared-off shoulders, the ruching—the overall effect is stunning. I mean, if I had that body I'd show it off too.
There was a lot of bromance on the red carpet tonight: Asura costars Jung Woo-sung, Hwang Jung-min, Joo Ji-hoon, and Jung Man-shik showed up together, looking like their very own Rat Pack. And naturally, Jung Woo-sung always manages to look like a movie star among movie stars, even when he's slouching. Joo Ji-hoon's patterned suit and skinny tie is my favorite though.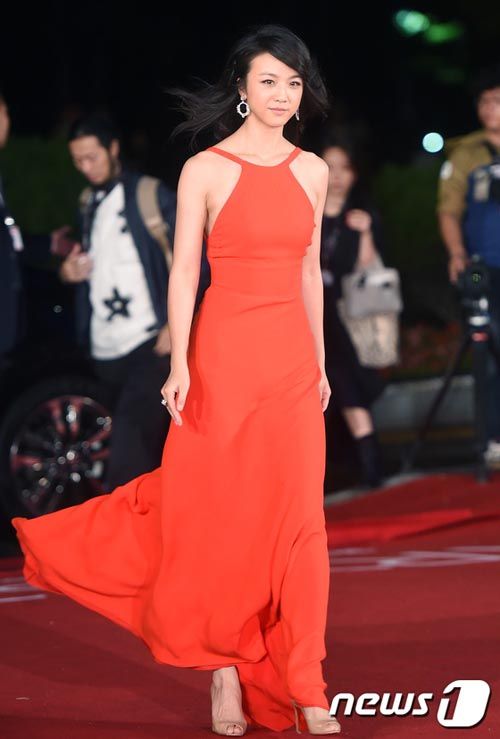 Tang Wei (Only You) never disappoints on the red carpet. It's a sleek, simple dress, but she's wearing pretty much the only splash of color on the red carpet all night, and it fits her perfectly. I love her styling, which looks natural and comfortable, and like she meant for her hair to be windswept.
Lee Jung-jae (Assassination), why are you so perfect? It's disheartening for the rest of us, who have bad hair days and clothes that fit us weirdly, and age like regular humans.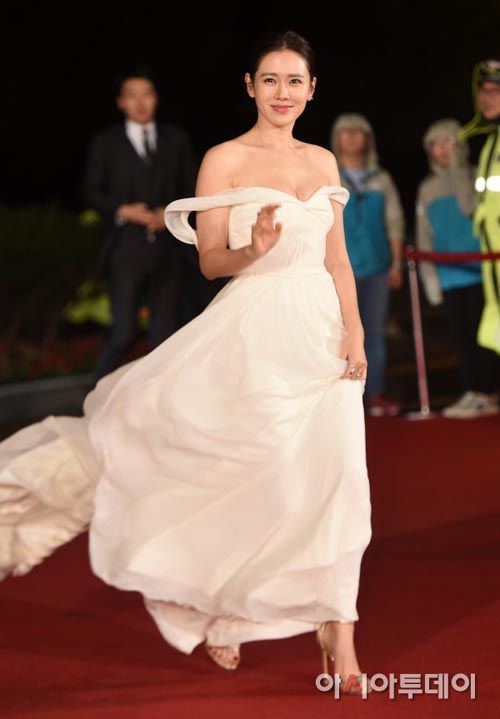 Sohn Ye-jin arrived on the arm of Bolin Chen, her costar in Bad Guys Always Die. She's wearing a split-personality dress that looks great in motion and really dull when she's standing still. It's like an optical illusion. I really wish she wouldn't always wear white, but she does look gorgeous with the sleeves and the train billowing behind her as she struts. But the overall cut of the dress isn't all that flattering when it's not catching wind (it's like an empire waist with a giant skirt), and that makes it underwhelming.
Jo Su-hyang put her name on the map with her villainous turn in Who Are You—School 2015, but was also in films Snowy Road and Wild Flowers this year. Her white dress is even less interesting, but I like the fit on her. And she looks so excited to be there, which is great. I can't wait to see more from her.
Park Bo-young, why do all of your dresses look the same? She just really, really likes that one bubbly silhouette, but hey—it works for her, probably because she's the cutest thing ever. EVER. Before her return to television in Oh My Ghostess this year, she shot Collective Invention with Lee Kwang-soo and Lee Chun-hee. They arrived together, which only served to emphasize Park Bo-young's petiteness even more, standing in between her two statuesque costars. Kwang-soo looks just as adorable though, even at twice her size.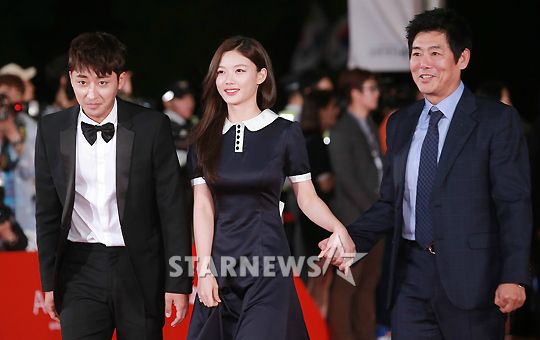 Another costar gaggle: Kim Yoo-jung came holding Sung Dong-il's hand, which just makes me go Awwwwwww, along with costar Sohn Ho-joon for their new thriller Secret. I love this hybrid little-girl-meets-runway dress on her—it's perfectly in-between, cute, but fitted and dramatic too. Sung Dong-il actually dressed up (okay, he still looks like a dad at at wedding, but that's kind of as good as it gets), and dare I say… Sohn Ho-joon looks slightly less afraid of the red carpet? He's blowing kisses and everything!
Chae Jung-ahn just wrapped on Yong-pal and is here for her movie Backwards Closer, Turn Around. Her dress is a little confusing (I want the black portion to be less boxy), but I love the color, and her hair.
Kim Jae-wook and Park Gyu-ri are her costars in Backwards Closer, Turn Around. Her dress is boring and his suit looks too big on him, but I must've missed seeing Kim Jae-wook around because I'm not even THAT annoyed by his floppy hair. Okay, I'm a little annoyed. But it's still good to see you!
Chang Chen, on the other hand, manages to make his floppy hair look like a very intentional style. The fitted tux and swagger helps. He's here to promote his latest movie Assassin.
So. Much. Pretty. It's hard to remember how evil you were in Scholar Who Walks the Night when you clean up this nicely, Lee Soo-hyuk.
Aw, Choi Woo-shik looks more and more at home on the red carpet every year. He might play a lot of goofy characters in dramaland (Hogu's Love, Rooftop Prince), but he's been racking up the film credits and critical acclaim on the big screen. This year he's in: Compatibility, In the Room, and Busan Line.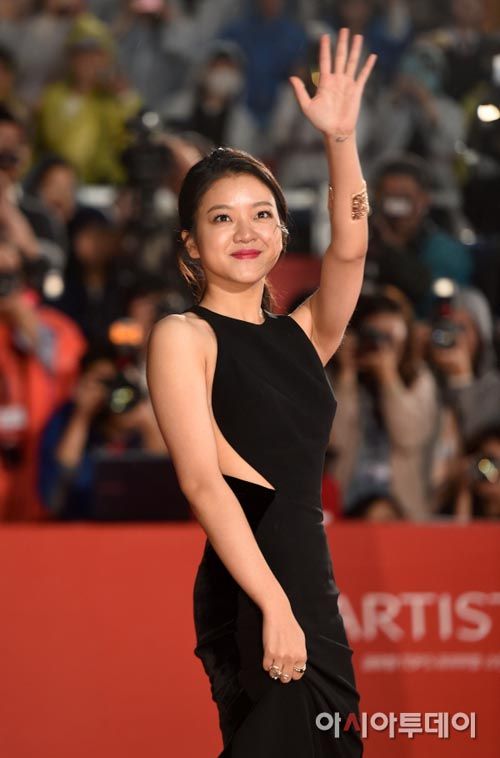 This is one of my favorite dresses of the night. Go Ah-sung (Heard It Through the Grapevine) just looks so freaking perfect in it, even though if you look at it up close, the top part kind of looks like a detachable bib. But I like that she always chooses structured pieces that look modern and fresh, and here she looks perfectly styled with hot pink lips. It's been a busy year for her; on top of her drama, she's in the films Office, Beauty Inside, and Right Now, Wrong Then.
Park Sung-woong, her Office costar strutting down the red carpet with finger guns (finger guns!). That is so not the scary ajusshi you play in every movie ever!
Ryu Hyun-kyung, who's also here for Office. I don't like how this dress fits at all. It looks like it's two sizes too big, and has a hidden elastic waist.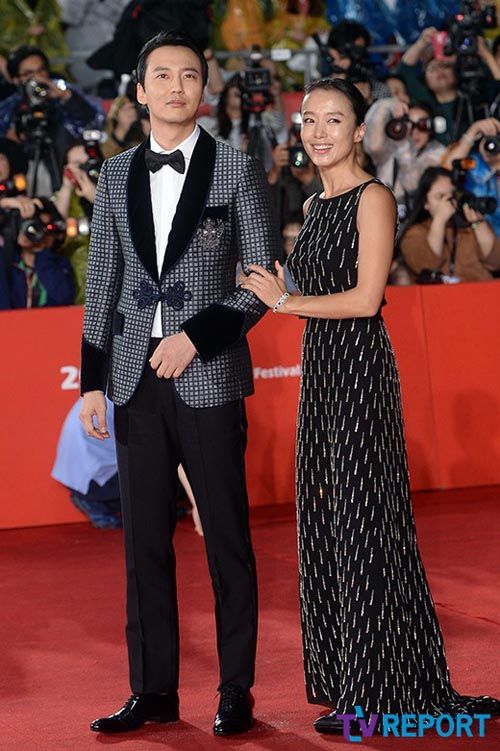 Hilariously, I think Kim Nam-gil out-fashioned Jeon Do-yeon. The Shameless costars arrived together, and were definitely the most eye-catching couple on the red carpet. I kinda think their outfits clash though, or maybe it's that Kim Nam-gil's fancy checkered smoking jacket suddenly makes Jeon Do-yeon's dress seem plain. I don't know how, because it's decked out in shiny crystals, but somehow his jacket is still shinier.
I like this sleek look on Hwang Bo-ra (Chronicle of a Blood Merchant). It's less daring or modern than Go Ah-sung's look, but the fitted black dresses are among the best looks of the evening.
Chungmuro veteran Ahn Sung-ki, looking happy and dapper. He's here for Revivre and Love And…
Moon So-ri who also starred in Love And…, is wearing an elegant look, but the cut leaves something to be desired. I sort of wish it were more gold too.
Revivre costar Kim Gyu-ri arrived with her father, looking radiant. I think I've seen this dress a million times before, but damn, I still want it for myself. It looks like she's dusted in diamonds and fairy dust.
Kim Ho-jung, who also starred in Revivre, opts for a fitted gown with a plunging neckline and looks great.
Ye Ji-won will now forever be the Office Nazi in The Producers to me. She's here for Revivre as well, in a corseted black gown that I don't love. It's trying to do too many things and kind of loses its identity halfway down.
Kim Hye-sun (Bluebird's House) in another black and white dress.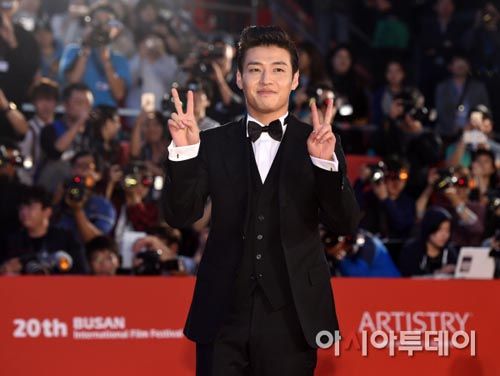 I like that Kang Haneul (C'est si Bon) is always a little dorky. He looks adorable in a three-piece tux, with his hair all coiffed.
Sohn Eun-seo (Strange Daughter-in-Law) tends to favor this look for every event, but then again, so does everyone else. I'm not going to remember it in five minutes, but at least it's pretty.
Seo Ye-ji (Sado, Secret) goes for a similar vibe with her dress, but this one is cut all wrong. The neckline makes her shoulders seem broad, which her tiny waist only accentuates even more, and then there are fluttery bell sleeves to make the dress seem even more top-heavy. She's so young and pretty… why this dress?
Hwang Geum-hee (Empire of Lust) wears another white dress with a beaded overlay. Boring.
It wouldn't be a Chungmuro event without Song Kang-ho! I'm just sad that his Sado costar Yoo Ah-in couldn't make it, but he's got a drama to shoot. I love this man, but right now I want to go back in time and shave that mustache off before he steps on the red carpet. I hope it's for a role, because that thing needs to die. And not on his face.
I love this dress (er, skirt and top?). It's so whimsical and fresh, and perfect for the young ingenue. That tiered skirt just makes me happy, and I'm jealous that I'm not wearing it right now. Park So-dam is an up-and-comer who's here for Sado, and will be starring in the cable drama Because It's the First Time opposite Shinee's Minho.
You know, I would never choose this look on Lee Tae-ran (Twenty Again the movie, not the drama), but she's rocking it.
Seo Young-hee stars in The Accidental Detective opposite Kwon Sang-woo and Sung Dong-il this year. If she wore this on any other night when Ha Ji-won wasn't wearing the sexier version of the exact same dress… But whatchoo gonna do?
Hong Kong actor Simon Yam throws heart-hands to the crowd. He's in a million movies this year, as always, but among them are: Wild City, Ulterior Motive, SPL 2: A Time for Consequences.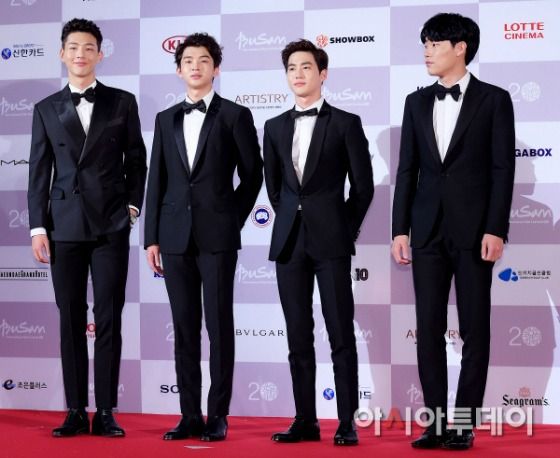 It's the new kids on the block! The fresh-faced cast of the youth movie Glory Day (or One Way Trip) came together: Ji-soo (Angry Mom), Kim Hee-chan (young Lee Sang-yoon in Twenty Again), EXO's Suho, and Ryu Joon-yeol (who will be in Answer Me 1988). They kind of look like the waitstaff, but that's sort of the appeal. They'll grow into stardom in no time—look, Bok-dongie's already blowing kisses!
Kim Go-woon (Dugeun Dugeun My Life) is a rookie actress who looks like a carbon copy of her unni Kim Ok-bin. Isn't the resemblance crazy? I don't like her dress (a little too picnic-sundress for the occasion), but I can't stop staring at her face. It's Kim Ok-bin! But not!
I like nothing about this plain white dress on Go Won-hee (The Silenced). Why so boring.
Shin Hyun-bin (A Murder) must have a sixth sense for ugly dresses. Honestly, this one isn't even that bad compared to some of her others, but it's bizarrely matronly, and looks kind of like she skipped out halfway through her wedding and stole the groom's shirt to use as a wrap.
Okay, these last three are kind of a toss-up, because they're each terrible in new ways. Min Song-ah (King's Face) clearly chose to take the see-through trend literally. It's not so much a dress as it is a doily tablecloth sheathed over a clubbing outfit, but that's obviously the effect she was going for, right?
Kang Ye-won (the one from Assembly) one-upped her, I think, with this pantsuit. On the one hand, it's less revealing because it technically covers everything. And yet… why do I feel like I'm looking at her naked, and it's embarrassing for the both of us?
OR, you could be dressed as a Christmas present like singer Jo Su-mi. See, hard to choose, right?

RELATED POSTS
Tags: Ahn Sung-ki, awards, Chae Jung-ahn, Choi Woo-shik, Go Ah-sung, Ha Ji-won, Hwang Bora, Hwang Jung-min, Jeon Do-yeon, Ji-soo, Joo Ji-hoon, Jung Woo-sung, Kang Haneul, Kim Gyu-ri, Kim Jae-wook, Kim Nam-gil, Kim Yoo-jung, Lee Chun-hee, Lee Jung-jae, Lee Kwang-soo, Lee Soo-hyuk, Lee Tae-ran, Moon Sori, Park Bo-young, Park Sung-woong, Ryu Hyun-kyung, Seo Ye-ji, Seo Young-hee, Shin Hyun-bin, Sohn Eun-seo, Sohn Ho-joon, Sohn Ye-jin, Song Kang-ho, Sung Dong-il