2015 Korea Drama Awards
The 8th Korea Drama Festival is coming to a close this weekend in Jinju, and on Friday the 8th, it held its annual Korea Drama Awards. It's not one of the big awards ceremonies of the year, but since it is one of few that focus on dramas, I'm always curious to see how the awards shake out.
…and then I see the nominees list and award recipients and I'm puzzled, because the picks seem so random. It's a case where I don't necessarily think the winners are undeserving, until I look at the people who were passed over and then it feels very strange.
Here, take a look:

WINNERS LIST
Daesang: Kim Soo-hyun (The Producers)
Best Drama: Misaeng
Best Scriptwriting: Jang Hyuk-rin (Yong-pal)
Best Director: Seo Soo-min, Pyo Min-soo (The Producers)
Top Excellence, Actor: Lee Jong-seok (Pinocchio)
Top Excellence, Actress: Kim Tae-hee (Yong-pal)
Excellence Award, Actor: Lee Joon (Heard It Through the Grapevine), Kim Dae-myung (Misaeng)
Excellence Award, Actress: Sooyoung (My Spring Days)
New Actor: Chanyeol (EXO Next Door)
New Actress: Im Ji-yeon (High Society)
Lifetime Achievement Award: Kim Young-ae
Hallyu Star Award: Kim Soo-hyun (Producers), Chanyeol (EXO Next Door)
Special Judges' Award: Im Shi-wan (Misaeng)
KDA Award: Park Hae-jin (Bad Guys)
Hot Star Award: Seo Kang-joon (Hwajung)
Star of the Year Award: Kim So-hyun (Who Are You—School 2015)
Global Star Award: Sam Okyere (Warm and Cozy)
Drama OST Award: Jang Jane (Kill Me, Heal Me)
For instance, I'm happy to see Misaeng in the mix despite being a 2014 drama, and can't argue with its Best Drama win… but then you give The Producers best directing over it? Especially when there was such a fuss over how most of Korea hated Producers' experimental directing and the show scrambled to shut it down by replacing directors and turning it into a standard rom-com? And sure it's great that Kim Dae-myung won an acting award for Misaeng, and I understand Im Shi-wan being nominated even if he didn't win—but how do you neglect to nominate Lee Sung-min, who carried that whole show?
The awards chose to nominate actors for Daesang without renominating them for the top acting categories, which I can kind of understand (since the categories would just be doubled up with the same names)… but that leads to the quirk where if you lose out on Daesang, you also have no shot at another acting award. Which is how we have situations like Ji Sung (Kill Me, Heal Me) losing out on Daesang to Kim Soo-hyun (The Producers), and then not even getting an Top Excellence as consolation, which went to Lee Jong-seok. (I know Pinocchio technically ended in early January 2015, but it feels like it should have been part of last year's mix.)
That hurts—what will it take to give Ji Sung an award already?—even though I do think Kim Soo-hyun was wonderful in The Producers, which was perhaps more deserving than the Daesang he won last year at this same ceremony, for You From Another Star. I much prefer the broadcast station system where the Daesang nomination pool is pulled from the Top Excellence nominees, which helps mitigate this scenario.
I'm annoyed on principle that no women were nominated in the Daesang category, although I will grudgingly admit that perhaps the actresses nominated for Top Excellence weren't at the level of the Daesang nominees (Kim Soo-hyun, Ji Sung, Joo-won, Cha Seung-won, and Yoo Dong-geun). Top Excellence Actress nominees were Kim Hee-sun, Park Shin-hye, Jang Nara, Hwang Jung-eum, and the winner, Kim Tae-hee.
I don't actually mind Kim Tae-hee winning for Yong-pal, but because of the nomination system, her co-star Joo-won missed out on an award because he was up for a Daesang rather than Top Excellence. That seems wrong to me, given that Joo-won really carried that show… and doubly wrong is Yong-pal winning best writing, because WTF. Did all the judges only watch the first three weeks? Or fail to watch the other nominated dramas? (Those were: I Remember You, Misaeng, Yoo-na's Street, and Maids.)
I'm amused at the many random special awards tacked on as well, just to have extra awards to hand out that didn't fit into the other categories. Tell me, how is a Special Judges' Award different from the KDA Award, or the Hot Star Award, or the Star of the Year Award? I am full of the eyerolls.
But, clothes!
For all my grumbling, I can't begrudge Kim Soo-hyun winning the Daesang, because for me he was the heart of The Producers, and without him I doubt I'd have been nearly as invested. I love that with all the accolades he's racked up (as well as all that adoration and fanlove), he still gets teary-eyed to win an award.
Kim Tae-hee (Yong-pal) is so, so pretty. Incredibly tiny and incredibly pretty, almost distractingly so. I love this look for her—maybe it's a little safe, but the detailed beading and the simple styling come together beautifully. And those shoes! I would steal them off her feet.
Doesn't this wave-pose just scream "I've made it" as a newly minted Hallyu star? It's been so nice to see Park Hae-jin experience such a sharp rise to fame after putting in a lot of years going under the radar. He was nominated for Top Excellence for Bad Guys, but took home the KDA Award, which I'm pretty sure the organizers just made up so he got something. Sure, why not?
In a similar pattern, Im Shi-wan was nominated for Top Excellence for Misaeng, which he did not win, but was given a Special Judges' Award.
Kim Dae-myung! I'm happy that he was recognized for Misaeng (although really, what about Chief Oh?), and hope that opens the door for more leading roles for him.
New Actress went to Im Ji-yeon for High Society, which makes sense since she's on a nice upward trajectory after making a mark with her debut film, Obsessed. I don't have any strong feelings about her dress, which is okay. I guess. Yawn.
I would have loved for the New Actress Award to go to Jo Soo-hyang instead, though. I guess I see why they went for Im, but man, Jo Soo-hyang was the one who came out of nowhere and ripped up the town playing (I'm pretty sure) a devil-child in Who Are You—School 2015. Okay, fine, if not the actual spawn of Satan, then at least a vicious sociopath.
Jo Soo-hyang's Who Are You—School 2015 co-star Kim So-hyun was given the Star of the Year Award. I don't actually love her dress on its own, so much as I like the dreamy, princessy effect, spread around her like that. Kim So-hyun has had a lot of great red-carpet looks in the past, so if anything I'm looking forward to seeing what she pulls out for the year-end broadcaster awards.
I guess I'm gonna have to get with the times and check out more web series, like the super-popular EXO Next Door, where Chanyeol and his EXO bandmates played fictionalized versions of themselves. He took home a New Actor award.
I'm not sure I would like this dress on anyone else, but I do think Sooyoung is pulling it off. Or is it that she looks good despite the busy dress? Potayto, potahto? Maybe it's the hair, which I find envy-inducing. She arrived on the arm of Oh Sang-jin (You From Another Star, Family Is Coming) and earned an Excellence Award for My Spring Days.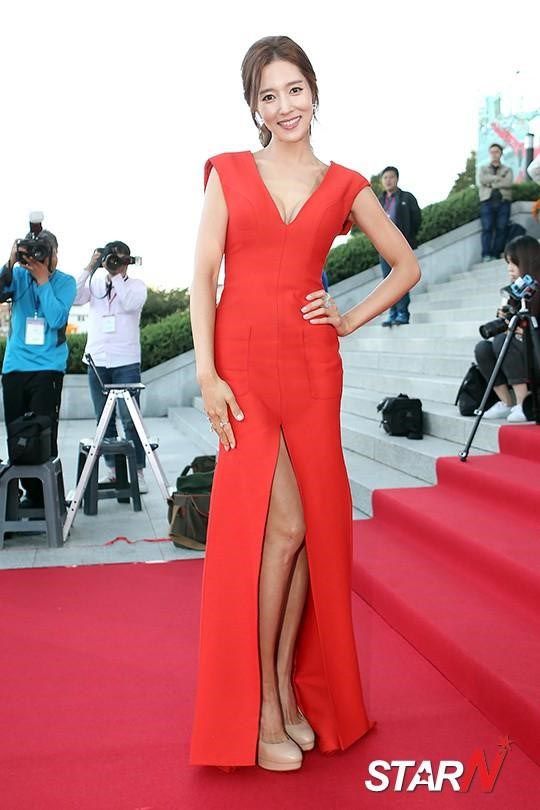 Do I like this red number on Wang Bit-na (Two Women's Room, Still You), or do I just like that it's a color other than black or white? Either way, she looks awesome and confident, and the fit is perfect.
Here's singer Jang Jane, who picked up the OST Award for her track on the Kill Me, Heal Me soundtrack—a well-deserved award, because that song was moody and addictive, and super-effective in working with the emotional drama of that show. I'd call it an earworm, but I actually liked the song and didn't mind it being stuck in my head. And now it's back. It'll be here for daaaays.
Lee Jong-seok is looking sharp and crisp in his three-piece suit, and took home an award for Pinocchio.
Lee Joon also took home an award for his role in Heard It Through the Grapevine, sharing the Top Excellence spotlight with Kim Dae-myung.
Lee Jung-jin (Temptation) is also looking sharp tonight, and presents an award with Park Jung-chul from the drama Scandal and the popular cable cooking show Home Cooking Teacher Baek.
Erm. I don't love it, I don't hate it. Here's Ryu Hwa-young, whom I found charming and sharp with comic timing in Ex-Girlfriend Club, where she played sexy actress Lala.
It's nice to see that non-Korean actors in the industry have a shot at some recognition, like this ceremony's Global Star Award, which last year went to Otani Ryohei and this year goes to Sam Okyere for Warm and Cozy. I'd say his very limited role there (almost more like a cameo) hardly calls for an award, but perhaps it's more of a cumulative recognition, since Sam's been gaining visibility in the industry over the years, mostly in variety, with shows like Abnormal Summit, Island Village Teachers, and Law of the Jungle.
Seo Kang-joon, you are very, very pretty and have mesmerizing eyes, but you have yet to convince me you could act your way out of a paper bag. I suppose I can't argue when the award he was given was named Hot Star (for Hwajung), though.
It's not a red-carpet event without a bevy of white dresses! Of the bunch, Lee Tae-im (Law of the Jungle, Marry Me) has the best one, with its killer fit and the polished makeup look to go with it.
I'm meh about this option by Cao Lu, who is apparently a singer with a group apparently named Fiestar.
But it's better than this plain number worn by actress Kwak Ji-min (Gu-am Heo Joon, My PS Partner), who in most of the pictures is struggling not to trip over her dress or looking like she might fall out of it at any moment. Not offensively bad, but like most looks at this event, kind of forgettable.
Via E Daily
RELATED POSTS
Tags: awards, Im Ji-yeon, Im Shi-wan, Jo Soo-hyang, Kim So-hyun, Kim Soo-hyun, Kim Tae-hee, Lee Jong-seok, Lee Joon, Lee Jung-jin, Park Hae-jin, Ryu Hwa-young, Seo Kang-joon, Sooyoung, Wang Bit-na