Go Soo headlines period murder mystery The Tooth and the Nail
Interesting. The Tooth and the Nail is the movie that was once courting Han Seok-kyu to headline, but stalled somewhere along the way in development. It's back now with a brand new cast, led by Go Soo (Tailors), who plays a man in search of a killer after the death of his fiancée.
The new film by director Jung Shik of Epitaph is based on the 1955 novel The Tooth and the Nail by American crime novelist Bill Ballinger. The complex novel is two stories interwoven and told simultaneously — one of a magician avenging his fiancée's death, and the other about a man on trial for murder where the only evidence remaining on an incinerated corpse is a tooth and a nail. The two tales eventually converge, and how they meet is part of the central mystery.
The Korean adaptation will be set in the independence era post-World War II, and Go Soo will star as the magician who gets embroiled in this tangled murder mystery. Is it just me, or do we have a big influx of magicians coming to the big screen lately? Im Hwa-young (Yong-pal) has been cast to play the fiancée whose death spurs him into action, and he'll discover along the way that she's been hiding some dangerous secrets.
Kim Joo-hyuk (Beauty Inside) is a man shrouded in mystery — he's a man of ambiguous identity and mysterious past — and that's all we're told about his character. Park Sung-woong (Hidden Identity) plays a prosecutor chasing after the truth, and Moon Sung-geun (Memories of the Sword) plays a lawyer who's trying to keep the truth hidden. I think the period setting and magician angle will add something interesting, and apparently Go Soo is learning Japanese, piano, and tap dance for the role. Tap… dance? Oh I gotta see this.
The Tooth and the Nail starts shooting this month for a release next year.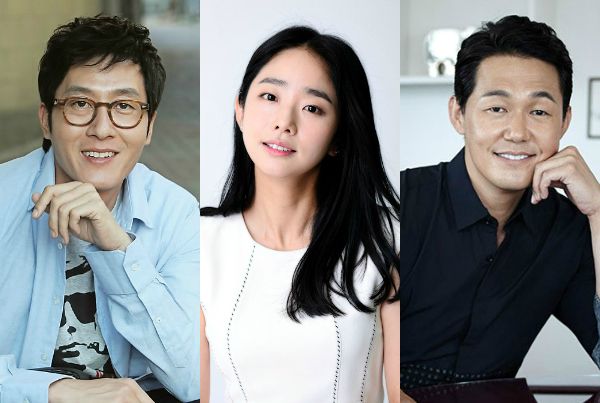 Kim Joo-hyuk, Im Hwa-young, Park Sung-woong
Via TV Report
RELATED POSTS
Tags: Go Soo, Kim Joo-hyuk, Park Sung-woong