Joo-won: Growing up and shedding his boyish image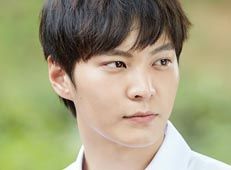 I always enjoy when an actor finishes up a project and has time to do the interview circuit, and Joo-won is pulling double-duty, with his drama Yong-pal recently wrapped and his upcoming movie That Man just about to release.
That's good for fans, since he recently gave a ton of interviews, and I've been reading them up. Here are a selection of quotes and comments he made while on his media circuit about his projects, working schedule, army duty plans, and more.
He described Yong-pal as being particularly tough; of roughly 60 scenes that make up an episode, he would be in 50. Coupled with the live-shooting schedule and the pressure to retain its impressively high ratings (it peaked at 21.5%, which is a number I thought we wouldn't see anymore from miniseries), that made for a stressful experience, though I'm sure it was also rewarding.
He said, "My heart hasn't recovered yet. It was especially difficult, both mentally and physically. I've done other projects that were much more difficult physically, but this time I felt the stress and pressure of ratings. I was surprised to see that stress even revealed on my face."
A comment he made in the November issue of Singles magazine has been making the rounds in the media; everyone jumped on his answer to what he gained through Yong-pal: "Naturally, that's Tae-hee noona. She's not just a pretty face, but has a beautiful personality too. How should I say, she's someone who becomes more charming the more you look at her."
On dating: "I'd like to date! I'd like if it could be someone that I and everyone around me could like. Someone who I could meet without any worries, it doesn't matter if she's a fellow actor or if she feels sisterly, but I don't really like sexy women. I like cute women. Come to think of it, I haven't dated anyone younger, just mostly women my age."
As a 1987-er, he'll have to think about military service soon, and anticipates going in the latter half of next year. He said, "The time is approaching for me to think of going, but for others, before they leave, they do a lot of work in a hurry. But I always worked a lot, so I'll just do as I normally do." It's crazy to think that Joo-won's normal state of busy-ness is what everyone else considers mad frenzy, but having watched him work over the years, it doesn't surprise me.
He also said, "Everybody has to go, and I can't deny that it's something that concerns me. It's likely that when I go into service, there will be people who forget about me and those who remember me, but honestly I feel confident that when I return, I can do well. Even if I start all over at the beginning, I think I could enjoy myself. Of course, that hasn't happened yet so I don't know, but that's how I feel now. Even if nobody recognizes me, I honestly think I would be okay."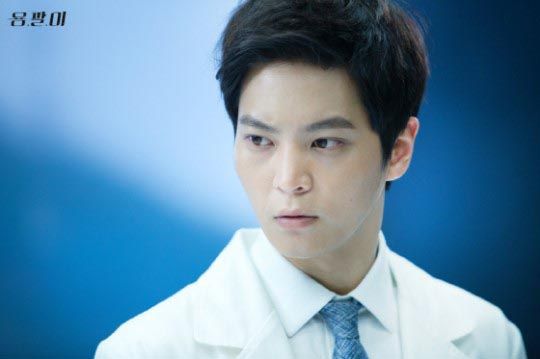 A lot of the interview material touched on the topic of transformation as an actor, both in relation to his recent roles and as an actor heading out of his twenties.
Asked why he felt a need to make a transformation, he replied, "I started in musicals at twenty, and made a plan for myself. Back then, the role wasn't important—I just took on whatever performances I could. For television and films, I did things I wanted to do, but I didn't worry too seriously about it. In my twenties I wanted to try anything, to try to do as many things I could. If my 'color' became set as an actor, I wanted to take on some change as I cross into my thirties."
He said, "When choosing projects, I kept in mind that I wanted to remove the youthful, boyish image. You can't keep the boyish image forever."
That's why he was drawn to the character he plans in That Man a thriller where he plays a coarse factory worker whose adored younger sister is murdered. There are no clues and no leads, but he vows to find the killer and get his vengeance. Joo-won thought, "This is a role I need right now."
Opposite to their release order, Joo-won filmed That Man first, and then jumped right into Yong-pal afterward. He gained 8 kilograms and worked out to shoot That Man, and then quickly shed all the weight to do Yong-pal. While it could be tricky switching gears so quickly, he said, "The characters are so opposite each other that it was actually more comfortable. I didn't have to worry that I might seem too similar in both."
He explained, "In the past, I wasn't confident I could pull off masculine things. And if I tried, it felt forced. Of course it is acting, but you can't ignore years of experience. It feels a bit beyond me now, but I need it now and think I'll have to bring it out."
One interviewer asked whether that masculine side had been hidden inside him before. He joked, "We'll say it was hidden inside. [Laughs]"
"I've done a number of projects, but thinking about it, there haven't been two characters who are really the same. I have a sense of pride about that."
He was asked whether he didn't want to do roles where he looked cool or impressive, and responded, "I find the appearance of being grubby and dirty onscreen extremely satisfying. When you have to look cool onscreen or shoot prettily, I find it very uncomfortable for me. Rather than a good-looking role where I have to be careful not to muss one lock of hair, I'm more comfortable with characters like Jang-woo [in That Man] where it doesn't matter if I've got pepper flakes stuck on me."
In That Man, his character adores his younger sister, which is apparently a feeling he could relate to (at least, theoretically). Joo-won explained always wanting a little sister to spoil and dote on, going so far as to call it something of a romantic fantasy.
"When I was younger, I pestered my mother about wanting a little sister. I just thought if I had one, she'd be so pretty and I wanted to take care of her, and if she got a boyfriend I would lock her up. [Laughs] Maybe that's why I found [Ryu] Hye-young, who plays Eun-ji, so cute."
On the other hand, the role had its difficulties, and a key one was the accent he had to adopt:
"The saturi [dialect]. I held on for three months. After about the first month, I was doing a reading with the director, who's from Busan, who even suggested that we go with the Seoul accent instead. I thought it was almost like speaking a foreign language, but I got extremely stubborn. It felt like we needed to use the saturi, and I wanted to do it no matter what. I spoke in saturi 24 hours a day. Even after being that stubborn, I felt periodic regret. [Laughs] Thankfully, the others around me looked favorably on it, and later on the director and the actors from Gyeongnam [province] said 'Ah, not bad.' That gave me confidence."
The movie is a crime thriller that's entirely without romance, and one interviewer commented on the fact that Joo-won is something of a romance king (at least, in dramaland). He replied, "I wasn't sad about it. I really liked it. There were even scenes that were taken out because they might seem romantic. Thanks for calling me the romance king. [Laughs]"
When told of a rumor that he never sleeps because he's so busy, Joo-won said, "You can always make time if you need to. And I do sleep these days. [Laughs]"
I would venture to disagree, since there's a limit to how much time you can "make" by sheer dint of will, but Joo-won doesn't seem to have those concerns. Either that, or he's discovered a door to a dimension he's withholding from the rest of us.
He said, "In the past, I didn't even think thoughts like that. I would wonder, 'What's the point of resting?' These days, I do think that I need time to rest, but I don't think this is the time. I don't have much of this left. After I come back from army service, I don't think I can do that. Then, whatever I do, I'll have to think more seriously as I choose. And then, when I take breaks, I think I'll be able to do so with an easier mind."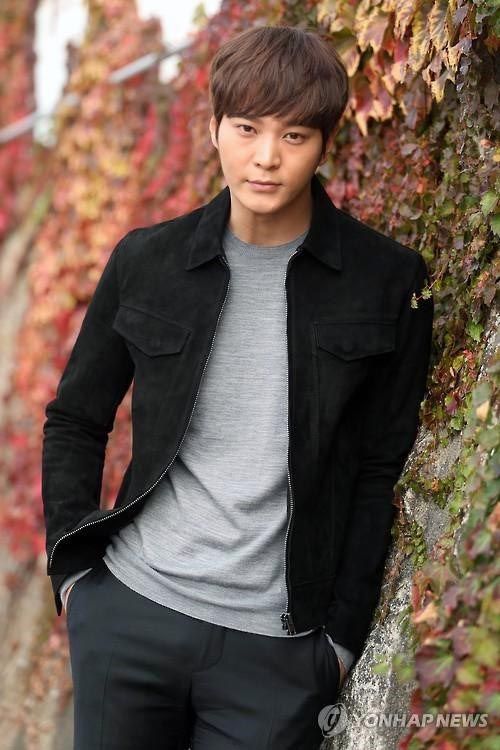 Last but not least, he had a few words to say about idols and role models, like musical (also film and drama) superstar Jo Seung-woo: "Seung-woo hyung has been my idol since high school. Back then, I saw the premiere of Jekyll and Hyde and it made me shiver. Every day at school, I would sing 'This Is the Moment.' When I was doing Spring Awakening, hyung came to see it and encouraged me, and it made me really happy. I ran into hyung by chance in front of MBC when he was doing Horse Healer, and he said, 'You're working again? You should rest!' Nowadays I still look up to him but I'm really happy that we've become closer."
Then there's Jo Jung-seok, who's starring in a film that'll be a box-office rival, The Exclusive: Beat the Devil's Tattoo (which released this past week). "Jo Jung-seok hyung is really awesome onstage. Because I know he's that kind of person, I'm happy for him when things go well for him. Hyung has ambition with his acting, and his outlook on acting is very clear. Back when we would perform onstage together, he would give me suggestions, and I'm really happy that someone like him has become successful."
Also: "I also really like Kim Dae-myung hyung [Misaeng, Inside Men]. When I didn't have money to buy food, he paid for me, and if I asked him to buy me fried chicken at night, he would buy me fried chicken." Then he laughed, "But I think he changed his number. I called him to invite him to the screening and couldn't get through."
Yong-pal wrapped earlier this month on SBS, while crime thriller That Man releases on October 28. Knowing Joo-won, he'll be announcing his next drama any day now. He may be one of the rare people for whom active military duty would offer a less strenuous schedule than everyday life. Why rest when he can work, right?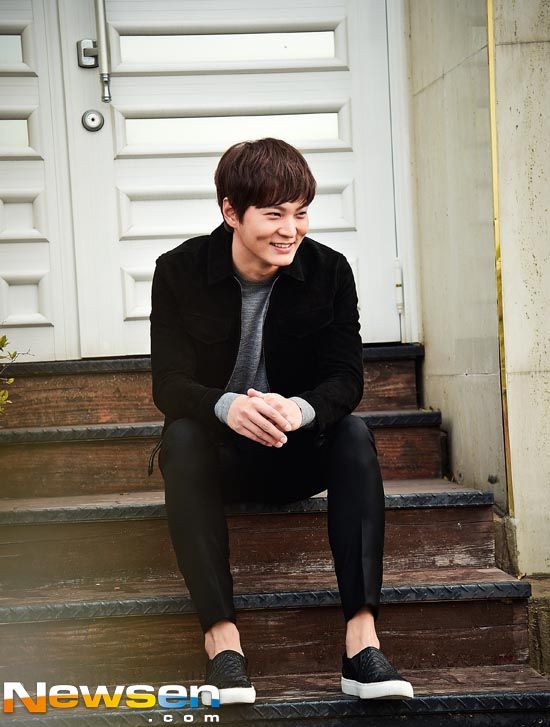 Star News, Asiae, Hankook Ilbo, Newsen, Newsen, Asia Today
RELATED POSTS
Tags: interviews, Joo-won