Mrs. Cop: Episode 18 (Final)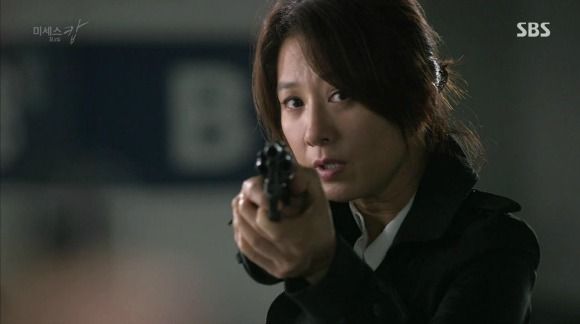 It's time to get serious, as Young-jin focuses on proving that President Kang may not be as dead as we would hope. All she wants is to confront the man who killed her father face-to-face, but she's got to find him first. She'll need all the help she can get from her team as she hunts for her final vengeance, unwilling to give up until every stone has been overturned.
EPISODE 18 RECAP
Young-jin and Jong-ho watch in disbelief as President Kang's car goes up in flames, while Secretary Yoon lies on the ground wailing that the president is dead. Do-young and Jin-woo arrive on the scene, but there's nothing anyone can do.
Back at the station Young-jin is understandably suspicious, asking Yoon why President Kang would plan such an intricate escape only to kill himself. Yoon claims not to know himself, since just this morning Kang was going on and on about having Young-jin killed. When asked if Kang was really in that car, Yoon just mutters, "Get an autopsy."
Kang's hotel room and the suicide note that he left are all examined, but Do-young also feels that something is off. Why would a man who ordered the mass murder of his own employees apologize and kill himself? Jin-woo assumes he just didn't want to live the rest of his life in prison, and quips that at least now he'll be with his son Jae-won in Hell.
He notices that mention of Jae-won no longer upsets Do-young, and she says that she was able to do as he suggested — feel sorry, then let it go. She wonders if Kang was also sorry and that's why he killed himself. Jin-woo says that would make him human, and that he'd like to think it's true.
From President Kang's office, Lawyer Kim makes a call and tells the person on the other line to start the bankruptcy paperwork. Since he didn't declare an heir, all of Kang's assets will be seized by the government. The other person says something, which prompts her to change tack and tell them to wait until after the forensic results are in.
Young-jin also visits Kang's office, and remembers the first time he admitted to killing her father. He'd told her to get over it and move on, but later when it was his own son who was dead, he'd claimed that some things can never be forgiven.
Lawyer Kim and Congressman Kim discuss the aftermath of President Kang's apparent death… now that the prosecutor's office is investigating the bribe list, the public is in an uproar. Congressman Kim says that they just have to delay and allow the "special prosecutor's office" to handle things.
Lawyer Kim reveals that Kang's wealth was a lot more than they expected, but Congressman Kim isn't keen on the bankruptcy plan — he would rather query the shareholders and see if the company can be sold, instead. He promises to look into potential buyers, and Lawyer Kim agrees.
Young-jin looks over President Kang's suicide note, which is suspiciously repentant for a man who never showed an ounce of remorse for anything. Frustrated, she slams shut her laptop.
Later that day, Congressman Kim is shocked to find President Kang alive and well, sitting on his couch like it's no big deal. He says that he's here to repay Congressman Kim for betraying him, though he has no plans to kill him. He wants his help in order to die completely.
Right now an autopsy is being done on the body found in the car, and Congressman Kim is to make sure that body is identified as President Kang. As for Lawyer Kim, Kang says he'll take care of her himself, and not to tell her that he's alive.
Congressman Kim gets busy making calls and holding meetings, and when the autopsy results are released, the body is indeed identified as President Kang. Young-jin is furious, sure that he would never apologize and kill himself. Jong-ho wants her to accept that all the evidence points to Kang being dead, but Young-jin can't shake her feeling that something is terribly wrong.
Kang himself finds the news of his confirmed death in the papers, and the first thing he does is book a flight out of the country since he won't be on the no-fly list anymore. But as he's packing he gets the news that Lawyer Kim is selling off KL Group and moving his personal money to Congressman Kim's accounts, and tells his bodyguard to purchase a gun for him before going to the Philippines to get his house ready.
The bodyguard makes a visit to Lawyer Kim, who's getting a bit big for her britches as she sits in President Kang's chair and tells him that she doesn't plan to represent Secretary Yoon. Her generous advice is for him to confess and make a deal.
Young-jin talks to the ajumma who runs the little corner restaurant that Kang frequents, but she claims she hasn't seen him in a while. Young-jin wonders how the woman stays open when there are never any customers, assuming some sort of relationship between her and President Kang, especially since she seems to be making a suspiciously regular income every month.
Ajumma still says she doesn't have any connection with Kang and tries to shoo Young-jin out, so she asks if the woman must have helped him once. Mention of President Kim, the drug lord who was strangled right in this restaurant by Secretary Yoon, makes the ajumma nervous, especially when Young-jin recalls that he was last seen in this area.
She finally says it right out — President Kang pays Ajumma in return for letting him use this place for business (and the occasional murder). Ajumma keeps up her "I don't know" litany, so Young-jin wonders sarcastically how all these shady people she doesn't know all seem to end up in her restaurant.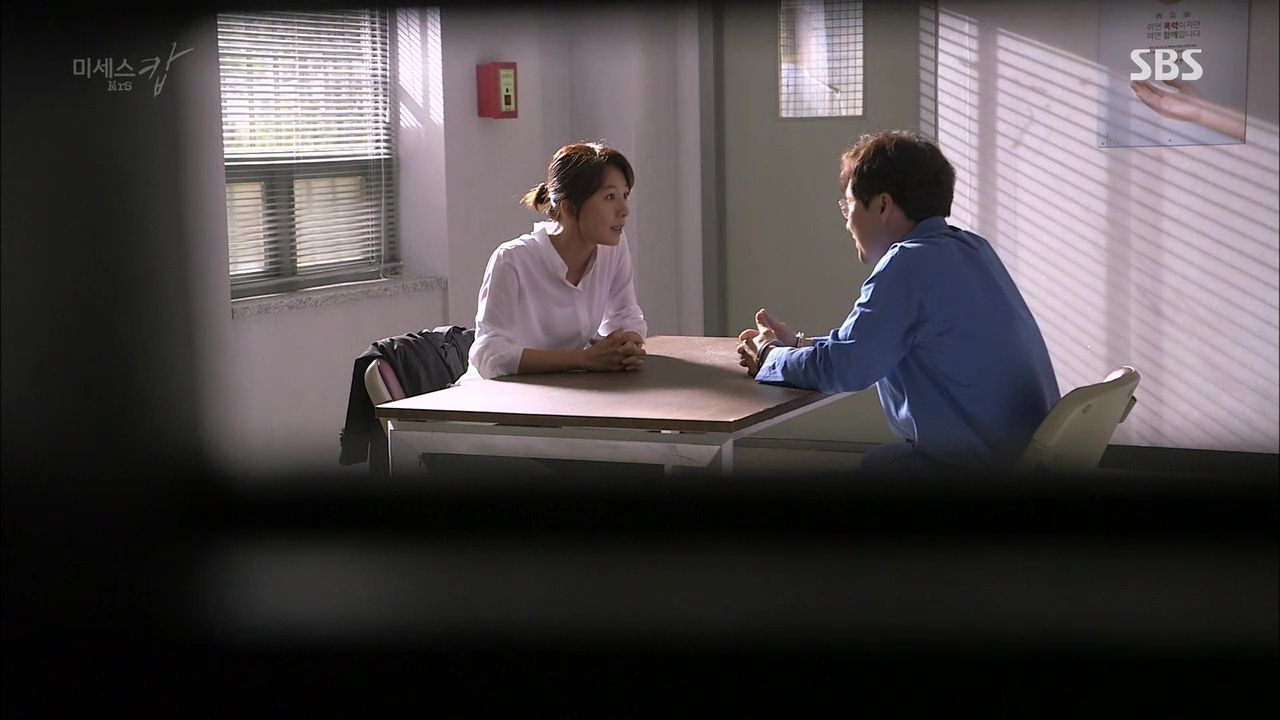 Ajumma finally admits that she did let them use her restaurant, but all she ever did was cook them food — oh, and there's that safe full of money. At the mention of a safe, Young-jin goes on high alert.
She goes back to talk to Secretary Yoon, who says that his story won't change no matter how many times she asks. She asks where the money is that Kang took when he ran, but Yoon claims to know nothing. Young-jin tells him that she knows about the safe at the restaurant, and how it's completely empty.
She doesn't think Yoon would have taken the money since he's been well-paid, so it could only be that someone took it. Maybe… a man on the run? Yoon repeats that Kang is dead, so she tells him to make sure to swear to that in court and commit perjury.
Jae-duk and Se-won went to a forensics class, so Young-jin takes Do-young and Jin-woo with her to confront Lawyer Kim. She tells them about the missing money and how she thinks that indicates that Kang is alive, figuring that he will have been in touch with Lawyer Kim.
It's late and Kim is just leaving Kang's office when the trio arrives, but they just miss her as they ride in different elevators. Lawyer Kim makes it to her car and gasps in shock when President Kang casually slides into the passenger seat next to her.
He gets right to the point, asking why she's suddenly in charge of his company and not believing her when she says she thought he was dead. He knows she's been planning this for a while… did she think he would die soon? He says he forgot how smart she is, and regrets sending her to Congressman Kim like he did.
Kang reminds her how he deals with people who betray him, ignoring her plea to spare her life. She thinks fast and says that legally he's dead at this moment, and he'll need a new identity. She offers to help him, but her hand is creeping towards the car door handle.
Kang grabs her by the throat when she tries to run, and when her phone rings she manages to swipe it and connect the call. It's Young-jin, who clearly hears the struggle and President Kang's voice. Back in the car Kim eventually goes limp as Kang yells at her to die, so he releases her and gets out of there fast.
He's gone by the time Young-jin makes it to the parking garage, and she orders Do-young and Jin-woo to call an ambulance and check the exits. They head off so Young-jin slinks through the garage alone, and finds President Kang aiming his gun at her.
They stand at an impasse, both with their weapon trained on the other, and Kang laughs that if you want something bad enough, your dream will come true. He's been wanting badly to shoot her for causing his downfall, and he's thrilled to have his chance.
After a long tense silence, they both shoot — and both go down, shot in the abdomen. Young-jin manages to get off another shot to Kang's arm, and crawls over in time to smack his gun away before he can reach it.
She pulls herself up and points her gun at him again, growling that she told him she was going to kill him. He invites her to do so then, and Young-jin says that she will — for all the people he killed, her father included. Kang starts to reach into his pocket for a knife, so Young-jin fires again, and this time Kang goes down for good.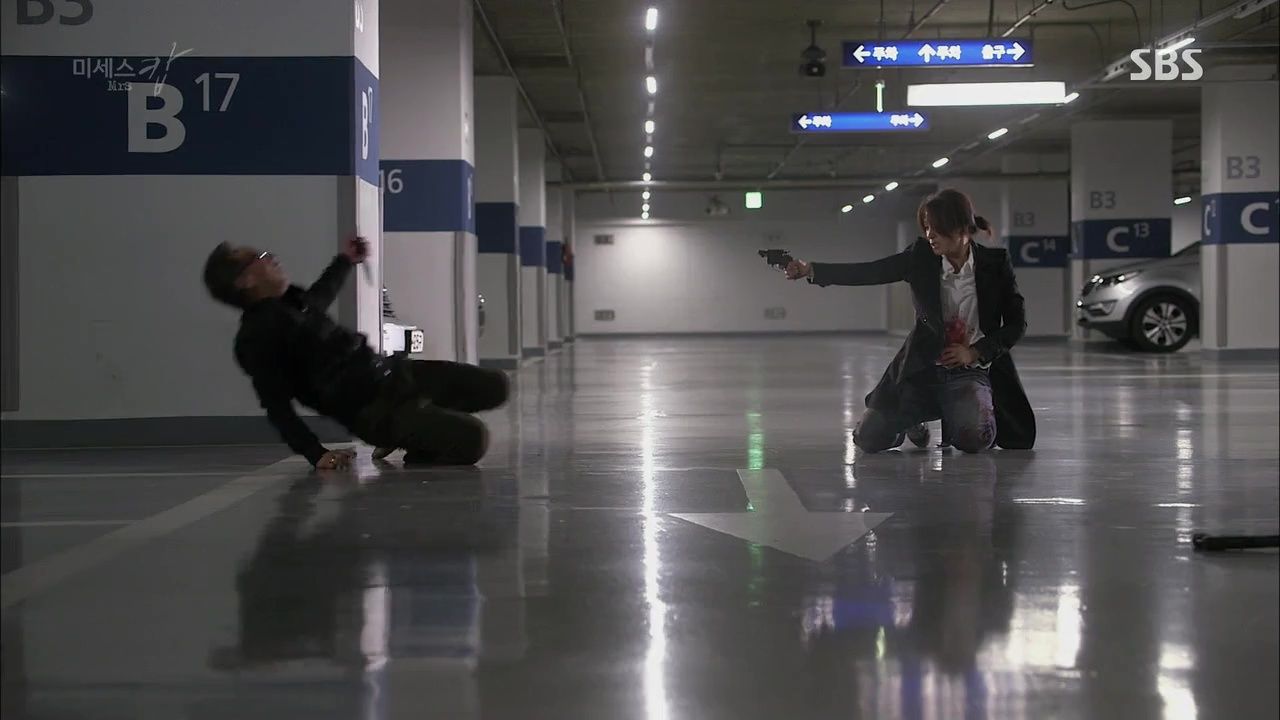 In pain and bleeding, Young-jin also collapses just as Do-young and Jin-woo come running to the sounds of the gunshots. Just before she passes out, she says, "I told you I was a woman without fear."
She's taken into emergency surgery, and Nam-jin comforts a sobbing Ha-eun while they wait outside. Jae-soo joins them and assures Ha-eun that her mother will be just fine — somehow I feel that Jae-soo could make that happen just through sheer force of will.
Jong-ho takes Young-jin's team to arrest Congressman Kim, who he punches out on sight for daring to tamper with the autopsy results. The congressman is taken in amongst a media firestorm, and Jong-ho goes to the hospital to beg the doctors to save Young-jin. Awww, it's twists my heart to see him go from being so strong, to so scared.
Young-jin makes it through surgery but she's still in critical condition, and her family gather around. Jong-ho quietly begs her not to die, and little Ha-eun tearfully promises to be a good daughter from now on. Nam-jin manages to hold it together, until Jong-ho hugs her.
Jin-woo and Do-young find themselves facing an alley full of thugs, and have a hilarious discussion over whether to stay and fight or come back another time. They deicde to stay and pull out their weapons, and HAHA, they're each holding the other's favored weapon. I love how Do-young fusses at Jin-woo for having a gun when he usually shuns them, and he's all There's a lot of them! What if they hit me?
Do-young runs in first, and Jin-woo gets angry when one thug slams her into the wall. He wades in screaming at them not to touch her or he'll kill them, making Do-young grin in amusement. They neatly (and acrobatically) neutralize the thugs and lead them all to the station for arrest — even Jae-duk and Se-won have to marvel.
They take a break and Do-young takes out the first aid kit to doctor Jin-woo's face, and she can't resist teasing him for getting hit. She reminds him that guys who get hit are unattractive, and awww, his little face falls at that.
Jin-woo flinches at the stinging medicine and Do-young starts to baby-talk at him, but he sees through her and knows that she just doesn't like seeing him hurt. He says he doesn't like seeing her hurt either, and asks her not to do dangerous things in the future.
Jin-woo says that he heard Do-young is being transferred to another department, but she assures him that once she's finished her rotation duty, she'll come right back to Violent Crimes. Jin-woo mutters that he worries about the guy she'll end up with so Do-young says to introduce her to someone, but he declines, "… they'd just get upset with me." Hee.
He admits that she's fun, brave, and pretty, making Do-young preen, but he says that she's not the type that most guys like. That makes them both laugh, and Do-young just says that she's got her charms.
Young-jin wakes eventually, and Jong-ho brings her some food, quipping that the bullet should have hit her in the mouth when she gets lippy with him. She's definitely feeling better, as she's back to her snarky self and whines that they didn't give her enough rice. Jong-ho says the doctor is ready for her to go home, but Young-jin is milking this for all it's worth.
Jong-ho talks back, making Young-jin grumble that he has no idea who women feel and that's why he's still single. When a woman is sick, that's when you dote on her in order to seduce her. Sounds like someone wants to be seduced.
Once she's recovered, Young-jin and her entire team are given promotions, and everyone ends up at Young-jin's place for a celebration (and HA, nobody believes her when she takes credit for the food). They all toast and flirt and banter, looking like a close family. Awww.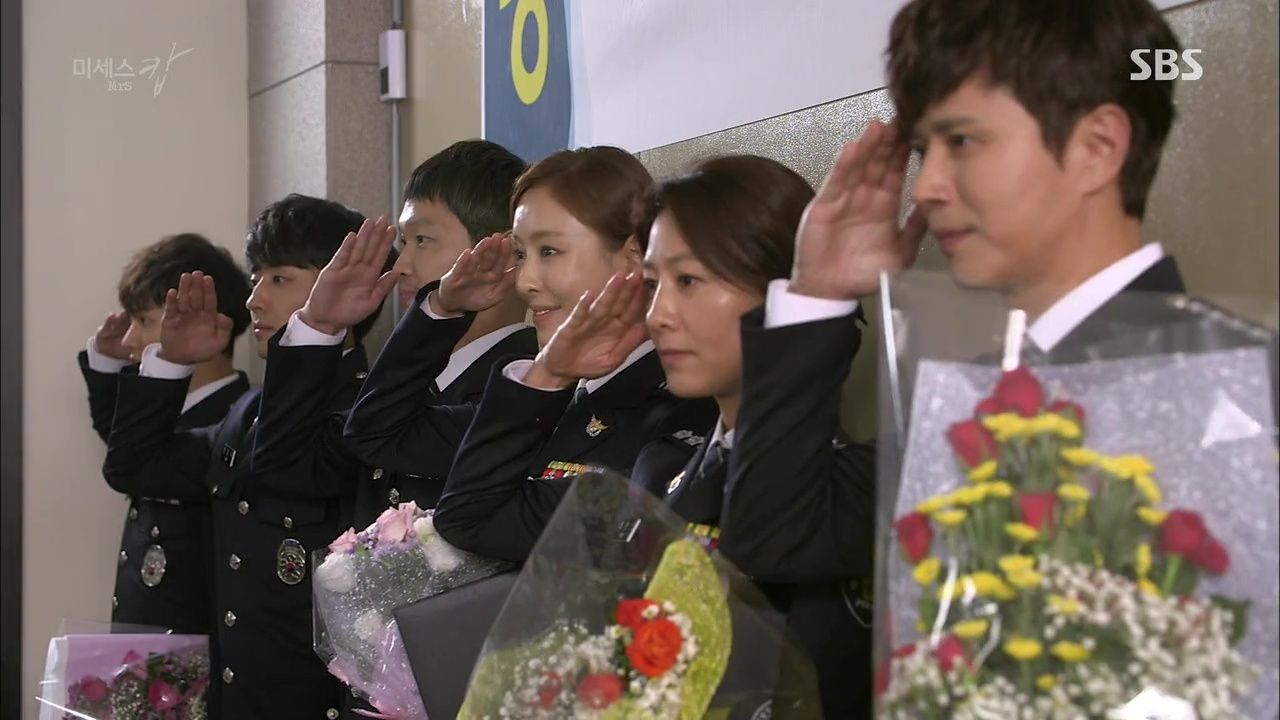 Jong-ho is promoted to Chief Yeom's old position, and he and Young-jin sit in his office to discuss her future. Jong-ho says that she can't be a Team Leader anymore, and that she's to be promoted to his old job, Head of Violent Crimes. She's not keen on the idea, preferring to be out on the streets, and Jong-ho says they'll figure something out.
She's worried about what will happen to her team if she's not their leader — the new leader might change the team. Jong-ho points out that Do-young will be gone on rotation anyway, and he'll make a special request to the new leader not to switch out Jae-duk, Se-won, or Jin-woo. He calls in the bet she owes him of an "intense night… of drinking" for tonight, with a cheeky little grin.
Young-jin's team are sad to be losing her, but at least they'll still see her every day in the office. Jin-woo makes a point to thank her for giving him his life back, and Young-jin gets choked up at their gratitude.
Some time later Jin-woo cooks for Do-young at his place, and she exclaims over his cooking skill and says he's ideal husband material. He brings up her imminent transfer and admits being disappointed, but notes that she doesn't look sad at all, so she admits she wants to keep working with him.
Their cozy little meal is interrupted by the news that a drug trafficker named Kim Byung-chul has resurfaced. They run to the location where Kim usually works and he's not there, so they decide to wait. But when some underlings leave the office, Jin-woo is forced to push Do-young up against the wall and pretend to be making out.
He kisses her for real, and Do-young's eyes flutter closed as suddenly the case flies right out of her head. Can't blame the girl — that looks like one hell of a kiss. Even the thugs grin at the two of them.
Jin-woo finally ends the kiss, and Do-young asks if he was just acting. I love that his response is a nervous, "What do you think?" She says it didn't seem like an act, and Jin-woo is all Hey, you're a good cop, you figured it out.
Do-young looks away to think about this and sees more thugs headed their way, and grabs Jin-woo in another toe-curling kiss. This time it's his eyes that roll back in his head, and they forget all about the case. Eventually Jin-woo breaks the kiss (he's so adorably nervous, I can't even) and says maybe they should get back to work, "But should we continue after we catch Kim Byung-chul?" Hee.
They storm right into the thugs' lair and demand to know where Kim Byung-chul is, all We're in a hurry, here! They commence knocking heads together, all the while discussing what they should do tonight on their first date. I love these two SO MUCH.
Young-jin and Jong-ho grow closer, going on vacation, having a cozy little picnic together and adorably feeding each other. Jong-ho admits to being lonely, wishing he could do this kind of thing every day, admitting that his success in his career isn't enough to keep him happy.
He smoothly suggests they send Nam-jin and Ha-eun home and spend another night on vacation, and Young-jin asks with wide innocent eyes what they'd do alone. Does he really have to tell you?
But Jong-ho's romantic plans are spoiled when the superintendent calls and they have to head home — there's been a murder, and a hostage situation is in progress. They hurriedly gather their things, and when Nam-jin and Ha-eun come back, Jong-ho accidentally tells Ha-eun, "Dad will… I mean, Ahjussi will take you somewhere next time!" HAHAHAwhoops. Then he calls Nam-jin "sister-in-law" and he and Young-jin run off, flashing hand-hearts back at the pair.
Jae-duk and Se-won work undercover at a ddukbokki stand, Se-won's looks drawing a gaggle of young adoring schoolgirls. Se-won really seems to enjoy serving the food, while Jae-duk just ends up insulting the girls. They finally spot their target, a flasher who's been harrassing the schoolgirls. Se-won cuffs him while Jae-duk has to explain that he's not a flasher too, he just likes this trenchcoat. Hee.
Jin-woo goes running into the station where Do-young is assigned, and she greets him formally, scolding him for being late for his shift. Awww, did he take a transfer just to keep working with her? She threatens to take action if he uses excessive force with one more drunk: "Do you think this is Violent Crimes?" Jin-woo shoots eye-daggers at her and leaves, and Do-young giggles at her power over him.
At the station, Jong-ho and Young-jin call in her old team from their respective assignments, and tell them they're going to be part of a special task force aimed at catching contract killers. It's a dangerous operation spanning several countries, and their lives will be at risk. Young-jin has agreed to head the investigation, on the condition that she be allowed to bring in her old team members.
All four of them accept the challenge, and the team gets right to work.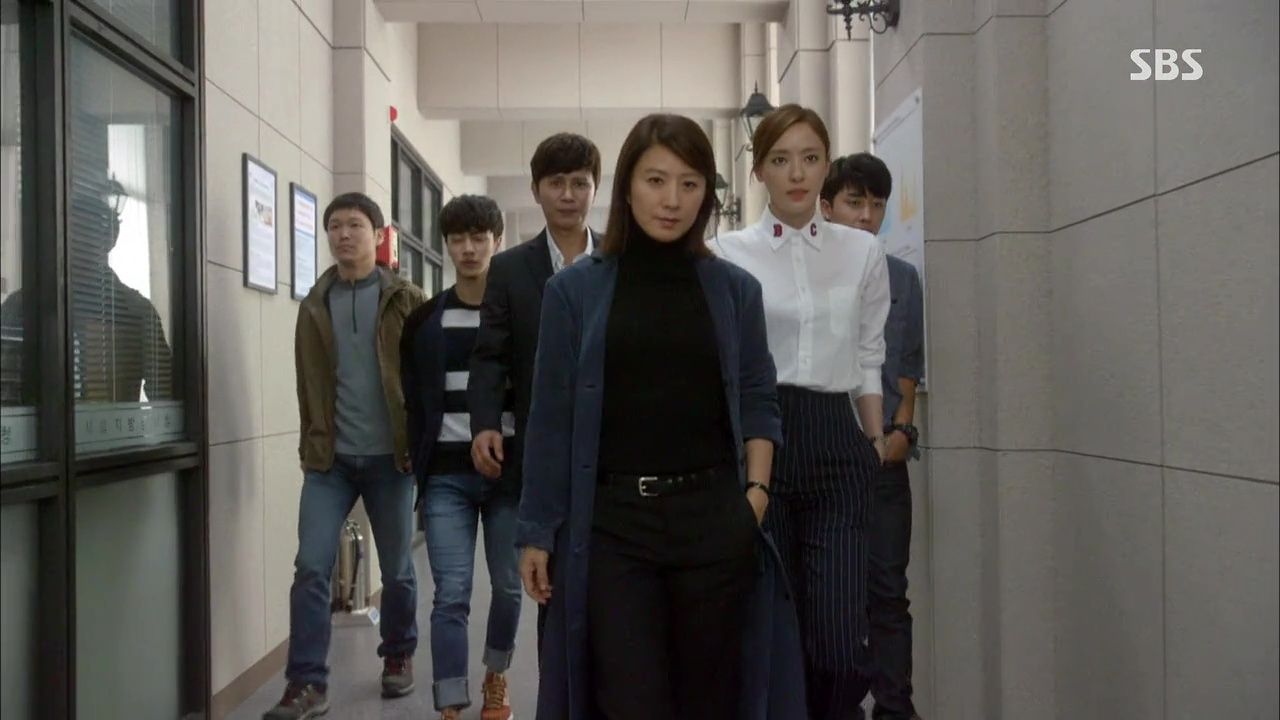 COMMENTS
Hooray, the Violent Crimes team is back together! I'm so happy — seeing them split up just felt bad and wrong.
This show has been such a bundle of contradictions, I hardly know where to start. I'll start with the negative: first of all, we were teased a show about a single mother struggling to balance her family life and her job, but instead we got a show about a career-focused woman who had a handy family member to take care of her daughter. There were a few angst-filled moments when Young-jin struggled with whether or not to give up her job, but I never really felt that she would quit and focus on her family. Which is fine, but for some reason, I'm still feeling cheated of the show that I was promised. I'm willing to accept that I'm probably being a big whiner about that, but dammit, I was really looking forward to seeing that push-and-pull between her job and her child, and we just really never got it.
An acceptable alternative would have been for President Kang to follow through on his discovery that Young-jin has a daughter and his threat to make her regret messing with his son, but again, he just seemed to forget all that and pretty much just waited for Young-jin to come to him each time they butted heads. I would have loved for Ha-eun to have been genuinely threatened by President Kang, and Young-jin forced to face the loss of another family member to this monster. Plus, it would have been a nice bookend (and given meaning to) the scene early in the show where the little boy was killed because of Young-jin's bad decision-making. It's a tragic missed storytelling opportunity — how great would it have been to see Young-jin redeem herself by ending up in the same situation, only with her own child in danger, and be able to save the child this time?
I'm also grumpy about how many loose ends we're left with, such as never being told why President Kang killed Young-jin's father in the first place? I'm sure it was probably that he was getting close to arresting Kang and so he took him out, but it would have been nice to have been told what his reasoning was. It just seems sloppy to make the show all about Young-jin wanting to find her father's killer and get revenge, but never to even tell us why her father died in the first place. Even little loose ends like Nam-jin's loneliness and Jong-ho promising to set her up on some dates… I would have liked to see her find something for herself, outside of being a constant babysitter.
It's just strange because, as I discussed before, in many other ways the show was very good at leaving clues and picking them up later, giving meaning to even small happenings. I wish the entire show had been that tight, rather than showing us that it could have been great with some really amazing bits of foreshadowing, then turning around and falling flat in several other areas, or teasing us with a deliciously-shivery threat and then just… nothing.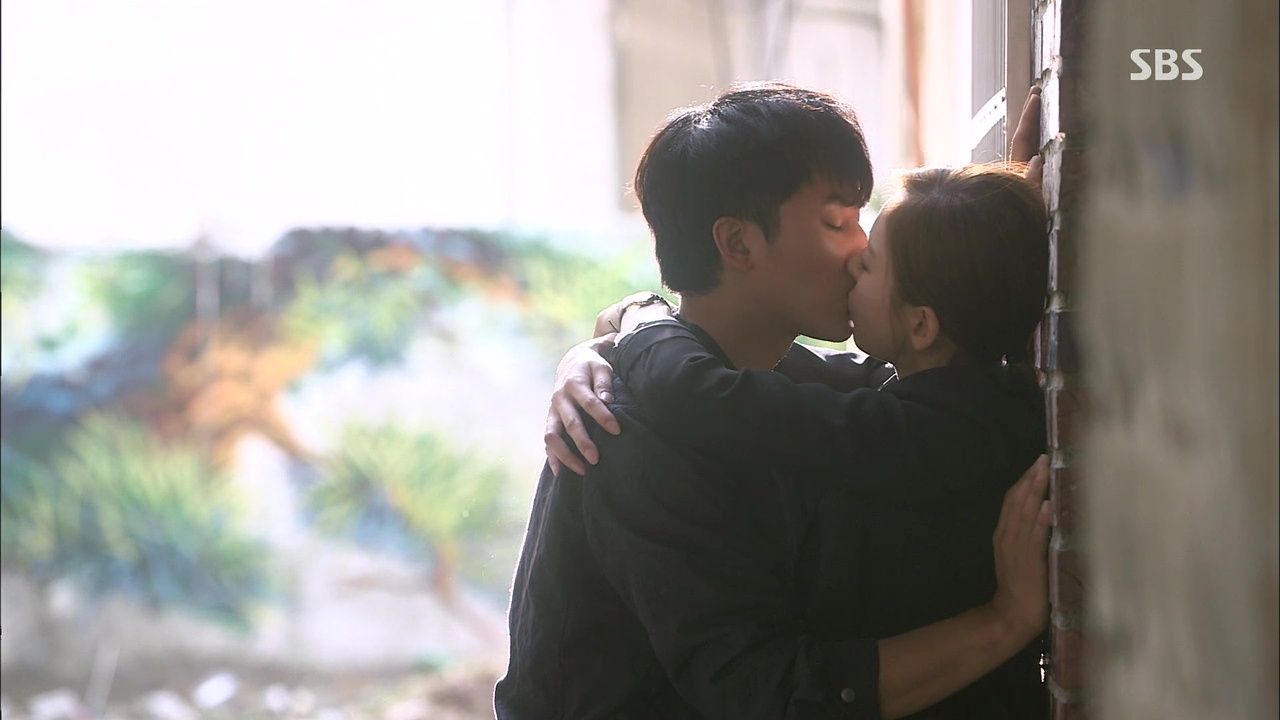 But despite my complaints, I've still thoroughly enjoyed Mrs. Cop based entirely on the strength of the ensemble. Young-jin is a smart, strong, admirable woman who sticks to her principles, a fantastic leader who earns the respect of her team despite being a woman in a predominantly male profession. Her team are perfectly balanced and work together seamlessly, always getting the job done while still enjoying their jobs and each other. President Kang was a worthy foe, and though at times he devolved into a complete nutjob, he still managed to be cunning and menacing enough to keep Young-jin and the Violent Crimes Division on their toes.
My favorites 'til the end were always Do-young and Jin-woo, whose natural progression from antagonistic competitors to true friends and partners was really wonderful to watch. I loved that they always talked out their issues (even if one of them had to cuff the other to make them sit still long enough to listen) and always respected each other's feelings and opinions. Their banter is just adorable, and just goes to show how much they truly enjoy working together. I would have been satisfied with that, but I'm happy we got to see them finally end up together, because they truly make the most perfect couple ever. Talk about two peas in a pod.
My lingering impression of Mrs. Cop is of a good solid cop drama, thanks to the intelligence and dedication of Young-jin and her team, but when I recommend it to people it will be for the characters. Everyone was well-fleshed-out, interesting, and made me care about them and their world. The villain was sufficiently frightening, if a bit more psycho than would fly in the real world (President Kang would never have been the respected businessman he became if he were a real person, he's too volatile), and his and Young-jin's ongoing feud was gripping and ended with a satisfying confrontation. It's not the best cop show I've seen, but as an ensemble drama about work and familial relationships, it's definitely worth the time and emotional investment.
RELATED POSTS
Tags: featured, Kim Hee-ae, Kim Min-jong, Lee Da-hee, Mrs. Cop, Sohn Ho-joon