Six Flying Dragons: Episode 4
I'd say it's a bad time to be young and in love, but it's a bad time just to be young at all. Or even alive. The world in this show is cruel and unforgiving, and it especially excels in putting its young characters through trials and tribulations that would make anyone twice their size cringe in fear. But that's the climate our six dragons live in, and it's as much a character at times as they are.
Ratings-wise, Six Flying Dragons led the pack with 13.0% this week, though MBC's Dazzling Temptation wasn't far behind with 10.1%. Sassy Go Go continued the good fight, but still landed a meager 3.8%.
SONG OF THE DAY
HA:TFELT – "Truth" [ Download ]
Audio clip: Adobe Flash Player (version 9 or above) is required to play this audio clip. Download the latest version here. You also need to have JavaScript enabled in your browser.

EPISODE 4 RECAP
Minister Hong confronts Bang-won about the Scholar Murders, suspecting that he was the one responsible. Bang-won has to do everything not to smile as he looks right through his teacher and asks in return whether he left the fabric at the scene to frame Scholar Kang.
"That night, you committed an evil act," Bang-won says, his eyes alight with purpose. "And I committed a just one." Minister Hong shakes his head at this—is that what Bang-won considers justice? The world would be a frightening place if everyone subscribed to his ideas.
But Bang-won doesn't feel he has to listen to lectures from an evil man, though he admits that he's still young, and still has much to learn. If there's one thing they're both agreed on though, it's that neither of them are good. At least, not in the subservient way others would like them to be.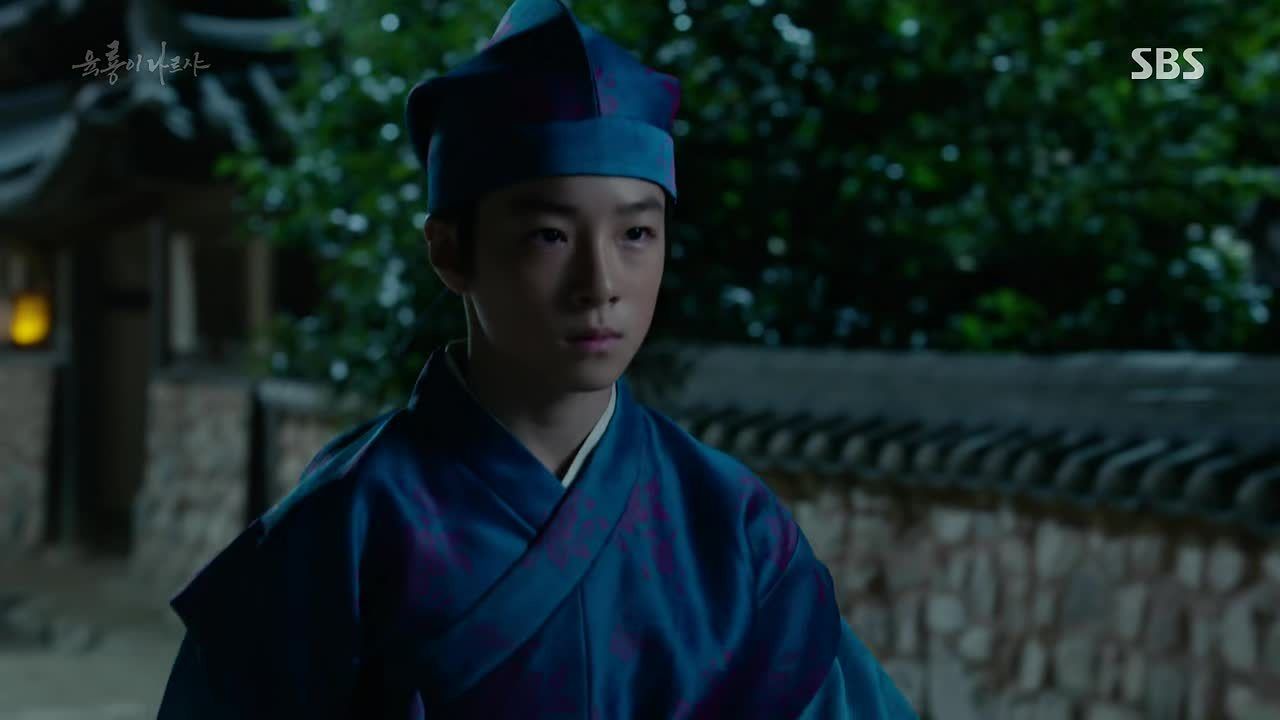 As he walks away, Bang-won thinks to himself, "Until I gain power, I shall not be good. I have seen what has become of those who are good yet powerless."
It turns out that Gil Tae-mi has a twin brother who acted as Princess Noguk's bodyguard, and was the only other person besides Ddang-sae's mother that the princess kept by her side.
Following that investigative lead, Ddang-sae sets out to find him, only he's not alone—Shifty Bodyguard (the turncoat who fled when the siblings recognized the red seal on the secret letter he carried) follows closely behind.
Shifty and his buddies catch Ddang-sae along and demand to know how he recognized the symbol. Trembling, Ddang-sae tells them that the man who took his mother bore a tattoo of that same symbol. It's only when he adds that her name was Yeon Hyang, and that she worked in the palace, does he get their attention.
One of them draws a sword, prepared to cut the boy down. He's stopped when an object is thrown his way, as a man emerges—it's GIL SUN-MI (also played by Park Hyuk-kwon), the man Ddang-sae came here to find.
With the bad guys successfully scared off, Gil Sun-mi unties Ddang-sae, who notes that he looks exactly like his twin brother, Gil Tae-mi. With a hint of ruefulness, the decidedly un-flamboyant Gil Sun-mi says that their looks are the only thing they share in common.
Ddang-sae's not the only one looking for Gil Sun-mi—the Chinese elder who accosted his twin brother is nearby and can sense his presence. But when Ddang-sae mentions his mother's name, Gil Sun-mi takes a knee to look the boy straight in the eye: "From this moment until the day you die, you must forget your mother. You must never say even speak her name."
He tells the confused boy that his mother committed a great crime against Goryeo and is now considered a traitor, because her mistake caused Princess Noguk's death. He warns Ddang-sae not to try looking into it any further, because it'll spell his death. Even if she's still alive, she'll be killed, along with her entire family.
Ddang-sae doesn't understand why he'd be punished for his mother's crimes, but wonders if that's why Shifty Bodyguard and his men just tried to kill him. Gil Sun-mi all but gasps, having thought they were just thieves—Ddang-sae's in danger as long as they know who he really is.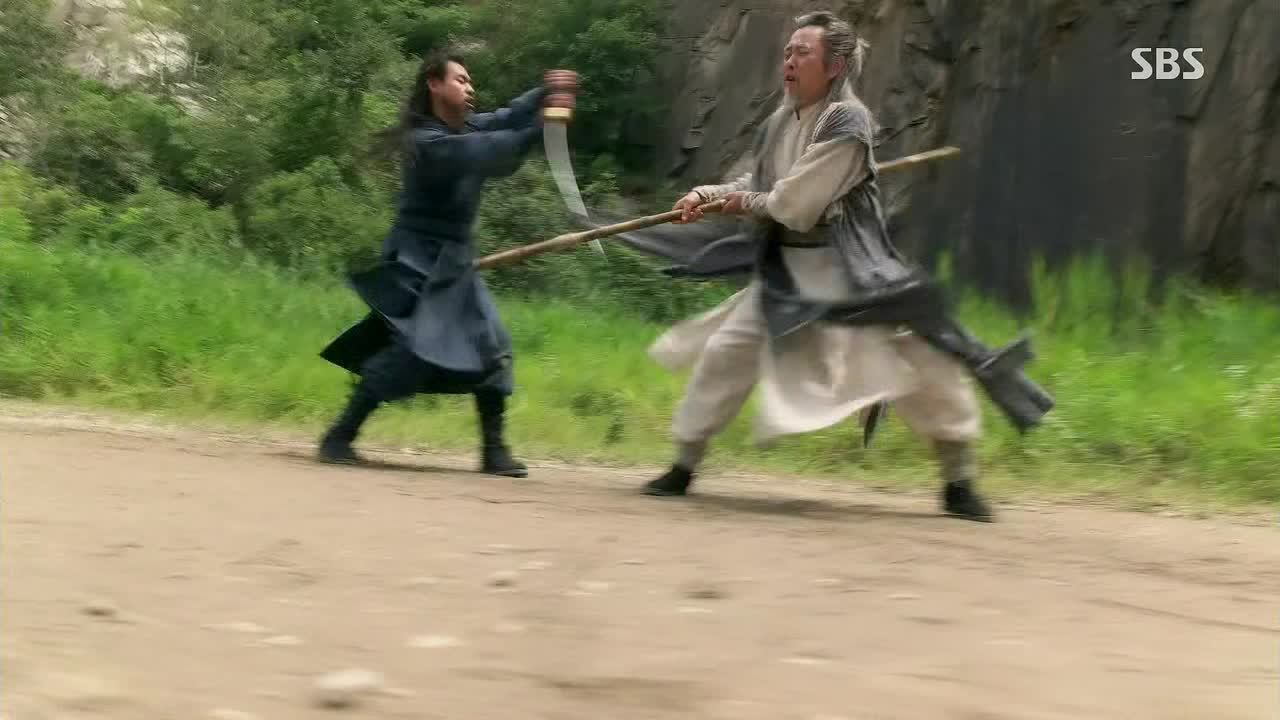 Despondant now, Ddang-sae worries that he's put his sister in danger, when all he wanted to know was where their mother was. To himself, Gil Sun-mi asks, "What am I supposed to do with this child, Yeon Hyang?" Ahh, so he knew Ddang-sae's mother personally.
Their moment of reflection is interrupted when Gil Sun-mi senses a presence nearby—it's the elder's, and with lightning speed, Gil unsheathes his sword, sending the scabbard flying toward the elder before he leaps across the distance between them with his sword held high.
The fight that ensues is clearly one between two men of great skill, as they parry and dodge each other's blows as elegantly as if they were dancing. Since that's how warriors say "Hello," the elder draws back after the exchange to say that he can't tell who's the better swordsman between the twins.
Now acting like a spry old grandpa instead of a hardened swordsman, the elder tells Gil Sun-mi that he's traveled far to find a student of his. He whispers his name so that we can't hear it, but it's one Gil instantly recognizes and respects a great deal.
The likeness he showed Gil Tae-mi is of his student, who died in a duel here in Goryeo. He suspected the Gil Twins at first, but knows now that they weren't responsible. Gil Sun-mi wonders why he's seeking revenge if his student was killed in a proper fight, but the elder says it's not revenge he seeks—he's merely curious.
Whoever fought his student was able to kill him quickly with just one blow from his blade, and the elder wants to know who could have been capable of such skill. Gil Sun-mi thinks, then remembers being told that the elder always returns favors and even risks his life to keep promises he makes.
So he strikes a deal: if he tells the elder who he thinks killed his student, will he do him a favor? When the elder agrees, Gil Sun-mi tells him of a great general whose swordsmanship skills were the stuff of legend, Cheok Jun-gyeong (who did actually exist), and that his skills were passed onto his children over four generations. He believes the man who killed the elder's student is his heir, Cheok Sa-kwang.
In return, the favor Gil Sun-mi asks is that the elder protect Ddang-sae. I love that the elder thinks he means just for today, when in all actuality Gil Sun-mi is asking him to raise the boy until he becomes a self-sufficient adult. And because the elder always keeps his promises, he can't say no now.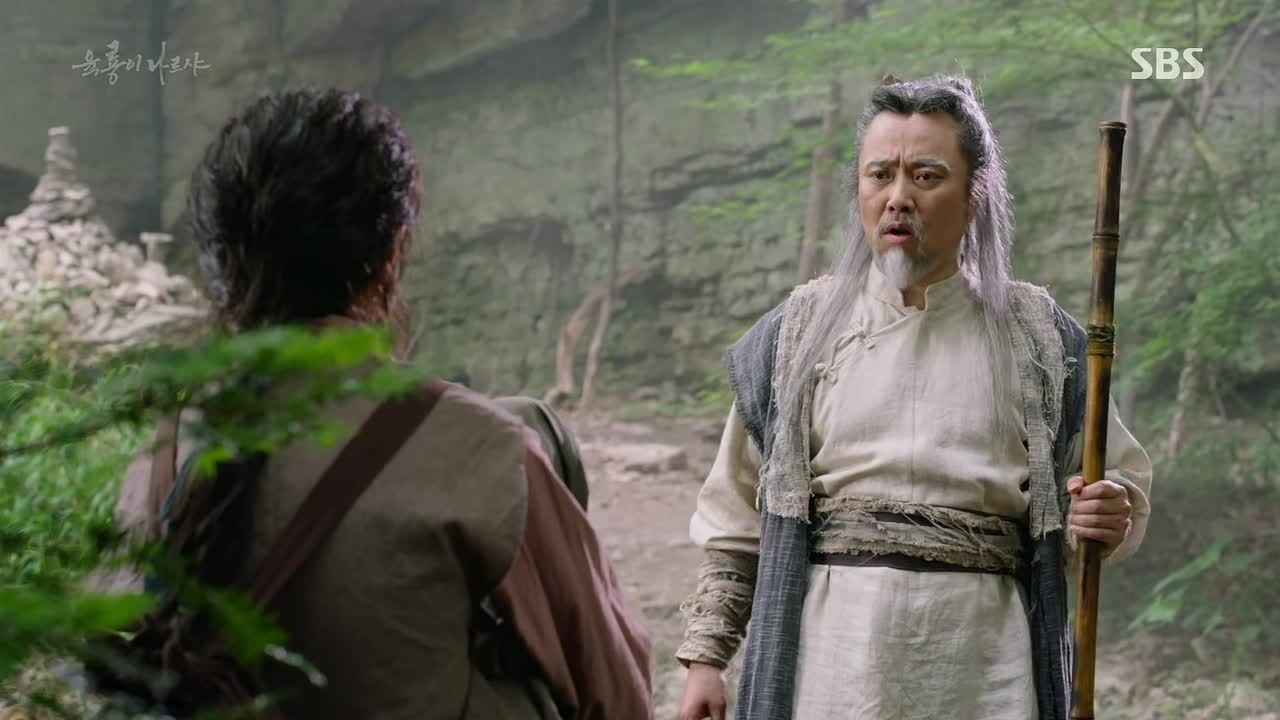 Now saddled with his new ward, the elder tells him that he wasn't planning on staying in Goryeo long, so he'll have to come with him. But when he offers to teach Ddang-sae his swordsmanship skills so he can learn to protect himself, Ddang-sae simply says he's not interested.
"Then how am I supposed to protect you?!" the elder sighs, as he curses his rotten luck in telling Gil Sun-mi his name. He still takes his responsibility very seriously despite not liking it, especially when he returns from a potty break to find Ddang-sae missing.
We're introduced to MOO-HYUL (the last of the six dragons) as a poor boy scrounging int he forest until he comes across a sleeping boar. After a chase scene through the woods, he finally manages to kill it with an expertly thrown boulder.
Moo-hyul takes the haul home to a frankly daunting amount of young siblings, and since their parents are dead the head of the household position is filled by their grandmother, MYO-SANG (Seo Mi-sook).
She's decided that Moo-hyul should become a swordsman to help feed their enormous family, since she's heard how well the Gil Twins live off their martial arts abilities. One of Moo-hyul's siblings pipes that their hyung may be strong, but he can't even hold a knife correctly. Derp.
Still, Grandma's determined to make Moo-hyul a swordsman, so she assembles her soccer team of grandchildren to take the boar and what little side dishes they have to MASTER HONG, a famed swordsman who claims to have taught the Gil Twins everything they know.
I love how she offers to just give him all the kids if he'll promise to take Moo-hyul, and though he wavers, he eventually caves. Moo-hyul will begin as his student starting tomorrow.
At long last, Ddang-sae returns home to the province of Yangkwang-do to find Boon-yi preparing meager funeral rites for her mother, crying that she'll do the same for her brother should he spend another month away. She's overjoyed to see him, and clings to her oppa tightly while crying, "What took you so long?"
But when she asks about their mother, Ddang-sae lies and said he learned nothing new. Their mother is likely gone from this world, which is something Boon-yi has already come to terms with.
Their neighbor, a young girl in fine clothes by the name of YEON-HEE, drops by to check in. Boon-yi happily announces her brother's return, and the lingering glance Yeon-hee gives Ddang-sae is curious.
Ddang-sae wakes from a nightmare filled with Gil Sun-mi's dire warnings to a breakfast that's far above their usual means—likely because Yeon-hee stole the food from her wealthier household. Ddang-sae can't thank her enough for staying with his sister while he was away, but it becomes clear by the egg Yeon-hee snuck into his rice (protein = love) that she did it for him.
While Ddang-sae might know how she feels, he desperately tries to act like he doesn't, even though all the boys in the village want Yeon-hee to make them clothes for Chilseok, a traditional festival that takes place before the beginning of monsoon season.
Yeon-hee finds Ddang-sae brooding under a tree, and has already guessed that he hasn't told Boon-yi everything about their mother. She also knows that it has to be tough on him to keep it all to himself, which he acknowledges by breaking down in front of her.
"I'm a coward," he cries. "I gave up on my mother." Yeon-hee can't help but cry to see him in this state and pats his hand affectionately, telling him all the things he needs to hear.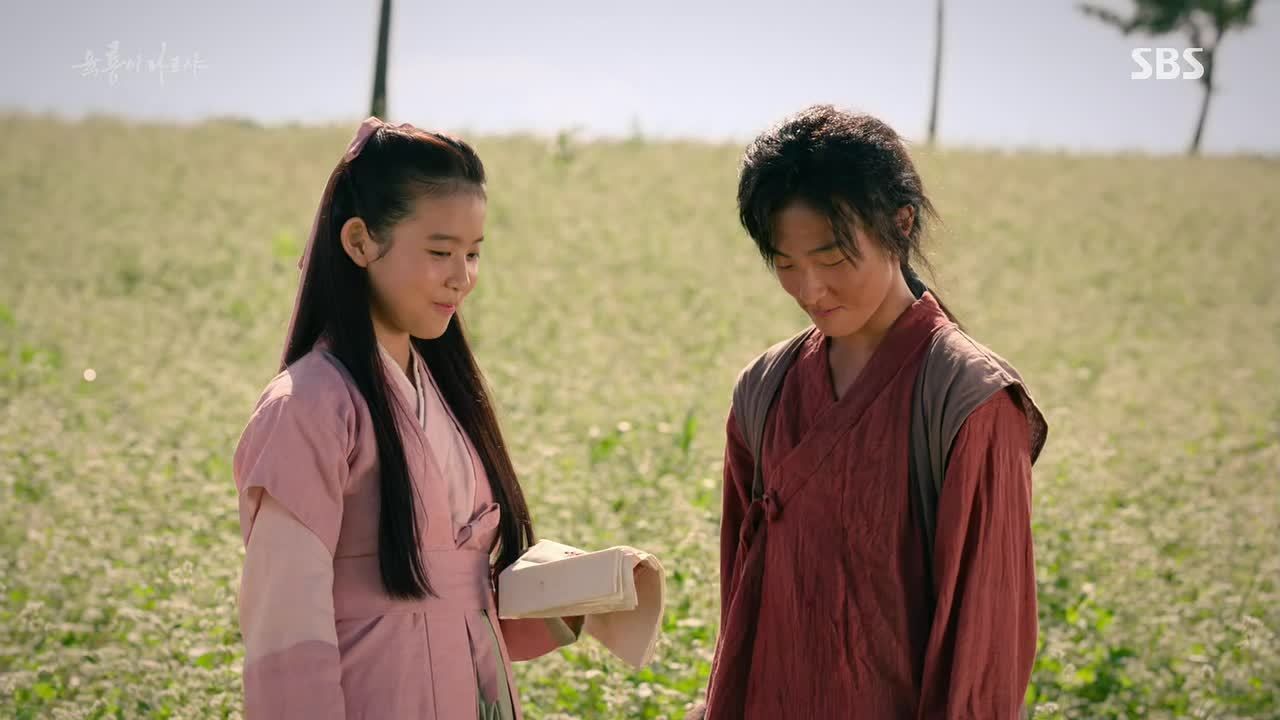 Afterward, she mentions that she'll be making clothes for him this Chilseok, since she's been chosen to represent Jiknyeo, a daughter of heaven who was known for her ability to make beautiful garments. And in the story, Jiknyeo fell in love with a herder named Gyeonwu, though their tale isn't necessarily a happy one.
They spend happy days together picking berries and generally being adorable, before Ddang-sae has to return to the real world: he burns the likeness of his mother and the copy of the seal tattooed on the man who took her.
We cut to a chaotic scene, as scores of Goryeo ministers squabble amongst each other for seats in the assembly hall. But there are bigger things at stake, since the Japanese have made it as far as Yangkwang-do, the province where Boon-yi and Ddang-sae hail from.
Though Lee In-gyeom calls on the ministers to send men to aid in the fight, no one's willing to do so, least of all Gil Tae-mi. There's no incentive to get the ministers to give, either—the national treasury is all but bankrupt.
In order to solve their problem, Minister Hong comes up with a nefarious plan that involves robbing Peter to pay Paul. Since they can claim it's all for the war effort, they can take land belonging to the citizens and gift it to those ministers who send men to fight, which is sure to change the ministers' tune on whether or not to contribute.
The plan works just like Minister Hong predicted, since he's soon overwhelmed by ministers offering men and gifts in order to gain parcels of land. All Lee In-gyeom and Gil Tae-mi have to do is sit back and wait.
Yeon-hee is confused to see men cordoning off land that used to belong to someone in their village, though they now claim it's Lee In-gyeom's land. Luckily for her, when the men start getting rough, a contingent of villagers with pitchforks arrive to confront the thieves.
The villagers manage to chase them off their land for now, even though they bear paperwork claiming that all their land now belongs to Lee In-gyeom for the war effort, which they all balk at—since when has the government helped them fight off invaders? The villagers know it all traces back to corruption and greed, though how long they'll be able to hold the thieves off is another question.
Boon-yi acts as a good winggirl for Yeon-hee by bringing her oppa's attention to the hanbok Yeon-hee's made him for Chilseok. Though he tries to hide it, he's secretly elated when he gets his hands on her handmade gift.
The festival itself is a small affair, but Yeon-hee and Ddang-sae get to act out the story of Jiknyeo and Gyeonwu, who would cross a bridge made of magpies and crows to meet each other once a year. In this reenactment, they cross a bridge made of their fellow villagers.
But just when the festivities are at their highest, a gang of ruffians sent by Gil Tae-mi break up the party with clubs. Ddang-sae falls and twists (breaks?) his ankle, leaving him to limp after Yeon-hee and her brother as they try to escape.
One of the molesting minions who first confronted the villagers appears out of nowhere and stabs Yeon-hee's brother as payback for his earlier insolence. That was definitely not part of the plan, but he's got eyes for Yeon-hee as he throws her to the ground. Ohhhh no. No no no no. Come on guys, please don't do this. Please.
Ddang-sae sits dumbly by with his broken ankle as Yeon-hee stares into his eyes, but he acts like it's his back that's broken as she's dragged into the field of flowers they'd once frolicked in by her rapist.
Once it's done, Ddang-sae follows Yeon-hee as she walks home, her clothes in tatters. He says nothing, and Yeon-hee has to throw things at him to get him to go away. She doesn't want to see his face anymore, and honestly, neither do I.
Boon-yi slaps him for just sitting by and doing nothing, even though Ddang-sae defends that both he and Yeon-hee would have been killed if he'd tried to intervene. Boon-yi slaps him again: "Then you should have died!"
She cries as she tells him how much Yeon-hee liked him, how much he was always in her thoughts, and how she just can't understand how he could hide wearing the clothes Yeon-hee made him while she was raped nearby. You tell him, Boon-yi.
The villagers mourn their dead and cry out in vain against the injustice of it all—it wasn't foreign invaders, but their own government who killed their family members.
Later that night, Ddang-sae follows the rapist's cohort to his house, first bludgeoning him with a stone before jumping on him with a sickle in hand. The lightning from the storm shows their struggle in horrible flashes, as Ddang-sae readies the killing blow…
…But the sight of the man's mother and sibling crying from the entrance as they watch the scene, helpless to do anything, gives him pause. For a few long moments Ddang-sae hesitates, but in the end, he brings the sickle down and runs off into the stormy night. But he only stabbed dirt, leaving the man alive.
Left with nothing else, Ddang-sae finds a high cliff to throw himself off of. "I can't do anything," he cries to himself, looking down at the looong drop below.
But just as he's about to take that plunge, a voice from behind him crows, "I finally found you!" It's the elder, who's scandalized when he realizes that Ddang-sae was about to kill himself. He can't do that, the elder says, because he's sworn to protect him.
Ddang-sae has had it with this stranger he barely knows, and screams that he wants to die—he couldn't protect his mother or Yeon-hee, which makes him a fool incapable of doing anything. The elder tells him that if he's right, he won't be able to kill himself. It's not that easy, especially for a fool like him.
"You can't die," the elder says with a certainty that unnerves Ddang-sae, who takes it almost as a dare as he throws himself over the edge…
…Only to be caught by the elder, who makes it to the edge of the cliff in the blink of an eye. He just performed a superhuman feat, and as a bewildered Ddang-sae looks up to ask him who he is, the elder smiles and introduces himself as Jang Sam-bong. (The chryon tells us he was a shaman leader and founder of the Tai Chi style of sword fighting. Methinks he's the legendary Chinese Taoist Zhang Sanfeng, said to have achieved immortality.)
"How much stronger can I become?" Ddang-sae finally asks, still dangling off the edge. "Immeasurably strong!" Jang Sam-bong replies confidently.
Six years later.
Lee Bang-won (now grown up and played by Yoo Ah-in) sits despondently on a Sungkyunkwan rooftop as he muses ruefully, "Heo Kang has left. Everyone has left. Everyone good and powerless… has left. Only those who know no shame have remained, and they have won."
Now all that's left is human garbage like Scholar/Gil Yoo, now a ranking official, and Bang-won sighs that he's lost the will to keep fighting. But no sooner does he consider returning to Hamju does he see a shadowy figure drop down from the rooftop to confront Baek Yoon.
It's Ddang-sae, now known as LEE BANG-JI (Byun Yo-han), and he's there for business of the darkest nature—once he's confirmed the man in front of him as Baek Yoon, he stalks toward him and his guard, preparing to draw his sword.
He flashes back to Yeon-hee's rape and the direct aftermath as he turns his purposeful walk into a sprint, his blade drawn as he leaps into the air to bring it down on Baek Yoon's guard. He puts up a small fight, but in the end, Bang-ji slits his throat with relative ease.
Remembering the day Jang Sam-bong saved him from suicide by crossing the distance between them at superhuman speed, Bang-ji employs the same method to catch up to the fleeing Baek Yoon and cuts him down. Wow.
All this Bang-won watches from his rooftop perch, leaving him mystified as to what exactly he just witnessed. He goes stock still when Bang-ji passes, hoping to rely on anonymity, and it works.
He follows Bang-ji in secret to the entrance of the cave we saw in Episode 1, and sees the message he left stabbed to the door before letting himself inside. He finds a carved wooden figurine and shelves stuffed with books.
There's light coming through one of the cave walls, and when Bang-won pulls on a nearby rope, the entire tarp comes down—and there, in open air, is a perfect vista overlooking the capital city of Gaegyeong. And there, on the walls, is a mural of a map—only, it's not a map of Goryeo.
Cut to Bang-ji, who remembers overhearing Jung Do-jeon talk about needing to kill Baek Yoon in order to bring an end to the corruption in Goryeo.
"Goryeo… I'm going to end this country," Bang-ji thinks to himself.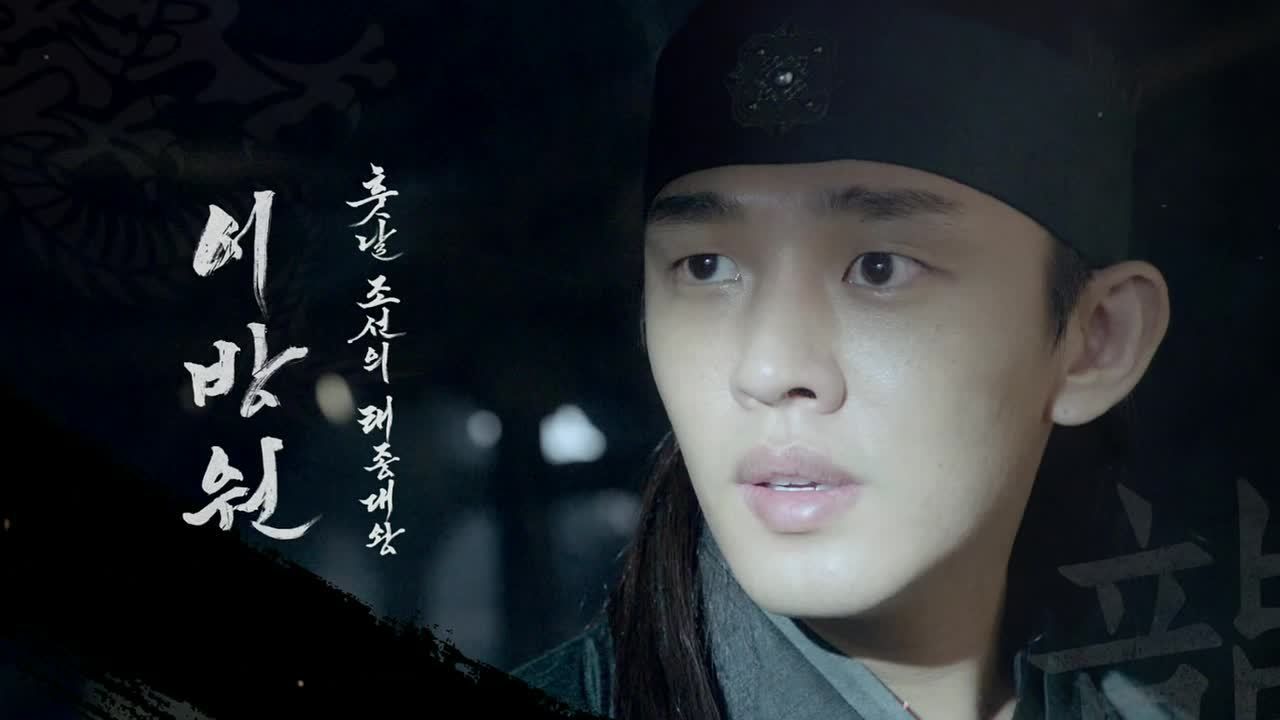 That's when Bang-won finally realizes what he's looking at. The map may be sideways, but once he realigns it in his mind he realizes that it is Goryeo, just… different. "New Joseon," the nation on the map is called. "Who made this?" Bang-won wonders, his eyes widening.
"The Third Dragon: Lee Bang-won, Joseon's future king Taejong."
On the cliff, Bang-ji wonders where Jung Do-jeon is. "Who must I kill next?" he asks the void.
"The Fourth Dragon: Lee Bang-ji, future master swordsman of the Three Hans."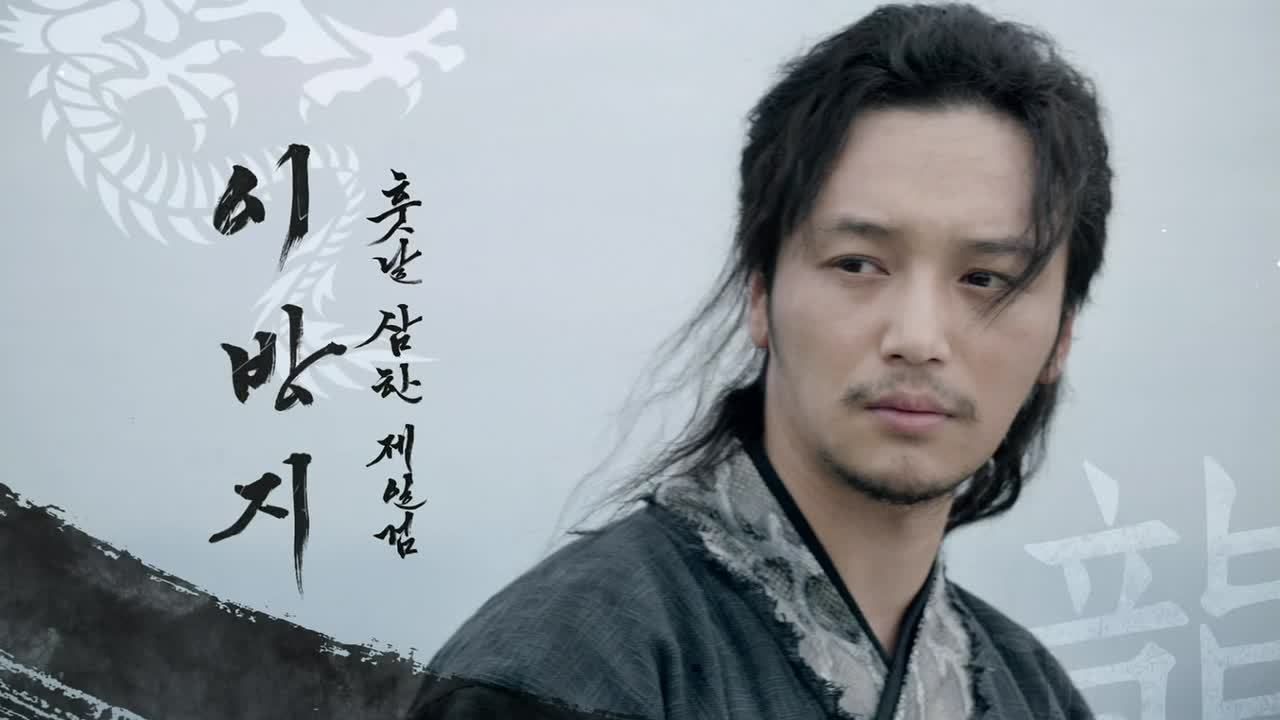 COMMENTS
Phew. If this episode were a meal, I'd be leaving the table stuffed beyond all imagining and wondering just what exactly I shoved into my mouth for the last hour, but I'd be none the less satisfied for it. It's just a lot, and while it's all presented in such a way that it never becomes too much, it does set an awfully high bar for the next forty-six episodes to follow. Then again, this team has mastered the long con, so if this really is the kind of quality we can come to expect for weeks to come, more please.
It's going to be interesting to see how the show handles each episode's focus when we've moved on from introducing the six dragons, since so far everyone's gotten their own hour in the spotlight. I hadn't even realized it was Bang-ji's until we were really in the thick of it, since his overly quiet and unassuming nature has the tendency to just wash over you. But it wasn't until he just sat by as Yeon-hee was raped that I actually felt anything about him at all, and my former ambivalence turned into outright rage.
But that's something I have to give the show props for, since it knew exactly what it was doing leading up to that moment and exactly how to handle the aftermath. It knew we'd hate Bang-ji for his total ineffectiveness, so it made Boon-yi our voice, the voice that demanded answers and not excuses from him. It knew that'd make no difference to us, but her words had a huge impact on Bang-ji, who went from one extreme to the other—first ineffective, then disproportionately reactive. Well, maybe not so disproportionately when you consider the crime committed, but it was quite a scene to see such a normally meek young boy ready to murder a man in front of his family.
And then the fact that he couldn't bring himself to do even that is what spurred him to want to take his own life, which really would have been the pinnacle of what we would've wanted him to suffer for what he did. The show was careful not to take Bang-ji anywhere it didn't have the confidence to bring him back from, and that takes a certain level of finesse. I have no fondness for Bang-ji as it stands, but I can see the beginnings of his arc, and his character is sure to be one of the more fascinating ones in this series.
As for the time skip, I'll be happy as long as it sticks, otherwise it'll just be a big tease. While there are plenty of unanswered questions resulting from all the years we missed, it doesn't seem like anything that needs a thorough going-over, either. Bang-won brought us up to speed on how the time's treated him, and where he ended up is no surprise. Bang-ji, however, is more of a puzzle—somewhere in that span of time, he became a big supporter of ending the current state of Goryeo. And I'm inclined to believe that he's been recently influenced by Jung Do-jeon, because killing a man based on an overheard suggestion made six years ago isn't exactly efficient, or even very smart. But I guess that doesn't matter as much when you're beautiful.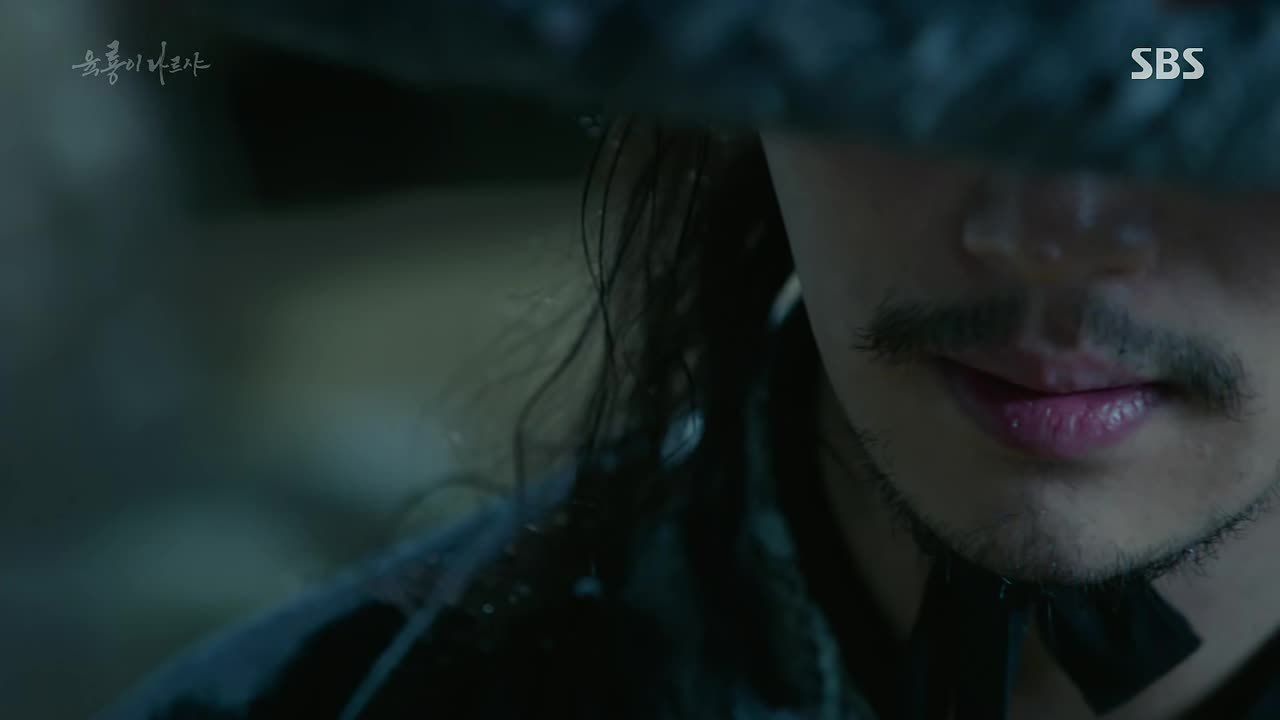 RELATED POSTS
Tags: Byun Yo-han, featured, Kim Myung-min, Shin Se-kyung, Six Flying Dragons, Yoo Ah-in