Six Flying Dragons: Episode 5
Ah, love. And murder. And arson. This hour gives us a proper introduction to our fifth and only female dragon, and though she may have spent the last six years (plus this hour) suffering, it turns out that giving up is the last thing on her mind. Little does she know that her old childhood friend has come to save her, though whether she really needed the saving or could've managed on her own is up for debate. What is certain is that Bang-won better hide the matches if he ever finds himself on her bad side, or woe be unto him.
SONG OF THE DAY
XIA – "꼭 어제 (Yesterday)" [ Download ]
Audio clip: Adobe Flash Player (version 9 or above) is required to play this audio clip. Download the latest version here. You also need to have JavaScript enabled in your browser.

EPISODE 5 RECAP
After discovering the map of New Joseon in the cave, Bang-won sifts through endless reams of paper to find a manifesto he reads aloud, stating that the writers will create a new nation through a (theoretically) bloodless revolution. I think history might have something to say about that.
Meanwhile, Minister Hong finds out about Baek Yoon's murder, at first suspecting Gil Tae-mi before he remembers how fervently Jung Do-jeon advocated for his death all those years ago. But he dismisses the thought just as easily.
Just as Jung Do-jeon predicted, Baek Yoon's death causes a great deal of internal strife, mostly among those ministers wanting to pin the blame on Gil Tae-mi. Minister Hong remembers that Jung Do-jeon planned to use Baek Yoon's death to cause discord in Lee In-gyeom's group, and sees Jung's plan unfolding in front of him.
Fortunately for Minister Hong, he's given Lee In-gyeom's blessing as well as the chance to take Baek Yoon's recently vacated position if he can find a way to control the ministers' infighting.
Lee In-gyeom, in turn, looks to gisaeng madam CHO-YOUNG for answers, in case any of her girls have heard something incriminating. Much to his chagrin, they haven't any idea who actually murdered Baek Yoon.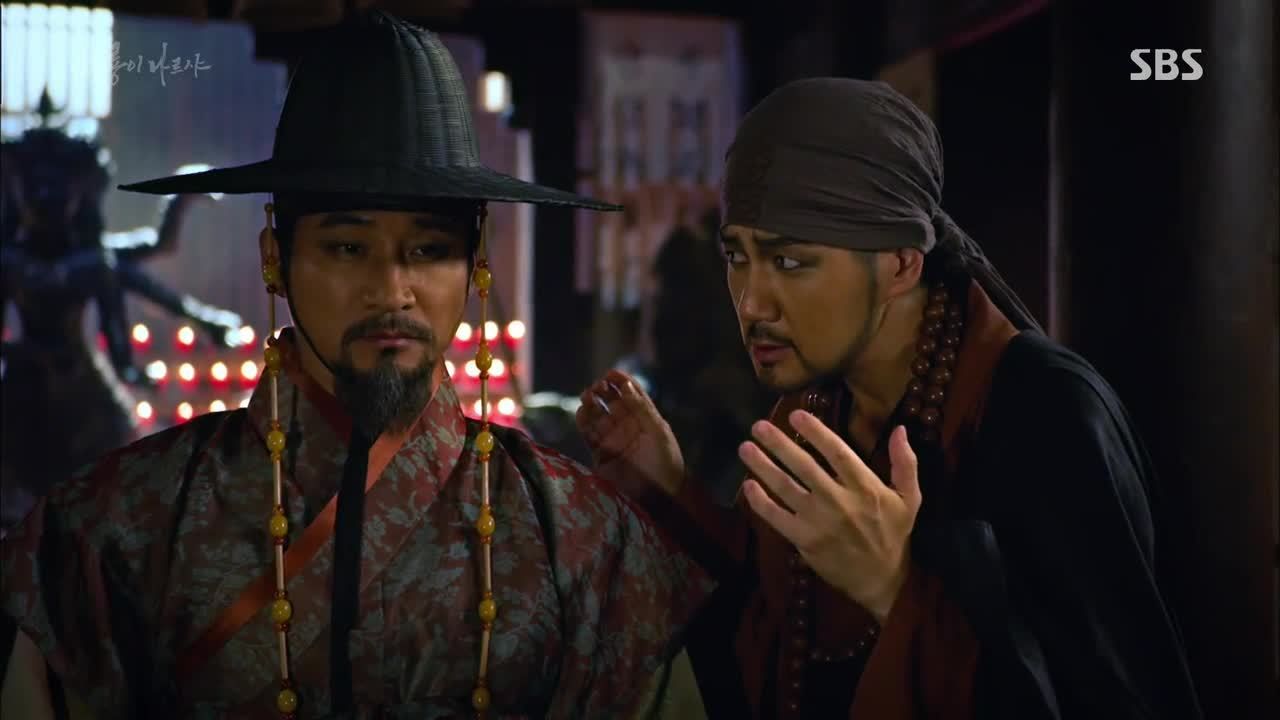 Minister Hong goes to another well-known spy, a monk named JUKRYONG (who keeps giving these men eyeliner?!), for answers he simply doesn't have. But by his "feel" of the situation, Jukryong plants the idea in Minister Hong's mind that the killer may have had nothing to do with politics.
Even so, Hong wants him to tail Jung Do-jeon, now that he's out of exile.
Having kept the wooden figurine and Bang-ji's note from the cave, Bang-won seems to be transfixed on the idea of this "New Joseon," mostly because he didn't come up with the idea first. But now he's determined to meet the originator of the idea, and though he doesn't say the name, we know it's Jung Do-jeon.
So Bang-won goes to Baek Yoon's crime scene, where Gil Tae-mi is investigating. Just by hearing one scholar's rendition of the way the swords sounded hitting each other on that fateful night, Gil Tae-mi's able to tell that it was a skilled swordsman—though not as skilled as his twin brother, who would have done the job in two blows rather than the three the scholar recounts.
Gil Tae-mi goes down the list of possible swordsmen, checking off this name or that name if he's already killed them. It's only when someone brings up "The Viper" that he turns to his son for answers, and Gil Yoo only repeats the rumors he's heard: The Viper seems to materialize at every battle amongst Japanese pirates, and kills dozens of them at a time. The rumors began at the market, he claims.
Remember poor little Gab-boon, who'd lost her mother? She's all grown up now (played by Lee Cho-hee), and sings a simple tune at the marketplace that draws the attention of many men, but of a grown-up MOO-HYUL (Yoon Gyun-sang) in particular.
Gab-boon sings as part of a small play put on by commoners, for commoners. A masked man makes his entrance to tell a Viper story, which begins with how Lee Seong-gye squared off against the leader of the Japanese pirates while more surrounded a nearby town.
The people there had no choice but to fight to the death or starve, since all access to outside resources were cut off by the pirates. In the middle of the story, Gab-boon passes by the crowd with a basket on her back so that they can make contributions to hear the rest of the story. She tarries by Moo-hyul, hoping that he'll toss in a coin or two, but moves on with a subtle roll of her eyes when he doesn't.
While Bang-won watches from the audience, the storyteller goes on to say that just when things looked their bleakest for the townspeople, a savior arrived. He was a warrior in black robes with white trim (which Bang-won remembers Baek Yoon's killer wearing that night), and in a flash, he killed the Japanese pirates. The people cheer.
Gab-boon takes her basket of meager earnings to a nearby eatery, only to be accosted by market thugs who demand that she pay her street tax. Moo-hyul watches the scene unfold, then decides to take action. A rock ballad plays as he begins drawing his wooden sword in slow motion…
…Only for him to slide it back into his belt just as quickly, because his teacher said he wasn't ready for real battle yet. Haha.
Since Moo-hyul has the look of a warrior, Gab-boon runs and hides behind him as she pleads for him to do the gallant thing and protect her. In any other drama, if the bad guys told the gallant young man to stand down, he'd fight them instead. But here, they tell him to get lost and he bows at the waist (even with Gab-boon firmly attached to his back) in acquiescence.
Still, he manages to find some courage when Gab-boon begs him directly, since her beautiful face makes him weak in the knees. He may not be the most agile or bravest of warriors, but he is strong, able to throw his attackers down to the ground with relative ease.
But Moo-hyul's in for it when an actual warrior arrives who hails from Maehwangsa, though Moo-hyul doesn't know where or what that is. He charges at Moo-hyul with his sword raised, and even though Moo-hyul just has a wooden sword, he shatters it against the warrior's head and knocks him clean out.
The other thugs start backing away from Moo-hyul while the commoners around him whisper to each other about his strength, but in a way that shows they're fearful of him. At least Moo-hyul seems happy enough just picking up the wooden badge the defeated warrior left behind.
His teacher, Master Hong, isn't so happy about his victory, claiming that warriors from Maehwangsa are at the bottom of the rung—Moo-hyul shouldn't be bragging over such an easy win. He knows Moo-hyul must have been trying to impress a girl again, and impresses upon him that he must not use his massive strength until he gets his permission.
Bang-won uses bodyguard Young-kyu to question the painted man who told The Viper's story in the square, though he claims to know no more about the figure who inspired their little play than anyone. All anyone knows about The Viper is that he appears wherever Japanese pirates are.
But as Bang-won and Young-kyu walk away, the storyteller washes the paint off his face… and it's none other than The Viper himself, Bang-ji. Bang-won is certain he saw the man they call The Viper the night Baek Yoon was killed, and asks Young-kyu to find out where Japanese pirates have landed recently.
Minister Hong gathers those ministers formerly under Baek Yoon's party leadership and offers them the right of soojogwon (forcible taxation) on their late leader's vast quantities of land. In order to increase their profits, Minister Hong proposes that they raise taxes, even though some of the lands are already at the maximum taxation level of eighty percent.
However, since Minister Hong is now a heartless mercenary, he tells them to raise taxes to ninety percent, even if it means those being taxed won't have enough to survive. He offers them this in exchange for their agreement to not hold Gil Tae-mi responsible for Baek Yoon's death.
Minister Hong drops to his knees before the group to tell them the second reason they should agree to take the money is for the good of the nation. Now that Baek Yoon's death has tipped the balance of power, Minister Hong asks for their endorsement of him to be their faction's new leader. Cue a slo-mo walk of all those ministers acting like rockstars.
While Bang-won heads to the Western province when he hears that Japanese pirates have been spotted there, we finally catch up with BOON-YI (Shin Se-kyung), now the leader of a small group of villagers who've taken to farming at night, and on land no one would give a second thought about, in order to avoid having even that land taken away from them.
It's all thanks to Boon-yi's ingenuity, and it's cute how the villagers refer to her like she's royalty, because she is in their eyes. But she's got another admirer who watches from far away—it's her oppa, Ddang-sae/Bang-ji. Aww, I bet she doesn't even know he's alive.
She flashes back to meeting her "father" again when he came to find her after his exile. It's adorable how Jung Do-jeon was all, "It's me! Your father!" since she'd called him that all those years ago while he was being carted away.
After telling him that her brother and Yeon-hee both disappeared after their village was attacked, Boon-yi requested his advice on a letter she'd written after painstakingly learning how, planning to officially file a claim so that the villagers could get the land Lee In-gyeom stole for the "war effort" back. But it was when Jung Do-jeon told her not to turn it in and to just be patient that she became disappointed in him—she thought he was better than that.
But Jung Do-jeon had been worried about her, even though she would rather take risks than play it safe: "Living means taking action, right? But there's nothing I can do. I've lost my way. Should I just die like this?" That's when he'd shown her the land the villagers could farm without being noticed, and had given her a wooden figurine much like the one Bang-won found in the cave should she ever need him.
In the present, Boon-yi looks over the land that's about to undergo its first harvest and thanks Jung Do-jeon: "I found my way, Ahjusshi."
Yeon-hee's rapist is still working as a government thug, and is all too happy to inform Boon-yi's village that they'll now be paying ninety percent tax on whatever they harvest. They all turn to Boon-yi on what to do next, and she tells them to proceed with the secret harvest as planned.
Unfortunately for them, Yeon-hee's rapist suspected they were hiding something with their lack of reaction to the taxation news, and has brought all his thugs to their formerly secret fields. All their harvest belongs to the government, the rapist says, forcing one villager to take a torch to the collected wheat piles: "These are our crops. If we can't eat them, I'll burn them!"
The fire doesn't catch, and Yeon-hee's rapist slits the man's throat for even trying. Boon-yi gets thrown to the ground while trying to protect the man's young daughter from the rapist's blade, leaving her on the sidelines with tears streaming down her face as her fellow defenseless villagers get bludgeoned by the marauding thugs.
She screams at the villagers to run away and survive so they can live to try again, but no sooner does she lead the ragged crew into the relative safety of the forest do they see Japanese pirates advancing in front of them. In the morning, Moo-hyul spots the pirates absconding with villagers caught in burlap sacks.
In the night (again), Bang-won finds his and Young-kyu's horses missing, prompting the two to track them through the woods until they find them… and the contingent of Japanese pirates who stole them. They spot Moo-hyul trying to jump high enough to see into the shed they pirates are guarding and capture him for questioning.
Moo-hyul tells them he followed the pirates carrying sacks of Goryeo people into the shed, proving that he's not in cahoots with them. But Bang-won is more concerned with how many pirates Moo-hyul saw, and after finding out there are just twenty, he all but dares Young-kyu to refuse taking the lot of them on.
When Young-kyu refuses to do it alone, Bang-won volunteers Moo-hyul's help. When Moo-hyul tries to chicken out, Bang-won reminds him that he followed the screaming burlap sacks because he was worried for the people inside. Now he has a chance to do something about it.
After forcing Moo-hyul and Young-kyu to change clothes, he leads them up to the shed, and approaches the pirates claiming to be a merchant (dealing in slaves, of course). He speaks with the Goryeo men acting as go-betweens for the pirates, introducing Young-kyu as his servant and Moo-hyul as his bodyguard. Moo-hyul takes that as a compliment, which is pretty cute.
But Bang-won has a plan, and a pretty ingenious one too: he says he'll give them one sack of rice per slave, even saying that they'd be worth two sacks of rice in the capital. The merchants balk, since they put the going rate at two-tenths a sack of rice, at best.
This makes them look like cheating thieves to the pirates, since Bang-won is offering way over what they were. The merchants are sent away, which is exactly what Bang-won wanted. He's thinned their numbers, and claims he'll pay them ten sacks of rice for the ten slaves they have. He'll just need, say, five of them to go with him to collect the bags.
The plan is for Young-kyu to dispense of the five sent with him, and to take another five he'll also do away with. Now that Moo-hyul has Young-kyu's sword, it would just be him and Bang-won against the five remaining pirates.
Bang-won has the slaves shown to him so he can fake-inspect the goods, but the first burlap sack he tries to open comes with a set of teeth that clench down on his hand—it's Boon-yi, and she's not going without a fight.
She head-butts Moo-hyul when he tries to drag her off Bang-won, intent on choking the life out of him as she asks if he's even human. How could he barter and sell off his own countrymen? That's when she chomps down on his neck, leaving Bang-won screaming and writhing on the floor.
"He's here to save all of you!" Moo-hyul says like the dork he is, before revealing the rest of Bang-won's plan. Oops. Young-kyu hasn't yet taken his other five, which means they're surrounded by no less than ten Japanese pirates with swords.
Only they're not Japanese at all—they're from Goryeo, and have only disguised themselves as pirates so they can sell their own countrymen to Yuan. They're ready to kill Bang-won and Moo-hyul for knowing too much, but Bang-won stays their hand by pulling a gold necklace from around his neck and throwing it on the ground.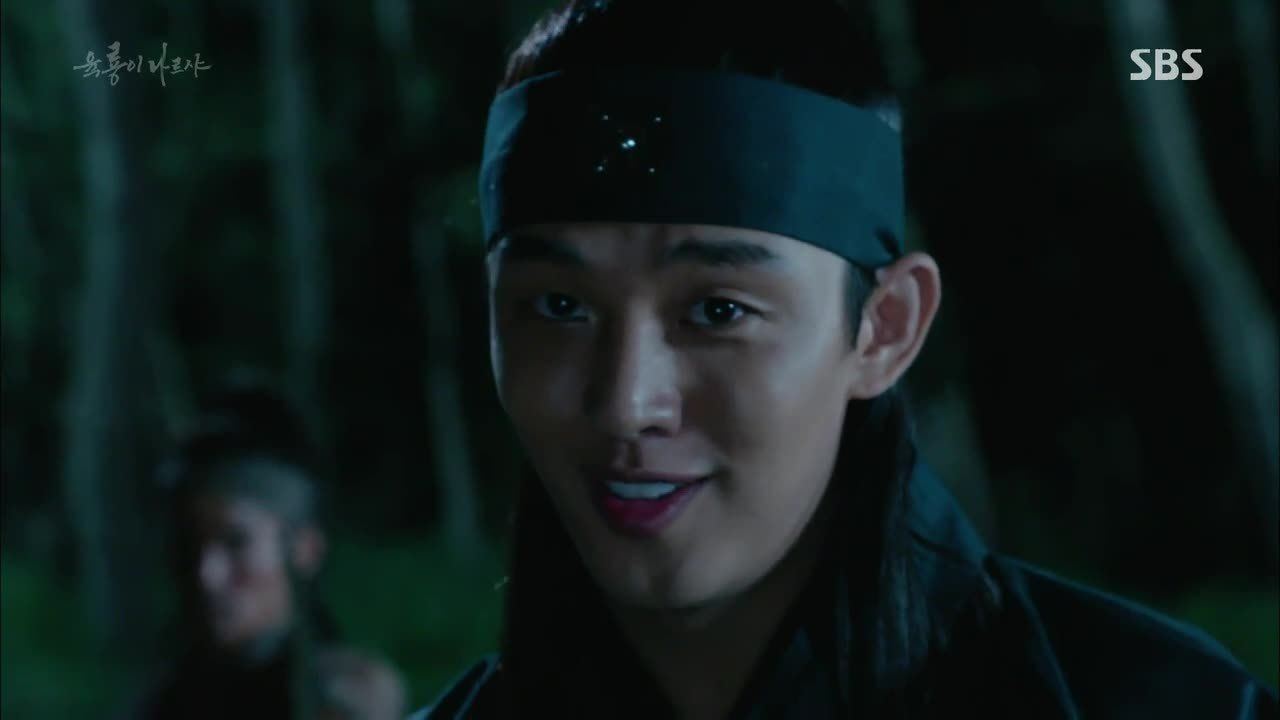 They laugh at just that gold piece, until Bang-won declares that he'll give just one of them a treasure worth a thousand gold necklaces. "Look at the person on your right," he tells the pirates. "Kill that person." Whoa, hold on now.
Bang-won promises that the last man standing after all the carnage will get one half of an enormous parcel of land, claiming (with great conviction) to be Lee In-gyeom's son. Whoever lives to escort him back to his father's house will be greatly rewarded. "An opportunity of a lifetime doesn't come more than once," he stresses.
To their hesitation, Bang-won goads them by reminding them that they kidnapped their countrymen for a living—why hesitate now? "You should live like beasts if you choose not to live like men!"
One of the men takes insult to that and slashes Bang-won's arm, but he's hardly fazed. Instead he points to Moo-hyul (Moo-hyul: "Me?") and tells them that he's the great swordsman Gil Tae-mi, which has them all quaking in fear. (Moo-hyul: "I am?")
Bang-won orders Moo-hyul/Gil Tae-mi to just draw his sword, knowing that just that display will be enough. But he can't tell Moo-hyul that, and Moo-hyul is shaking so hard he can't do much of anything. Boon-yi plays into the ruse too, referring to Moo-hyul with the respect one would give Gil Tae-mi as she asks the great warrior to draw his sword.
It's only when one of the fake-pirates holds a blade to Boon-yi's throat that Moo-hyul springs into action, and with lightning speed, he slashes the man's neck as he roars, "Warrior!"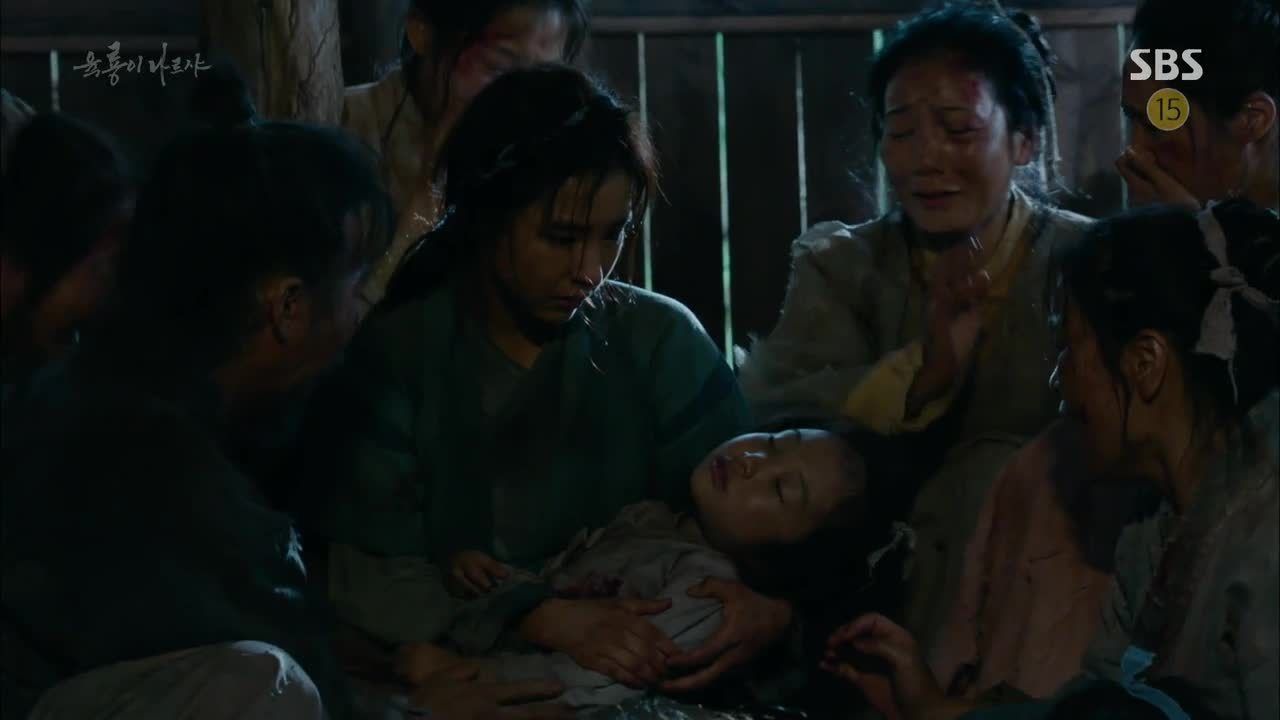 Anyone else who jumps in to attack Moo-hyul gets cut down swiftly and efficiently, leaving the others running for their lives. One of the felled men sees the badge Moo-hyul picked up from the Maehwangsa warrior and thinks Moo-hyul is from that most elite group of swordsmen. Now Moo-hyul knows his master lied to him.
Young-kyu returns to the shed to find dead bodies of the not-pirates lying in pools of their own blood, while Boon-yi and the other villagers gather around the little girl who got cut by Yeon-hee's rapist's blade, after he'd killed her father. She dies in Boon-yi's arms, and even Bang-won has trouble holding back tears.
Boon-yi and the remaining villagers bury their many dead, and Bang-won follows her from the gravesite to the fields where they planned to harvest their crops. Now they've been stripped bare by government cronies.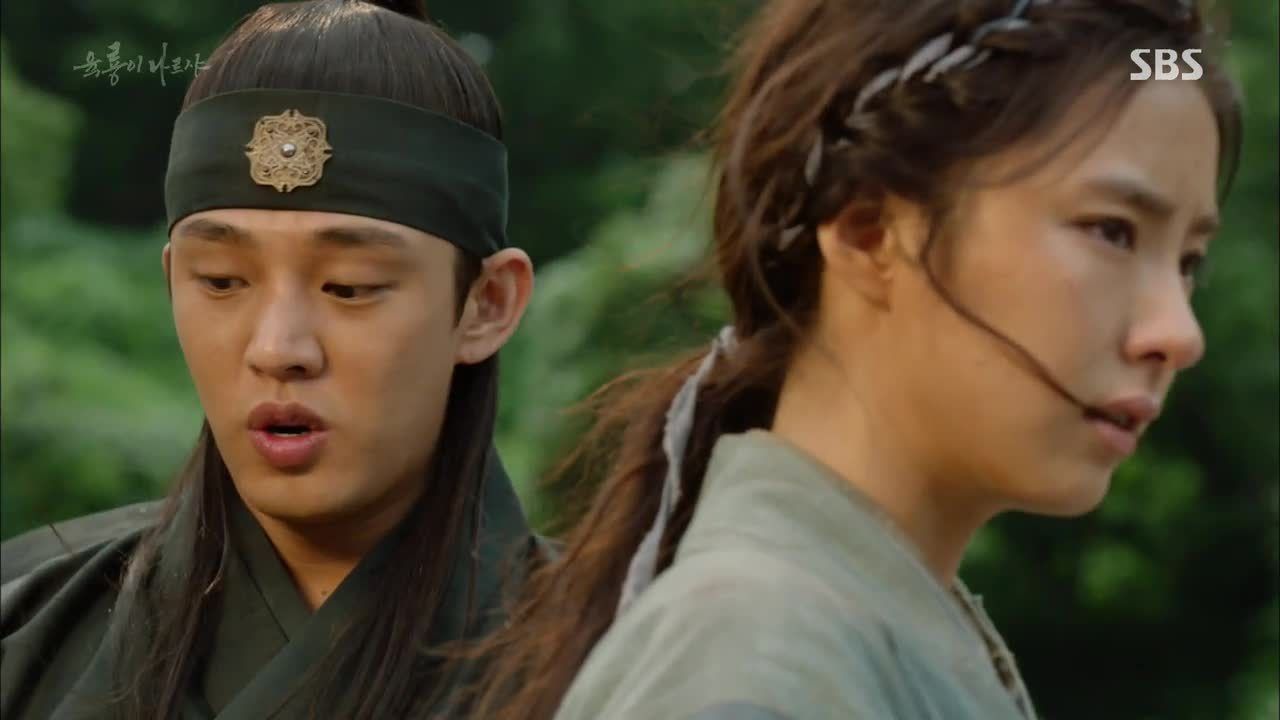 When asked where she plans on going, Boon-yi says she's going to her local magistrate to report the crimes committed against her village. Bang-won tells her what a bad idea that is, considering that Minister Hong is likely the one who put the magistrate into office, and it's his men who forcibly claimed their "taxes."
She still intends on reporting to the magistrate anyway, so Bang-won reminds her that she'll still be fighting a losing battle even if the magistrate is fair. In the eyes of the law, the farming she and her fellow villagers were doing was illegal. Boon-yi slaps him for that comment, however true it technically is.
"What would a mere nobleman like you know?" she spits back. Now it's her turn to remind him what the law is, and that legally they're supposed to give eighty sacks of rice out of the four hundred harvested to the local and national government from each harvest.
But for as long as she's been alive, her village has had to give over three hundred sacks of rice, and since their land was taken over by Lee In-gyeom, they've had to give all but forty sacks of rice. All two-hundred of them had to live off those forty sacks for an entire year, which Boon-yi says is just two spoonfuls of rice a day.
Then again, she doubts a noble like him can even comprehend what hunger means, which is why they cultivated this land in secret for three years. And the little girl who died in her arms never got to eat a grain of all that they worked for before it was stolen for them. That's why she can't stand around and do nothing, "Because if I am alive, I must do something."
Bang-won attempts to leave that night, but stops himself: "I think I must go to her." When asked why, he says like a lovelorn boy, "Because I heard a sound coming from my heart." They turn back toward the village to see the sky lit up by flames—someone's set fire to the crop storage building.
Boon-yi, covered in blood and soot, comes shuffling toward them like a zombie. "Was it you?" Bang-won asks. Is this what she wanted to do for that little girl? A tear snakes down Boon-yi's cheek as she says she was holding funeral rights for her. By burning all that grain as an offering, the little girl won't be hungry in the afterlife.
Young-kyu tsks that she must be crazy, but Bang-won looks like he has stars in his eyes as he watches her walk away. "She is… so poetic," Bang-won says, much to his bodyguard's surprise.
Once she's out of sight, Boon-yi pulls out the wooden figurine Jung Do-jeon gave her, remembering how he told her to use it to find him should she lose her way. "I have lost my way again." she thinks. "Yes, I shall come find you. Right now."
"The Fifth Dragon: Lee Bang-won's beloved Boon-yi."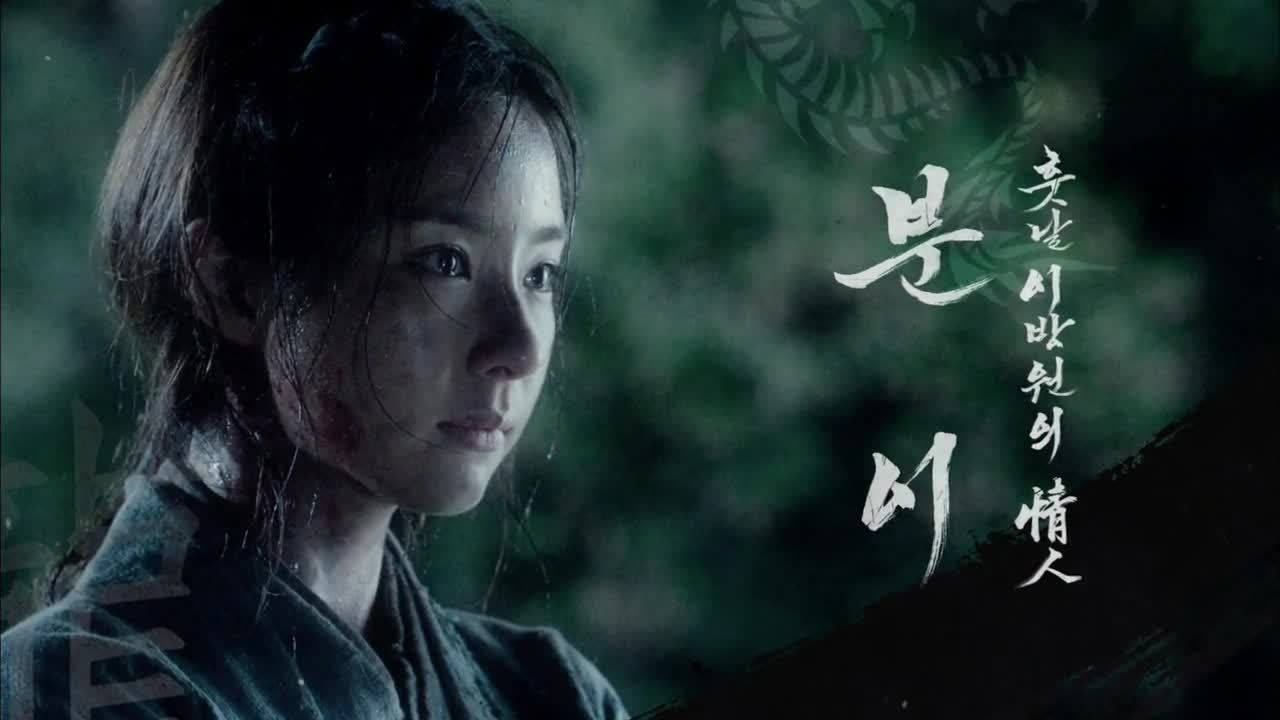 COMMENTS
Characters in this show don't just lightly flirt with their darker sides, they get to third base without even buying dinner first. I found myself forgetting that Bang-won had already murdered three people in his youth until he tried to incite a Saw-like scenario in getting the not-pirates to kill each other for him—though I have to give him props for that, because it takes an especially devious mind and an even quicker tongue to get a group of men holding swords against you to even consider turning on each other simply based on how intimidating you can make yourself sound.
It's a testament to Bang-won's quick thinking and ability to problem solve, even though there were times during that confrontation where he was flying by the seat of his pants, and he knew it. Moo-hyul's not the greatest intellectual standard to use as a barometer, but he was much slower on the uptake than Boon-yi was, though I do like that Boon-yi seemed to realize that and said what she needed to in order to help him along. I'm really liking the dynamics among the younger (as compared to the much older politicians) characters in general, since they keep coming up against interesting and relevant problems only to solve them in even more surprising ways.
But it means something that the political figurehead our young idealists seem to look up to is the only one who seems to have any sort of beat on the actual population, so it's easy to see why Jung Do-jeon has such appeal to people like Bang-won. And even to a lesser extent, to Boon-yi—who likely doesn't know or care about his political ideals and only knows him based on the secret farming advice he gave her, which she then took and ran with.
As evidenced with her letter with Jung Do-jeon and her wanting to go to the magistrate with Bang-won, Boon-yi still has hope for her government, even though by all rights she shouldn't. The government and its misuse of power is what caused her and her fellow villagers so much suffering, so why she still believes there's anyone in a position of power that would give a crap about her—even if they had a bag of free craps to give—is a mystery. By all accounts she should be more jaded than Bang-won is, and in some ways she is, but she still chooses to believe that things might be better.
At first I thought that she and Bang-won were different in how they'd accomplish their individual goals, but setting fire to that storage building was no joke on Boon-yi's part. It's nice to see that she's no wilting flower and will chew her enemies to death if given half the chance, which makes her quite like her younger iteration, only much more dangerous. When in doubt, scratch their eyes out, right?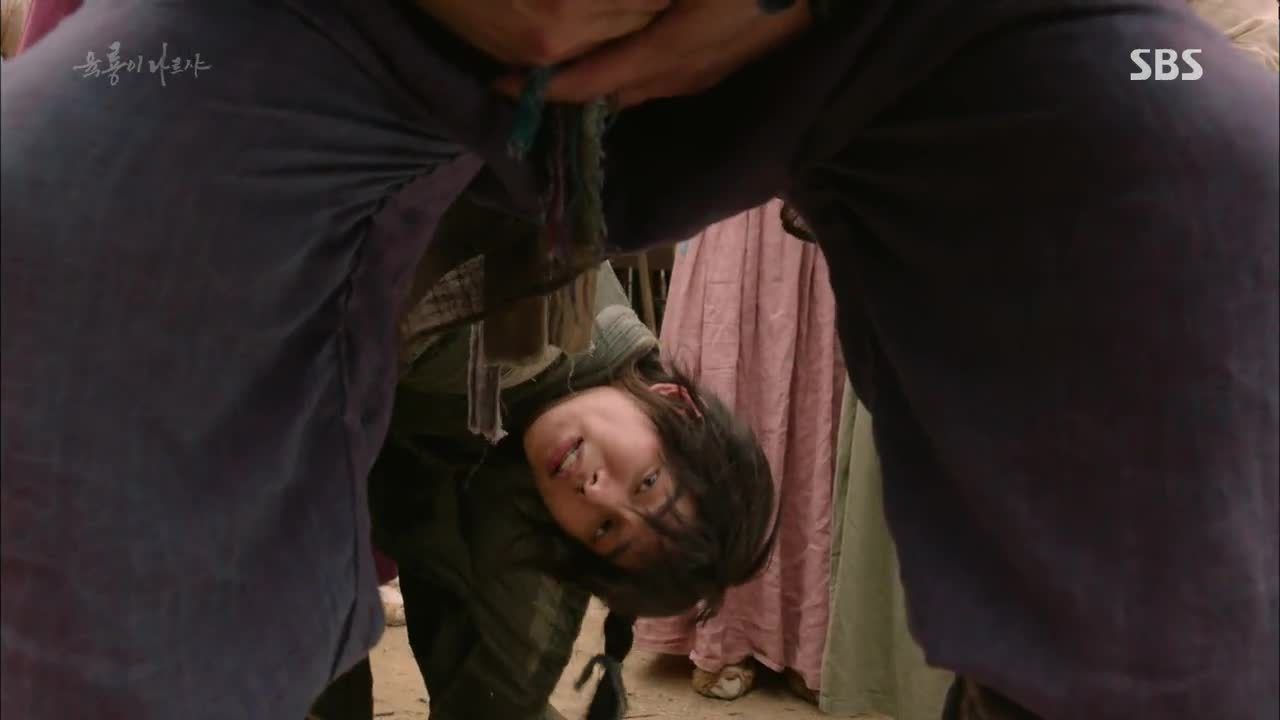 RELATED POSTS
Tags: Byun Yo-han, featured, Kim Myung-min, Shin Se-kyung, Six Flying Dragons, Yoo Ah-in