Six Flying Dragons: Episode 8
Get ready for a bunch of guys having heavy, meaningful conversations with each other—wait, don't go! This may be one of the most intense hours of television to hit the airwaves recently, though I recognize how hard it is to sell the fact that an episode comprised mostly of dialogue can make for edge of your seat entertainment. Suffice to say, Jung Do-jeon is back in a big way after spending time in exile/amassing his legion of followers, and anyone standing in his path is going to wish they weren't. Or they can be like Bang-won, wishing Jung Do-jeon was just their dad.
Ratings-wise, Six Flying Dragons shot up a few points to maintain first place at 14.1%, while MBC's Dazzling Temptation hovered not too far behind at 10.2%. Sassy Go Go continued to go lower, hitting 3.6%.
SONG OF THE DAY
Kim Bo-kyung – "그댄가봐요 (Must Be You)" from the OST [ Download ]
Audio clip: Adobe Flash Player (version 9 or above) is required to play this audio clip. Download the latest version here. You also need to have JavaScript enabled in your browser.

EPISODE 8 RECAP
Jung Do-jeon reveals himself for all to see, and has no problems admitting that he sent people like Boon-yi and the other migrant workers to Hamju. While scarred warrior Ji-ran accuses him of sending spies, Jung Do-jeon claims it's quite the opposite—he sent them to aid Lee Seong-gye in his noble calling to secure the border.
But that was the first reason he sent them, he explains. The second is that Hamju was the one place he felt safe to send his people, since he's sure Lee Seong-gye has realized that all their stories share a common theme of corrupt government overreach. For every ten citizens who might've died at the hands of Japanese pirates, at least one hundred died because their government used the pirates as an excuse to take away their means of survival.
So that's why he sent the destitute to Hamju, because he believed that Lee Seong-gye would understand their suffering. "Is that not so?" he asks the general himself. "If not, then the plan I have worked on all these years will have been for nothing."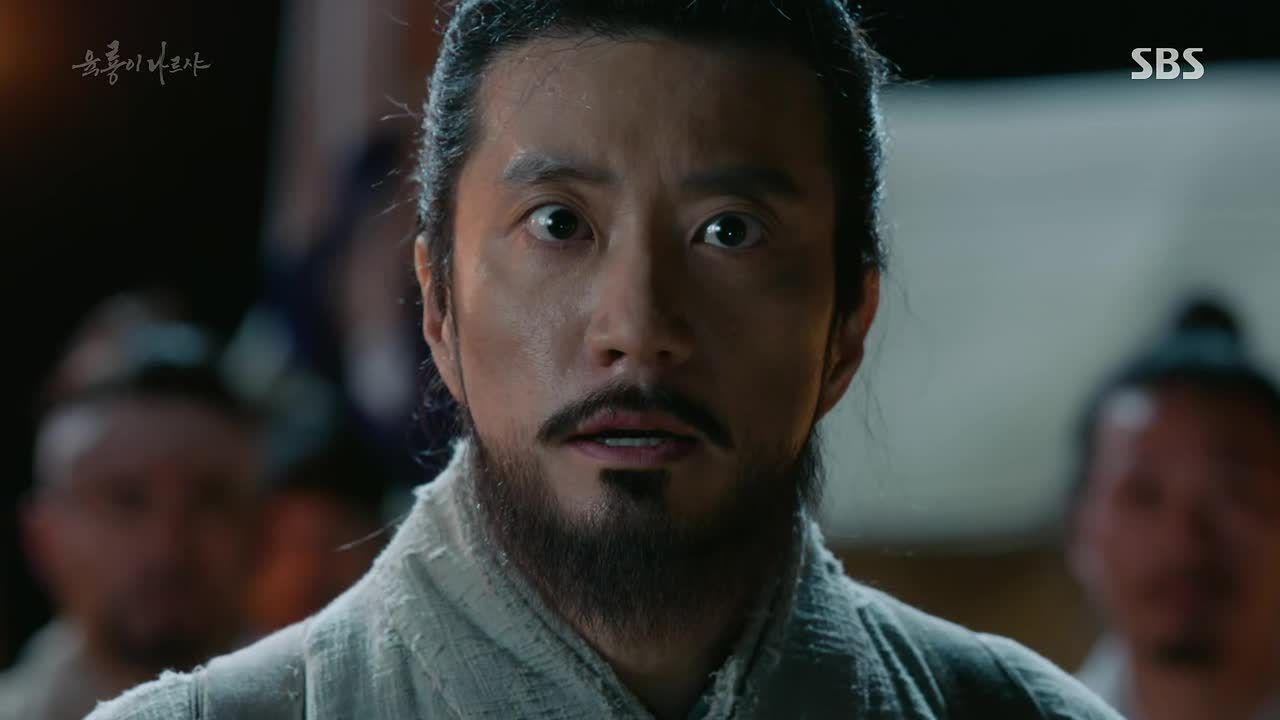 Jung Do-jeon: "Is there truly a way for us to survive without eradicating the three men of dodang? Is there a way for us to live? do you truly not know that, sir? Or are you the type to keep living his life feigning ignorance? I put everything I have on the line to come to this place believing that is not true! Therefore, either kill all of us here or use us to lead the charge to eradicate the dodang!"
He's going out on one hell of a limb here, but his call for action is soon backed up by Shin-jeok, who tells the story of his father's suicide because of the unholy trinity in the dodang, made up of none other than Gil Tae-mi, Minister Hong, and Lee In-gyeom.
Other voices chime in with their stories, even Boon-yi, with all of them offering to fight on the front line for Lee Seong-gye, should he choose to fight against the corruption that's displaced so many of them.
After that rallying cry, Bang-won slows down the recent events so that we/Young-kyu can better understand: Jung Do-jeon wants to establish a new nation, and since Bang-won is under the impression that Jung plans to rule that new nation as king, Jung will need his father's military might and resources in order to accomplish the daunting task ahead.
In a private meeting, Lee Seong-gye asks Jung Do-jeon why it has to be him. Jung admits that early on, he'd warned the sadaebu against trusting him, since he was convinced Lee was going to war to make up for the sins of his past, and that he had no higher aspirations than that.
But since he was exiled after causing a scene at Jangpyung Gate and had to continuously move around because of invasions by Japanese pirates, Jung Do-jeon was able to witness one of Lee Seong-gye's historic battles against the pirates. There, he saw Lee's bravery and became convinced of his inherent goodness.
As for why Lee Seong-gye has no desire to move up in politics, Jung Do-jeon ventures a guess that it's because he wants to be remembered as a godo man and a war hero, but politicians are rarely remembered so fondly. Lee Seong-gye doesn't like this near-stranger making assumptions about him, but Jung Do-jeon claims he learned a lot about him after an altercation with fake Japanese pirates.
Bang-won, hiding nearby, is able to overhear their conversation and the ensuing flashback to Woonbong Village, where Goryeo men pretending to be pirates (much like the ones Bang-won and Boon-yi encountered) were brought before Lee Seong-gye, on charges of selling their own people.
Lee Seong-gye had called them traitors, but one of the men had challenged that statement—how are they considered traitors, but not the government officials who took land and food from their own people? It's because his family was left with nothing that the Not Pirate turned to selling his countrymen. Nor is he ashamed of it, because it was the only way to feed his son.
At the man's willingness to die, Lee Seong-gye seemed ready to oblige him, guessing that he wanted to die rather than live with the shame of what he'd done. In the present, Jung Do-jeon remembers what punishment Lee had meted out to that man instead of death: life. A life lived in penance, and a position in his army to fight against the true pirates as a way of giving back to those he took from.
It was then, Jung Do-jeon claims, that he realized his earlier assumptions about Lee Seong-gye were wrong. Lee saw his role in war as atonement, but more than that, he saw that protecting the people of Goryeo was the only way Lee Seong-gye could forgive himself.
"Am I wrong?" Jung Do-jeon ventures. "If my words are not wrong, as long as the three men in dodang remain, your dream cannot come true. Let us bring down those three men and create a new nation. It must be a new nation; Goryeo will not do."
But what he adds next floors the nearby Bang-won: "And… as for the king of the new nation I'm about to establish. I… I have chosen you."
When Moo-hyul finds out that Bang-won is none other than Lee Seong-gye's son, he has a spasmodic bout of celebratory fist pumping—he saved Bang-won not once, but twice, which means the general is sure to take notice of him! His happiness is infectious and adorable. Too bad Young-kyu takes his sword away (it was Bang-won's to begin with).
Bang-won is still in shock over Jung Do-jeon wanting his father to take the New Joseon throne, convinced that his father just isn't right for the job. It's clear that he thinks Jung Do-jeon should take up that mantle. "Father is too weak," he frets.
While Jung Do-jeon becomes convinced that the monks who kidnapped Boon-yi were sent by Minister Hong in an effort to find him, Bang-won finds his father looking over the plan to stabilize the border that Jung Do-jeon put forward.
It becomes no secret that Bang-won eavesdropped on their conversation, but he seems to make a critical error in pushing his father toward accepting Jung Do-jeon's proposal, on the basis that Jung is such a great, trustworthy man. He doesn't even have to accept the whole enchilada—just stamping Jung's proposal to stabilize the border will be enough.
The more he presses, the more his father shuts down, until he eventually says he won't do anything at all. That irks Bang-won, and he acts out like a child in order to maintain his father's attention by bringing up Jo So-saeng: "You shouldn't have killed him."
He should've fought with him till the end and died with him, Bang-won adds, causing his father to turn to him in shock. "How did you know?" his father asks, only for Bang-won to reveal that he was there the day Lee In-gyeom put on that play to shame him, and witnessed the conversation between them after, where his father had to humiliate himself in order to keep the truth concealed.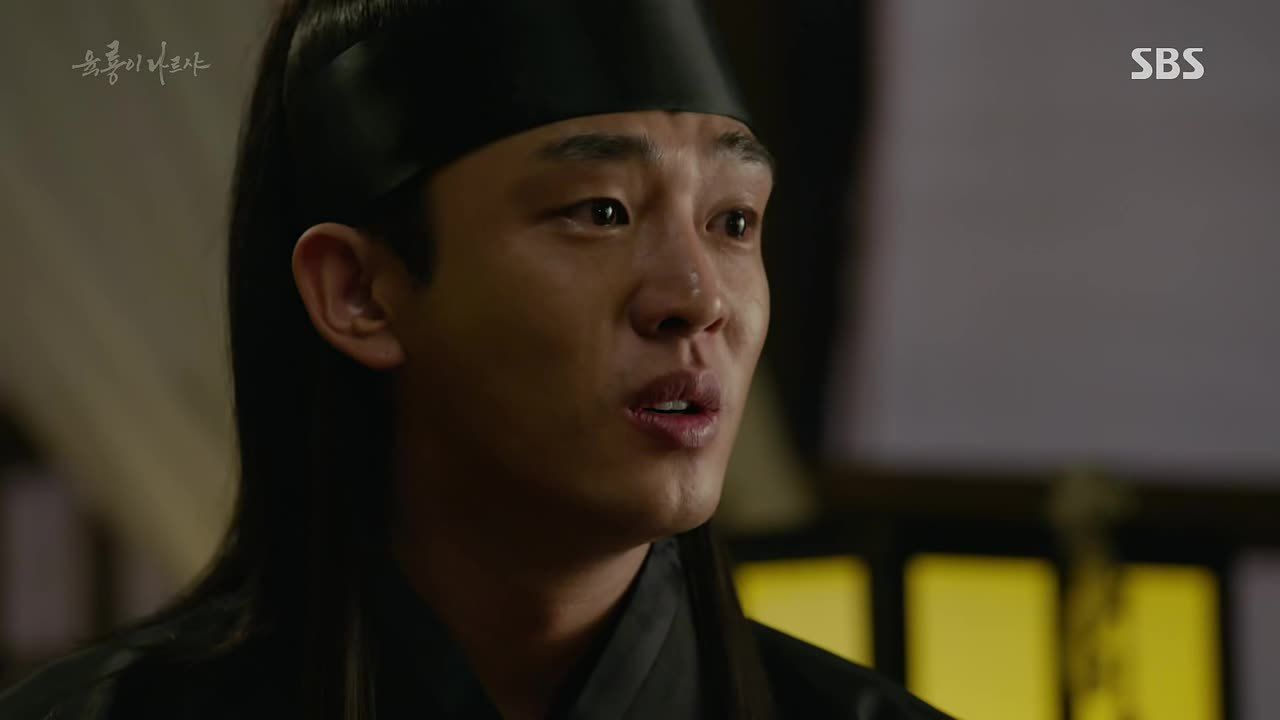 With tears brimming in his eyes, Bang-won finally confronts his father over the event that scarred him so much when he was only ten: "You know what impact a father has to a child of that age. You were my whole world." It was worse, he adds, because his father was the great general Lee Seong-gye—and to see him bowing to the evil Lee In-gyeom almost broke him.
Bang-won chokes back a sob as he tells his father how hard it was for him after seeing that, but he still calls upon his father to realize how bad the Unholy Trinity is. He must know he's better than them, yet he continues to punish himself. Why?
"I have never seen anyone in all of Goryeo who is as qualified to become king than you." He knows his father is strong and righteous, with a heart that bleeds for the people more than anyone. "So why do you alone consider yourself a criminal and refuse to do it? Why?"
His father levels him with a solemn look. "The reason why you believe me to be someone who is qualified to become king, and why Jung Do-jeon believes that as well… is because I understand pain and know how to feel shame. However, should I get involved, I would become someone who does not know shame. Therefore, how could I involve myself in this? I, your father, that is the kind of person I am. That is why I will not do it."
Bang-won chastises himself for spilling so much to his father, and sequesters himself in a field to think a while. He pops up all of the sudden with an idea, and sneaks into his father's tent while he's gone.
If his father won't do it, he reasons, he'll help him along… so he takes his father's seal and stamps it on the plan to stabilize the border. When Boon-yi catches him in the act, he restrains her with an apology.
We next see him delivering the "signed" plan to Shin-jeok, along with a fake message from his father telling Jung Do-jeon to leave Hamju tonight and prove himself. And Bang-won, crafty as he is, makes it seem as though his father wants Jung Do-jeon to act quickly on the border plan in order to help him decide whether to take him up on his offer.
Bang-won returns to where he left Boon-yi tied and gagged, and figures he may as well use her as a sounding board if she can't talk back. (Can this poor girl not have one episode where she's not captured/tied up?) Surprise registers on her face when he reveals that he's Lee Seong-gye's son, and that everyone thinks he's such a great man.
He used to think that way too, until the day he first went to the capital. He describes the horrors he saw there, not least of which was seeing new mothers kidnapped to breastfeed piglets. Since Boon-yi's gagged, she can't tell him that she saw those same horrors right there with him.
Bang-won goes on to say how he used to think his father was invincible, that he could solve any problem, but that day changed his perception forever. It was then he realized that his father was human, and weak. He couldn't think any higher of Jung Do-jeon and his plans, but sees one fatal flaw, in its reliance on his father.
To him, his father is unreliable, since he has a tendency to get caught up in his own tormented thoughts far too much. But more than anyone else, he wants Jung Do-jeon's plan to succeed, and wants to see the dodang squashed and the government itself rebooted. That's why he stamped the border plan in his father's stead, since he knows he wouldn't have acted unless pushed to do so.
"I hope you're on my side," he adds carefully as he meets Boon-yi's gaze. "You have to be on my side. When you first bit me, when you set the fire, even when you tied me up in the forest and left, I was on your side." With that in mind, he unties her, only with her promise that she won't scream or bite him.
She keeps her promise and kicks him instead. Hah. After reminding him that he'll have to take responsibility for what he started today, she thanks him. "I wanted to tell you that if we ever met again, because you've saved me three times now." Bang-won is left scratching his head, since he can only remember two.
Once alone, Boon-yi remembers how young Bang-won had lamented about his father the same way he did just now. Cue a musical montage of their memories together as she runs back to find him as he lies tormented in the middle of the forest. He never realizes she's watching.
After being threatened by Minister Hong to do nothing about them hiking the tax rate up, Lee In-gyeom is taken to task for it by General Choi, though he claims he just needs time in order to bring the likes of Minister Hong and Gil Tae-mi in line.
To do that, he only has to say he wants Lee Seong-gye to take up a government position next to him to throw all his opposition into a frenzy. General Choi couldn't be any more against this idea, since removing their best general from the border where he's most needed would be like hanging a "Welcome" sign for foreign invaders.
Lee In-gyeom feels cheated by the astrologer, since he'd taken her reading to mean that Lee Seong-gye would bring him success. But, it turns out he doesn't even need to bring him into the government to get the desired effect—just the idea alone is enough to get Minister Hong and Gil Tae-mi to agree to lower the tax rate and bend to his wishes.
While Minister Hong gets creeped out by meeting Bang-ji's intense stare in town (that's all the screen time he gets this week, folks), Lee In-gyeom gifts Yeon-hee with jewels for her earlier reading, since it proved to be true. He wants her to come around more often, which the veiled fortuneteller agrees to.
Once Minister Hong finds out that she's the one who planted the idea of Lee Seong-gye in Lee In-gyeom's mind, he has Jukryong capture her for an interrogation. Her veil is stripped off to reveal a beautiful face heavily scarred on one side. A burn, perhaps?
It takes Jukryong no time at all to figure out that Yeon-hee's a fake astrologer, and demands to know who hired her to plant the idea in Lee In-gyeom's mind. Unafraid of his threats, she tells them she's an actress, and was hired by a scholar to do it.
For more money, she tells them only that the scholar's servant called him "Sambong," which is Jung Do-jeon's pen name. Minister Hong is not happy about this, and hires Jukryong to find him. But not before he goes apeshit on his palanquin for breaking on him.
The voice that breaks him out of his psychosis comes from none other than Jung Do-jeon, looking just as adorably homeless as ever. He doesn't waste time in asking why Minister Hong turned to the dark side, which Hong defends as a sort of maturing process. He's just grown out of his need for virtue the way a child grows out of their toys.
Minister Hong takes a swipe at Jung Do-jeon by asking why he used an actress to bring Lee Seong-gye into Lee In-gyeom's orbit, especially knowing how much that would upset him. Also, isn't he in the same secret organization as (the late) Lee Eun-chang?
Since Minister Hong already knows so much, Jung Do-jeon admits frankly that he hired Yeon-hee to get a beat on Minister Hong's situation, though he claims it was so he could help him. Minister Hong finds the thought offensive since he's already a member of the dodang, and because Jung is a nobody who can't even step foot inside the capital.
But Jung Do-jeon reminds him that they both suffered after he made his big speech at Jangpyung Gate, as did many of their fellow scholars. He draws another commonality between them, in their mutual desire to bring about the fall of Lee In-gyeom and General Choi.
Whether it's true or not, Jung Do-jeon makes Minister Hong believe that he also threw away ideals like virtue and justice, and that they need each other. Hong can never take Lee In-gyeom on alone, but Jung promises that he'll raise him above their mutual enemy.
Of course, he adds, he's doesn't want to be so much like Minister Hong that his name would end up in the dirt (since Hong's already has), but for now their goals are the same, and they can help each other until Lee In-gyeom and General Choi are gone. After that though, he makes no promises.
Oh ho. Yeon-hee sheds not only her fortuneteller's disguise but also the scar on her face, courtesy of Goryeo Prosthetics. She appears before Jung Do-jeon, calling him "Elder," respectfully.
Turns out he planned all this down to a T, from Yeon-hee's act as an astrologer to her capture and reveal, all to lead Minister Hong into feeling a false sense of security. He knew General Choi wouldn't allow Lee Seong-gye to come in from the border, but that was all part of his greater plan.
He reveals to Yeon-hee that he'll have to work with the bastards who killed Lee Eun-chang, who he claimed to not know was dead when he spoke to Minister Hong. Now, he pours out a drink for him, despite not having been able to find his body.
Yeon-hee reassures him that he's doing what needs to be done, and reminds him not to look back (and regret it). She pours a drink in Eun-chang's memory as Jung Do-jeon thinks, "Eun-chang-ah, this is only the beginning. Please, watch over me until the end."

COMMENTS
Just when you think you know who's playing whom and who's being played, everything changes. What makes the subversions in certain scenes so difficult to get a proper read on is the fact that whoever's doing the trickery usually mixes it in with equal parts believable truth, so much so that it becomes nearly impossible to separate fact from fiction. I'm talking about you, Bang-won. And you, Jung Do-jeon.
We've seen both of them use their cunning to great effect before, but only in an hour with this much conversation-based action could we notice each infinitesimal change in wording and each trick of the tongue. Admittedly, it was a very heavy episode in terms of putting two characters in a room and having them talk to each other at length, but such life and meaning was instilled into every interaction that I was hanging on every word, wondering if I would ever be able to notice a tell, or just some way of knowing whether someone was lying through their teeth or not.
But such assurance never came, and for good reason, since it kept scenes that would otherwise get bogged down in verbiage dynamic and interesting. Jung Do-jeon took a big risk in approaching Lee Seong-gye the way he did, and the way he had him all figured out just based on tales he's heard and a few scenes he's witnessed was almost eerie. I guess that's the kind of read you need to get on someone before you place the weight of an entire revolution on their shoulders, but still. It's not like they were even casual acquaintances. They barely even knew each other, for starters.
Even with all the faith Bang-won has in Jung Do-jeon and his vision, he still couldn't bring himself to believe him when it came to his father being king—and his struggle with the two warring notions of what he sees in his father versus what Jung Do-jeon sees in him made for some compelling television. In a way, it was probably good for Bang-won to tell his father about the incident that turned his whole world upside down, and maybe if he had talked to him about it sooner, it wouldn't have festered in him the way it has. Then again, Bang-won's father doesn't strike me as much of a big talker, but at least when he speaks, he says what he means.
On the other hand, Bang-won says a lot of things, most of which he means, but it's when he doesn't that things get scary. The way he plays his manipulative aspects so earnestly is even more frightening, since it makes what's a very conscious and calculated move look effortless and easy, almost as if he doesn't even know he's doing it. Obviously the opposite is true, even if I have to give him credit for using his legitimate feelings to weaken his father's defenses in order to spout illegitimate falsehoods meant to push him in the direction of a man he trusts infinitely more than his own flesh and blood. You're the worst, Bang-won, but in the best of ways.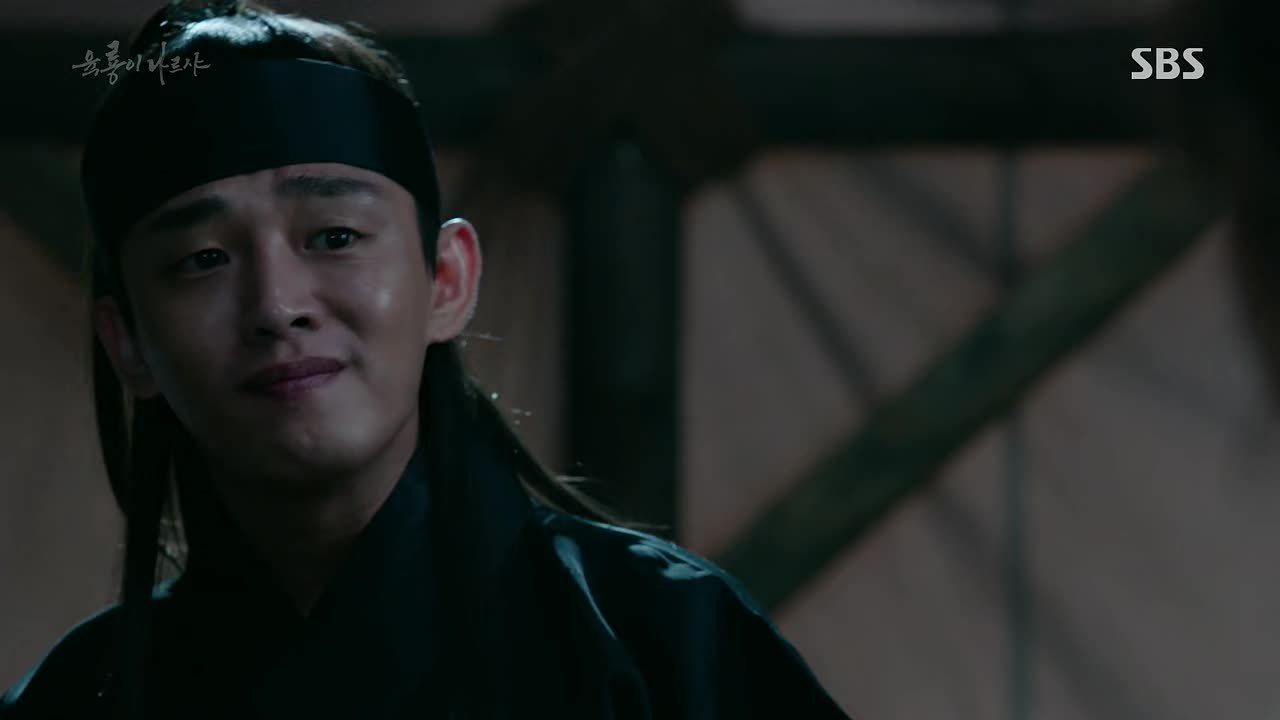 RELATED POSTS
Tags: Byun Yo-han, featured, Kim Myung-min, Shin Se-kyung, Six Flying Dragons, Yoo Ah-in