Answer Me 1988: Episode 1
Get ready to go back in time for another nostalgia-filled celebration of youth and family. The third installment of tvN's Answer Me series has arrived, and this time we're headed back to 1988. For those of us who've been on this journey before in 1997 and 1994, it's a familiar road—youthful friendships, realistic family dynamics, everyday humor punctuated by bleating sheep, and tugging of the heartstrings, of course.
In many ways, this series has an uphill battle to live up to its own hype (so, so much hype), but if we're not watching it with expectations that it out-do its predecessors, then we're in for a sweet story about five friends and their families. Beyond that, only time will tell.
We meet all our main players in the first episode, but there are so many friggin' names that I'm only going to use names for our five main friends. Everyone else in the cast is an extension of them anyway—their parents, siblings, and so on. All right, it's a long one (nearly an hour and a half, oyyyyyy), so let's get to it!

SONG OF THE DAY
Kim Feel (feat. Kim Chang-wan) – "청춘" (Youth) for the Answer Me 1988 OST [ Download ]
Audio clip: Adobe Flash Player (version 9 or above) is required to play this audio clip. Download the latest version here. You also need to have JavaScript enabled in your browser.

EPISODE 1: "Hand in hand"
A woman's narration introduces us to 1988, a time when they didn't have much, but hearts were warm. It was an analogue age, but they were the first eighteen-year-olds to wear slip-on sneakers and denim on denim, and they listened to Shin Hae-chul via Walkman, she says.
Boys liked Joey Wong and girls liked Tom Cruise (and New Kids on the Block!), but she says there was one movie that everyone was obsessed with: A Better Tomorrow 2. The movie plays on a tiny television as five teens watch with bated breath. It's September 1988.
At a climactic moment in the movie, someone reaches for the shrimp chips and explodes the bag all over the group. This is RYU DONG-RYONG (Lee Dong-hwi), nickname Doryongnyong, aka Salamander, who lives in the house across the street. The voiceover tells us that he's their neighborhood counselor.
Next to him, a prickly boy snaps at Dong-ryong to stuff his face later. This is KIM JUNG-HWAN (Ryu Joon-yeol), introduced simply as "Dog." Ha. The voiceover adds, "He's not yet human." Jung-hwan lives upstairs, as the map indicates.
Next to him is TAEK (Park Bo-gum), who lives next door to Dong-ryong. This is his room that they're in, and he's a genius baduk player. Narrator: "But what does that matter, when here he's just a supreme moron?"
Jung-hwan and Dong-ryong both order Taek around in his own house, asking him to get a rag and bring more snacks, and Taek complies. The only one who speaks up in his defense is SUN-WOO (Go Kyung-pyo), who gets labeled "Human." The narrator says he's the most normal of all of them.
Finally we meet the only girl of the group, who punches Jung-hwan to shut up so she can watch the movie. The narrator hesitates, then admits: "This is me." She's SUNG DEOK-SUN (Hyeri), and she lives downstairs from Jung-hwan.
Taek returns with more snacks just as the clock chimes six. And right on cue, a curly-haired ajumma calls out for Jung-hwan to come eat dinner. And then Sun-woo's mom, and then Deok-sun's mom. Lol, the moms got their perms together, didn't they?
The kids all grab their snacks and file out of Taek's to go home… all of ten feet away. Taek looks a little deflated, but then his dad tells him it's time for dinner too. The camera cranes up to show us their tiny little street in Ssangmun-dong, as present-day Deok-sun narrates that she was born on this street and grew up here. She wonders now what they spent all their time doing.
Deok-sun's family lives in the half-basement unit underneath Jung-hwan's house, and their kitchen is a weird amalgamation of modern and ancient. Mom (Lee Il-hwa) makes rice in a pot over coal and hands Deok-sun Dad's rice bowl, which she dutifully puts under the blanket on the heated floor.
On the way we meet her unni, a sophomore at Seoul University and their neighborhood's "crazy bitch." She's top dog in their family, Deok-sun tells us. There's also her little brother, who looks like an old man but is actually seventeen.
Upstairs, it's a totally different world at Jung-hwan's house, which is furnished lavishly. Their kitchen has a rice cooker and a gas stove, and even a cordless phone. Jung-hwan and his hyung sit silently as Mom (Ra Mi-ran) puts food down on the table and then takes it away, because Dad's coming home for supper after all.
Jung-hwan's mother sends him downstairs with a salad to fetch an extra bowl of rice for Dad, and he greets Deok-sun with a knee-kick to the behind just to mess with her. Deok-sun's mom hands him rice and some kimchi she made, which he accepts with a grim face, knowing what's about to happen.
Of course he comes home with the kimchi only to have Mom give him yet another dish to take downstairs, and LOL—he runs into Sun-woo on his way in with a delivery from his mom. Jung-hwan just pats him on the back silently, knowing that they'll be doing this all night.
As the other kids make the rounds from house to house, Taek and his dad sit at a very sad looking dinner table, with just rice and one stew. But it turns out they're the smart ones, because in no time their table is filled with side dishes from all the neighbor ajummas. Aw.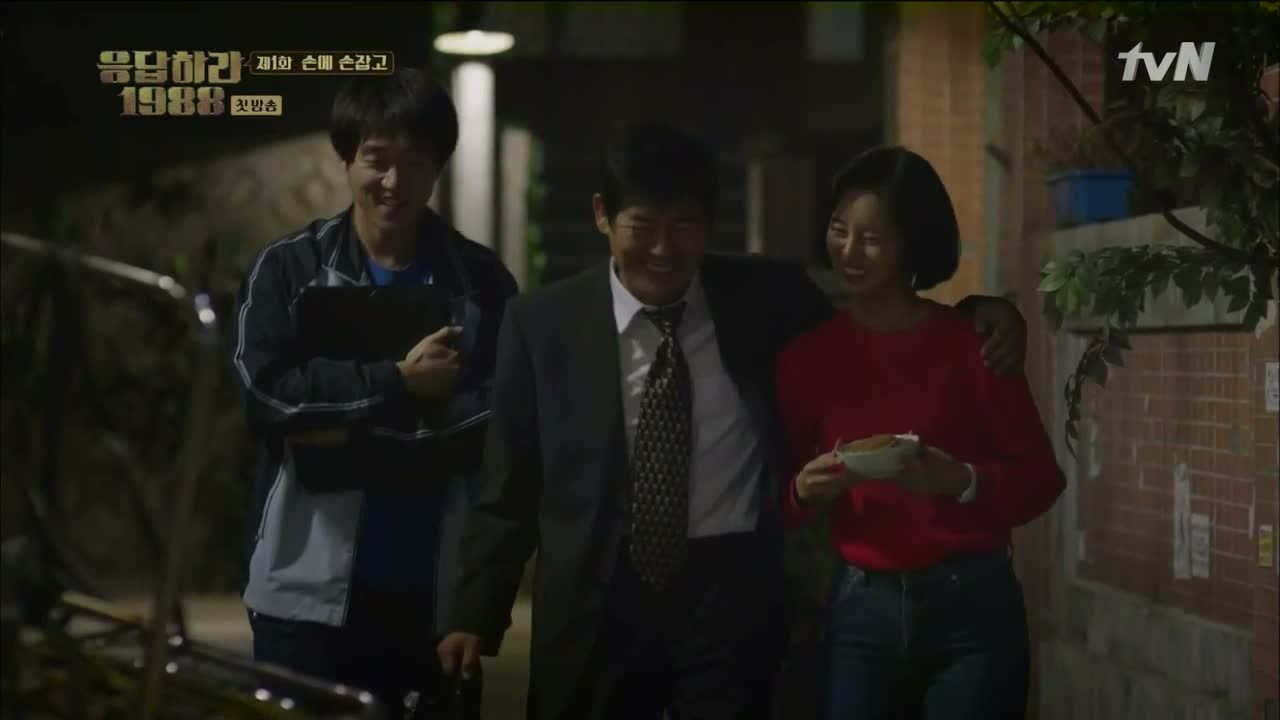 This goes on forever, until at one point, the other four kids meet each other in the street each holding a dish. Jung-hwan grumps that they should just eat together if they're going to do this. They all return to their homes, and Deok-sun runs to greet Dad (Sung Dong-il) on his way in.
Deok-sun's family gathers around their small table in front of the TV, and they sing along to commercials. Dad marvels at the rising cost of ice cream these days, arguing that you could buy a pack of cigarettes for 300 won. Little Bro helpfully chirps that cigarettes cost double that, earning him a beating from Dad and then a beating from First Noona when he says they were for her.
Mom excitedly asks for Dad's paycheck from the bank (what, he's not a baseball coach?), and Dad expertly avoids the subject when she counts the money, knowing how very little it is. He says he helped out a friend who went broke after cosigning a bad loan, but Mom points out that THEY are broke because Dad cosigned a bad loan too.
Dad is ever the optimist, saying that they have their health and their three smart children, but Mom breaks it to him that Deok-sun is in 999th place in school. Unni completely ignores their money woes and demands a new pair of glasses for her birthday, and Deok-sun chimes in that this year she won't be sharing birthday celebrations with her sister, even if they're three days (and three years) apart.
The sisters fight violently, and Dad just cries into his lettuce that he can't have one quiet moment in his house.
Again, the contrast is stark when we move upstairs to Jung-hwan's family, sitting in dead silence until Dad comes home. I'm expecting a stern, imposing father who commands respect… but Jung-hwan's father (Kim Sung-kyun) turns out to be a goof who greets his family with song and dance. Sadly for him, his wife and two sons are entirely humorless.
Jung-hwan's hyung is a 24-year-old in his sixth year of "studying" to get into college, who's interested in pretty much everything except studying. He's an original otaku, the captions tell us.
Sun-woo has dinner with Mom and baby sister, and they mention Dad, though he isn't home. Both moms ask their sons about Deok-sun being chosen as a picket girl, and then we see what they mean when Deok-sun marches around her room holding up a sign for Madagascar, to lead them into the Olympics opening ceremony. She makes a whole dance routine out of it and whacks Unni upside the head with her sign, earning her another beating.
It's D-8 before the '88 Olympics, and Sun-woo asks his mother for 1000 won on his way out the door for their class to buy the teacher a wedding present. Jung-hwan does the same, only he asks for 30,000 won.
At Deok-sun's house, both Unni and Little Bro demand fried eggs with their breakfast, and Mom looks back and forth between Deok-sun and the last two eggs in the fridge. Deok-sun tells Mom she doesn't want eggs, and Mom looks at her gratefully.
Dad was right about there never being a quiet moment in this house, because they can't get through breakfast without the girls breaking into another fight. Unni catches Deok-sun wearing her lip-gloss, and even Mom and Dad look afraid of her when her wrath is unleashed.
Of course, Deok-sun just waits until her sister is out of the house before raiding her makeup, expertly applying a horrendous combination of blue eyeshadow, bright red lipstick, scotch-taped eyelids, and matchstick-curled lashes. Training to be a picket girl turns out to be hard work though, and Deok-sun looks pained as she marches around the stadium with her giant sign.
It's a regular school day for the boys, or at least for Sun-woo, Jung-hwan, and Dong-ryong (Taek is a pro baduk player, so he wouldn't be going to school with them). Sun-woo is class president, and he gasps to learn that the money the class gathered for their teacher's wedding present got stolen.
He turns to Jung-hwan, who's got half that amount just sitting in his wallet. The only thing Jung-hwan cares about is getting outside to play soccer with the upperclassmen, and when his friends refuse to come with him, he forks over the money to get them to come.
The mom trio sits on their usual perch in the alley, trimming vegetables while gossiping. They're typical over-sharers in that straight-talking no-nonsense ajumma way, and Deok-sun's dad happens to come home just as they're discussing things to feed their husbands for their virility. They tease him endlessly to make a night of it while the kids are out, and Dad grouses that he hates having to go past them to get home.
We learn that Taek's dad runs the jewelry store at the end of their little street, and that Jung-hwan's dad goes around trying his stupid jokes on everyone, and that they all ignore him equally.
Soccer must be uber violent, because the next day Sun-woo's sporting a bandaid on his face. But they had enough to buy Teacher a wedding present, thanks to Jung-hwan, and the class congratulates her. The boys are disappointed when Sun-woo doesn't hang out with them after school (because he promised to play with his baby sister again), and the other two head out with what little allowance money they have left.
Jung-hwan tenses up when he catches up to Dong-ryong on the street, and sees him surrounded by two older bullies in the same alley where their friend got their class money stolen.
Jung-hwan follows closely, sizing up the potential fight and deciding that he could take them as long as Dong-ryong holds one of them off. He raises his fists and debates which one to hit first, left or right… only he's discovered first and ordered to join his friend. There goes his big hero moment.
Thankfully they have very little money to be bullied out of, but just as they're let go, the bullies demand their sneakers too. They take them off as ordered, but Dong-ryong gets told to just keep his, ha.
At Mom Central, Jung-hwan's mom complains that eel is wasted on her husband when she gets no lovin' in return. Sun-woo comes home to play with his sister, and Mom asks if he got his test scores back and if he's not in first place this time. She worries about the bandaid on his face, wondering if he's been fighting, but he tells her it's nothing.
Jung-hwan's mom is surprised to hear that they even had a test, since her son doesn't speak to her. The other boys trudge home soon after, and Jung-hwan ignores his mother as usual. Deok-sun's mom says that even at 999th place, daughters are better.
Deok-sun discovers Dad and Little Bro at the corner store, sneaking an ice cream cone. She sees now why her brother always runs out to greet Dad in the street, and demands ice cream too. He buys her a pint to share with Mom and Unni, only when they hear that the ajumma brigade is out in the street, Dad says they'll just sit here and have ice cream for dinner.
Sun-woo notices that his mother has a toothache and insists that they can afford for her to go see a doctor. Mom is more interested in the scar on his face though, but again he waves off her concern without explanation.
Jung-hwan jumps out of his skin when he discovers Deok-sun in a white hanbok in their yard, looking like a ghost. She thinks she looks pretty, which he vehemently denies, as does Sun-woo a moment later, and Dong-ryong after him.
Ha, it must be perm day for the moms, as they all sit out with their hair wrapped up like triplets. I love the running contrast between Sun-woo, the doting son who massages Mom's legs when he arrives, and Jung-hwan, who bows and walks right past them without a word.
The moms make enough dumplings to feed a whole village, and Sun-woo's mom says that her husband will stuff himself since they're his favorite thing, second only to makgulli. Sun-woo's mom and Deok-sun's mom wonder what to get their kids for their birthday, which happens to be on the same day.
Sun-woo's mom figures that Jung-hwan is easy to shop for, since he just needs a new pair of sneakers. It's news to his mother that he was robbed of them, and Mom sits across from Jung-hwan at the dinner table later, wondering how to bring it up.
Mom finally asks if everything's okay lately, and Jung-hwan says he's fine, like always. Dad picks the worst timing to come home with another jokey greeting, and Mom deadpans that divorce is always a possibility.
Deok-sun is the only one who appreciates ajusshi's gags, and they share a geeky moment when he delivers a chicken to their family downstairs. Jung-hwan's dad tells Deok-sun to eat a chicken leg, but naturally the legs go to Unni and Little Bro, and Deok-sun gets a wing. Poor middle child. They see some of the other picket girls giving interviews on TV, and Deok-sun says she's doing her interview tomorrow. Unni calls her a liar, and yet another fight breaks out.
The next day, Deok-sun gets called to the field for her interview, just like she said. She gives a terribly stilted recital of prepared answers, only to be blindsided when the reporter asks how it felt to hear the news that Madagascar won't be participating in the Olympics anymore.
Deok-sun bursts into tears on camera, and says in a dramatic tear-filled speech that she might not get to participate, but she'll still be cheering for the Olympics, like she's an injured athlete or something.
Sun-woo's mom calls out for him to run to the store while she's cooking, but discovers that he's not home. Her worry has been building that he's been getting into fights or worse, and she starts looking around in his room for some insight. It all looks normal, but then she discovers a pack of cigarettes under his desk. Uh-oh.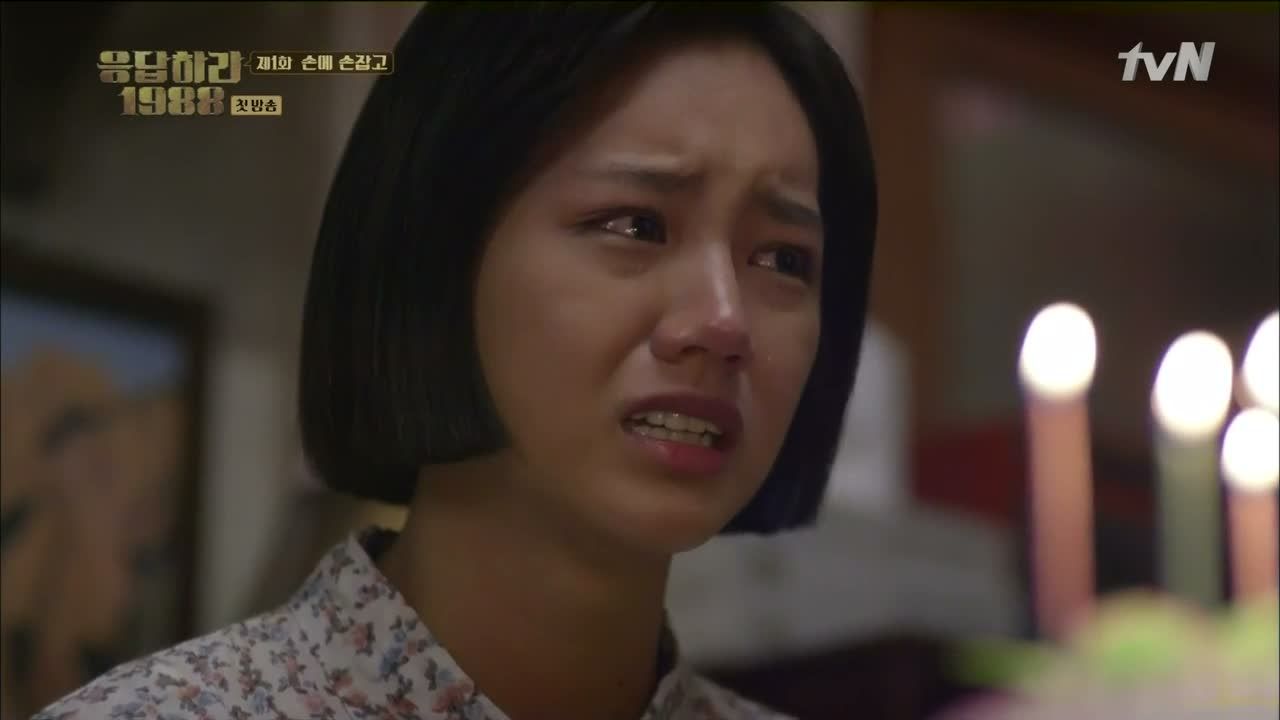 Deok-sun is down in the dumps when she gets home, and manages to sit through Unni's birthday cake and song. But when Mom and Dad relight the candles to sing for Deok-sun's birthday like she expressly asked them not to do, she breaks down, asking why she always gets the reused cake, the chicken wing, the rice without egg on top.
She leaves the house wailing, then the news reports that Madagascar has pulled out of the Olympics. Present-day Deok-sun narrates that there was nothing special about that day—the sorrow of being a middle child was a constant for her. She just thought that Mom and Dad would recognize her sacrifices, but she sighs that perhaps family is always the last to know.
Sun-woo comes home to an interrogation, as Mom presents the pack of cigarettes and asks how long he's been smoking. He swears up and down that they're not his, which she doesn't believe. She asks what on earth he's been doing lately, accusing him of hanging out with a bad crowd and getting into fights, as evidenced by the cut on his face.
Mom cries that she didn't raise him that way, and asks if he's acting like this because his dad's not here and he doesn't care to listen to his mother. But Sun-woo finally tells her the truth: "I cut myself shaving."
Judging from the way this makes her burst into tears, I'm guessing that Dad passed away, and he didn't want to let on that not having a father meant no one would teach him how to shave. He hugs her as she wails, and swears that all his friends cut themselves the first time: "It's not because of Dad!"
He comforts her and says he's sorry for raising his voice, and Mom cries into his shoulder so sorrowfully that it breaks my heart.
It turns out that today is the memorial of Dad's death, which explains all the mountains of food Mom was making and the talk of her husband eating dumplings. Sun-woo was out because he was buying Dad's favorite makgulli, and the kids pour a cup and pay their respects, as Mom cries.
The day of the Olympics opening ceremony arrives, and not a soul is out in the streets as the broadcast begins. Deok-sun's family gathers in front of the TV, and we learn that she's earned a spot in the ceremony after all.
Her parents and brother scream in excitement when she appears on TV, and though her unni refuses to watch, she still listens from her room. Sun-woo and his family scream too, and at Jung-hwan's house everyone but him is on their feet when they see her. Jung-hwan is as implacable as ever… but then he cracks a tiny smile when no one is looking.
His mom makes another failed attempt to engage him in conversation, and follows him to his room to ask what he's up to. Jung-hwan answers everything in that infuriating monosyllabic teenage way of his, and Mom has to endure long stretches of uncomfortable silence just to try and have a conversation with him.
At her prodding, he finally tells her that he came in first place on his latest test, and Mom says she'd like to know things like that. She admits how envious she is of Sun-woo's mom because he tells his mother everything, and says she's embarrassed in front of the other ajummas when they know more about Jung-hwan than she does.
She has to prod him to agree to talk more, and then she gives him the world's most awkward backhug. Man, it must suck to raise a teenage boy. But just as she's leaving, Jung-hwan turns around and asks her to buy him a new pair of sneakers because he lost his old ones. And Mom looks like she's about to burst into tears, she's so happy.
Cut to: Mom asking if he wants to go shoe-shopping with her the next day, and Jung-hwan just asking for the money instead. Heh. Well he didn't get a lobotomy.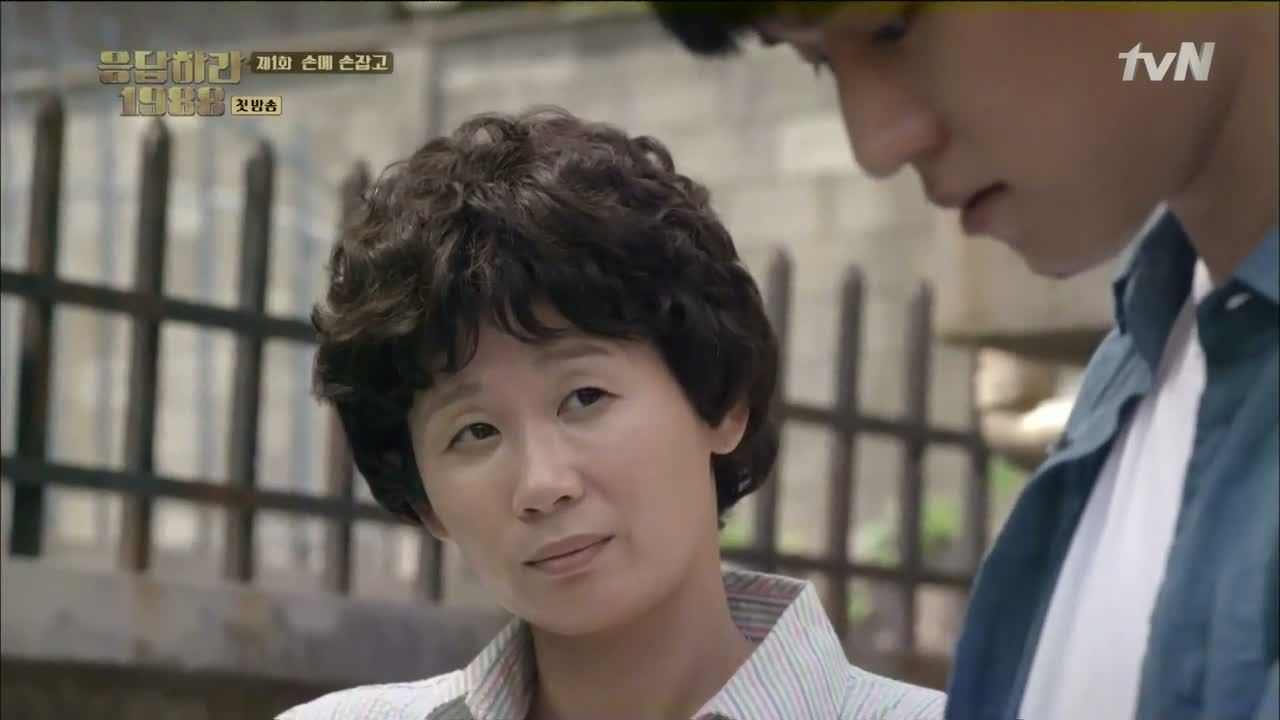 Sun-woo's mom asks if the cigarettes belong to Jung-hwan, since that'd be her first guess if they really aren't Sun-woo's. He says that Jung-hwan doesn't smoke either, and really doesn't know where they came from. A flashback shows us that they came from Jung-hwan's mom—his little sister ran off with her shirt the other day, and they fell out of the pocket as she was playing.
Sun-woo's uncle shows up and suddenly demands to go to the bathhouse together, which confuses him. But it was obviously Mom's doing—she asked her brother to teach Sun-woo how to shave, and sends them off with a wink and a nod.
When Deok-sun comes home after her big day, Dad is outside waiting for her. He takes her to the corner store, where she shows him all of the cool Olympics souvenirs she received (and a pair of dead birds to bury, what the—?). Dad says he has something for her too, and brings out a birthday cake just for her. Aww.
Dad says he and Mom are sorry, and that he's still figuring things out: "Your dad wasn't a dad when he was born. It's my first time being a dad too." He asks for her understanding, and says proudly that she grew up beautifully. Ugh, this dad never fails to make me cry.
He wonders what he'll do when she gets married and leaves him, but Deok-sun says she won't marry, and he chides her not to say such things. They light the candles and he wishes her a happy birthday, and Deok-sun blows out her own candles on her own cake, and gets to eat it all.
Her voiceover from the present day repeats that family might not know, but knowing isn't all that important, because what matters isn't the head, but the heart that leads us to walk hand-in-hand. And that heart is family, she says, as we see Deok-sun and Dad walk home hand-in-hand.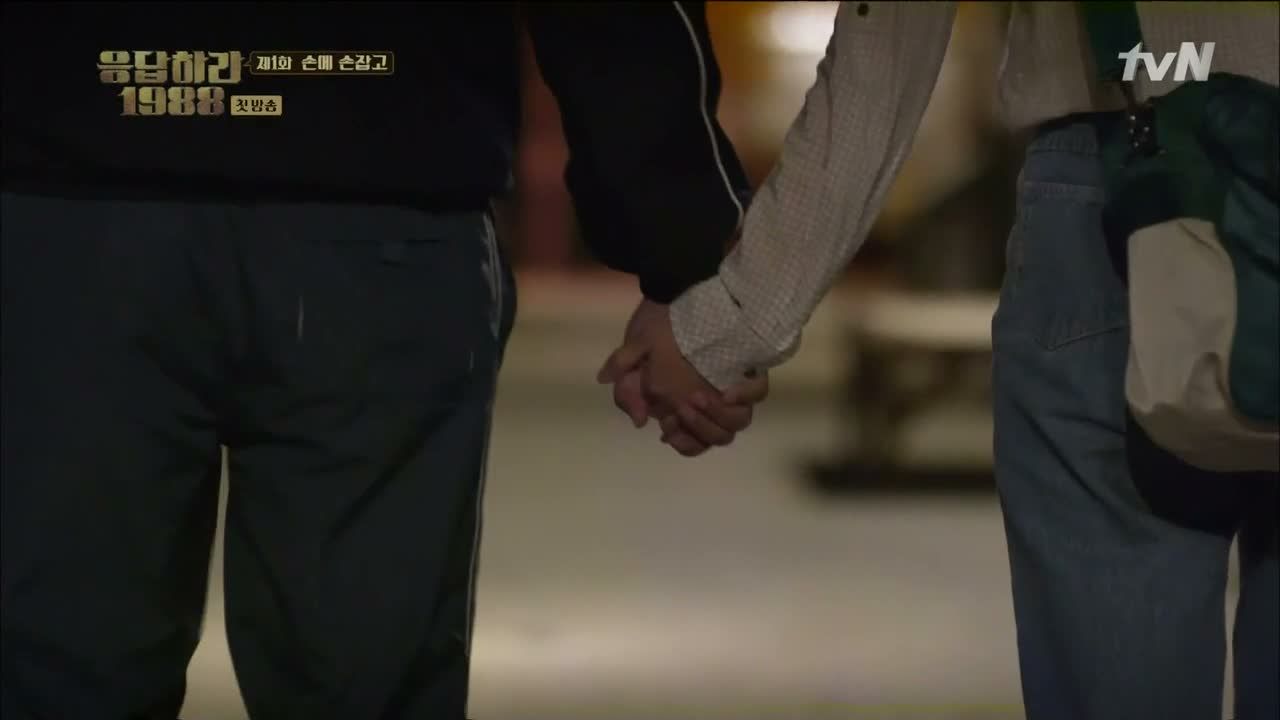 Deok-sun (voiceover): "It's family—that covers over the wounds from the world outside the front door, the scars we each sustain from life, even the sorrow that family itself gives us. The people on my side till the very end—it's family."
Still, she says, history has a way of repeating itself. One month later, Dad wakes up in the middle of the night to fumes from the charcoal briquettes they use to heat the house, and he and Mom each carry a child outside to safety…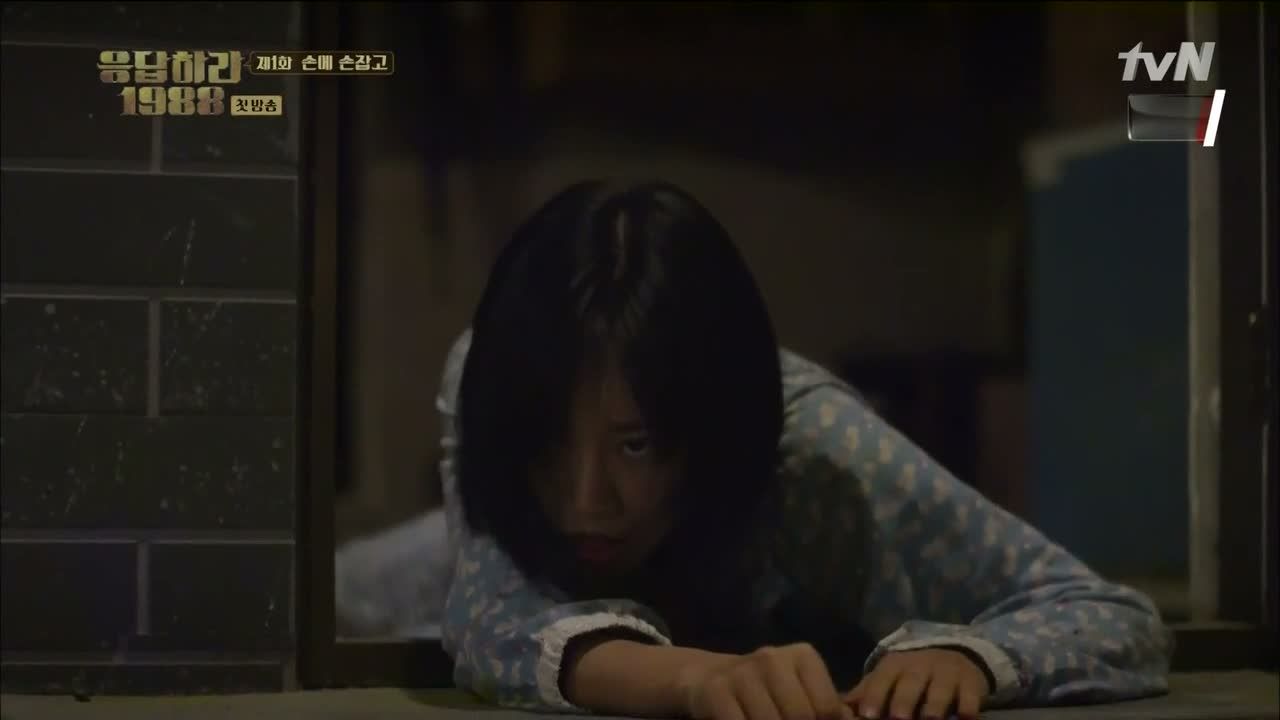 It's not until they're outside that they realize belatedly that they FORGOT about Deok-sun, ha, who has to rescue herself.
In the present day, Deok-sun is played by Lee Mi-yeon. She's giving an interview about—what else—who her husband is. She says she's known him for years because they grew up on the same street: "I never imagined I'd marry him. I may have gone momentarily insane," which she attributes to all the charcoal gas she inhaled while growing up.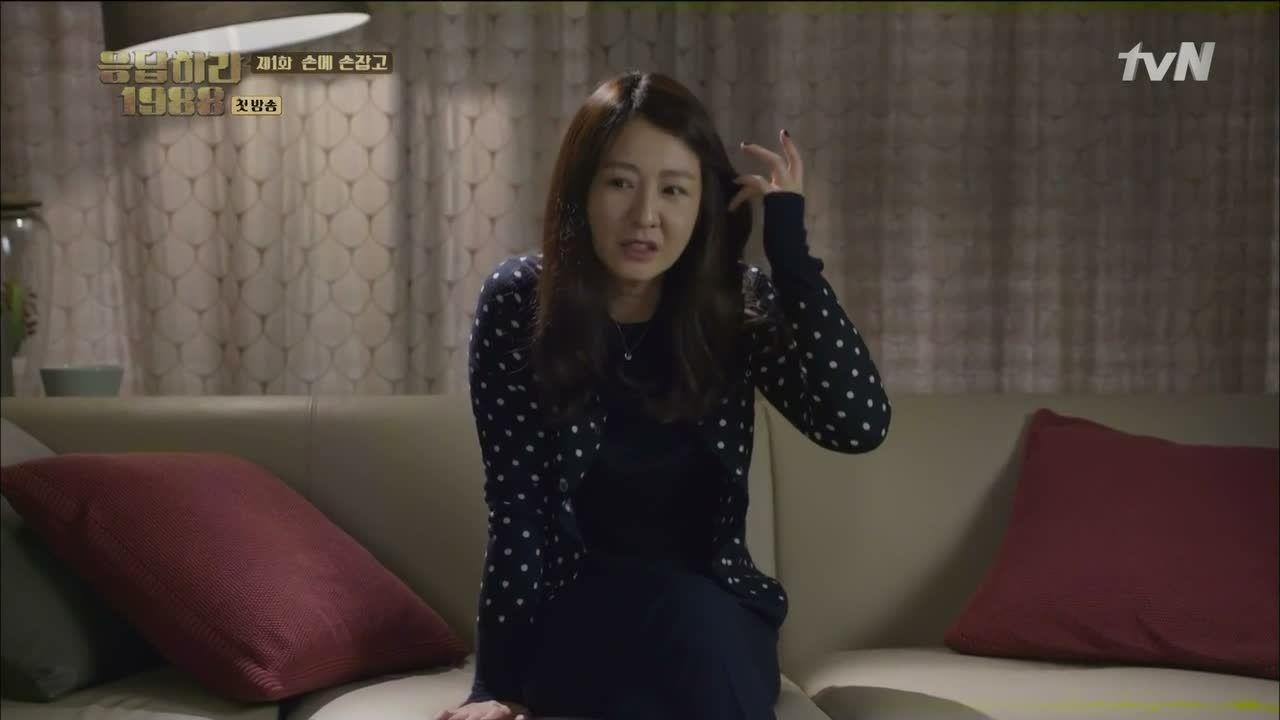 COMMENTS
I actually like the addition of older actors to play the leading characters in the present day, which this series actually warrants—setting the show timeline further back in the past means that our kids should be 45 years old in the present day, and it would be really jarring to have Hyeri or Park Bo-gum playing middle-aged characters. It adds a nice distance in the voiceovers too, to have the older heroine narrating the story. I was most worried about Hyeri going into the show, but I think she's fine to play the naïve 18-year-old who wears her heart on her sleeve and cries when she's upset and laughs when she's happy. I rather like that her character is a simpleton, because she's not a doormat.
And I really, really like that her family is poor. It adds a strong element to the story to have Dad be a regular salaryman instead of a famous baseball coach like the other seasons, because we see the direct effects on family dynamics when resources are scarce. And as a result, Deok-sun's middle-child angst was so realistic and great—perfectly petty, embarrassingly minor, and utterly real. That's the kind of stuff this writer always gets just right—how to pull all of the emotional strings over something so seemingly insignificant.
The scar on Sun-woo's face was the best of that, because it seemed so minor and I thought his mother was acting paranoid. But then we learn in one punch why Sun-woo is such a good kid, why he's mature and nurturing, and takes care of his baby sister without complaint. I never suspected that he was hiding the face scar because he didn't want Mom to think he was lacking in any way without a father in his life.
Jung-hwan is far less of an open book, but I started to love his character the moment he chased after those bullies while planning the perfect rescue… and then totally chickened out. That made him seem human, and I could see that we'll be peeling back his layers one at a time. His character type reeks of Garbage Oppa—the strong, (infuriatingly) silent type who never says what he feels and never takes credit for things. I have a feeling he'll be breaking hearts left and right before we're through. We'll have to see how the other two boys figure in, but so far the love story looks to be Good Boy vs. Bad Boy.
Now that we've been introduced to the major family dynamics, I'm keen to see the friends interacting on their own a little more, to get a better feel for how they are with each other. They seem like a family of siblings in their own way, in that they didn't really choose to be the group of five kids born in the same year on the same street, and they might not have become friends otherwise. Naturally things are about to change once romance starts to enter the equation, though I'd really rather it not be a five-way love pentagon. I know, it will be.
I'm annoyed enough as it is that we're doing the husband-hunting thing AGAIN (when the producers swore they wouldn't—the liars!), which will surely lead to tears and recriminations. Maybe this time I'll just NEVER pick a ship, ignore ALL "clues" (which aren't so much clues as they are troll-droppings), and refuse to get emotionally sucked into the game. I don't care which boy you married, ya hear me? I DON'T CARE. Lalalalalalalala.
This is so not going to work, is it?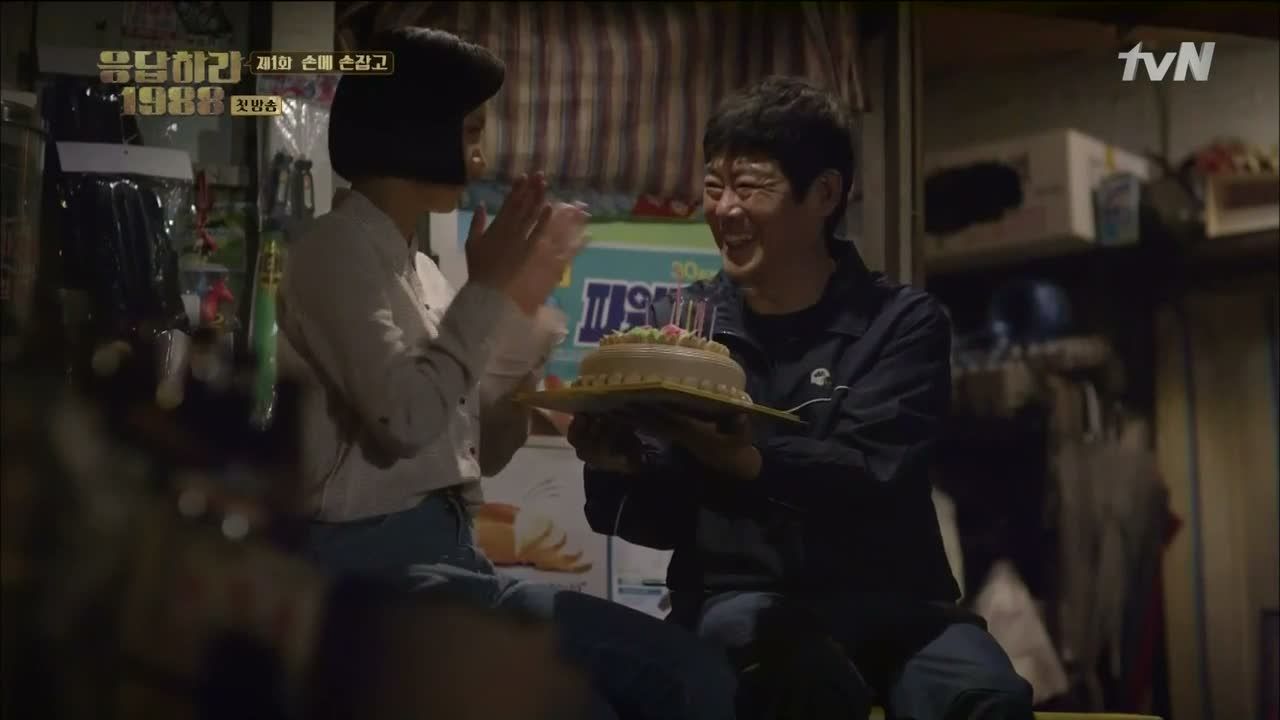 RELATED POSTS
Tags: Answer Me 1988, featured, first episodes, Go Kyung-pyo, Hyeri, Kim Sung-kyun, Lee Dong-hwi, Park Bo-gum, Ra Mi-ran, Ryu Hye-young, Ryu Joon-yeol, Sung Dong-il