Answer Me 1988: Episode 2
Aw, the friendships are freaking adorable in this drama. Not a surprise, of course—this franchise always does family and friendships in the best way, showing us how people can really bond for life over the littlest of things, and how the people closest to you can be the ones to drive you crazy on a daily basis, and yet come to your rescue when you need it most.
We're only two episodes in, but there's one thing I'm happy about in this season so far: Friends and family really do take up the majority of the story, which puts less focus on the romance, and more on growing up in one neighborhood.

SONG OF THE DAY
Lee Juck – "걱정말아요 그대" (Don't Worry Dear) for the Answer Me 1988 OST [ Download ]
Audio clip: Adobe Flash Player (version 9 or above) is required to play this audio clip. Download the latest version here. You also need to have JavaScript enabled in your browser.

EPISODE 2: "The one thing you're mistaken about me"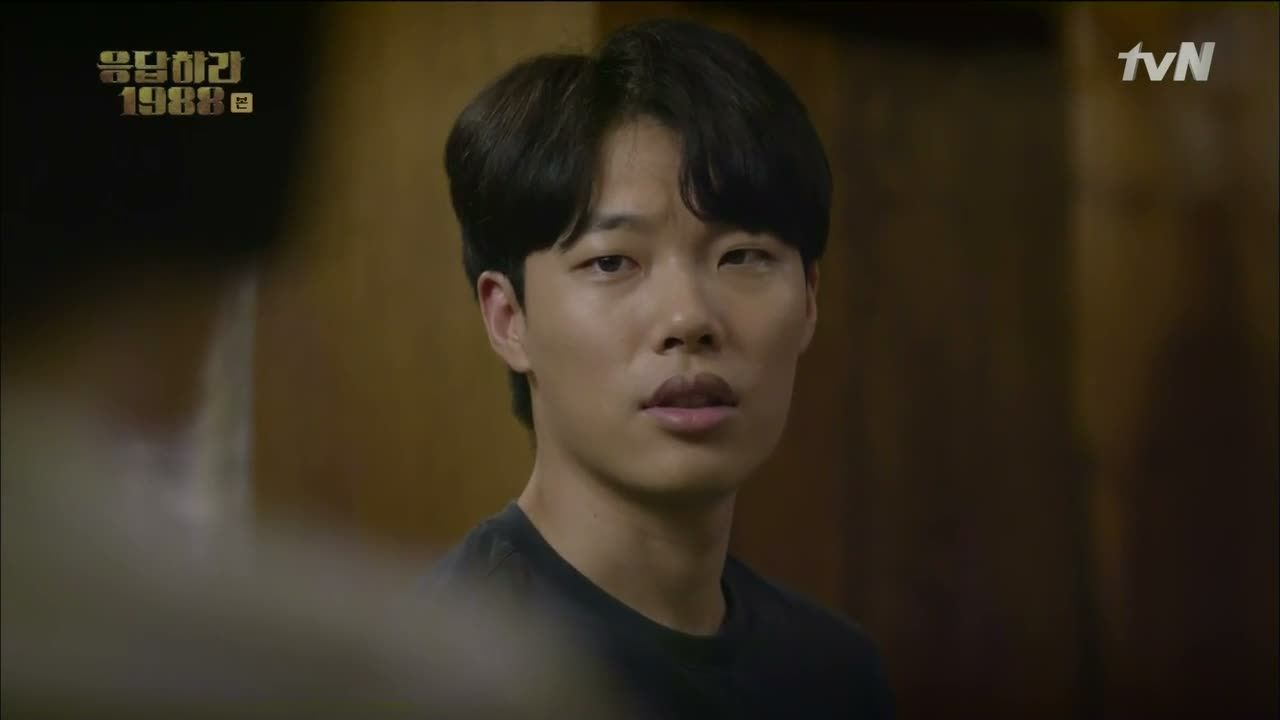 It's late September 1988, and Jung-hwan's dad busts out the new video camera to shoot footage introducing us to his lovely family. Except his eldest son isn't home studying like he should be (he's out playing video games), prickly second son Jung-hwan (Ryu Joon-yeol) shuts the door in his face, and his equally humorless wife puts an end to the shenanigans.
Poor ajusshi. Thankfully, downstairs neighbor Deok-sun (Hyeri), his only ally when it comes to his terrible jokes, arrives to deliver a bottle of oil from her visiting grandma. They greet each other with song and dance, and Jung-hwan shakes his head at them, while his mother tells Deok-sun not to encourage the behavior. She's in a great mood because she loves her grandma, but says with a sigh that she'll be leaving shortly. Deok-sun absently grabs a bite of food from the table with her hands, and Jung-hwan snaps at her. She just snaps right back to mind his own business, which is why I like her.
Back at home, Deok-sun snuggles up next to Grandma, who's sandwiched in between her two granddaughters. Deok-sun is adorable with her grandmother, though Unni always finds a way to spoil the mood. She tells Grandma that Deok-sun's nickname is "Special Forces," short for "head especially bad at studying." Deok-sun points out that Unni doesn't study much either, since she spends more time at demonstrations than she does in class. That leads to another fight, and Dad gets out of bed to yell at them.
Deok-sun asks Grandma which of her two sons is better to her now, and Grandma says they're both good, emphasizing how they never fought with each other. Deok-sun says that Unni always starts it, so of course Unni darts up and grabs her hair. Dad must have some kind of sister-brawl radar, because he shows up immediately, this time brandishing a pitchfork, ha.
In the morning, the family sees Grandma off, regretting that she can't stay longer. Grandma sees Mom throwing away an old vase, and decides she has to take it home because she can't see it going to waste. She and Dad bicker about it all the way down the street, which is just endlessly adorable.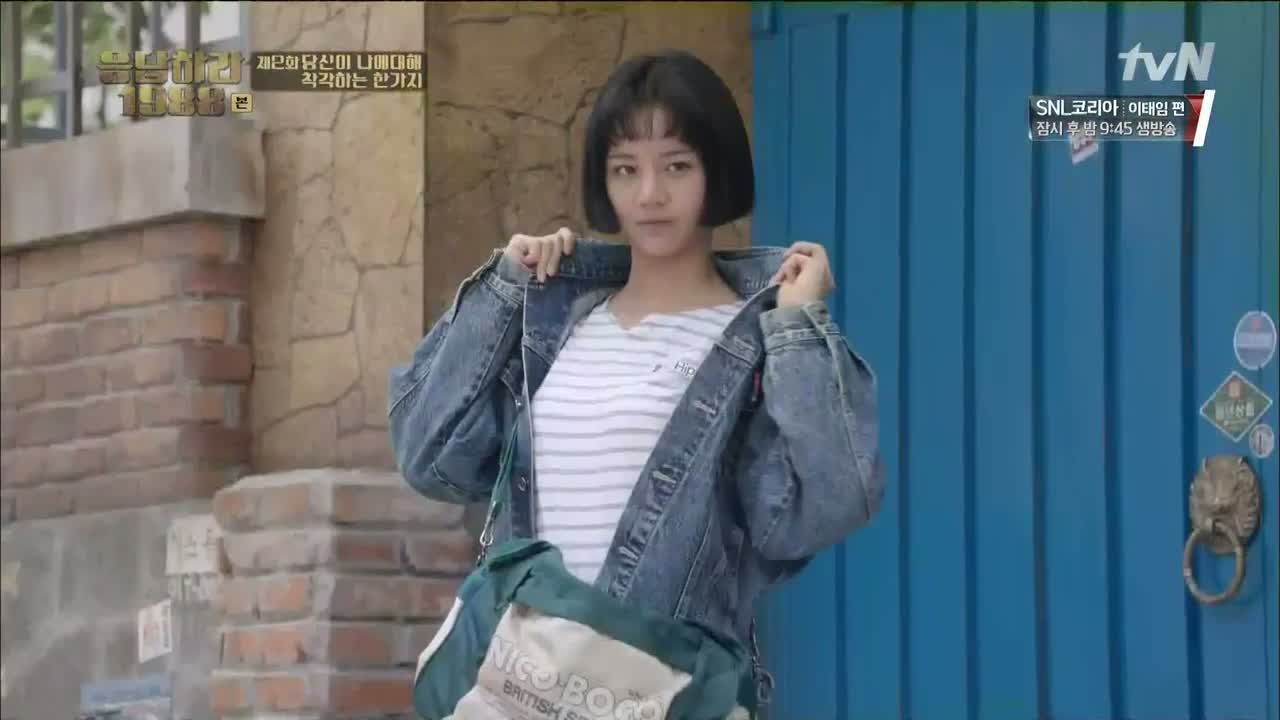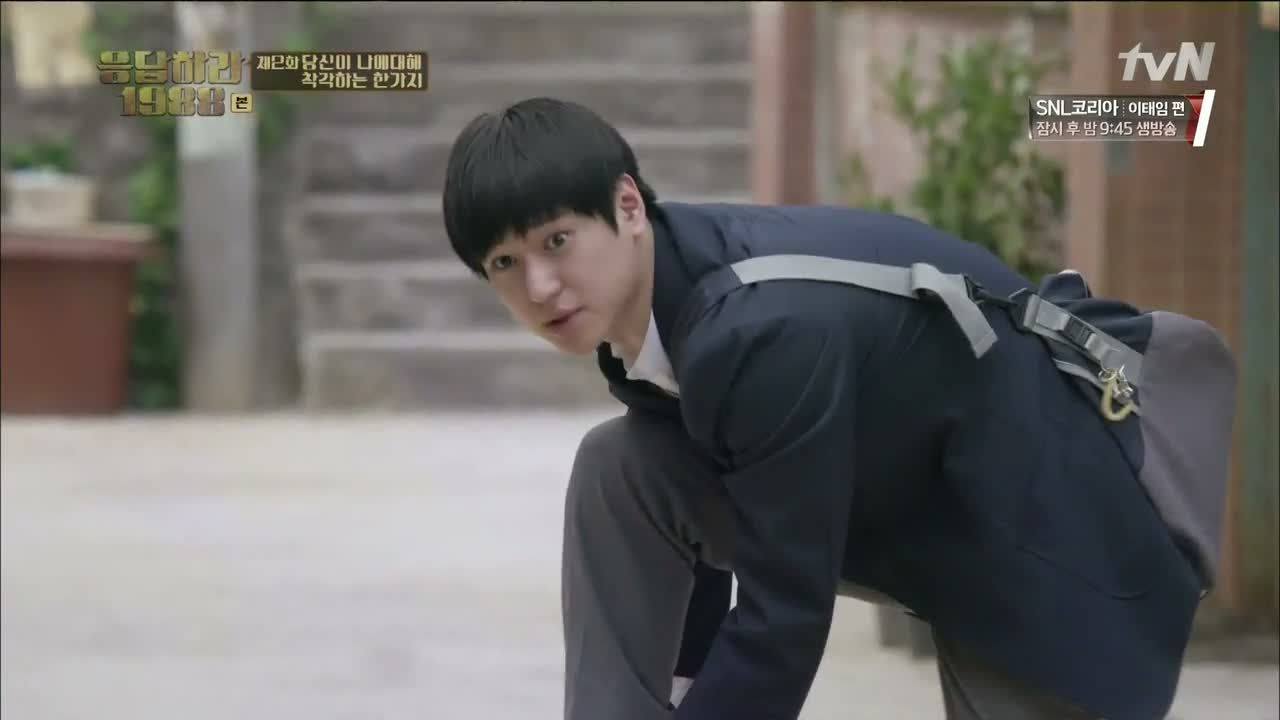 I'm starting to look forward to Deok-sun's morning beauty routine. Today it's a thick coat of hairspray on her bangs and a parade of high-waisted pants and blouses with shoulder pads. She decides on denim-on-denim and runs out the door, and Mom worries for her safety if Unni catches her wearing her jacket.
Deok-sun angles for compliments from the boys on her new outfit, and naturally Jung-hwan tells her to get lost without a second glance. Sun-woo (Go Kyung-pyo) recognizes them as her sister's clothes, and warns her that they're going to be late for school.
Deok-sun stops to greet Taek (Park Bo-gum), who says he came home yesterday. He just drinks his morning milk while all of his friends race to school, and Deok-sun pats him on the butt like he's a tiny baby and coos for him to hurry up and drink his milk and grow so that he can marry her.
Taek says nothing in return, and Deok-sun gets dragged away by Dong-ryong (Lee Dong-hwi) before they're really late for school. Deok-sun doesn't care much about being late, since she pretty much spends her school day playing silly name games about celebrity crushes with her girlfriends. I'm suddenly remembering how much time my friends and I spent playing MASH as a tween.
Jung-hwan's mom and Deok-sun's mom prepare for tonight's party in celebration of Taek's latest baduk victory, and prepare to cook fancy "American noodles," aka spaghetti. Deok-sun's mom encounters a crisis when Unni comes home from school early and starts packing for an unexpected overnight trip. Uh-oh.
Mom stands there on pins and needles like she's waiting for a volcano to erupt. There are a few near misses, but then Unni realizes that her favorite jean jacket is missing. Oh crap. Mom races upstairs to Jung-hwan's and asks for the phone book, and calls up the high school. She gets her son on the other line, and HA—he reacts with just as much horror as Mom did, and takes off running for the girls' school down the street.
He busts into Deok-sun's classroom screaming, "Noonaaaaaaa!" And soon Deok-sun is running like the wind to make it home. The whole sequence is intercut with footage of the Olympics and Jung-hwan's hyung on the marathon video game he's been playing all day, with Deok-sun spliced into the game screen.
It's a big finish as Deok-sun reaches her street and tosses the jacket up in the air… and Mom catches it just in time to take it inside and throw it in the washing machine. Phew! Mom "finds" it just before Unni is about to accuse Deok-sun of stealing it, so she's safe.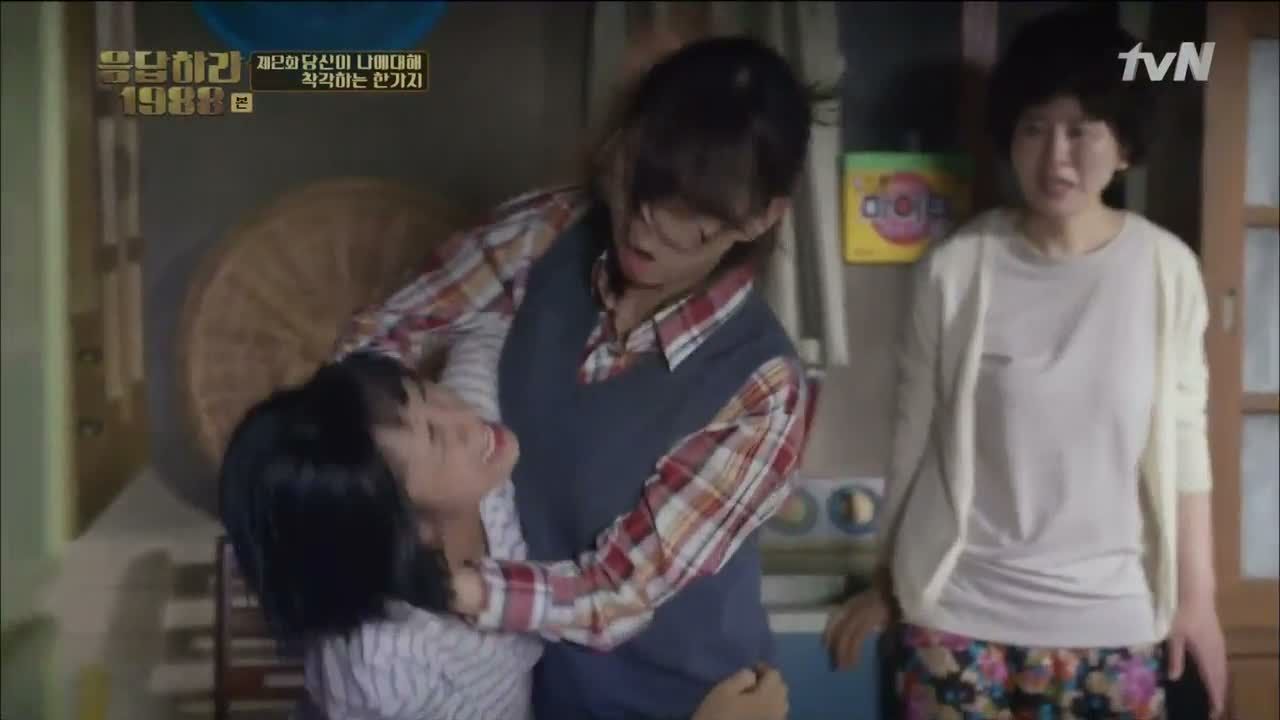 Except then Unni is mad at Mom for washing it without permission, and this time Deok-sun gets mad and tells her to grow up. In the end it devolves into a hair-pulling fight anyway, after all that hard work. Mom and Little Bro just hide out in the yard, not wanting to get caught in the crossfire.
The adults start gathering for Taek's party one by one, and Jung-hwan's mom brings out the spaghetti, which she mixes and serves by hand like it's japchae, hee. Taek's dad arrives with chicken for the kids, and Jung-hwan's dad turns on the new camcorder to record the event. His wife nags him to turn it off, so he puts it down, but it's still recording.
The kids arrive, and it's cute that all the parents each have their favorites. Deok-sun's mom loves Sun-woo (who wouldn't), and Jung-hwan's dad loves Deok-sun, and everybody fights over Taek when he arrives. Deok-sun's dad calls him son-in-law, and Jung-hwan's parents are ready to adopt him.
The parents marvel that Taek is so grown up now, though his dad says that he knows nothing of the world other than baduk. These neighborhood kids are his only friends in the entire world, and they note that to his friends, he's not a world-famous baduk player; he's just another one of the gang.
They're here because Taek just won the biggest baduk competition in Korea, and the parents ask how much prize money he won. His dad says 50 million won, and jaws drop. Taek just answered the same question from his friends, who shout back, "50 million won?!" …And then start chanting for him to buy ddukbokki. That's it? Ddukbokki?
Sun-woo asks if Taek will be back from China before his birthday, because the boys want him to bring them back a bottle of liquor. Deok-sun is about to tattle on them until Sun-woo sticks his finger in her mouth and warns her not to tell. The other boys insist that Taek gets gifts like that all the time, and Jung-hwan tells him not to hand them all over to Dad, and save just one bottle for them.
The parents have drinks and launch into the noraebang portion of the party, which makes all the kids groan. They know without looking that Sun-woo's mom and Jung-hwan's dad are the ones singing, like always.
Deok-sun asks Taek what he wants for his birthday, and they wonder if he even listens to music. Sun-woo remembers that Taek only listens to Deulgukhwa, and asks if he wants Jeon In-gwon's solo album. Taek doesn't even need to say a word, and just nods with a smile. It's a good thing he has friends who can read his mind, because I don't think I've heard him say two words since the show started. The kids sneak out to get ddukbokki, making sure not to disturb the singing and dancing in the living room.
A few weeks later, it's October and the Olympics have come to a close. Deok-sun is the one taking care of her siblings' meals because Mom and Dad are in the country taking care of Grandma, who isn't doing so well. Breakfast is a bit of an ordeal, with Deok-sun and Unni fighting via proxy: Little Bro is the poor middleman who has to convey messages back and forth between them, about how Unni should get her ass out of bed and eat, and Deok-sun should stuff her own face. Hilariously, he includes the hitting while delivering each message. Needless to say, it ends in another fight, this time with buckets of water used as weapons.
At the boys' school, Dong-ryong reminds Sun-woo that they're going to the movies tonight. Jung-hwan says they're playing soccer again at lunch, and Sun-woo refuses to participate in the bloodbath. Jung-hwan defends the sunbae that Sun-woo doesn't like, and says he's not a bad guy.
Dong-ryong tries aegyo on him: "But who will score the goooooooals?" And when that doesn't work, Jung-hwan busts out some aegyo too. Ahahahahaha. Don't ever do that again. Seriously, don't. Sun-woo just stares at Jung-hwan and says he's dead.
At the girls' school, Deok-sun and her friend have their noses in books—not schoolbooks, of course, but high-teen romance novels, which are their latest obsession. Their friend reads a steamy passage aloud and scoffs that men like this don't exist in real life.
To punctuate fiction vs. reality, we go from a description of a bare-chested romance novel hero to the boys flinging off their shirts on the soccer field, their minds as far from romance as it gets. Sun-woo really is the best player, and it seems to grate on their teammate, a bossy sunbae who likes to be the star even though he sucks at soccer.
Deok-sun finishes her novel and sighs that it was a weak one—there was only kissing. She grabs the next one, titled "Dangerous Roommate," and begs it not to disappoint her. Deok-sun panics when she gets called to the teacher's office, sure that she's been caught with her contraband novels.
Her friend hides them in a bag topped with pads and tells Deok-sun to say she was just delivering them. But when Deok-sun goes to the office, her teacher hands her the phone saying that she has a call from home. Oh noes, it's Grandma, isn't it?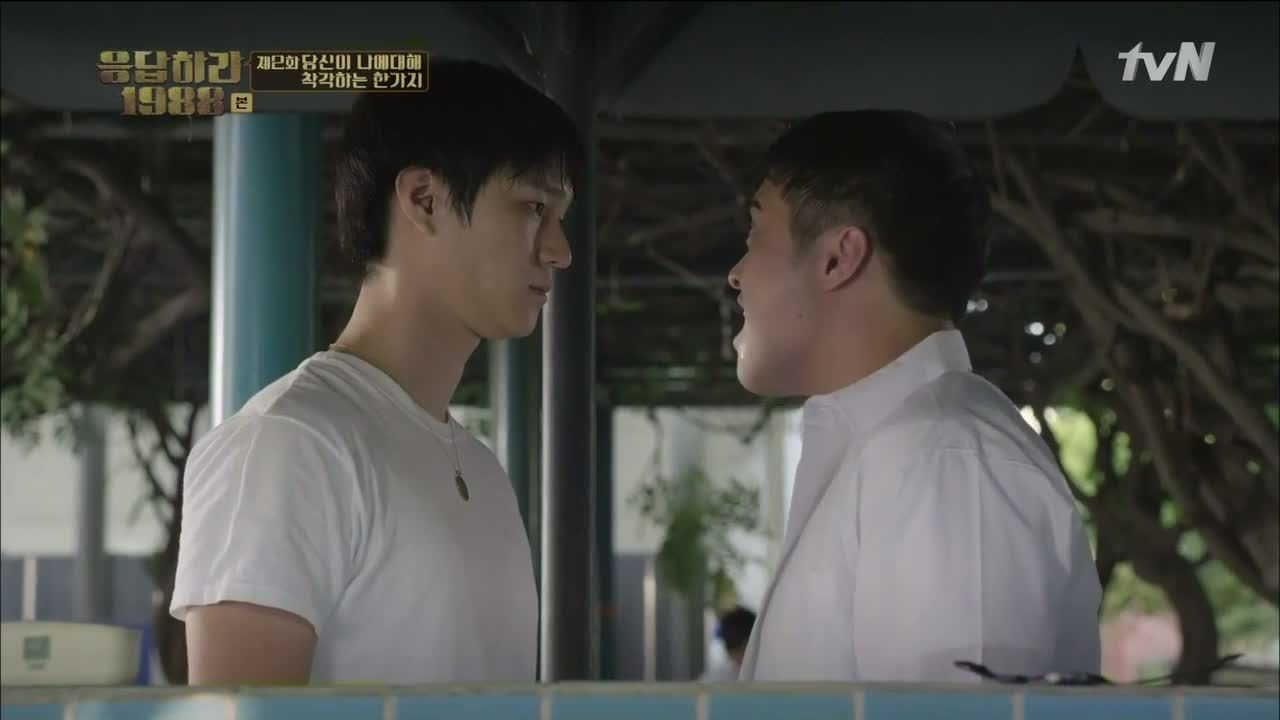 The boys wash up after their game, and the bully sunbae comes by to pick a fight with Sun-woo, finding any reason to push him around just because he's better at soccer. Sun-woo just glares back instead of backing down, which only makes it worse.
The bully notices the necklace that Sun-woo is wearing and tells him to take it off, and Sun-woo refuses. He stands there stoically while the bully shoves him repeatedly in the head, saved only by the bell when they have to return to class.
Jung-hwan and Dong-ryong get hit too, just by association, and Jung-hwan asks why Sun-woo couldn't just take the damn thing off for a minute and then put it back on later. Sun-woo asks how, when it's his father's necklace, but clearly Jung-hwan doesn't understand.
Deok-sun breaks down in tears as Unni tells her that Grandma went to a better place. She tells Deok-sun to come home so they can catch the bus out of town, but Deok-sun is inconsolable and just cries repeatedly, "Unni, unni!"
The three siblings take the bus down to the country, and Unni makes sure that her siblings get some sleep and takes all of Deok-sun's bags so she can stretch out her legs. When they get to Grandma's house, she tells them to wipe their tears because they have to be strong for Mom and Dad.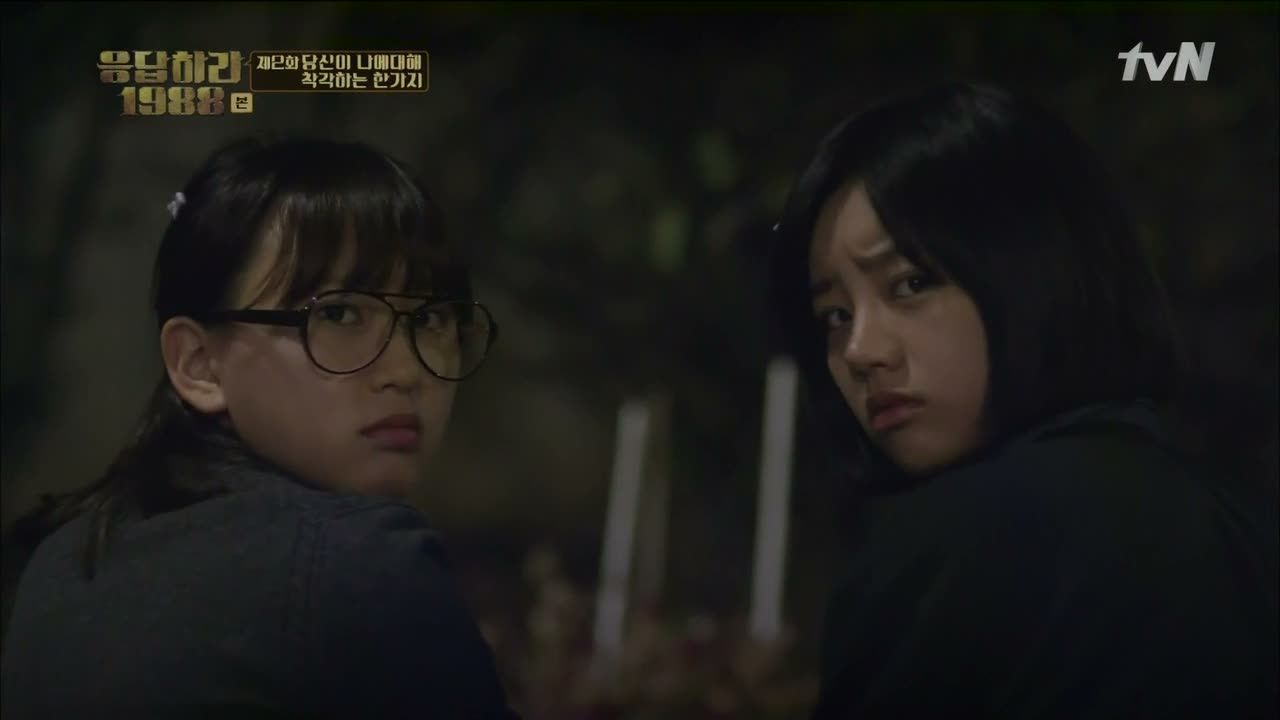 The funeral has already been going on for hours, and the sight isn't what they expected at all. It looks more like a party house than a funeral house, with elders playing card games and chatting away over food. And Dad isn't a crying mess like they expected—in fact, he's happy to brag about his kids to the townspeople and reunite with old acquaintances.
Deok-sun asks Unni if their dad is a cyborg, because he doesn't seem sad at all. Neither do the aunts, and Deok-sun cries all over again because she feels sorry for Grandma.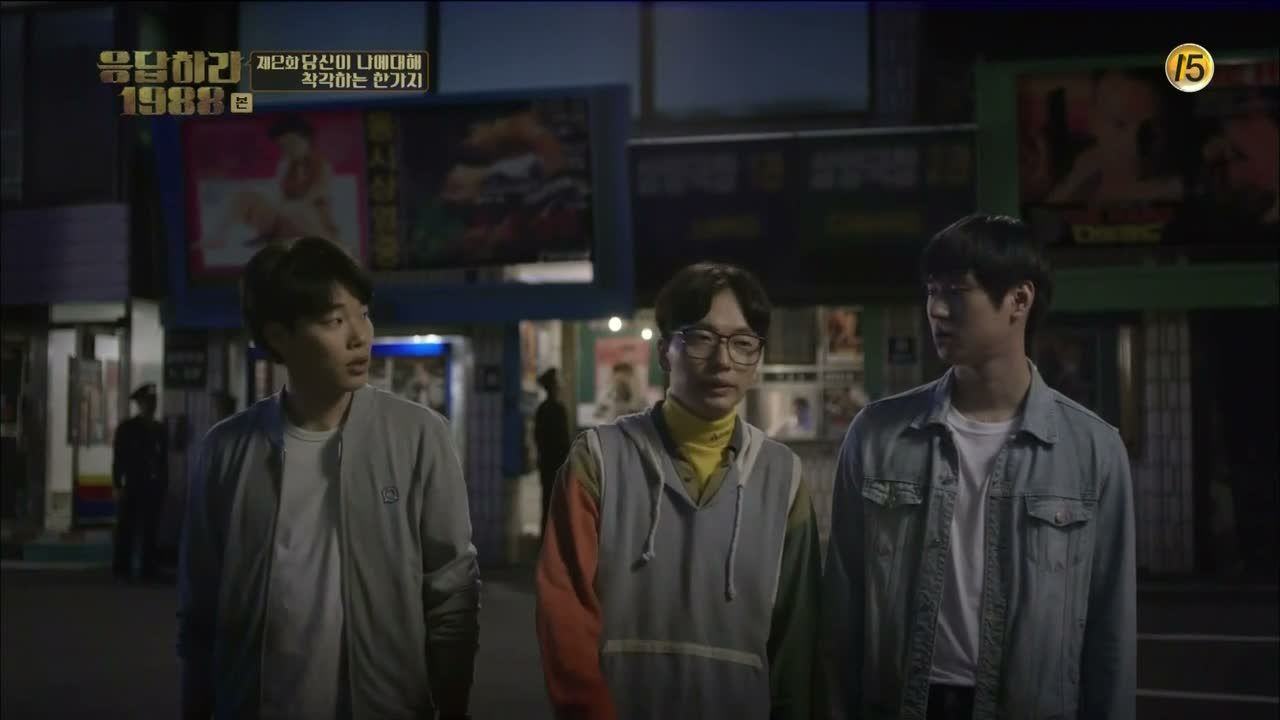 Back in Seoul, the boys change out of their school uniforms at the train station to go see the new racy movie at the theater, which today of all days happens to be patrolled by cops. They turn away in defeat, but Dong-ryong says they can just go to Taek's house, because he rented a backup movie just in case.
The next morning, Deok-sun wakes up in a tiny room piled wall-to-wall with cousins and other assorted family members, and sees Dad slumped over like he's crying. She gets up to go over to him, but then her aunts go to wake him up, and he seems just as chipper as ever.
The boys open up their lunches, and as usual Jung-hwan's lunchbox is packed with only the best, Dong-ryong's is slapdash, and Sun-woo's looks good but tastes terrible, due to his mother's terrible cooking. They all know this about her, but Sun-woo seems sensitive about it lately.
In the evening they skip out of class to go to the theater again, and this time Dong-ryong has a foolproof plan: army uniforms. It works like a charm, and they buy tickets with no one suspecting that they're minors.
Except when Sun-woo comes out of the bathroom, he finds his friends lined up with a row of other boys, with a stern teacher pacing in front of them. Caught. Dong-ryong informs Sun-woo that he's been asked to join them.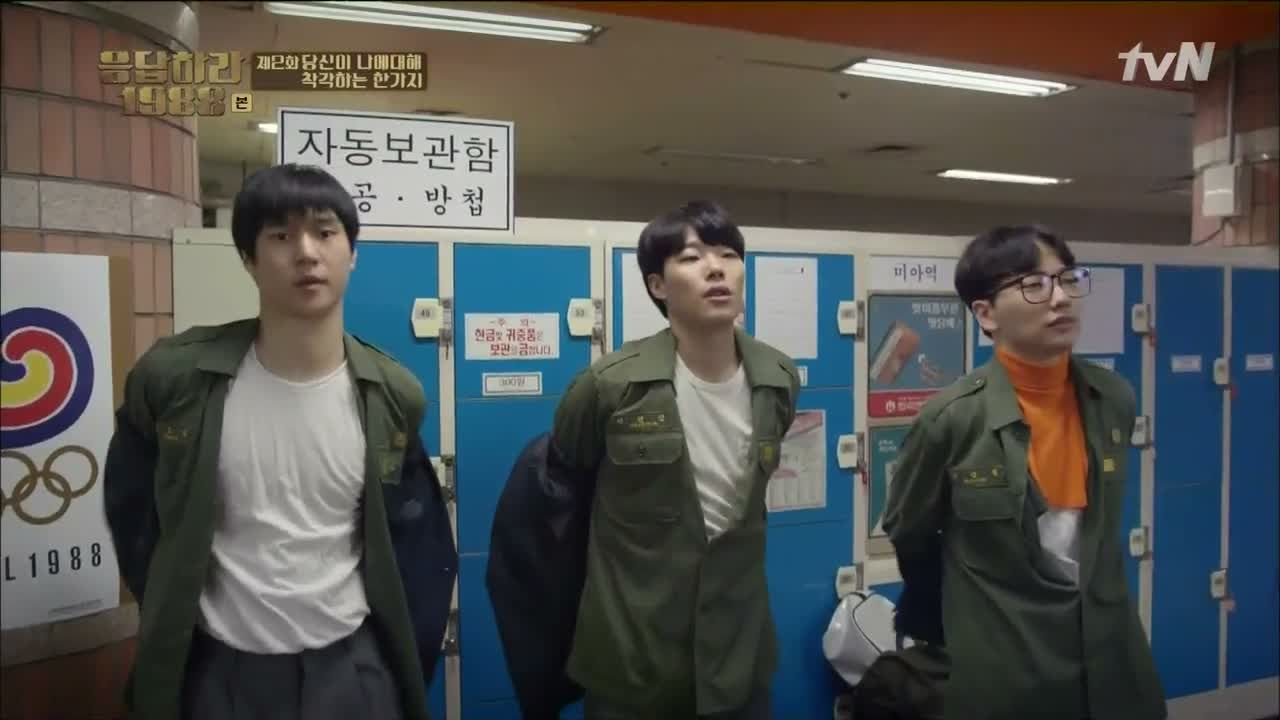 Meanwhile the funeral continues, and Deok-sun starts to get annoyed that Dad just gets progressively drunker, singing along with the elders at the table. She doesn't understand why no one seems sad.
At the theater, the teacher whacks the boys on the head in reproach and it's not until he gets to Dong-ryong that we find out that it's his father. Double crap. The other boys who got caught happen to be the soccer bully and his posse, and when Teacher says the only reason they're saved is because of Sun-woo, it only serves to make the bully even madder.
He takes the boys out to the alley and sarcastically thanks Sun-woo for saving them all, intent on picking another fight. He fixates on the necklace again and tells him to take it off, and when Sun-woo stares him right in the eye instead of backing down, the bully yanks it off his neck. Ack.
Dong-ryong speaks up and says that's from Sun-woo's father who passed away, and the bully seems to have enough of a conscience to stop. But then the asshole covers up his own embarrassment by asking, "So what? Are you bragging that you don't have a father?" You did not just say that.
Sun-woo's eyes harden, and then suddenly a fist goes flying.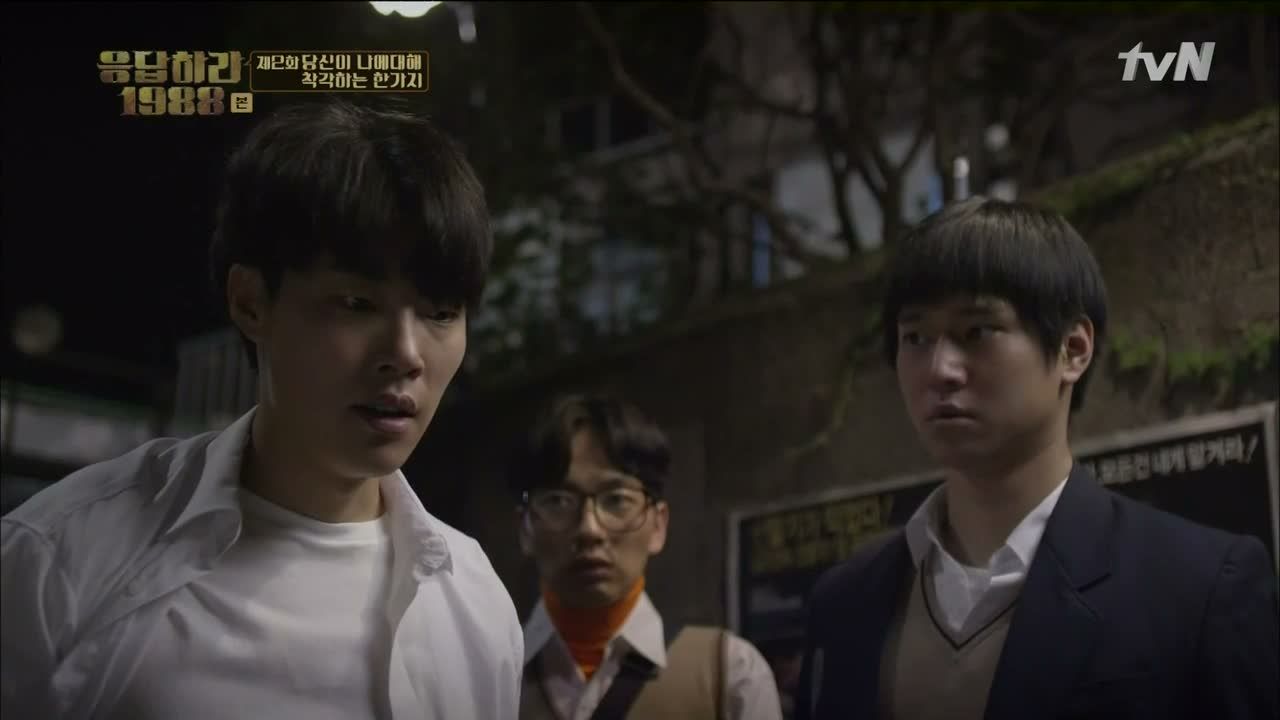 But it's not Sun-woo's fist—it's Jung-hwan's. He socks the bully right in the face, knocking him down with one punch. Jung-hwan: "Crazy bastard, are you insane? Do you think you can say whatever you want because your mouth is an open hole? Watch what you say, asshole." OH SHIT. Also, is it wrong that I find that hot?
Deok-sun and Unni clean up what looks to be the last of the tables at Grandma's funeral. Now only the family members remain, and they don't know whether the eldest uncle will arrive in time from America. Deok-sun goes over to Dad and tells him to get some rest, and he smiles at her sweetly and says he's okay.
Dad still seems fine, but then Deok-sun looks up when a man comes through the front door, and Dad's face changes instantly when he hears his brother's voice calling out to him, "Dong-il-ah, Dong-il-ah!"
Uncle approaches slowly and clasps Dad's face in his hands, and that's all it takes for Dad to break down in heartbreaking, wailing sobs, asking why their mother had to leave them, and why they can never see her again. Ugh, I'm a mess.
The aunts run to hug them in tears too, and finally Deok-sun understands. She narrates that the adults weren't fine—they were holding on, being strong, enduring.
Everyone is awash in tears, and after the reunion, Uncle pays his respects to Grandma before sitting down with his siblings. And in the corner of the room, we see that vase that Grandma had insisted on saving. She put a plant in it and displayed it proudly, and now we see why—it's inscribed with Dad's name to commemorate his employment at the bank.
The three boys trudge home, and Jung-hwan is sporting a nasty bruise on his cheek and a cut lip. They don't really speak about the fight directly, but Jung-hwan asks Sun-woo what he's going to do about the necklace. Sun-woo says he'll just stop wearing it: "What about your face?" Jung-hwan just tells him to worry about himself.
Sun-woo heads home and sees Mom in front of the TV inside. That makes him remember that he didn't eat the dinner she packed him, so he goes around the corner in their yard and eats it, just so she won't feel bad. You are such a good kid, it's unreal.
He eats every last bite, even though the eggs have stray shell pieces and the rice has stray rocks. Deok-sun narrates that sometimes delusions are a good thing—that if eating Mom's terrible cooking is enough to make her think she's great cook, then it's an easy thing to do.
He heads inside once he's finished, and Mom happily asks if his lunch was good today. He chirps that it was great. Deok-sun (voiceover): "Often times, delusions make us happy."
At Deok-sun's house, Dad watches the latest news about Taek winning another championship baduk match in China. Mom says that his mother must be smiling up in heaven, while Dad wonders what use it is when she's not alive to be treated well by her son now, clearly thinking about his own mother.
When a light bulb goes out, Dad heads out to buy a new one and runs into Taek on his way home. Dad asks him to be his friend while he has a drink, and when Taek pours for him, Dad says he's all grown up now.
Taek says he's sorry about Grandma, and Dad chides him for bringing it up and making him miss her. He asks Taek when he misses his mother the most, and Taek's eyes fill with tears instantly. "Every day. I miss my mom every single day," he answers quietly.
Deok-sun narrates that an adult-like child has simply adjusted to life where he appears to be grown up: "But an adult-like child is still a child." She says that mistakes are short but misunderstandings can be long, so misunderstandings should be avoided.
Taek comes home to a dark, quiet house that feels extra empty tonight. But when he opens the door to his room, his four best friends are waiting with a birthday cake and yell, "Surprise~!"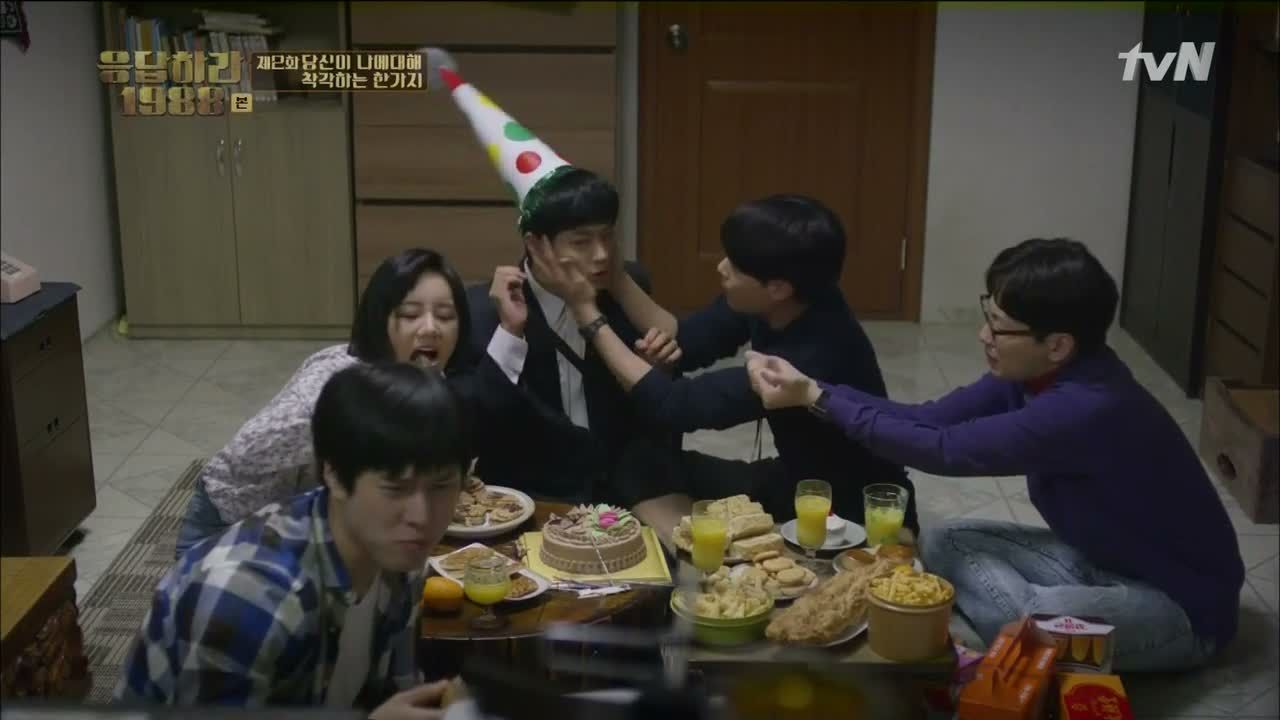 They're a flurry of hyperactivity while Taek just stares speechlessly. They complain about how late he came home, and how he's wearing a suit ("Are you a halbae?"), and Deok-sun makes him wear a giant cone hat. He's ordered to blow out the candles and handed the Jeon In-gwon tape they promised, without much ceremony.
It's basically a madhouse whenever these guys are together. Sun-woo insists on blaring the TV and the other two boys go through his bag to get at the liquor, while Deok-sun stuffs her face with cake and then threatens to tattle on the boys for drinking.
Deok-sun narrates that Taek was the last of them to move to this neighborhood. We see their childhood in a series of photographs that tell an adorable little vignette: Four neighborhood kids were always together, and then one day a new kid moved to their street.
Taek and his dad moved there after his mother passed away, and Deok-sun says she doesn't know what it is that brought them there, but that day they made a new friend. As children we see that their personalities were always this way: Jung-hwan and Dong-ryong are naughty, and Sun-woo and Deok-sun are nice.
In no time, their group becomes five. And in a cute little incident, Little Taek takes a tumble down the stairs and breaks his arm because of their games, and the next morning Jung-hwan and Dong-ryong each carry one of his school bags, Sun-woo shares his toys, and Deok-sun offers him a piggyback ride, aw.
Deok-sun (voiceover): "Taek was always with us. Whether we were plotting evil, or doing dumb things, he was always at our side. Of course, always with that expressionless look on his face—but we were always together. A street can make friends with nothing else but time. One quiet child and four loud children became friends that way, and we became five that way."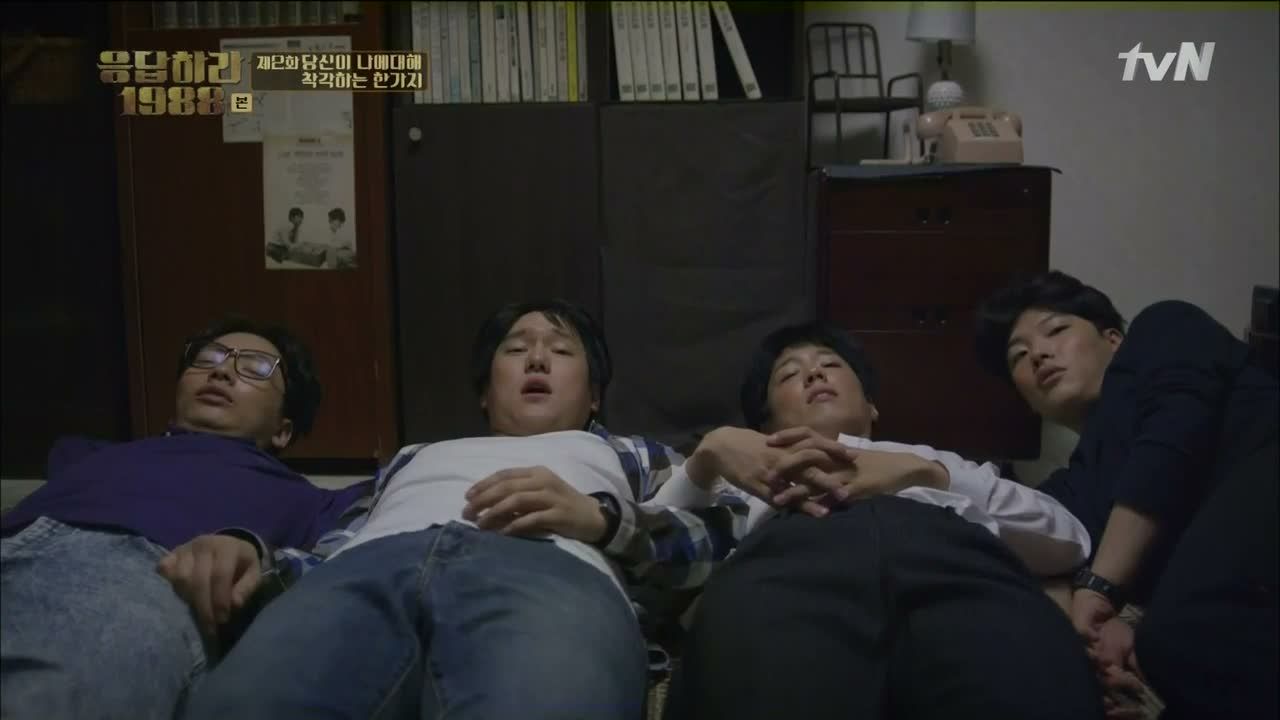 Back at the birthday party, Deok-sun makes fun of the boys for getting drunk so easily, and we see them all laid out in a row with rosy cheeks. Jung-hwan says she'd die if she drank it, which she simply accepts as a challenge.
She pours herself a tiny shot and downs it in one gulp, and the boys all gasp… and then laugh when she chokes and crawls her way to the bathroom gagging.
Once Deok-sun has gone home, the boys watch another Joey Wong movie and sigh over how pretty she is. Jung-hwan says that women like her don't exist in real life, so talk turns to real-life pretty girls.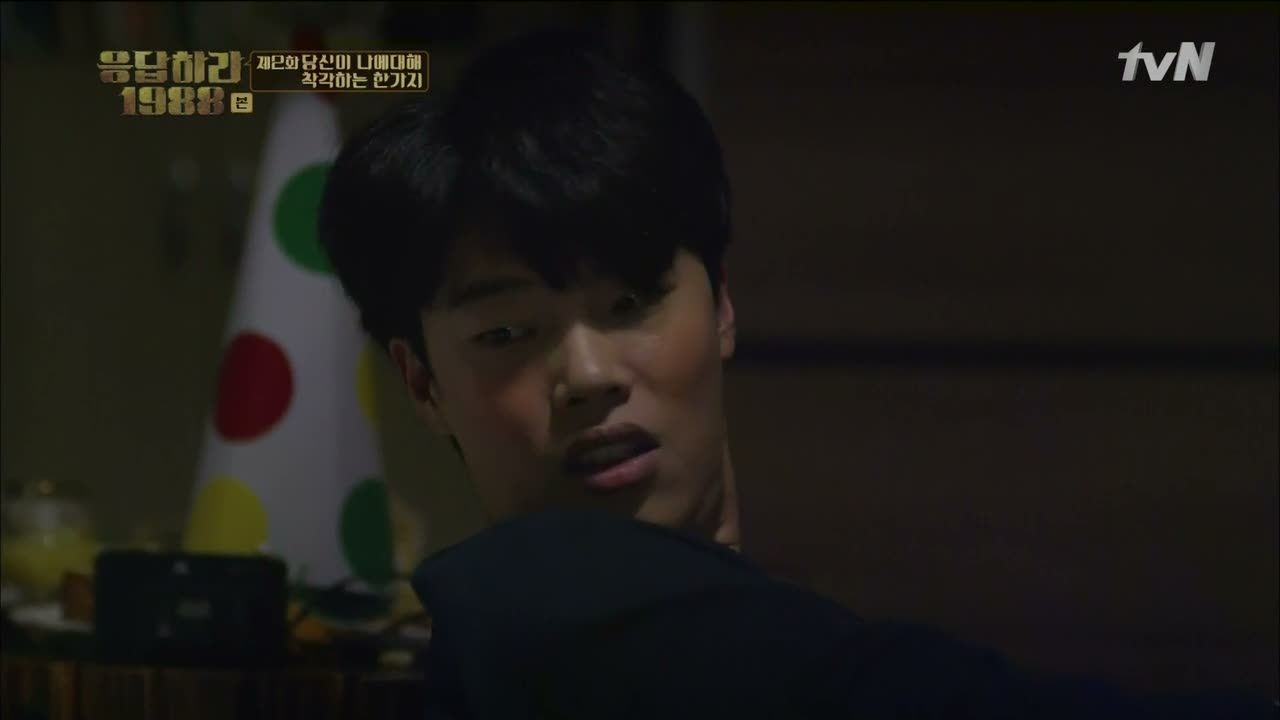 Dong-ryong mentions all the pretty girls in their area, and naturally, the other guys already know the prettiest ones. But then he adds, "Deok-sun is kinda cute lately, no?" He nudges Sun-woo next to him, who grunts in agreement: "Yeah, a little?"
Sun-woo nudges Taek next to him, who smiles and nods too. Last is Jung-hwan, who bolts up and shouts, "You've gone crazy, haven't you? You're crazy!" Oh, you are so gonna eat those words someday.
Deok-sun washes the bad taste of liquor from her mouth and heads to her room, and freaks out when she catches Unni near her diary. Unni denies peeking at it, but Deok-sun is like a dog with a bone, still harping on it as they're lying in bed.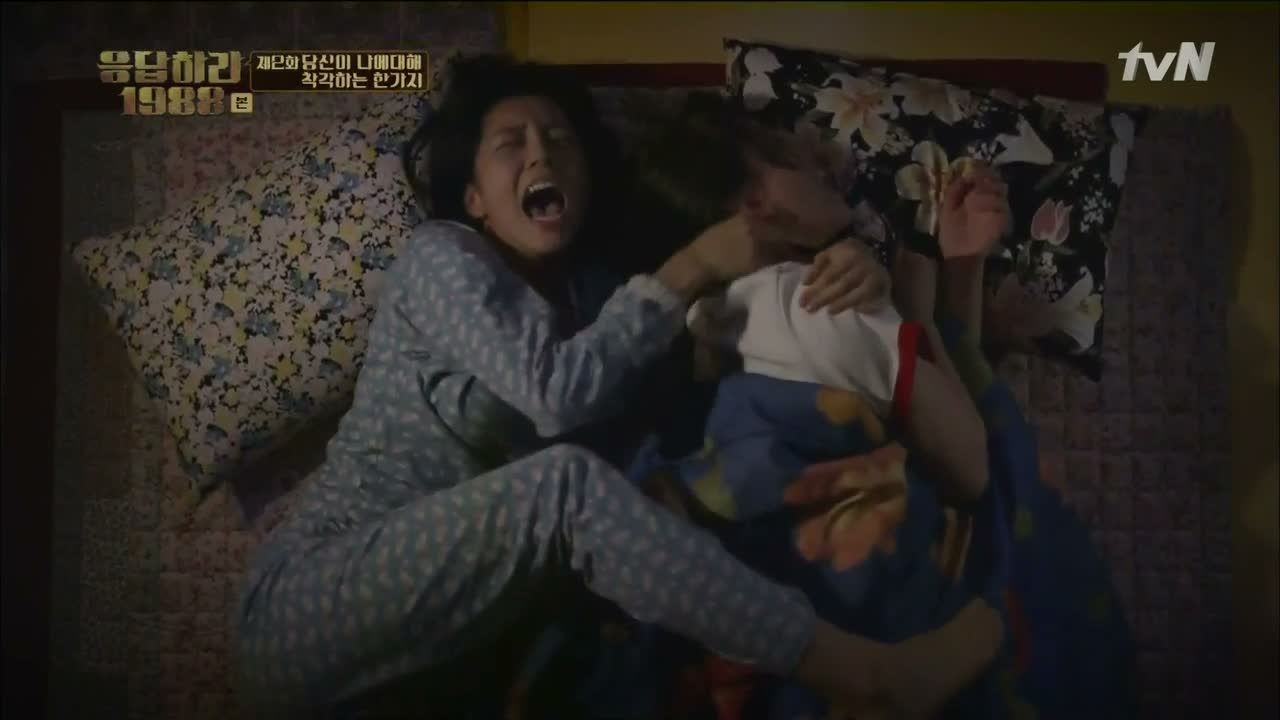 Unni vehemently denies reading it, but then starts quoting verbatim this super flowery passage that Deok-sun wrote about her feelings for a boy (written like it's from a romance novel), and how she worked up the courage to express her feelings. Deok-sun wrestles her to try and keep her mouth shut, but Unni screams, "Mooooom~ Deok-sun likes a boy! She gave him chocolate!" She devolves in a giggle fit, as Deok-sun hits her over and over.
In the present, Adult Deok-sun (Lee Mi-yeon) reads the diary and cringes at the horribly embarrassing writing. Next to her, her husband grouses that she was obsessed with boys at such a young age. It's Kim Joo-hyuk!
Deok-sun accuses him of reading her diary, which he denies. But then he asks whom she gave chocolate to, because he never received any chocolate from her. She hits him for reading her diary, and swears she gave him the chocolate. Husband: "It wasn't me!"
Deok-sun: "It was! …Was it not? It was." He deflates and tells the interviewer that he'll be back after a smoke, and Deok-sun insists that it totally was him, and he just doesn't remember because it was 30 years ago. Though it looks more like SHE can't remember.
But aha—we have the camcorder to tell us who got the chocolate. Rewind to the party at Jung-hwan's house, when Deok-sun stopped to slip a bar of chocolate in one of the boys' bags near the front door.
Then the kids file out to go get ddukbokki: Jung-hwan and Dong-ryong pick up their bags, neither of them the one with chocolate inside. Deok-sun leads Taek out by the hand, but they don't take any bags. And last is Sun-woo, who stops to kiss his baby sister goodbye… and then picks up the backpack with the chocolate bar!

COMMENTS
She has a crush on Sun-woo! Okay, so that has no real bearing on the husband, but I DON'T CARE WHO YOU ARE, KIM JOO-HYUK, LALALALA, and I'm sticking to that! I liked the second episode much better—there were clear story threads taking us along, less introductory exposition, and more time spent with our friends just hanging out together, being friends. And the childhood flashback was a bonus, with those adorable little kids meeting Taek and making him one of their own.
Taek and his father seem so different from the rest of the parents and kids—everyone else is so boisterous, while the two of them are always reserved with their words and expressions. The lonely outsider feeling is pronounced when we see Taek out in the world on his own, and I think I needed that birthday party to reassure me that he was really one of them. I love that they treat him no differently, and that they're kind of unimpressed by his fame. I was about to be sad that Park Bo-gum is playing a character that doesn't speak like, ever, but then he got that moving conversation with Deok-sun's dad and I was moved by the one sentence he uttered, so I can't really complain.
I fully expected Grandma to die when she showed up out of the blue, but I thought the storyline was a surprise, in that it ended up being about sibling love. Through the experience, we get to see a slightly softer side to Unni when she takes care of the others in a way that only an eldest can. For all their hair-pulling, knock-down, drag-out fights, Deok-sun still looks to her for answers and Unni takes care of them in her prickly way. What was really moving was Dad and his younger sisters, holding it all together in front of their friends and neighbors and their own kids, and then completely breaking down as soon as the eldest brother arrived to be their pillar. I don't know why, but it's always so strange to see your parents in a new context—as a sibling and a child rather than a father or mother—and I love that the confusion and newfound understanding is captured through Deok-sun's perspective.
The boys really got to me too, and I love the friend chemistry between Sun-woo and Jung-hwan. They're both proud and strong-willed, and when they clash with each other I'm actually afraid they'll come to blows. I was starting to get mad at the others for teasing Sun-woo about his terrible-tasting lunches (by the way, he's pretty much a saint for eating them without complaint—that made me reflect on the way I treat my own mother, seriously), and I was pissed at Jung-hwan for suggesting that Sun-woo not wear his father's necklace just to appease that stupid bully. But augh, when he threw the first punch to defend his friend, I just about died. Can they be the central love story? I really don't want this bromance to be the end of me. Don't make me choose, okay? Don't do eeeet!

RELATED POSTS
Tags: Answer Me 1988, featured, Go Kyung-pyo, Hyeri, Lee Dong-hwi, Park Bo-gum, Ryu Joon-yeol