Answer Me 1988: Episode 3
Here we go, first love begins as feelings start to creep into friendships, and everyone gets their wires a little crossed along the way. Our heroine experiences firsthand just how loyal her friends can be, even if they might treat her like the annoying little sister on most days. Turns out these boys are just marshmallows—some squishy on the outside and others coated with a caustic candy shell—but marshmallows all the same.

SONG OF THE DAY
Sobangcha – "어젯밤 이야기" (Last Night's Story) [ Download ]
Audio clip: Adobe Flash Player (version 9 or above) is required to play this audio clip. Download the latest version here. You also need to have JavaScript enabled in your browser.

EPISODE 3: "Not guilty if you're rich, guilty if you're poor"
We back up a little to August 1988, where Deok-sun is learning the latest dance moves at the ddukbokki shop. She's got her two besties with her: Mi-ok, the first girl in their school to get braces, and Ja-hyun, the romance novel supplier who shares a desk with Deok-sun.
They're dancing to '80s boy band Sobangcha (Fire Truck), and her friends insist she get the moves right because they only have a month left. The girls immediately stop dancing as the boys walk in, and Deok-sun's friends just gape as she chitchats with the guys.
Deok-sun calls out for more ddukbokki on Jung-hwan's tab, somehow understanding that his grunty, "Hey!" of complaint is actually tacit permission. Dong-ryong calls her by her nickname Special Forces, and Sun-woo asks about her picket girl practice for the Olympics.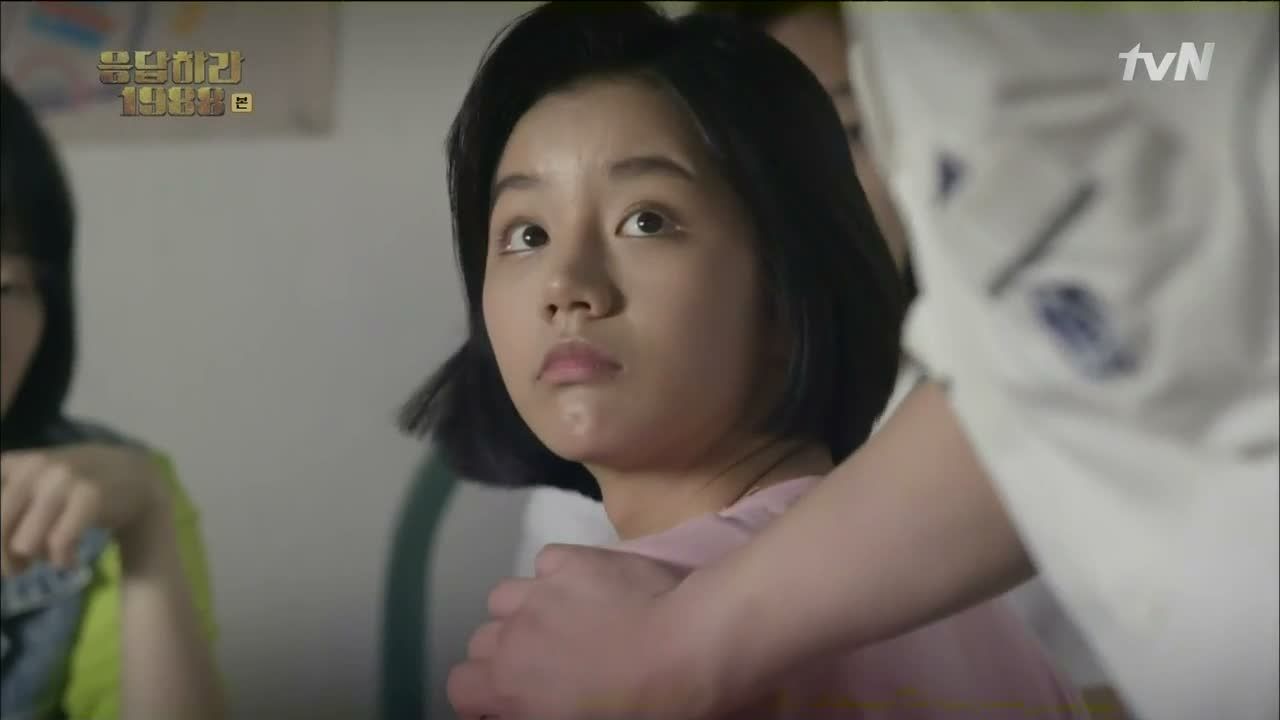 Sun-woo taps Deok-sun on the shoulder to ask sweetly if she wants ramyun too, and though she turns them down because of Jung-hwan's complaining, when they boys leave she has ramyun in front of her and Jung-hwan has paid the whole tab.
Her friends stare agape and wait till the boys are gone to inform Deok-sun that Sun-woo likes her. They're sure of it, insisting that he didn't have to ask her for water or use skinship to offer her ramyun. They congratulate her on getting a boyfriend.
Once the idea has been planted, it's all Deok-sun can think about, and she jumps up excitedly when Sun-woo comes over to borrow white-out one evening. She's suddenly all girly and shy around him, which is adorable.
He's back again at dinnertime, and when Mom and Dad invite him inside to eat, Deok-sun suddenly disappears from the table. She's run inside to change out of her pajamas, and puts on a whole skirt-and-blouse outfit and starts madly caking makeup on her face. This is going to be so disastrous.
When she comes out, everyone gasps in horror at her over-powdered ghost-white face. Dad asks where the heck she thinks she's going looking like that, but she says they're going out for raymun.
She walks out the door with Sun-woo, and in voiceover she says, "In the summer of 1988, the first love of Sung Deok-sun's life—my first love—began."
We catch up now to our original timeline in October of 1988, when the latest thing on the news is a prison break. The ajumma trio sits on their usual perch, and Sun-woo's mom worries about a thief showing up in their neighborhood too. Jung-hwan's mom calls her husband a thief for not fulfilling all his husbandly duties, and picks up a giant sweet potato with a sigh, ha.
Deok-sun's dad arrives home drunk, carrying bags and bags of vegetables that they don't need. This is definitely a recurring thing with him—buying things because he feels bad for other people when they're just as poor. Mom's frustration brings her to tears, and she asks how he can be so cavalier about helping other people when they can't buy things for their three children and Mom's socks are full of holes.
He argues that those who don't have should be helping each other out, and that money is just something that comes and goes. Mom scoffs that she's never really seen the money coming in to know about that.
Upstairs, Jung-hwan's parents are arguing about money too, but in the reverse. Dad's brought home five whole tangerines, and Mom begs him to just spend some money like a regular person. He argues that it was only three years ago that they were dirt poor, but she doesn't want to hear that excuse anymore.
She worries that their kids will become just like their father, and points out that Jung-hwan's hyung is already sensitive and cheap like Dad. Dad says he'll change when he goes to college, but Mom asks if he wants to bet on whether Hyung is studying in his room.
Hyung is slaving away at his desk… over his stamp collection. Mom unleashes her fury in a string of gnarly bleeped-out curses, but then when we cut back to her, she's still standing in the doorway having imagined the whole outburst. She tells him to just keep at it, looking defeated.
Deok-sun asks Dad to buy her a Walkman, but he tells her to just share with Unni, as usual. Deok-sun's friends yell at her for still not having perfected the steps to their dance, when they're supposed to perform it at their school retreat tomorrow.
Deok-sun says she'll do whatever it takes to master it, dead set on getting first place in the talent show. The reason is the first-place prize: that Walkman she's been begging for. Her secret weapon is Dong-ryong, who knows every dance to every popular song.
That night she gets a crash course from Dong-ryong, who mostly teases her for not knowing Sobangcha's moves already. She turns to Sun-woo and Jung-hwan who are just hanging out in the corner of the room, and asks if they know. Sun-woo: "US?"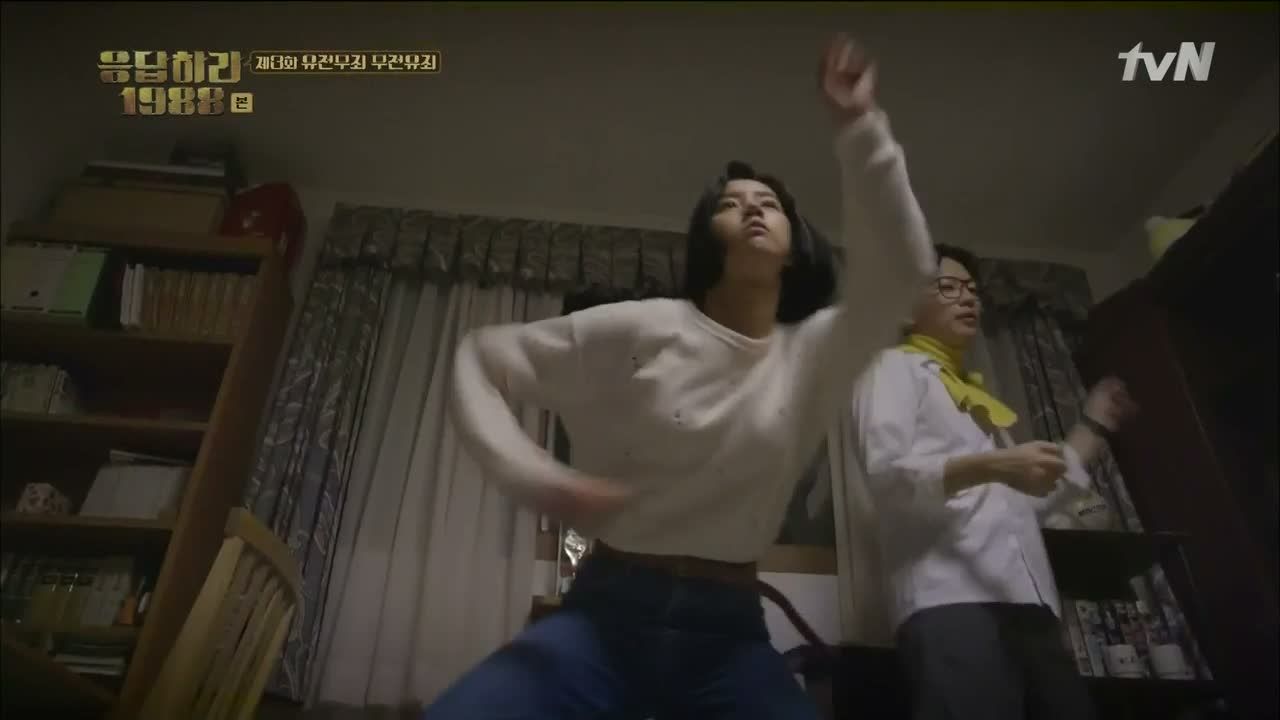 I fully expect him and Jung-hwan to be way too cool for boy band dance moves. But then we cut to Deok-sun's shocked face as she watches the three of them bust out Sobangcha right in front of her. We only get to see her reaction, not the dancing, and Sun-woo tells her that they won first place with this last year.
Dong-ryong prompts her to show them what she's got so far, and Deok-sun points at Jung-hwan and says she'll dance if they shut him up. Sun-woo orders him to stay quiet. Jung-hwan: "I can't even laugh?" Sun-woo: "No, just go to sleep. Okay? Dance."
Of course, as soon as she starts dancing, it takes every last ounce of self-control for Sun-woo and Jung-hwan not to bust a gut. They swallow their laughter and struggle to stay quiet as Deok-sun flails about the room, arms and legs everywhere.
Taek comes home to this madness (ha, they were hanging out in his room the whole time), and just silently leaves again. Deok-sun finishes the routine and asks if it wasn't close, and Jung-hwan falls over from trying not to laugh and says it's not even a little bit close.
Sun-woo says maybe dancing isn't her thing, and she should try something else. Dong-ryong suggests pooling their money to buy her a Walkman, rather than go through this again. LOL.
They open the door and find Taek sitting out in the hallway of his own room, just playing baduk by himself. They're happy to see him and ask for ramyun, and Sun-woo gets up to go cook it, since Taek doesn't even know how.
Deok-sun's mom is scraping the last of her face lotion out of the bottle when Dad comes home with yet another useless thing they don't need. This time it's extra pointless—music for babies—bought because of someone's sob story, like always. Seriously, Dad's bleeding heart is gonna make them broke.
Dad argues that living in a half-basement unit is fine by him, but Mom cries as she tells him that they don't even have enough to give Deok-sun any spending money for her class retreat. And upstairs, Jung-hwan's mom lathers expensive cream on her face and yells at her husband for still wearing an undershirt that's stretched thin.
The kids sit down to eat ramyun, and when Sun-woo struggles to pick up a sesame leaf, Deok-sun helps him out with a sheepish smile. Taek struggles to even pick up a piece of kimchi because his chopstick skills are that bad, and Dong-ryong puts them in his bowl because it's too exasperating to watch.
Taek asks about the retreat, and Jung-hwan guesses that he's a little envious about not being able to go with them. Jung-hwan points out that this is why he told Taek not to quit school, but Dong-ryong shuts him up with: "Last year Taekie earned a hundred million."
Deok-sun still supposes he'd want to come because he's never been to Gyeongju, but then Sun-woo asks where his next tournament is, and he says Tokyo. Aw, I think he'd still rather go to Gyeongju with you guys.
Deok-sun's Dad heads upstairs to borrow money for her retreat, but can't bring himself to knock on the door. Mom already knows this and pushes past him to go in there herself, and Dad slinks away in relief.
She shares a drink with Jung-hwan's mom and tells her about the latest fight with her husband, and the two women share their woes over one husband who spends what he doesn't have and the other who lives as if he's still the poorest kid in the neighborhood even though he's now the richest.
Mom hems and haws over how to ask for money, and Jung-hwan's mom asks if this is about the money she borrowed last time, assuring her that she needn't pay her back right away. Deok-sun's mom can't say anything after that, and leaves without being able to ask. She sits up the rest of the night, not knowing what to do.
Deok-sun comes home and sees Little Bro counting a giant wad of cash in the yard, and he looks rather suspicious as he hides it and says it's his class money that he collected. He seems relieved that Deok-sun believes him.
The sisters fight as Deok-sun packs for her trip, and Mom tosses and turns in bed. She's surprised when Jung-hwan's mom comes down this late at night, bearing a basket of corn. It's not until she's gone that Mom notices an envelope tucked inside the basket, full of money. Oof, that makes me teary-eyed.
There's a note too, scrawled in terrible chicken-scratch penmanship (indicating that she came from a really poor background too), telling her to give Deok-sun spending money for her class trip.
In the morning, Dad makes Deok-sun pinky-swear to guard their family camera with her life, vowing to disown her if she loses it. He gives her two rolls of film and tells her not to waste the shots, and she promises not to lose the camera. Which ensures that she will certainly be losing it, right?
The boys pack too: Jung-hwan takes out the secret bottle of whiskey he's been saving, Sun-woo takes two portions of his mother's kimbap and kisses his kid sister goodbye, and Dong-ryong meticulously mousses his hair.
At Taek's house, Dad struggles to make rice properly, not sure why he keeps getting it wrong. When he calls Taek to the table, Dad notices him staring at a piece of paper and sees that it's about the other kids' class trip.
The kids take the train down to Gyeongju, the girls all singing along to "Nothing's Gonna Change My Love For You," while the boys are busy drawing a bikini on Dong-ryong while he sleeps.
When they arrive, Deok-sun's friends want to take a picture before they get on the bus, so Deok-sun reaches for her camera… which of course she left behind on the train. You lost it before your retreat even started?!
She's so upset that she bawls her eyes out and asks if she can go home, because she doesn't think she can handle the fear of Mom's wrath hanging over her. Her teacher offers to call and break the news to Mom, and though we don't hear the reaction that Teacher gets over the phone, Mom tells Deok-sun not to worry and have a good time.
That's all it takes for Deok-sun to bounce right back and dance on the bus ride. She assures her friends that they'll win first place in the talent show as long as they don't go breaking their arms or something. Oh no, did she just jinx them?
Back at home, Mom's day goes from bad to worse when Little Bro's teacher calls to tell her that her son has been caught selling things to his classmates, which according to the teacher is because he wants to take his girlfriend out. Well that explains the wad of cash.
Deok-sun is eager to get more practice time in before tomorrow's talent show, but her friends are more interested in sneaking over to the boys' guesthouse to watch their talent show. Deok-sun chases after them to try and stop them, but they hop over the wall. There's an unexpected lull of silence, and then SPLAT… and when Deok-sun looks over the edge, her friends are sprawled out at the end of a reaaalllly long drop. Yikes.
When Dad comes home, Mom tells him to go to their son's school tomorrow, and gets angry at Dad's cavalier attitude about it. She seems to be the only one upset that her son has resorted to selling things to have spending money.
Upstairs, Jung-hwan's dad comes home and shows his wife the new expensive jacket he bought on her orders. She's happy that he finally listened to her and bought something nice, only to discover that the zipper is broken and the Polo horse stitched into the front has six legs, hahaha.
Deok-sun's worst nightmare has come true—her friends have casts on an arm and a leg, and their teacher says that Mi-ok and Ja-hyun won't be leaving their room for the rest of the weekend. Deok-sun asks about the talent show, and Teacher says she'll have to go it alone. Deok-sun asks if all she has to do is fill the stage, and says she'll do whatever it takes to do her dance.
She spends the rest of the day craning her neck looking for the boys, and finally discovers their bus as it pulls up. She can't get Sun-woo's attention, but manages to get Jung-hwan, who slings an arm around her and passes her the bottle of whiskey.
He asks her to keep it until tonight because their bags are about to be searched, and tells her that he'll come for it at midnight. He warns her that she's dead if she doesn't come out or if she touches the stuff, or if she loses it.
Jung-hwan just walks away after that, so Deok-sun is relieved when she runs into Dong-ryong, and hugs him excitedly. He refuses to help her out with the talent show though, claiming an allergy to girls. Deok-sun knows how to bait him and says there's a girl in her school nicknamed Joey Wong and another nicknamed Maggie Cheung, because they're that pretty.
It's a total lie—she's referring to her friends Ja-hyun and Mi-ok, who are nicknamed that way because their names sound similar to the actresses'. It works like a charm though, and Dong-ryong wonders how to get Sun-woo and Jung-hwan onboard.
Deok-sun tells him not to worry, sure that Sun-woo will come because of his crush on her. She says that Jung-hwan will come when he utters the words, "Something Special," aka the name of the whiskey she'll be holding hostage.
The talent show begins that night, and Deok-sun's friends worry that the boys aren't coming. Deok-sun is confident that they will though, and smiles when she sees them coming toward her. Sun-woo complains and Jung-hwan tries to run away, but Dong-ryong drags them along.
Dad goes to Little Bro No-eul's school to meet with his teacher, and though he's apologetic in front of Teacher, he assures No-eul that he's not in trouble at all. No-eul is relieved, and Dad asks about the friends who got caught doing this with him. He says they're the same best friends he's had since junior high.
Those friends see him standing there with his dad and call out to him, "Hey, Half-Basement!" Ugh, that is a terrible nickname. No-eul thinks nothing of it and runs over there, but Dad is suddenly struck with the realization that living in a half-basement isn't something to be satisfied with.
It's time for Deok-sun's turn in the talent show, but when her act is called up to the stage, it's three boys who head up without her. Ha, she's brilliant. Also, I cannot wait to see this.
The boys pose with fingers pointed to the sky (this is my new favorite Jung-hwan moment), and then launch into the Sobangcha routine in perfect sync. Naturally, the crowd of screaming girls goes wild.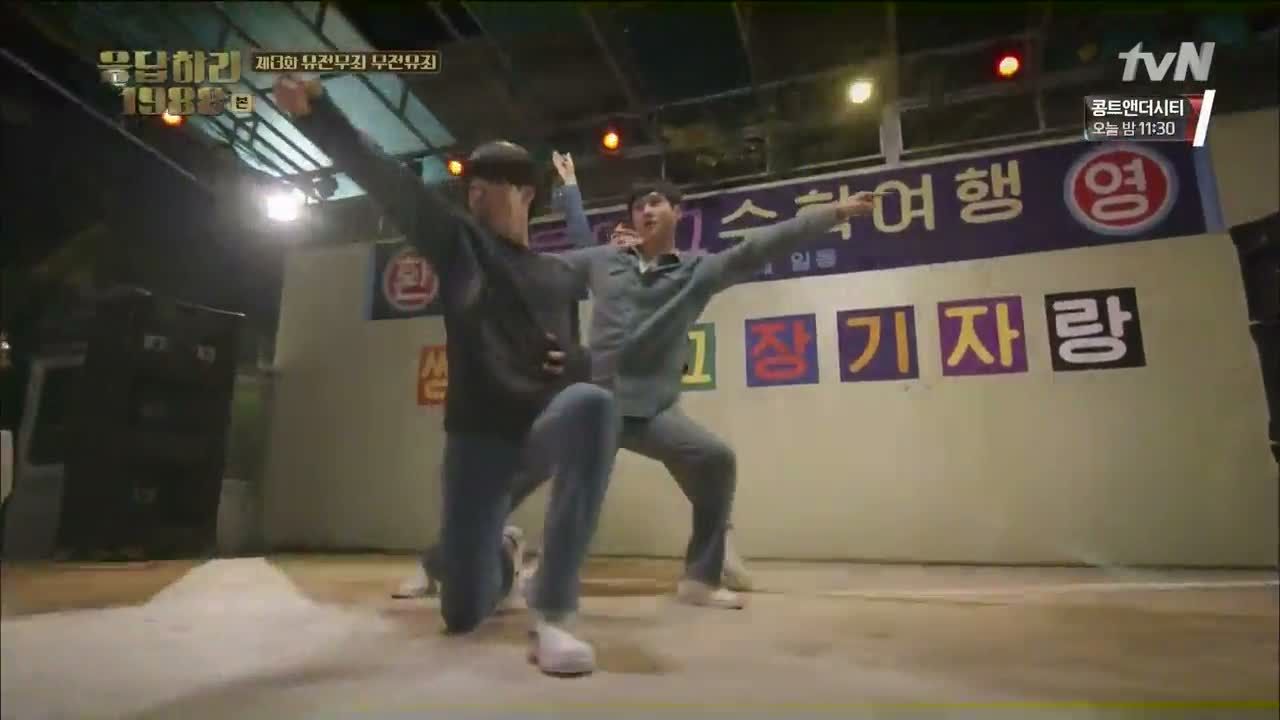 Deok-sun wins her precious Walkman, thanks to the boys. Sun-woo wonders if it makes her that happy when she knows that Unni will just steal it from her, but Deok-sun intends to keep it a secret.
Dong-ryong asks to meet the pretty girls she promised, and Deok-sun dutifully introduces them to Mi-ok and Ja-hyun. When she calls them by their actress nicknames, Sun-woo asks who Deok-sun is then, and she chirps, "Lee Mi-yeon" [who plays Adult Deok-sun in the show]. Jung-hwan snaps at her not to sully Lee Mi-yeon's name.
Dong-ryong drags the boys away before they have to get too friendly with Deok-sun's friends, and Jung-hwan calls after Deok-sun to follow them. He tells her to hand over the whiskey, and Deok-sun realizes she forgot it all this time. She had it when she was talking to Dong-ryong earlier in the day…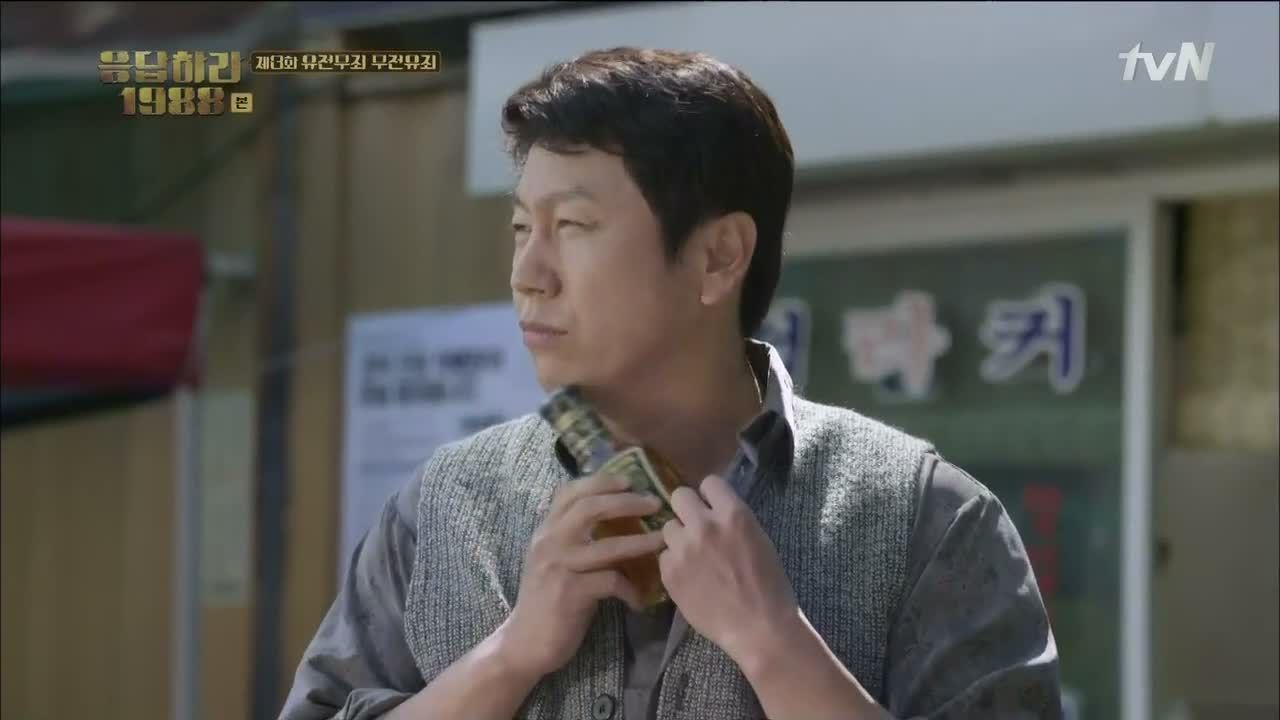 And a flashback shows that she ran off to catch her bus and so did Dong-ryong, leaving the bottle behind at the snack shop. A man comes over and picks it up, and ha—it's a random cameo by Kim Su-ro.
Jung-hwan doesn't even have time to get mad at her though, because their teacher Dong-ryong's dad comes after them for sneaking out. Deok-sun just waves at Dong-ryong's dad, and Jung-hwan has to haul her away so that they don't get caught.
They split up on the way, with Sun-woo and Dong-ryong running up ahead while Jung-hwan chooses to hide because Deok-sun can't keep up. Dong-ryong trips and falls though, and he asks Sun-woo to knock him unconscious before his dad comes. Sadly, they're caught right away.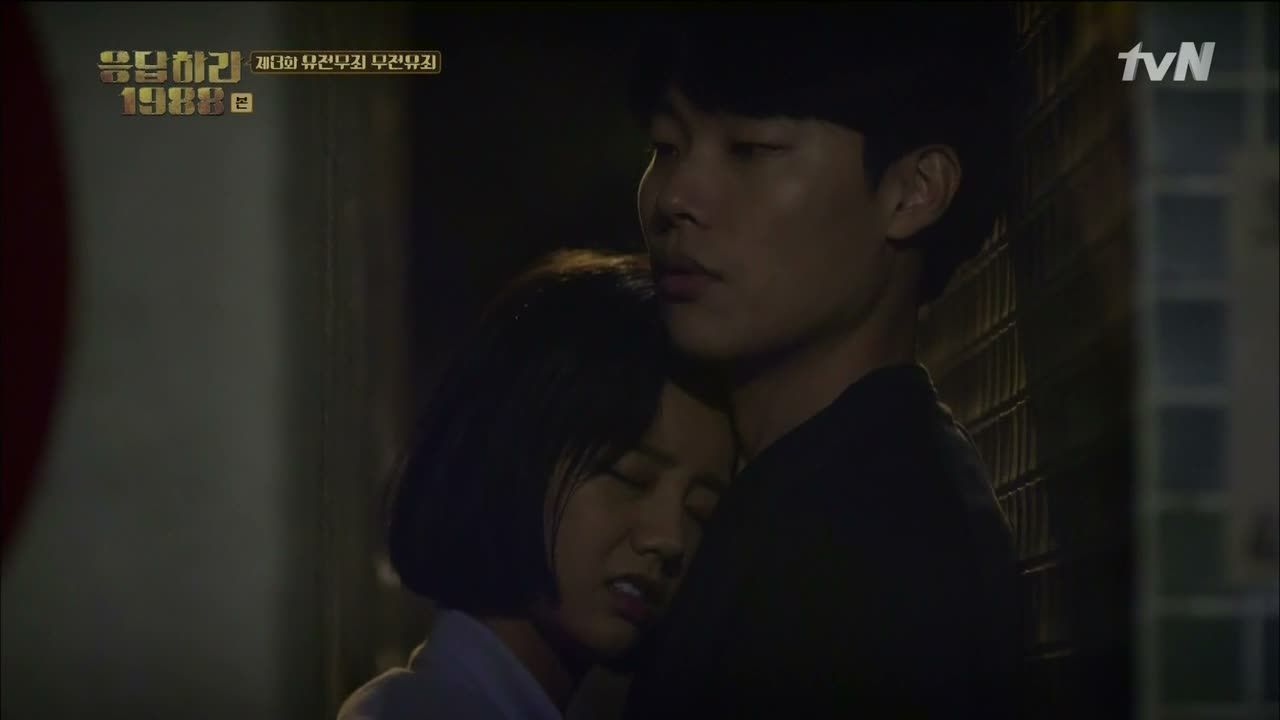 Jung-hwan and Deok-sun duck in between two buildings in a tiny sliver of an alley, with just enough room for two bodies to be pressed up against one another. At first they're both breathing so hard from the running that they don't notice the closeness, and they're snapping at each other like always.
But then she rests her head against his chest in exhaustion, and suddenly he seems to be very aware of just how close they are. Omo.
Dong-ryong and Sun-woo get herded back to the dorm, while Deok-sun and Jung-hwan continue to hide in that space. It starts to get a little awkward for both of them, and they each look away as if that'll make it better.
It only seems to get worse for Jung-hwan, who's aware of every little thing—the way his lips are inches from her forehead, and every point of contact between their bodies. He starts looking strained… Omg, is he… trying to hide a hard-on? I'm not sure, but he looks like he's trying really hard to do something, lol.
Deok-sun seems to notice, and then things definitely get awkward. He tries to press his back further into the wall, which is just futile in that tiny space.
Later that night, Deok-sun sleeps soundly with her Walkman, but Jung-hwan lies awake unable to fall asleep.
Little Bro No-eul runs to fetch Dad at the pojangmacha, who sends him home first and whispers under his breath, "I'm sorry."
Jung-hwan's parents are still fighting over that faux Polo jacket, and Mom asks why Dad still hasn't returned it and demanded his money back from this so-called friend who sold it to him.
She tells him to only keep the good friends, like the one who helped them out when they were completely broke (hiding money in a gift much like she did with Deok-sun's family). But Dad finally tells her the truth—that it was the same friend who once helped them out, fortunes now reversed.
Deok-sun's dad gets drunk at the pojangmacha, and an elderly lady comes by to sell gum at all the tables. He refuses at first, then calls her back to say that this will be the last time. Jung-hwan's dad drinks too, and we see that they're in neighboring tents.
On the television, the news reports on the prison escape and resulting hostage standoff, and the social inequality that led to the prisoners' revolt. The incident popularized the phrase, Not guilty if you're rich, guilty if you're poor, indicating that the rich and poor live by different laws.
Deok-sun's dad sighs that poverty is a crime, which he's just now figuring out. Deok-sun comes back from her class trip with a backscratcher as a present for her parents, only to be met with Mom's wrath for losing the camera and have the backscratcher turned on her as a weapon.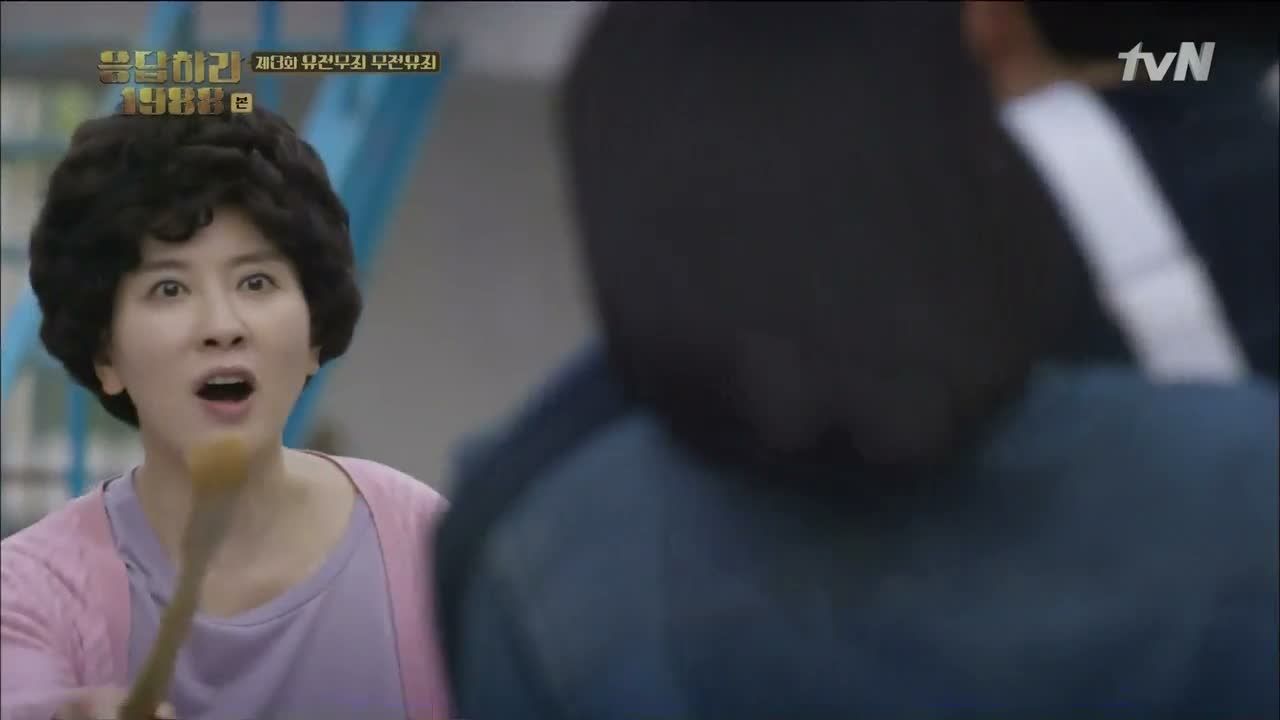 Deok-sun makes a run for it into the yard, where she uses Jung-hwan as a human shield. She's got her arms around his middle like she's backhugging him, and he looks completely out of sorts about it, which is just the most adorable thing.
She and Mom continue to argue and run around in circles, and Jung-hwan just tries not to freak out from the contact. Finally Mom makes her move and swings… and hits Jung-hwan by accident instead.
Mom comes back still furious, and Dad says they'll just buy a new camera, and to stop berating their children. Mom says this is his fault—she wouldn't harp on everyone if he brought home a decent wage.
Dad gets up and walks out, saying that he's going to get rich just like she wants, and Mom shouts for him to just not spend any more money, and that getting rich overnight doesn't happen to just anyone.
Flashback to three years ago in 1985. Jung-hwan's family is poor and living in a half-basement just next door. Mom gets mad at Hyung for his latest obsession—lottery tickets—and takes them away so they can eat.
The TV remains on as the winning lottery ticket is announced, and Mom is the first to notice that the first few digits match. The family is on edge, mostly in disbelief, as the final number is called. It's the winning ticket, and they're so stunned that no one moves or speaks.
Dong-ryong arrives just then with rice cakes in hand from his mom, and finally Jung-hwan speaks, "Dong-ryong, we're moving." Dad bursts into tears and Mom hugs the boys, and soon they're all hugging and crying as Dong-ryong stands there totally confused.

COMMENTS
Well that explains why they're so rich. I've mentioned this already, but I really like the way money has become a major theme by making Deok-sun's family poor. Their financial struggles add such realistic dimension to the family story, and it gives so much meaning to all the small things like neighbors sharing food, or Mom using cosmetics samples instead of buying lotion, or Jung-hwan's mom knowing to tuck money inside a basket of vegetables so that Deok-sun's mom can preserve her pride. The two dads' parallel stories in this episode painted an interesting picture, where they started out as opposites and ended up not so very different at all. I'm with Mom every time Dad opens his wallet to help someone else out, but when we see him in the moment buying gum from an elderly grandma, we see that it's because he has such a good heart. I thought Dad was a little too complacent when he said he was fine living in a half-basement, but it made the reversal land better when he felt so ashamed to hear his son being ridiculed for it.
The episode was full of reversals, from fortunes to expectations. I certainly didn't expect Jung-hwan to be the first to fall for Deok-sun (though who knows what future flashbacks will reveal is going on in Sun-woo's head, or Taek's for that matter). I was bracing myself for him to be frustratingly opaque like Garbage Oppa, but I'm so relieved that he's not—he might be tough on the outside, but he's kind of terrible at hiding his feelings, which I love dearly. And contrary to what he seemed like at the start—way too cool for boy band dances, that's for sure—he surprises us all with that performance at the talent show.
Not to leave out Sun-woo, of course, who seems like the natural choice for Deok-sun's first crush. I do think that her friends were reading too much into it at the ddukbokki shop—he's that nice all the time, and not just to her—but I found it more suspicious that he came to borrow white-out when Jung-hwan lives right there. In any case, it was a fun reversal to have Deok-sun announce that her first love was starting with Sun-woo, only to end the episode with Jung-hwan twisted in knots.
I actually like where the lovelines are going, with Jung-hwan falling for Deok-sun, who's falling for Sun-woo. This love triangle actually feels evenly matched, which I guess is both the upside and the downside of it. But because they're all friends first, there's so much humor and affection just between all of them as friends, and I enjoy that that's the emphasis in the story. I know, I know, I'll be kicking myself for saying that I like it when one (or three?) of the boys is crying over a broken heart down the line, but right now the awakening of feelings bit by bit is too priceless not to enjoy. I mean, who knew that the bad boy was going to turn to geeky jello at a girl's touch?

RELATED POSTS
Tags: Answer Me 1988, featured, Go Kyung-pyo, Hyeri, Lee Dong-hwi, Park Bo-gum, Ryu Joon-yeol