D-Day: Episode 14
For anyone who believes we don't get enough of Director Park trying to ruin everything, this episode is for you! Wait, is there anyone who believes that? Yeah; didn't think so. On the bright side, Woo-jin finally realizes just how corrupt the eeeeeeeevil Director Park truly is, and the robot doctor grows a conscious as he decides what's more important — saving his career or saving a life.
EPISODE 14 RECAP
After Hye-sung's successful drill surgery to release the hematoma, the DMAT crew rushes their new patient to the hospital for a proper surgery. Meanwhile, Director Park gleefully pretends to compose Beethoven's 5th Symphony, completely unaware that the brother-in-law he thought died in the landslide is actually still alive.
His bubble of evil anticipation is burst when Myung-hyun interrupts, letting him know that the ambulance is on the way and Chief Kang is readying the surgery room for Woo-jin to perform brain, thoracic, and abnormal surgery on his brother-in-law. Director Park tries to act supportive but mostly he's just grumbling and looking for any excuse for the surgeries to fail.
As they prep the patient for surgery, Woo-jin scrubs up. When Director Park asks to speak to him privately, he assumes it's to warn him to be extra careful because he'll be operating on a member of Director Park's family. But instead he wants Woo-jin to fake the surgery and find a reason to insist it's impossible.
Woo-jin, being not quite as morally depraved as Director Park, is shocked by this request, but Director Park points out that since his nephew died, the entire plan for the hospital has changed. It'll be nearly impossible for Director Park to become the president of the hospital now, thus making impossible for Woo-jin to become a director (since everyone knows they're two peas in a pod).
It's "all or nothing" as Director Park says he'll wait for him after the (failed) surgery. While a wordless Woo-jin steps into the surgery room, Director Park looks down at the hospital atrium, happily imagining the day when he'll take over Mirae Hospital. He even practices his welcoming speech.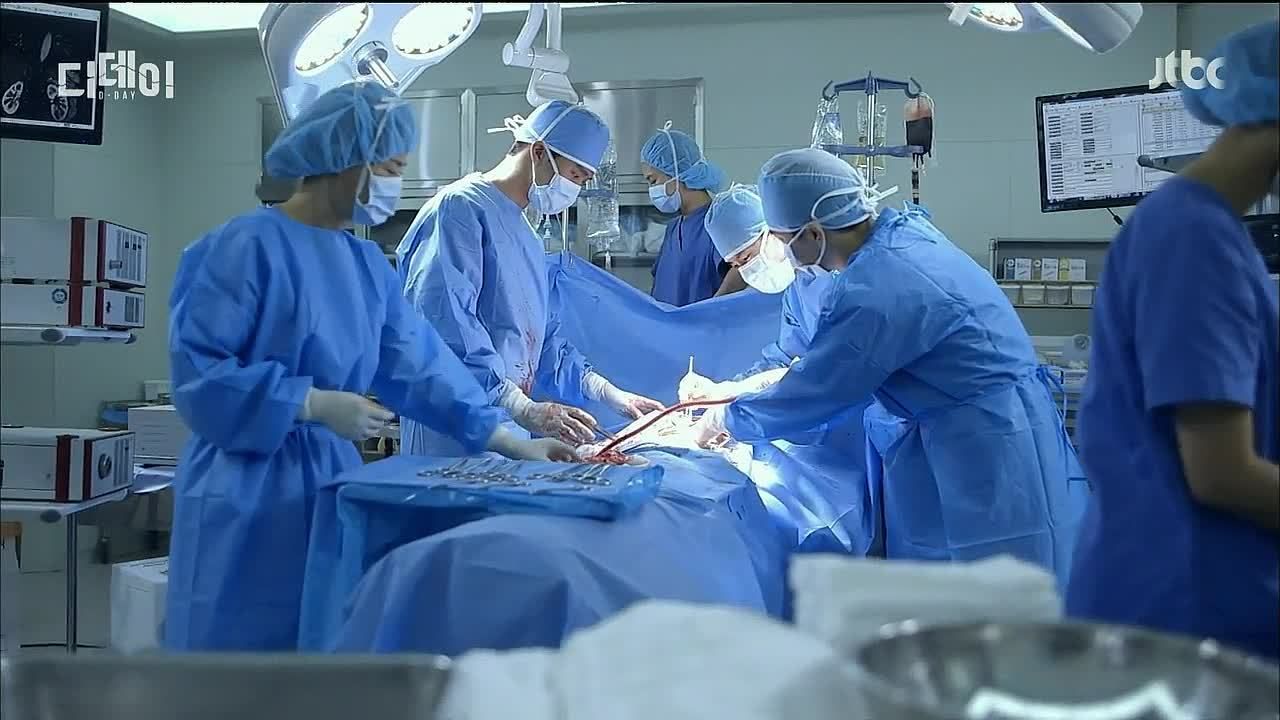 In the surgery room, Woo-jin not only struggles with Director Park's orders, but his failing vision. His staff are worried because they're not sure how to perform this surgery, either. Woo-jin tells them that this is a bigger surgery than he can handle. Oh no, is going to go along with Director Park and say it's impossible?
Instead, he orders them to go find Hye-sung, since he's the only other one who can perform this surgery. Oh, whew. Hye-sung arrives with his loyal crew of Ddol-mi, Dae-gil, and Ji-na, all scrubbed up and ready to go. He's slightly surprised that Woo-jin so easily hands over the surgery to him, but he effortlessly takes over.
Director Park's sister sits in her brother's office, crying over the random, unexpected natural disasters that took her son's life and may possibly take her husband's life, too. She cries out to God, asking if her husband dies, why can't she die, too? Director Park tries to reassure her that Woo-jin is an excellent doctor and everything will turn out fine, but he also keeps glancing at his watch in anticipation of Woo-jin telling him they were unable to save his brother-in-law's life.
It's taking longer than expected, and Director Park goes to investigate matters himself. He's surprised to find the original surgery team in the ER ward. The nurse explains that Woo-jin had asked for Hye-sung's help, so they were swapped out with Hye-sung's assistants. Furious to realize the surgery is still going, Director Park storms down the hallway to the operating room.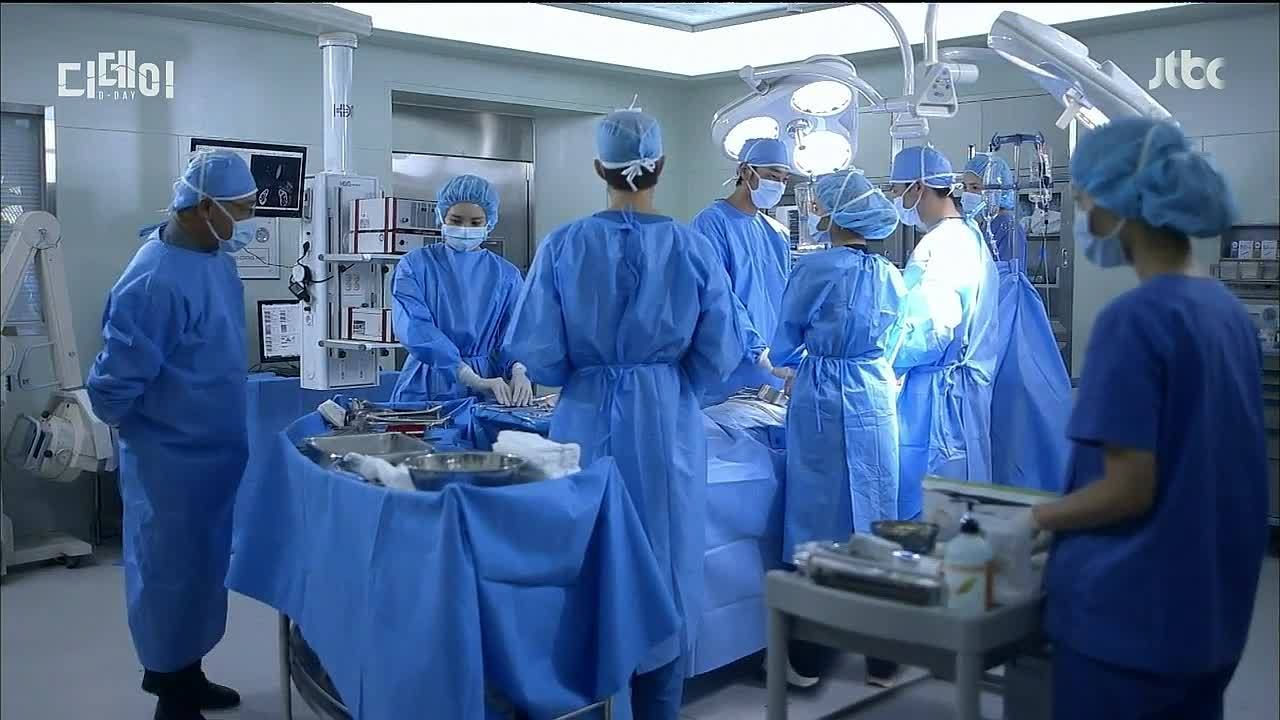 Hye-sung and Woo-jin are working together in beautiful teamwork (at which Ddol-mi adorably marvels) when Director Park enters. He compliments the team on working hard, excusing his appearance as just "familial concern." Yeah, right — concern that you might lose your precious hospital, you mean.
He asks if Woo-jin handed over the lead surgeon role to Hye-sung because he wasn't confident in his abilities for such a tricky surgery, and Woo-jin hesitates for a second before asking if they shouldn't do all they could to save the patient, especially considering how much effort DMAT went through to bring him to the hospital in the first place.
Director Park agrees that if it's a matter of DMAT's reputation, then of course they should try and save the patient. However, Hye-sung is no longer a doctor at their hospital, and when Woo-jin reminds Director Park that his brother-in-law hired Hye-sung back on, Director Park informs him that his sister signed the paperwork to have Hye-sung fired.
Woo-jin doesn't think it should matter if a surgeon is no longer officially working for the hospital — in cases like this, expertise should be the most important thing and they should be pooling their skills and abilities in order to save a life. Director Park questions Woo-jin's declaration that Hye-sung is an "outstanding doctor," but Woo-jin simply states that a surgeon recognizes another surgeon.
Since Hye-sung's emergency cranial surgery was a success, he thinks it's best for them to complete the surgery. He asks Director Park to leave so he won't be a disturbance to the team. As he does so, Director Park warns Woo-jin that he must absolutely be successful in the surgery, because since he was the one who decided to bring in outside help, Woo-jin will be solely responsible for the outcome. Yeah, yeah, we know — because Director Park is never responsible for anything except being eeeeeeeeevil.
After the surgery, Ji-na cleans up the equipment while Woo-jin rests against the table. She thanks him for saving her uncle's life and he marvels at what a difference it is to perform surgery with a robot versus face-to-face (or face-to-abdomen?).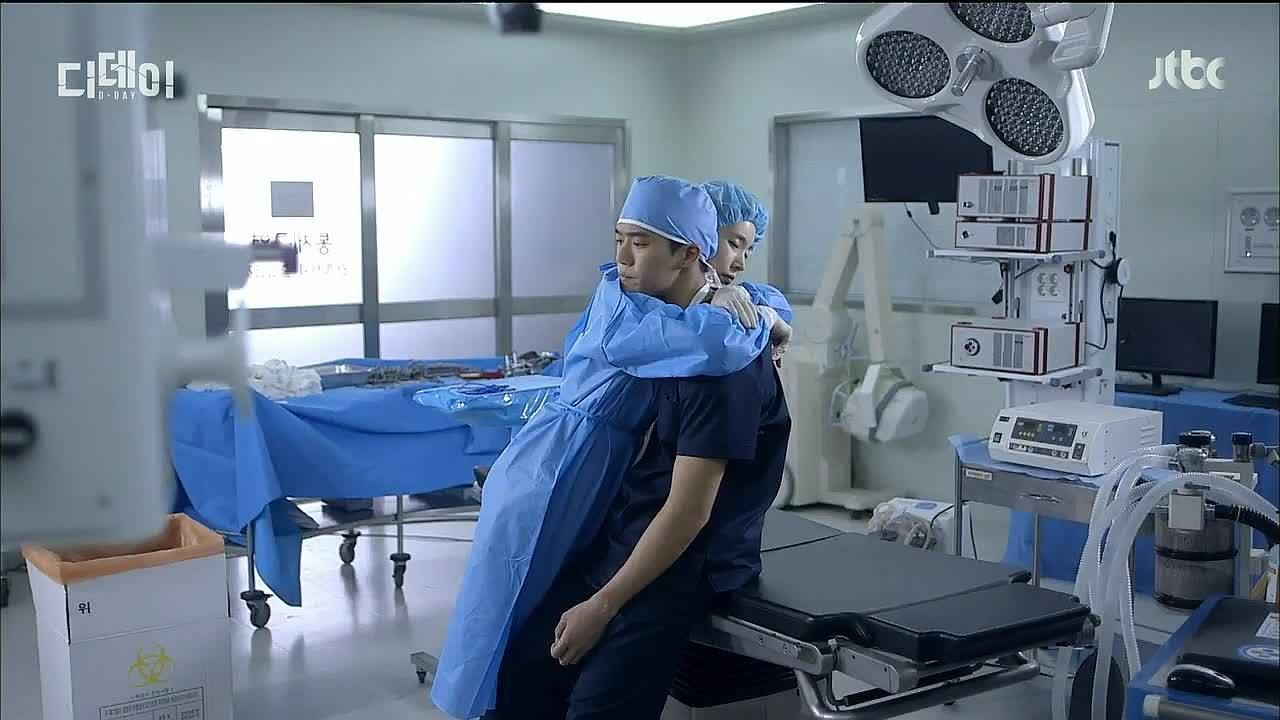 He sighs that it's difficult, saving the lives of someone who so desperately want to live, yet you may never hear a word of gratitude. Quietly, he apologizes to Ji-na, asking if it's too late. Sensing his emotional sincerity, she walks over to hug him, and he tells her he realizes why she left him.
Out of his scrubs and back in his coat, he prepares himself to face Director Park and his sister. She's relieved to hear that the surgery went well, but Director Park can barely hide his disdain. Woo-jin tells Director Park's sister that she actually has Hye-sung to thank, since without his emergency cranial surgery, they wouldn't have been able to bring her husband back to the hospital alive.
When Woo-jin excuses himself to go check on his patient, Director Park tells him to take a rest — he'll look after his brother-in-law himself. But Woo-jin politely refuses, saying he should take full responsibility, and Director Park wonders if Woo-jin doesn't trust him.
Oh, the double-speak is delightful, as Woo-jin notes that Director Park is an excellent doctor as well as the patient's relative, so why would he be asking if he trusts him. Director Park pointedly explains to his sister that Woo-jin's sense of responsibility is especially strong today. Yeah, I just bet it is, since he decided to not be an accomplice to murder.
Meanwhile, Seo-hyun's vitals are dropping to dangerous levels but they can't do anything due to lack of equipment. Hye-sung says they'll have to operate, but Captain Choi snatches the chart out of his hands, telling him to stop pretending. Hye-sung will perform an emergency surgery on the side of the road for a patient who is rich an important, but he doesn't need the hospital to put on a show for appearances when they won't help his daughter.
That's a challenge for Hye-sung can't help but accept, and he orders the surgery room to be prepped. It'll be a dangerous surgery, one he's never performed, and it might not end well, but he'll do his best. Captain Choi, surprised by Hye-sung's sincerity, gives him his blessing.
Ddol-mi finds Dae-gil napping and wakes him up in the best big-sister way of pulling on his hair. This is no time for sleep — there's another surgery to perform! They wheel Seo-hyun to the surgery room and as Ddol-mi tells her parents to wait outside, she says that even though they'll do their best, they can't promise the results. Even so, she encourages them to trust in Hye-sung. It's a quiet, tender moment as Captain Choi and his wife tearfully watch his daughter disappear into the operating room.
Everyone's exhausted from their previous surgery, and Ddol-mi worries about how difficult it will be for Hye-sung. She wonders if it will end up like Ji-won's surgery, and both of them hope it won't. Even so, it's a surgery no one has performed before, and although everyone is sleepy, Hye-sung asks his little team to do their best.
Woo-jin watches over his new VIP patient when Director Park enters the room. Why didn't Woo-jin go through with the fake surgery, like he had asked? Because Woo-jin's a doctor — someone who's studied medicine in order to save people. He's not corrupted enough to sacrifice a life for his own personal gain, especially if that life can be saved.
Is Woo-jin is implying that Director Park isn't a doctor? But how could Director Park save a life when they don't have the proper equipment? He just didn't want to unnecessarily prolong his brother-in-law's suffering. Uh-huh, sure. However, Woo-jin has seen patients survive despite impossible circumstances, so he believes there's still hope.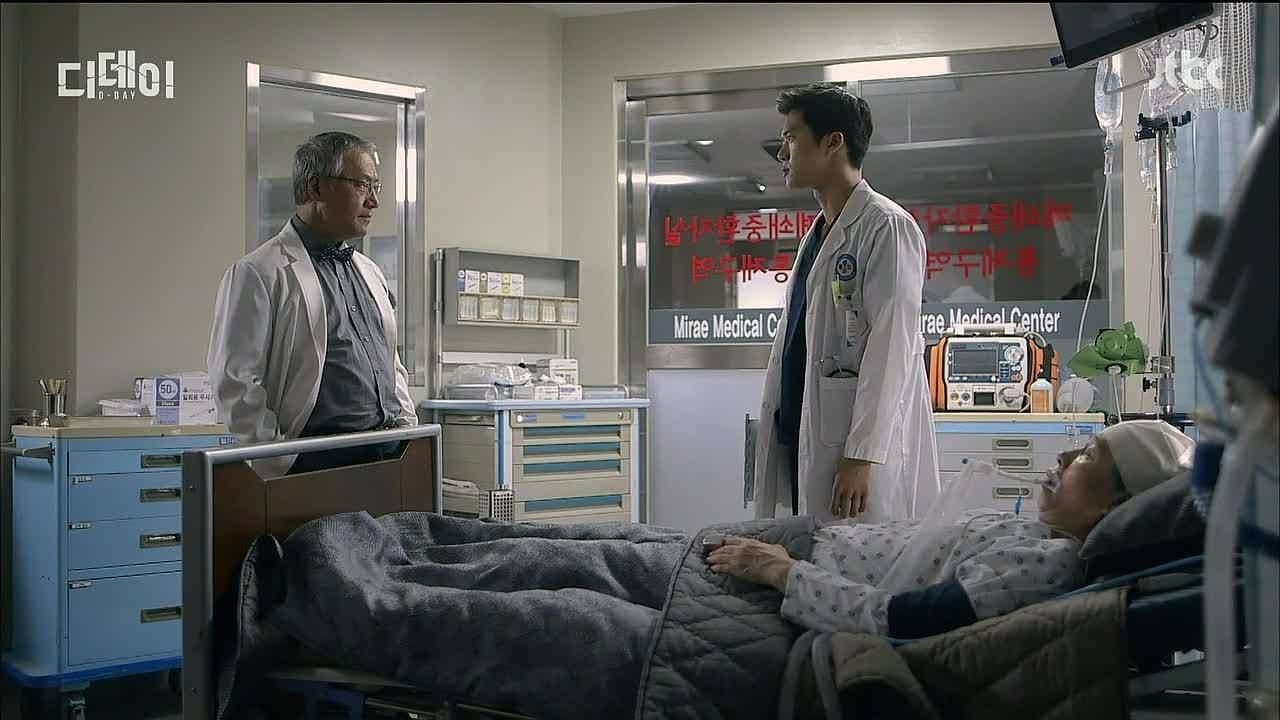 Yes, but Woo-jin is tied to Director Park — has he forgotten that? Will he regret jumping ship? But Woo-jin points out that if the boat is pointed in the wrong direction, then it's best to leave in the middle of the journey, anyway. Director Park reminds him that Woo-jin will take full responsibility for putting a surgeon with PTSD in charge of the operation. Oh, and if Hye-sung knew about Woo-jin's malpractice with his mother's surgery, what do you think he'd do?
After that blackmail threat, Director Park saunters out. His parting shot is to remind Woo-jin that even if one jumps ship in the middle of the journey, it's still a vast ocean. That sounds vaguely ominous.
Hye-sung is deep in his surgery on Seo-hyun, but Dae-gil keeps dozing off. When Ddol-mi kicks him awake, he accidentally falls forward, disrupting the surgery and spraying blood as Hye-sung yells for another clamp to stop the flow. Ddol-mi yells at him to focus, but Dae-gil yells back that he's human, not a surgery robot, and then storms out, telling them they can pick a new doctor to help them.
He slumps down in one of the chairs next to Myung-hyun, telling him he got kicked out for not having enough skills. Myung-hyun laughs at him, but Dae-gil turns it back around, saying they were actually clamoring for Myung-hyun since he's "Mirae Hospital's best fellow." Pfffft, whatever, but it at least gets Myung-hyun on his feet and proudly informing anyone who can hear that he's needed in the surgery room.
Captain Choi is out in the field with the other firefighters, but he takes a moment to step aside to radio to the hospital, asking about his daughter. Chief Kang tells him that she's still in surgery, but they're doing the best the can and will let him know. Aw, poor worried papa.
He's got more to worry about as the fire chief yells at him for spending to much fuel and water resources on fighting fires. Well, that's what firefighters do. Duh. But the fire chief says putting out fires isn't as big a concern as saving lives. The two men nearly come to blows before Ja-hyuk intervenes in his smooth, political way.
Ja-hyuk knows the firefighters are working hard, but right now the resources are needed to rescue people and not put out fires. Ugh, he treats Captain Choi like a child by snapping his fingers in his face, telling him to focus.
Apparently Captain Choi gets the message, however begrudgingly, because when the firetruck is later stopped by some desperate citizens begging for help in putting out a fire in one of the buildings or they'll lose everything, Captain Choi orders his men to drive on. Ja-hyuk watches from his car as the angry citizens pelt the firetruck with rocks. Just wait — he, Gu Ja-hyuk, will make sure everything is rebuilt as new again. That's a promise.
Myung-hyun marvels at Hye-sung's ability to fix Dae-gil's mistake (and his neat stitches). But Hye-sung is just trying to wrap up the surgery. He orders Myung-hyun and Ddol-mi to finish stitching her up (and no "crying tears" this time!). Ji-na is the seepy one now, dozing off as she holds the equipment.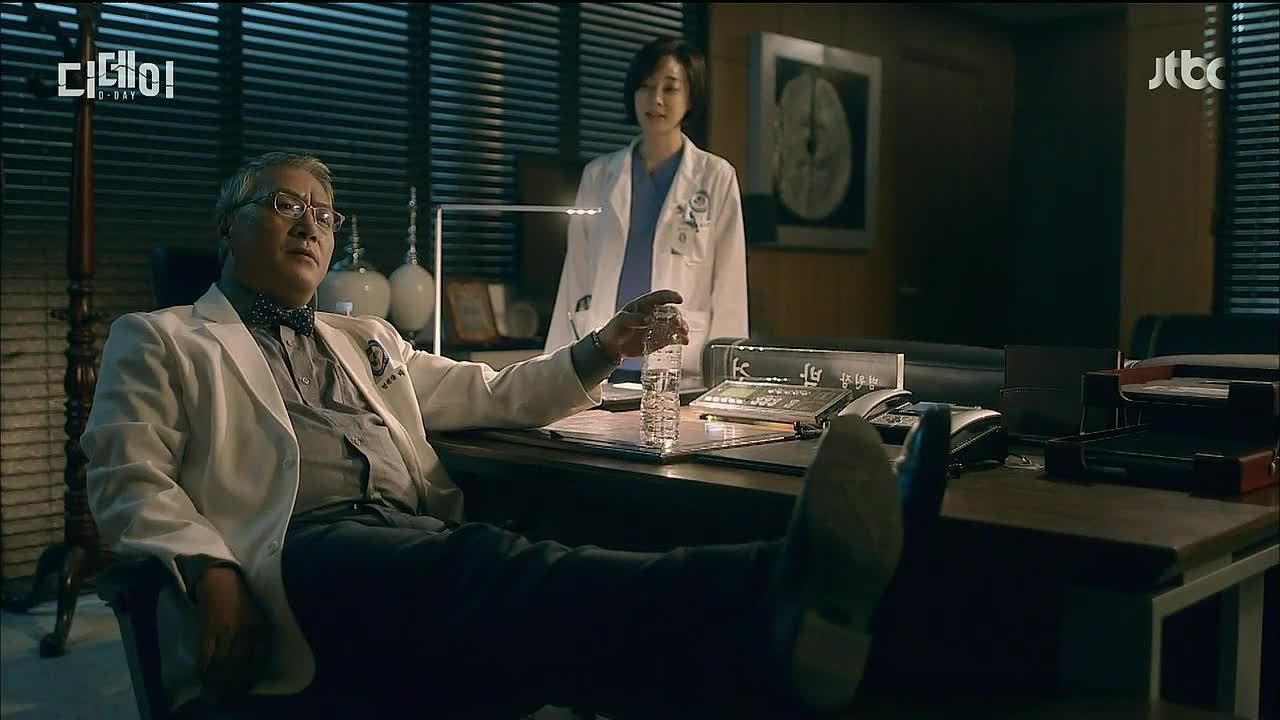 Director Park sits in his office, dwelling over what he should do about his brother-in-law. He's a bit cranky when Chief Kang arrives to tell him that welfare services wants to make Mirae Hospital a base of operations for disaster response. That definitely doesn't improve his mood, and when he finds out Ja-hyuk is in Chief Kang's office, he barges in, demanding to know what he's thinking.
Ja-hyuk points out that Mirae Hospital has been impressive with its emergency response and DMAT team, so the government officials want to use it as a base. When Director Park points out that a lot of their equipment is broken, they don't have enough supplies, and they're low on staff, Ja-hyuk promises that the government will give them new equipment and supplies.
As much as Director Park tries to protest, Ja-hyuk has the upper hand, having answers for all of Director Park's concerns. Despite Ja-hyuk's promises, Director Park still doesn't trust the government. Ja-hyuk finally has to just yell at him to trust the government, because it's not like he has a choice. Besides, Ja-hyuk is willing to sweeten the pot by hinting that there's going to be a new Minister of Health and Human Services, and Ja-hyuk is going to nominate a replacement. Yeah, give the evil meglomaniac more power. Seems like a good idea.
When Director Park returns to his office, he passionately soliloquizes about how hard his life is right now, with Woo-jin deciding to jump ship and Ji-na turning her back on him, and, of course, the disaster that is his brother-in-law still being alive. But all his difficulties revolve around Hye-sung.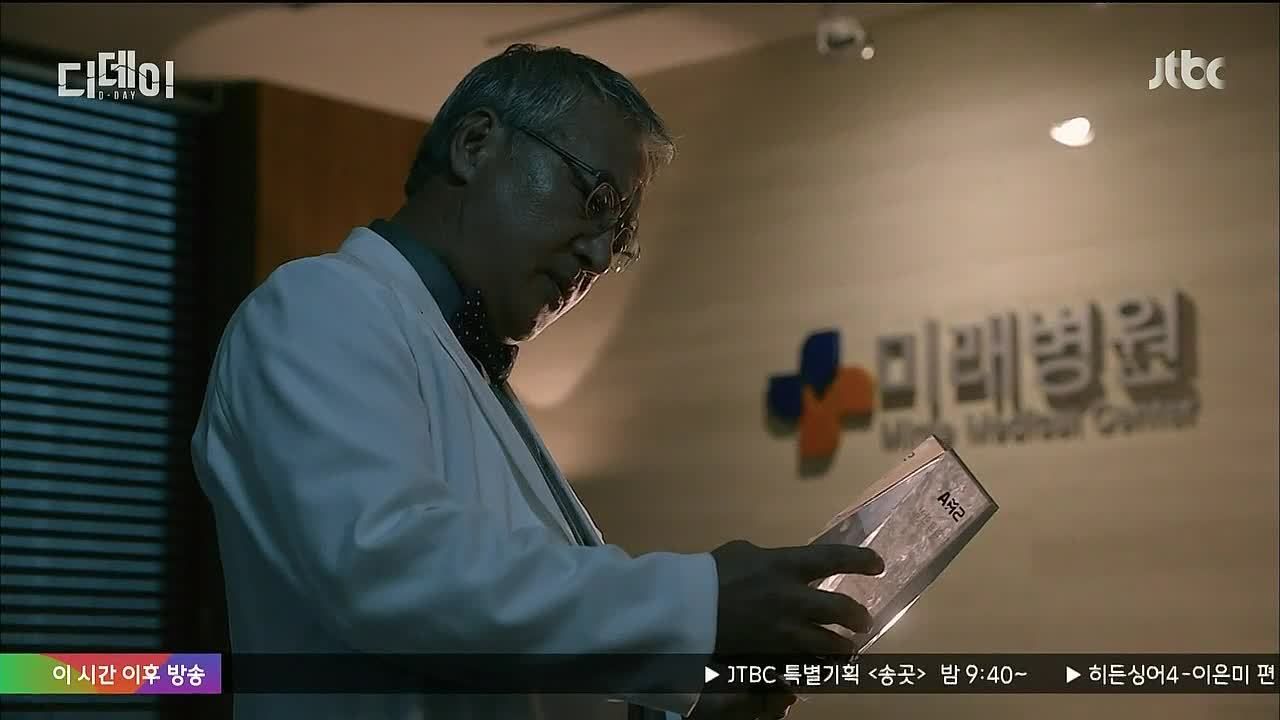 If they get the equipment to perform brain surgery on his brother-in-law, he will have to be the one to perform the surgery. He glances over to a shelf bearing his multitude awards and selects of particularly heavy one, and angrily smashes his fingers with it. Yikes. It's hard to tell if it was an accident fueled from his rage or on purpose, but I'm leaning towards the latter.
Ja-hyuk is reveling in his political persona as he hands out meals to everyone at Mirae Hospital. He spends extra time with Dong-ah and Chief Kang, of course. She teases him about having dreams of becoming president, which he denies, saying he's going to stay close to home so he can take care of their children (but of course we know he's totally lying).
After Seo-hyun is wheeled into the ICU after her surgery, Hye-sung orders Ji-na to get some rest. Ddol-mi will take over watching over Seo-hyun. She wonders if there might be a better treatment than the one Hye-sung prescribes, based on her experience at her hospital with Busan. Aw, she adorably beams with pride when he agrees with her.
Director Park selects Myung-hyun to treat his fingers that got hurt when "something heavy dropped on them." Well, that's not exactly a lie. Myung-hyun's doctoring skills aren't the only reason he was selected — Director Park has found his new right-hand man, as he asks Myung-hyun to become his informant about what is going on in the hospital. Of course kiss-up Myung-hyun is delighted by this honor.
Even though Seo-hyun's surgery seemed to go well, there's still no guarantee that it will save her life. As Captain Choi's wife weeps over the fact her daughter won't be able to dance again, Captain Choi stoically tells Hye-sung and Ddol-mi that he's put his daughter in their hands and trusts them to do their best.
Whether she lives or dies, he won't resent them or demand they take responsibility. He's just thankful for their efforts so far. Aw, those seem like just the words Hye-sung needed to hear, because that I'm suddenly realizing how long it's been since we've seen him smile.
Woo-jin finds Ji-na napping in one of the waiting chairs and sits down next to her. He doesn't say anything, but she senses someone next to her and wakes up. He's worried that she's feeling sick, but she tells him that it's just exhaustion. Those chairs don't look very comfortable, though, and he escorts her to his office and invites her to sleep in one of his cushy armchairs.
She's hesitant at first, but he says he'll be busy looking after his patients so it's no bother. As he sets her up with an IV drip, she asks about her uncle. Woo-jin says that it's up to the heavens, but he and Hye-sung will do all they can to safe his life. When Woo-jin tucks a blanket around her, she gently grabs his hand, thanking him.
He thanks her, too, because he was given the opportunity to love her at one point. Ji-na teases him for making it sound so officially over, and there's definitely some chemistry left between them as they gaze deep into each others eyes. But after he walks away and closes the door behind him, he quietly adds that he's thankful because soon he'll only be able to see her in his memory.
Once again, Chief Kang is in front of the intercom. This time it's not by choice — Director Park is the one who's ordered her here, and she asks him if it's really necessary — can't they just kick Hye-sung out? But Director Park points out that doesn't work because he just keeps coming back and performing surgeries. No kidding.
As Ddol-mi and Hye-sung celebrate that Seo-hyun's vitals are returning to normal, Chief Kang's voice rings out through the hospital, requesting all the upper-level chiefs to come to the conference room for a hearing on whether or not Hye-sung's medical license should be suspended.
COMMENTS
Really? Really? It's only a few days after a devastating earthquake and you're going to take the time to hold a hearing to revoke the medical license of one of the best ER surgeons you have available? Really?
I was all excited for the DMAT to get back out on the streets, and especially for some off-the-book wild life-saving techniques like drilling through a guy's skull with whatever tool is handy. That kind of drama is exactly what I was hoping for in this show. The more ridiculous and impressive, the more entertaining and edge-of-your-seat. I don't care if it's not realistic — I just want to see the doctors and firefighters work together to save people in all sorts of impossible situations.
What I don't need to see more of, however, are surgeries. This is probably why I don't watch a lot of medical dramas — it's just hard to keep up the dramatic tension when you've got all your pretty actors in scrubs and you can only see their eyes, performing surgeries that all look alike to me (if I can look at them at all, because I'm squeamish like that).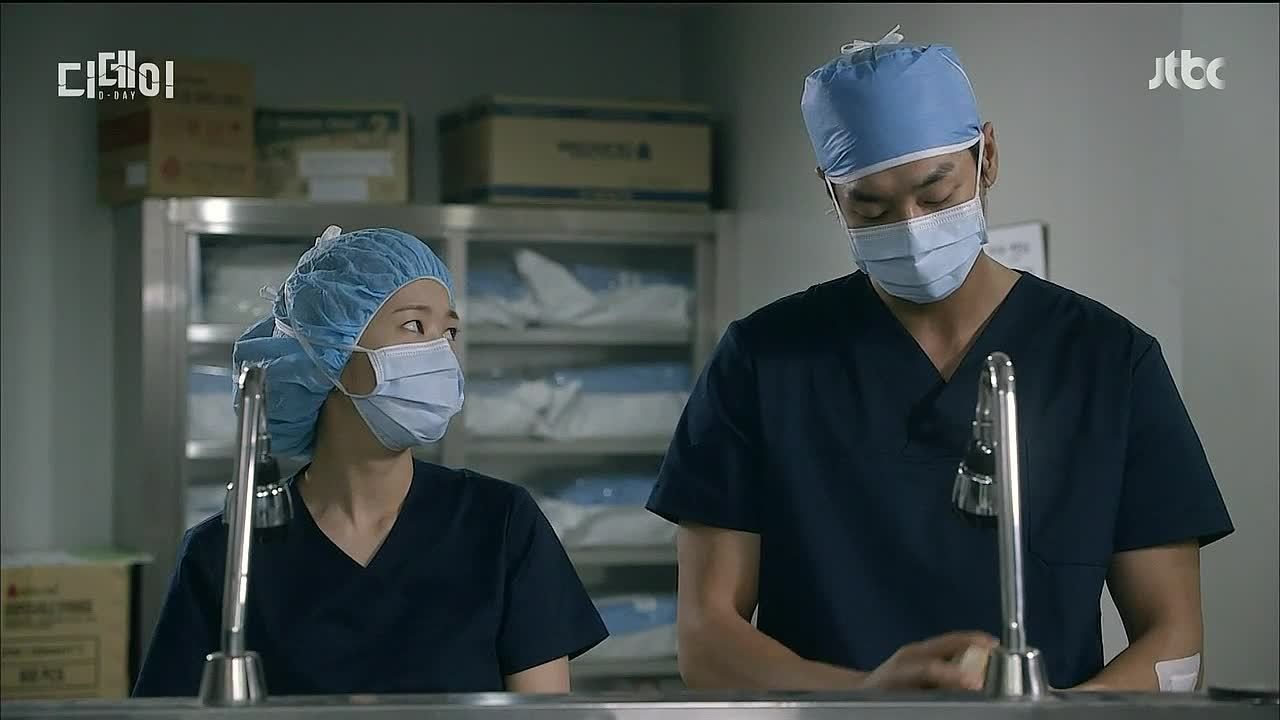 So I was pretty disappointed that once again, we're stuck back at Mirae Hospital. What's the point of establishing a DMAT if they're going to spend all their time at the hospital? I'm so tired of Mirae Hospital — if nothing else, can't we spend more time with Captain Choi and the firefighters? I just really like getting glimpses of the outside world. I think I might even be happy if they'd leave the TV on in the background when it was showing something other than an interview with Director Park.
Speaking of which… how is he still in charge of anything? I don't know how the show expects us to take him seriously at all anymore (if we ever did). Is he supposed to be crazy? Because I get the feeling he would literally dance (or conduct a symphony) on his brother-in-law's grave if he gets the chance to make sure Hye-sung and Woo-jin's surgery "failed." He's definitely unhinged, with severe anger issues and some sort of narcissistic personality disorder.
It just feels super melodramatic, which I guess is fine — this is a drama, after all. But even if Director Park was understandable as a villain (or at least an antagonist) because he was concerned about malpractice suits, this whole thing with his brother-in-law just feels like a step too far. There's already a villain in this show: mother nature, with her earthquakes, typhoons, and landslides. I don't mind our fearless doctors banging their heads against frustrating hospital administration, but I don't see why they had to take this one-dimensional character and try to flesh him out with this "if my brother dies I inherit it all MWHAHAHAHA" plot.
Not to mention the symphony conducting and the bizarre soliloquy in the middle (Shakespeare, this ain't). Maybe it's to show the descent into madness, but it just feels awkward and unnecessary. Or maybe I'm just bitter because it felt like Director Park got so much screen-time this week when I've stopped caring about him weeks ago.
On the positive side, I'm glad that Woo-jin has finally picked a side, although it feels somewhat anticlimactic because I never really understood what was going on in his mind, anyway. I'm not exactly looking forward to the moment when he plays the martyred hero by revealing what exactly happened to Hye-sung's mother (because despite Director Park's threat of blackmail, you just know he's going to reveal the truth since once he loses his eyesight, it's not like he'll be able to keep performing surgeries, anyway), but I know it must be done.
So instead of dwelling on the idiocy of wasting time with a trumped-up medical license hearing that could easily be put off a few more days if Director Park wasn't so eeeeeeevil, right now I'm happy that Hye-sung is back on his feet and Woo-jin has jumped off the Director Park crazy boat. Now if I could just accept that this is a bog-standard medical drama and not the disaster drama I keep foolishly hoping it will be, then maybe the next few weeks will be more entertaining and less frustrating. Maybe.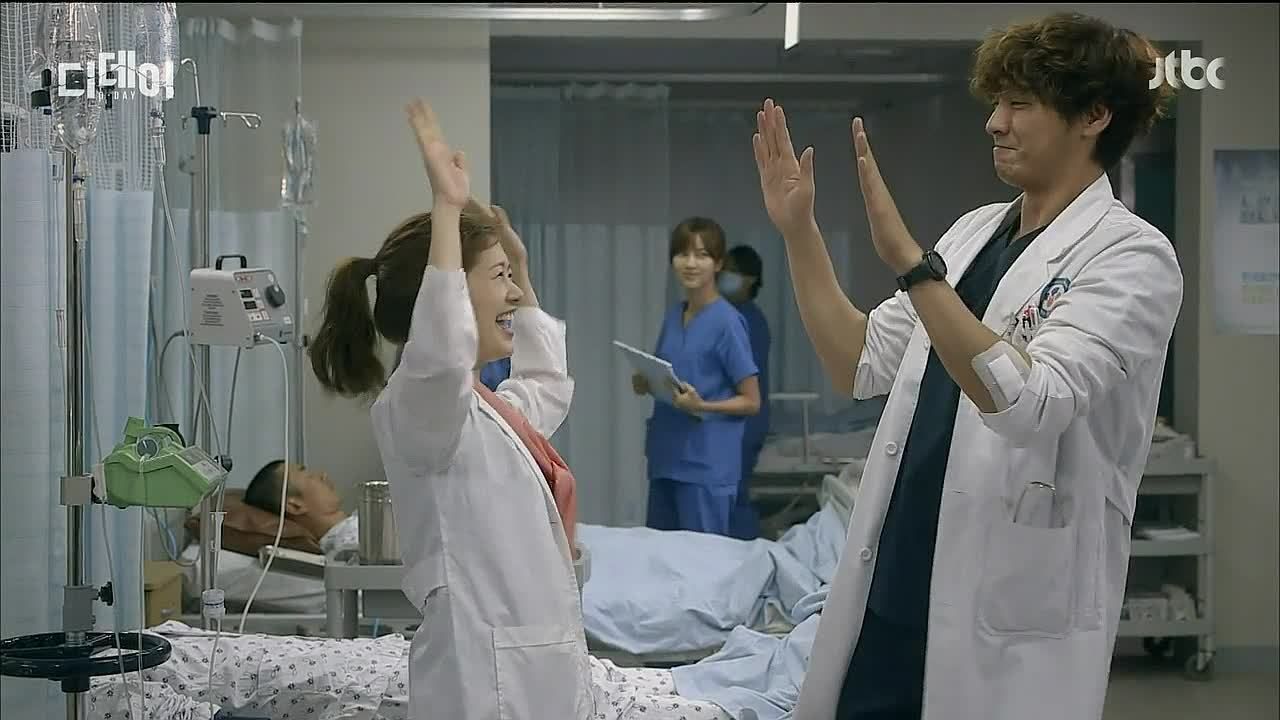 RELATED POSTS
Tags: D-Day, featured, Ha Suk-jin, Jung So-min, Kim Young-kwang