D-Day: Episode 15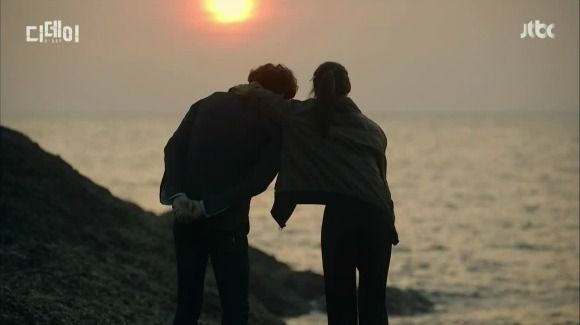 Director Park continues to lose his sanity, but his fast decline doesn't faze too many people. It seems that the real doctors in the house don't care much for his overwhelming greed for power and continue treating patients anyway. They've got their own tricks and allies. Though he tries to assert his authority, its effect seems to elicit a shrug at most. But there's still enjoyment in the small victories and small gestures of friendship. In such a chaotic world — of disaster and politics under an insane man — those smaller interactions matter the most.

EPISODE 15 RECAP
Ddol-mi and Hye-sung excitedly celebrate their successful surgery, but their celebration is short-lived. They're interrupted by Chief Kang's announcement of a hearing regarding the suspension of Hye-sung's medical license. Hye-sung doesn't look the least bit surprised.
As Director Park prepares for the hearing, Ji-na barges into the room with her grievances. They step out to discuss Hye-sung's suspension, and Director Park reveals that he's been using Hye-sung as a cannon fodder in DMAT. But now that Hye-sung is putting them (read: him) in jeopardy, he's making moves.
Before he leaves, Director Park turns around with one more warning as a father. "Hye-sung has lost. From now on, join the winning side." Ji-na looks at him incredulously, eyes wide with disbelief.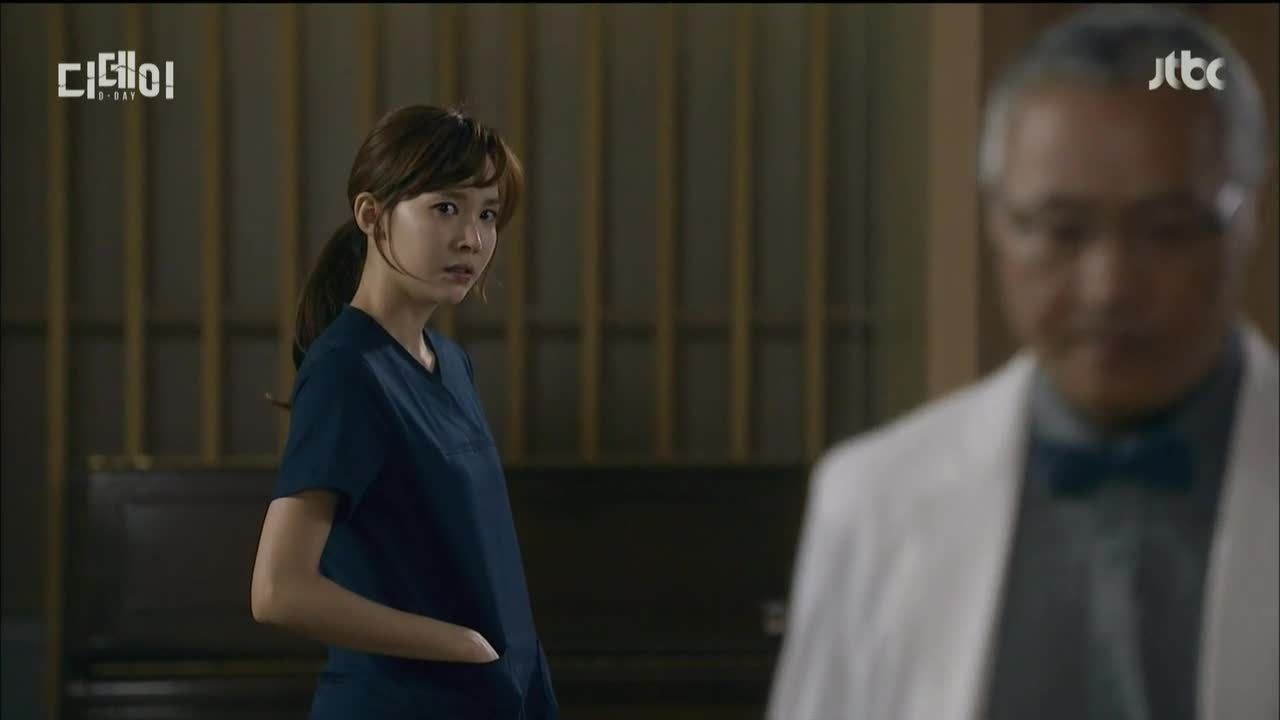 Ddol-mi nervously waits for the hearing to end and asks Woo-jin for his prediction. Woo-jin believes that Hye-sung has a very slim chance of making it out alive, since all the other department heads will probably side with Director Park. Especially with Ji-won's table death. In essence, they're all just going through the motions to reach their predetermined decision.
In the hearing, Hye-sung glares at Director Park as he lists the reasons for suspension. Chief Kang argues that in the midst of disaster, Hye-sung did not necessarily make bad judgments. But Director Park insists that rules are rules, and Hye-sung clearly overstepped his boundaries as an ER doctor. He shouldn't have treated Ji-won or his father, since neither cardiothoracic nor brain surgery is his specialty.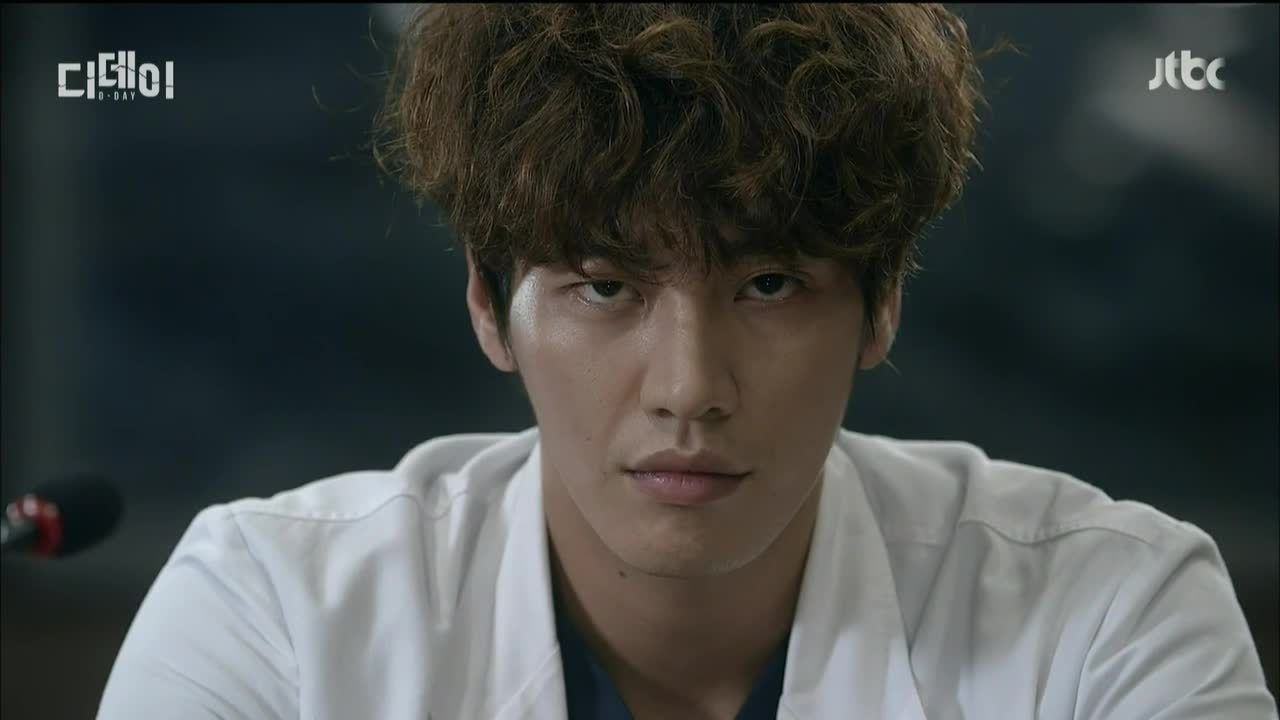 Hye-sung then asks if he should have done nothing and let these patients die. If he had done nothing, he wouldn't need to be here, in this hearing. "No matter how long I waited, a cardiothoracic surgeon didn't come. I thought that if I did something, maybe I could save him. Is that wrong?"
Director Park yells that he's wrong and that no one here would dare to do make such calls. Hye-sung reasons that it's because no one here wants to take responsibility. Then Director Park uses his trump card, revealing that Hye-sung has PTSD.
It's an irrefutable argument, and Director Park orders his assistant to pass out the ballots to vote. Chief Kang stands up and refuses to vote. Director Park takes it as her abstaining, but she clarifies that they have not met the quorum. They need at least two-thirds of the department heads to be in attendance, and they're missing enough to void the vote. Director Park argues that it's a special circumstance because of the disaster, but Chief Kang smiles and repeats his argument. Rules are rules. Touché.
Chief Kang returns to her office, where another doctor had been anxiously awaiting the results of the hearing. He's one of the department heads who didn't show up, and thanks to his absence, they've delayed Hye-sung's suspension. They know it's only a temporary fix, but the fellow chief wanted to help out Hye-sung. They need surgeons like him. If he had been as brave as Hye-sung, he would have saved patients. Aw.
Mr. Kang and Na-ri's father help restock the supply closet with their newly arrived supplies. But when Director Park passes by, he orders all of them to leave. Enraged by their replenished supplies, he knocks things off the shelf and throws items violently. Ji-na watches him with pity and tells him that she heard about Hye-sung. Though Ji-na tries to persuade him that his efforts are unnecessary, Director Park promises to cripple Hye-sung's ability to practice medicine.
In a pleading tone, Ji-na asks her father why he must be so mad and violent. He explains that he put everything into this hospital. He won't let it crumble out of his grip. Ji-na asserts that she'll be standing with the right side over the winning side, to which her father smirks. "The winning side is the right side. That's justice," he says. But Ji-na shakes her head and refuses to accept his meaning of justice.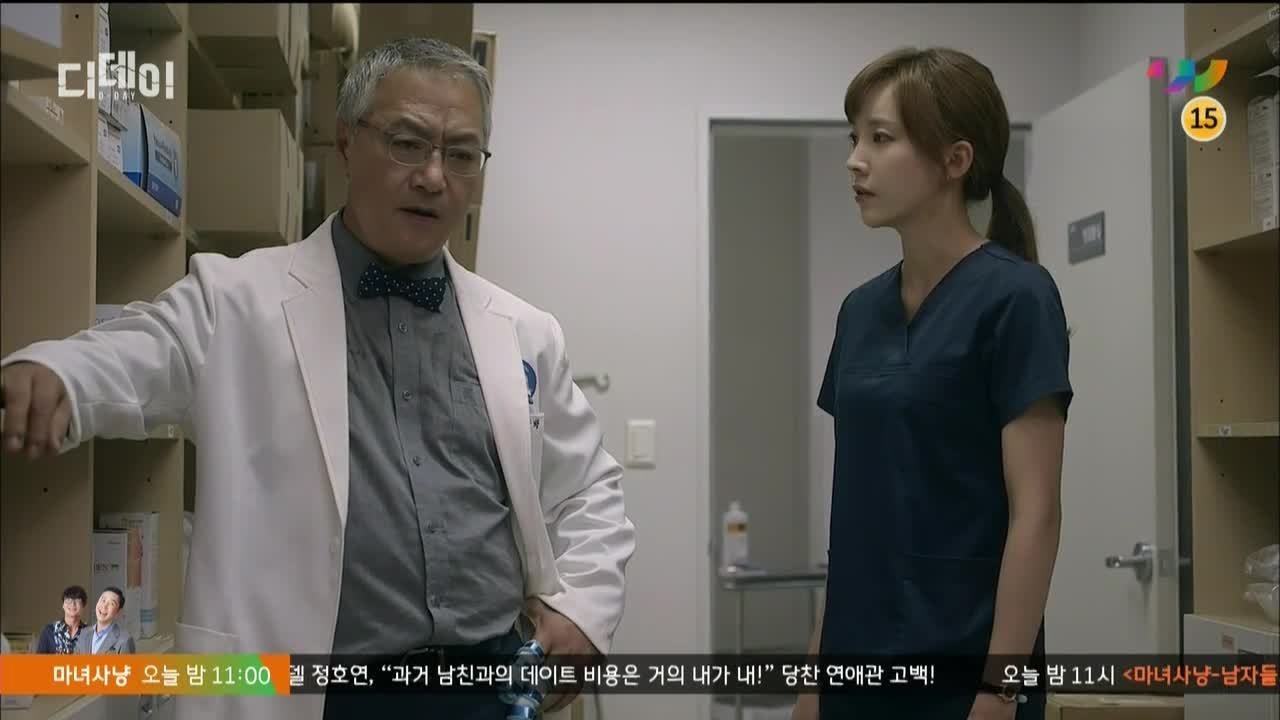 Woo-jin's vision continues to deteriorate, he can't recognize Ji-na when she enters the ICU room. He downplays his lack of recognition, and they talk about Hye-sung's inevitable loss when Director Park gets his way. Woo-jin admits that he's jealous of Ji-na's worries for Hye-sung and regrets not switching sides earlier. If he had come to his senses from the start, he would have received the same worry and affection from her, maybe even more. But he knows it's too late.
Ji-na optimistically states that it may not be too late, since she's starting to see the old Woo-jin return. But her optimism is rejected by Woo-jin, who insists that it is too late. That's why he regrets it more.
Hye-sung tries to check on a patient, but Myung-hyun gets in his way, arguing that Hye-sung shouldn't take over someone else's patient. As usual, Myung-hyun is all talk and tries to grab the chart away from Hye-sung, and when Hye-sung avoids his pounce, Myung-hyun runs into the wall and hurts himself. Good, you deserved that.
Chief Kang comes over to scold the two for fighting and shuts Myung-hyun up when he begins whining. Hye-sung relays his observations to Chief Kang, that the patient's swollen legs show a significant increase in pressure. Without surgery, this patient's life would be at serious risk.
In response, Chief Kang asks Woo-jin to perform this surgery, but he hesitantly refuses. He's tired and recommends someone else like Myung-hyun perform the surgery instead. Chief Kang will absolutely not send Myung-hyun into the surgery and requests that Woo-jin help. But again, he refuses, much to the Chief Kang and Ji-na's disappointment.
In his office, Woo-jin looks at his diagnosis again. His vision continues to blur, and he crumples up the paper and throws it.
Ddol-mi takes one of Hye-sung's beetles and puts it on Dae-gil's face, and she gets a gratifying response when he wakes up in shock. As she puts the beetle back in its home, Ddol-mi criticizes Dae-gil for sleeping through the surgery. They're all sleep-deprived, yet he decided to evade all responsibility. She mentions Hye-sung's medical license scare, which is news to Dae-gil, and smacks him in the head as further punishment.
So-yul walks into the hospital with Hye-sung, updating him on her experience with patients. She feels that her work as a psychiatrist is worthwhile because she feels useful by just being a good listener. She even received some rare apples as a token of gratitude. They're delicious, but it's still sad because of how much trouble a grandma went through to retrieve these valuable apples.
They hear Dae-gil complaining in the break room, and Hye-sung runs in to stop him when he sees that Dae-gil is trying to drown his beetles. Dae-gil explains that Ddol-mi tried to get his nose cut off with these beetles and criticizes her for her incompetency. When Hye-sung tries to defend her, Dae-gil turns the attention to him. He should stop getting himself into risky surgeries if he's not confident in its success. Look where that's got him now: almost losing his medical license.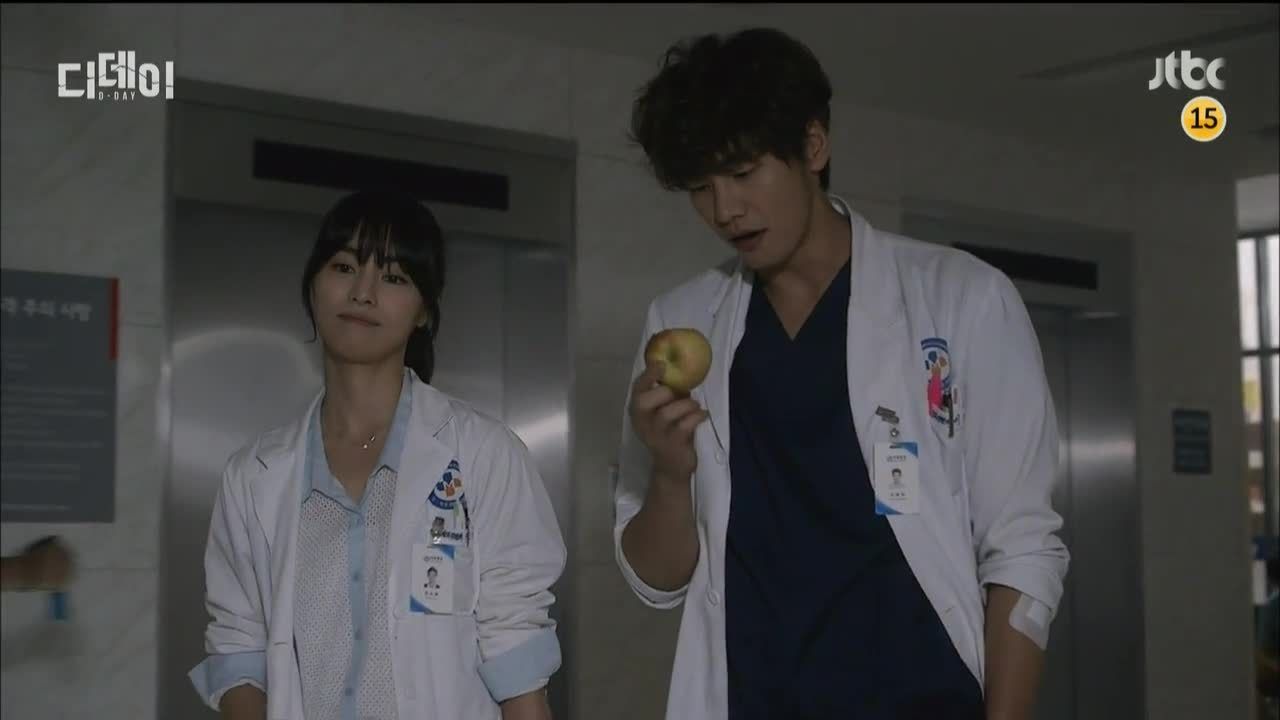 Dae-gil storms out, followed by So-yul. She sits by him and ensures him that she knows what he's feeling. He probably wanted to do well but was afraid of making mistakes. He's probably resentful that he made a mistake. And he's probably apologetic because whatever happens to the patient feels like his fault. It may seem like he's partly to blame for Hye-sung's suspension.
Dae-gil looks shocked that she just read his mind, but So-yul simply put herself in his shoes, like a true psychiatrist. She tells him that all he needs to do is apologize and not repeat his mistakes. The simplicity seems to strike Dae-gil, like he's never thought to apologize over his own ego.
Captain Choi and his wife check on their daughter, who's recovering well and quickly. Ddol-mi ensures them that she'll be recovered soon but worries for the devastation regarding her lost leg. Captain Choi has confidence in her daughter to be strong like himself, and he thanks Ddol-mi once again. Stroking his sleeping daughter's hair, he tells her that she's beautiful.
Woo-sung wheels himself to the entrance of the ICU, where Ddol-mi sees his compromised state. He admits that he'd ignored an injury for a couple days, resulting in the wheelchair. He then asks about Captain Choi's daughter and wonders how worried Captain Choi would have been. Ddol-mi looks at Woo-sung curiously and notes that the brothers are the same: worrying about others before taking care of themselves, reckless, quick-tempered, and impatient.
Hye-sung checks up on the swollen leg patient with Chief Kang, and he asks why they're not going into surgery. Chief Kang explains that Woo-jin refused because he's tired, and Hye-sung can't understand why. This surgery would be nothing to him.
Dae-gil and So-yul catch Hye-sung in the lobby, and Dae-gil uses the chance to apologize for his impudence. Hye-sung benevolently acts like he can't remember any fault and assures Dae-gil that he was once in his shoes. They turn to the news broadcast, and Dae-gil recognizes the neighborhood as So-yul's. She watches the news of the recent casualties and freezes. Her mom's name was just listed.
Hye-sung tells her to check before making further assumptions, so he checks the identity of the body with Captain Choi. So-yul hopelessly tells Dae-gil that she worked hard to help others because she believed that people would do the same for her mother. She found hope when Dong-ha returned safely and wishfully thought that others would help her mother. But Hye-sung returns bearing bad news. He apologizes, and So-yul's legs go weak in shock.
The swollen leg patient goes into seizure, and Woo-jin maintains enough visual acuity to order emergency the immediate treatments. But he needs to head outside to request that Hye-sung perform the surgery. He was about to take So-yul to her mother, but this patient doesn't seem to have much time. Even with the risks of performing surgery under Director Park's malicious control, Hye-sung agrees to it anyway.
Ji-na stops Woo-jin before they reenter the hospital and admits that she was wrong. She thought that he returned to his old self, but it seems that he's just using Hye-sung to his advantage. Even though Woo-jin can clearly do the surgery, he's using Hye-sung so that he can avoid all responsibility. Woo-jin tries to clear this misunderstanding in vague terms, but Ji-na refuses to listen. "I'm a fool once again, and you're the worst."
As they wheel the patient into surgery, Myung-hyun notices Hye-sung's participation and immediately reports to Director Park. Using this as leverage, Director Park makes Myung-hyun the doctor in charge of Hye-sung's mother and orders her discharge. Ugh, so much evil one room.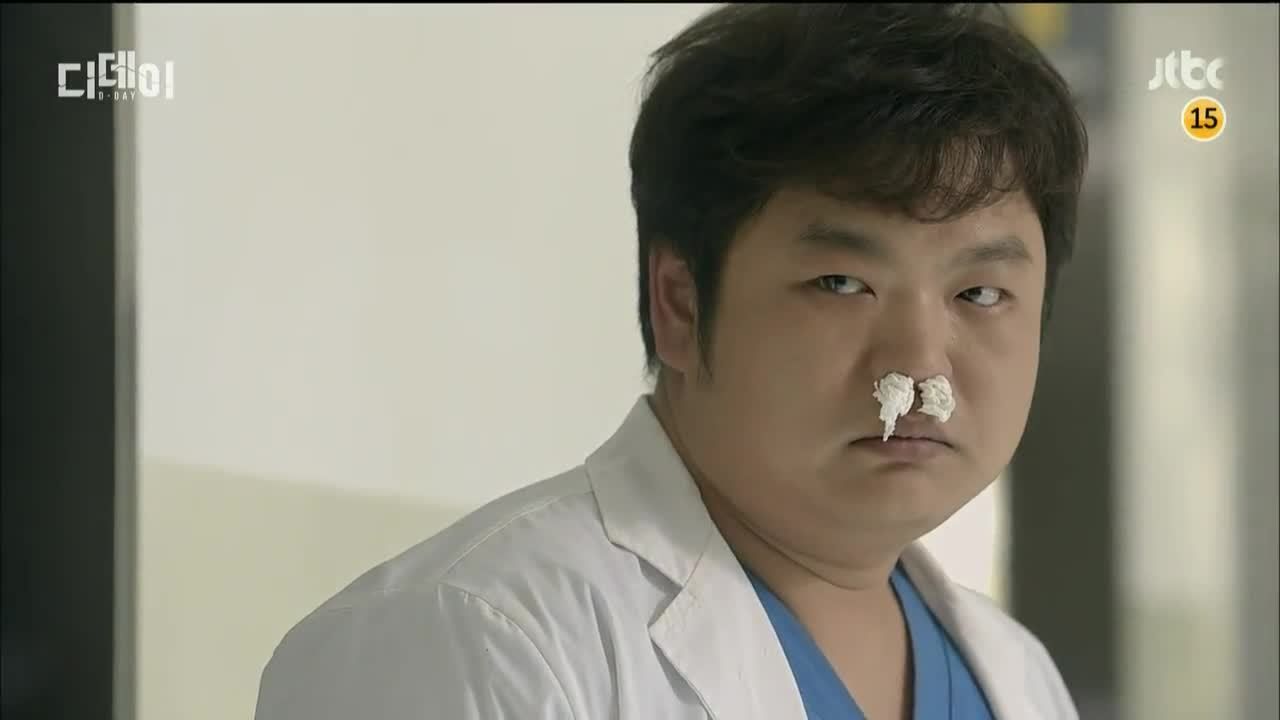 While Ddol-mi wraps up the patient's leg, Hye-sung is urgently called out by a fellow doctor because of his mother's discharge. When he runs over to the room, he finds Woo-sung arguing with Myung-hyun, who insists that he's merely following orders. Hye-sung knows that it's Director Park's doing and barges into his room to dispute the issue.
Director Park calmly explains that he's following up on their promise. Hye-sung breached his part of the deal — to not perform any treatment or surgery in Mirae Hospital — so naturally, his mother will be discharged. Hye-sung asks Director Park what he wants, to which he orders Hye-sung to kneel and beg. More specifically in his words, "crawl."
Hye-sung returns to Woo-sung, who sits by their mother's side now in the hallway. He suggests that they wait, but Woo-sung needs an assured solution. Woo-sung mentions how Ddol-mi compared their selfless nature, and he asks Hye-sung to be the selfish one to take care of their mother.
Ddol-mi updates Woo-jin on the Hye-sung's mother, and he asks her to watch over his ICU patient while he makes a visit to Director Park's office. Director Park is playing his jarring classical music again, but once he hears what Woo-jin has to say, he turns his music off. Woo-jin threatens to reveal his own dark medical history regarding Hye-sung's mother, which in turn would reveal Director Park's malpractice with manipulating the charts.
Director Park asks what Woo-jin would gain from this reveal, and Woo-jin states that he's not doing this for his benefit. Director Park admits that he never expected to hear those words from Woo-jin's mouth but assures him that he never planned on discharging Hye-sung's mother in the first place. He just wanted to ingrain the fact that he's in charge of this ship.
Hye-sung's mother gets wheeled back into the room, much to the relief and confusion of the brothers. It seems that Director Park's power trip has simmered down for now.
Hye-sung does one last check of the patients and compliments Ddol-mi on her treatment of their swollen leg patient. He tells her to take charge of these sort of surgeries from now on, and Ddol-mi looks proud. After listing off all the patients for Ddol-mi to take care of, he mumbles a thank you, which Ddol-mi takes with surprise.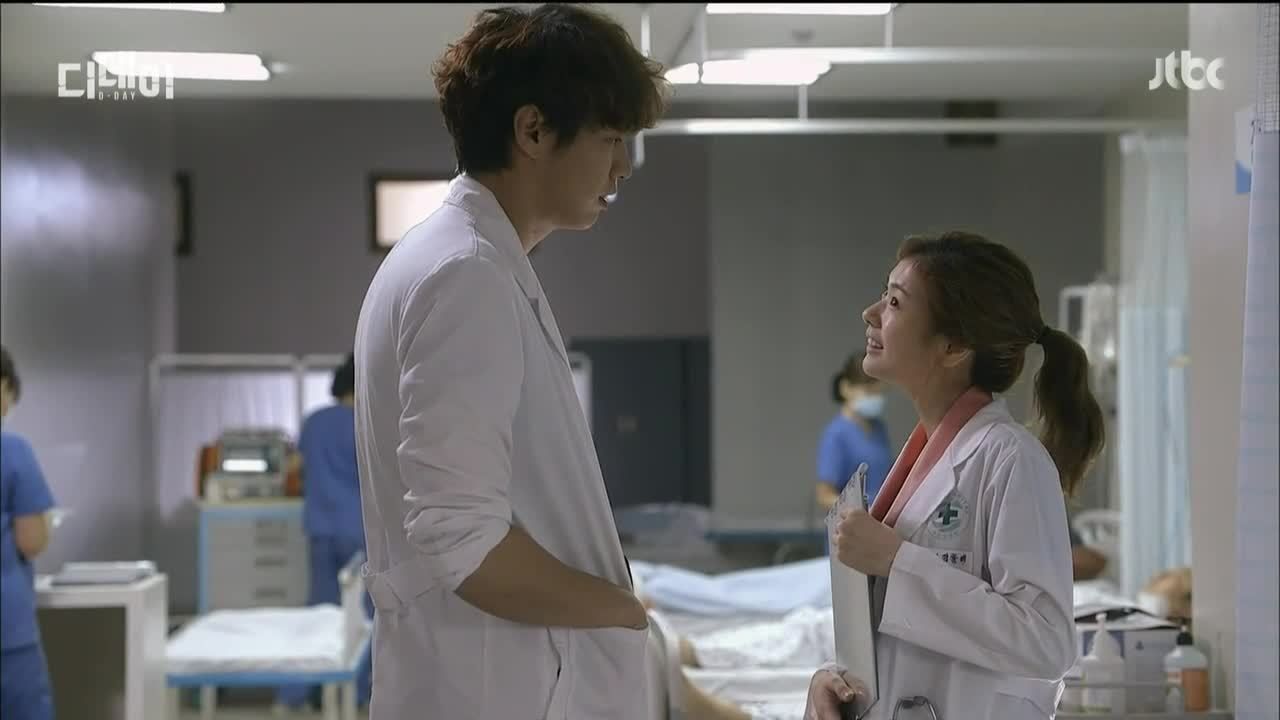 Meanwhile, Dae-gil is trying to dissuade So-yul from going to her mother alone on these streets. He offers to go with her, but he's beaten by Hye-sung who offers to take her on his motorcycle. They prepare to head off, and our ER team gives So-yul their condolences. Dae-gil comes running out with his jacket to give to So-yul, and with that, they're off. The team returns to their duties, and Dae-gil lingers a while longer, regretting not learning how to ride a motorcycle.
At the morgue, So-yul breaks down at the sight of her mother, pained by the confirmation of her mother's death. At the beach, So-yul sprinkles her mother's ashes and asks to be alone. Hye-sung takes his bike for a ride and returns with her mother's rosary, her one personal item left with the hospital. So-yul recognizes it and recalls how her mother used to pray every morning starting and ending with "our daughter, So-yul." The rosary reminds So-yul of her negligence of her mother in this disaster, which only deepens her guilt.
Hye-sung suggests that they head back, but So-yul doesn't want to. She's done seeing the broken world, and she would feel guiltier if she treated patients like nothing happened. She would be neglecting her mother's absence.
Ddol-mi and Ji-na take a canned coffee break, and Ddol-mi admits that she has yet to become a real doctor. She's more worried about Hye-sung than the patients, and she's preoccupied with thoughts on their hospital's owner waking up to save Hye-sung's medical license.
So-yul grieves with soju and continues to blame herself for going on with life without her mother. She wanted to be a better daughter to her mother after seeing Hye-sung's devotion to his mother, but now she doesn't have the chance. Hye-sung tries to comfort her, but So-yul keeps drinking with hatred for herself and the disaster in Seoul.
After downing all that soju, it's no surprise that So-yul throws up, with Hye-sung by her side. She's embarrassed that he's seen the worst of her today, and Hye-sung jokingly admits that he's only tolerating her because he's her friend. So-yul adds that he's horrible as a man but great as a friend. He seems slightly offended and asks her for an example of an appealing guy. So-yul says that Dae-gil has a noble yet rebellious charm, to which Hye-sung laughs out loud and asks if he's the opposite — lowly and naïve. Ha.
Before he leaves, So-yul takes a moment to take in the calming sights and sounds of the ocean. Then she turns to Hye-sung and tells him that as nice as it is here, she's curious about what's happening in the hospital. So she decides to return with him.
Dong-ha wanders outside the hospital and finds Na-ri petting a dog. He asks if the dog bites, but she can't hear him. When he gets closer, Na-ri merely gestures for Dong-ha to pet the dog, and he smiles when he discovers that the dog is nice and soft. Myung-hyun passes by and scolds Dong-ha for wandering. Noticing the doctor, Na-ri motions him to treat the dog, and when he refuses, Dong-ha calls him out for being a quack. That, he is.
But that insult drives him to diagnose the dog of dehydration and become the kids' hero. He later entertains the kids with access to TV animations, and both Dong-ha and Na-ri compliment him for being a good doctor. The small words of appreciation move him to tears.
Ddol-mi checks her note on Hye-sung's bunkbed and smiles when she finds a response to the note with her chewed gum: "Missing your bad breath."
Hye-sung and So-yul return together, and Hye-sung promises to keep her throwing up a secret… except to maybe one person. Speaking of, Dae-gil comes racing out of the building to greet So-yul and grab her things. Hye-sung notices how close Dae-gil and So-yul seem and teases So-yul.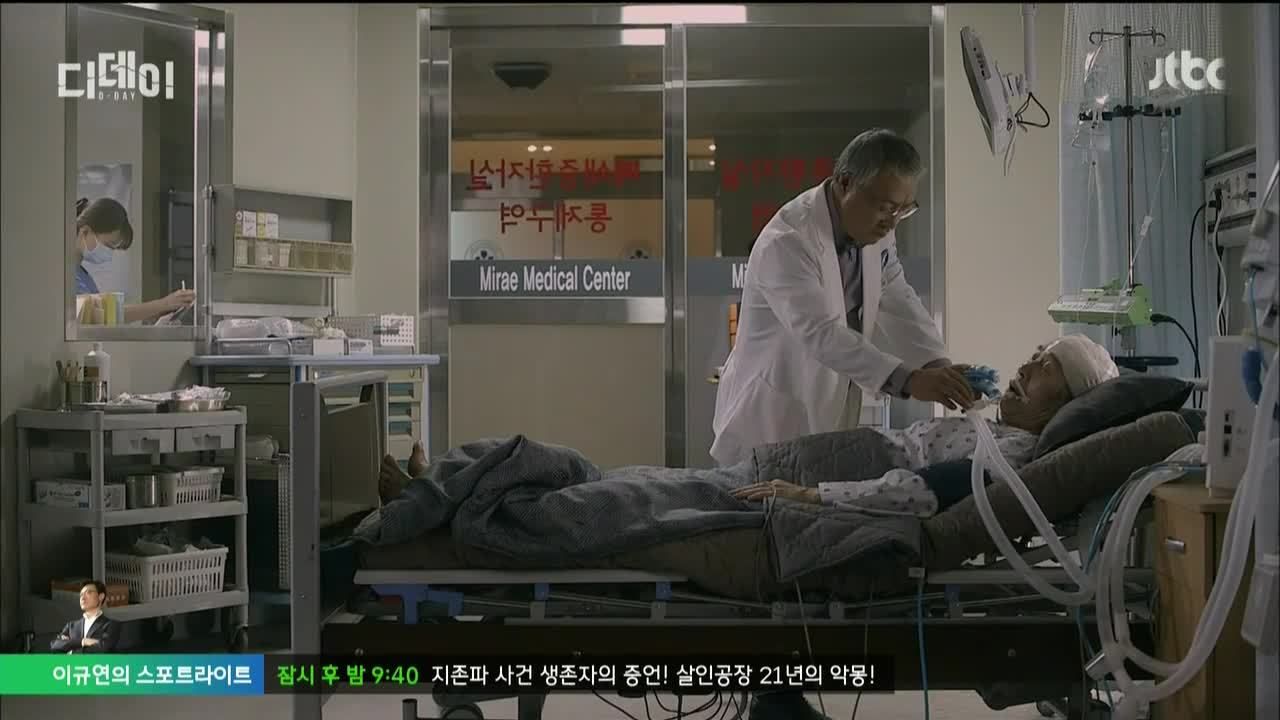 Director Park checks his brother-in-law's foot for any reflexes and slowly reaches for the ventilator tube. He adjusts the tube along with the hospital gowns. Wait, what did he just do?!
So-yul returned with ingredients for real food, and she serves the hospital staff. Hye-sung jokes that he doesn't know if a lowly person like him could eat in the presence of Dae-gil. So-yul shoos him away, but Dae-gil trails him, asking what the context was.
Woo-jin passes by the food fest, but he doesn't join and returns to his room. Ji-na notices him and follows him to his office to ask for an explanation. His actions don't make sense, considering his dissociation with Director Park's corruption. Woo-jin doesn't explain any further and accepts the end. He and Ji-na are over, and he'd rather that she forget him entirely.
Tears falling, Ji-na admits that she wanted to start again with Woo-jin, but she shouldn't have expected so much from an ended relationship. They face away from each other, and Woo-jin tries to hold back his tears. But their tearful moment is interrupted by a knock. It's the hospital lawyer, who announces that Director Park just sued Woo-jin and Hye-sung for medical malpractice on their president, Yoo Young-tak.

COMMENTS
He's done it. He's become the murderer I feared and knew he would become. If there's one aspect of this drama that exceeds all expectations, it's the villainous meter of Director Park. It's no secret that Director Park's offer to join the "winning side" reeks of corruption and misery. He knows it, but he's too well-adjusted to it, and so am I. I've given up on him, so might as well take his grandiose delusions as entertainment. I'm not going to drag out this conversation on how much I despise him, so let's just end with the fact that he's the bane of this drama: no complexity, no flicker of hope, just plain horrible. Ok, let's move on.
Thankfully, Hye-sung's hearing didn't become a huge deal in this episode because really, no one cares. What I really care about is how DMAT becomes one through the perilous struggle of their post-disaster world. We still didn't get that this time around (5 more episodes, there's still hope?), but we got a little of something new — which is unheard of from this vicious cycle of surgeries and Director tantrums — through our focus on So-yul. She's definitely an underrated and underused gem in this drama, so it's sad to see So-yul come into the spotlight for such a tragic reason. But she knows better than anyone how to deal with grief, and I think her optimism serves her well in this stressful and now guilt-inducing setting. It was a pretty quick turnaround for So-yul, but I'd definitely rather see her overcoming her guilt by helping others than moping alone.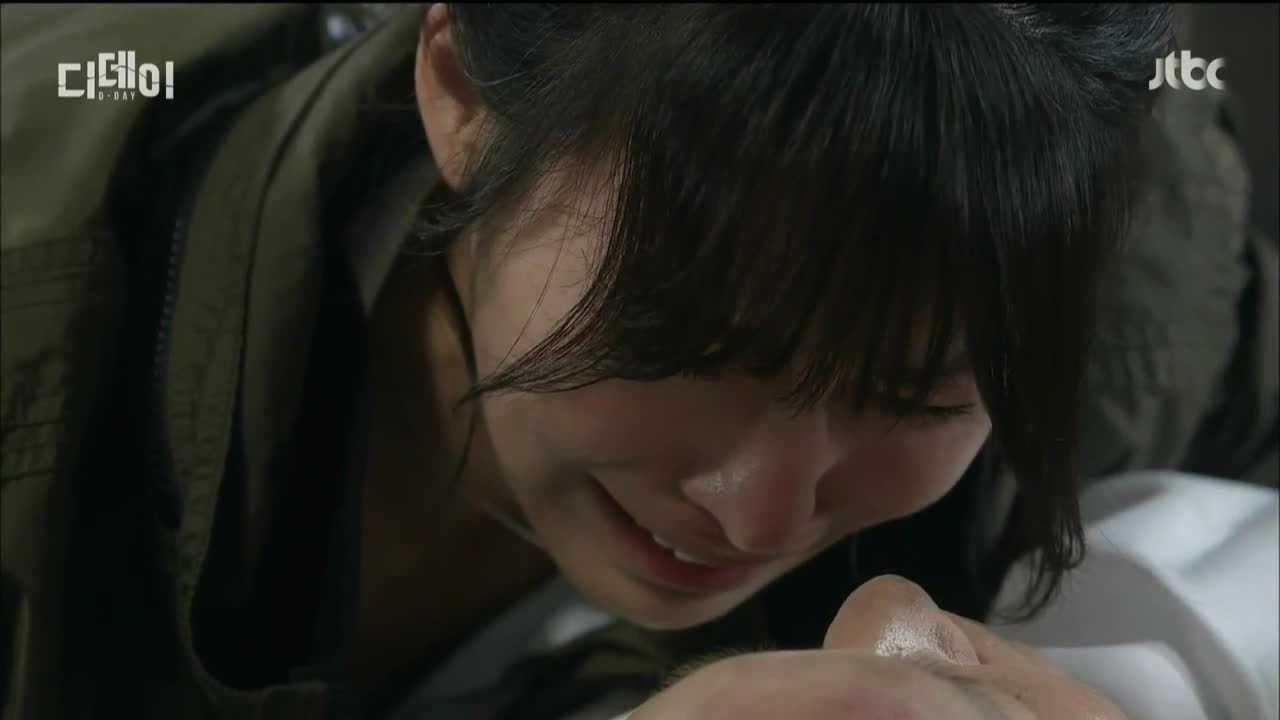 It seems that all of our doctors and rescue workers are working under the same wishful assumption — that their service to others in this disaster will give them good karma, which will help their families. But it's completely irrational, especially considering how selfish people already are with their basic needs covered. Now stripped of food, shelter, and resources, it's no surprise how animalistic people become. It's survival of the fittest, with no room for lofty ideas like karma.
In that sense, I wish the drama had taken a more apocalyptic turn. In the few times we've ventured out of the hospital's safe walls, I've seen so much potential in the conflicts and dangers that our team could have faced. I think it would have been a different drama entirely, or maybe it could have quite possibly become the drama that was originally advertised to us. There were so many possibilities with our DMAT ensemble, but I think we'll be left with too little too late. But there's no use in crying over spilt milk (and milk that will most definitely be spilt). Accepting this fact, I know what I'm looking for from this drama — small noteworthy moments of friendship, growth, and a sassy Busan doctor who overshadows even the devil himself.
RELATED POSTS
Tags: D-Day, featured, Ha Suk-jin, Jung So-min, Kim Young-kwang