D-Day: Episode 16
To my surprise and utter delight, this show is suddenly found its pace and it's everything I've wanted in the first place for a show that's about saving lives in the middle of a disaster. Pity that it's only picking up at a time when most shows end, but considering there's four more episodes to go after this, perhaps there's still a chance the show will end on a strong, satisfying (and ultimately entertaining) note instead of the frustrating slog we've been enduring the past couple of weeks. We can only hope and put our faith in Ddol-mi.
EPISODE 16 RECAP
Woo-jin's eyes bug out (even more than usual) when he realizes that he and Hye-sung are being sued for malpractice. But why, exactly?
For paralyzing Director Park's brother-in-law, apparently. Or that's what Director Park tells his sister, blaming Woo-jin and Hye-sung's supposed surgical conspiracy and vowing that he can never forgive them. Yeah, never forgive them for actually keeping his brother-in-law alive, but that's beside the point.
Woo-jin finds it suspicious that Director Park is suing them, and they enter into some more "read between the lines" pleasantries as Director Park politely insists that they ruined his brother's chances at having a better life, and he, the great neurosurgeon that he is, will do all he can to make sure his brother's faculties are restored, even though he'll still be paralyzed. After all, that's what doctors do — save lives, right?
Interesting threat, considering it was mere hours ago when he was ordering Woo-jin to fake the surgery, saying it would be impossible, thus ensuring his brother would die. But Director Park just hides behind his devil smile, shrugging it off with a "I don't remember saying that." He'll do whatever it takes to make sure Woo-jin and Hye-sung (especially Hye-sung) will never be allowed to hold another scalpel again.
Sighing, Woo-jin asks him what will it take for Director Park to drop this petty charade — should he just surrender? But Director Park seems primed for a battle. Besides, who wants to reason with the devil, anyway.
Word of the malpractice lawsuit spreads quickly in the small-town atmosphere of Mirae Hospital, and while it seems most of the staff that we care about are willing to help fight for Hye-sung (and Woo-jin, too, although they don't understand why Woo-jin is now a target), he warns them to not get dragged down with him either just through association.
Hye-sung is also determined to not let Woo-jin's career be destroyed, and he tells Woo-jin that he should just apologize to Director Park. After all, this is a battle between him and Director Park, so Woo-jin should stay out of it so he doesn't end up as collateral damage.
But Woo-jin still has his pride as a doctor, dammit, and tells Hye-sung that it's abnormal for it to be considered a sin for a doctor to save someone's life. Even though they can't provide ideal treatment given the disastrous conditions, they are still doctors. Both of them. Aw, at least when Woo-jin chooses a side, he's loyal to it.
Feisty Ddol-mi also feels the injustice of the malpractice suit, knowing that for whatever inexplicable reason, Director Park is just using it as an excuse to get rid of Hye-sung and his mother. But she still has faith in Hye-sung, and he reassures her that he'll fight it. After all, he knows he wasn't in the wrong.
Even so, he sometimes wonders if it's all worth, living like this. Sometimes he'd like to just walk away form it all. It's not easy, especially in the aftermath of the earthquake where it can feel like you're not doing much as the patients increase as fast as the death tolls. With a meaningful look at Ddol-mi, he says he's still able to stay strong since he keeps finding people who support him. Aw, these two are just so cute together.
They're even cuter later when he goes to wake her up from her scheduled nap, asking if she'd set him up with some fluids since he's not feeling so great. She immediately bolts up from the bed, worried about him as she feels his forehead, checking for a fever. She chides him for not taking good enough care for himself when he's so busy caring for others, and he teasingly asks if she heals her patients by lecturing them.
As she goes to get the IV, he sprawls out on the bunk and smiles when he sees that she's made another note to the bunkbed bulletin board — this time it's a sketch of Hye-sung and his curly hair, with the caption "Poodle Hye Sung." So. Cute.
By the time Ddol-mi returns with the IV, Hye-sung is passed out asleep, mouth still open in a huge grin. She tests to make sure he's really asleep, then teasingly chucks him under the chin, asking if he's that happy to see her. Realizing that he saw her little doodle, she tells him he really does look like a poodle. As she sets up the IV, she tells him that everyone is having a hard time, but it seems like he's having an especially hard time. He sleepily responds with a few "poodle" barks. Hee!
Ja-hyuk is busy being a politician as he orders his team to find alternative housing since the people can't continue to sleep in school gyms and fields, especially. There's a problem, though — money flow has stopped due to the earthquake, and until they can fix the pipeline for gas and electricity, the financial institutes in the area won't start up again. The only way to fix it, though, is to have someone remove the water and weld up the cracks.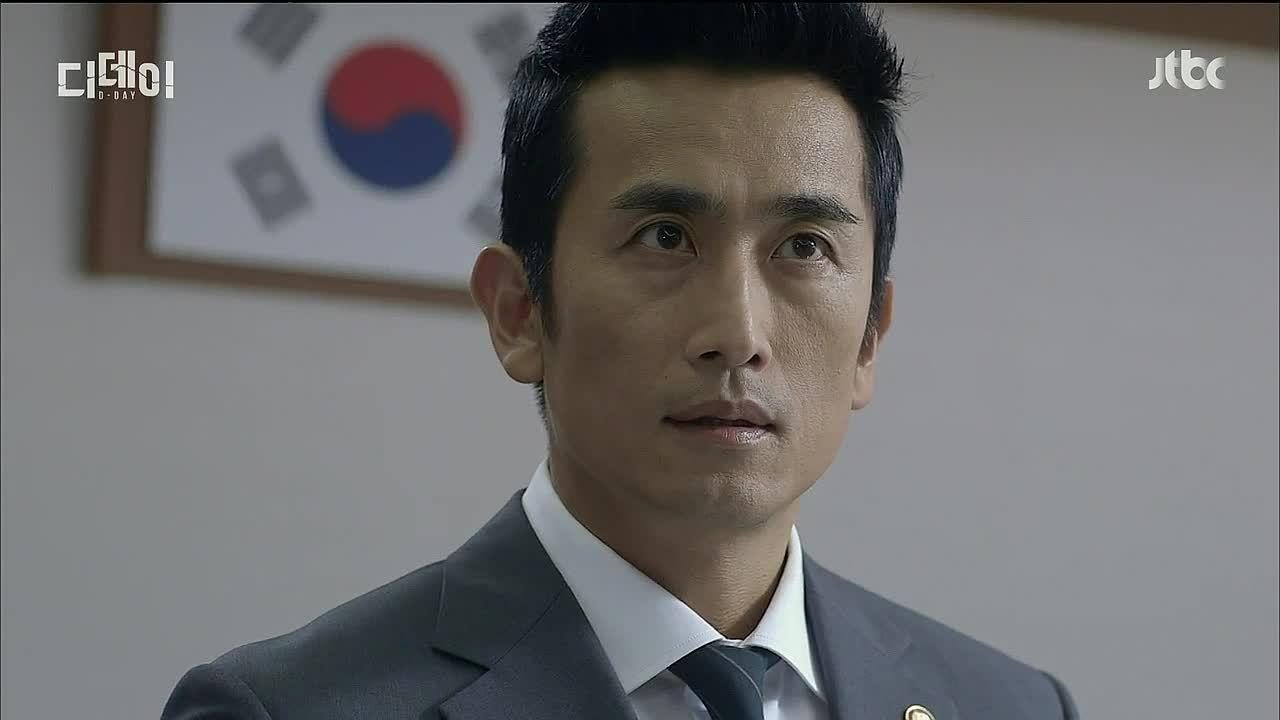 All the support from overseas (not just money, but construction supplies) has stopped as well until they can confirm payment. Ja-hyuk gets that gleam in his eye as he realizes that the broken pipe is in the jurisdiction of our favorite firefighting crew.
That crew is still dealing with the citizens protesting the fact the firefighters refuse to actually put out fires. Captain Choi looks especially weary as he steps out of the truck to ask the protester to move. It's the same guy from before, who so desperately had begged Captain Choi to put out the fire and save his store. Except they didn't, and his store, livelihood, and entire life savings have gone up in smoke. Literally.
He blames the firefighters, and he pulls out a knife, threatening to kill them. Captain Choi steps in to disarm him, but as he does, he gets a nasty gash on his arm. The protester, now weeping and helpless, is sent off with a warning.
Captain Choi is admitted into Mirae Hospital as a patient, and yikes, it's a pretty deep gash. Hye-sung goes into his doctor mode as he orders nurses to get a tetanus shot sutures ready. Pulling him aside, Myung-hyun reminds him that he's not allowed to touch a needle, since, y'know, he's not officially a part of the hospital any more. That means Myung-hyun is the one to sew up Captain Choi's wound, but he's just the hands as Hye-sung tells Captain Choi to use this chance to rest and recuperate since it's a pretty bad wound.
Director Park is pleasantly greeting some unfamiliar doctors who breeze by him without stopping, and he's utterly bewildered by it. "Don't they know who I am?" His right-hand-man explains that they're support staff sent by the government, which only makes Director Park concerned that they may soon usurp his foothold on the hospital.
He sees Ja-hyuk enter the building and assumes that he's there to see Chief Kang, but he insists that he has important government business to attend to. Seeing these two egotistical greedy men butt heads yet pretend to be nice to each other is oddly satisfying, especially when Ja-hyuk vaguely threatens that he could just order this fancy "paradise for cancer patients" to be bulldozed.
Ja-hyuk is actually being true to his word, since he's there to meet with Captain Choi to ask him to take on the dangerous task of unblocking and draining the Yeouido utility conduit pipe. It's pretty much a suicide mission, as Captain Choi points but, but Ja-hyuk points out if they can't fix it, then the government won't be able to pay for the supplies and assistance coming from overseas, and the country will go bankrupt.
That sounds a bit extreme until you realize that Yeouido is like if Wall Street and Washington D.C. were located on the same small island and then suddenly cut off from the rest of the world. He calls upon Captain Choi's patriotic duty and leaves him alone to think about it.
Since he's at the hospital, he stops by to visit his daughter, and his wife tells him that there's still more hurdles to deal with. The hospital is demanding a hefty fee as downpayment for the surgery. The treatment for her legs is considered to be a lifesaving measure in the face of disaster, but her rare heart-condition requiring surgery is not, and they'll have to pay.
It seems that Mirae Hospital thinks they won't receive compensation (even from the government) for all the treatment they've provided during the disaster. No surprise there, considering who's in charge of this hospital. Captain Choi reassures his wife that they'll find a way — it'll all work out. Oh no. I have a bad feeling about this, especially in light of this so-called pipe-clearing suicide mission.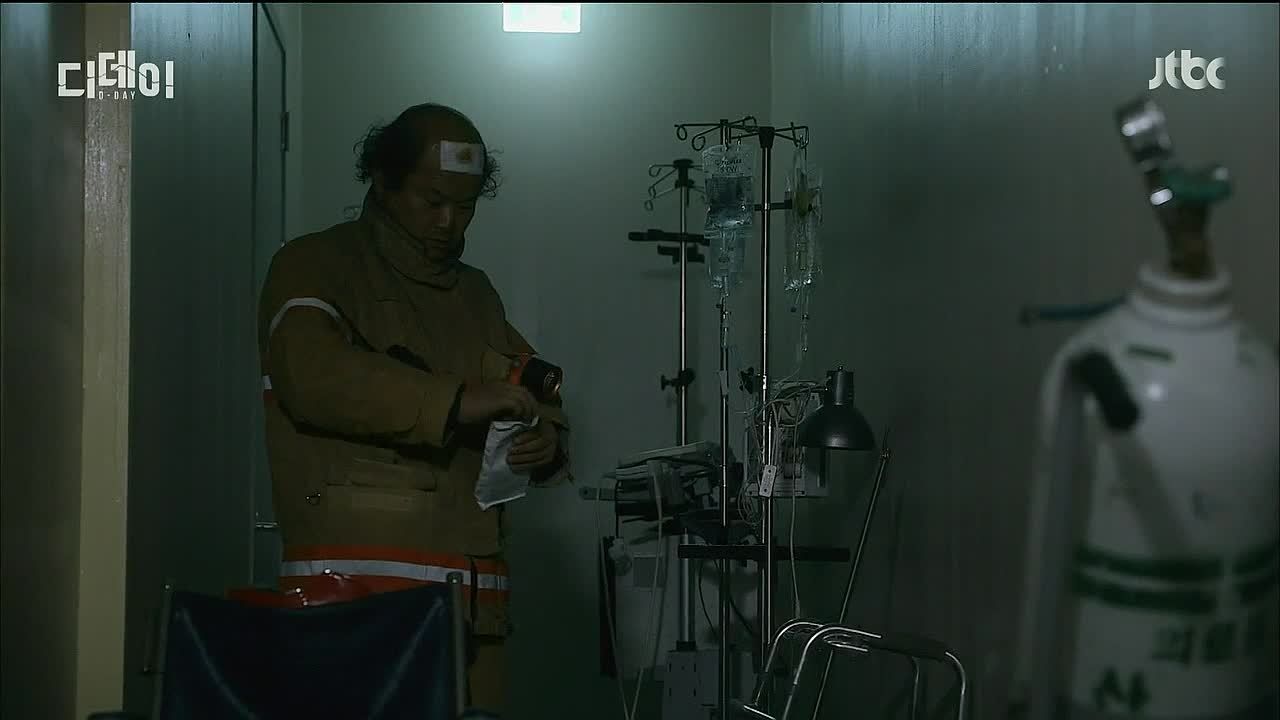 This feeling only gets worse when an envelope falls out of Captain Choi's pocket, and when he goes back to pick it up, he looks around furtively before stepping into a storage closet to open it up. Inside is a stack of at least ten 10,000,000 won notes, which is definitely a hefty chunk of change that could also conveniently pay for any hospital fees.
This was apparently payment for when Ja-hyuk had ordered Captain Choi to stop fighting fires and focus instead of rescuing people. Despite Ja-hyuk insisting it's a "token of appreciation," it looks more like a bribe to me (and Captain Choi). With this envelope, it seems like Ja-hyuk believes that Captain Choi is firmly in his pocket.
As he steps up to the rooftop of the hospital, Ja-hyuk stares out at the destroyed landscape of the city, where dark plumes of smoke mingle with the shattered buildings. In a conductor's move reminiscent of Director Park and his beloved Beethoven, Ja-hyuk imagines creating a new Seoul cityscape filled with shiny skyscrapers.
Chief Kang finds him there, and he tries to cover his exuberant imaginary skyscraper actions by pretending he was just stretching. Is that move listed in the "You Sold Your Soul To the Devil: Now What?" handbook? Because I'm pretty sure he and Director Park must have read the same chapter.
She wonders if he's being picked up by helicopter, and he blandly tells her he's just imagining how he should change Seoul. Chief Kang just sees the broken buildings, though, thinking it's a sad sight.
But the political businessman Ja-hyuk says it's a chance for opportunity, all the while denying it isn't about politics or business. Instead, it's about building Seoul into the great city it's always meant to be. Yeah, with your name stamped all over it. He tells her that the ER will soon become a trauma center, much to her delight. Good job in distracting her, but she's gonna find out how ambitious you really are.
Speaking of ambitious, Director Park keeps a close watch on his brother-in-law. It helps that he has Myung-hyun firmly on his side to keep tabs on everything, after bribing the World's Laziest Doctor with the promise that he'll give him Woo-jin's position should everything go Director Park's way.
Woo-sung is visiting his mother, and aw, he's got a cute crush on one of the nurses (who seems to think he's pretty cute, too). Captain Choi finds him there, much to Woo-sung's surprise at discovering his boss is now a patient, too. Captain Choi hesitatingly asks about Woo-sung's underwater welding skills, then dismisses it, telling him to rest and get better.
DMAT is called out on a new rescue, and Captain Choi quickly changes out of his hospital gown to head out. Myung-hyun surprises everyone by grabbing equipment and tagging along as the new self-declared representative of Mirae Hospital (since Woo-jin is now officially an "outsider"), much to Dae-gil's annoyance, since he was the "original" representative.
As Chief Kang is on the radio begging for assistance in finding a working CT machine that can be sent to their hospital, Director Park is acting pretty ominously as he stands next to his comatose brother-in-law. As he's reaching for the breathing apparatus, Chief Kang walks into the room. Whew. Once again, murder is averted.
She assumes he's there out of familial concern, and he admits that he's just worried on behalf of his sister. But Chief Kang seems to think something might be up, especially since she asks if it would be uncomfortable if the patient recovers and Woo-jin and Hye-sung would no longer be under consideration for malpractice.
Director Park acts all offended, because what kind of doctor would he be to not want a patient to recover? An eeeeeeeeeeeeevil one, that's what kind.
At the rescue site, our DMAT crew arrives in time to see a gas explosion. As they scurry about, tending to their patients, on top of one of the destroyed buildings stands the protester that had threatened to kill Captain Choi. "It's all over," he says, and then steps off the building.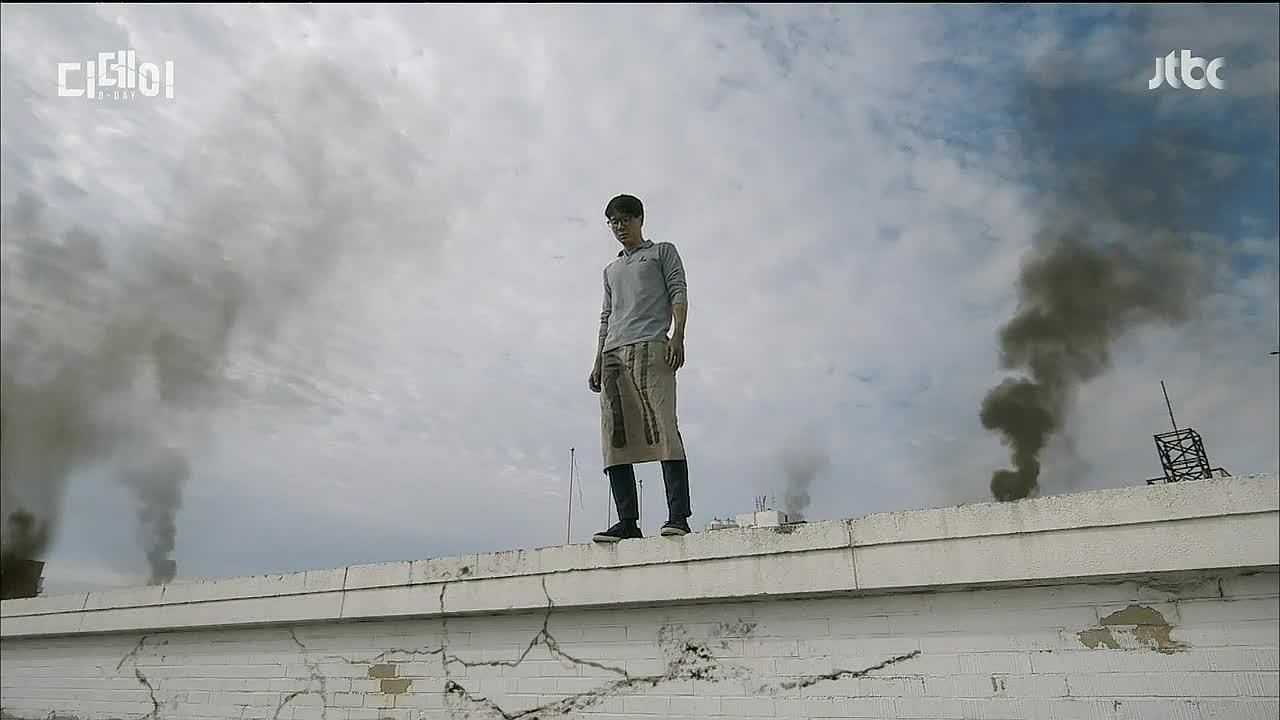 The loud, sickening thud of a body hitting the rubble below catches the attention of the rescue workers, and while they go check it out, a terrified Myung-hyun tries to hide in the ambulance. But one of the nurses orders him out — they don't have time to waste. There are lives at stake!
The jumper is found, and he thankfully landed on a pile of rubble that contained a mattress to help break his fall. He's still alive, but barely. As they begin to move the man into the ambulance, Captain Choi recognizes him as the protester.
Thanks to their portable ultrasound machine, they're able to ascertain that the protester is hemorrhaging internally. They need to get him to a hospital for surgery ASAP, but the only hospital that has a working operation room is Mirae Hospital. But their only available surgeons are standing right there.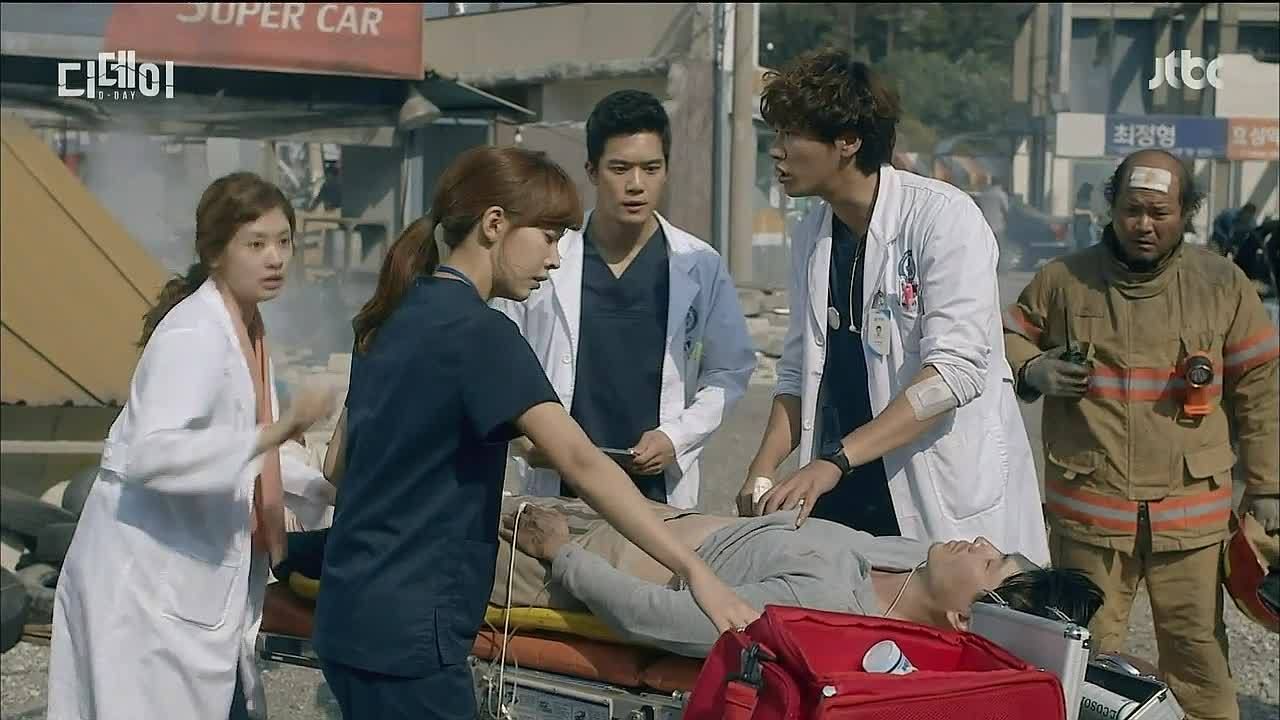 Woo-jin says he can't perform the surgery, much to Captain Choi's surprise. Hye-sung says he can't do it, either, because of the threat of malpractice and losing protective care for his mother. Besides, it would take too long to go all the way back to Mirae Hospital, especially since the patient is going into cardiac arrest.
But luckily, there's an abandoned animal hospital. Hey, a hospital is a hospital, right? They move the patient over to there and rummage around for surgical supplies. Myung-hyun is astonished that they're going to perform surgery at a time like this (and in a place like this). He tries to get them to stop and move to a "real" hospital, but Woo-jin, as the DMAT leader, points out that the patient won't survive to make it to another hospital, and he's tired of seeing patients die in front of him.
They're going to go ahead with the surgery whether Myung-hyun likes it or not, and it's not like he can stop them, anyway. Ji-na holds out the gloves they've prepped for him, but Woo-jin hesitates, telling her he can't do the surgery. She demands to know why, and he finally confesses that he's losing his eyesight.
That's why he's been avoiding surgeries, and why he had Hye-sung help him last time. He warns them that if Director Park finds out about it, he'll use it against them in the lawsuit. Instead, Hye-sung and Ddol-mi should perform the surgery. Ji-na is astonished (and a little tearful) as she tries to come to grips with Woo-jin's sudden confession, but this is no time to chit-chat (or for more chit-chat) since a patient's life is on the line.
Back at Mirae Hospital, Chief Kang is trying to explain to Director Park's sister why it's impossible for them to perform brain surgery on her husband. They're waiting for a hospital with a working CT scan to have availability and then they'll transfer him.
It just so happens that Director Park walks into Chief Kang's office when Disaster HQ radios in that they have found a helicopter to transfer the patient to a new hospital. Instead of answering the radio, Director Park petulantly turns it off, then purposefully spills his can of coffee over it for good measure, putting it out of commission for good. It can't be said enough — what an awful, awful man.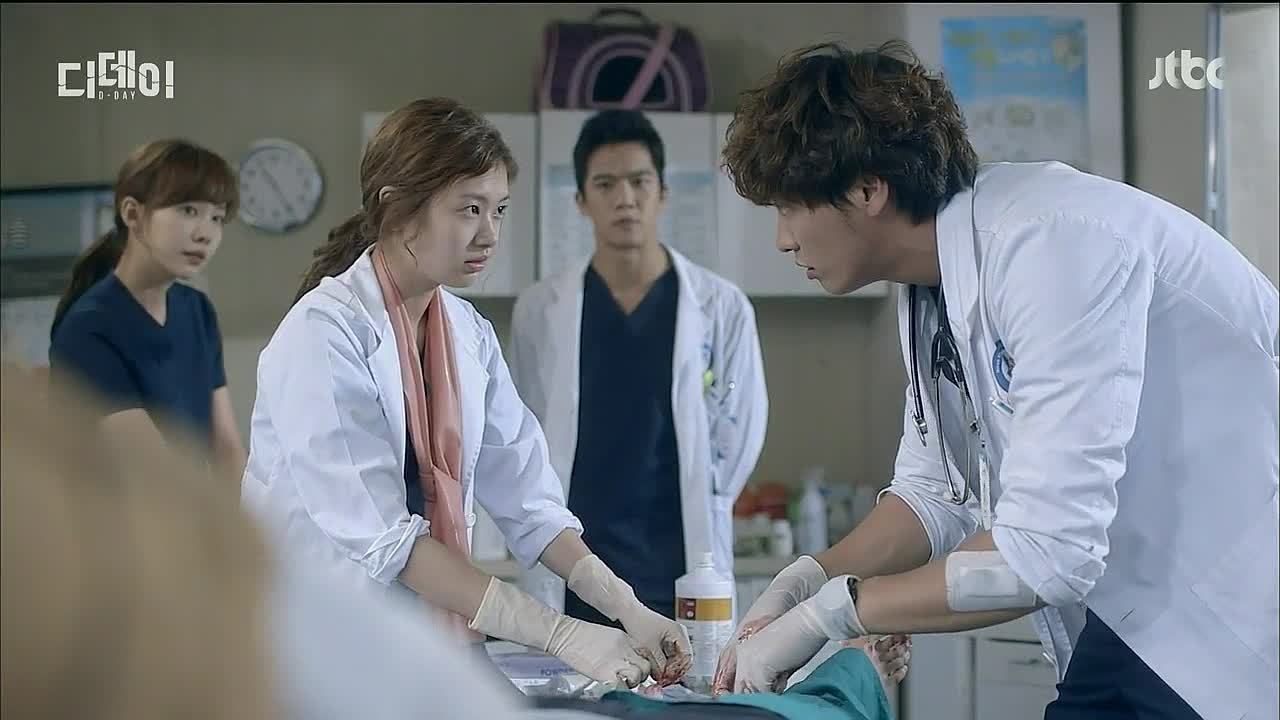 As Woo-jin watches off to the side, Ddol-mi and Hye-sung work on the patient together, and Ddol-mi brightens up with a huge smile when Hye-sung compliments her on how she's improved with her suturing skills. But she thinks he's just teasing her again until Woo-jin reassures her he's telling her the truth, which makes her beam even brighter. Aw, I forgot that Woo-jin was her first crush and reason for becoming a doctor.
The patient is stabilized enough to transport to Mirae Hospital, and as they wheel him in, Director Park stops them in the entry way. Woo-jin tells him that the general surgery was already completed, and as Director Park is about to blame Hye-sung for performing unauthorized surgery again, Woo-jin calmly tells him that he did it.
Even so, Director Park's petty greed won't let them go further, and he insists that they go to another hospital. Who will take responsibility for this patient's life if he dies after a surgeon who is currently in a malpractice suit operated on him?
Angry, Woo-jin asks if it isn't more important that they saved the patient's life in the first place. It's ridiculous to keep worrying about who will be responsible for later problems when a life is at stake. Director Park points out that's Hye-sung's usual refrain, so if Woo-jin wants to be like Hye-sung, then is he willing to put his medical license on the line?
Fine. Woo-jin agrees, telling Director Park he'll renounce his license if the patience dies. But Director Park still weasels his way out of letting them go further, pointing out that there's no way the orthopedic department will take someone who's already had surgery on his leg. But just then a nurse rushes up, letting them know the orthopedic surgeons agreed to operate. HA!
Director Park's gobsmacked face is priceless as he tries repeatedly to make sure the nurse explained it clearly to the orthopedic surgeons exactly what the situation is like, and she repeatedly tells him that she did, before annoyedly telling him that he's calling her by the wrong name. Double HA!
Distracted by thoughts of if the protestor jumped because they didn't put out the fire, Captain Choi waits to hear about the results of the surgery. The orthopedic reassures him that it was successful and the patient survived, and will likely recuperate well.
The chief orthopedic surgeon tracks down Woo-jin to compliment him on his skills of doing such an excellent job with such limited equipment, marveling that Woo-jin had the courage to do such a thing when Director Park is out to strip him of his medical license.
Of course he's just covering for Hye-sung, which everyone well knows. In private, Hye-sung asks him if he's sure about taking responsibility, but Woo-jin says he'd be losing his license anyway, considering it won't be long before he won't be unable to hold a scalpel due to his failing vision.
Aw, Hye-sung calls Woo-jin "hyung" again. Woo-jin apologizes for being a surgeon who only selected cases that would make his success rate seem impressive. But who is he to play God, deciding who has a chance to live or die?
It's time for Captain Choi to give an answer to Ja-hyuk's offer, but it's difficult to send his crew to certain death even if it's to save the country from going bankrupt. Should Ja-hyuk go tell the crew himself? What kind of firefighter will shirk his duty by refusing a life-saving mission?
At that, Captain Choi punches him in the face. Yesssss! Angry, he pulls out the envelope of money and tears it up, demanding to know if Ja-hyuk's mission is to bribe people and make them feel like crap. Fine, then; he has no sense of duty. All he does is spend every waking hour saving people, unable to eat, sleep, or wash up. Even when he gets stabbed, he continues working. How can he go to his crew, who have families, and say "Go, die!"?
Ja-hyuk counters that if Captain Choi refuses, their only option is to send in the special forces, who have no experience or knowledge of the utility corridors, and who will certainly be buried alive.
COMMENTS
Now this is the show I've been waiting for! Going out and saving lives in extreme circumstances (you had me "animal hospital"). Lots of cuteness between my beloved Ddol-mi and her pet poodle — *cough* — I mean Hye-sung. People having to deal with Super Serious decisions like risking their lives to save their family and the country or protecting their team from certain suicide. And apparently there is the military who are on hand to assist with rescue and rebuilding! Then again, if you have special forces available to send through the tunnel, then why haven't they been sent out previously to help save people and clear roads?
Or maybe next week the show will tell us that the military have indeed been busy working during this emergency state, but we just haven't seen them. I mean, if the show is going to awkwardly spell out the fact that the roads are so bad that it takes them an hour to drive ten minutes and DMAT has to go to the rescue site to save lives because they can't be safely transported to the hospital, you'd think the writers would have done that when the team was first introduced, and not three-quarters of the way into the show.
I'll admit I still don't fully understand the importance of why the Yeouido utility line is a make-or-break-it foothold — probably because I don't understand anything about engineering or vital utilities or world finance or disaster assistance or… much of anything, apparently. But I'm willing to go along with it because of the dilemma it gives Captain Choi in this episode, which is so much more interesting than the "zomg the hospital will close and Hye-sung is fired! Again!" conflict which was getting suuuuuuper old.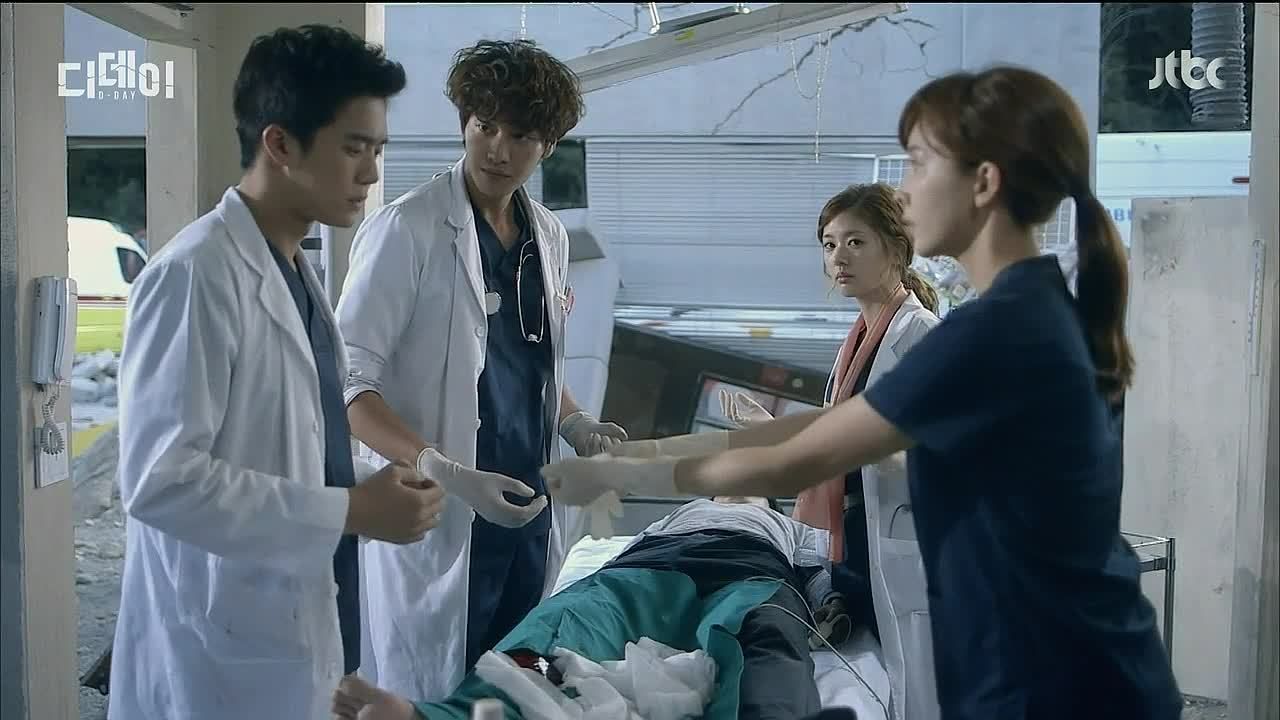 Mostly, I love that we're back out in the field. I love that Woo-jin is finally honest about his eye-sight and has firmly chosen to sacrifice himself so that Hye-sung can continue to save lives. I love that Ji-na obviously still really cares about him (so none of this love-triangle nonsense to shake up the cuteness that is Ddol-mi and the poodle). While Director Park is still the most annoying thing on this show, I'm glad that it looks like his power is cracking and his comeuppance should be forthcoming. He's so much more palatable when he only gets a fraction of the screen-time (d'year hear me, writers? Not that it matters, though, since this show is pre-produced. Sigh). I'm excited that we keep getting more glimpses into the citizen's lives and struggles (as depressing as they may be — I audibly gasped and cried out when the protester stepped off the building). These are the things I'm really interested in — so much more enthralling than hospital politics.
Speaking of politics, I'm pretty angry at Ja-hyuk, who's definitely on the evil side of border line. I kept trying to give him the benefit of the doubt because of how much I love Chief Kang, but man, I hope she realizes how much he's been lying to her about his power-hungry ways. Pretty sure he'd have no qualms leaving her behind if it meant a chance to become president. She definitely deserves better than him. Heck, the whole country probably deserves better than him, but I don't know if it's too late to ask Ddol-mi to get into politics when she's only just found her stride as a surgeon.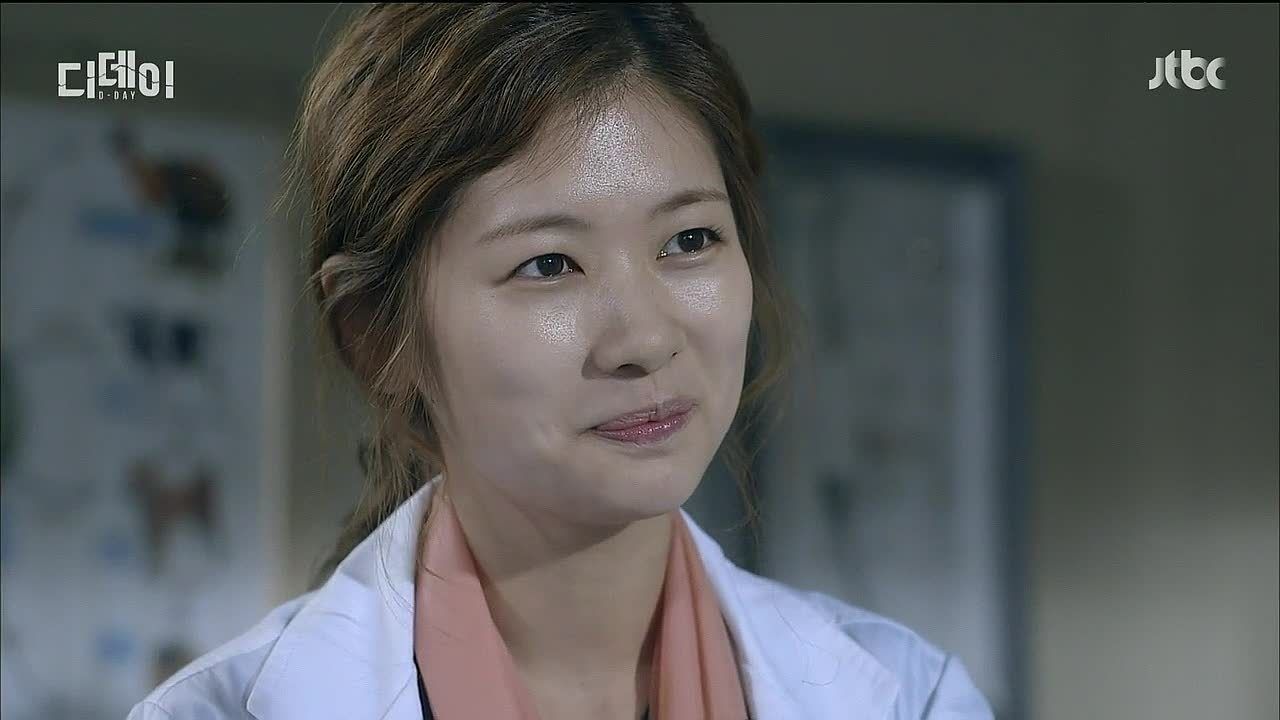 RELATED POSTS
Tags: D-Day, featured, Ha Suk-jin, Jung So-min, Kim Young-kwang