Madam Antoine pairs Jang Mi-hee with Jung Jin-woon in May-December romance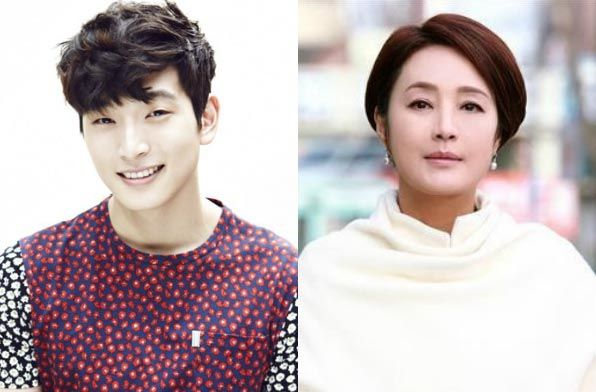 This is quite the unexpected pairing: JTBC's upcoming quirky rom-com series Madam Antoine has just cast veteran actress Jang Mi-hee (Unkind Women) to act opposite Jung Jin-woon (Marriage Not Dating) in a May-December romance that'll form one of the supporting storylines. I'm not sure anybody could have seen that one coming — she's long been a fixture in weekend and daily dramas (Rosy Lovers, Here Comes Oh Ja-ryong, Life is Beautiful) playing mom types, while he's an idol. I know noona romances are all the rage in dramaland, but this takes that a step further with a 33-year age gap.
I suppose Jang Mi-hee does have a younger, hipper image than her 57 years, but Jung Jin-woon is 24, and my brain is having a hard time processing them as a couple when they seem more suited to mom-son. But the oddity of the pairing is surely intentional, and they wouldn't have cast these two actors if they didn't want us to do a double-take on the concept, so I'll have to trust that it works in the story.
Speaking of which: The main plot of Madam Antoine centers around Han Ye-seul (Birth of a Beauty) as a fake fortuneteller who's skilled at reading people and Sung Joon (High Society) as a star psychologist who's indifferent to love. They'll engage in a "psychological game" of some sort, presumably on the way to falling in love in earnest.
Jang Mi-hee will play a former psychology professor who sinks into a gloom after she retires, which is when she meets Jung Jin-woon and falls into infatuation at first sight. She works at a therapy center as a psychological evaluator, and is usually elegant and perfectionist… but in front of Jung Jin-woon, she has a tendency to spew curses, which is a key comic point of her character. Okay, the sounds cute. Still weird, but potentially cute.
Madam Antoine follows D-Day as JTBC's next Friday-Saturday drama.
Via YTN
RELATED POSTS
Tags: Jang Mi-hee, Jung Jin-woon, Madam Antoine