More princes join the mix for Bu Bu Jing Xin remake Moon Lovers

Hong Jong-hyun, Baekhyun
More casting updates for the Bu Bu Jing Xin remake! The Korean version is titled Moon Lovers and now reports that Hong Jong-hyun (Mama, Dating Agency Cyrano) and EXO idol Baekhyun are positively considering joining the fusion time-traveling period romance drama.
As previously announced, Lee Jun-ki (Scholar Who Walks the Night) and Kang Haneul (Misaeng) are in talks for leading roles. Both are reportedly still considering, which means nobody's a final lock yet, though at least we can start to get a general feel for the cast based on who they're courting. (Also, news reports had announced that Hwang Jung-eum was in contention to play the time-traveling main character, but her reps immediately quashed those rumors, stating that she was not doing the project.)
The original Chinese drama was centered around a modern woman who time-travels back to the Qing era, who then becomes entangled in romantic lovelines with several (all of the?) princes of the time while also trying not to alter the course of history. Moon Lovers puts the story in Goryeo era, with Lee Jun-ki up to play its fourth king, Gwangjong. Kang Haneul would take on his rival — or at least, one of them, since there are multiple suitors vying for her affections.
Hong Jong-hyun and Baekhyun are both being courted to play two princes; the details of their roles have not yet been given, but I'm sure we have some knowledgeable Bu Bu Jing Xin fans in the house who can speculate as to which roles they'll be playing, right?
Moon Lovers will be directed by PD Kim Kyu-tae of hits like It's Okay, It's Love and That Winter, the Wind Blows. And despite the rocky history of pre-produced series in dramaland (versus the more frantic but preferred method of live-shooting), it seems that we're about to see a renewed push for pre-production: Several big buzz projects are adopting the practice in the coming year, including the Song Joong-ki and Song Hye-gyo doctors-without-borders drama Descended From the Sun and Lee Young-ae's historical biopic Saimdang. Now Moon Lovers is looking to film in advance of its airing as well. For the sake of everyone who works in the industry, I hope the pre-produced shows are successful and pave the way for more projects of the kind. 'Cause as long as the live-shot shows outperform the filmed-in-advance ones, I don't see things changing in the system.
Filming on Moon Lovers will commence in mid-February, with a goal of airing in the latter half of the year; a broadcaster has not yet been secured.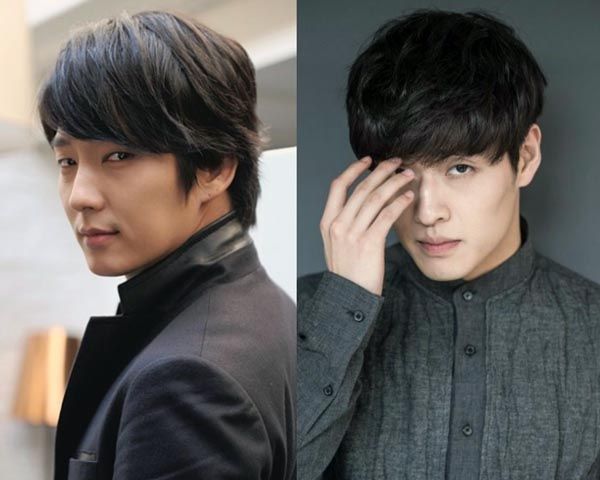 Lee Jun-ki, Kang Haneul
RELATED POSTS
Tags: Hong Jong-hyun, Kang Haneul, Lee Jun-ki, Moon Lovers: Scarlet Heart Ryeo, remakes