Oh My Venus: Episode 3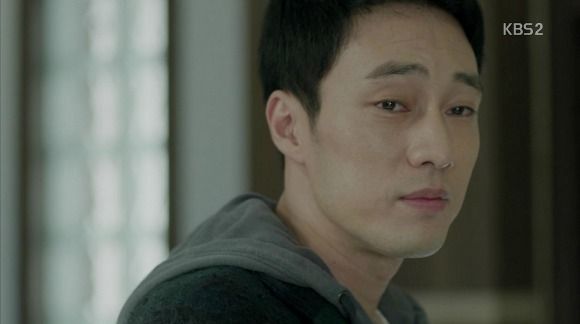 Oh My Venus continues to be sweet and funny, but a bit more backstory on our characters reveals a dark underbelly of lifelong hurt and betrayal. The show is turning out to be deeper than expected, though not at all in the ways you'd expect. While a physical makeover is in the works for one person, the true healing needed may actually be in someone else's heart — the person who truly needs help may not be as obvious as we thought.
EPISODE 3 RECAP
Joo-eun asks if Ji-woong is John Kim, holding up the ID badge she found triumphantly. He looks confused, but Young-ho shows up to say that she has, in fact, found John Kim. He waves Ji-woong and Joon-sung inside (as they try to warn him telepathically not to do this), and pulls Joo-eun inside to talk.
HAHA, he's got his hand over her mouth to stop her blabbing the name John Kim again, and she actually licks him to get him to let go. He warns her not to give away John Kim's secret (with his soggy hand on her shoulder, hee) or her coming here will be meaningless. When she asks how he knows what she's here for, he gives her the once-over and says it's obvious — but she stops him from saying it and goes looking for Ji-woong again, still thinking he's John Kim.
All three men sit looking guilty while Joo-eun explains how she figured out their secret. Ji-woong mentioned the woman on the Stella Show, and he's a trainer. Not to mention, he's clearly Korean-American, which would warrant having an American name. She would be sure based on that evidence, but their triple guilty expressions confirm her hunch.
Young-ho becomes amused when she mentions her best friend's ex being the host of a celebrity news show, and asks if she's threatening to out them. She says she's not NOT threatening them, but whatever works. Ha.
Ji-woong finally gets a word in edgewise and insists that he's not John Kim, but Joon-sung grabs him by the head and yanks him out of the room. Young-ho says that he's sure that "John Kim" knows she wants a makeover, and offers to talk.
Later the three men huddle in the bathtub, where Ji-woong holds his arms in the air as punishment for being so nice to her and dragging them into this situation. Poor Ji-woong is so flustered he keeps forgetting what language he's speaking, switching from Korean to English and back.
Meanwhile Joo-eun is in the main room, happy-dancing her good fortune. She imagines herself the next success on the Stella Show , while Woo-shik cries in the audience to see her svelte and gorgeous, and Soo-jin storms off the set.
The men decide Joo-eun is too tenacious to ever let this go, and come up with a plan — Ji-woong will pretend to be John Kim, allowing Young-ho to preserve his identity. Young-ho claims to be the team doctor, and says that he'll be in charge of things since John Kim's Korean isn't that good, HAHA. Ji-woong even starts babbling in English just to "prove" it.
Joon-sung doesn't look happy that she even looked him up and knows who he is, but Young-ho smiles and says that from now on, the three of them are her team. Joo-eun is thrilled, while the guys try really hard to look thrilled.
Joo-eun floats home on Cloud Nine, and finishes her delivery food as a last supper. Hyun-woo calls her and laughs at the idea, and Joo-eun can't tell her about her arrangement with the guys, so says to wait and see — she's had a chance at redemption.
Young-ho and Joon-sung spar, with Young-ho easily winning. Manager Min calls Young-ho to warn him that his villa is ready, and he's expected to move in this afternoon. Wow, for a "villa," that place is huge.
Joo-eun starts her day by reducing the amount of sugar in her coffee, prompting her secretary to ask if she's sick. Joo-eun cryptically asks if she's heard of John Kim, and giggles when her secretary admits to being a fan, too.
Soo-jin gets a massage (during work hours? Aren't you the same woman who just chided Joo-eun for leaving work on her half-day?). The masseuse compliments her on her great skin and calls her a natural beauty, but Soo-jin doesn't look happy and says that really, she's not. Woo-shik comes to escort her back to work, and she admits to liking his chivalry and wanting to keep him for herself.
Dressed in his slouchy hoodie, Young-ho goes to his family's company building, narrowly missing running into Woo-shik in the elevator. Lost in thought, he remembers seeing his father sitting in a dark room, with Manager Min on his knees in front of him. Min gasps that someone was brought to the hospital as soon as possible, but they couldn't be saved.
Min had started to mention Young-ho, but his father only says that now isn't the time to expose him to the outside world. Not until he can bow in front of his deceased mother's photograph. From the other side of the doorway, little Young-ho sits in his wheelchair with his right leg in a brace, shaking and crying for his mother.
Back in the present, Young-ho sits in his father's office, and Dad says that it would have been better if he'd just had Manager Min bring him a message. Young-ho agrees, since his father isn't even glad he's alive, and Dad doesn't bother to contradict him. Young-ho asks for his manager position in the States to be given back to him, knowing that his father has the authority to make it happen, but Dad tells him to just accept it, basically calling him spoiled.
Struggling to keep it together, Young-ho says that his life has been anything but sweet. He gets up to leave, but says that he'll agree to the arranged marriage.
He's flanked by Manager Min's men before he can drive away, and he admits his frustration at having his job taken away. He tells Min to tell his great-grandmother that he has no job and nowhere to go now, and to stop pouting and pick up when he calls her, because he wants to see her. He sends Min another finger-heart, which makes Min smile.
Great-Grandmother's porridge is brought to her, and she takes a call reporting that Young-ho showed up at the office. The woman who brought the porridge, who behaves like an employee but calls her "Mother," seems to take note of this information.
Young-ho is so distraught, he parks on a bridge and just sits on the ground while traffic passes him by. He gathers himself and takes a call from Joon-sung, who's at the villa with Ji-woong — dang, the place is luxurious. The guys get ready for their first session with Joo-eun, and I gotta laugh at how enthusiastic Ji-woong is about pretending to be John Kim.
Joo-eun's car is blocked in by a swanky sports car, which turns out to be Soo-jin's. She can barely get it out of the tight space she's wedged into, and nearly hits another car, so Joo-eun smoothly maneuvers the car out herself. Not that Soo-jin is thankful.
Ji-woong attack-hugs Joo-eun again when she arrives at the gym, while Young-ho snarls at the aegyo voice she uses with him. Jealous so soon? She changes into her workout clothes while Ji-woong is encouraged to be super-tough on her so she'll quit. Ah, so that's why they agreed to this so easily.
Joo-eun is reluctant to come out of the dressing room in front of all three men, and Joon-sung says again that they have to stay because Ji-woong's Korean is terrible (Ji-woong: in badly-accented Korean "I can't… uh… Korean." HAHAHA). It convinced Joo-eun to reveal herself, and at the sight of her, Young-ho is anxious to get this over with.
Ji-woong leads Joo-eun in a series of stretches, and the poor girl is so out of shape she can barely even finish the warm-up. Joon-sung demonstrates her first exercise, and it's hard to tell if her cringing is from the difficulty or the fact that he's waving his butt right in her face, hee. But she gamely tries it, to hilariously bad results, though if Ji-woong could help her just through sheer force of will, he would.
HAHA, Hyun-woo is watching a documentary about the military, and as it turns out, the exercises the guys are putting Joo-eun through are the hardest routines that the super-elite soldiers perform. Later Joo-eun lies on the gym floor, barely able to move, and the men leave her there to let herself out when she can get up. She wonders if this was a bad idea, but reminds herself that she can do anything she puts her mind to.
Soo-jin joins Woo-shik at an indoor pool, posing slinkily in her swimsuit, though he tells her to cover up or she'll be cold. She pouts that she doesn't know how to swim, and he says he can teach her like he taught Joo-eun… oops. Soo-jin looks disturbed for a moment, then says that they shouldn't avoid talking about Joo-eun, and accept his past. Then she pushes Woo-shik in the pool for saying her name, ha.
Joo-eun is so exhausted, she can barely climb the stairs to her apartment. But her daydream of being on the Stella Show motivates her, and she hauls herself up, as a shadowy figure watches her from below.
She jogs in the morning, pushing though her side-cramps, while Joon-sung trains by jogging along with her, carrying Ji-woong. They have to help her up a set of steps in her jellylegs, as Young-ho observes from his nice comfy car.
Next they give her a giant stuffed sloth (that weighs the same as her body fat, Young-ho informs her) for some heavy bag training. Joo-eun immediately starts throwing and punching it, alarming the guys a little — okay, alarming the guys a lot — at her level of anger.
Joo-eun gets a leg cramp during one exercise, and all three guys drop what they're doing to worriedly hover over her and massage her muscles. Later when they discuss her workout regimen, they're no longer trying to get rid of her — instead they're worried that she hasn't lost any weight, and trying to figure out how to fix that. Awww, they like her!
Ji-woong shows them a news article about Anna Sue possibly admitting to having a relationship with John Kim, and the guys moan that the scandal doesn't seem to be dying down. Ji-woong grins like a fool when he gets a text from Joo-eun telling him of the exercise she's doing on her own, even imitating her aegyo voice, which annoys Young-ho.
The next day at the gym, Young-ho and Joo-eun eye each other suspiciously — Ji-woong and Joon-sung have an interview, so it's just the two of them tonight. I love how Young-ho imitates Ji-woong's voice, hee. He gets a call from his blind date and sighs that he can't miss it, so Joo-eun assures him that she knows what to do and can be left alone. She even seems a bit sorry when she says that "John Kim" was unlucky enough to get stuck with her, but that Young-ho and Joon-sung don't have to help.
Woo-shik takes Soo-jin to a movie, and he notices that she's not eating any popcorn. He tries to hand-feed her some, and when she declines he puts a piece in his teeth and goes in for a kiss. His phone buzzes before he can close the deal, and Soo-jin sees that the call is from "mother-in-law" — whoops. Judging by Soo-jin's face, that's gonna bite him in the ass later.
Joo-eun works out until she collapses, and reluctantly takes a call from Woo-shik. He's shocked that her mother doesn't know they broke up, and says they need to go tell her, right now. He gets to the restaurant first, and they end up only a few tables away from Young-ho on his date.
Of course, Young-ho recognizes Woo-shik, and hears Joo-eun call the lady he's with "Mom" when she arrives. She tries to get her mother to leave with her, but she and Woo-shik both want to stay. And just when Joo-eun thinks it can't get worse, it gets a thousand times worse, when her younger brother shows up with his perky fiancee.
Apparently Mom orchestrated this to encourage Woo-shik to propose to Joo-eun, unaware that they've already broken up. Talk about awkward. Both Joo-eun and Woo-shik shoot little bro Jae-hyuk meaningful glances, and he gets the hint and ushers his fiancee right back out of there.
As soon as they're alone, Joo-eun rips off the bandage, and tells her mother that she and Woo-shik broke up. Mom begs Woo-shik to change his mind and take Joo-eun back, and he looks truly contrite as he says he's sorry. Joo-eun promises Woo-shik that this won't happen again, and motions him to leave. He does, with Mom calling after him, and Young-ho watches Joo-eun as Mom breaks down.
Young-ho's date (who seems a bit dim, but sweet enough) asks if he's okay, and he mutters that it's making him uncomfortable, the way Joo-eun always shows up where he is.
Joo-eun drives her mom to the bus terminal, and Mom brings up the wedding plans. Joo-eun snaps that they broke up already, but Mom means Jae-hyuk's wedding. They bicker some more, but it's loving and half-laughing, and Mom reassures Joo-eun that she'll be fine.
Young-ho's drive home is also a thoughtful one, though he's remembering how Joo-eun is always right there, no matter where he goes. Ji-woong calls him after their interview and says that Joon-sung wants to train, so Young-ho offers to meet him at the gym.
But when he gets there, it's not Joon-sung exercising, but Joo-eun (while listening to I Will Survive by Gloria Gaynor, naturally). At nearly midnight, after the evening she's had and literally staggering with exhaustion, she still went back to the gym to finish her workout.
Frustrated, he confronts Joo-eun, asking if she really thinks she'll lose weight like this. And if she does, what will change? Joo-eun scoffs at the idea that she should only lose weight to change things, and reminds him that he said to keep doing this until she can't anymore.
She staggers and he has to catch her, barking that she's already hit her limit. She repeats her mantra, that she can do anything she sets her mind to, but Young-ho counters that believing something, and being able to do it, aren't the same thing.
But Joo-eun doesn't agree — if she believes she can do something, then she can, because she believes. Even as she's trembling with exhaustion, she still insists she can do more. Young-ho tells her to stop or she'll hurt herself, and his anger now looks more like worry and concern.
He waits with her for a driver to take her home, unwilling to let her drive herself considering the state she's in. She gives in, and he reminds her to take a hot shower before bed to loosen her sore muscles, which is unexpectedly sweet. When Joon-sung marvels that she stayed this late, Young-ho says, half to himself, that she's brave and sincere.
Once home, Joo-eun deletes Woo-shik's number from her phone, and texts Ji-woong (as John Kim) that she had to quit early tonight, but will work harder tomorrow to make up for it. She asks if he thinks she can really change, but says that she'll believe, since he's working with her. Young-ho is home by then and sees the messages pop up on Ji-woong's phone, and he remembers her statement that believing you can is the same as being able to do something.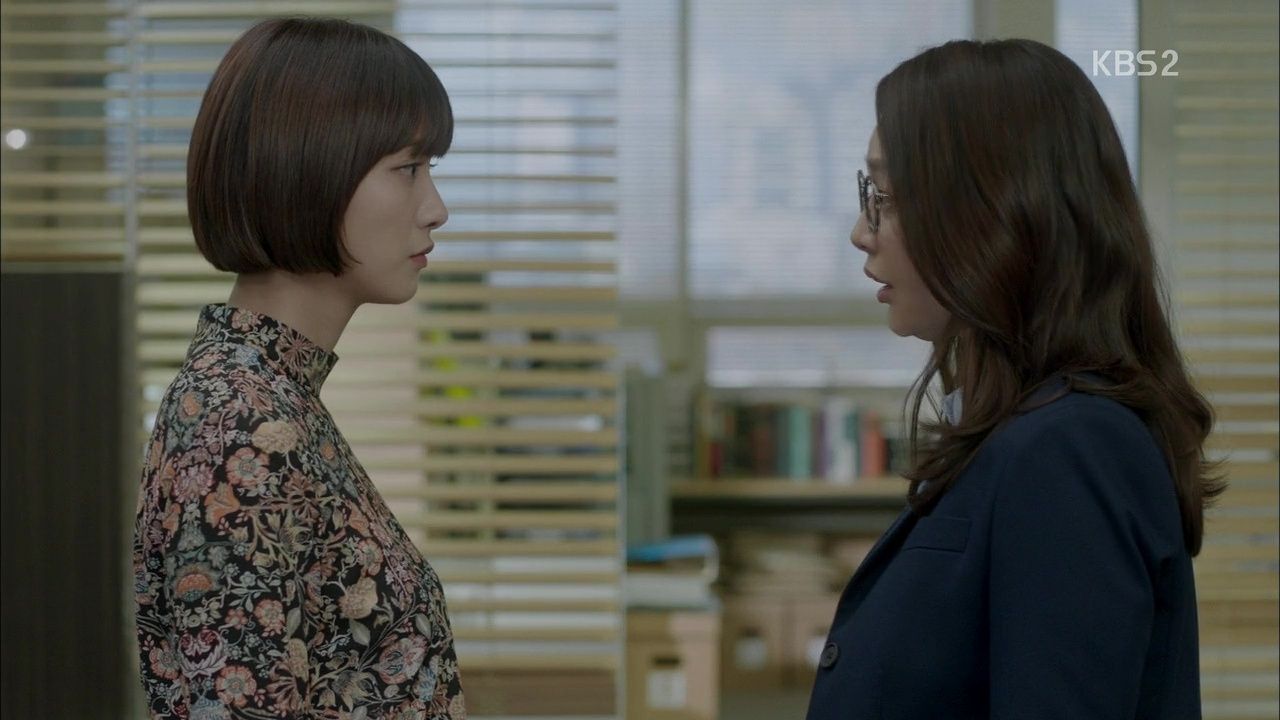 Joo-eun is so sore the next day she can barely move, though she tries to hide it when Soo-jin comes to her office. She informs Joo-eun that she is to go on TV — there's a live news program that wants to do an interview, and prefers a female attorney. There are only four at the firm, and Joo-eun is the only one free. Soo-jin is all wide-eyed innocence when Joo-eun asks if this is payback, and Joo-eun has no choice.
She texts Ji-woong to explain why she can't go running this afternoon. Young-do relays her message to Ji-woong, who's in the other room (he even imitates the little "fighting!" emoji with a totally straight face, which is ridiculously adorable).
Ha, so Soo-jin IS using this as retaliation, as she settles in gleefully to watch the interview and remembers Woo-shik saying how he taught Joo-eun to swim, and that he still had her mom in his phone as "mother-in-law." Young-ho also catches the broadcast, which seems to be going pretty well — until Joo-eun collapses, live on the air. Young-ho is riveted, waiting to see what will happen, and to her credit Soo-jin looks pretty worried.
Joo-eun is rushed to the hospital, and in the ambulance she thinks, half-unconscious, that this is her second ambulance ride. She wonders if they'll take off her corset or more this time, as well.
Soo-jin calls Woo-shik to tell him what's happened, but he says he's too rushed to talk and hangs up on her.
At the hospital, an unseen person tenderly puts a bandage on Joo-eun's hand where she received an IV — aww, it's Young-ho. Some time later she's woken by her phone ringing, but before she can wake fully to pick up, Young-ho hands it to her. He's still there? Why is that so swoonful?
Joo-eun checks under the covers and sighs at her ruined clothing, and Young-ho dryly quips that he didn't cut her clothes off this time. He takes off his jacket for her to cover herself, and drives her home. She's quiet and distant in the car, and Young-ho jokes that now she has a new "worst day of her life." He asks why she wants to lose weight so badly, but she just snorts that it's a useless question.
When they pull up to her place, Joo-eun for helping her yet again, and starts to walk to her apartment. But she's suddenly whirled around, and finds Young-ho right up close. He says that if they're going to do this, they should do it properly, and introduces himself.
"I'm John Kim."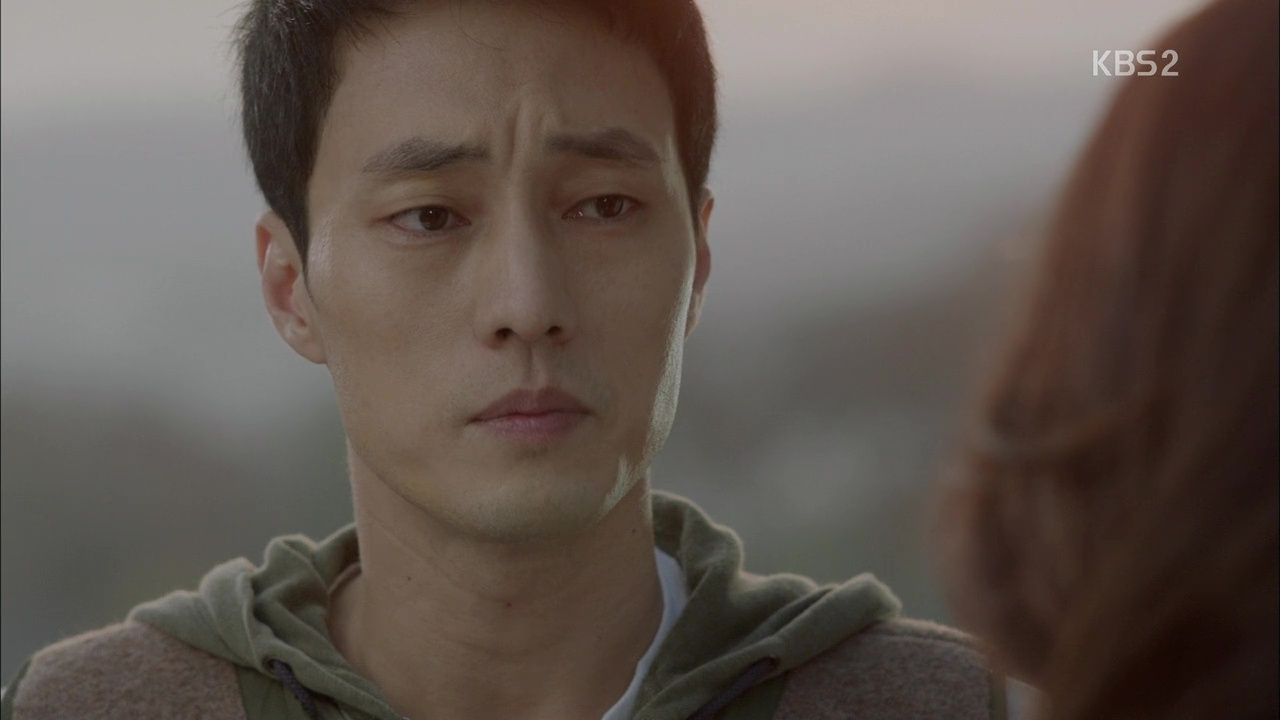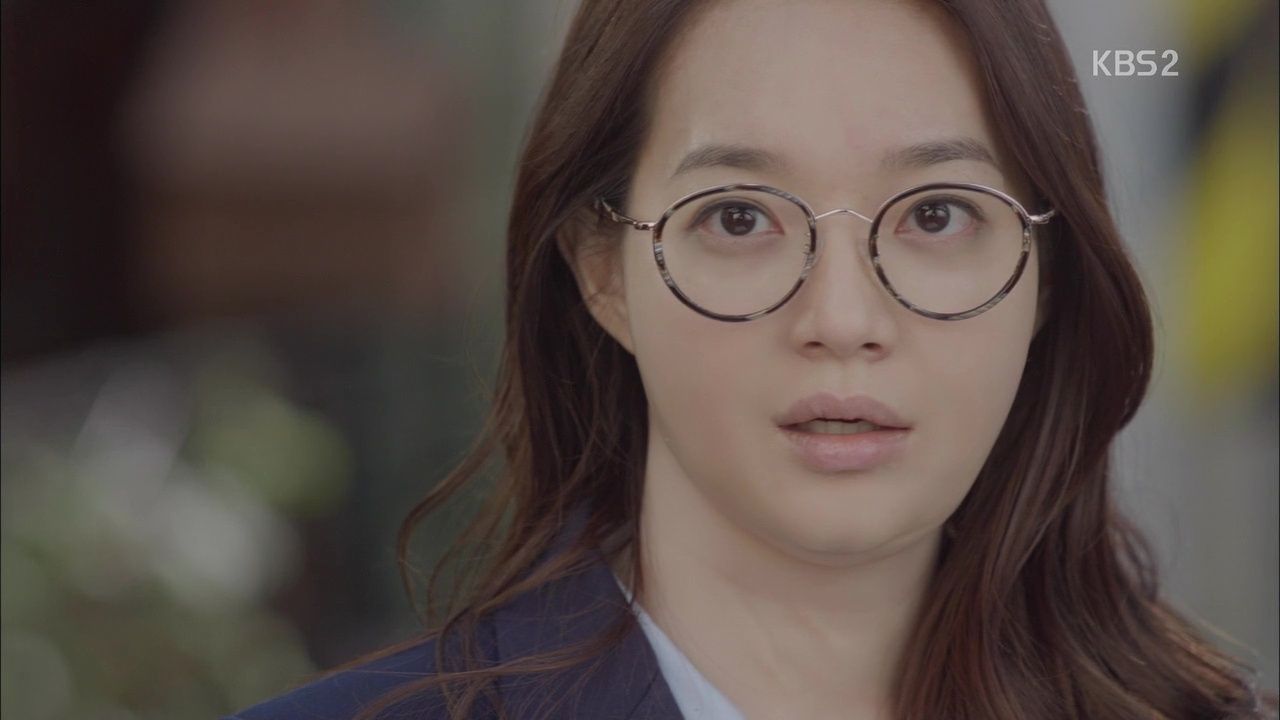 COMMENTS
Oh Young-ho, that didn't take long at all. I'm all wobbly-kneed by him already, and it has nothing to do with the fact that he's being played by So Ji-sub (though I'm not gonna lie y'all, that doesn't hurt). I think it's equal parts that he already finds Joo-eun interesting and fascinating when she hasn't lost an ounce, and the fact that he doesn't like people easily yet she's gotten through to his heart this much already. I'm a sucker for a guy who likes the girl before she changes a single thing about herself.
Young-ho's relationship with his father makes a lot more sense now, knowing what we learned in this hour. Apparently he had something wrong with his leg as a child, and his father kept him locked up for not being the perfect son he wanted. Not even letting him attend his own mother's funeral until he could kneel before her picture is just… I started to say cruel, or callous, but what it is, is monstrous. Blaming a child for a condition beyond his control, and keeping him from living any sort of life, is monstrous. No wonder it seems that Young-ho went to the States and never came home. And what's even sadder is the bleak matter-of-factness that Young-ho says things like, "…since you're not even happy I'm alive," and how Dad doesn't even attempt to correct the idea. It's just heartbreaking, but it also explains a lot about Young-ho and why he keeps himself at a safe distance from people, and why he keeps his public identity a secret. When you feel no sense of self-worth, you don't want people to notice you. It also explains his dedication to physical fitness — if the first part of his life was defined by being so physically "defective" that he wasn't even allowed out of the house, it makes sense that he makes sure to be healthy now. To Young-ho, being physically fit probably equals freedom.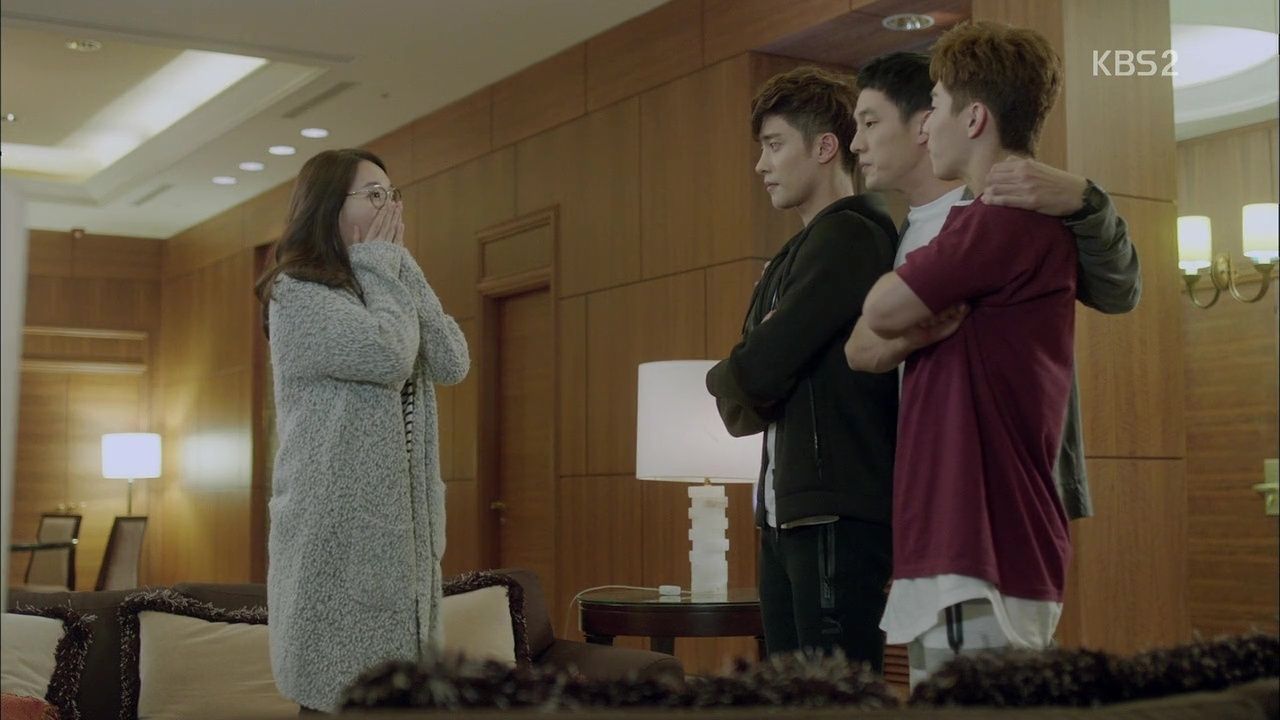 Young-ho is a much more tragic figure than he originally seemed, but I sort of love that the show is giving us more than a simple "girl loses weight and falls for her trainer" story. But then, I'm all for unexpected depth in a drama, and this show seems to be gearing up to give us more to think about than bodily aesthetics. I had hoped that there would be a message beyond physical looks/health, though I'm surprised in the direction it's coming from — if anything, I expected Joo-eun to be the source of any food for thought we might be offered. Young-ho is an unexpected gift, in that he's such a lost soul in need of saving, probably even more so than Joo-eun. I'm happy he's not totally alone, and has his loyal friends who seem to be willing to do anything for him — but his family background is so hurtful, and Young-ho's eyes so ancient and sorrowful, I just ache for him. And I have a feeling we haven't even seen the half of it yet.
Young-ho isn't the only character continuing to surprise me — the more we see of Joo-eun, the more I adore her. She's got a backbone of steel and a will of titanium, and doesn't seem to be scared of anything. It didn't take long for her determination to get in shape to impress all three men so much that they abandoned their plan to get rid of her, and are now concerned with how to help her reach her goals. I love that it didn't even take a major event for them to change their tune — it just happened so naturally, because Joo-eun does that to people. She changes them for the better, just by existing, and they don't even know it until it's done. She lives by example and does whatever she pleases, confident in her ability to succeed, and you can't be around someone like that for long without it rubbing off on you.
But for Young-ho, whose survival to this point has hinged upon yielding to those with power over him, Joo-eun's can-do attitude really bothers him right now. He doesn't understand how she can work herself into exhaustion and still want to keep going, because in his world, that's just purposely hitting a brick wall over and over. He sees her trying to hard with no results, and it reminds him of his own situation. Easier to give up, give in, admit that you can't do it and run away. At least, at this point, his attitude is resulting in him beginning to worry for Joo-eun and make sure she takes care of herself, which can only draw them closer. Later I'm sure, her determination will begin to rub off on him, and he'll find himself capable of being less of a doormat with his father. At least, I hope he will, for his sake.
RELATED POSTS
Tags: featured, Oh My Venus, Shin Mina, So Ji-sub