Park Seo-joon, Go Ara, Park Hyung-shik courted for historical drama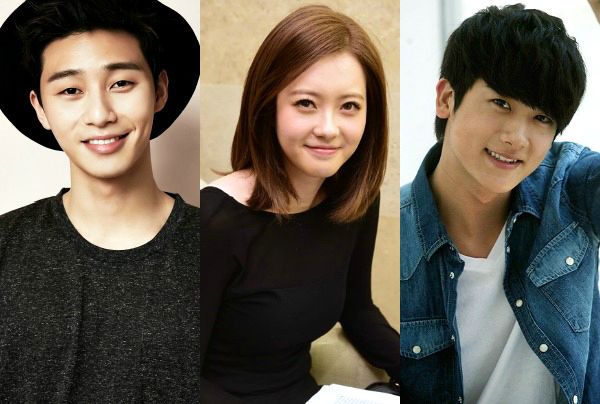 My first thought with this casting news is, Wow, that's a pretty cast, followed closely by, Please don't be 50 episodes long. 'Cause I want to be watching this drama if they get these actors to sign on. A new sageuk is in the works called Hwarang, about the young and beautiful Hwarang warriors of the Silla dynasty (Queen Seon-deok's era), and offers are out to the young and beautiful Park Seo-joon (She Was Pretty), Go Ara (You're All Surrounded), and Park Hyung-shik (High Society) to star.
The new drama comes from Oh Boy Pictures, the production company behind the Flower Boy dramas on tvN (Flower Boy Ramyun Shop, Shut Up: Flower Boy Band, Flower Boy Next Door). Sageuk seems like a departure for them, except when you consider the subject matter — the Hwarang were an elite group of highly educated young aristocratic warriors founded in the 6th century who were known for their beauty. Their name translates to: hwa = flower, rang = boy. So basically, the original flower boys.
It makes sense then, that the drama was originally called Hwarang: To the Beginning, if what they mean to do is go back to the origins of the flower boy. I wonder if that makes the series more like the youth-centered Sungkyunkwan Scandal than a conventional sageuk, though these days fusion is almost a given.
Park Hyung-shik has been offered the role of King Jinheung, who ruled Silla from 540 to 576 during the Three Kingdoms period. He took the throne at 15 and became one of Silla's greatest kings, responsible for vastly expanding its territory and establishing the basis for the later unification of the kingdoms. Lady Mishil was one of his consorts, though nothing in the drama descriptions names her as a potential character in this story. Character descriptions weren't provided for Park Seo-joon and Go Ara, and for now all three actors are unconfirmed.
Casting stories initially stated that the series was being shopped at KBS for a potential January premiere; but KBS denied that it was being considered for their schedule (which makes sense, since they're already airing Murim School and Descended From the Sun). It seems like a lot is still up in the air with this production, but I hope it'll find a broadcaster soon. What can I say — Flower Boy Warrior Legion sounds hot.
Hwarang is aiming to start shooting in December, for a January broadcast.
Via Osen, IS Plus, News1, Chosun
RELATED POSTS
Tags: Go Ara, Hwarang, Park Hyung-shik, Park Seo-joon