Six Flying Dragons: Episode 10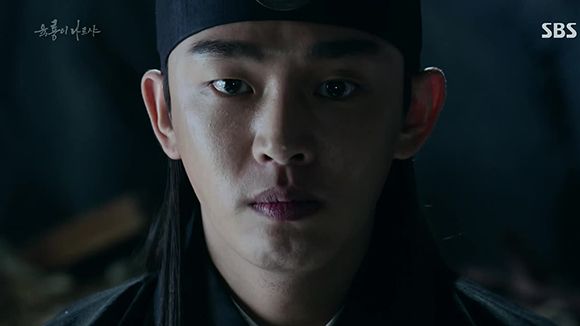 Nothing stings quite like that feeling of disillusionment you get when the person you've shaped a good portion of your life around tells you what a terrible idea that was. That's just the kind of thing that happens when you don't communicate for six years—time passes, you kill a few people, and suddenly you're the one with problems. Great historical leaders can be so fickle with their affections, amirite?
SONG OF THE DAY
Taeyang – "Eyes, Nose, Lips" [ Download ]
Audio clip: Adobe Flash Player (version 9 or above) is required to play this audio clip. Download the latest version here. You also need to have JavaScript enabled in your browser.

EPISODE 10 RECAP
The second Bang-won exits the dodang assembly, he's met by the perpetually unwashed Boon-yi, asking desperately how it went. At first he acts all somber to give her the impression that things didn't go well, at least until he scoops her up in a spinning hug, overjoyed that the border plan passed.
Now that that's passed, Bang-won claims, there'll be some much-needed restructuring when it comes to the distribution of power. "We're the ones who made this amazing feat possible. We did it!" he says excitedly.
But Boon-yi brings him back to reality: what's he going to do about the fact that he forged his father's seal? Bang-won pushes that thought away—right now, it's about enjoying their victory. Life would be depressing if they couldn't give themselves moments like this, wouldn't it? Even Boon-yi breaks into a smile as she teases him about his optimism.
Lee In-gyeom tears into Gil Tae-mi for betraying him over the border plan, wondering if his former protege knows exactly what he's done. Gil Tae-mi feels justified because his mentor sent an assassin to kill Minister Hong… at least until Lee In-gyeom's firm denials give him a reason to doubt that.
His mentor can't stress enough how disastrous the border plan is, because it gives the already powerful Lee Seong-gye an autonomous region with which he can exert control over the entire nation. They won't be able to control him, which is why not passing the plan was critical.
Getting it now, Gil Tae-mi still pouts, "If it was that important, then you shouldn't have sent an assassin." Lee In-gyeom: "I TOLD YOU I NEVER SENT ONE!" This is funnier than it should be.
Jung Mong-joo looks to General Choi for clarification on his vote to pass the border plan, suspecting that he made some sort of deal with Minister Hong. Loud enough for others to hear, Jung Mong-joo calls the general out on whether he's just going to cover up the atrocities Hong committed for land while he's at it.
They're joined by an arrogant Minister Hong, who tells Jung Mong-joo that General Choi will strike him down in the end, just not now. But Jung Mong-joo sees through him, and correctly guesses that him passing the border plan in lieu of giving up half his wealth means that he thinks he can get Lee Seong-gye on his side. As to that, Jung will just have to wait and see.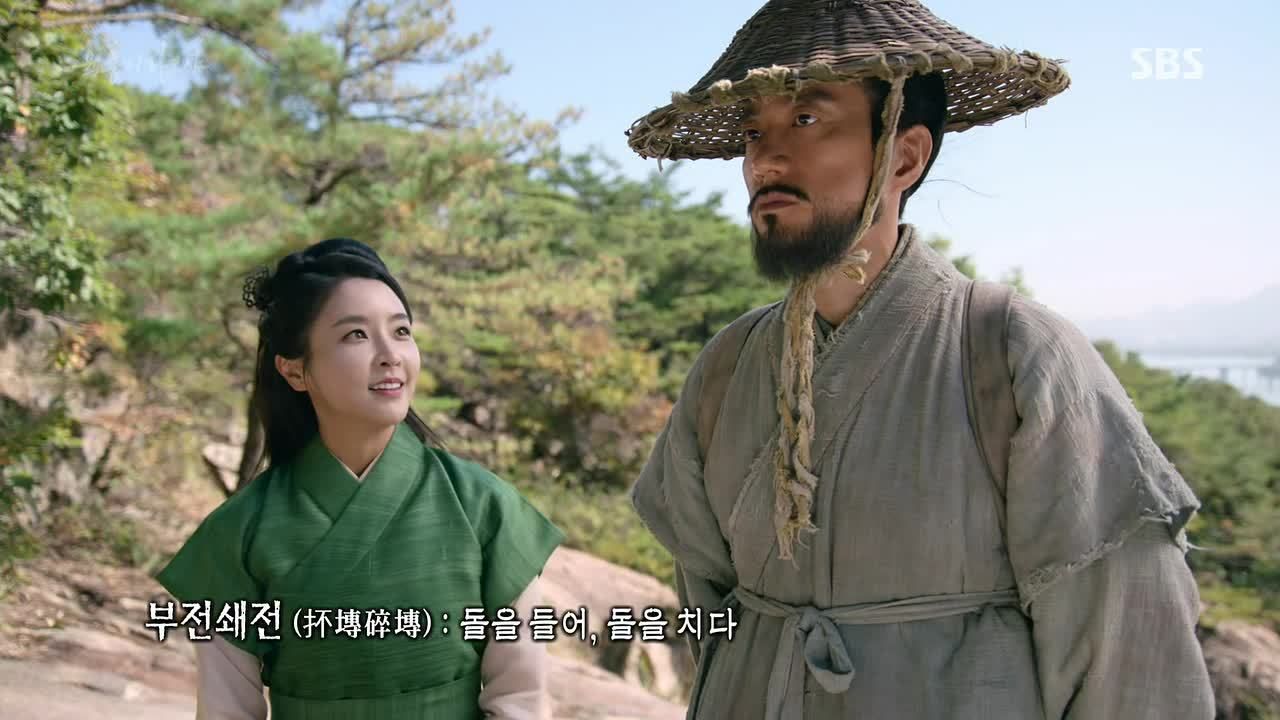 Yeon-hee is happy for Jung Do-jeon now that Minister Hong's fallen perfectly into his trap, though she's quick to notice that he doesn't share her joy. He's more interested in the mysterious warrior who tried to assassinate Hong—because his calculated equations amount to little with an uncontrollable variable like him.
She promises to look into the warrior's identity for him, and to retrieve some necessary papers Jung Do-jeon wants from the New Joseon Cave. Maybe she'll hit two birds with one stone without meaning to.
Lee In-gyeom goes to Cho-young to try and sort out what went wrong with Minister Hong and Gil Tae-mi, since the last he'd heard, they'd agreed to give up half their wealth and not to pass the border plan.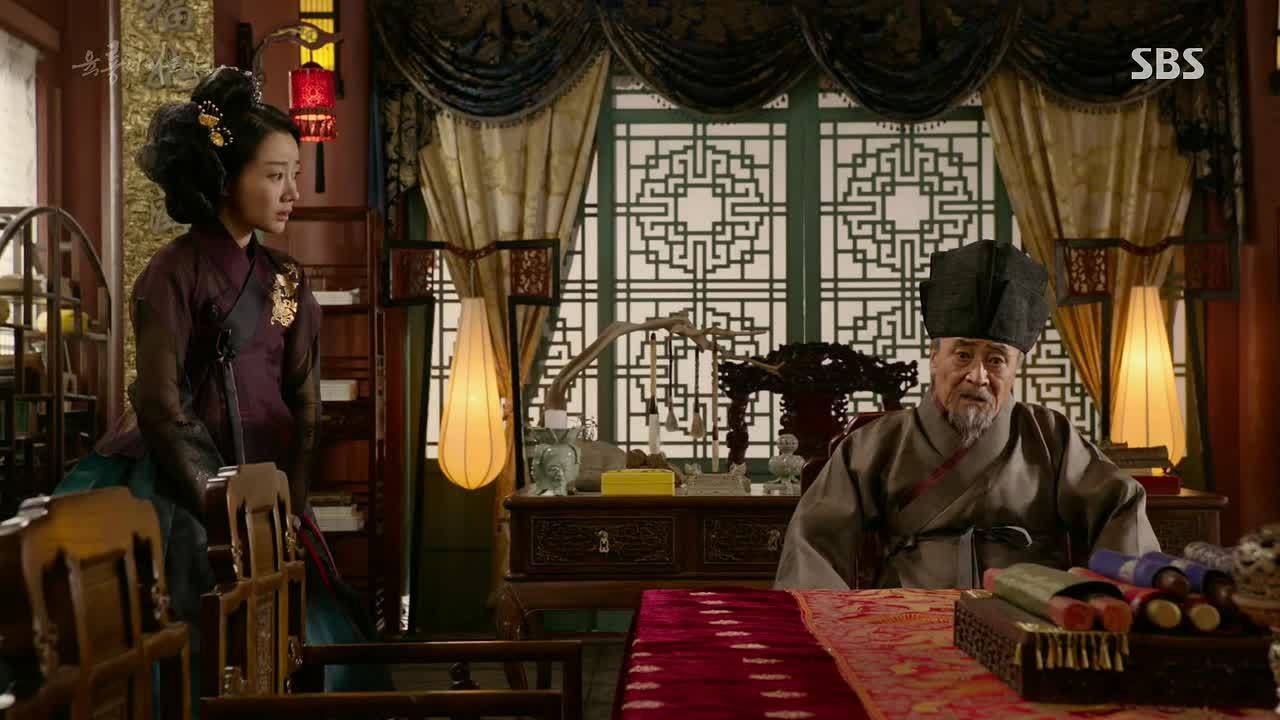 Cho-young says that's what she heard, but then the assassin showed up. I like how they're both working to piece this mystery together, with Lee In-gyeom realizing that Minister Hong couldn't have planned all this. He assumes the assassin was sent by whoever's controlling Hong, but who?
Then Lee In-gyeom asks the pivotal question, "Who stood to benefit the most from this?" Cho-young thinks for a moment, then gasps. It couldn't be who she thinks it is, but Lee In-gyeom has the same thought: Lee Seong-gye. Ruh roh.
Lee Seong-gye has to find out belatedly that the border plan he didn't stamp has passed in the dodang, while Moo-hyul questions the made-up rank Bang-won gave him. He has suspicions that it may not be real, considering that elder brother Bang-gwa told him so, but it's Boon-yi who shuts that down.
She also wants to make sure Bang-won is on task, though he's much less concerned than she is—there's no way his father will repeal the border plan now. It'd make him look like he couldn't control his own son, and that would make him look weak in front of his private army, or gabyeolcho.
Despite his assuredness, Boon-yi asks, "There's no way that the Anbyeonchaek [border stabilization plan] will be withdrawn, right?" Cut to Lee Seong-gye being asked, "You're going to withdraw the Anbyeonchaek?" Whoopsiederp.
Though Lee Seong-gye is dead set on undoing the damage, second son Bang-gwa speaks up to voice his opposition—the border plan can only help his father to help Goryeo by stabilizing its defenses. Lee Seong-gye flips that even this son is disobeying him, until Ji-ran also voices his support for letting the plan stay as it is. He wouldn't waste the money given to him like those thieves in the dodang, so why not keep it?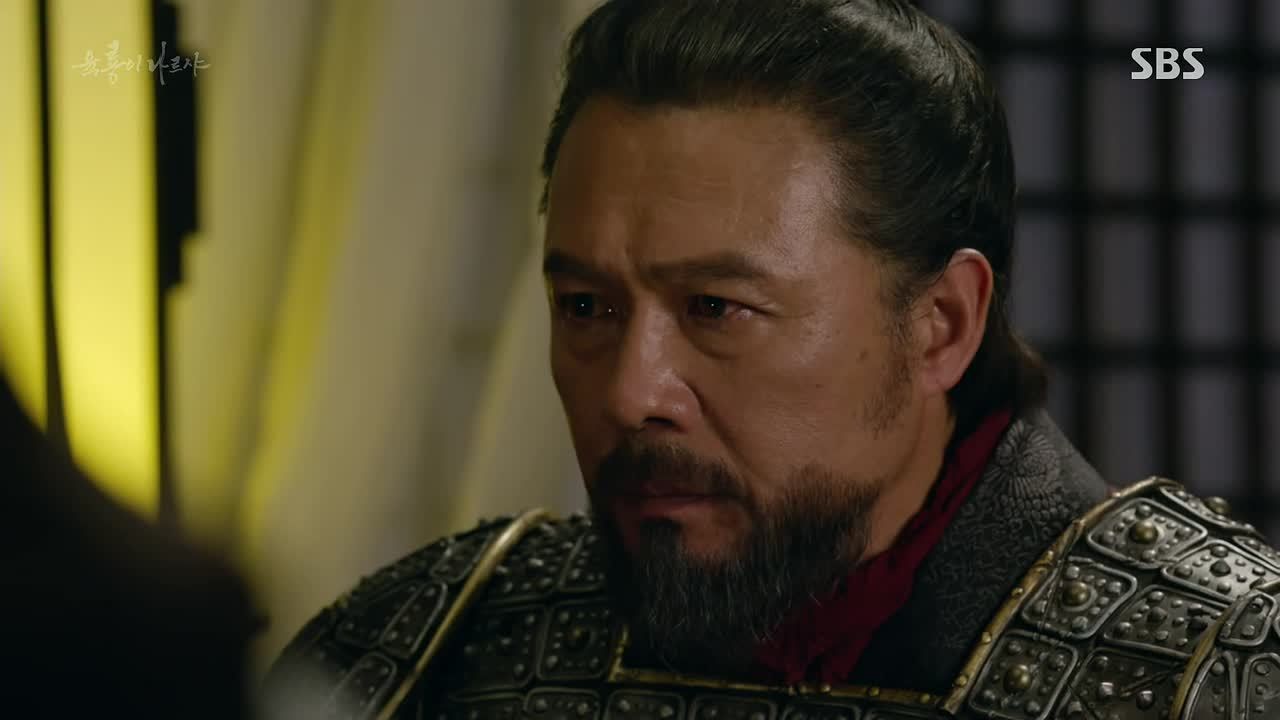 But Lee Seong-gye isn't so sure that he wouldn't end up like those thieves. He may not be a politician, but he knows enough about politics to understand how things work—and he knows that nothing is free. So to have had this border plan passed, it means he got help from either Minister Hong or Lee In-gyeom, and the rules of politics say he's now indebted to him.
He refuses to be put in that position with every fiber of his being, unless he were to make that decision. In this case, his son made it for him, so he orders Bang-gwa to withdraw the plan. He also orders that his eldest son bring his most errant son to him for a talking-to.
While Jukryong remains detained in Hamju, Minister Hong and Gil Tae-mi go to his temple to meet with Jung Do-jeon. He tells them that he'll be going to Hamju and will return with proof of his alliance with Lee Seong-gye, so as a sign of good faith, Gil Tae-mi hands him a gyeongwijongpyeon, a badge that will allow him to enter the capital. (Since men who have been exiled are prohibited from doing so.)
Jung Do-jeon acts awed and grateful to Gil Tae-mi to appeal to his vanity, and it totally works. They think he's one of them, and he plays them well when he fishes for information about the mysterious assassin. Gil Tae-mi thinks Lee In-gyeom might've trained the assassin in secret, but even though Jung Do-jeon knows this isn't the case, he doesn't share it with his new friends.
It bothers him that he can't figure out where the assassin came from or even who he's affiliated with, which is pretty ironic considering the circumstances. Luckily, Yeon-hee arrives with the letter Bang-ji left for him in the New Joseon Cave, which means that he's the one controlling the assassin.
The only problem is, Jung Do-jeon has no idea who wrote the letter, or why he's so angry. "How can a person you don't know be mad at you?" Yeon-hee asks, which hangs a nice lantern on the issue. Plus, how did he know about the cave and Jung's master plan? He has no answers.
Bang-won takes Boon-yi and Moo-hyul to see his eldest brother Bang-woo in the capital, since he hasn't yet heard that his little bro forged his father's stamp on a nation-changing document. Poor Moo-hyul proudly introduces himself as a Bukdo Guard, Second Rank, prompting the usual response from anyone who hears that: "Bukdo what?"
Luckily, he picks up from Bang-won's face and voice that it's not something to be pursued further, especially since Moo-hyul is so pleased with himself. (And remember, he saved Bang-won not once, but twice!) Bang-won introduces Boon-yi as someone who's bitten him twice, and asks his brother to put their happy little family up for a while.
When Moo-hyul jumps in to ask if his family could be lodged as well, Bang-won uses his brother's inability to say no to also ask for Boon-yi's family (of villagers) to be accepted too. They'll earn their keep by working for Lee Seong-gye's private army, and Moo-hyul's overjoyed at the idea of being able to train and eat regularly there.
After Boon-yi thanks Bang-won for thinking of her fellow villagers, he takes her to the nearest shoe stall to replace her worn-down straw slippers. When the vendor says the gentleman should choose for the lady, Bang-won has to try very hard to hold in his excitement.
He throws a pair of shoes down for her, acting like it's no big deal to him (it's such a big deal), but it's only when he kneels down to help her try them on that she becomes unsettled. She suddenly sees Bang-won's face in a new, rose-colored light, and it makes her nervous enough to run away.
Bang-won finds her secretly admiring her new pair of shoes, causing her to turn all business in order to save face. She knows that Jung Do-jeon should be able to re-enter the capital now and wants to see him, but Bang-won wants to meet him first. He hasn't yet had the pleasure, after all.
So Bang-won goes to the New Joseon Cave, which is also where Bang-ji has gone to see if his letter has been read or not. He gets to watch Bang-won almost beside himself with joy at the historic meeting about to take place between him and Jung Do-jeon. Ah, are we leading back up to the very first scene of the show?
We are, and get taken back to that scene when Jung Do-jeon realizes that Bang-won's in the cave. He's curious when Bang-won refers to him as Teacher, considering that he's never met him before.
He also calls out for the man behind him to reveal himself, prompting Bang-ji to emerge from the shadows. Like Bang-won, he also claims he's been waiting a long time to meet Jung Do-jeon, but unlike Bang-won who claims to know him, Bang-ji has no idea who he is.
Jung Do-jeon is left with two young men claiming to know him when he knows neither of them, and it only gets more confusing when Bang-ji accuses him of conning him of his life. Bang-won is the only one who claims to know both of them, and introduces himself as Lee Bang-won.
Judging by the fact that Jung Do-jeon doesn't recognize Bang-ji, Bang-won figures it's a strange fate indeed that they meet now, which means that Bang-ji wasn't acting on Jung's orders after all. He knows Bang-ji as The Viper, having followed him to this very cave the night he killed Baek Yoon.
Now Jung Do-jeon knows he's found who he's been looking for, but what he really wants to know is how Bang-ji found out about his not-so-secret plan to usher in peace. Bang-ji claims that's not important.
"The only thing of importance is that you have a plan, but this nation has been thrown into chaos. This rotten Goryeo is deteriorating and becoming more corrupt. Your plan… was wrong," Bang-ji grits out.
But Bang-won disagrees: "No. I might not know about this plan to usher in peace, but if it's to bring ruin to a corrupt Goryeo, then that plan is going very smoothly. It began the day you killed Baek Yoon." And his attempt to kill Minister Hong is what allowed the border plan to pass, so in Bang-won's mind, the three of them are in this together.
"Now Goryeo has entered a new phase," Bang-won adds triumphantly. Offended, Bang-ji asks if this new phase includes the slaughter of innocent villagers who tried cultivating a wasteland only to have it stolen away by the government. Bang-won doesn't allow for sentimentality, and only says that for every great cause, sacrifices must be made.
This idea offends Bang-ji deeply, since he's not one to step back and look at the forest for the trees when people are dying. "How many more must die so that we may see Goryeo's end! But it's all going smoothly? I started it?" he echoes Bang-won's earlier claim. "I am at fault. I placed my bets on something I shouldn't have." Pretty much.
Jung Do-jeon finally attempts to get a word in, but Bang-ji doesn't want to listen to anything he has to say, since nothing will change his mind. They won't ever meet again. "We will meet again," Jung Do-jeon answers firmly, causing Bang-ji to turn back to him: "If I meet you again, I might kill you."
Yeon-hee spots Bang-ji leaving the cave, and follows him from a distance as he treks through the forest, crying and singing the lament that Jung Do-jeon used to move the crowd in front of Jangpyung Gate all those years ago.
It's only when she sees him smiling and laughing with Gab-boon that she recognizes him with horror, realizing that the boy she once loved as a child is the mysterious assassin who killed Baek Yoon. The biggest question on her mind is: Why?
Bang-won introduces himself to Jung Do-jeon as Lee Seong-gye's fifth son, admitting that he eavesdropped on their conversation back in Hamju. But he explains how he shaped his life around that moment at Jangpyung Gate, and how he entered Sungkyunkwan only to find out that it was full of sadaebu who'd renounced their values in the face of persecution.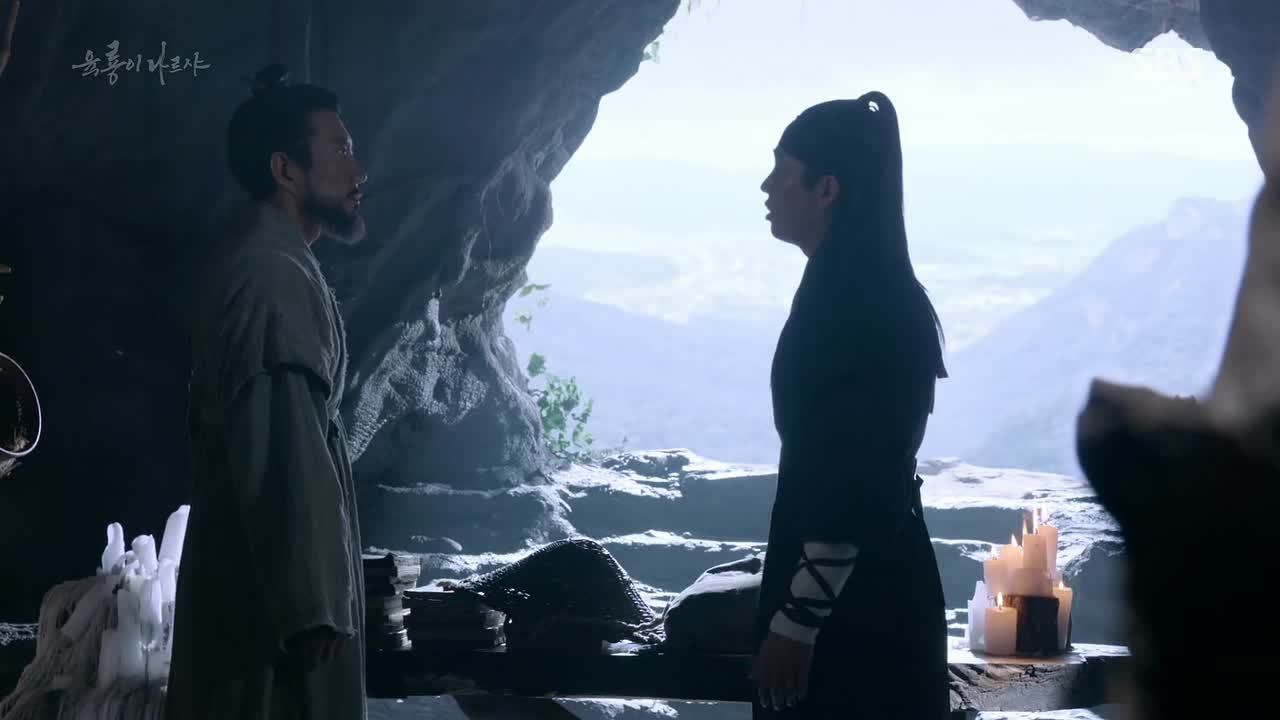 He had worried that he might change like them, but finding the New Joseon Cave gave him hope. He dedicated himself to finding Jung Do-jeon, which has brought him here, to this moment. "I wish to do this with you. I wish to serve you!" He asks only for Jung Do-jeon's acceptance.
But he gets shut down hard when Jung Do-jeon tells him that this isn't how a relationship should start, and that Bang-won can't come back to this cave without his permission. But Bang-won says he already took action to follow Jung's plan.
That's when he reveals that his father never would've approved of the border plan, so he did it for him. Now Jung Do-jeon realizes that Bang-won was another variable he hadn't taken into account or even realized existed until now, especially in the face of Bang-won's conviction that he did the right thing.
Jung Do-jeon, however, could not disagree with him more. Stamping the plan for his father defeats the whole purpose of what Jung was trying to do, because it breaks the trust he was carefully trying to cultivate with Lee Seong-gye. The whole point was for Lee Seong-gye to make the decision, not to have it made for him.
Bang-won still defends his actions even in the face of his revered teacher's outrage, citing the Goryeo version of the adage, "Desperate times call for desperate measures." Except the times are more chaotic than desperate.
In order to really bring home how badly Bang-won messed up with this one, Jung Do-jeon goes back to the year 1361 to tell him the story of the four generals who saved the capital from an invasion but died shortly after because of a royal command forged by a traitor.
So it was because of one letter, one forged letter, that those four men and more died. Bang-won asks if Jung Do-jeon is really equating his forgery to that one, and he is—he also credits that fake decree with ruining Goryeo's political structure by sewing mistrust among the king and his court. After all, if the king's command can be faked, what's real?
That letter made Goryeo into the monster it is today, Jung Do-jeon claims, but Bang-won still desperately clings to the idea that his forged letter helped their great cause. Again, Jung Do-jeon tells him he's wrong: He needed Lee Seong-gye's resolve to join in this fight with him, but Bang-won took that away.
As for Bang-won's "chaotic times" excuse, Jung Do-jeon says that among the three types of people that exist during chaotic times (the victim, the fighter, and the one who just goes along with it), Bang-won would be the latter. He's caught the political bug, only he's allowed his to tell him what to do, and soon he'll be nothing more than a bug. How is he any different from those who take advantage of chaos by raping and pillaging?
Bang-won's trembling now, trying as hard as he can to keep his chin up. "How can you say that I am the same as those people?" he stammers. Maybe he hopes that Jung Do-jeon might take it back, but he doesn't, adding in a rage that Bang-won belittled his father and the government. He's no different.
That's the straw that finally breaks Bang-won, who lets out the frightened sigh he's been holding as he grips his head in his hands. His whole world is crashing down on him, but he still wants to try and fix it. Jung Do-jeon doesn't want him to do anything anymore. The plan he created in this cave was not to go along with the chaos, but to fight it. "There is no place for you in this room."
Bang-won leaves, utterly crushed. Jung Do-jeon adds his newly carved wooden figurine to his pile of wooden figurines, flashing back to when he was younger. In the same cave where he created the idea of New Joseon, he'd once taken in orphans during the days after the four generals reclaimed Gaegyeong during the Second Red Turban invasion. He'd made the figurines for those children, and had been friends with one of the generals who'd been fooled by the fake royal command.
When that general was arrested for his unwitting crime, Jung Do-jeon was arrested too, and his pleading cries to be released so he could go back to the children he left in the cave went unheeded. Still battered and bloody from his release much later, he'd dragged a sack of food up to the cave on bare feet.
The gravity of it all doesn't really hit until we hear the mantra of "No, no, no" Jung Do-jeon kept repeating to himself as he walked up the mountain, desperately trying to tell himself that those children wouldn't have listened to his order to stay inside. They would've ventured outside. They would've…
His laughter at the antics he only hoped they got up to while he was gone turns into a heartrending kind of sobbing as he opens the door… and finds all the children lying dead inside. In one child's hands is the faceless figurine he'd promised to carve features on, which he holds tightly as he cries. That sound is the stuff of nightmares.
In the present, Yeon-hee asks why Jung Do-jeon is allowing himself to revisit such a horrible memory—he started his grand plan in this cave to get past that. He carries the faceless figurine with him as a reminder, but she urges him to think to the future rather than getting bogged down by the past.
While he tells her that it's Bang-won, not Bang-ji, who's their real problem, Lee In-gyeom finds out that Bang-won visited Minister Hong the night before the dodang meeting. And he remembers Bang-won Lite calling him an evil man all those years ago.
Remembering Jung Do-jeon's words about those who go along with chaos and those who fight against it, Bang-won resolves to fix the mess he's made by turning into the latter.
But now he's not just a target of Jung Do-jeon's by being blood related to the man he plans to serve, he's also a target of Lee In-gyeom, who seeks to hurt his father by hurting him.
As he skips rocks, Bang-won thinks to himself, "Teacher Sambong, please stand guard over my place in that cave. I will make sure to go there."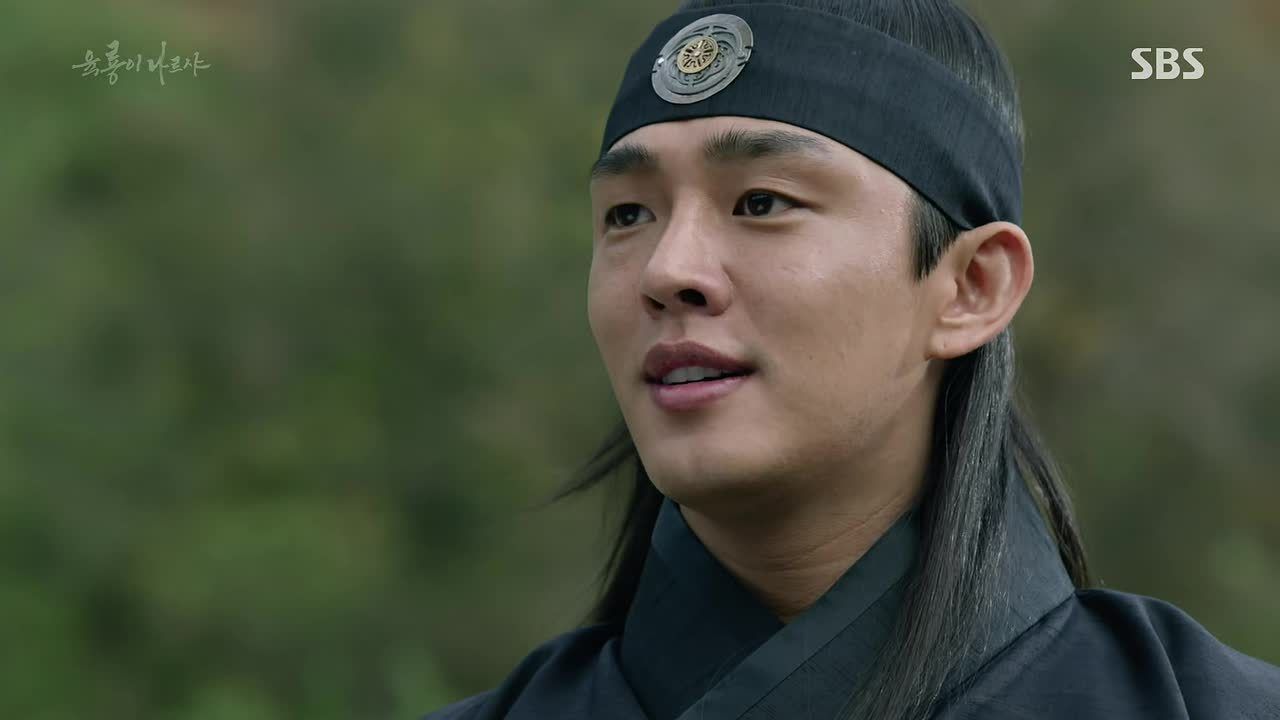 COMMENTS
Oof. You know, I think if it were any other actor and show, I'd feel just a little bit manipulated by the dead children backstory, but by using Kim Myung-min, it's like they're almost challenging us not to care. Show: Huh, so dead children are manipulative? Okay, then you can just dispassionately watch this next scene where Jung Do-jeon finds them in the cave an—… What do you mean, you can't ignore his brutally realistic cries of unfathomable anguish and despair? Now who's crying? (Me. I was definitely crying.)
To be fair, Six Flying Dragons most definitely isn't that mean kid on the playground trying to poke you until you cry, and succeeds where other shows have failed at tearmongering by setting up its characters in layers we can all follow and understand. Getting us to care has been a slow but very worthwhile burn, since it was like a switch turned on in this episode. Suddenly, characters I'd been all too happy to follow with mental investment became characters I found myself deeply and emotionally invested in. And for completely different reasons, no less.
Bang-won hasn't been the easiest character to like, and it's difficult when his current iteration seems so far removed from the little boy who would murder three scholars in cold blood because of his own personal sense of justice. He was much more unyielding and rotten as a child, which we can chalk up to him just being born a famous general's son. But he always had what he believed in, and that idealism hasn't changed over the past six years. He's almost no more an adult than he was then, and nothing made that clearer than the scolding (for lack of a better word) that he got from Jung Do-jeon.
What's still so unsettling about that scene—but in the best of ways as a viewer—is that I was really not expecting that reaction. I don't know how I ended up sipping Bang-won's kool-aid, but I found myself wholly caught up in his surprise at having the single person he looks up to most in the world tell him he is an utter and complete failure, and that he's just as bad as the guy who ruined politics forever in Goryeo. Once Jung Do-jeon explained why forging his father's letter was so wrong, it was easy to understand and agree, but it became impossible not to feel for Bang-won. Yes, he made a pretty irreversible mistake, but he really thought he was making a difference. He's the underdog here, isn't he?
Though I guess points for effort don't count when playing with fire on this sort of scale, however much I'd almost want to believe that intent should matter. Bang-won's intent was good, but that's not the reality of the world they live in. And the truth is that Bang-won will always do what he thinks is right even if it's not, which is what makes him dangerous. Bang-ji would probably like to think he's more of a people's champion, but in the end, he was also willing to kill out of loyalty to a man who didn't even know his name. Both were just looking for something to believe in—and really, it's mostly Jung Do-jeon's fault for being so popular.

RELATED POSTS
Tags: Byun Yo-han, featured, Kim Myung-min, Shin Se-kyung, Six Flying Dragons, Yoo Ah-in