Six Flying Dragons: Episode 9
It takes the influence of one very cunning man to set off a chain reaction amongst the powerful in politics, and it all becomes about those who support him, those who don't, and those who have no idea someone else is even pulling their strings. That all sounds quite dour, but there's actually a good deal of fun to be had in this episode—and no, I'm not talking about the cerebral sort of fun every hour delivers, but the kind of gut-busting good time you wouldn't usually expect from a sageuk like this. Just put Moo-hyul and Bang-won in every scene together forever, please.
SONG OF THE DAY
Nell – "Slip Away" [ Download ]
Audio clip: Adobe Flash Player (version 9 or above) is required to play this audio clip. Download the latest version here. You also need to have JavaScript enabled in your browser.

EPISODE 9 RECAP
After Yeon-hee and Jung Do-jeon part ways, she goes straight to a spooky part of the woods to meet with her other master, Cho-young. She calls Yeon-hee by a different name (Ja Il-saek), but since the chyron still calls her Yeon-hee, we'll stick with that.
While Boon-yi's fellow villagers find Jung Do-jeon sleeping in their cave, Yeon-hee finishes giving her report to Cho-young, which includes a copy of the plan to stabilize the border. Cho-young scoffs that it'll never get past the dodang as long as Lee In-gyeom is still alive.
It's only when Cho-young asks for an update on Jung Do-jeon that Yeon-hee goes pale, and stiffly answers that she doesn't have anything new to report. Somehow that seems like a lie, and it is, since Yeon-hee thinks to herself that she's disobeying her superior by hedging all her bets on Jung Do-jeon. Should he fail to live up to her expectations, Yeon-hee vows to kill him.
Cut to Jung Do-jeon tied up in the villagers' cave, as they test him to see if Boon-yi really did send him by asking him personal questions about her. Does she have a brother? Jung Do-jeon says yes, and delights in remembering his name after a momentary brain fart.
Minister Hong flashes back to his conversation with Jung Do-jeon, where he'd proposed they join hands in order to help each other achieve their common, but not necessarily dissimilar, goals. In order to show Hong what he was envisioning, Jung Do-jeon wrote down the names of those currently holding power in Goryeo.
The three highest ranking ministers in the dodang are, of course, Lee In-gyeom, Minister Hong, and Gil Tae-mi. The highest ranking military leaders are General Choi and Lee Seong-gye. But by flipping the order of the names, Minister Hong and Gil Tae-mi could join with Lee Seong-gye, leaving Lee In-gyeom with General Choi.
That all sounded well and good to Minister Hong, but he was convinced there'd be no way to get the great Lee Seong-gye on their side. That's where Jung Do-jeon's border plan comes in—if Minister Hong makes sure it gets approved, then he'd get Lee Seong-gye.
At the next dodang meeting, Minister Hong just sits back and watches as everyone else hotly contests the border stabilization plan, mostly because it would give the northeastern region Lee Seong-gye controls a lot more autonomy than other border areas. All the arguing leads Minister Hong to believe the plan has absolutely no chance.
But, Minister Hong makes his amends with Lee In-gyeom, however fake, by presenting him with a very expensive lacquered screen. The ever flamboyant Gil Tae-mi goes gaga for it, since I'm sure he also dabbles in interior design.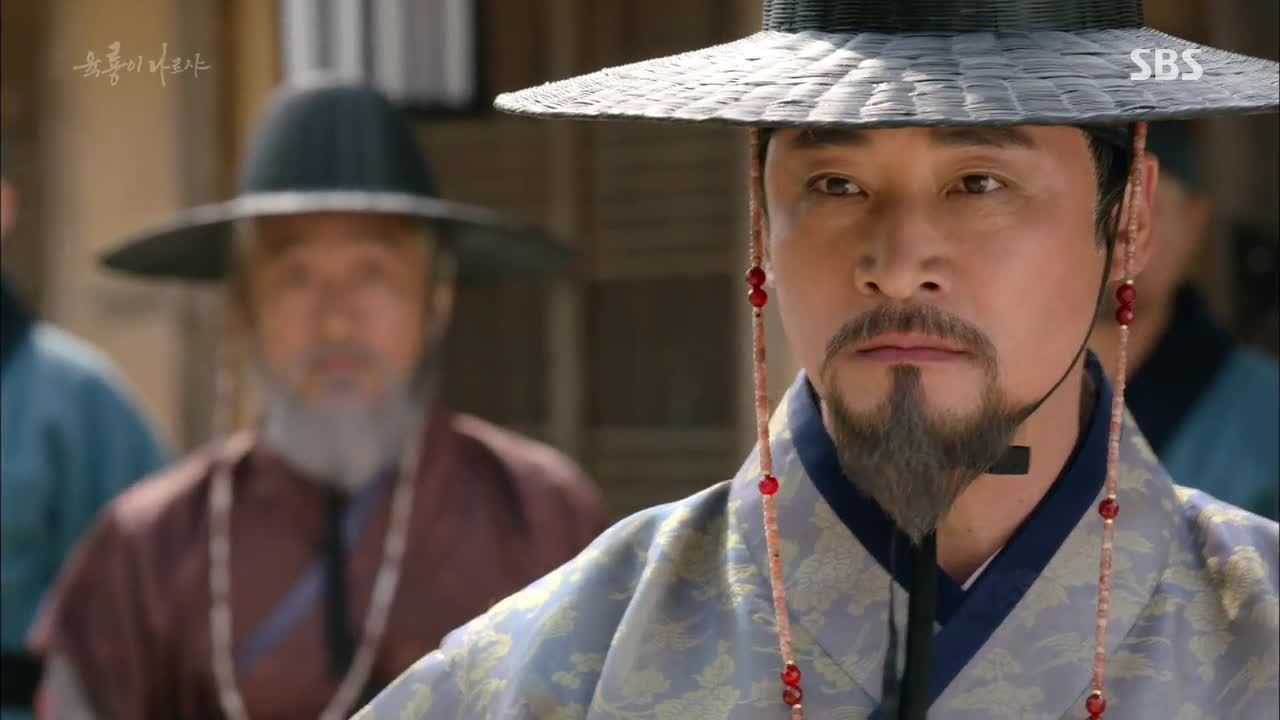 Minister Hong returns home to find all his servants being manhandled by General Choi's men, since Choi found that the former wasteland Minister Hong took from Boon-yi's people for the government wasn't actually given back to the government.
Instead, it was registered under one of Minister Hong's servants, so General Choi plans to have all the servants interrogated to get to the bottom of it. He's also sending a clear message to Hong by doing so, since this can all be traced back to him.
Turns out that Jung Do-jeon wasn't just sleeping in the villagers' cave because he needed the nap—he's the one who sent them to report on Minister Hong's wrongdoings to General Choi, knowing what the result would be.
He also planted the idea in Minister Hong's mind to get rid of both General Choi and Lee In-gyeom, so he knows that idea will begin to take root because he knows Choi and Lee will end up working together against him. And they do, though Choi has a difficult time convincing Lee that Minister Hong has no place in the dodang and should be thrown out immediately.
General Choi makes no secret of his dislike for Minister Hong, which stems from his inability to hold up under torture the year the sadaebu were arrested and persecuted. He makes it so that Hong can't run to Lee In-gyeom for help, which is all part of Jung Do-jeon's master plan—now Minister Hong has no choice but to try and ally himself with Lee Seong-gye.
Jung Do-jeon knows that Minister Hong is trapped, but he's also not too wound up in his own machinations. Whether the plan works out or not is up to heaven, as he tells Yeon-hee. What he's more interested in now is for Yeon-hee to find Bang-ji, whom they only know as being the greatest kangchangsa, or storyteller, in the capital.
She's already made contact through Gab-boon, who delivers a gold ring to Bang-ji, stating that a noblewoman promised to give them more if they gave a performance telling the story of how Minister Hong and Gil Tae-mi killed Baek Yoon. "They could not have asked for it knowing that you killed him, right?" Gab-boon asks worriedly.
Bang-ji meets with Yeon-hee through the gossamer curtain separating her palanquin from him. He doesn't look up when she passes him the written story she'd like him to put into a song, but acts like he's merely curious when he asks if the story's true.
"Is that important?" Yeon-hee returns, shutting down any further questions. It's only then that Bang-ji looks up at her, and though she's obscured by the curtain, what he sees brings tears to his eyes. Yeon-hee finds herself unsettled by his tortured gaze, and struggles to find the words to tell him that she'll pay him well if the rumors spread far enough to reach her ears. And she'll pay double if those rumors reach her in three days.
But Bang-ji just continues to look at her before stammering, "Yeon-hee-ya." Omo, a sageuk where someone actually recognizes someone else? Yeon-hee tries not to react to her name and continue on as planned, but the twin streams of tears down her cheeks give her away.
Again, Bang-ji says, "Yeon-hee-ya." She shuts the palanquin doors and orders her bearers to carry her away, leaving Bang-ji to remember their loving moments together as children.
He soon snaps himself out of that daze and goes running after her palanquin. He throws the door open, only to find it empty. But then, as he walks away, Yeon-hee approaches him on the hilltop. Now she's just herself, and starts with an overly simple, "It's been a long time." That's quite the understatement.
She admits that she thought this day might come, so she isn't so taken aback by meeting him. Bang-ji can only stutter that she looks good, but Yeon-hee carries on like she didn't hear him: "I do not know if we may cross paths again, but even if that should happen… I hope we pretend not to know one another. Since we met in passing, let's pass by one another."
And Bang-ji just agrees, "All right… let's do that." She almost seems disappointed by that answer, but in the end leaves him there on the hilltop. Both of them cry the further they get away from each other, as they remember the night that tore them apart. Thank goodness the show isn't putting that one terrible scene on repeat.
Bang-ji returns to Gab-boon with the script Yeon-hee provided, and it takes her only one look at his face to see that he's been crying. He denies it, of course, but she knows better. Still, they don't dwell on that for long, since Gab-boon tells him about Minister Hong stealing land and killing people from the village where he grew up, which sends Bang-ji galloping off for his childhood home.
Since Moo-hyul hated basic training so much, Young-kyu's moved him to shoveling horse manure, which he hates about just as much. The fact that he's saved Bang-won twice(!) doesn't seem to help his cause much, so it's just a matter of working his way up.
They spot Jukryong passing through the camp, and he gets Ji-ran and second son Lee Bang-gwa's attention when he claims to bring important news regarding the border plan. He's come on Minister Hong's behalf to ask what Lee Seong-gye would do for him if he were to make sure the border plan passed in the dodang.
Young-kyu grabs Bang-gwa to tell him that Jukryong was the one who sent spies into the camp, but of more pressing news to Lee Seong-gye is the fact that he supposedly sent the border plan to the dodang through Jung Do-jeon, considering that he didn't do that. (Bang-won did.)
Boon-yi listens in on the exchange already knowing the truth, but Shin-jeok and Lee Seong-gye don't figure it out until Shin-jeok is all, "But Bang-won gave it to me with your seal on it!" Now it's time for damage control, so Lee Seong-gye orders Jukryong arrested, Bang-won to be found, and Bang-gwa to deliver a letter to General Choi and Lee In-gyeom stating that the border plan wasn't his idea.
Moo-hyul takes his grievances to Bang-won, reminding him that he saved him twice, so he should get some sort of consideration for that. Bang-won goes all philosophical by asking what Moo-hyul thinks about Goryeo, only for Moo-hyul to bring it all back to him: goryeo also means "consider," so he asks him to please goryeo his situation. Haha.
Bang-won flips that right back at him, asking why Moo-hyul doesn't goryeo HIS situation. I don't know why it's so hilarious that they keep using Goryeo and goryeo in different ways, so when Moo-hyul says that he's tired of hearing about goryeo, Bang-won grips him by the hands: "You're also tired of this country, Goryeo, right?"
That's definitely not what he meant, but he doesn't get a chance to explain further before Boon-yi breaks the two of them apart and drags Bang-won away. (He loves every bit of it.) She tells him that he's been found out, and that his brother has been sent to withdraw the border plan.
Bang-won won't allow that to happen, and vows to stop his brother and help Jung Do-jeon. He runs to fetch a horse only for Moo-hyul to stop him, since any missing horse will be blamed on him. Bang-won: "I will goryeo your situation." Bwahaha. Yes.
In order to bring Moo-hyul with him as protection, Bang-won "promotes" him to a Bukdo body guard of second rank. Moo-hyul: "Bukdo… what? What is that?" Bang-won looks around shiftily, then asserts that such a rank is, indeed, a thing. (It's not.)
He seals the deal by giving Moo-hyul his sword, since Moo-hyul never wanted to give it back in the first place. Moo-hyul pledges allegiance to protect his new lord, but they're surrounded by Shin-jeok and his men before they can mount their horses. Though Bang-won insists he has to help Jung Do-jeon, Shin-jeok refuses to listen to his lies.
So Bang-won turns to Moo-hyul, appealing to his all-too-eager warrior's vanity by calling him his new, official, and totally made-up rank of Bukdo Guard, Second Rank. Moo-hyul valiantly draws his shiny new sword and makes quick work of the soldiers, clearing a path for Bang-won and Boon-yi to escape on horseback.
Before they go, Bang-won tells Moo-hyul to follow them. "I can't ride a horse!" he says anxiously, only for Bang-won to tell him it's easy. Cue Moo-hyul galloping away from camp, looking like a physically impaired string bean while emitting high-pitched screams from the back of his horse. Best. Episode. Ever.
Rumors that Gil Tae-mi and Minister Hong killed Baek Yoon have made it through the dodang and reached their ears, and though Gil Tae-mi insists on clearing the record, Minister Hong is more concerned with finding whoever is spreading the rumors.
Those rumors give General Choi all the ammunition he needs to push Lee In-gyeom to remove both Minister Hong and Gil Tae-mi from the dodang, and Lee agrees when it comes to Hong. But he wants Gil Tae-mi left out of it.
He confronts Gil Tae-mi privately, as a courtesy to his former protege. He thinks Gil Tae-mi is being greedy after ascending to such a high rank because of him, and accuses him of teaming up with his new in-law, Minister Hong, to take him down.
The real enemy to Lee In-gyeom is Minister Hong, so he presents Gil Tae-mi with a choice: either he can join him against Minister Hong, or die. Whether he means metaphorically (like ending his political career) or literally (ending his actual life) is up for debate.
Bang-ji returns to find his village abandoned and in shambles, with only one battered villager left to tell him what atrocities Minister Hong committed against them. He also mentions that Boon-yi didn't come back, though he doesn't recognize Bang-ji as little Ddang-sae.
The first person Bang-ji blames is Jung Do-jeon, as he returns to the New Joseon Cave in a rage to write out his angry thoughts, his tears staining the parchment:
"Sambong, I killed Baek Yoon according to your plans to bring peace to this world. And yet, the world is getting worse. But I have held back and waited. I have waited and waited… but you have not shown yourself. In that time, the country is becoming more horrific. Both you and your plan to usher in peace… I don't need any of it. If I kill it all one by one, that will do."
Just as Jung Do-jeon predicted, Gil Tae-mi is considering abandoning Minister Hong now that Lee In-gyeom made his choices very clear to him. Yeon-hee agrees, knowing that Gil Tae-mi will protect his reputation and will drop anyone he sees as dead weight.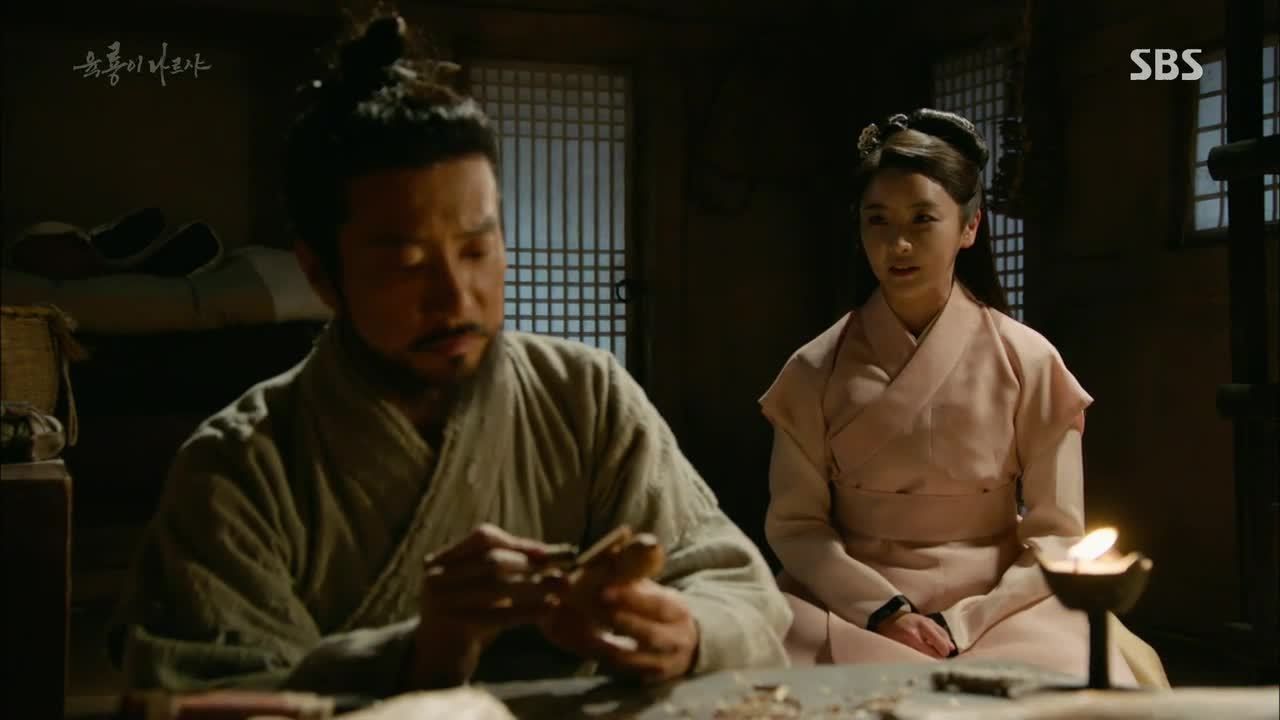 That leaves Minister Hong isolated, anxious, and thinking only about Lee Seong-gye—which is exactly what Jung Do-jeon wants. Yeon-hee likens Hong's situation to a drowning person willing to grab anything, even a blade, in order to survive. Jung Do-jeon will hold that blade out to Minister Hong.
Since Minister Hong's chosen the gibang to have his meltdown in, Cho-young assumes that he's already been abandoned by Gil Tae-mi, only to become confused when the great swordsman himself comes to pay his in-law a visit.
While Jung Do-jeon's gisaeng spy watches through a hole in the wall, Gil Tae-mi tells Minister Hong that Lee In-gyeom offered him a lifeline if he was willing to leave him behind. But he claims he didn't take the deal, and would rather throw his lot in with Hong instead.
All they have to do is give up half their assets and lay low… which is exactly what he'd told Lee In-gyeom he'd do. To be fair, he negotiated the deal in order to save Minister Hong, he's just not sharing that part with him.
Yeon-hee brings Jung Do-jeon word from his gisaeng spy, though it's not good—now he realizes he overlooked something important when it came to Gil Tae-mi. In order to salvage the situation, he heads off for the capital.
Bang-won, Moo-hyul, and Boon-yi catch up to his elder brother Bang-gwa in an effort to stop him from delivering their father's letter. Though Bang-gwa agrees that the border plan would help the nation, he's dead set on following their father's orders, causing Bang-won to tell his brother that he'll sincerely apologize for what he's about to do in the future.
He calls on Moo-hyul, currently stuffing his face full of rice, to make sure his brother can't deliver that letter. Next thing we know, Moo-hyul's tied Bang-gwa to a tree, though he's at least apologetic about it. He says he has to follow orders since he's a Bukdo Guard of Second Rank, and I love that Bang-gwa's all, "What?" Aww, Moo-hyul. I hope no one ever tells him the truth.
After having brokered the deal with Minister Hong, Gil Tae-mi leaves him outside the gibang for a moment, which is where a masked Bang-ji approaches him. He remembers thinking that Minister Hong had a face that said he wouldn't live long when he saw him in the capital, and now readies to make that a reality by killing him.
But he's made a critical misstep in forgetting about greatest swordsman Gil Tae-mi, who rushes to his in-law's defense with two swords. He has to give Bang-ji credit when he manages to get close enough to cut Gil Tae-mi's outer garment, and the ensuing fight is like an elegant, deadly dance.
"You're the one who killed Baek Yoon, aren't you?" Gil Tae-mi says between parries and blows, before asking whether it was General Choi or Lee In-gyeom who sent him. But when Cho-young's female soldiers join the fight, Bang-ji is forced to make his escape.
Bang-won storms into Minister Hong's manor, acting as though he's been sent by his father. Obviously he hasn't been, but when he tells Hong that Jukryong is being detained in Hamju and offers himself as a hostage until he passes the border plan, Hong can't help but believe him.
Near the manor, Yeon-hee runs up to Jung Do-jeon, out of breath but with good news: an assassin tried to kill Minister Hong, which works perfectly for them, since Hong and Gil Tae-mi will naturally assume Lee In-gyeom sent the assassin.
Gil Tae-mi feels betrayed by Lee In-gyeom and wants to kill General Choi as revenge, but Minister Hong manages to talk him off that ledge. He's met with none other than Jung Do-jeon…
…Which is when we cut to the next morning's meeting of the dodang, where Lee In-gyeom assumes Gil Tae-mi and Minister Hong will reject the border plan because he still thinks Gil Tae-mi is loyal to him.
But when he asks those ministers opposed to the plan to stand, Hong and Gil are not among them. He realizes he's been betrayed then, but knows it for certain when he asks all in favor to stand, and those who do make up the majority. Now he really hates Minister Hong.
Despite General Choi hating him the most, Minister Hong paid him a visit on Jung Do-jeon's advice to tell him that he and Gil Tae-mi would make sure the border plan was accepted. "Join hands with me for now, and cut off my head next time," Minister Hong had offered.
Minister Hong also convinced Gil Tae-mi to join him against Lee In-gyeom, all of which the old coot realizes too late—the border plan passes.
As Lee In-gyeom levels Minister Hong with his angriest stare, Minister Hong looks up to the mezzanine to see Bang-won emerge from behind a pillar. "Now the base for revolution has been established," Bang-won thinks to himself.
From a distance, Jung Do-jeon also thinks to himself, "Hong In-bang… Your ambition has ultimately ignited a revolution."

COMMENTS
I've said it before and I'll say it again: I love how Six Flying Dragons manages to tie everyone's disparate storylines together in such interesting and subversive ways. It's made so that even the players don't necessarily know who they're playing against or even who they're allying themselves with, what with all the clandestine meetings and go-betweens to muddy the waters.
And yet, even with all the differing personalities entering the political pool, we can see common threads emerging. So much of it centers around Jung Do-jeon, who in this show has become more myth than man—it's still unclear whether Bang-ji has even spoken to him since they were last (once) tied in a shed together, yet his influence alone was enough to drive Bang-ji to do the unspeakable.
There were times I felt like his taking up Jung Do-jeon's mantle was just an excuse or diversion from his own self-blame, and to some extent, maybe it still is. But what became clear when he wrote that retaliatory letter in the New Joseon Cave is that he genuinely believed Jung Do-jeon could make the world a better place, and was even willing to kill for that idea. Now that the fight's been brought to his home turf and his sister's gone missing, he's become disillusioned with everything that shaped him into the killing machine he is today.
What's so great about his rebellion against Jung Do-jeon (which would be strange indeed if Jung has no idea Bang-ji's been doing all this for him) is that he ended up helping the man he initially set out to help, all while thinking he was taking matters into his own hands. Jung Do-jeon may have set off a domino effect in the dodang, and has the ability to use people without them even realizing they've been used, but this episode showed that he can make mistakes. He made an error when predicting Gil Tae-mi's actions, and was lucky enough that Bang-ji did what he did when he did it. And just like how he has no idea Bang-ji has been fighting for him all this time, he likely has no idea Bang-won even exists, much less that he's been helping his cause. Or trying to, anyway.
As for Bang-ji and Yeon-hee's reunion, I love how drama childhood memory filters get to pick and choose who's blessed with the power of recollection and who isn't. It's almost funny now how Bang-won is aggressively forgetful when it comes to Boon-yi despite all the signs, but Bang-ji just had to take one look at Yeon-hee to recognize her. I'm not saying I won't take it, of course, since their interaction was wonderfully grounded for the kind of past they've shared—and it was an added treat to see that Bang-ji didn't go off rending his garments or losing his will to live afterward. He tried to kill someone instead, which is just how you say hello in Goryeo.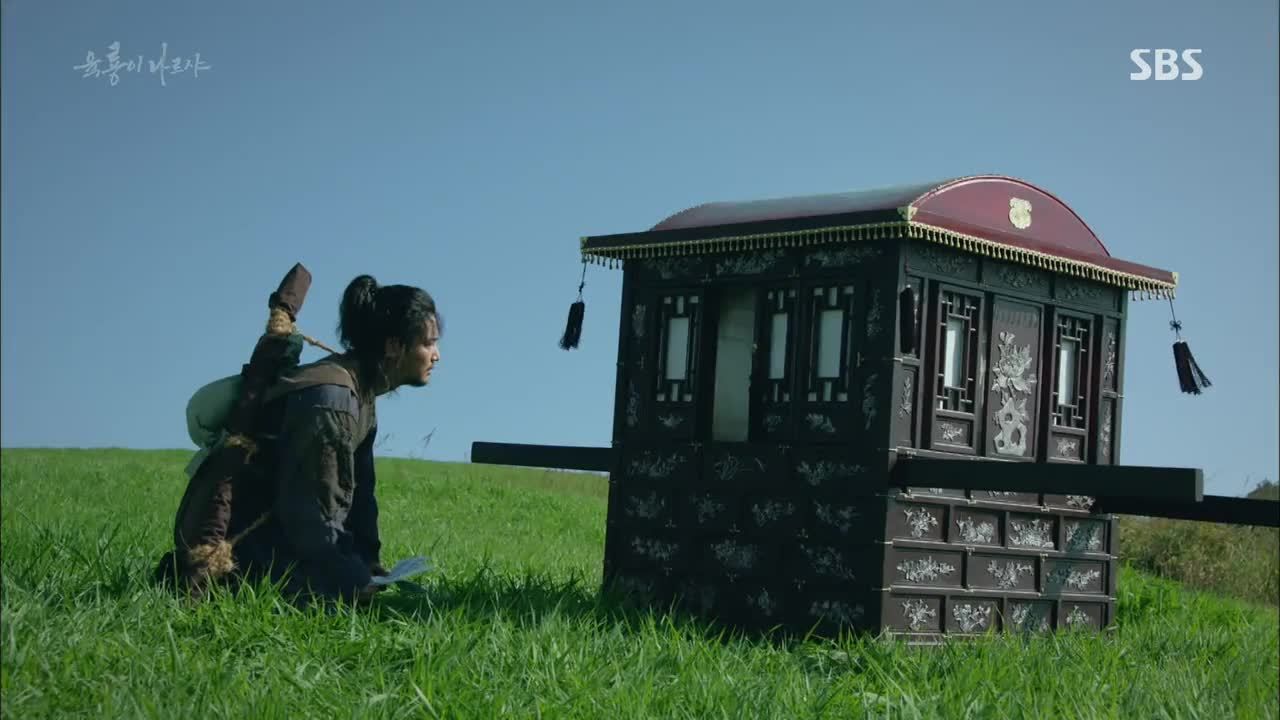 RELATED POSTS
Tags: Byun Yo-han, featured, Kim Myung-min, Shin Se-kyung, Six Flying Dragons, Yoo Ah-in