Thing vs. Thing: Underdogs and overdogs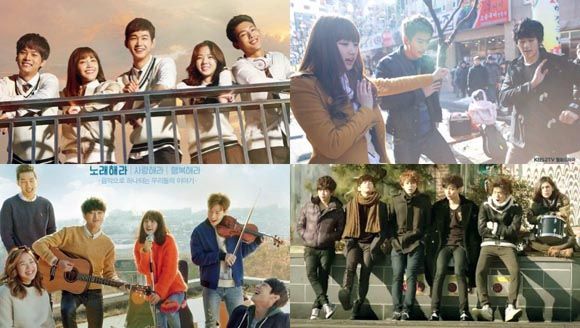 girlfriday: I love Sassy Go Go. Okay, maybe I love Ji-soo in Sassy Go Go, but whatever, same diff.
javabeans: I have a love-hate relationship with it, in that it's super cute, but also makes my blood boil.
girlfriday: What? But everybody loves a good underdog story!
javabeans: Yes, and I do too, they're just a little too trampled on. I like my underdogs only marginally challenged, so I still get the sweet taste of gratification without too much suffering.
girlfriday: But there's not much gratification if it's too easy! They have to be the outcasts and work their way up to victory, and feel good about the blood, sweat, and tears spilled to get them there!
javabeans: But there's NO gratification if the evil snooty bitches of the world constantly spit on our good guys! I don't care how realistic or human that girl is, she needs to go down. Hard. Maybe at the bottom of a failed human pyramid.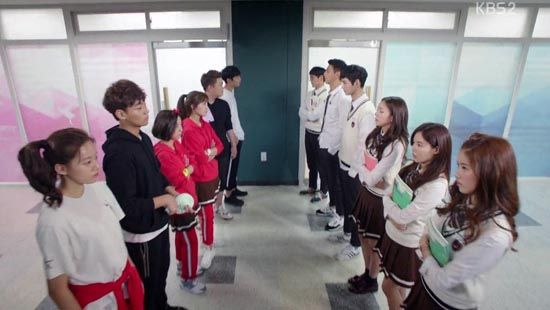 girlfriday: Okay, no argument there. That mean girl in Sassy is devil spawn.
javabeans: She could give the Who Are You—School 2015 villain a run for her money. I mean, okay, she hasn't tried to kill anyone yet… but only yet. I prefer my underdogs like in Dream High or Monstar—that's way more satisfying because they still experience really great moments on their way up, even though they lose to the elites periodically. Plus, all the song and dance numbers!
girlfriday: Sure, it's definitely more realistic to have underdogs in music dramas, but it's not more dramatically interesting that way. Although I'm still stuck on the whole cheerleaders-are-the-underdog thing.
javabeans: Isn't it ironic that in trying to shoot for some (fictional) American ideal of excellence, they made the cheerleaders the underdogs?
girlfriday: All in an attempt to get into Harvard.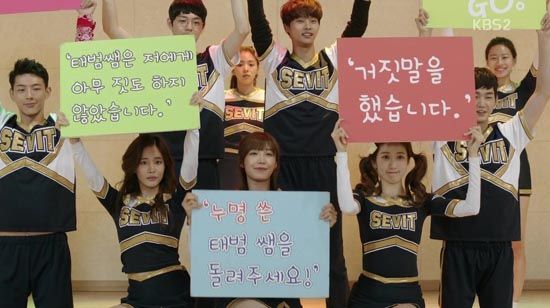 javabeans: Only in Korea. But yes, the musical dramas do get the lion's share of team underdogs. I guess it's easier to portray the "talented but raw" angle with music, where the unschooled still have a shot at besting the technical geniuses. Like in Shut Up: Flower Boy Band, where the perfect rich boys made technically perfect songs, but the songs everyone got excited about were Eye Candy's, all raw energy and rock 'n' roll grit. C'mon, wasn't that rock battle just as satisfying, without all the murderous side thoughts that Su-ah inspires?
girlfriday: Okay yes, but for totally different reasons, because Shut Up was no less angsty—the angst just came from within their own group as the band began to fracture and fall apart, breaking all our hearts in the process.
javabeans: I do admit that Sassy's motivation for their underdogs is pretty strong, where the stakes feel strong and dire if they don't go and cheer. I mean, the actual cheering mechanism is a little forced, but the pressure the kids are under feels believable. In that, they've got a leg up on something like Cantabile Tomorrow, where the worst that could happen is they have to stop playing in an orchestra, but they could keep playing music individually.
girlfriday: Yeah that conflict never really landed for me. 'Cause couldn't they have just gotten together in their free time? And the solution was so easy—they just poached the musical genius for their underdog team, who would lead them to victory.
javabeans: Stealing the genius for your team is way better than in Persevere, Gu Hae-ra, where you had to give him away to the already elite team. Bastids! That drama did also make my blood boil occasionally, but our ragtag team bounced back so quickly that I never gnashed my teeth too hard.
girlfriday: Oh, I gnashed my teeth a LOT in that drama, but I guess it was because of the noble idiocy, not the uphill battle that the underdogs faced.
javabeans: As far as the actual underdogs-versus-over(?)dogs conflict went, it was a solid example because the uppity idols were so aggravatingly superior that you relished seeing our group prevail over them. That's more on the Sassy train than Cantabile or even Shut Up. There's just a limit to how much you can shove a good team down before I start throwing things at my TV.
girlfriday: Not for me. I like the dramatic build when a team of misfits is so downtrodden that at one point you're not sure if they'll ever be able to dance/sing/cheer again!
javabeans: I just want people to be nice! Is that so much to ask?
girlfriday: But that's not real life! Also, there's no drama if there's no drama!
javabeans: We'll just have to agree to disagree on this one, angstmongerer. Happiness is totally interesting!
girlfriday: But it's not strictly the domain of music dramas—this whole dynamic is also the basic premise of sports underdog movies, only Korea sucks at sports underdog dramas. Well, except for Last Match in 1994.
javabeans: I find it hilarious that Last Match kicked off the whole sports drama trend, but was the only one left standing at the end of the day. They just couldn't recapture that magic of Sohn Ji-chang being the basketball whiz kid who betrayed his best friend to go to the top college team, leaving second-best Jang Dong-gun to go to a second-rate school with their scrappy team. Ahhh, that drama! I love it so.
girlfriday: Somebody really needs to remake that drama. I'll probably hate it and say it doesn't compare to the original, but they should still do it.
javabeans: Omg now I want that. With Lee Hyun-woo and Yoo Seung-ho as the best friends, fighting over Kim Yoo-jung and Kim So-hyun.
girlfriday: I WOULD WATCH THE HELL OUT OF THAT DRAMA. I need that to be a drama right now. Right now!
javabeans: Now I'm sad I thought it up and it doesn't exist in real life.
girlfriday: It's all your fault.
javabeans: I'm sorry. Not sorry. WANT NOW.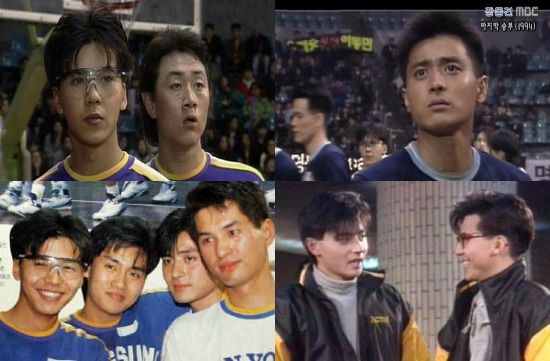 RELATED POSTS
Tags: 1 show to rule them all, Cantabile Tomorrow, conversation post, Dream High, featured, Monstar, Persevere Gu Hae-ra, Sassy Go Go, Shut Up: Flower Boy Band, The Last Match, Thing vs. Thing