Village: Secret of Achiara: Episode 10
Aw, our gullible, simple-minded petty officer is growing up, even if it's in tiny little baby steps. Though I did find his naivety mildly frustrating in past episodes, the more he is challenged, the graver his demeanor becomes, and it's a gratifying progression into adulthood. Though I wouldn't mind a return of the cute every once in a while, since all work and no play reportedly turns folks into crazy people.
SONG OF THE DAY
Kim Hyo-jin – "Rain (La pluie)" [ Download ]
Audio clip: Adobe Flash Player (version 9 or above) is required to play this audio clip. Download the latest version here. You also need to have JavaScript enabled in your browser.

EPISODE 10: "Bloodline"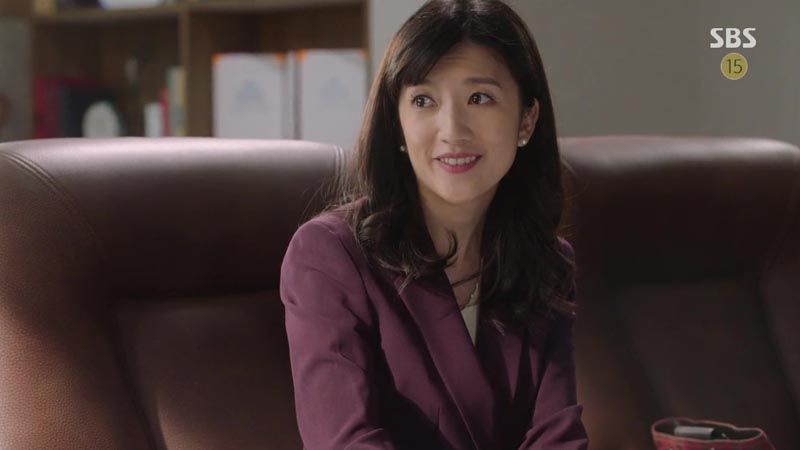 Joo-hee takes the time capsule to Assemblyman Seo, telling him he'll need to speed things up. She opens the envelope inside, which I'm assuming was what Hye-jin had put there, and plays an audio file for him—the taped conversation where he tells Driver Yang to get rid of Hye-jin.
Then Joo-hee hands him a letter that makes his eyes widen, and shows him a plastic bag containing what looks like a bloodstained piece of clothing with several locks of hair.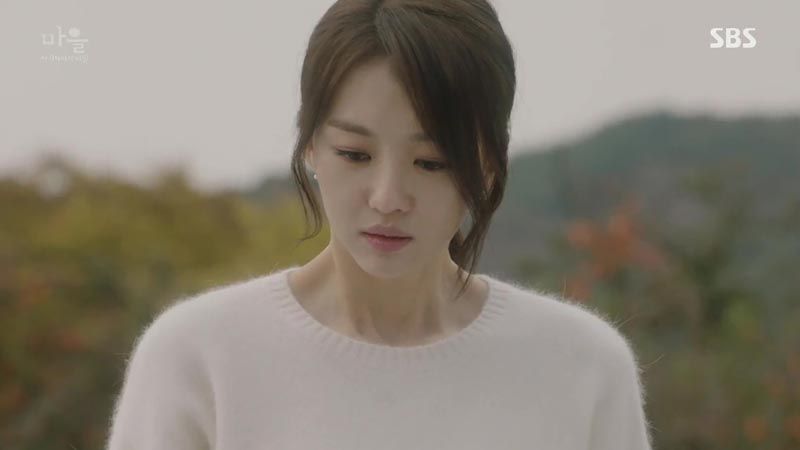 Ga-young looks at herself in the mirror, specifically at the birthmark on her inner thigh. She flashes back to the day when Hye-jin had found out about it, seeing her sprawled after Ga-young fell off her bike. She'd shared that she had a mark just like it, and showed her the birthmark on her hip, shaped similarly to Ga-young's—then asked who the girl's father was.
Back to Madam Baengi, who relives the encounter when she'd told Hye-jin she should never have returned, and Hye-jin had strangled her in a fury. In the present, Madam Baengi strangles herself, locked in that memory, while So-yoon and Ki-hyun stand by in shock.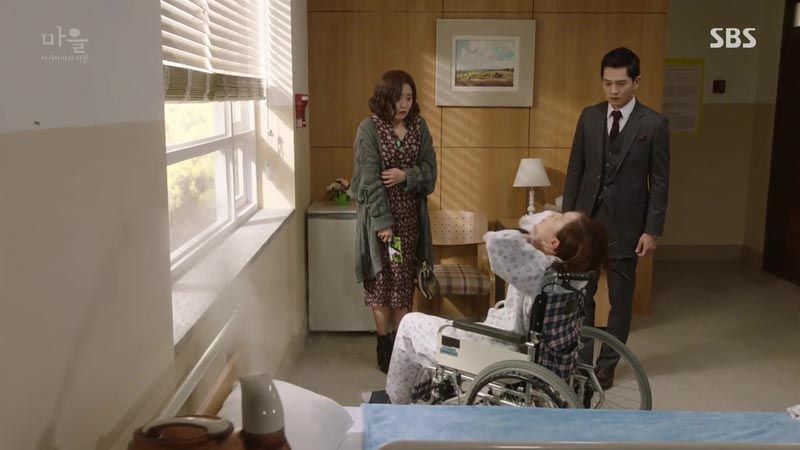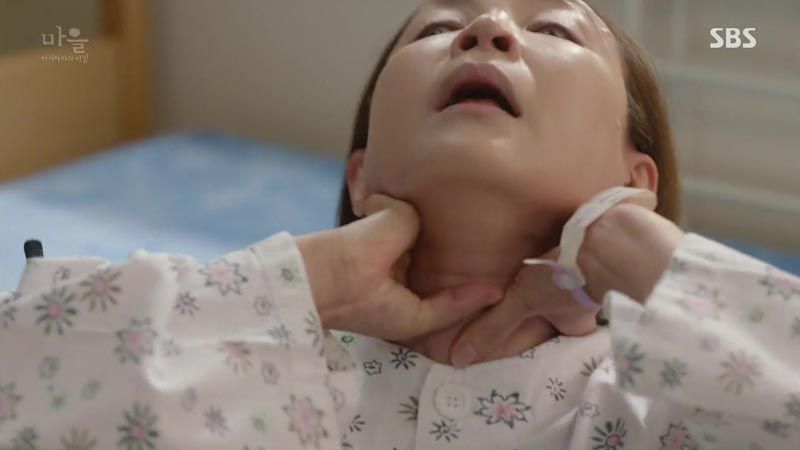 Driver Yang explains to our two officers that he'd been paid off by Chairman Noh, but can't give any information to support his claims. The phone number has been disconnected, and he was taken to see the chairman blindfolded, and can't tell them where it was. It looks like his downfall has been carefully planned, and now he's flailing.
That doesn't give the officers much of a lead, but Woo-jae can't help but believe that Driver Yang isn't the killer.
Joo-hee gives the drive containing the incriminating recording to Assemblyman Seo.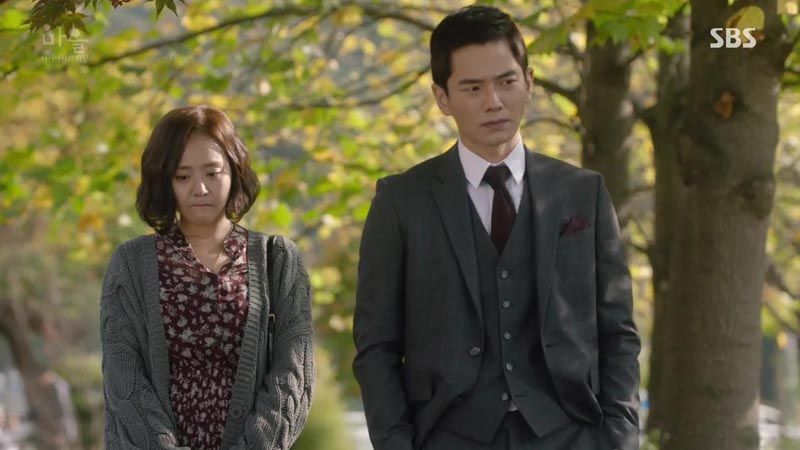 At the hospital, Madam Baengi sleeps following her episode, and her nurse asks So-yoon and Ki-hyun to leave, since their presence is likely to add stress. As they leave the premises, So-yoon tells him of the necklace she's wearing that once belonged to her sister, which she thinks triggered Madam Baengi's memory.
Ki-hyun wonders what she meant by everyone else being fine if only Hye-jin went away, and So-yoon says she has an idea, though she hesitated to say so before without confirming her suspicions.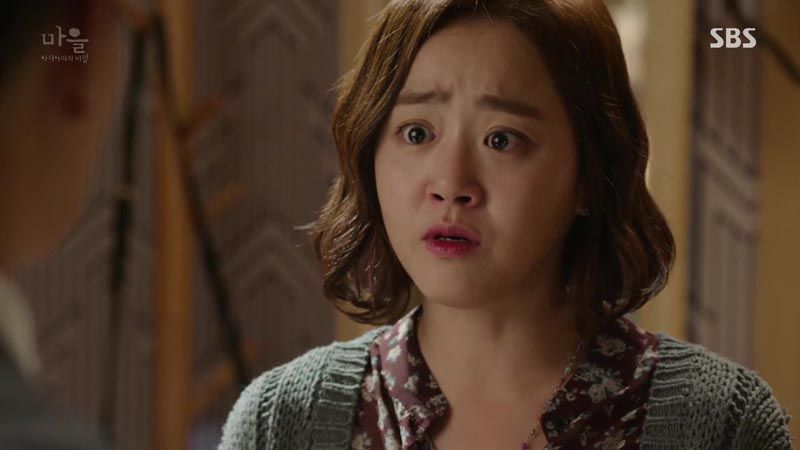 Ki-hyun is vehement in his denial, but So-yoon says it's plenty possible that Hye-jin is Madam Baengi's daughter. She outlines the theory: It would make Hye-jin the third child, each with a different father. It would have been a terrible scandal, and in the intervening years her first daughter, Ji-sook, had married up and made quite a life for herself. Hye-jin's mother would have been displeased to have that child show up again, and perhaps Hye-jin then went after Assemblyman Seo in revenge.
So-yoon shows him the DNA results that had been hidden in Hye-jin's painting, which show a blood connection between Hye-jin and another person from Achiara through Hye-jin's maternal line. It doesn't say who the other relative is, but it would be a sister, aunt, or niece.
That night, Driver Yang hears a noise coming from the warehouse marked restricted access, sees that the door's been pried open, and walks toward it. Well, that's it. He's toast.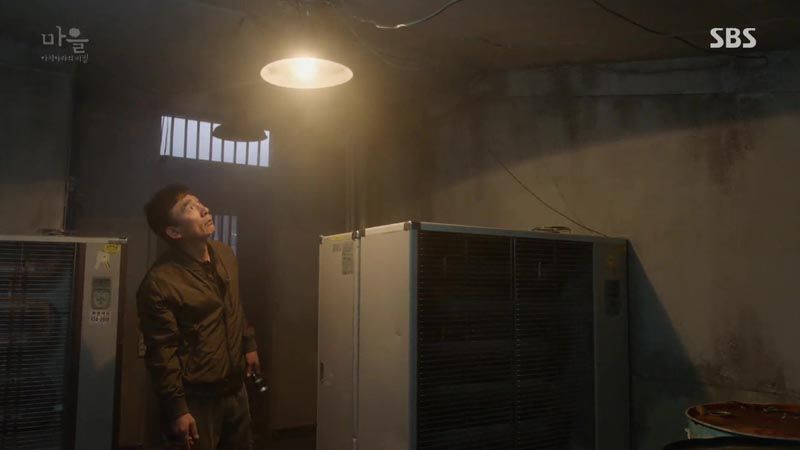 He pauses underneath a blinking light bulb, staring up at it as the fuse blows—and blows up the entire building along with it. Ack! I didn't mean toast literally!
Ji-sook gets a call from her mother's hospital that afternoon, so by nighttime she's waiting up for Ki-hyun to come home, looking tense and angry. He tells her that he went for his own sake, not for So-yoon's, because he'd always wondered why Ji-sook and Hye-jin regarded each other with such irrational hatred.
He confronts her with the possibility that she and Hye-jin are half-sisters, which she immediately laughs off, saying it's impossible that her mother had a child in secret in this tiny town. Ki-hyun tells her that her mother attacked herself just from seeing Hye-jin's photo, which stuns Ji-sook. But when he says he wants the truth, she just exclaims that Hye-jin tore up her life two years ago, and is now stealing away her reliable, trusted stepson.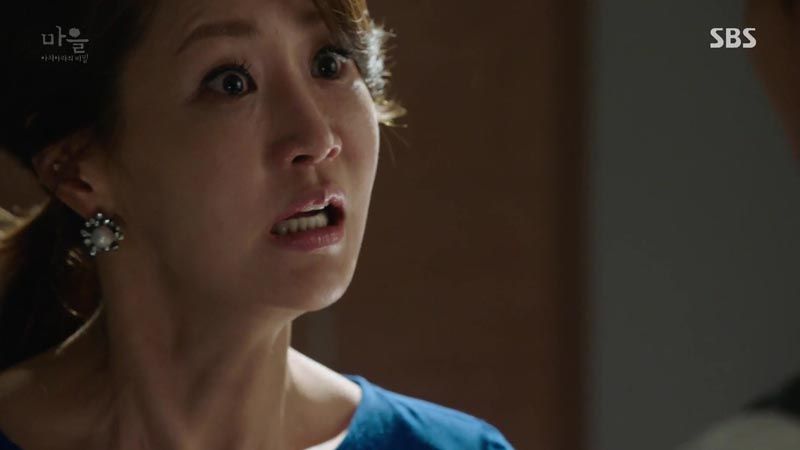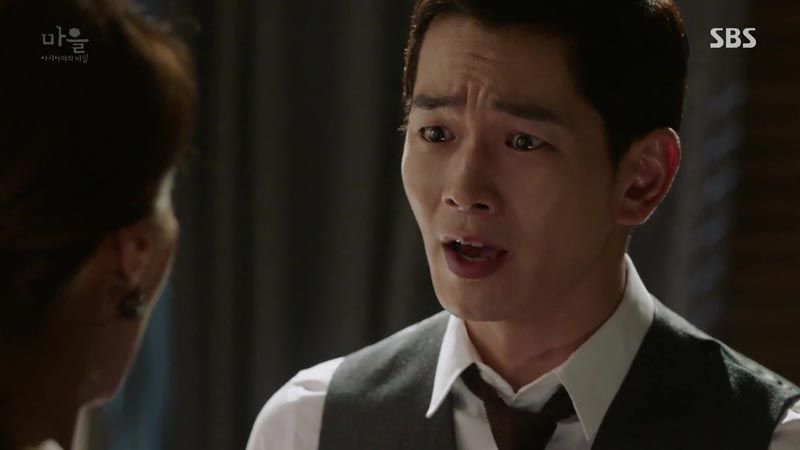 Ki-hyun doesn't back down, though, demanding to know what was in that envelope she gave Hye-jin. She screams that he's imagining all sorts of terrible things, asking, "Are you really my son Seo Ki-hyun?!"
So-yoon goes to the genetic lab that had done Hye-jin's DNA test and asks if it's possible to run another test with Hye-jin's information and a new person. Without that person's consent, the lab can't produce official results, but the employee lowers his voice and tells her that if she merely wants to know the truth, there may be a way to do it unofficially.
However, when she returns to the hospital, Madam Baengi is gone.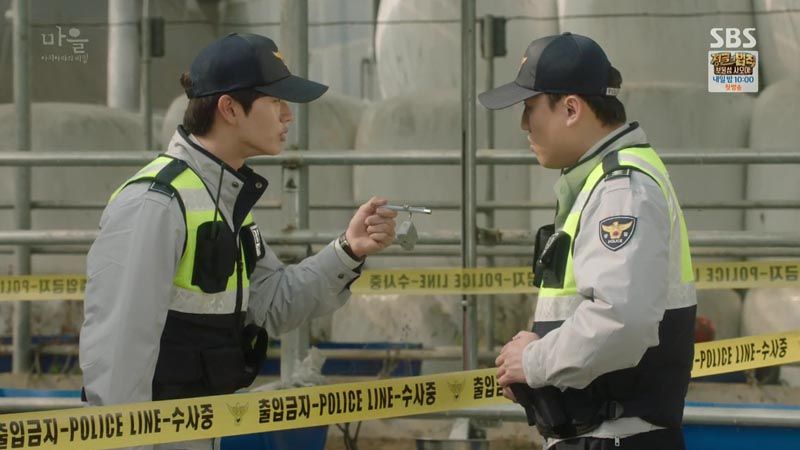 At the farm, inspectors assess the damage caused by the explosion, and the reasons all point to an accident, with pre-existing problems with faulty electrical wiring. But Woo-jae spots the padlock near the door, which looks like it was cut, and that triggers the suspicion that this wasn't a coincidence. As they wonder who might have done it, the camera focuses on two men in the distance, watching from the sidelines. Loan sharks, perhaps?
As the officers drive away, Woo-jae notices the car in the rearview mirror and wonders if they're being followed. Sergeant Han dismisses that as far-fetched, since he can see no reason why they'd be followed.
Ga-young requests to see Assemblyman Seo on a personal errand, and names her mother, waiting to see if it triggers any reaction. It doesn't, and the assemblyman has to think hard before placing her, so Ga-young shows him an old photograph and explains that she wants to find her father. The photo shows a much younger assemblyman with her mother, and he gets her meaning—and bursts into laughter.
So Assemblyman Seo drops in on her mother's restaurant, where Mom hovers like a blushing schoolgirl and accepts his compliments happily. But then his voice hardens as he calls Ga-young gutsy—excessively so—and scoffs at the idea that she'd asked him if he was her father.
Ga-young's mother is mortified, and the assemblyman orders her to tell her daughter who her father is, since he hates being the object of misunderstanding. Mom sobs and blubbers that it's her ex-husband, and whether or not anybody believes her, she sticks to that story. The assemblyman turns to Ga-young and tells her sternly that she's disgraced her mother.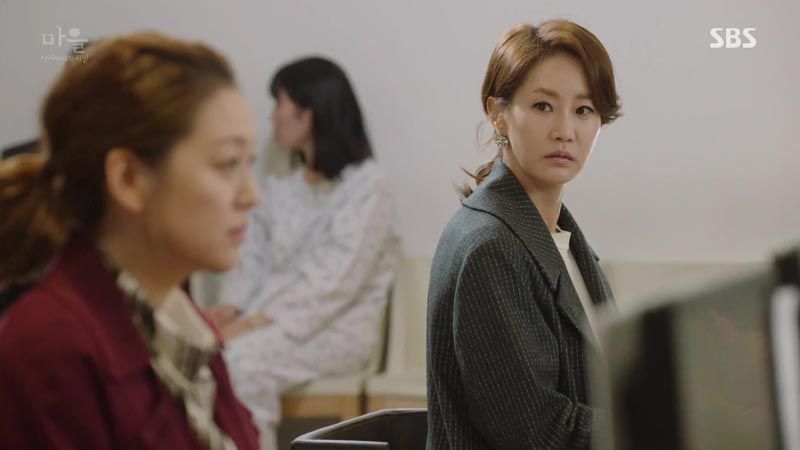 At the hospital, Ji-sook receives the good news that she's pregnant, and the doctor advises her to be careful. She's thrilled, naturally, but as she makes her way out, she overhears another visitor asking for a woman named Kim Hye-jin, and it strikes alarm in her. She follows the woman down the hall, where a young girl runs up and cling's to Ji-sook's legs, as her mother calls her name—another Hye-jin—and collects her. As her mother carries her away, little Hye-jin waves at Ji-sook, who is thoroughly spooked.
Grandma thinks over the monk's advice about soothing the young spirit, and pictures Hye-jin as she used to be, sitting at her side and attending to her diligently. The recollection makes her sigh wearily, looking worried.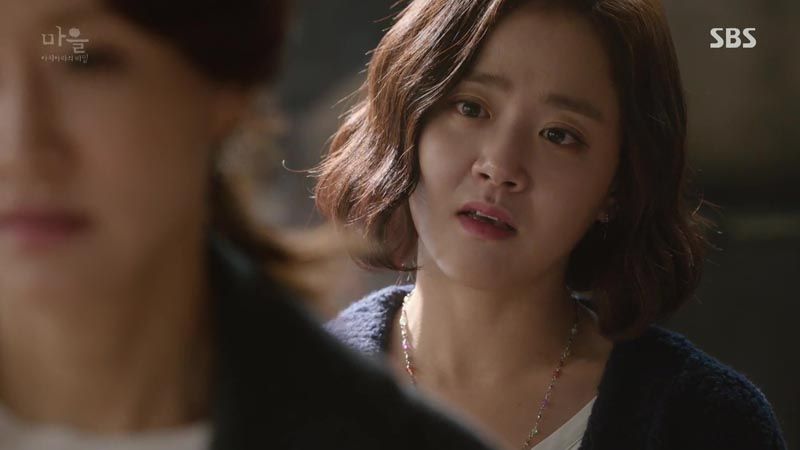 So-yoon goes to Ji-sook to request that her mother participate in a DNA test, which the latter finds a ridiculous proposition. So-yoon points out that it's an easy way for Ji-sook to clear up doubt, since she's insistent that her claims are false, and also notes that Ji-sook must be afraid if she went so far as to move hospitals for her mother.
Ji-sook points out that she could well sue for defamation, but So-yoon calls her on it, knowing that a suit would set tongues wagging. Ji-sook hears this as a threat, but So-yoon doesn't care, because she must find her sister's kin—the relative Hye-jin had tracked down, who had done absolutely nothing when Hye-jin disappeared, or when she'd resurfaced as a corpse. The only explanation is that the relative had something to do with her death. At the very least, they know why she died.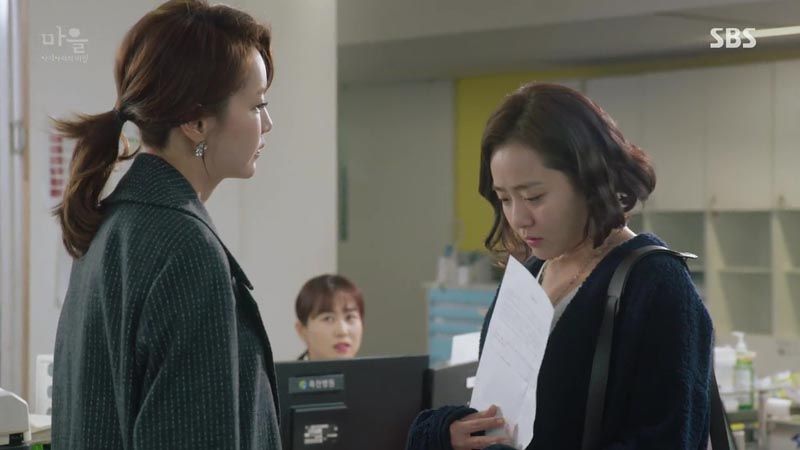 The goading sets off Ji-sook's temper, and she promises to show So-yoon just how absurd her claims are. She storms to the hospital to pull up a record from the files, and thrusts it angrily at So-yoon: It's the record of her mother's hysterectomy in 1980.
It's a definitive setback to her theory, and she shares it with Ki-hyun. But even if Madam Baengi isn't Hye-jin's mother, she believes she's important to finding out what happened, and is determined to pursue it.
Ga-young is more upset than ever, both regarding her father and the Gun-woo, whom she saw with another woman. She ends up at So-yoon's door, wanting some advice from someone who won't dismiss her.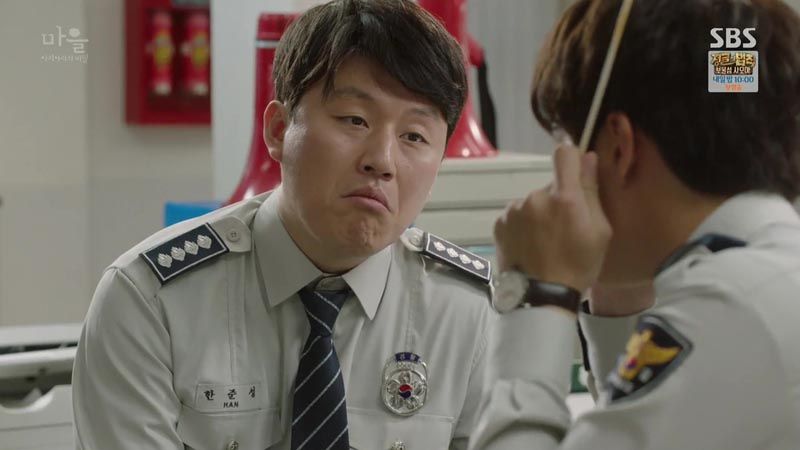 At the police station, the cops await the results of the farm explosion investigation. Confident in his newly honed detecting skills, Woo-jae says that if it's ruled an accident, that means someone really important must be pulling the strings. Sergeant Han chides him for dragging his heels on the assignment to talk to Gun-woo, but Woo-jae protests that he hasn't been able to get a hold of him.
That's when Ga-young and So-yoon arrive together to make a sexual harassment report—against Gun-woo.
Gun-woo insists that he didn't do it, but it doesn't look great for him, especially since he did give her a ride and he did touch her leg. That's the story Ga-young tells a female teacher in her formal complaint, though she has a way of twisting it to sound more salacious than we know it was.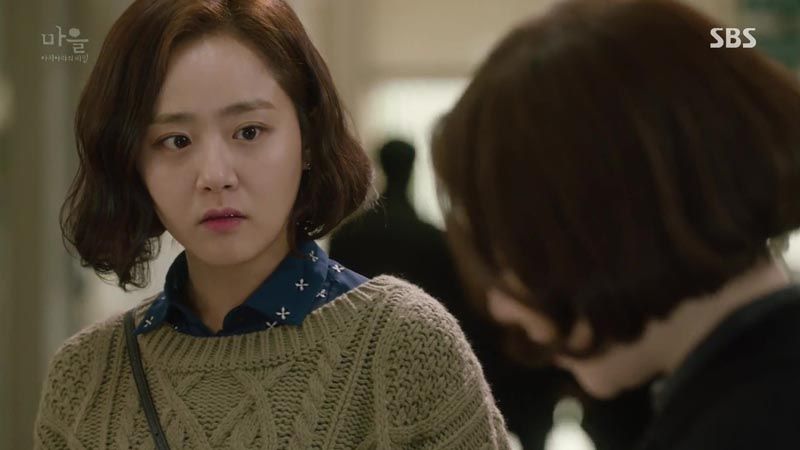 She also is overly eager to know if Gun-woo will get fired and chased out of town over this, and So-yoon clocks the smirk on her face as she texts busily on their way out. She's reminded of that incident on the staircase when Ga-young shoved a student in jealousy, and her suspicions are firing, so she grabs the phone out of her hand and reads.
In a string of texts, Ga-young gloats to her friends about taking down Gun-woo with the help of the gullible English teacher, and So-yoon realizes she's been manipulated. She apologizes to the other teacher and asks her to make sure it's investigated thoroughly in case of false accusation.
Woo-jae arrives to speak with the teacher, who informs him that Gun-woo had a prior accusation leveled against him. (Ah, Joo-hee had referred to him being wrongly accused "again" this time.) It took place at a school in Seoul, and the name triggers something in Woo-jae's memory: Dongsun High School.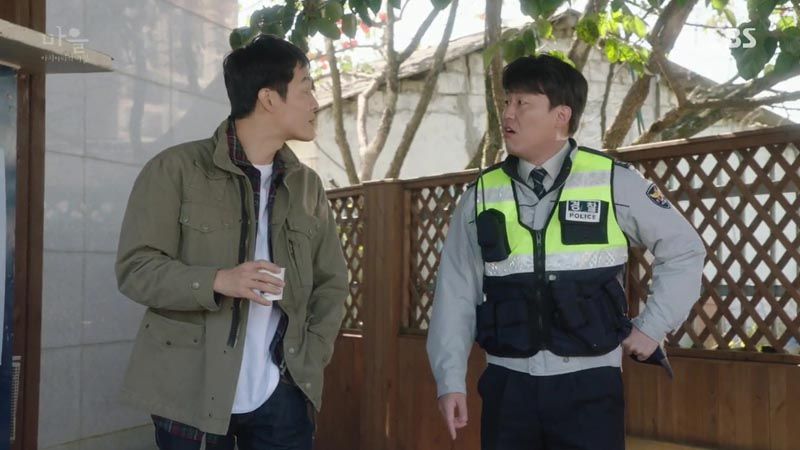 The farm explosion is declared an accident, and it finally tips Sergeant Han over the edge. He rails at the outrageousness to Detective Choi, though the detective just advises him to watch himself and take care of his own life—Assemblyman Seo is a powerful man.
Woo-jae is outraged too, but for once, it's Sergeant Han who's blazing with indignation. So when they drive off and he clocks the car in his rearview mirror, with the same loan shark-looking thugs from before, he screeches his car to a sudden stop.
He rushes at their car to drag out the driver, demanding to know who they're working for, and it's pretty satisfying watching him unleash all long-suppressed frustrations on these two.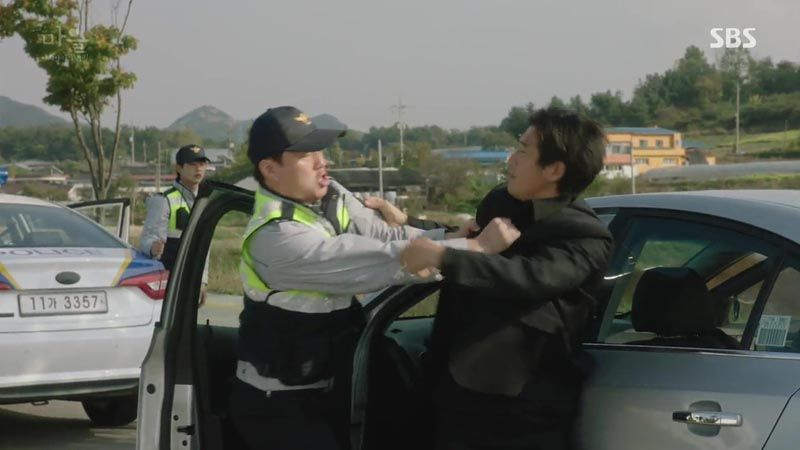 He manages to wrestle some identification out of one… and then stops in shock. They're government inspectors?
Turns out that Driver Yang had filed a complaint against Sergeant Han before he died, accusing him of overreporting his infractions. Sergeant Han points out that all the claims were valid, but the inspectors see that he'd intentionally gone after him as a form of harassment.
Sergeant Han just agrees and prepares himself to be punished. Woo-jae muses that his detective sense is tingling, and he suspects a plot, since it's too strange that they're going after Sergeant Han after the complainant is already dead.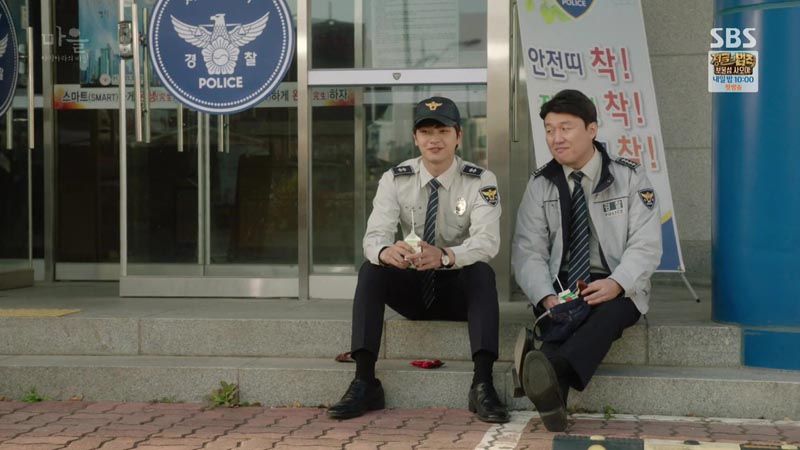 Woo-jae shares his recent discovery about Gun-woo's past harassment claim. But what's interesting isn't the claim itself, but that it was at the same Seoul high school where Kim Hye-jin had once worked. They knew each other.
Gun-woo claims not to have known her very well, however, and says that the calls before her disappearance were regarding her looking for a job at the school. His face darkens, however, when Woo-jae theorizes that Hye-jin was a liability for him, because she knew of the scandal that had gotten him fired from his last school. When Woo-jae presses him, Gun-woo exclaims, "I didn't kill her!"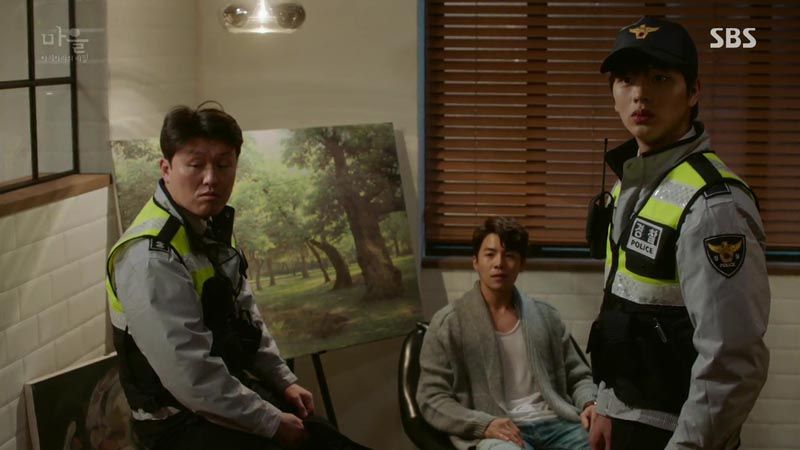 That's when Joo-hee bursts into the apartment, peeved at the criminal treatment Gun-woo is receiving. She tells them to do their investigation properly and start with confirming his alibi (which she says will be proven by travel logs) and not wasting energy with these kinds of interrogations.
After they leave, she assures Gun-woo that the Ga-young case will be settled soon. But Gun-woo's been shaken, and he stammers, "H-hye-jin." She asks in concern what he means, but he just fights his tears and asks when they can leave, looking like a scared little boy.
That night, Ji-sook notices her sister calling her husband, but pretends disinterest as he takes the call. Joo-hee presses the assemblyman to settle the Ga-young case, but he insists that it's in the police's hands now. And from the doorway, Ji-sook eavesdrop, filing away this information.
She drops by the pharmacy the next day to advise Joo-hee to break up with her boyfriend, who's nothing but trouble, warning her about lowering her "rank" by aligning with lower-class people. Joo-hee clearly resents her sister for all her condescension and interfering, but she deals with it by slapping on a smile.
When Ji-sook hands over the new address of their mother's hospital, Joo-hee says that So-yoon must have scared her. And when Ji-sook tells her to visit Mom regularly, Joo-hee replies that Mom's never glad to see her: "Mom's fine having only you for a daughter, both then and now."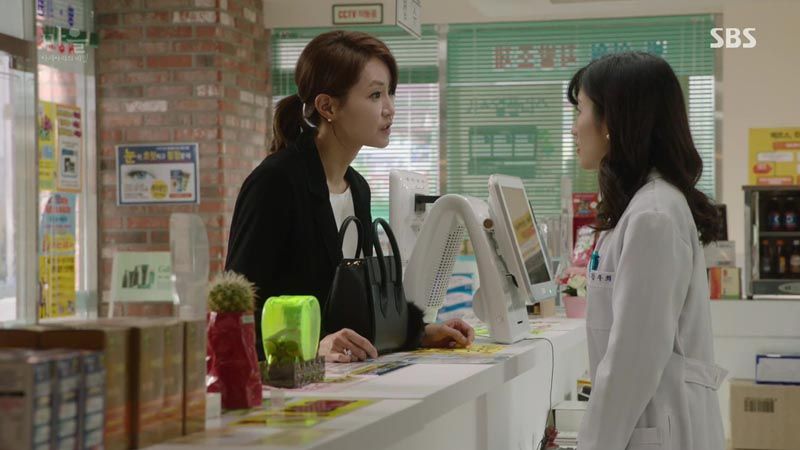 Ji-sook laughs at her sister's inferiority complex, while Joo-hee sheds an angry tear.
The school concludes that there's no evidence supporting Ga-young's sexual harassment claim, and moreover, there's a rumor that any student who becomes friendly with Gun-woo gets hurt. So-yoon was an eyewitness to one instance, and takes responsibility for not reporting what she saw. Five witnesses have corroborated the story.
Furthermore, Gun-woo's cell phone logs confirm that in the past month, there were over a hundred texts and calls from Ga-young, none of which he initiated. And the last text she sent before making the report was an ominous threat that he would regret it.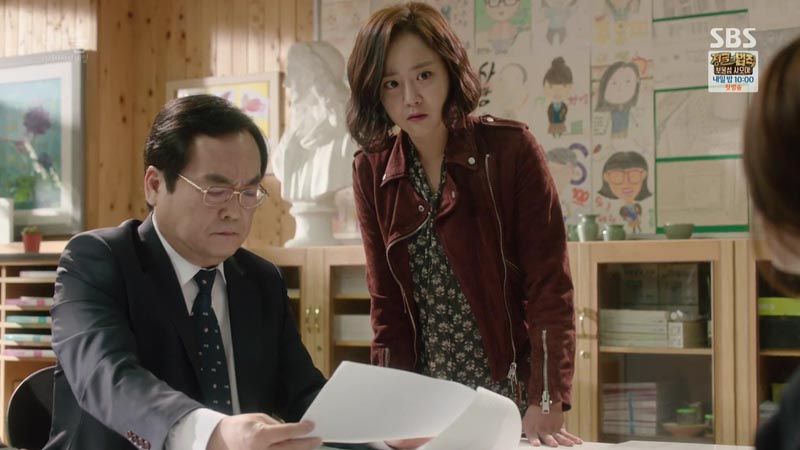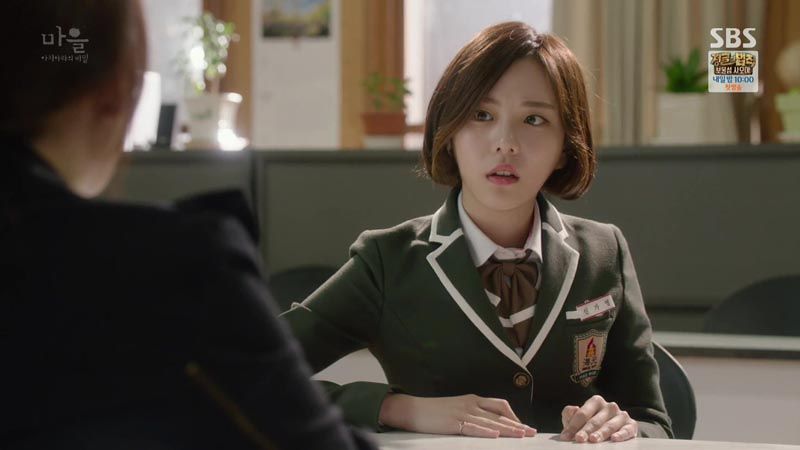 The principal suggests they close this incident quietly for the sake of the school's reputation, and Ga-young takes offense to that, telling him to tell the assemblyman to take care of his own reputation. She storms out, and So-yoon follows her to scold her for making a false accusation that could ruin a person's life.
Ga-young fires back, "Do you think he's really innocent?"
She adds that Hye-jin had a boyfriend—a much younger one than the assemblyman. She asks, "What if he killed her? What'll you do then?"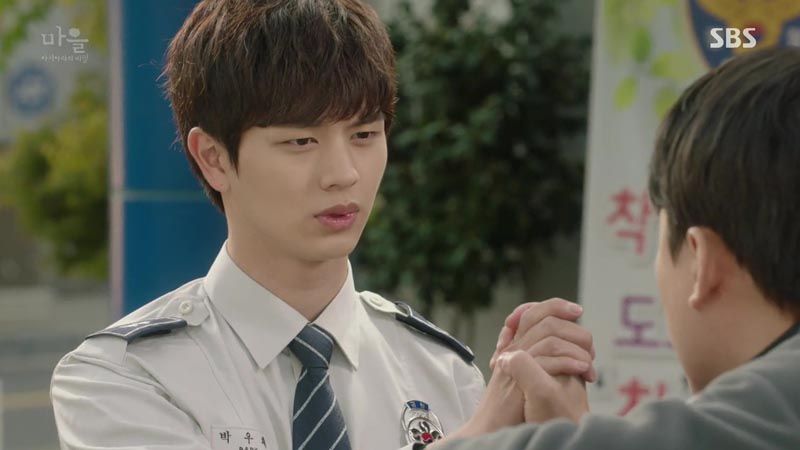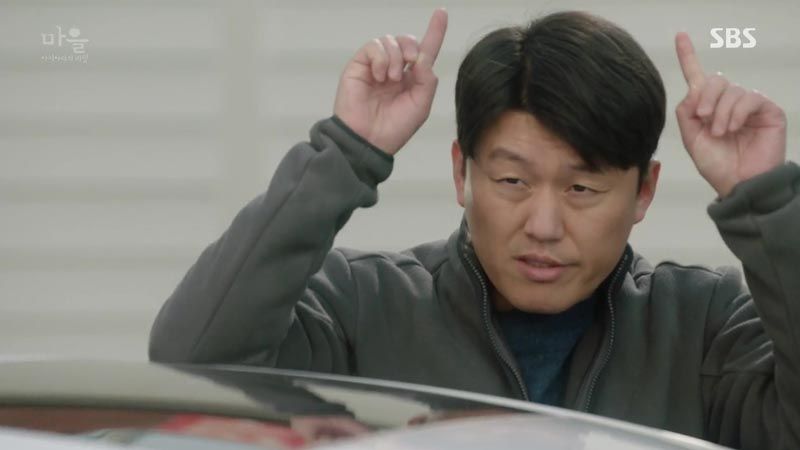 Sergeant Han receives a suspension, and packs up his things in the office. Woo-jae deflates at this harsh punishment, but Sergeant Han advises him to make use of those newly developed detective senses he's been bragging about, and gives him a hint he wasn't authorized to give before: The serial killer had left walnuts inside the victim's bodies, specially preserved to prevent their decaying, which wasn't found in Hye-jin's corpse.
Woo-jae vows to continue the investigation, and Sergeant Han gives him the information of a newspaper, saying, "We're both continuing. Me, too." They shake on it.
So-yoon drops by Gun-woo's studio to apologize for her part in the accusation, though he thanks her for helping to fix it. She adds that she heard about him from Ga-young, and asks what his relationship was to her sister. He sticks to his story about being casually acquainted through the art academy, and that he knew about Hye-jin's birthmark because she mentioned it once while talking about art and human bodies.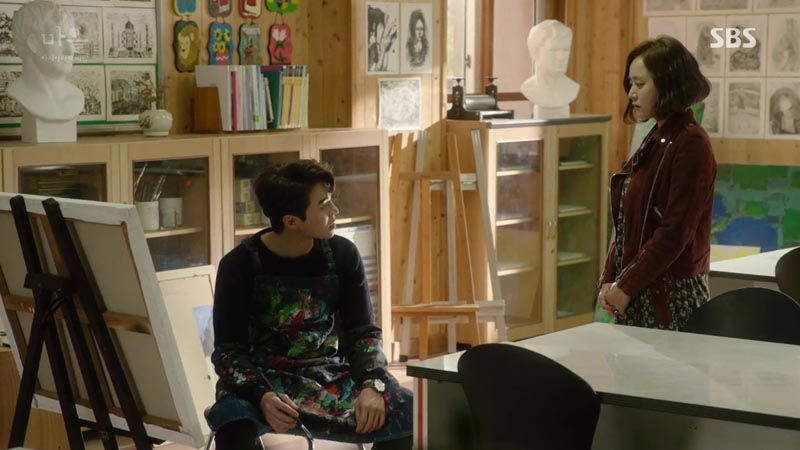 So-yoon doesn't buy that, and points out how odd it is for Hye-jin to then tell him in casual conversation that a female student had a similar birthmark. And why would he want to see Ga-young's mark in the first place?
In flashback, Hye-jin tells Gun-woo that there's a child in this village who's like her: "With dirty blood, like me. And like you." Wait, what?
So-yoon presses him for an explanation, and he just says he doesn't know, that it was merely a mistake.
That woman who was searching for Kim Hye-jin at the hospital turns up at the art academy, asking after her. Clearly she hasn't heard the latest news, since she's mostly pleased to have finally tracked her down.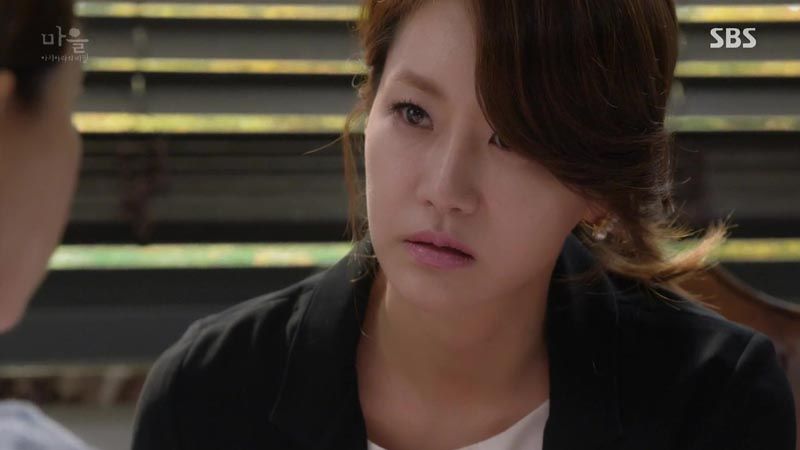 Ji-sook tends to her mother in her new hospital room, and pauses when her mother mumbles something. She says, "Hye-jin came by," and Ji-sook assures her that Hye-jin cannot come here because she died. And that makes Mom's eyes widen in terror as she stares at Ji-sook.
Agasshi drives through town and sees So-yoon walking by, which for some reason puts a thoughtful look on his face. He starts whistling a tune, which matches the one being whistled by the lumber mill ajusshi as he waits outside Agasshi's shack.
The art academy assistant meets with Woo-jae and So-yoon to pass along information of Hye-jin's friend looking for her, though not without first staking a jealous claim on Woo-jae's affections. She's cute, but this is not the time or place.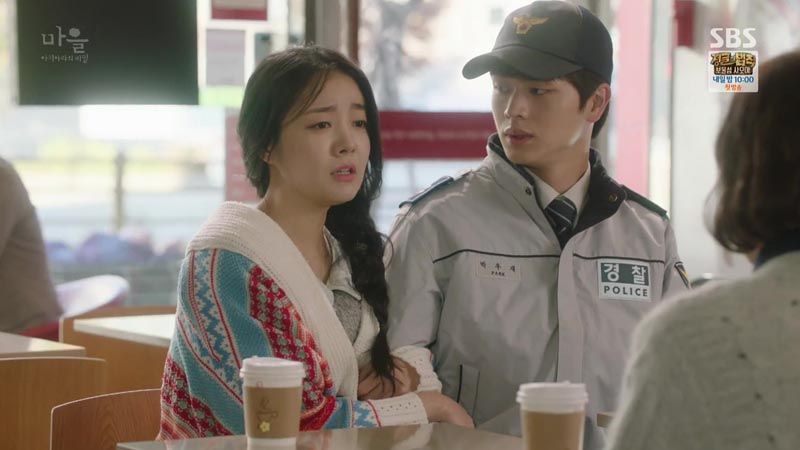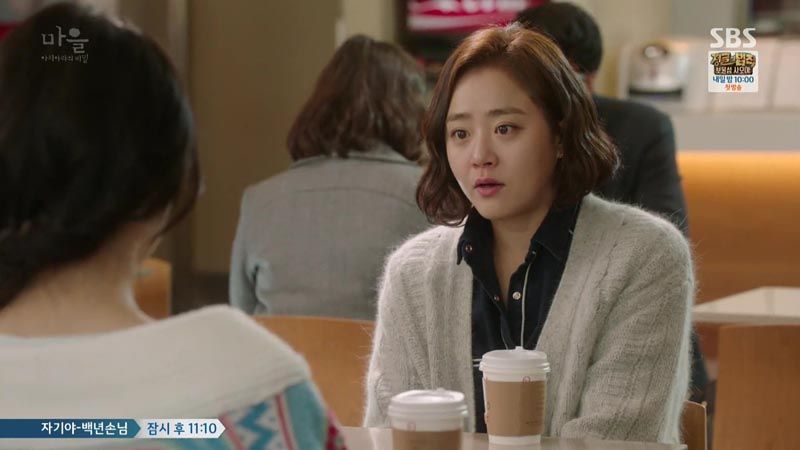 Woo-jae thinks as much and gives her a loud scold for messing around when the situation is quite serious. She meekly hands over the business card.
The friend's name is Min-joo, and she's a researcher at a biology center who explains that she met Hye-jin as a patient of Fabry disease, which she describes as not too serious with proper treatment. Hye-jin's records cut off suddenly two years ago, prompting her to search for her—because without treatment, it could turn quite dangerous.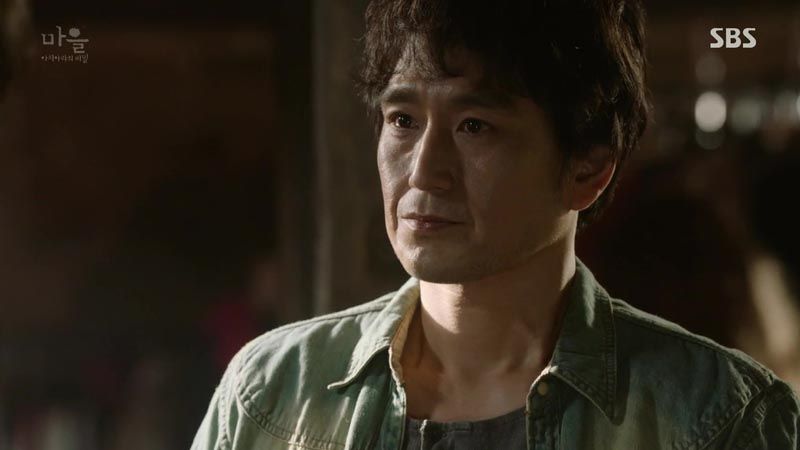 The lumber mill ajusshi makes pleasant chitchat with Agasshi despite being obviously nervous about something, and hands him an envelope of money, saying that it's not much.
Agasshi understands right away what this must mean, and the ajusshi assures him that he's washed his hands of "it" for a long while, and that he's happily married with a daughter now. Oh, are you the killer?
Agasshi replies, "A clean person has no reason to give me this, does he? I understand. That's a tough thing to resist." Ajusshi gulps.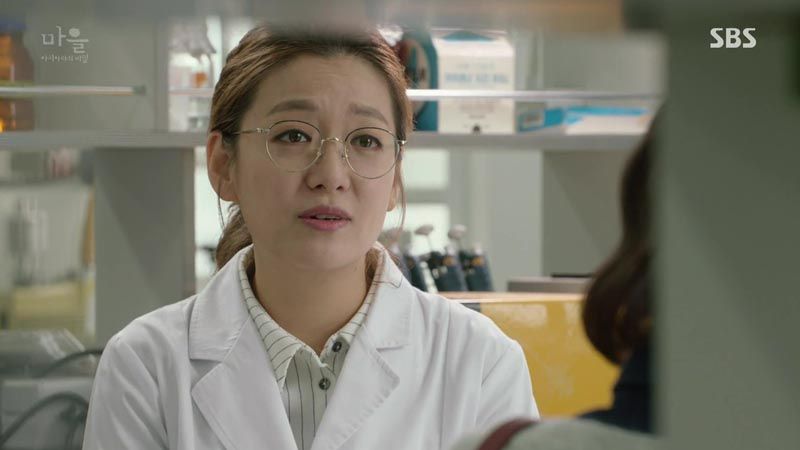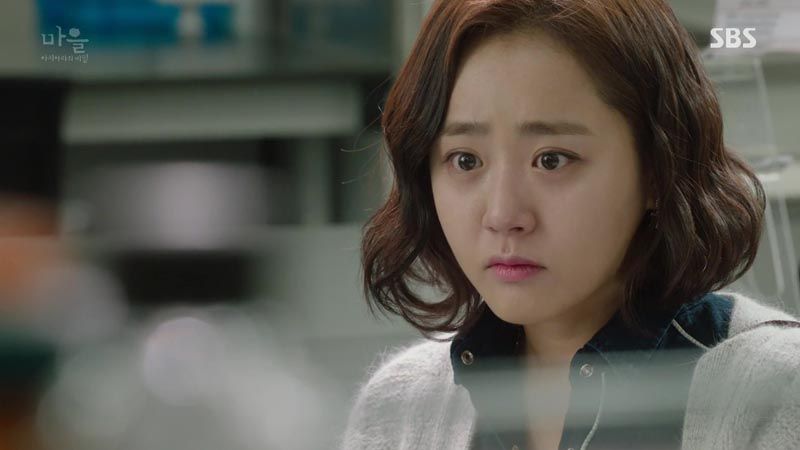 Researcher Min-joo explains that being alone in the world without blood relations is a dreadful thing for patients of rare diseases, and Hye-jin had been afraid. So-yoon asks what she was scared of, and Min-joo replies, "Naturally, death. Especially dying alone, without anybody knowing."
When Min-joo mentions that it's a genetic disease, So-yoon snaps to alert.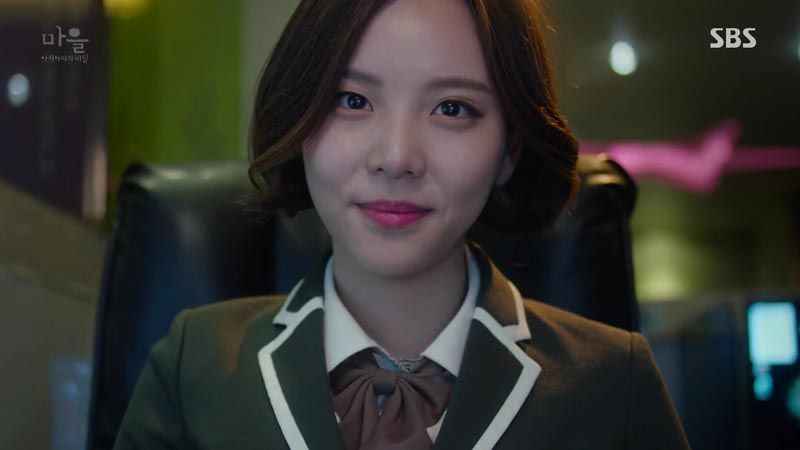 Smarting from the school's results, Ga-young retaliates with an attack of her own, going online to write of a scandal in Achiara. She uploads the camera pics she'd taken of Ki-hyun embracing a tearful Ji-sook, stating that stepmother and stepson are having an affair. Damn, she's always at her most frightening when she's happy.
It's a rainy night as a desperate woman runs barefoot along a road, begging passing cars to stop, to no avail. She's frantic and frightened, but soon faced with a terrifying figure in a black raincoat. He lowers his hood. It's Agasshi.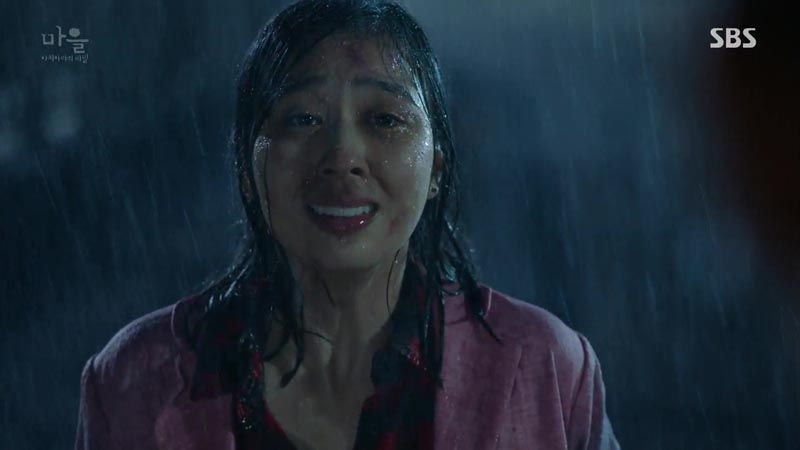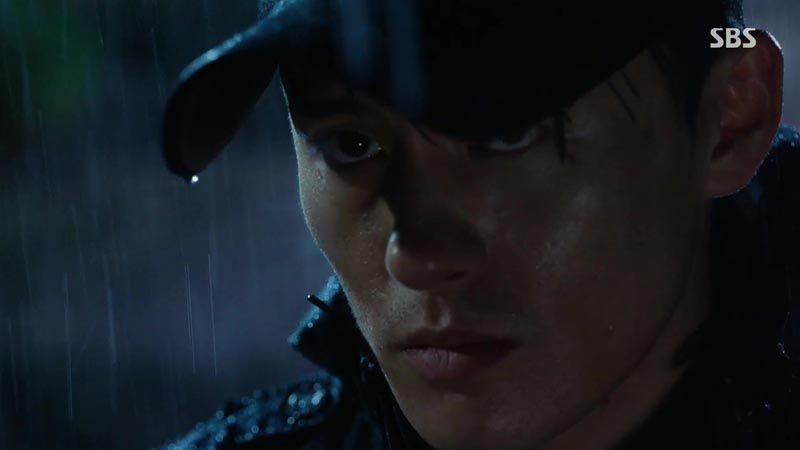 COMMENTS
Nooo, say it ain't so, Agasshi! And I've been so on his side these past weeks, finding him quite sympathetic as the wrongly accused killer just doing his own thing. He wasn't entirely blameless in that he did derive pleasure out of scaring women, but that hardly made him murderous… or so we thought?
Of course, nothing's ever definitive in this show so I half-expect a twist in the next episode to counter our expectations. Mostly because the shifty artist ajusshi looks a lot more suspicious to my eye, and Agasshi's words hinted that it was the other man who couldn't control his urges. I suppose it's a leap to assume that he meant murdering—as we've learned every episode, there are plenty of offenses being committed in Achiara, so there's no guarantee that he wasn't talking about something else. Like maybe Ajusshi has an Unni alter ego, and he and Agasshi used to party on the town together? Just throwing that out there. The walnuts are an incriminating tidbit, though…
I have really enjoyed the progress of the two officers working this case, and can retroactively forgive a lot of the bumbling that went on in early episodes when they (okay, mostly Woo-jae) seemed borderline stupid, accepting things at face value and seeming every bit the country bumpkins that the folks at the main station see them as. But the more they come up against obstacles—or more specifically, the more their path is blocked by the system and Assemblyman Seo manipulating his power—the more determined they become. Sergeant Han always seemed sharp to me, so mostly the growth is on Woo-jae's end, but I don't want to discount their growth as a team.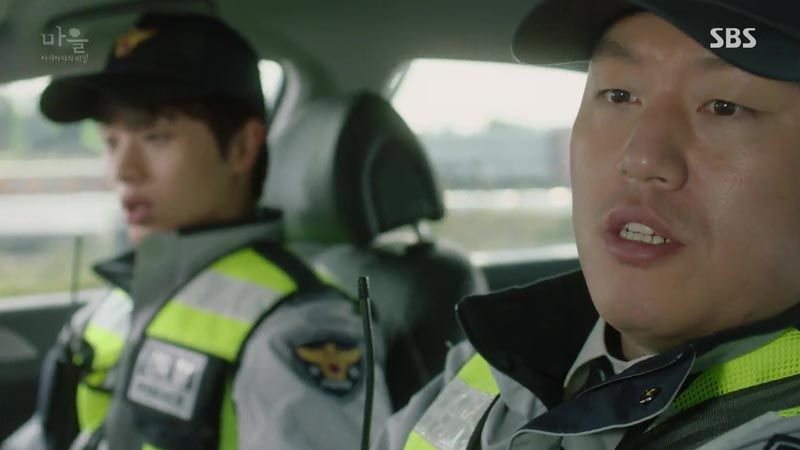 Which makes it a bit sad to have Sergeant Han forced to step aside for the time being, though narratively it paves the way for Woo-jae to really step it up. All along it's been his sunbae running the show, directing Woo-jae's attention to all the proper spots, and now Woo-jae's on his own. It both makes me anticipate how he'll grow into this new responsibility and nervous that he'll cave under the burden, because who will be there to guide him, or give him necessary doses of reality, or even point out the obvious?
As for the other characters, we're seeing more layers unpeel, and I appreciate that they're all showing their vulnerabilities, like Gun-woo breaking down as Joo-hee comforted him, partially as a girlfriend, but almost also like a mother.
Also, what was that bit about Gun-woo having dirty blood? Is he also a half-sibling to Hye-jin and (probably) Ga-young? At first I was mildly sickened at the idea of Ga-young's father being the assemblyman, since it's implied that she and Hye-jin share the same father, and as we know, Hye-jin had an affair with Assemblyman Seo… But it's both a relief and a bigger mystery to be told that there's another bloodline in question. I'm sure the show won't tell us until the very last moment, but with few other options out there, I have to suspect the mysterious Chairman Noh as a likely suspect.
In any case, the show continues to throw up twists that we couldn't see coming, like Hye-jin's genetic disease and Gun-woo's family link, and I'm just crossing my fingers that they don't run out of surprises. I'd wondered if we'd run out of suspects in Achiara by this point, given how tiny the place is, but as it turns out, there's no end to the numbers of ways in which people can be suspicious, criminal, or depraved. Yay for us?
RELATED POSTS
Tags: featured, Moon Geun-young, Ohn Joo-wan, Shin Eun-kyung, Village: Secret of Achiara, Yook Sung-jae