Answer Me 1988: Episode 11
What happens when you make two families on this street shack up under one roof? Hijinks, is what. The unexpected proximity is an opportunity for some and a hindrance for others, though really, everyone treats this street like one big living room anyway, so how different from a normal day could it possibly be, right?

SONG OF THE DAY
Park Boram – "혜화동 (혹은 쌍문동)" (Hyehwa-dong, aka Ssangmun-dong) for the Answer Me 1988 OST [ Download ]
Audio clip: Adobe Flash Player (version 9 or above) is required to play this audio clip. Download the latest version here. You also need to have JavaScript enabled in your browser.

EPISODE 11: "Three prophecies"
It's February 1989, and Dong-ryong's dad does a whole stretching routine to the Rocky song, only to get the broom and sweep the street. At Deok-sun's house, the door has a crack in it that's covered by a flimsy sheet of paper, and everyone sits at the breakfast table in about five layers of clothing.
When she complains to Dad and asks to move, he first tells her to wear long underwear (which she already is), and then tells the kids he's sorry and they'll move just as soon as he's done paying off his debt.
Dad wonders where Mom ran off to so early in the morning, but no one knows. Jung-hwan's house is eating the exact same breakfast sans Mom, and so is Sun-woo's house. Hm, are the moms on strike?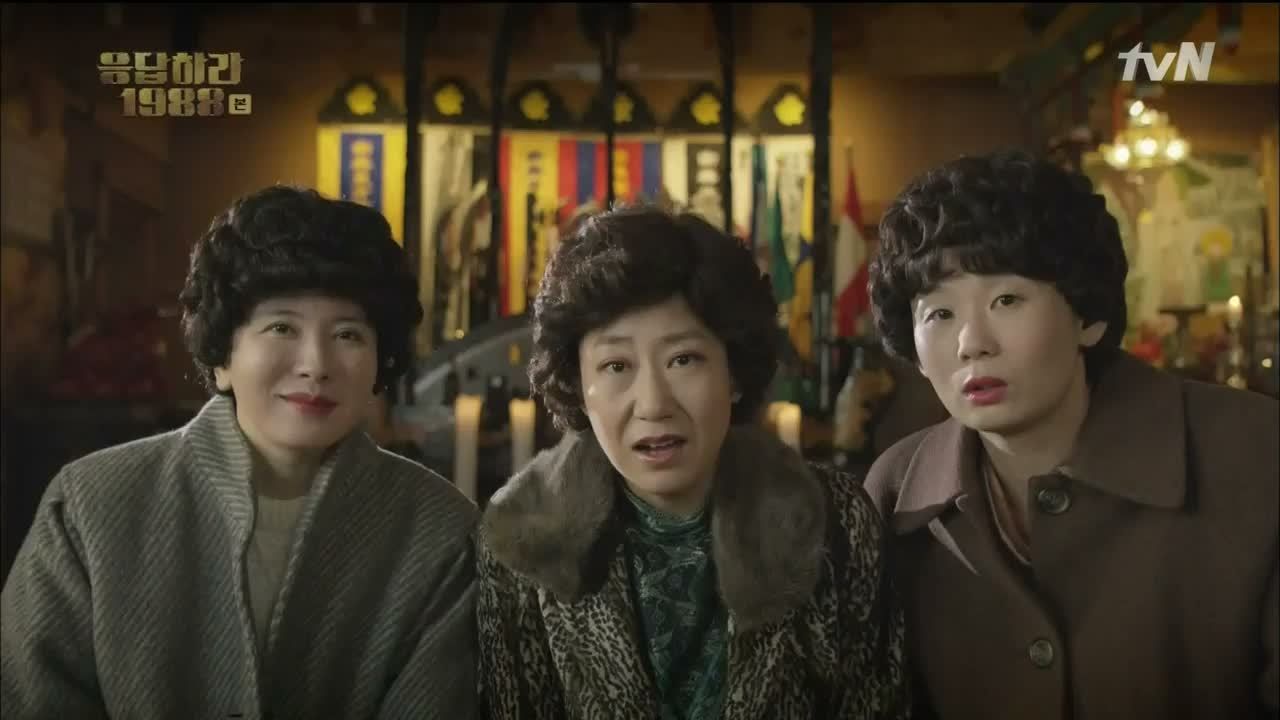 Apparently they didn't tell anyone because they're visiting a fortuneteller. Jung-hwan's mom says that their kids are all going to be high school seniors, and she wants to know if her son will get into Seoul University. Sun-woo's mom asks the same, and Deok-sun's mom asks if her daughter "Will get into a university in Seoul." Ha.
Jung-hwan's mom goes first and asks about Jung-hwan's university prospects, but the fortuneteller tells her not to worry about her second son, who will do just fine on his own. Her first son is the one who will encounter a great fortune, and the moms get excited when Jung-hwan's mom remembers that there's a second round of universities announcing acceptances soon.
Sun-woo's mom goes next, and the fortuneteller ignores the question about college and smiles knowingly. She says that there will be a joyous occasion in her own future, and the moms all giggle, though we don't get to hear what the fortune is.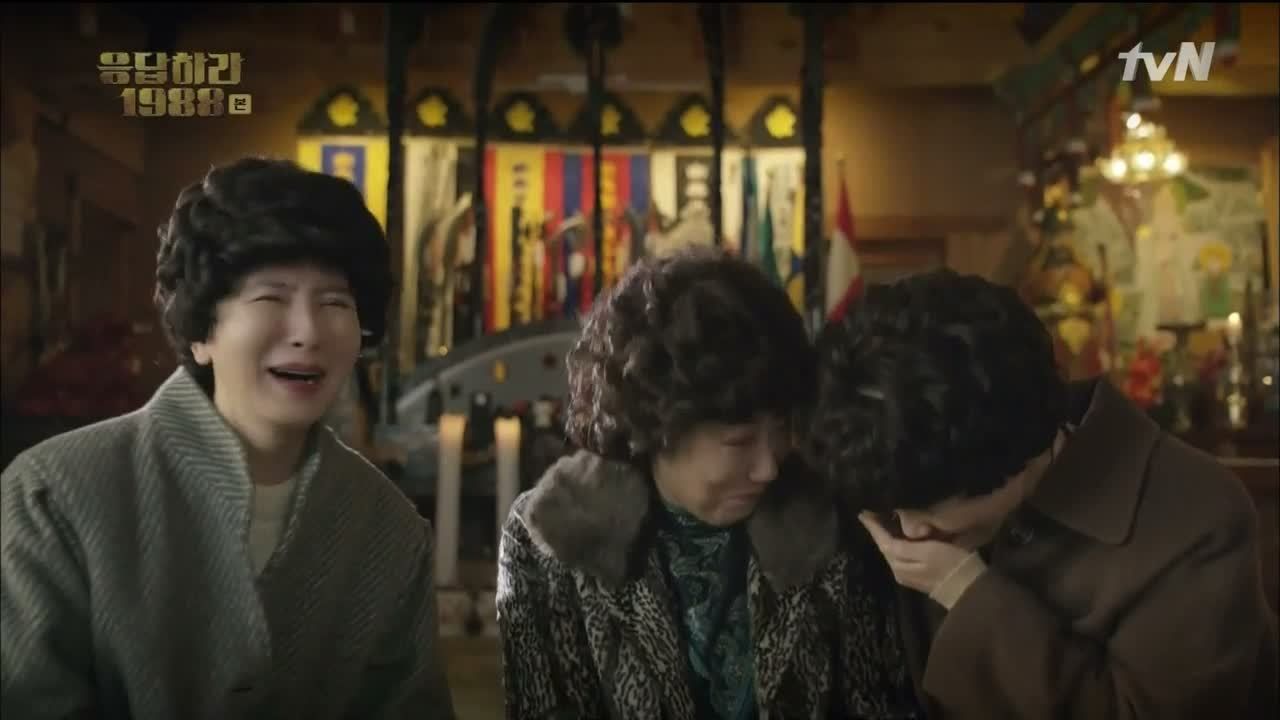 Deok-sun's mom starts to ask about her daughter, and the fortuneteller already knows that Deok-sun's grades are in the crapper. She says the problem is her name, not her grades, and that every time they call her Deok-sun, the level of college she'll get into goes down.
So Mom comes home and is suddenly calling Deok-sun "Soo-yeon," and insists that everyone else do the same. Dad refuses, so Mom just expels the bad mojo by saying one "Soo-yeon" for every "Deok-sun" that's spoken. She's even told the whole neighborhood to call her Soo-yeon from now on.
Dad complains that Mom keeps pushing the table towards him, though she's doing nothing of the kind. They discover that their floor is slanted and things have been rolling to one side of the room for who knows how long. Next thing we know, the whole family is standing outside with all of their stuff as workers head down to fix the floor.
Dad says that they'll just sleep upstairs at Jung-hwan's house while this is going on, and Bora doesn't like it, but No-eul and Deok-sun are happy about sleeping in the nice house. As she studies in the library, Deok-sun's thoughts drift to Jung-hwan's declaration for her not to go on that blind date, and she smiles to herself.
Her friend Mi-ok is swooning as well, over her rainy meet-cute with Jung-bong, while their friend Ja-hyun is crying over a broken heart. When she starts wailing, her friends are snap out of their happy reveries to find out what's wrong.
Ja-hyun cries that she confessed her feelings to a boy and got rejected, and her friends chide her for doing something so silly as confessing. They insist that they're not the confessing type—that'll surely lead to rejection, while one-sided love can just keep going. Ja-hyun asks what happened with Jung-hwan, and they squeal in delight at his answer. Join the club. Her friends remind Deok-sun not to dare confess first.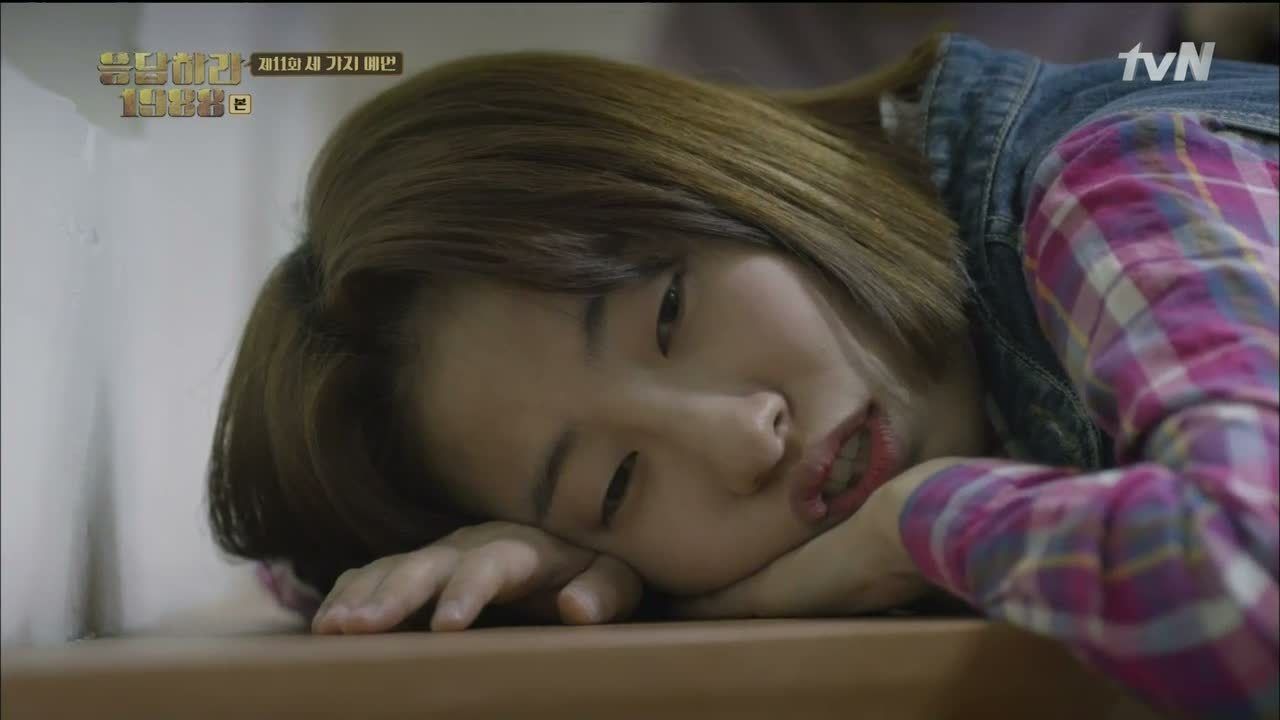 Jung-hwan, meanwhile, is lost in thought over Taek's confession (to the boys) that he likes Deok-sun. Mom calls him to dinner, and he's startled to find Deok-sun's family and all their belongings in his living room.
Sun-woo comes over for dinner too and moves No-eul aside so he can sit next to Bora. He tries to hold her hand under the table and she pushes him away in haste, which Jung-hwan notices. Sun-woo's mom comes in a few minutes later with Jin-ju and Taek's dad, and when she announces, "We're here," the other two moms knowingly tease her about the "we."
Deok-sun arrives too, and she and Jung-hwan exchange adorably shy looks. Sun-woo's mom sends her right back out though, to deliver Taek's dinner because he's busy preparing for a match.
Deok-sun sets out the soup and tells him to eat it before it gets cold, but she can already tell from Taek's absent-minded response that he's not going to touch it. So she plops down and waits to make sure he actually eats it, which, awwwww.
He eats his soup and turns to say something to her, but Deok-sun interrupts him to tell her about her new name that'll get her into college. He calls her crazy, but complies anyway. He follows it up by asking for coffee, and when she brings him that, he asks for water next. Omg, you just want her to stay, don't you?
The moms wonder what this newfangled American food is, and Sun-woo's mom asks why the galbi is round and flat, while Deok-sun's mom calls it a skate. No matter how many times Jung-hwan's mom tells them it's a steak, they can't seem to learn the word.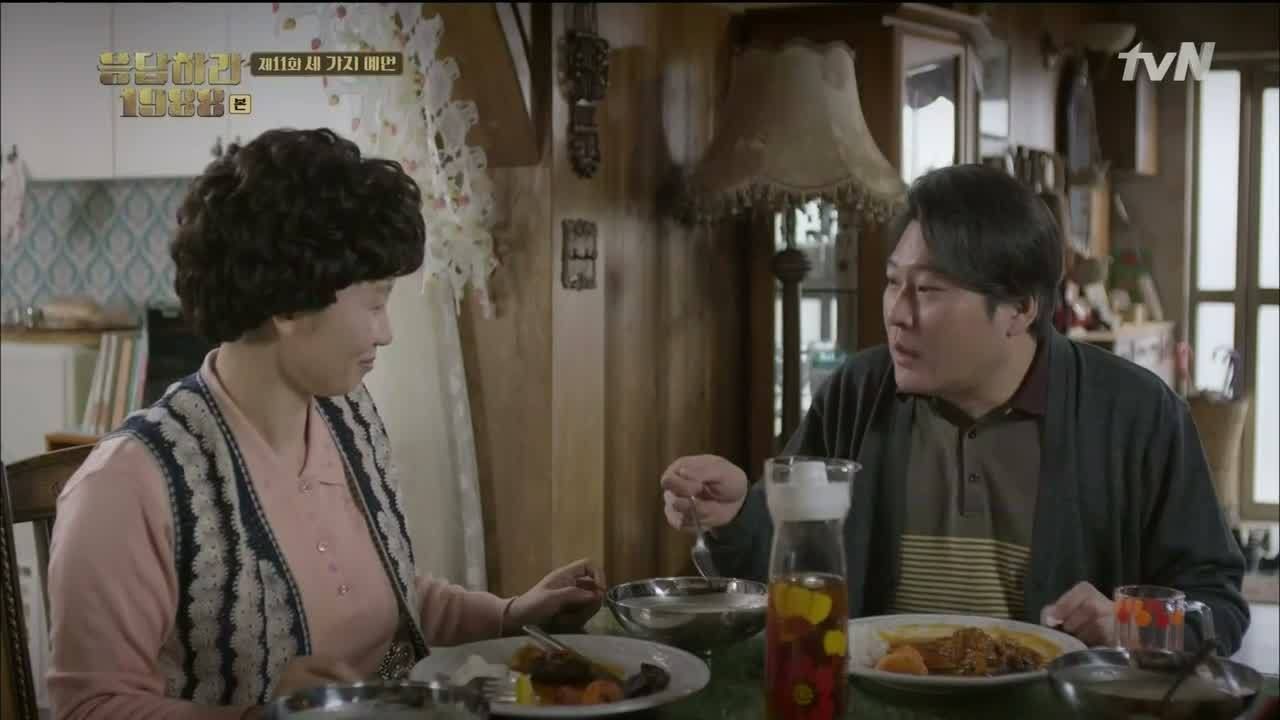 The parents ask about Taek's baduk fans and wonder if he'd marry one of them, though they think he isn't the type to show his feelings even if he liked someone. Taek's dad says he shows his feelings in his own way, and meanwhile he's constantly asking Sun-woo's mom to get him this or that, exactly the same way that Taek is doing to Deok-sun right now. Like father like son?
Taek's dad says that Taek becomes childlike and asks for things from the person he likes, and is the opposite—polite and respectful—to people he doesn't like. He then proceeds to demand more things of Sun-woo's mom, like he's trying to make a point, only no one notices.
Taek plays with fire and demands hot water instead of cold, and Deok-sun finally loses her temper and slaps him on the back to get his own stupid water. I would've done that at the coffee. She points out the kettle sitting right next to him, only to sigh in frustration when he can't manage to plug it in.
He insists that he can do it and struggles to unplug something… landing an elbow straight into Deok-sun's face. Ow. She starts bleeding out of both nostrils and Taek cringes. Deok-sun is seething with anger as she lies down with tissues up her nose, and Taek quietly pats her hand and tucks her in for a nap.
Back at Jung-hwan's house, they wonder why Deok-sun's been gone for hours, and Jung-hwan looks nervous as he checks the clock. Sun-woo whispers at Bora to meet him outside in ten minutes, but Jung-bong and No-eul eagerly ask to be included in the fun. Sun-woo hurriedly says he's just going to the library, and Bora tries to shake him away before they get found out.
Sun-woo's mom waits until the coast is clear and drops Jin-ju off at Jung-hwan's house. She says she got a part-time job cleaning up the bathhouse down the street, and when the others worry about Sun-woo finding out and pitching a fit, she says he'll never know because she'll only be gone while he's at the library.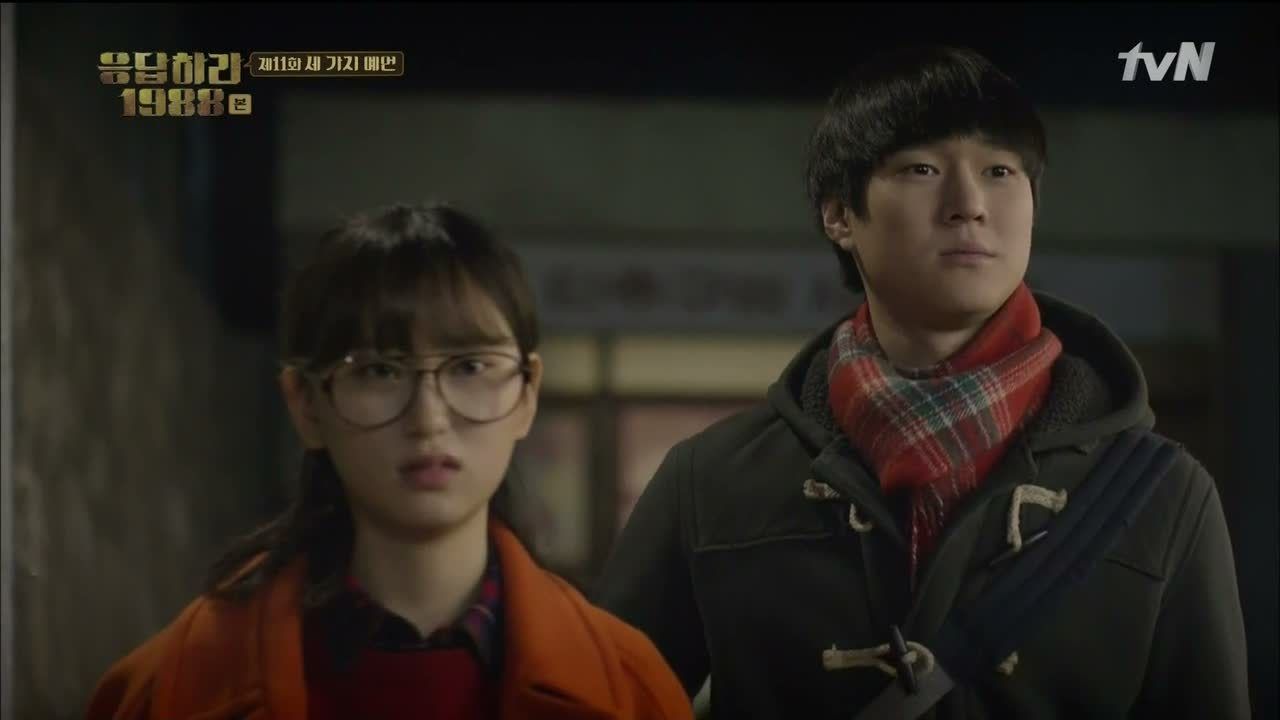 The other moms are sad about losing their go-stop playmate for the night, but then remember that Dong-ryong's dad is on school break and call him over. He acts like he hardly knows how to play and the moms giggle at how much money they're about to make, but from the looks of it, he's about to hustle them both.
Sun-woo waits around the corner for Bora, and she snaps at him to stop being so obvious that they're dating. He says no one will know, and two seconds later they run into No-eul and Jung-bong. No-eul senses something going on between them, but Bora tells him to mind his own business and takes Sun-woo away.
Jung-bong doesn't even notice because he's too engrossed in his Cheetos scratcher. His latest obsession is winning a free bag of Cheetos, despite the fact that he's had to buy countless bags to try and win a free one.
Bora walks Sun-woo to the library and tells him to go study, but he wants to go on a date. She says she has studying to do of her own and shoos him inside, and when he grabs her hand, she asks if he wants to die. He pouts and asks if handholding is a thing he has to risk death for. With Bora? Undoubtedly. But she smiles to herself as she walks away, clearly enjoying the romance more than she lets on.
Sun-woo studies late that night (with Dong-ryong sleeping underfoot, as usual), and so does Bora. Jung-hwan stands outside in the street just peering over at Taek's gate, wondering what's keeping Deok-sun but not daring to go find out. Aw, and he must've been so excited that she was supposed to spend the night at HIS house.
Deok-sun's friend Mi-ok stays up all night trying to write a letter to Jung-bong, which she can't even figure out how to start. Meanwhile, the moms get schooled by Dong-ryong's dad, who wins all the money from go-stop that night (they're basically playing for pennies).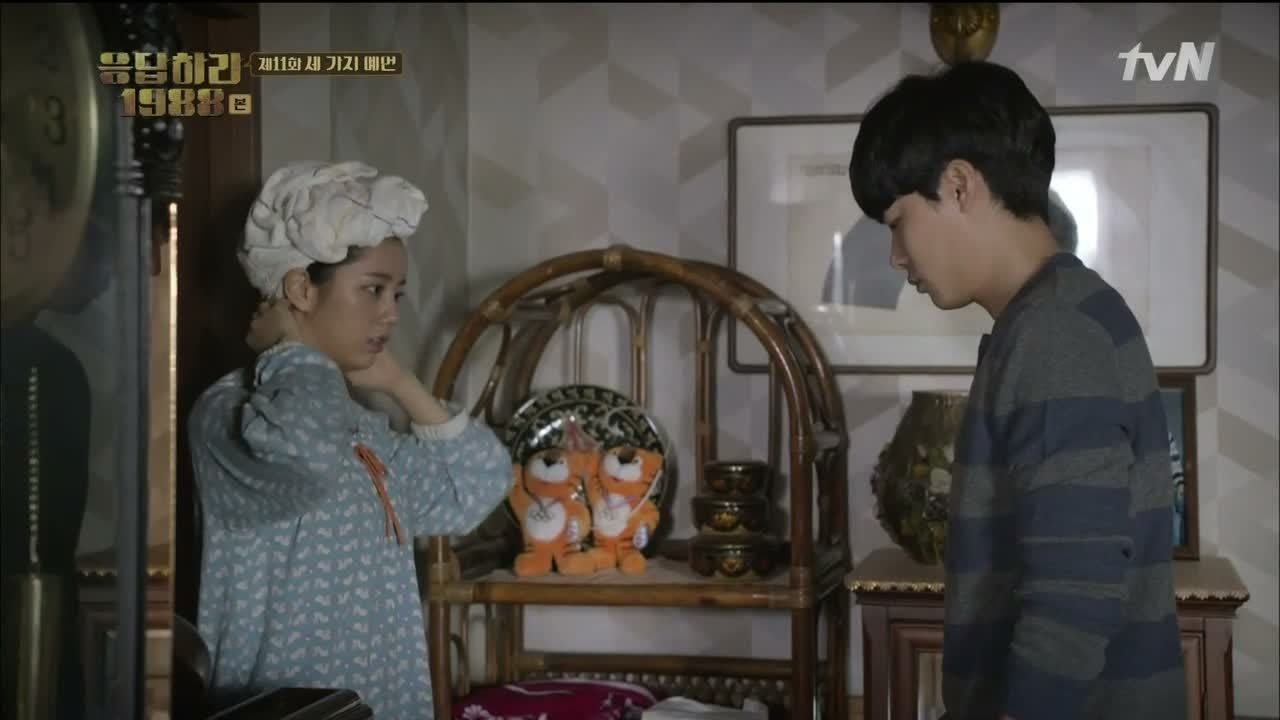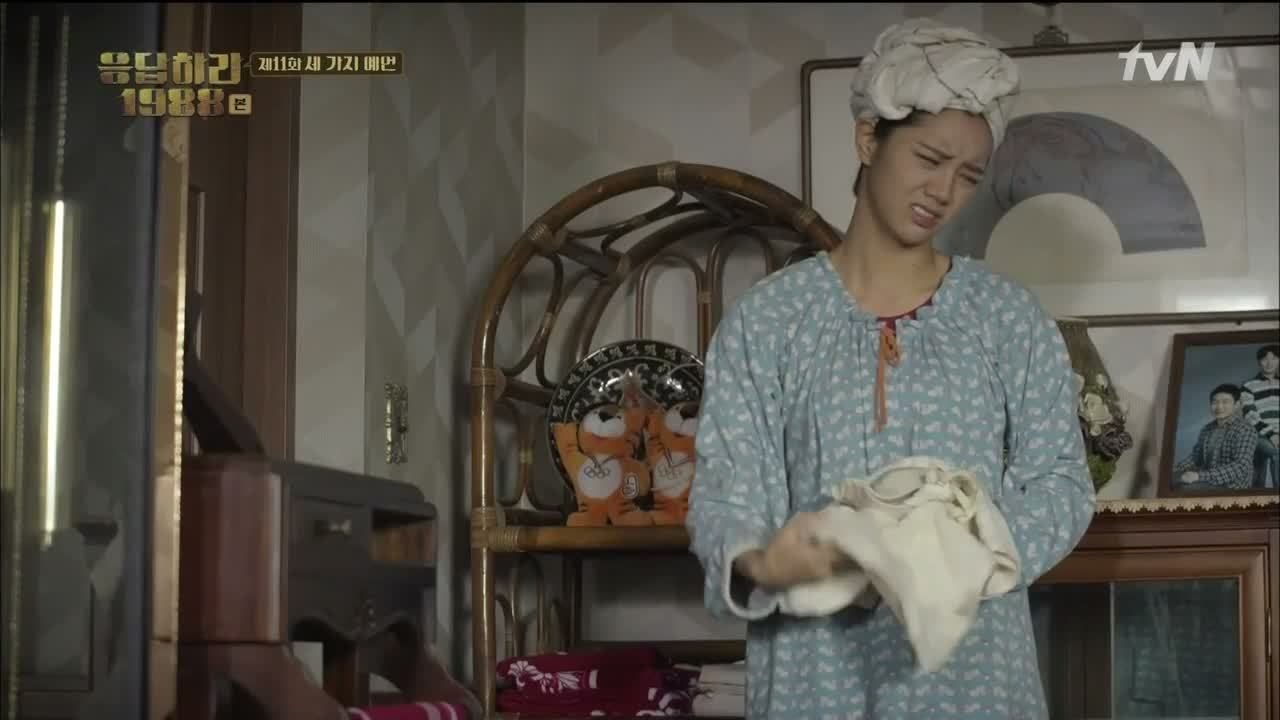 The dads hear about it in the morning and warn their wives never to play with Dong-ryong's dad, and Deok-sun's dad promises to win all their money back tonight. Tomorrow is the day that Jung-bong will find out if he got into any of the remaining universities, and his parents don't look very hopeful. Neither does Jung-bong.
When Sun-woo calls and Hyung hands the phone to Jung-hwan, Jung-hwan just passes it right over to Bora without a word. She's taken aback, but Jung-hwan clearly knows what's up. Despite No-eul's side-eye, she takes the phone.
Jung-hwan and Deok-sun have an awkward run-in outside the bathroom, and she tells him to wait a little because she fogged up the bathroom with her shower. He says it's fine and goes in anyway, and it's not until a while later that Deok-sun realizes she washed her bra and underwear and left them in the bathroom. Ack. She hesitates and taps the door, and Jung-hwan just sticks his hand out to pass her a bundle wrapped in a towel, and she cringes.
The dads head out for work at the same time, and I love that Deok-sun's mom begs Dad not to buy anything on his way home, and Jung-hwan's mom begs her husband to please spend some money and buy something on his way home. They do as ordered by dinnertime, and over at Sun-woo's, Mom watches the clock and is antsy for Sun-woo to leave so she can go to work.
Dong-ryong and Jung-hwan hang out in Taek's room, and Jung-hwan notices how full Taek's calendar is with all the matches this month. Dong-ryong says tomorrow's match has him the most nervous though, and Taek's going to spend the night at the training center to prepare.
Jung-hwan looks out the window over to his house and sees Deok-sun coming out. She waves and smiles at him from across the street, and he waves back at her.
Down the street, Sun-woo waves over at Bora, who's here to walk him to the library. He'd like to spend more time together, but when she suggests eating dinner out instead of going home all the time, Sun-woo says he can't let Mom and Jin-ju eat alone.
She smiles and lets out a casual "You're nice. That's why I like you." He says he likes lots of things about her, and says he liked her last pair of glasses better because they suited her more. She scoffs and tells him it's not his concern.
Deok-sun comes over to Taek's with a poster for Lee Moon-se's next concert in hand, and asks eagerly if they're going. Dong-ryong says no, but all she really cares about his Jung-hwan's answer. To her surprise, he says he can't go either. Noooooooo, Jung-hwan! You bought tickets and everything!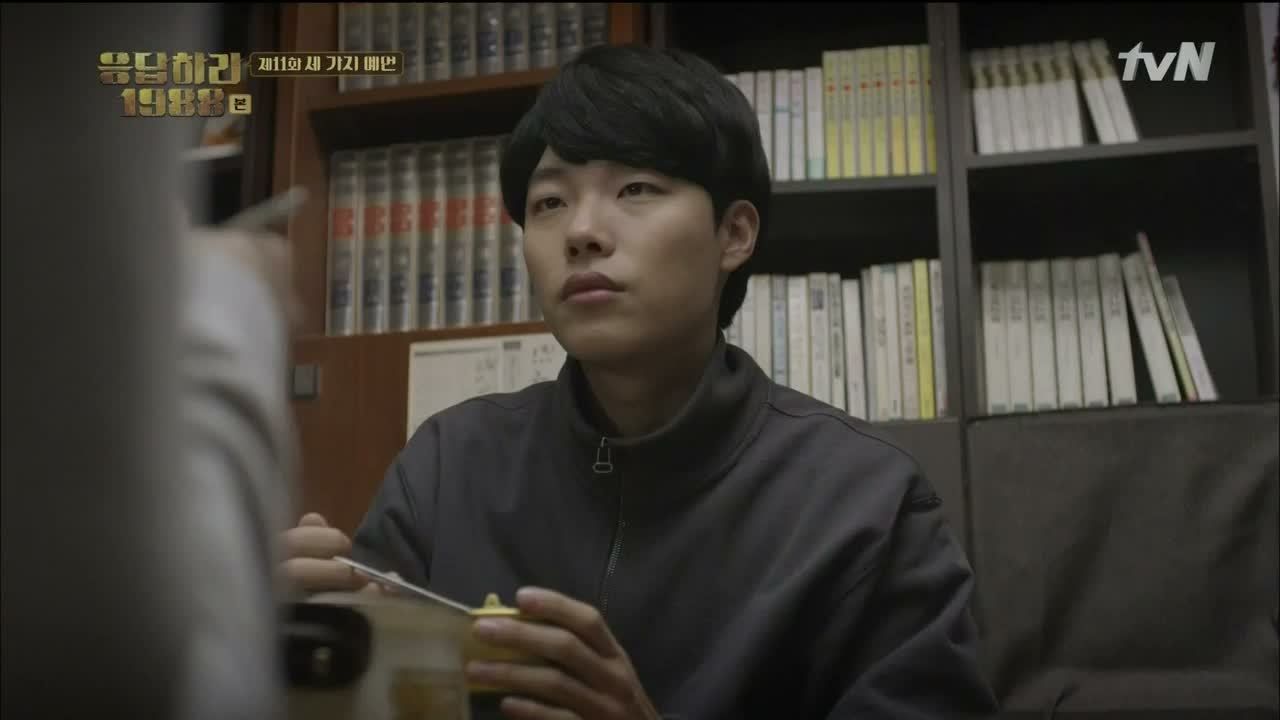 Deok-sun is so disappointed that she asks again, and the whole time Dong-ryong blabbers on about whether Taek might go with her, or she could go with Sun-woo instead, not that she hears any of it.
Jung-hwan goes to the kitchen and asks Taek's dad why he's not playing go-stop with the other parents, and he says they're all pros so he can't keep up. Dong-ryong gasps to hear that his dad's over there playing, and says that a fight's about to break out tonight. He explains that Dad is famous for cheating, but Deok-sun says her dad's job at the bank is catching fraud, and nothing gets past him.
Cut to: Deok-sun's dad laying down the law with Dong-ryong's dad, with a comb between the fingers instead of a knife.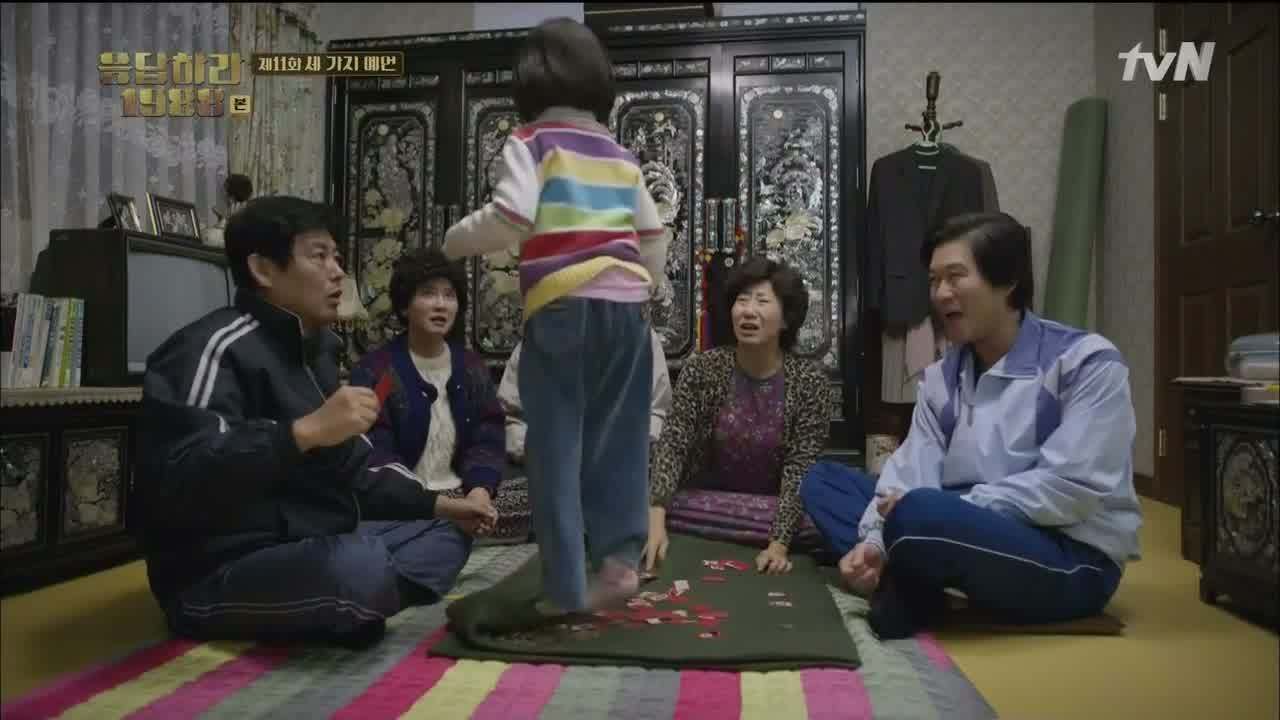 But Jung-hwan scoffs at both of them: "My mom is RA MI-RAN." He says that she might not be the best go-stop player, but nobody's as quick as she is. As the game goes on and Deok-sun's dad starts to win all the money, Jung-hwan's mom decides it's time to do something about it, and goes to get Jin-ju.
She sneaks a tape of Jin-ju's favorite cartoon theme song over to her husband and cues him to hit play just as Deok-sun's dad is about to win, and on cue Jin-ju starts dancing around and making a mess of the whole game. Haha, she IS smarter than all of them.
In the morning, Deok-sun's dad says it's not over till it's over (ugh, don't troll us with that line!), and suggests another game. Dong-ryong's dad says he's going down to Busan and wishes him a happy new year, eager to avoid another confrontation.
Jung-hwan's parents are getting ready to take a trip to Japan over the holidays, and Deok-sun's mom sighs in envy and wonders when she'll get to have a passport and go abroad. Jung-hwan's mom is antsy to find out about the college acceptances this afternoon, and they decide to trust the fortuneteller.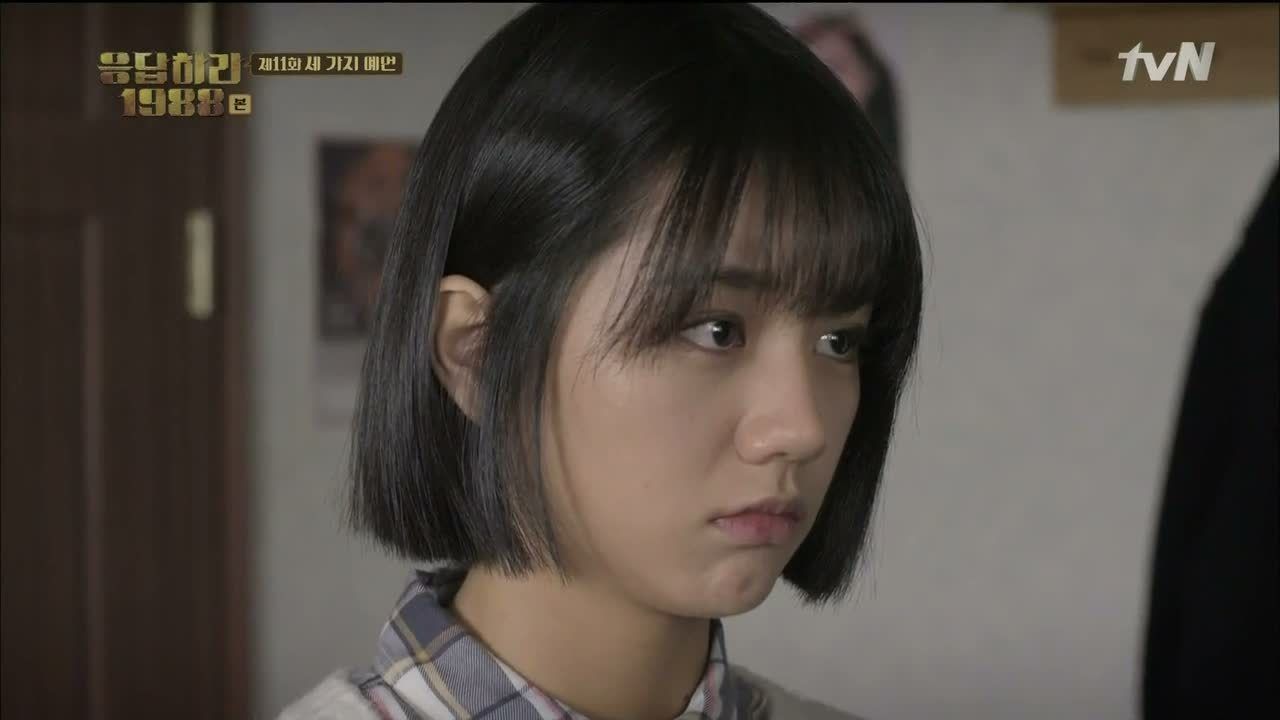 That makes them wonder how Sun-woo's mom will get herself knocked up when she doesn't have a man in her life, but Deok-sun's mom says that it could happen in no time at all. Jung-hwan's mom reminisces about the old days when she first met Jung-hwan's dad, who according to her was a looker back then.
Deok-sun walks in on Jung-hwan while he's about to change, and he hurriedly pulls his shirt on while she waits. She asks why he's not going to the concert, and he makes up a lie about having plans with other friends.
When she asks who his other friends are, he insists that she wouldn't know anyway, and says they'll go next time. Aw, Jung-hwan, don't do that. She hangs her head and finally lets it go, but she's obviously disappointed and confused.
Jung-bong's parents wait for the clock to strike two and call in to find out the results, and he hides, already anticipating the worst. It's bad news, and he shuffles off to his room without a word. Mom's anger turns toward the fortuneteller, who she says made her hope in the impossible.
Sun-woo's mom hears the news and calls the fortuneteller a quack, and has the kids come over to her house to eat, where she tells Deok-sun that her name is back to being Deok-sun now. Mom asks after Bora, and No-eul says he got beaten up for asking where she was going this morning, and Sun-woo's mom worries that no one will marry that girl. Heh.
At Jung-hwan's house, Dad convinces Mom to snap out of her funk and tells Jung-bong to buck up, thinking he's hunched over at his desk because he's depressed. But Jung-bong is just hiding another bag of Cheetos, and doesn't seem too sad that he didn't get into college.
Jung-hwan's mom practices her Japanese phrases at home while Jung-hwan calls from the travel agency where he's gone to drop off the last of her deposit for the trip. He asks for her passport name in English over the phone, and for some reason she tells him to call back later and doesn't read him the info. Hm. Can she not read it?
Jung-hwan calls back again, but again Mom feigns absent-mindedness and says she's got something on the stove and hangs up. A few minutes later, Jung-hwan calls a third time and yells at her to take out the passport and read him the name that's next to her picture. He doesn't understand why this is difficult, but Mom hems and haws, and finally admits, "I can't read English."
At the same time, Jung-bong is asking Dad what college Mom went to, and Dad says that his mom didn't go to college. Both Mom and Dad only finished grade school. Mom went straight to work at fifteen and worked for a moneylender, where she learned Japanese from her boss. Dad tells Jung-bong that she's still the smartest woman he knows, even if she didn't go to college.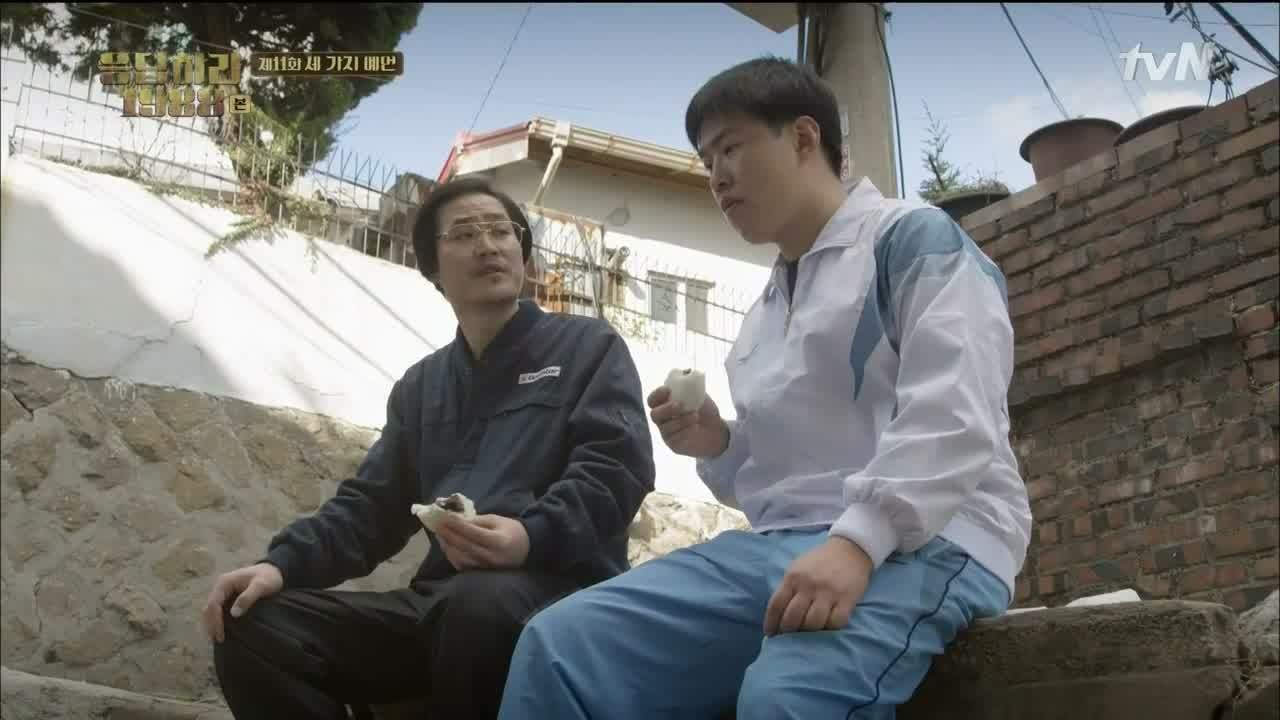 He assures Jung-bong that he doesn't need to go to college to live a good life, and it's perfectly okay with him not to get a college degree. Dad: "I wish you'd take after your mom more than me. Isn't your mother a truly impressive person?" Jung-bong nods and smiles. D'aw.
Taek's dad comes by to return empty dishes to Sun-woo's mom, and Jin-ju hides behind Mom like she's a little scared of Taek's dad. Sun-woo's mom jokes about making him babysit, and he laughs that she knows he's terrible with kids.
Jung-hwan comes home feeling sheepish and sorry, but totally incapable of expressing it, of course. He just sits down next to Mom awkwardly, and after a long pause, he passes her a bag of roasted chestnuts that he bought in the street just for her. He walks back out just like that, but Mom's spirits are lifted instantly. She declares that there's no dinner tonight because they're eating out, and all the kids cheer.
Everyone heads out in a good mood, and then a minute later Sun-woo's mom comes out carrying Jin-ju, only to find everyone gone. She's left with no other choice but to leave her with Taek's dad, who stands there dumbfounded with arms outstretched and Jin-ju just lying there wailing.
After dinner, Deok-sun sits down next to Jung-hwan on the couch, looking adorably excited about it. But ouuuuch, he scoots away from her, and when she scoots closer, he gets up altogether.
Jung-hwan's mom tells him to give up his room to the girls, and Deok-sun leaps onto his bed happily. He must be freaking out on the inside. He stands aside while Bora looks at the room, and Deok-sun sweetly says goodnight as he leaves them there for the night.
Bora asks Deok-sun expectantly if anything's different about her. Oh! Your glasses! Deok-sun says she got uglier, which earns her a beating, of course.
The parents share a drink and Jung-hwan's mom laments ever listening to the quack fortuneteller. Deok-sun's dad says that she could've meant something else by Jung-bong's great fortune, and we cut to Jung-bong's room where he braces himself before unveiling another Cheetos scratcher… and finally gets the reward he's been waiting for: "One more bag." This… is your great fortune?
The moms belatedly realize they forgot about Jin-ju, and wonder who watched her. Sun-woo's mom hurries out of work and over to Taek's house, worried about what she'll find. But when she opens the door to Oppa-Dad's room, she finds Jin-ju dancing around and Taek's dad sitting there cutting out paper dolls' clothes with a hairpin in his hair.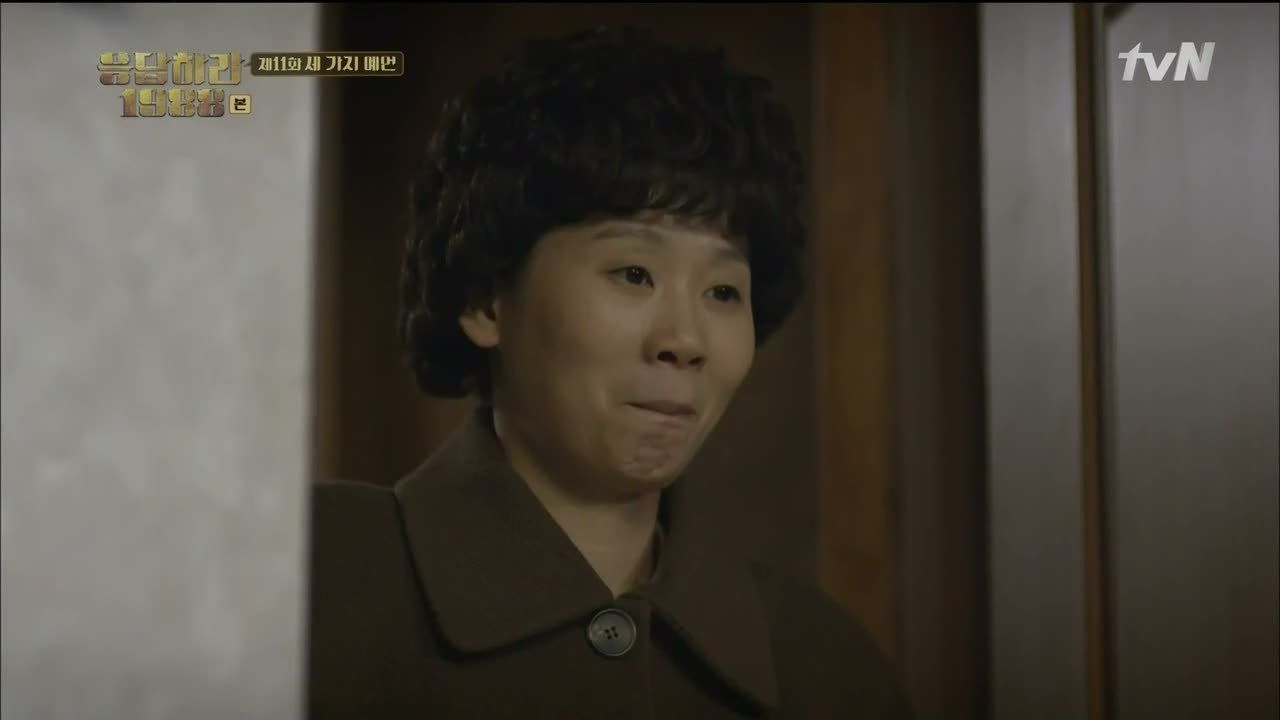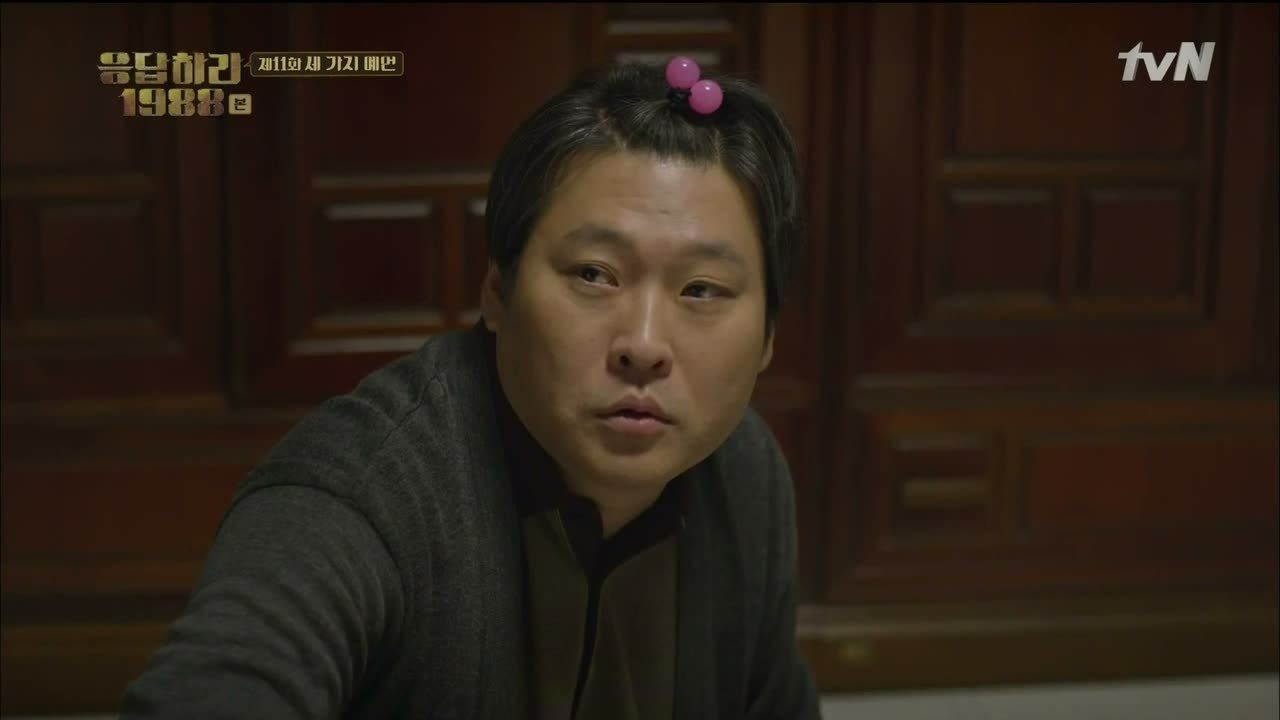 Hahahaha. Marry him! You marry him now, you hear me?!
By one in the morning, Bora's side of the bed is empty. And when Sun-woo comes home from studying, he smiles to see her waiting outside just to see him for a few minutes.
Jung-hwan shuffles out of Hyung's room to go to the bathroom, and he's so sleepy that he returns to his own room without thinking, and climbs into bed next to Deok-sun. Squee. He doesn't even notice at first, until he turns over onto his side and opens his eyes. He's startled and starts to get up, realizing his mistake. But then he looks at her sleeping there and decides to lie back down.
He gingerly rests his head back on the pillow and watches her sleep, and he's frozen in place when she groggily opens her eyes and sees him there. She doesn't seem surprised or aware enough to feel awkward, and just says, "Jung-hwan-ah, let's go to the concert, hm?"
She's barely able to keep her eyes open, and asks again, "You're going, right?" He just stares at her for a long while, and finally says in the tiniest voice, "Yeah. I'll go." Ohmygah, this boy. She gives the faintest smile as she nods off to sleep, and he lingers for another moment before quietly getting out of bed to return to Hyung's room.
Sun-woo and Bora sit outside and he asks where she was all day, and she refuses to answer. But she does admit that she's out here waiting for him, and he finally notices that she changed her glasses.
She takes them off, suddenly feeling very shy about it, and this time Sun-woo seems to read the moment right and asks with much more purpose: "Noona, can I kiss you?" She gives a tiny nod, and that's all he needs to swoop in for the kiss.
She kisses him right back, and they intertwine their fingers and hold on tight as they kiss and kiss and kiss some more.
Jung-hwan's parents head to the airport for their vacation, and Mom worries about the kids being on their own and traveling to Grandma's for the holidays. She double-checks that Dad remembered their passports, and he takes hers out to find the English spelling of her name written out, syllable by syllable in Hangul.
She realizes that Jung-hwan did that for her, and we flash back to him writing it in before her trip. Stop making me cry, kid. Dad admits that he was too embarrassed to ask the boys for help on that, and when he sees that Jung-hwan was thoughtful enough to do so on his own, he assures her that the boys are all grown up and she raised them right.
Deok-sun's family rushes off to the train station for the holidays too, and Deok-sun makes sure to say goodbye to Jung-hwan, while Bora and Sun-woo exchange a tiny wave.
At the last minute, Deok-sun runs back to give Jung-bong a love letter from her friend Mi-ok. She wonders what kind of luck befell him this year, and Jung-bong beams. Ha, guess that fortuneteller isn't a quack after all.
Sun-woo's family and Taek's family are the only ones staying home for the holiday, and they gather at Sun-woo's house to eat. Sun-woo offers to go fetch Taek, and while he's gone, Taek's dad asks what the fortuneteller told her.
Sun-woo's mom giggles and says it's nonsense, and we flash back to the fortuneteller who says, "You'll have another son." That's when the moms bust up laughing.
Taek's dad laughs too and Sun-woo's mom tells him not to tease her, mostly embarrassed to have wasted money on a quack. He says she's still young and you never know, and she says it'd be a different story if one just dropped down from the sky all of a sudden.
As if on cue, Sun-woo arrives, and in walks Taek right behind him. Why hello there, Son Number Two. Taek wishes them a happy new year, and Sun-woo's mom watches in a daze as Sun-woo feeds Taek like a little brother, suddenly realizing what the fortuneteller might've meant. Eeee!

COMMENTS
It was a sweet episode with some really touching family moments, though I really could've done without 90 percent of the go-stop shenanigans and have the episode not be an hour and frickin' 45 minutes long. It's getting absurd. Well if the fortuneteller was right about two out of three, I wonder if we should be more worried about Deok-sun's college prospects. And here I was thinking that if we got a fortuneteller involved, the moms might be asking questions WE want them to know, like who ends up in-laws with whom and in what order. Though I'm pretty sure that the kiss between Sun-woo and Bora sealed two families' fates.
I really love the way Taek's Dad and Sun-woo's mom are progressing as a couple, from dependable hometown oppa to his cries for attention just like Taek, and babysitting Jin-ju and being awesome at it against all expectation. He's a good dad to Taek so I didn't think he'd do badly; he just seemed scared, which turned out to be needless worry. Up until this point, I didn't necessarily think they needed to become one big family, because both Taek and Sun-woo have very special relationships with their single widowed parents, and they're both warm, happy households. But the babysitting put me over the edge, and when they were all together for the holiday meal, it felt so homey and nice, and I loved that Sun-woo's mom started to consider the prospect of suddenly having another son the second she saw Taek. Because there isn't a soul on Earth who wouldn't want to mother that boy.
In this season, it's really Jung-hwan's parents who outshine everyone, and to top it off, every time there's a storyline that highlights Jung-hwan's thoughtfulness towards Mom or Dad, I melt all over again. It didn't surprise me that Mom hadn't gone to college because we'd heard before how poor she was, and I can see how much she'd want to hide her lack of education now that she's well-off and her children are about to go to college themselves. But the way she kept trying to avoid having to tell Jung-hwan the truth was so embarrassingly real. I was really touched by Dad's explanation to Jung-bong that a lack of education doesn't make her any less smart in his eyes, and that he thinks so highly of her for becoming such an impressive person despite it all that he'd want his children to grow up to be just like her. I'm often moved by this couple, but that really blew me away. And then of course Jung-hwan had to go and be his stealthy-considerate self and make amends for hurting Mom's feelings in the sweetest way. I don't even care that he's a well-worn drama hero archetype. He just plain makes me swoon.
I was a little worried that Jung-hwan would hide his feelings for Deok-sun because Taek declared his feelings first, but I like it even better that he tried to deny it and only ended up being sucked back in because his crush was undeniable. Now that Deok-sun is starting to like him back, I don't think he stands a chance of getting out of this unscathed. I'm sure he'll keep trying though, which is sure to infuriate me at some point if he ever carries it too far. But so far Jung-hwan has been honest in every moment that counts, so I can't be mad at him (yet) for trying not to break up a lifelong three-way friendship the best way he knows how. Taek isn't about to make it easy for him either. Can't we all just be honest about all of the feelings and let the chips fall where they may? Too easy? I know. But just don't scootch away from Deok-sun on the couch anymore! That hurt my feelings! I mean her feelings. I mean her.

RELATED POSTS
Tags: Answer Me 1988, featured, Go Kyung-pyo, Hyeri, Park Bo-gum, Ryu Joon-yeol