Lee Sung-min joins Kim Soo-hyun for action-noir Real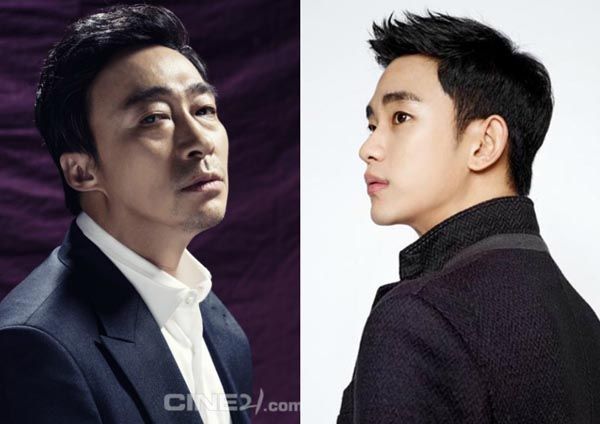 Ah, finally an update on that movie Real, which first courted Kim Soo-hyun to play a man with multiple personalities (he has confirmed) and now adds Lee Sung-min (Hwajung) to join him.
The only description earlier reports had given us was the detail about multiple personalities, but now we have more information about its plot and genre; interestingly, there's no mention of multiple personalities this time. Not that I mind—that was always a trend I was looking forward to seeing end. Real will be an action noir that centers around a "fixer" who takes care of all sorts of jobs in the "black world" of a glamorous metropolis, and the story kicks off when he's approached by a reporter.
Kim Soo-hyun plays a merciless fixer who's blinded by his own ambition for success, with the goal of constructing a casino hotel and ruling the city. It doesn't explicitly say that the fixing he does is unsavory activity, but reading between the lines seems to suggest that; he's coldly efficient at the job and cleanly gets rid of "problems." Are those problems people? Lee Sung-min plays a character who's burdened by a secret, which is terribly vague but I suppose better than nothing. Whether as friends or foes, this could be quite a match-up, with two such wonderfully expressive and versatile actors together in a gritty noir.
There's a female role available, with the announcement coming early on that the role would be cast via open audition. Perhaps that's because it's not a relatively large role and they're willing to take a risk on new talent, but there's also mention of the part requiring a fair amount of nudity, which could limit their casting options. One name has emerged as a potential candidate, though I'd take it with a grain of salt since I've only seen one outlet reporting on it; the actress named is Seo Eun-ah, a relative newcomer whose credits include T.O.P's Commitment and melo-romance Act (for which did have nude scenes).
Real had initially intended to begin filming in October, but pushed back shoot dates while investments were being worked out. Directing is Lee Jung-sub of rom-com movie Romantic Island and the thriller Rainbow Eyes. Part of the buzz about the project comes from rumors that this would be Kim Soo-hyun's last project before entering his military service (they grow up so fast!), but his reps have countered by saying that he is, for now, just focusing on the project in front of him and doesn't have a firm date for his enlistment.
RELATED POSTS
Tags: Kim Soo-hyun, Lee Sung-min