Oh My Venus: Episode 10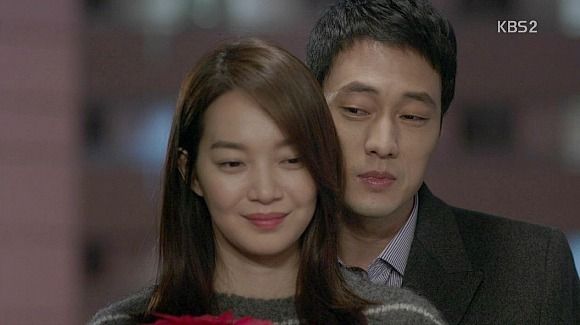 It's time to get down to business—and quite literally, in Young-ho's case. But schemers behind the scenes aren't going to make it easy for him, and Young-ho will have to decide whether he's up for a fight or not. Luckily he's got some pretty amazing people on his side, supporting whatever decision he makes.

EPISODE 10 RECAP
We go back to the campfire confession, where Young-ho drops the bomb that he and Joo-eun are dating. Later the two of them sit at Hyun-woo's restaurant, while Hyun-woo stares daggers at Young-ho and gives him the third degree about his assets and career. He's deliberately vague, which hilariously makes him sound like a loser. But Hyun-woo giggles to Joo-eun that's he's pretty sexy, which makes up for the fact that he's apparently got nothing to offer.
Her ex shows up to give her a child support check, and he asks who that guy is with Joo-eun. He asks if Joo-eun lost weight to get back at Woo-shik, but when Hyun-woo waves him off, he mutters that he's busy enough with this whole John Kim thing anyway.
Ji-woong drive home together and discuss their boss's admission, and they agree that this seems like more than just a casual thing. They say it's because Joo-eun is such a great person, though Ji-woong jokes that he feels like his mom is suddenly dating. Joon-sung tells him to just call his real mom more, ha.
When Young-ho defies Manager Min's recommendation to let go of his personal life right now in favor of the company, and introduces Joo-eun to Min as the woman he's dating, Min can't even think of anything to say. Though he does look amused when Joo-eun pretends not to live here, and Young-ho tells her that Min already knows.
The two men agree that things could get bad when Young-ho's father and grandmother find out, but Young-ho isn't willing to stop seeing Joo-eun just because it might get difficult. Min points out that it could be much worse for Joo-eun than Young-ho, and Young-ho just says that that's why he's counting on Min to help them. Min does agree to pretend he never met her, but she means too much to Young-ho for him to accept that as a solution.
He goes inside to find Joo-eun with her suitcase packed, and she says she'll sleep at Hyun-woo's. Young-ho tells her not to be silly — it's her last night here, so she should stay. The boys are out exercising, and Young-ho gets that glint in his eyes again… whatever shall they do, all alone in the house together? He suggests a "comfortable, erotic night" like Joo-eun is always saying, which earns him a punch to the gut.
Woo-shik and Soo-jin meet at a bar, though Soo-jin is still cold and refuses a drink. Woo-shik apologizes again for being unavailable lately, but Soo-jin isn't moved, and says that they can say sorry over the phone. She walks out but stops outside the door, waiting to see if Woo-shik will follow, and sighs sadly when he doesn't.
Young-ho and Joo-eun sit in their rooms thinking about the night's events, until the boys come home from the gym. Soon after, Joo-eun shows up in Young-ho's room with her pillow and the excuse that she forgot the last part of camping – staying up all night talking.
Young-ho is frustrated that she insists on laying on the floor, so Joo-eun lays down some ground rules if she's going to come up to the bed. No hugging, and no touching except hands and feet. Young-ho protests, grouching that he took her clothes off within five minutes of meeting her, so this seems a bit strict. But Joo-eun says that his "your body is mine" rule is over, since she's almost finished losing weight. It's driving Young-ho mad, but he agrees, and beckons her up.
HAHA, Joo-eun lays with her head at the foot of the bed and her feet in Young-ho's face. I don't think that's what he was expecting. But he takes it with grace, and asks her why she became a lawyer. Using his foot as a "microphone," Joo-eun says that she just wanted to right the unfair things that happen in the world.
Young-ho tries to cop a little feel with his feet and gets smacked. Too cute. Joo-eun drifts off to sleep, hugging Young-ho's foot while he watches her, remembering how much fun it's been having her living here and how they've grown closer. He sits up to see her face better, tippig her head to the side when she starts to gently snore.
Young-ho wakes the next morning to find that Joo-eun has left already, but she left a gift behind for her boys. There's a tiny Superwoman figurine for Joon-sung, with the hope that he meets his own Superwoman, and a Wonder Woman for Ji-woong with the same wish. For Young-ho, who's already found Daegu's Venus, there's a book on dating.
She also made them all a hearty stew for breakfast, but Young-ho seems sad as they all sit to eat. When the doorbell rings, excited-puppy Ji-woong wilts to see that it's Manager Min and not his Ma'am.
As she packs her old place, Joo-eun stops when she sees the bandages she's kept stuck to the back of her phone, which trigger memories of her first meeting with Young-ho. She takes them off her phone and leaves them stuck to the wall when she goes to work.
Soo-jin stops by Joo-eun's office to remind her of the Gahong Director's meeting the next day. There's a smaller meeting to day that only Soo-jin will be attending, and she snidely asks if that makes Joo-eun uncomfortable because of her relationship with Young-ho. Joo-eun just retorts that she's uncomfortable with Soojin, because of their personal relationship.
Soo-jin asks if Joo-eun is dreaming of some kind of fairy-tale Cinderella ending with Young-ho, and if she wants to leave the Gahong legal team. Joo-eun throws her own words back in her face, that someone needs to do the work, and nothing will change if she leaves the team.
The information that Joo-eun requested on Joon-sung's past arrives, which includes adoption papers and his birth mother's name — Jae Soon-ja. Joo-eun frowns, thinking she's heard this name before.
A trio of haughty ajummas stare at Stepmom at a gallery, gossiping about how she still lives with her mother-in-law even though the grandson is now taking over Gahong. Stepmom gracefully ignores them, though they're quick to fawn over Grandma when she arrives. Grandma goes chilly when she sees Stepmom and walks away ignoring her, which obviously hurts.
Young-ho loses patience with Manager Min's repeated reciting of his schedule and tells him to pick him out a nice necktie — not like that tacky one he's wearing. Aww, Min looks a little pouty at that, hee. On the way to work Young-ho texts Joo-eun and proposes they see each other later, but she says she's tired and they can see each other any time.
Uncle heads up a small secret meeting, where the board members decide to leave Young-ho alone if he's just planning to keep the Director's seat warm, but it's war if he tries to actually enact any change. After, Woo-shik reminds Uncle that Young-ho will get the Chairwoman's shares, making him the largest shareholder. So for now, Woo-shik advises that they retreat and regroup. Uncle takes great offense at this suggestion, saying that at least they can make things difficult for Young-ho.
The small director's meeting starts, and it's awkward right away with Woo-shik and Soo-jin both there. It gets worse when Young-ho refuses to sign off on a project without studying up on it first, not even when he's told that his father has been monitoring its progress.
After the meeting, Soo-jin slides Young-ho a gift of organic tea, and tells him that she's been friends with both Joo-eun and Woo-shik for years. Young-ho says that's not what he's heard from Joo-eun, but he understands that she won't let her personal and professional lives get tangled.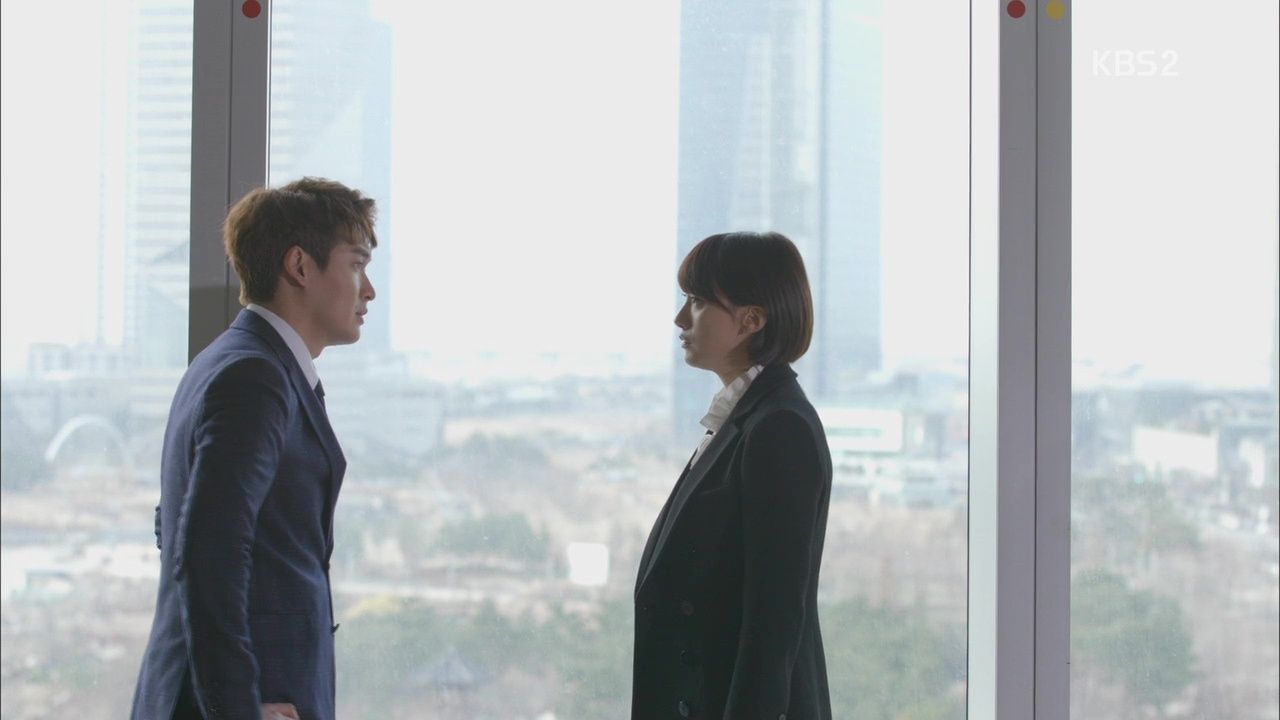 Woo-shik grabs Soo-jin to talk before she can leave the building, upset that she didn't tell him she'd be here today. But Soo-jin says that they're not that close, only having kissed a few times, so she has no reason to report to him. He's upset, but she says that if he couldn't make it work with Joo-eun after fifteen years, what makes him think the two of them would last?
Young-ho reports to his next meeting — dinner with Grandma. He's surprised to see his previous blind date there too, and mutters to Min that he'll pay for this. Then Grandma bails on dinner, leaving Young-ho and his "date" alone. Wow, she's not even trying to hide the manipulation anymore, and on her way out she tells Young-ho that she's tired of waiting for him to get married.
Young-ho's date catches on that he may have someone he likes already, but he claims that marriage is not even on his radar right now with his life being so busy. He lets her down gently and to her credit, she accepts it gracefully and agrees not to tell their parents. She really does seem like a sweet girl, just not right for Young-ho.
Apparently Young-ho's father told his wife he was on a business trip, keeping the hospital a secret. Like father, like son. Stepmom asks on Young-joon's behalf what his father wants him to major in, but Dad just says he should study what he wants. Stepmom says that Dad wasn't like this with Young-ho, and asks him what kind of son Young-joon is to him. She also tells him that she knows he's been getting chemotherapy for a year, and asks him to be honest about his illness from now on.
Joon-sung and Ji-woong show up at Joo-eun's new place with You Bastard in tow, bringing her the fancy sweet coffee she likes. They eat dinner, Joo-eun and Joon-sung glaring over their salads as Ji-woong chows down on jjajangmyun, calling him a traitor for not gaining weight. They thank her for their figurines, calling her Sister-in-Law, though Joo-eun says she prefers "Ma'am."
The boys go to exercise at the pool, and Joon-sung teases Ji-woong for being afraid of water when he wants to join the Marines. A girl starts to struggle in the pool and Joon-sung saves her, only belatedly realizing that it's Yi-jin. She appears to be unconcious and Ji-woong suggests that Joon-sung do mouth-to-mouth, and he cringes but complies.
Of course her eyes pop open after his first breath and she squeals that they finally kissed, because she was never in any danger. Ji-woong was in on it, and Joon-sung is furious, rightly so. Again, even Yi-jin's manager is embarrassed on her behalf.
Woo-shik meets PD Go for drinks, who asks flat-out if the new Director of Gahong is John Kim. This time Woo-shik scoffs at the idea, but PD Go found out that Gahong paid American papparazzi to keep their mouths shut about John Kim. He also thinks that Woo-shik knows something. Woo-shik warns him that without solid evidence, this could blow up in his face.
Joo-eun perks up when her doorbell rings, hoping it's Young-ho despite telling him that there's no need to see each other today, and she slumps when it's just a nearby restaurant with fliers. The doorbell rings again and this time nobody answers her call, so she grabs her umbrella before opening the door. But this time it is Young-ho, with the poinsettias that she left at his place.
She turns to take them inside and Young-ho unexpectedly grabs her in a backhug, and says that he can't stay. He turns her around when she mentions the meeting tomorrow, to warn her that it will be difficult for her and ask if anyone else can do it. But she assures him that it's only a short-term thing, and she can handle it. She gives Young-ho a quick kiss and sends him on his way, but not before he gives her exercise homework, ha.
Woo-shik gets a call from PD Go that he's got definite proof of John Kim, having paid the American paparrazzi for photos of him with Anna Sue. The photos need retouching to absolutely prove the man's identity, and Woo-shik asks how long that will take.
The entire family show up at the Gahong building for the big meeting — Grandma, Dad, Uncle, and Young-ho. Waiting for them, Soo-jin says that Joo-eun must be nervous, but Joo-eun shakes her off. Perfectly professional, Young-ho walks past Joo-eun without even glancing at her, while at the back of the crowd, Woo-shik can't take his eyes off Soo-jin.
Things are tense in the meeting room when the rest of the board fails to show up. Dad suggests they reschedule and Grandma agrees, while Uncle counts this as their first victory. On the way out, Soo-jin crows about the fact that Young-ho never acknowledged Joo-eun, who basically tells her to back off and mind her own business.
On the drive home Young-ho asks Manager Min to get him the documents of all the VVIPs, muttering that Uncle is more determined than he expected. We see that he did notice Joo-eun today, but she'd had her head bowed and missed it. He starts to call her (aww, he has her in his phone as "Daegu's Venus") but changes his mind.
As she unpacks, Joo-eun finds a dress that she'd previously fit into, and tries it on. She's ecstatic that it fits again, and primps her hair and face to match. But then she grows sad when her phone continues not to ring, so she calls her mom. She thanks her for raising her, which makes Mom all shy.
Next Joo-eun gets a call from Hyun-woo, who asks accusatorily if her boyfriend is John Kim, and the new Director of Gahong. It's all over the internet, and Joo-eun confirms it for herself. She tries to call Young-ho but his phone is off, as are Joon-sung's and Ji-woong's. She runs outside, still dressed to the nines, and finds Young-ho at her door looking pathetic.
She's just relieved to see him safe, but he notices how good she looks and jokes that he's at the wrong house. She says she was coming to find him and asks if he's okay, which just gets a tentative nod. He says he can't go home or to the hotel because of all the reporters, but Joo-eun starts to smile.
She says that she only has one bedroom, but he's welcome to come in if he wants, to see something outside of his world. She pulls him in for a hug, and he leans in and lets her comfort him.
COMMENTS
Aww, here we go, get ready for the angst. Luckily I feel as though Joo-eun and Young-ho have had enough time to feel secure in their relationship, and I trust that they won't let any Noble Idiocy get in the way of their happiness. Especially since this whole Gahong situation isn't even something Young-ho wants — I think he just doesn't want to let people down. He's so sensitive that way… so while he may not care about running the company per se, he does care very much that he not be a disappointment to people he cares about.
I definitely feel that Young-ho's father has been badly misinterpreted. There's no doubt that he's a cold, distant father, but I think his actions over the course of Young-ho's life have been more for Young-ho's benefit than it originally seemed. Even when his son begged him to make the pain stop, he insisted on the surgeries, which probably saved Young-ho's life in the long term. He held his son's position in the company for decades after his wife died, even when it seems that he didn't truly want the job (and he couldn't know that Young-ho wouldn't want it, either). He even remained living in his former mother-in-law's home, which couldn't have been an easy situation. And now when his second son asks what he should major in at school, he tells him to study what he wants. I think that Dad isn't uncaring as we thought, but just a man who doesn't wear his heart on his sleeve. But it's becoming clear that he does care for his children, quite deeply, and he's growing on me.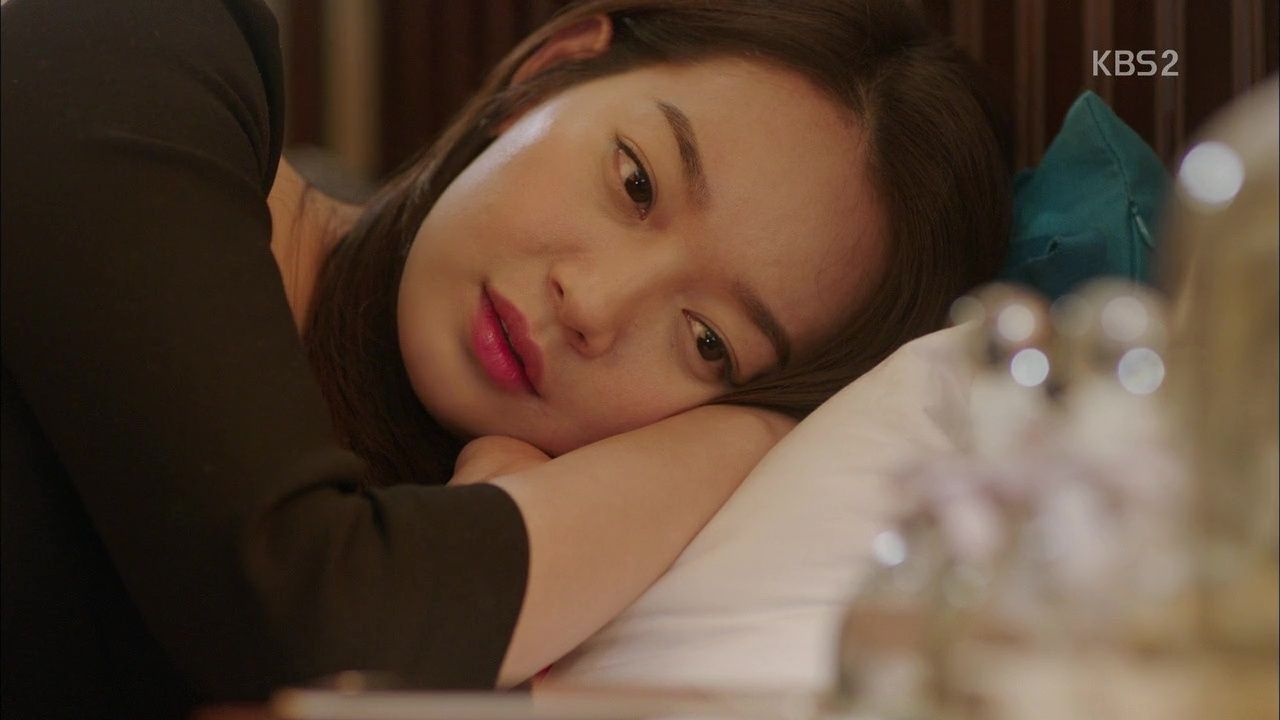 While I want to be sympathetic to Soo-jin because she's obviously deeply depressed and troubled, her behavior is so off-putting that I'm just frustrated with her. Woo-shik is making an honest effort to apologize to her for goingto Joo-eun's rescue against her stalker, and Soo-jin says that what she likes about him is his sense of loyalty. But then she turns around and cut him to the bone, refusing to even speak to him or give him a chance, because of that same issue. Aside from his office shenanigans, he's not a bad guy, and I believe he honestly likes Soo-jin. So why is she being like this towards him? I suspect it's because her relationship with him didn't gain her the jealousy and envy of Joo-eun like she'd hoped, and that in fact she's not really that interested in Woo-shik at all. Which is a shame, because if she could let go of whatever's been bothering her all these years and just talk to Joo-eun and clear it up, I think she and Woo-shik could actually be a pretty good match. But she's so busy holding onto her anger from her college days that she's missing the opportunity that's right in front of her, right now.
It's really no wonder that Young-ho is so emotionally twisted up, with his family the way it is. Mother dies young, father withholds affection and sends him away for most of his life, and fighting cancer and the fear of death for years would be bad enough. But Grandma, who claims to love him and want what's best for him, is the worst manipulator of all of them. She spies on him to find out that he's in Korea, tricks him into staying in Korea when he only planned on visiting, and maneuvers him into this Director position without ever even talking to him, much less asking what he wants. Now she's just flat-out tricking him into situations he doesn't care for with this blind date girl, pretending it's fate that they keep meeting when it's always just Grandma playing mind games.
And Young-ho, sweet soul that he is and wanting to make people happy, lets it happen time and again. But he pays the price with his health, and he can't afford to let himself get sick again just to make his family happy. I hope that Young-ho's feelings for Joo-eun are enough to press him into speaking up and refusing to go along with these machinations anymore, because it's well past time for him to say No, this is my life, stay out of it. Plus there's a small part of me that just wants to see Young-ho get angry, yell and scream and kick for the right to live his own life, and nuke his whole family from orbit.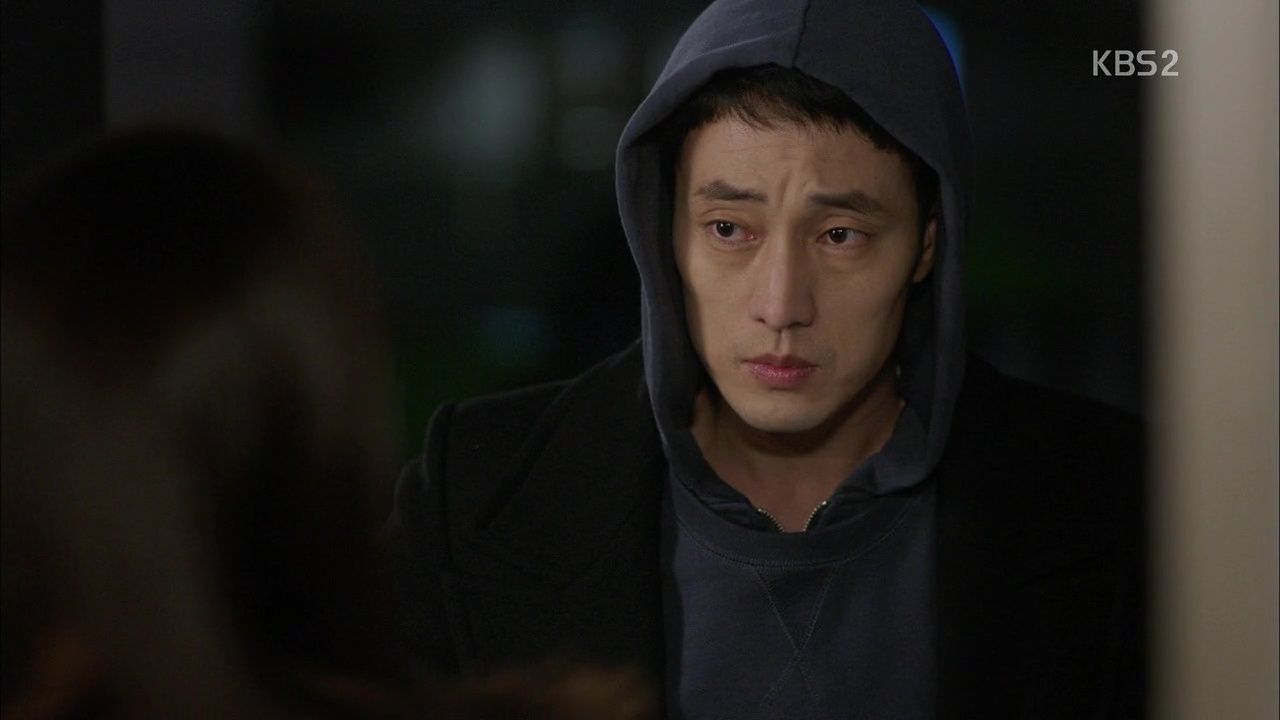 RELATED POSTS
Tags: featured, Oh My Venus, Shin Mina, So Ji-sub