Remember—Son's War: Episode 2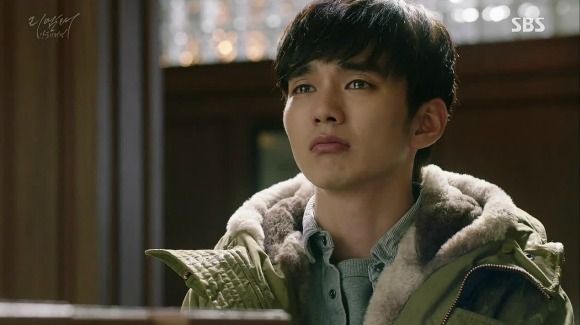 Usually the first couple of episodes in a drama are all about laying down the backstory for the rest of the show, or providing eye-catching gimmicks to get our attention to keep us tuned in. For Remember, it is both of these and more as it slowly reveals that the heart of this story is about two men fighting to right the injustices inflicted on their fathers. Or perhaps "men" is too strong a word, because this is really about two high school students who vowed to avenge their fathers: one by making enough money so that no one could look down on him ever again, and the other who would do anything to protect his father from the death penalty.
EPISODE 2 RECAP
Jae-hyuk wakes up trembling in his prison cell, visibly shaken from a nightmare of a terrified Jung-ah running barefoot in the forest. In the morning, he has a one-on-one meeting with Jin-woo, who reassures him that their court-appointed public defender will help them.
Jin-woo's faith in the system seems a little idealistic once their attorney SONG JAE-IK arrives. He doesn't have much hope for the trial, explaining it will be difficult due to the evidence provided and Jae-hyuk's statement of admission, dismissing the fact that Jae-hyuk points out that the confession was forced. Either way, it's still a confession, so the best thing to do is plead guilty and ask for favorable disposition to reduce the prison term.
That's not the answer they were hoping for, and Jae-hyuk refuses. Attorney Song isn't thrilled that Jae-hyuk wants to go to a trial by jury, but he counsels his client that when the judge asks how he pleads, he should just remain silent "as if he was innocent" and let the attorney answer. Jae-hyuk protests that he's truly innocent, but Attorney Song just marvels at his client's acting ability, telling him to keep it up.
As In-ah arrives at the courthouse, she's surprised to see her classmate Yeo-kyung there, too. Yeo-kyung was picked as a juror, and seems to think the trial will be a fun game to watch. In-ah seems to agree with her, but as she walks up the steps to the courthouse, she sees Jin-woo standing behind the angry mob yelling as the police escort his father into the courthouse.
When one of them points out Jin-woo as the defendant's son, the mob turns their attention to him, pummeling him with eggs while he stands there, defenseless. In-ah watches in helpless worry, held back by the police barricade.
In the restroom, Attorney Song loses his cookies in a nearby stall. When he emerges, he's surprised to see Dong-ho there, and greets his sunbae pleasantly. He's actually a rookie public defender who was assigned this case because no one else wanted to touch it, and it's his first time in court. He's also up against a hotshot lawyer with a gift of persuasion, which isn't exactly encouraging for a trial by jury for a man everyone presumes to guilty.
The trial commences, and the prosecution calmly states that they are charging Jae-hyuk with the rape and murder of Jung-ah. Attorney Song also stands to deliver his opening statement, but he stutters through it so badly that it's hard to take seriously his declaration that they will plead "not guilty."
Apparently his bad stutter is another ailment of his nerves, and Dong-ho slips into the courtroom to take a seat in the back, eager to see how amusing Attorney Song's performance will be. The judge double-checks with the stuttering attorney to make sure he will be able to continue with the trial, but he stammers that he'll be okay. Not a very reassuring answer for either Jae-hyuk or his worried son.
The prosecution has a slick slideshow highlighting the facts as they see it, but back in the peanut gallery, Dong-ho mutters that they don't have any real evidence — just speculation. The prosecution further uses his powerful speech of persuasion to create a vivid image in all the jurors' minds of how exactly Jae-hyuk killed Jung-ah, and Dong-ho grumbles his annoyance at how the defense attorney isn't objecting to the speculation.
Finally Attorney Song stands up to protest, but his stutter is so strong that the prosecution easily makes him to look like a fool. However, the judge rules that the prosecution must provide evidence, and the court takes a short break. It's too little, too late, though, because both the jury and the audience — especially Jung-ah's father — seem persuaded by the prosecutor's words and images.
Dong-ho buys Attorney Song a cup of coffee, and the nervous attorney admits that his stuttering is just performance anxiety that should go away once he's had enough experience. Annoyed, Dong-ho points out that while he's getting experience, he could be ruining other people's lives.
Meanwhile, Jin-woo sits alone in the empty courtroom, trying to unsuccessfully fight back his tears. In-ah tentatively approaches him to return the necklace that had fallen earlier when he was being pummeled by eggs. He takes it, slipping his fingers through the ring on the chain as he chokes up even more.
The trial continues and it's time for the prosecution to question Jae-hyuk. He points out that Jae-hyuk originally confessed that he didn't know Jung-ah, even though it's been proven that he's known her for ten years. Jae-hyuk attempts to explain that sometimes his memory is faulty, but the prosecutor forces him to simply answer "yes" or "no."
When he asks Jae-hyuk where he was and what he was doing the night of Jung-ah's murder, Jae-hyuk hesitates. In a flashback, we see that all he can remember is suddenly arriving at the forest after talking on the phone with Jin-woo. In the back of the courtroom, Dong-ho mutters under his breath that Jae-hyuk should at least lie — the worst thing he can do is admit he can't remember.
But a befuddled Jae-hyuk just shakes his head, confessing that he can't remember. Dong-ho sighs as the prosecution jumps on the confession, making a big point about how Jae-hyuk conveniently can't remember anything. How can Jae-hyuk be so confident that he didn't kill Jung-ah if he can't remember what he did that night?
Jung-ah's father has been sitting in the audience, tense as he listens to the trial continue, but he's finally reached the breaking point. Springing up from his seat, he barges to the witness stand to grab Jae-hyuk and press the sharp tip of a fountain pen against his neck.
Outraged, he demands to know how Jae-hyuk could have killed his daughter, and waves the fountain pen at the guards who try to block him, warning them that he doesn't need a trial to convict Jae-hyuk — he'll provide justice by killing the murderer. Or at least hold him hostage, demanding the judge declare the death penalty.
But the matter is taken out of his hands — literally — when Dong-ho steps forward and smoothly disarms him. As the guards cuff him and lead him away, Dong-ho slaps down his business card, telling Jung-ah's father that since he's going to need a lawyer, he'll provide his services at a discounted rate.
The trial is stopped for the day, and as Jae-hyuk is led to the waiting bus to take him back to prison, Jin-woo chases after it, yelling through the window that everything is going to be okay. Watching them go are In-ah and Yeo-kyung. In-ah isn't so convinced that Jae-hyuk is guilty, but Yeo-kyung smugly says she bets that Jae-hyuk killed Jung-ah.
In-ah points out that Yeo-kyung isn't acting in good faith as a juror if she's already made a judgment without listening to the defense's side. Everyone deserves the right to fair trial. But Yeo-kyung just smirks and says it should be an interesting trial to watch.
Jin-woo studies the Dong-ho's business card that he took from the courtroom, researching the claims that he's had a "100% success rate" in the criminal court. He boards his bus, unaware that In-ah is on the same bus, but she glances over and sees his lowered head as he quietly weeps. She quietly slips him a handkerchief, but he doesn't want her pity.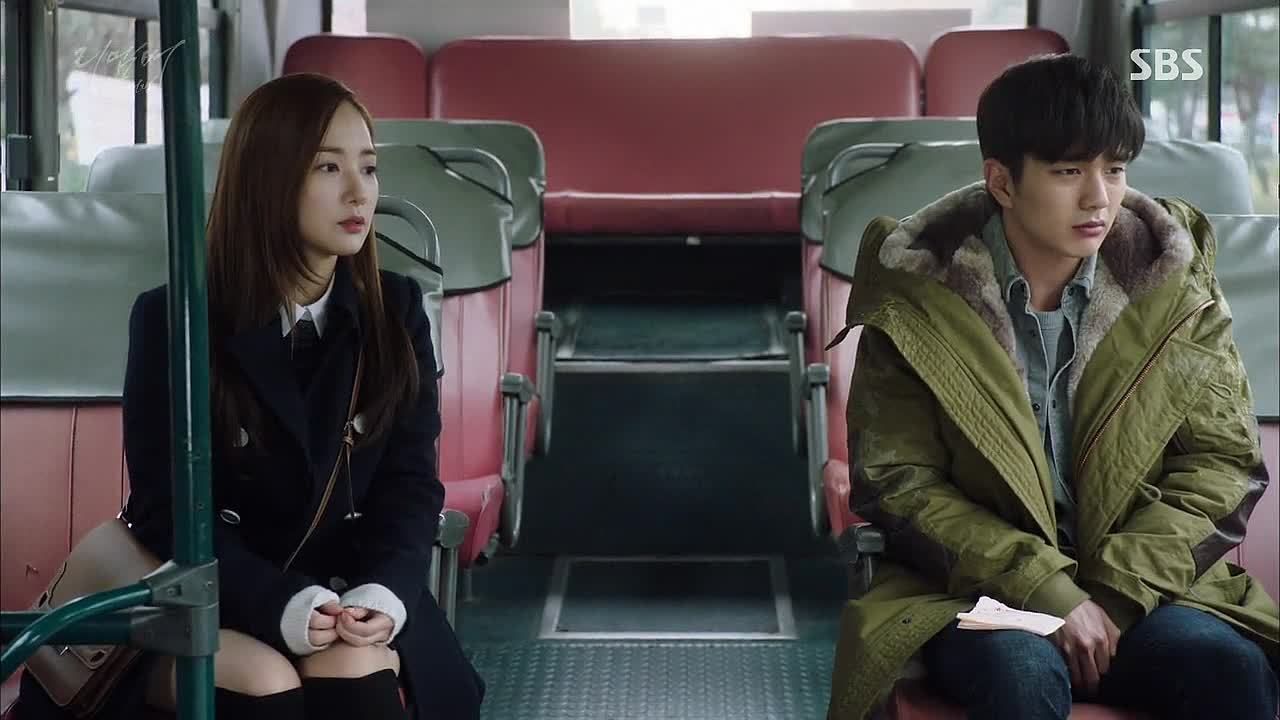 She tries to encourage him by telling him that she doesn't believe his father did it and that the courtroom will reveal truth. He finally accepts her handkerchief and wipes his eyes, and as they get off at the same stop together, she tells him that the truth will win out over the so-called facts. Aw, Jin-woo smiles for the first time in forever as he tells her that he has a name, so she can stop calling him "high school student."
In his fancy office, Gyu-man watches the news about Jung-ah's trial. His phone rings and he tells the other person on the line that he'll meet them "there." As he heads out with his entourage, Dong-ho follows behind, reassuring his mob boss client Joo-il that he's on his way to take care of the situation.
The man on the other end of the phone was Gyu-man's buddy who was at the party the night Jung-ah was killed. They're meeting on top of a high-rise currently being built, which promises them a safe and quiet place to talk privately — except Dong-ho has snuck up there, too, and pushes his way into the conversation.
He introduces himself as Soo-il's attorney, and immediately starts taking photos of Gyu-man and his buddy. As Gyu-man orders him to be taken away, Dong-ho waves the phone in their faces, taunting them that they wouldn't be getting rid of him so easily if they knew what else was stored on the phone's camera.
To prove that he has incriminating evidence, he reveals that he knows Gyu-man gave his buddy access to meth — which is a crime that could get him a prison sentence of at least five years. A grinning Dong-ho continues to pleasantly taunt Gyu-man, letting him know that he's got all the juicy dirt on him, and Gyu-man responds by repeatedly punching him in the face. Screaming that Dong-ho has no idea who he's dealing with, Gyu-man goes into one of his rages as he kicks him over and over.
Snatching the phone from him, Gyu-nam scrolls through it — only to find selfies of Dong-ho stored there. Pffft. As Dong-ho spits out what could either be a tooth or his chewing gum, he says that if he had any evidence, he wouldn't have had to hurt his body. Furious, Gyu-man grabs him and holds him over the side of the building.
Despite his precarious position, Dong-ho still continues to taunt Gyu-man, who threatens to throw him off the building. He grins as he says that it sounds like Gyu-man has done this sort of thing before, and he's heard that in order to really prove that one is a Harvard Law Student, they have to be able to get away with murder. Considering the power Gyu-man has, it would probably be easy for him — to get away with murder, that is. Except Dong-ho would be able to prove that Gyu-man was guilty.
Confused, Gyu-man demands to know what he's talking about, but Dong-ho just waves to the building across the way where all his mob buddies are standing on the roof, each filming and taking pictures of Dong-ho and Gyu-man. He's got enough evidence of Gyu-man's attempted murder (of himself) to use as leverage to get him to drop the charges in Joo-il's case.
As he walks away, Gyu-nam asks why Dong-ho would risk his life for that gangster — is he Dong-ho father or something? Dong-ho pauses for a moment, but then continues to limp away, leaving the question unanswered. The truth is that his father was a poor boxer who was sponsored by Joo-il, and after he died, high-school student Dong-ho had no one really left.
After the funeral, Joo-il was just going to send off Dong-ho's father by paying for the funeral expenses and telling Dong-ho to go to college and do well in life, but Dong-ho stops the car by standing in front of it. He passionately asks why he can't do more — he wants to beat up everyone who looked down on him and his father
As they stand in the pouring rain, mob boss Joo-il tells him that the one who with the strongest fist is the one who handles the law. Gangsters can never win against the law, but if Dong-ho goes to to law school and becomes a lawyer, then he'll be even stronger than the strongest gangster.
Back to the present, where Joo-il happily greets Dong-ho outside of the police station where he's just been released. He's surprised by Dong-ho's bloodied face, but Dong-ho shrugs it off. He invites Dong-ho to celebrate his freedom with him, but today is Dong-ho's father's memorial day.
It's also the memorial day for Jin-woo's mother and brother, and he stands in front of their urns, studying the picture of the happy family as he remembers in vivid detail when they were going on a family outing to an amusement park. Mom is delighted by Jin-woo's memory skills, and enjoys hearing him recite everything he recalls from the last time they drove the amusement park.
She tells him that memories make a person rich. She's rich, too, because she can remember when she got married and the day her sons were born. The boys are happy to realize that their family is rich in happy memories, and she tells Jin-woo that with his memory abilities, he can make lots of other people happy too.
But as Jae-hyuk starts to go through the intersection after the light turns green, they're blind-sided by a truck that flips their vehicle. Jin-woo is the first to regain consciousness, and he tries to wake up the rest of the family, but his mother and brother are lifeless.
As he stands in front of their urns, he holds the necklace that was dropped earlier, the one In-ah returned to him — it's his mother's wedding band on a chain. He tearfully apologizes that he couldn't come with his father today, but promises he'll do everything he can to save Jae-hyuk. He just needs a lawyer, especially one who will prove his innocence and win, no matter what.
Across the way, Dong-ho stands in front of his father's urn. He spots Jin-woo, but doesn't recognize him as he asks if he's alone for his family's memorial day, too. Jin-woo cuts straight to the point, asking if he's a lawyer. Dong-ho assumes that he's been recognized by his hot-shot cases, but Jin-woo actually remembers (in detail, of course) the day when Dong-ho first became a lawyer — he had shown up to his father's memorial day, drunk after celebrating his passing the bar exam.
Dong-ho is impressed that Jin-woo remembers so well, but Jin-woo cuts straight to the chase — his father has been framed for murder, and he knows that Dong-ho will use any trick in the book to exonerate his clients. He begs Dong-ho to take on his father's case.
But Dong-ho prefers clients that are actually guilty — he can get more money that way. When he asks how much money Jin-woo has, the boy hesitates, and that's answer enough. Even so, he's curious to know what Jin-woo's father was accused of, and Jin-woo tells him Dong-ho saved his father's life earlier at the courthouse.
Dong-ho is amused by the coincidence, yet rebuffs Jin-woo's pleas to take on the case. But when Jin-woo throws himself in front of his car as he's driving away, Dong-ho is reminded of when he did that exact same thing to Joo-il after his father's funeral, begging for a chance to take on the world that looked down on him.
His sympathy only goes so far, though, and he tells Jin-woo that innocent people go to jail every day. Jin-woo continues to beg, but Dong-ho will only take on cases that can afford him. If Jin-woo's father can't pay for a decent lawyer, then he shouldn't commit crimes.
As Jin-woo slowly returns home, he sees that his house has been defaced with graffiti and the neighbors are crowded around, disgusted that a rapist and murderer has been living near them for so long, and now their house values are dropping because no one wants to come to this neighborhood. In-ah happens to be walking by and rushes up, dispersing the crowd with her patented threats of them being in defiance of a certain civil code, threatening to sue each of them as she holds up her phone to take photos of everyone.
After they leave, Jin-woo shrugs off her help, gathering up the shattered "Our Happy Home" plaque and stepping inside the dark and empty house, where he collapses to his knees and weeps.
By the next morning, though, he has a plan. All gussied up with his hair slicked back, he flags down a taxi. In-ah, on her way to deliver pizza, spots him and demands to know what he's up to. He's determined to get money so he can help his father — it's his only chance to save the most precious thing in the world for him.
Jin-woo storms into Dong-ho's office and asks him to defend his father. Dong-ho reminds him that he'll only do it if he has enough money, and Jin-woo demands to know how much it will take. Dong-ho tells him to empty his wallet, but he only has 24,000 won. That's definitely not enough for Dong-ho, and he orders Jin-woo to be escorted out.
But Jin-woo dumps out the contents of his backpack on Dong-ho's desk. Whoa, that's a lot of money there, kid. Shouting, he asks if that's enough to prove his father's innocence.
Dong-ho is more curious to know where Jin-woo got this money. Jin-woo says he earned it, and Dong-ho wonders how long it took a high school student to make this much. Jin-woo: "Half a day."
Thanks to his impressive memory skills, Jin-woo is able to remember the order in which cards are dealt — which means he earned that money by gambling. He uses his card counting skills by playing blackjack, earning an impressive amount of money until the gambling hall owners begin to take notice.
In-ah's tracked him down to the gambling hall, but is concerned when she doesn't see him after a couple of hours. So she uses her pizza delivery get-up to talk her way into the building, insisting that someone inside ordered a pizza. She arrives just in time to see Jin-woo being confronted by the gambling hall bosses who assume that he cheated, and are willing to take back their money by any means necessary.
She distracts them by declaring Jin-woo ordered a pizza delivery, and as she pretends to hand over the pizza, she motions for Jin-woo to run while she sprays everyone with the contents of the soda bottle. They flee the room, but are forced to the roof where there's no escape.
Jin-woo sees a dump truck filled with dirt about to pass by beneath them. He can't leave without the money, so he grabs In-ah's hand and they leap off the building, landing in the dirt of the dump truck below.
Dong-ho listens to his incredible story, and then confirms how much is there — a hundred million won. He says that isn't enough, and Jin-woo is about to leave to gamble up another ten thousand, but Dong-ho is making the point that it's "game over." Jin-woo won't be able to get enough money to afford him.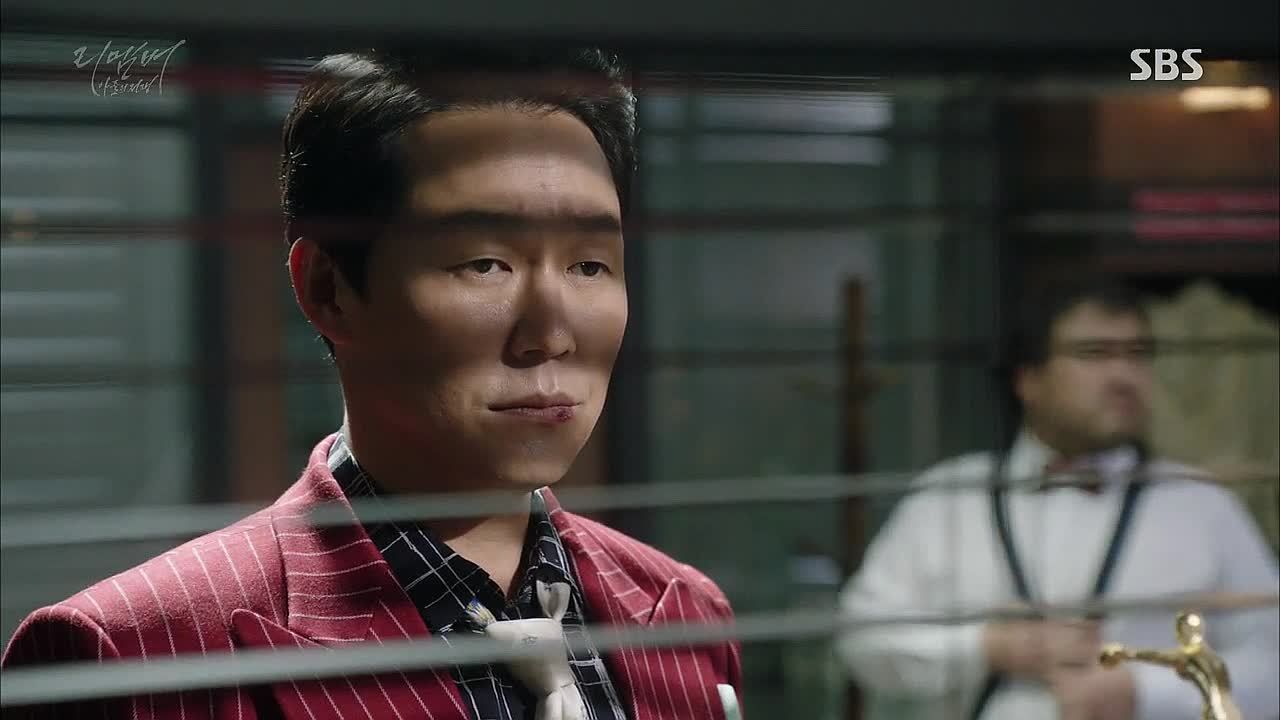 After Jin-woo leaves, Dong-ho's gangster assistant asks him why he refused the kid, since it wasn't a small amount of money by any means. But Dong-ho is more interested in what his assistant found out about Gyu-nam's party.
Back in the courtroom the next day, everyone settles into their seats. Jin-woo looks absolutely dejected as he watches Attorney Song swallow his heart pills, knowing it's hopeless. As his father is escorted into the room, Jin-woo's eyes fill with tears. Today is when the witnesses are to be examined, but Attorney Song hasn't called a single witness to the stand. Even the judge seems disappointed by Attorney Song's lackluster attempts as he stutters out an explanation that there wasn't a witness to be found.
Just as Jin-woo looks as though he's given up all hope, the courtroom doors burst open and Dong-ho saunters in. With a wink at Jin-woo, he informs the court that he's Jae-hyuk's new lawyer.
COMMENTS
Yesssssss! We all knew it was going to happen, but I'm glad the show didn't dally around about the "will he, won't he" issue of Dong-ho becoming Jae-hyuk's lawyer. In fact, I've loved how smoothly we've been introduced to everyone and their backstories. I like it when dramas prefer to give us pertinent information as needed, instead dumping everything at once and hoping we remember (heh) why it's important later.
I'm still intrigued by all of our characters, and while Gyu-man seems the most mysterious, I'm fine with keeping him that way. (I'm also fine with Namgoong Min's new hairstyle — who knew he had such a handsome forehead?) He's most likely to become the Big Bad, so I'm content to leave his story until the final "boss battle," even though he obviously had a hand in Jung-ah's murder. But right now we've got a high school kid who has to figure out how to become a lawyer.
I love the parallel of Dong-ho seeing himself in Jin-woo. Since we know that Jin-woo will eventually become a lawyer himself, I can only presume that it's due to Dong-ho's influence — just like he was influenced by Joo-il. Okay, maybe not just like, since Joo-il is a gangster who wanted a lawyer in his pocket, but the idea is still the same. Both men became lawyers to get back at the society that destroyed their father's lives.
Having watched this writer's previous work, the film The Attorney, I can see some of the same influences: a flashy attorney who's only interested in money and making his way in the world is blind-sided by an idealistic case that could make or break his career. I enjoyed the film, so I'm already primed to enjoy the drama, too, since I'm a sucker for the underdog winning against all odds.
Although I'm not ready for my heart to be ripped out, and I know it's going to happen, since this case clearly takes many years. We're only in 2011 right now, and who knows what kind of agonizing journey our poor Jin-woo will have to take to finally get us caught up to the present-day. Actually, I'm pretty sure we're going to find out exactly what kind of journey it is, and probably how agonizing it is, too (I very much doubt this is the last we've seen of Yoo Seung-ho's marvelous ability to cry). But it might be a pretty journey, because I'm also absolutely loving the colorful and expressive cinematography, and I especially like how they've managed to express Jin-woo's "Memory Vision" so that we can understand the small details he remembers. That card-counting scene was pretty nifty, the way the cards were reflected in his eyes.
Also that card-counting scene was great because In-ah taking down a bunch of gangsters with just a soda bottle is just awesome. (Maybe she learned some tricks hanging out with Healer?) I'm also excited to learn more about her and see how much she influences Jin-woo's life. She has a spunky, idealistic spirit that I enjoy and I'm hoping that we'll see her and Jin-woo team up as lawyers to help his father's case. Between her idealism and his ability to memorize, well, everything, I'm sure they'll be a force to be reckoned with — especially once we add in Dong-ho and his flashy suits.
RELATED POSTS
Tags: featured, Park Min-young, Park Sung-woong, Remember—Son's War, Yoo Seung-ho