Sweet heroes and fierce heroines [Year in Review, Part 10]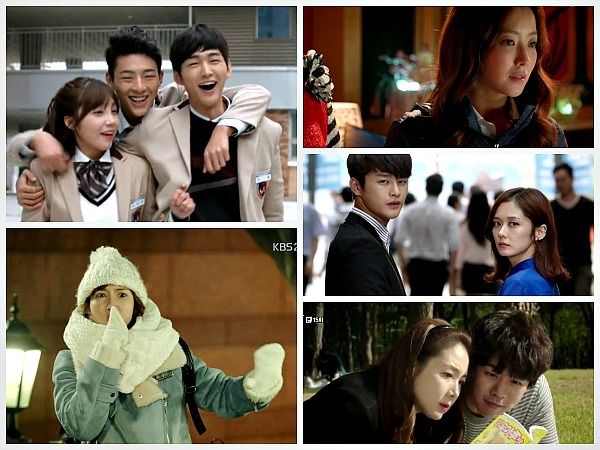 Looking back, 2015 has been a really generous year for me in dramaland. Thanks to the overlords' wicked sense of humor (or maybe just a belated sense of self-preservation…), the five-drama limit posed an interesting predicament. I found I didn't want to expend my words or energy on the middling-to-mediocre shows, or indeed, the half-good-half-bad (both of which I watched too many). And without naming and shaming, I certainly didn't want to waste any more time on the violently insipid. Instead, it seemed more fitting to pay back generosity with generosity.
Thankfully, my five picked themselves (well, four did — the fifth was decided in a council of war with my sisters). But I still want to give a shout-out to the other favorites that didn't make it in: of course Kill Me, Heal Me (let my recaps prove how much I loved it!) and the adorable (yet eventually problematic) Oh My Ghostess, but also the criminally underrated Missing Noir M and Last. And finally: my little underdog that nobody watched, legal thriller Pride and Prejudice, which sadly wasn't quite 2015 enough to count.
It's been a case of working backwards to uncover my five's unifying theme, but I found it! Or made it up. It doesn't matter. In defiance of long-held trends, we've been seeing the slow-but-sure rise of fundamentally nice heroes, and my picks are by no means the only ones. It proves what we all knew: that you can be a complicated, conflicted man without being an ass. And where we've had great heroes, we've also had some really fantastic heroines. Much as my heart beats for bromance (give me bromance or give me death!), I am positively weak in the knees for strange, flawed women with hearts of fire. And paired up with a sweetheart of a man? Yes, please and thank you. In other words: squee. Now all I want for next year is for some of those ten-a-penny dramaland geeeeniuses to be WOMEN.
In my dark and murky past before K-dramas, I used to be a bookworm. I realized I consume dramas much the same way I do books, so there's often not a clear line between them in my mind — my hunger is for absorbing stories, peculiar people, and complicated relationships. When I noticed that some of my picks paired themselves naturally with certain books, it became a fun challenge to matchmake all of them with their literary soulmates. You'll find the results at the end of each review as a little reading suggestion — for when you're between dramas, of course!
This isn't short, so grab a banana milk and get comfortable…
Healer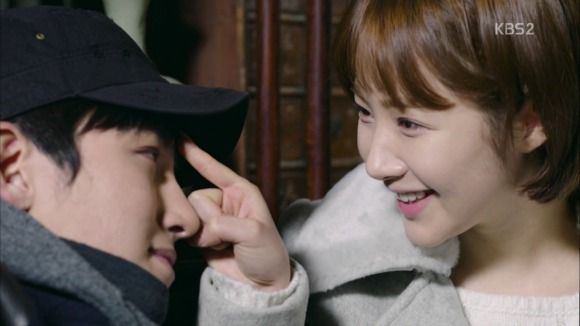 A year on, it's still hard to define Healer's particular magic. From its earliest promos, I'd just been so hungry to get that action thriller-fix that I didn't even try to moderate my high hopes (likewise for Yong-pal, which, meh) and they were SPECTACULARLY met. While it brought the same thrill and addiction as City Hunter, and they're easy to compare, they're distinctly different shows.
Writer Song Ji-nah has a genius for creating these wonderfully habitable characters that let the actors completely own them. What's extraordinary about Healer is that it left no character unfleshed. The entire cast came iridescently alive, with the differences and oddities that made us so attached to them (this might be my favorite incarnation of Kim Mi-kyung as our beloved Hacker Ajumma). Ji Chang-wook and Yoo Ji-tae brought their characterizations as lost boys piercingly home, making the sense of team that emerged as the show went on even more heartwarming.
I know we all love Bong-sookie (and how~!), but it's Park Min-young who stood out the most for me. She was absolute magic as Chae Young-shin. She's written with so much quirk and texture, and she poured herself into this role as never before, holding nothing back. Her willingness to take her character all the way and inhabit her fully, without a shred of vanity… it was just magic, artless and frank.
And you know what? There's no Bong-sookie without Chae Young-shin. Because of her, he rejoined the world in a belated socialization, which is exactly as funny and moving as it sounds. And despite his wounded, love-starved-puppy soul, he was nice — a sensitive, loyal hero. One of Healer's strongest points lay in its alchemical romance, and it was everything you could ask for and so much more. Aside from being touchingly, achingly sweet, they were a couple who made time feel precious. They loved fiercely, trusted instinctively, respected unequivocally, and it was magic.
At the time of writing, I have no idea how much love Healer will get in this review series, but either way, Healer was personally special to me. It's hands-down my favorite show of the year, maybe even my whole life, and it took root in my soul. It's seen me do things for it that I've never done for TV before. Do you guys know how many times I've watched the elevator-rescue scene? Nope, me neither. I never get tired of it. I'm going to go watch it again right now.
I love that this show was just so…so EVERYTHING. Ardent. Bright. Badass. Funny. Bromantic. Stirring. On the one hand, it was every inch the exciting cross-generational thriller it was sold as, but on the other, it was pure love story. Amen and hallelujah hilleolujah!
Soulmates: Honestly, this is hard, because who is good enough for you, Healer? But I don't want you to end up alone. How about…Everything Everything by Nicola Yoon? It's girl-in-the-bubble meets the boy next door, and what happens when you can't have personal contact.
Angry Mom
I fell in love with Kim Hee-sun in 2012's Faith, so I was excited for Angry Mom and it didn't disappoint. This one is the other kind of youth drama — moody, bleak, and bristling with dark energy, taking on the topical issues of bullying and school violence. At the same time, it's also not a youth drama at all. There's a fascinating underlying commentary throughout the show about what constitutes strength and who has it, and it goes much grittier and darker than we ever expected — and dark is good. Very, very good!
Kim Hee-sun's fearless, fists-first character was a contrast to daughter Kim Yoo-jung, who was almost as badass, but used her words. There's not quite enough of her in the show, and maybe that's why I found that the most arresting mother-daughter relationship was the fake one, with her friend and co-conspirator posing as her mom as part of their disguise. It's a credit to the show that the case for her going undercover was so compelling and well-constructed: When she took up her disguise, it wasn't in fun, but in deadly desperation.
But for all its desperation, it was still ragingly funny for us as viewers to watch an ajumma go undercover as a high-schooler, and there was a certain amount of savage wish-fulfillment in her immediately staking out the top-dog spot (take that, Never Been Kissed!). In fact, Angry Mom reveled in playing its most ridiculous aspects totally straight. The gangster-princess posse provided a welcome river of wry, dark humor that cut across a quite genuinely chilling storyline. Despite its sometimes sprawling and convoluted storylines, this was a world where very bad things happen, and we didn't forget it.
Angry Mom was full of these complex, interesting characters all at odds with one another, and it's no accident that the worst evils came out of weak people. It's a shame that Ji Hyun-woo's role wasn't bigger. But despite being less prominent, he had one of the most satisfying arcs, with his sunny idealism taking some harsh and painful growth. But we all know it was puppy Ji-soo who stole hearts, with his raw and impassioned breakout as a troubled bad-boy with an ajumma-crush. May you one day get your girl! Please, dramaland. Stop hurting Ji-soo.
Soulmates: Yaqui Delgado Wants to Kick Your Ass by Meg Medina. This book is a gritty, difficult, but brilliant read about the emotional reality of high-school bullying. People are bad. Bullying hurts.
I Remember You
Originally called Hello, Monster, this underwent a name change and performed poorly in the ratings (although obviously, those things aren't related). For many of us, it easily qualifies as one of the best shows of 2015, all the more valuable in the slew of crappy cop shows dramaland spat out (and I watched, sob) this year.
"Elegant" is the word that comes to mind for describing I Remember You. A cleverly plotted thriller, it's wrapped around a complex nucleus of estranged brotherhood. It's part of a wave of dramas in recent years that take on difficult aspects of mental health and neurological difference. But rather than acting as a curious side-plot, it drives the very core of the story with its own fully formed narrative. In the case of I Remember You, psychopathy comes under the microscope, addressing the age-old question of nature versus nurture: Are monsters born, or are they made? The most important question it asks, however, is this: Are monsters worth saving?
Each character was handled with finesse and given a full and compelling arc. With an intricately laid plot, it allowed you to look back and find all the answers already woven into its build-up. Its magic was rooted in the writing, and it was finished in some extraordinary acting. Park Bo-gum brought a unique and inimitable chemistry with lead Seo In-guk, in a casting that could not have been more fitting, producing one of the most riveting performances of the year.
You could argue that I Remember You didn't strictly need its romance, but it added a more humanizing element to a circuit of difficult players, because Jang Nara's character makes people change. She rapidly became one of my year's favorites as a smart and resourceful heroine, right up there with Healer's Chae Young-shin. Efficient and grounded, tiny and badass, her warmth made her the right foil to Seo In-guk's cool, detached personality. But a little absurdly, among a memorable and lively ensemble, Lee Chun-hee was my secret underdog-favorite, with his comical sincerity that nevertheless went all the way.
What's wonderful about this show is how measured and understated it remained, leaving so many things latent. Its angst and suspense were perfectly rationed, developing storylines to just the right degree, and then leaving things open in a very satisfying way. And with all those murderers running around, it could run so blackly funny, but never to the point of farce. That kind of restraint is a rare jewel in storytelling, and it respects the viewer's intelligence and ability to respond to the story. It didn't spell everything out, and we didn't need it to.
Between them, Missing Noir M and I Remember You reawoke in me a thirst for smart crime thrillers (also, those bad ones made me reeeally want good ones). The hunt sent me to the annals of dramas past, and I made my way through older works like The Devil/Mawang and H.I.T., not quite hitting the spot. But if there's one thing that I've yet to see a cop show do wrong, it's team-mance (is that a word?) — and that's like bromance squared. In other words: soulfood.
I'm still amazed that we got such a subtle, sensitive drama in I Remember You, nearly without a single misstep. I think the show ultimately crafted a lovely testament to the complexities of conscience, morality and agency, as well as the possibility for redemption. I give it a fifteen plus alpha.
Soulmates: Fire, by Kristen Cashore. This book is all about monsters, and how hard it is not to be one when you're born that way. Beautiful, disturbing and hopeful.
Twenty Again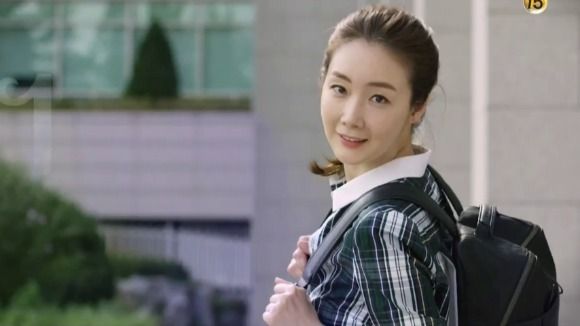 Twenty Again comes from the writer of my favorite Two Weeks, and beginning to end, I adored every single minute of it. From the very outset, it handled its story with a lovely light-handed grace, gentle humor, and small storytelling that would go on to characterize the show as a whole.
And much of that is thanks to Choi Ji-woo, who played her character with such a sweet appeal that it just pulled you in by the heart. Playing her college-professor husband, Choi Won-young did a brilliant job walking that difficult line between doing hateful things while stopping short of actually being truly hateful. (He's really had a good year, with Kill Me, Heal Me and a crucial role in I Remember You also under his belt.)
Lee Sang-yoon's character made an important (and hilarious) counterpoint to hers, and it was hugely entertaining to see both adults revert to their teenage selves around each other, although, to our eternal amusement, he somehow managed to regress even further. And it was so rewarding to watch Choi Ji-woo's timid, self-effacing character bloom and come alive under the affection and encouragement of her friends.
The poignancy at the heart of Twenty Again lies in two things. First, though late, we experienced along with her all her first times and the delight they brought, but second, the raw emotional struggle she went through in facing the reality of her life in the present. But the best thing was that finding herself again made her brave and hopeful about her life. Her grace was so affecting, I can't say it enough. I love her.
Twenty Again is a show you look back on and realize that it had all the ingredients to go very melo. That it didn't was the best choice anyone ever made about it. It was able to take itself seriously without becoming overwrought, creating the most inspiring, life-affirming drama I've watched this year. Full of rich conflict and character growth, it proved that it didn't need to plumb the darkest depths of human nature to bring out an evocative, emotive story — you don't need an evil villain when people's own everyday flaws and weaknesses are their worst enemies. Engaging from the moment it began, Twenty Again's eventual journey was moving, painful, sweet, and finally, healing.
Soulmates: The Blue Castle, by L.M. Montgomery, who was writing K-dramas before there were K-dramas. I can't tell you any more, because spoilers. But that Barney Snaith was a High Halbae of Grumpypantsing before Lee Sang-yoon was even a twinkle in his father's eye! (This recommendation is dedicated to odilettante.)
Sassy Go Go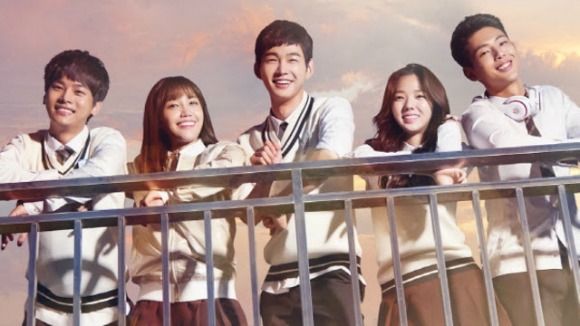 Sassy Go Go turned out to be one of the year's surprises for me, and its tight-knit and devoted fandom has been the most heartwarming. After the woeful disappointment that Who Are You—School 2015 became, for me it became the true heir to School 2013′s legacy. I'm still sad that, at just twelve episodes, it was so short, but I'm willing to concede that as a blessing in disguise, keeping it fast-paced and tightly focused.
Another ratings-underdog, this show, too, stayed its course. It told the story it set out to tell, with self-awareness and a meticulous attention to detail. Watching the minutiae inlaid in the plot and character arcs come unfolded often made it feel like a treasure-hunt, and instilled the show with a sense of fun and meaning. And those perfectly sloganed clothes! No shirt has been more appropriate in dramaland this year than "FIND ME."
The important thing to know about Sassy is that it's not really about cheerleading. It's about what cheerleading is about, which suddenly made it a rather different drama. Nevertheless, the spirit that defines youth dramas immediately popped out, its energy and exuberance clothing a heartfelt core. Friendship and loyalty were at the center of its world — qualities that didn't come naturally to the competitive and elitist students at this school.
Jung Eun-ji had a natural chemistry with every cast member, and her character's sunny, inviting personality played wonderfully off everyone else, although none better than cheeky, flirty, top-ranked student, Lee Won-geun. Newcomer Chae Soo-bin also made a strong showing as the achievement-obsessed antagonist, evoking the whole spectrum of emotions with her eeeeevil questionable acts. Against common opinion, I found her a sympathetic character whose beats, although they came fast (too fast, some would say), struck a chord of emotional truth. And what about Hurricane Ji-soo, you ask? Didn't he deserve to be the lead? Let's put it this way: The lead role in anyone else's hands but Lee Won-geun's would have made that the only question left by this drama. Instead, all I want to know now is, "When will we see these two act together again? Wheeeen?"
Sassy Go Go was a show where you don't have to choose between things. You could have your cake and eat it. You want bromance? Have it. In spades and spades, until you cry at how moving it is. You want romance? Have that, too. With all the crinkly eye-smiles your hearts could desire. This show put friendship front and center, always and forever, and it gave us all the other good things, too — character growth, heroes to offset our villains, comeuppances, adults who really put themselves on the line. You could watch it just for the cute, but cut past it and there was a solid, compelling story backed up by really heartfelt acting.
Every so often, you come across addiction-affirming dramas, the ones that you watch and realize, this is why I do it all. For me, Sassy was it. Like Healer, it made me do things I'd never done for a show before, and I carried it in my heart long after it was over. Recapping it was like a gift. And if I still have some red and green gummy bears lurking at the bottom of the bag that I can't bring myself to eat… I know I'm not alone.
Soulmates: Dairy Queen by Catherine Gilbert Murdock. As addictive and warming as Sassy, this book is about a girl being badass at sports and at life.
~
And that wraps it up! I hope everyone's found shows worth keeping this year, and done something a little crazy for them — but if you haven't yet, not to worry, there's still time!
And so to close: My eternal appreciation to javabeans and girlfriday for their patient guidance and support since taking me in. Recapping at Dramabeans is a pleasure and a privilege. Big hearts also to my fellow minions and recap partners, odilettante, purplecow, LollyPip, and dramallama, for being so generous in sharing in the squees and woes of our recapping trials.
And finally, my thanks to all of you reading! Your encouraging comments and energetic discussions always make that lost sleep (and there was so much of it) worth it!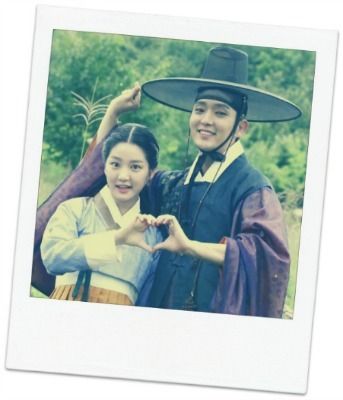 RELATED POSTS
Tags: 1 show to rule them all, Angry Mom, featured, Healer, I Remember You, Sassy Go Go, Twenty Again, year in review, year in review 2015