Tuxes and thumbs-up for Youths Over Flowers in Iceland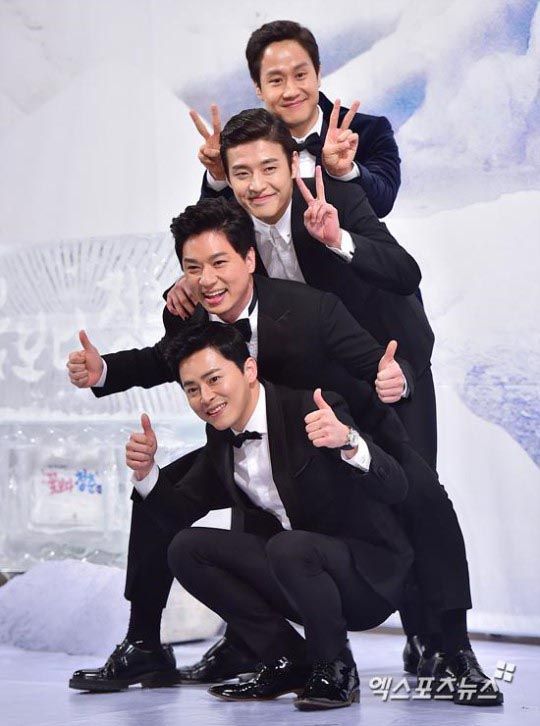 Could this cast be any more adorable? The four actors starring in the latest installment of the Youths Over Flowers variety franchise are looking rather dapper at their press conference, held on December 29 at Seoul's Imperial Palace Hotel, and appear to be having a blast together. I can't wait to see it in action.
The four are, from the top of the pile downward: Jung Woo, the group's mood-maker and leader in fan votes for the franchise's all-time best character; Kang Haneul, the group's lively maknae; Jung Sang-hoon, the eldest hyung with both a kindly side and a strict one; and Jo Jung-seok, described as the best driver, the brain, and a good English speaker (or, perhaps more accurately, most able to use his phone translator function).
I'm not entirely sure why they decided to show up in tuxes, but I won't complain about the snazzy results. It's not the first time Na PD's cast has opted for formalwear at their press conference, but maybe it also has something to do with Kang Haneul being whisked away by the show literally still wearing his formal tux from the Blue Dragon Awards. In any case, I approve.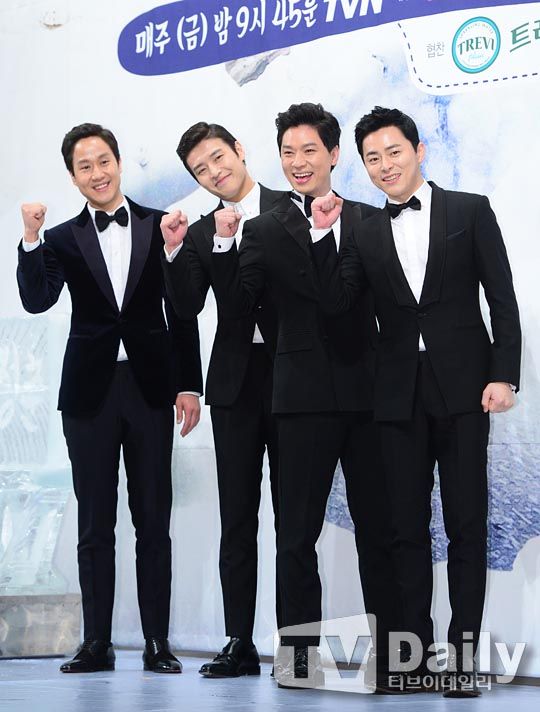 The cast was asked to pick who they thought the best character among them was, and both Jung Sang-hoon and Jo Jung-seok indicated Jung Woo, whose reckless use of English and Korean somehow still managed to get results. Jung Sang-hoon marveled at his indiscriminate usage of Korean, and how the language barrier never set Jung Woo back: "He's the only actor who would go to a foreign country and be able to communicate using Korean. He would just throw out Korean, and strangely, it would be understood."
He added, "Jung Woo doesn't speak English well so he only used easy words. He used the kind of words anybody might use when in a foreign country, and with body language, it seems like a lot of the nuance got across."
Na PD compared Jung Woo to a mix of Lee Soon-jae and Baek Il-sub from the Grandpas Over Flowers travels: He would barrel on straight (like Lee Soon-jae), but also got stubborn about things (like Baek Il-sub). I can absolutely see both of those traits in him and I find the mix super endearing. Or really, I just find all of Jung Woo super endearing.
Na PD explained how he'd first met Jo Jung-seok over a casual meal and thought he had a pleasantly everyday vibe about him, "like a neighbor dongsaeng." He described Jo as having an innocent and indecisive side, and compared him to 1N2D's Lee Su-geun… by saying that in the early days of 1N2D before Su-geun had found his footing, he was just the cast member who drove well, and Jo Jung-seok is also a good driver. HA. He did add, "Jo Jung-seok is quiet, but entertaining."
Jo Jung-seok (who is holding his travel guide upside-down): "The phrase I said most often was 'I'm okay with anything,' and the most frequent question he got was 'Jung-seok-ah, say so honestly.'"
If you guessed that Na PD chose to go to Iceland to see the Northern Lights, or because it was cold (and thus entertaining to make the cast suffer), you'd be wrong: He picked it because it was cheap. (Such a Na PD bit of logic!) Apparently he'd wanted to travel to Northern Europe, but found it was too expensive… except for in the off-season in freezing Iceland when the prices were cheaper. He didn't think he could take the elderly cast members for Grandpas Over Flowers, but figured the younger thirtysomethings of Youths could handle it better.
I love Kang Haneul's recounting of how he came to join the cast relatively late, and how he'd been a Na PD fan and had seen his shows before. Hence: "I did have suspicions, thinking, 'He wouldn't just take us away without us knowing, would he?' But the day before the Blue Dragon Awards, my management company told me I was being sent overseas for a photo shoot, and I got my expectations up. I even bought luggage and did all my laundry."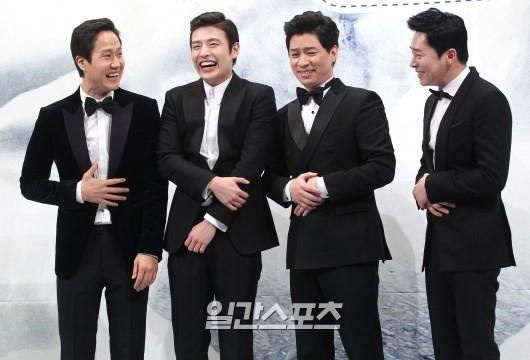 "The day of the Blue Dragon Awards came, and my agency called me in to do an interview. They told me to make odd comments in the interview, things like, 'Two is better than being alone, and three is better than two' and 'Isn't it very cold?' So I thought the interview was going to be outdoors, but suddenly Na Young-seok PD handed me a letter."
The letter basically gave him the choice to leave now, or back out. That was at 11 o'clock, the plane left at 1:30, and he had to depart immediately, unable to take anything but his parka and the toiletries he bought at the airport convenience store. Which explains why he brought two tux jackets to the press conference, swapping them jokingly once there, since he literally flew to Iceland still dressed in his fancy duds.
Meanwhile, that load of laundry he'd thoughtfully washed before heading to the Blue Dragons sat at home, and he didn't realize until his last day in Iceland that he'd meant to hang the clothing out when he got home from the ceremony. The load ended up "in dire condition," and even after washing everything multiple times, he wasn't quite able to get it to stop smelling. Why is it that even when you think you've got Na PD outsmarted, he still wins? That should be the motto of the show: Na PD always wins.
Youths Over Flowers in Iceland premieres on Friday, January 1, on tvN.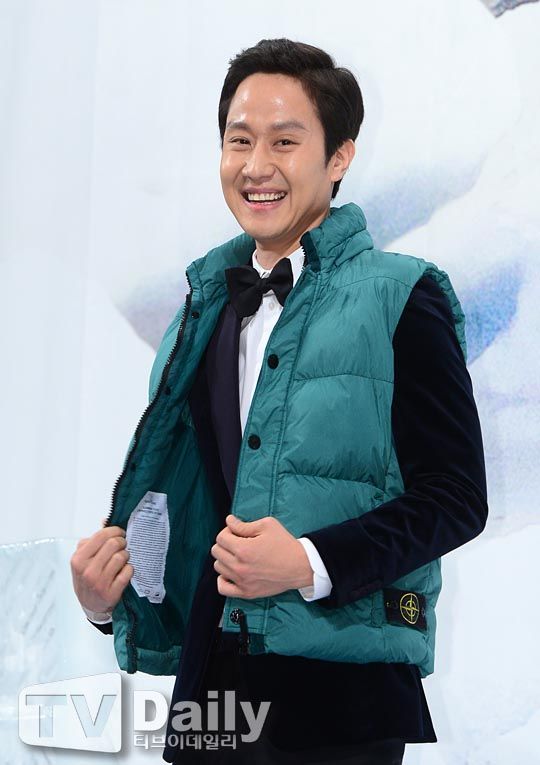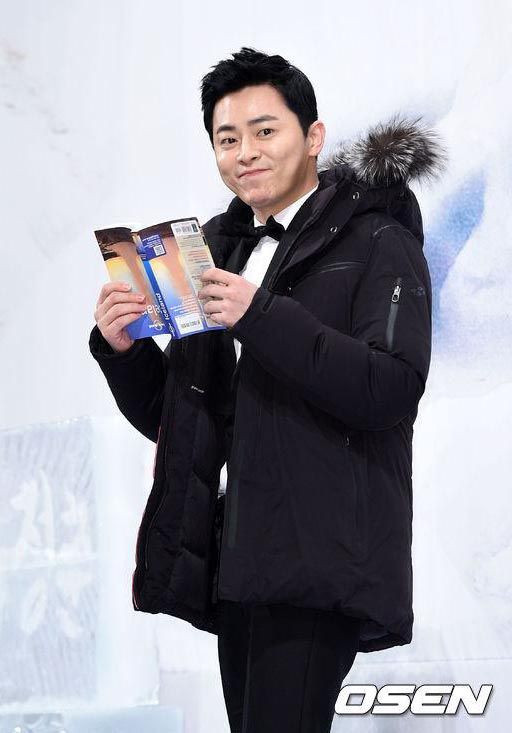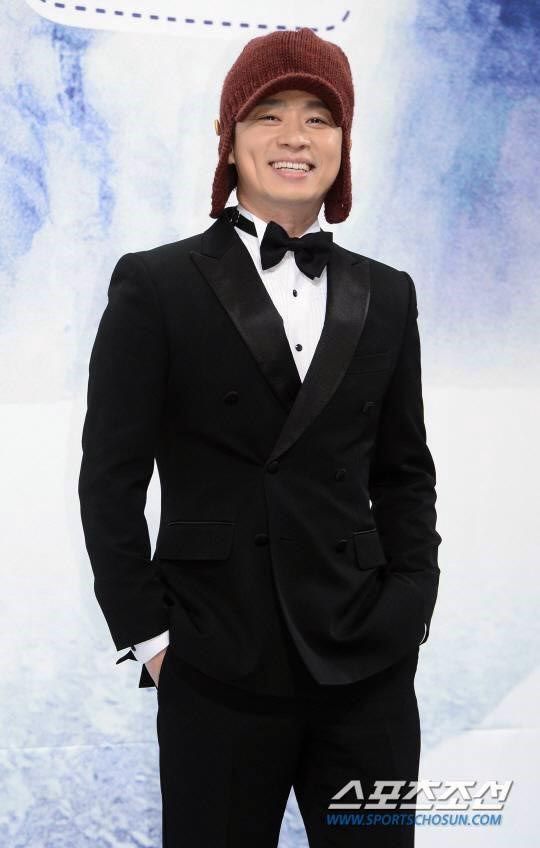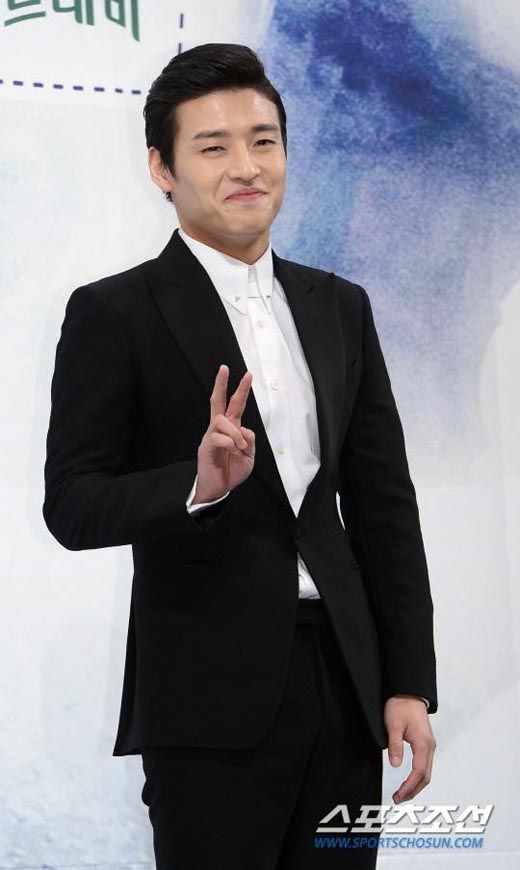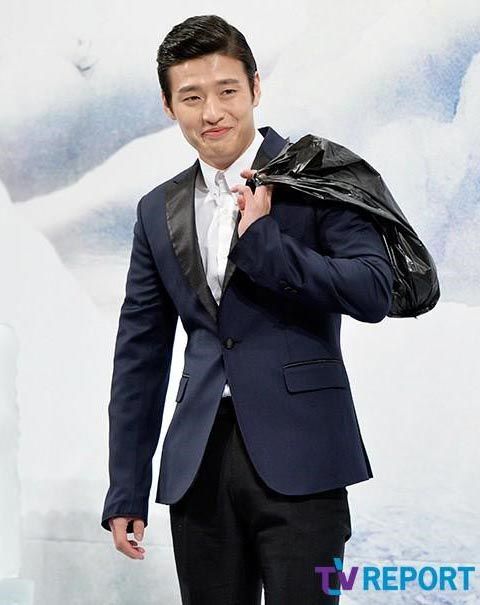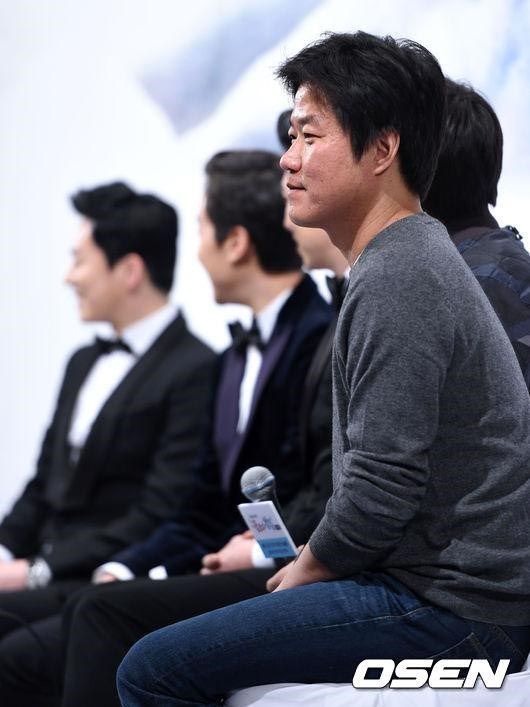 Via News1, Newsen, IS Plus, X Sports, Sports Chosun
RELATED POSTS
Tags: cable programs, Jo Jung-seok, Jung Sang-hoon, Jung Woo, Kang Haneul, Na Young-seok, press conferences, Youths Over Flowers