Cheese in the Trap: Episode 4
Time for the pendulum to swing, and the thing about being in an overthinker's brain is, there's no end to the number of ways a thing can be read, analyzed, and interpreted. I'd say misinterpreted, but to be fair, our resident overthinker isn't so far off-base when she's trying to get a handle on someone who's as transparent as glass—the kind that's clear one moment, then foggy another, obscuring the view with hot-and-cold changes in mood that never quite give us enough warning.
SONG OF THE DAY
Dickpunks – "지금을 잃고 싶지 않아" (I don't want to lose now) [ Download ]
Audio clip: Adobe Flash Player (version 9 or above) is required to play this audio clip. Download the latest version here. You also need to have JavaScript enabled in your browser.

EPISODE 4 RECAP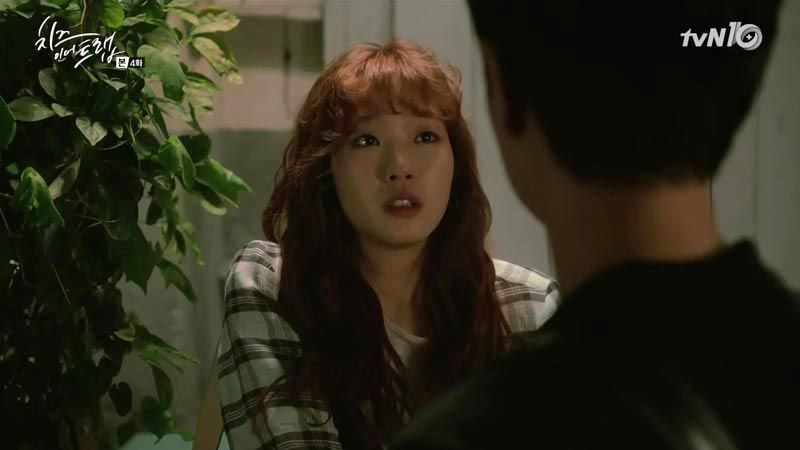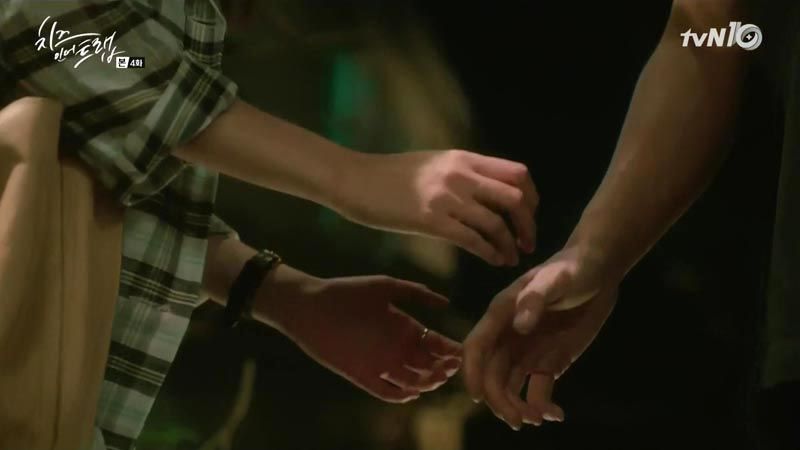 Jung walks Seol home and lingers at the door, then takes her by the wrist and asks her to date. Seol is so surprised that she stammers that she doesn't know why he'd say that out of the blue, and that she's never thought about having a boyfriend.
Jung takes this in and lets go of her wrist, as though to accept her refusal. Flustered, Seol instinctively grabs his hand back before realizing what she's done, which endears her to me forever. She lets go right away, so frazzled she can barely form words, and starts saying that it's not that she doesn't like him…
"Then let's date," Jung says, smiling. "I think it'll be okay if we do. Let's."
Seol nods nervously, and when he prods for a reply, she blurts, "Y-yes."
"Good," he says. Then he says good night, and Seol literally trips over herself in her haste to get inside. She's is the most adorable bundle of nerves ever. She makes it to her room in disbelief, stealing glances at the hand that grabbed his.
Then she erupts into squeals, burying her head into her pillow, exclaiming, "This is crazy! It makes no sense!" She tries to reason through this unexpected twist, wondering why Jung would ask her out, and imagines extra versions of herself analyzing the situation.
They remind her that he's never shown interest before and that he'd ignored her thoroughly last year, and decide Jung must be up to something.
"But why did you nod yes?" they ask Seol, who wonders that herself.
The next morning, she frets about how to face Jung and what to tell her friends, then recalls that the term's over and it's vacation now. She's relieved to have this reprieve, although when she sees him at school, I note how she lights up and waves hello.
Jung returns her smile… and then just heads out with his friends. Huh?
Seol can't help being disappointed at his nonchalance, and is distracted through her session with her guidance counselor. "Is he regretting it?" she wonders.
The session doesn't go well, with the counselor shaking her head at Seol's meager transcript—she has good grades, but no club activities, internships, or other activities. Why did she choose this major—what is her dream?
Seol thinks dejectedly how it's hard enough for her to come up with next semester's tuition, much less cultivate a dream. She worries that without a scholarship, she may have to take more time off to work.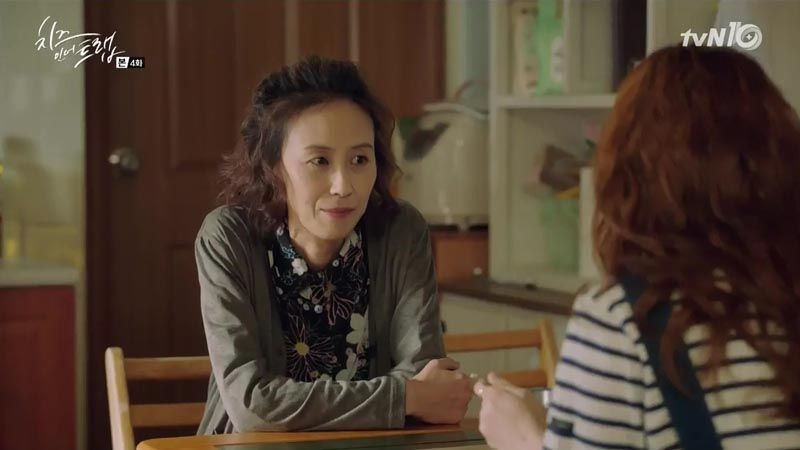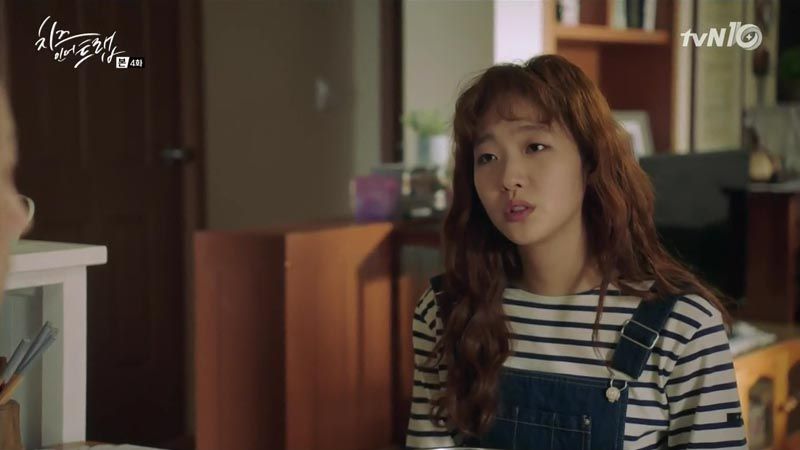 When she visits her parents, she gently broaches the topic of money—but they're in worse shape than she is, with her father losing yet more money to a string of failed business ventures. There's a brother, too, and Mom asks Seol to give up her lodgings and commute from home, so they can use that money for both kids' tuitions.
Seol can't do anything but agree, though it's a blow. She tries to convince herself that she never liked living in her tiny room anyway, and that a four-hour commute to school is for the best.
She wonders why she hasn't heard from Jung, sighing that she doesn't have anyone to ask for dating advice since she's still on the outs with Bora. But Eun-taek calls her out to initiate the reconciliation, which starts out stiffly but soon warms up, since both friends are feeling sorry. Seol apologizes for not sharing about her situation, promising to try harder. Bora apologizes too, saying she'd felt hurt to know nothing, and asks that they both be more honest with each other.
Seol promises, and the friendly mood returns to the trio. Eun-taek makes passing mention of seeing Jung at school, and Seol jumps to ask questions, which tips her friends off that something's up. She deflects that it's nothing, but they remind her of her promise to be honest, and finally Seol blurts that Jung asked her to date. They think she's joking until she goes off in a rant about how he asked out of the blue and hasn't called and now she doesn't know what to do.
Seol gets a call from the department office asking if she's interested in a part-time job there. She's puzzled at the offer dropping into her lap, but jumps to take it. Bora leaves her with the advice to call Jung and chat about her job and his vacation, saying, "Dating is timing." (And I notice it seems Eun-taek has been pestering Bora to date him, to no avail.)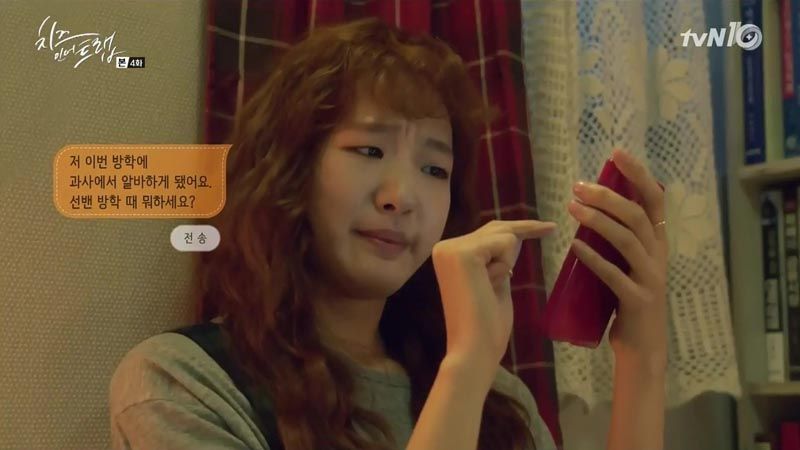 Seol ties herself into knots writing a text to Jung, telling him about her new job and asking what he'll be doing over break. She sends it with bated breath, then leaps to read his reply, which he taps out quickly while playing video games.
Seol deflates to read, "Okay. That's good. Have a good break." Does that mean he doesn't want to see her during vacation?
Break begins and Seol starts her job in the departmental office, working under the irascible department assistant. Everything she does gets criticized, whether it's not showing up early enough or showing up too early or giving him the coffee he asked for instead of the one he now wants.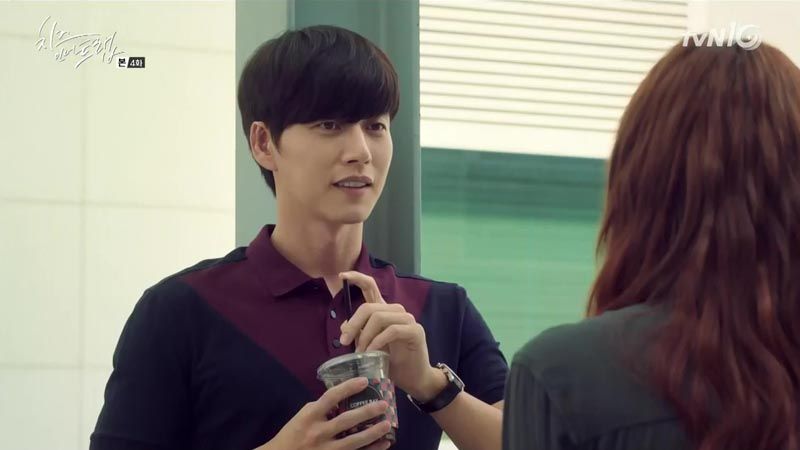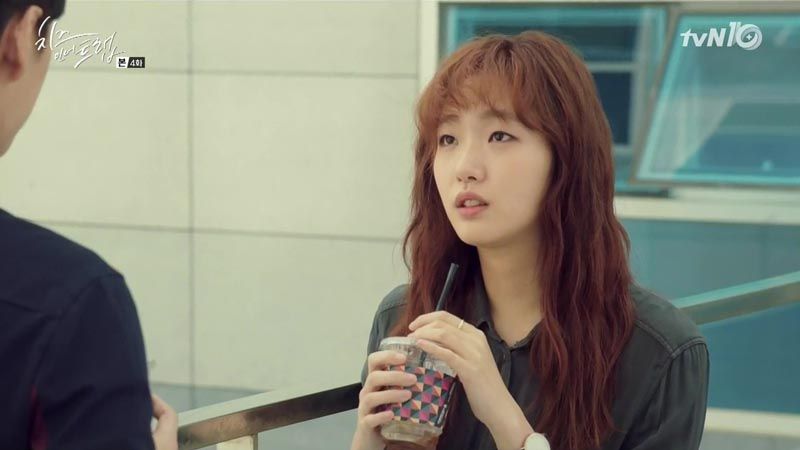 Jung drops by out of the blue to take Seol on a coffee break, telling the staff that they're dating. It startles her, given his lack of communication, but he's friendly and attentive and even asks if she hasn't missed him, since he missed her when she hadn't called.
Surprised, Seol says that his last text sounded like he didn't intend to see her over break. Jung hadn't realized she'd take it that way—he meant it at face value when he wished her a good vacation. Mortified, Seol asks herself, "What's wrong with me? I feel so sorry."
She mumbles an apology about not having any experience in relationships, and Jung smiles and suggests a date on the weekend.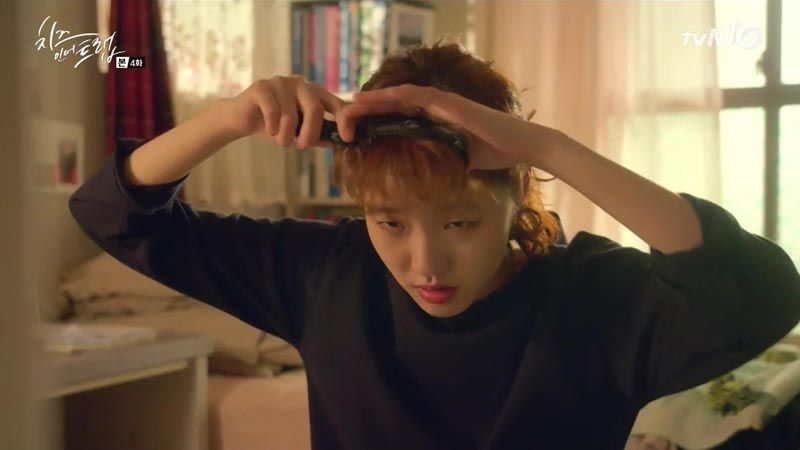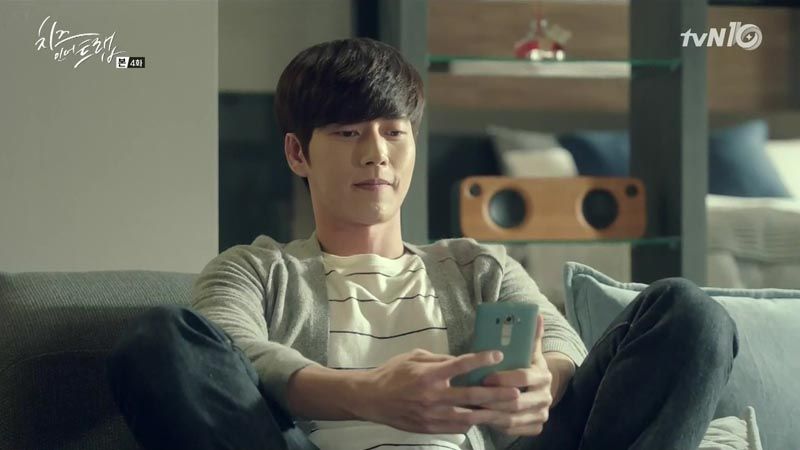 On date day, Seol picks through her clothes, suddenly aware how drab they all are, thinking of In-ho's passing comment about how she ought to dress in brighter clothes. She also recalls In-ho making fun of her "dog hair" and brushes out her curly bangs self-consciously.
Jung gets a refund notice from the computing class In-ha has dropped, and sees that she's racked up a number of bills at cafes and malls. He's unsurprised, and calls his father to suggest putting the pressure on her to get her act together. Why do I feel like this was your plan all along?
His mood feels rather chilly as he deals with the In-ha situation, but brightens as he texts Seol about their date, and suddenly he feels much younger and sweeter. That is certainly the paradox of Jung, isn't it?
Fiddling with her straightened bangs, Seol runs into In-ho on her way to her date, and he takes one look at her frumpy outfit and laughs, saying she looks like a grandma.
Seol hears that he's been applying to jobs and points out that his attire is just as inappropriate. In-ho honestly doesn't see why, but she picks out the casual tee, the ripped jeans, and the bare feet in sandals, and chides him on making a good first impression.
He argues that she's hardly one to be giving clothing advice, and she protests that she picked out her flashiest clothes. He laughs to realize she took his advice, and scoffs that she can't be going to meet a guy like this, right? Heart sinking, Seol dashes back home to change.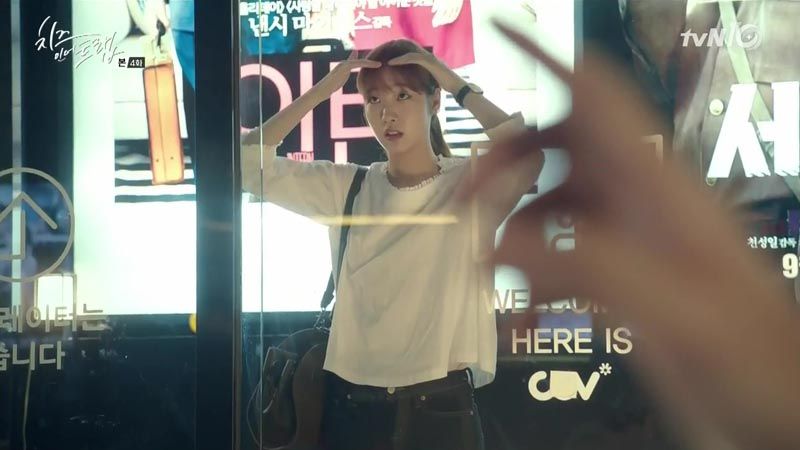 Jung's already waiting for her at the movies, smiling to see her in the distance. As she primps to her reflection, he raises a finger against her image in the distance, "patting" her head with his fingertip.
Seol apologizes for being late and offers to buy the popcorn, since she has a coupon. For some reason that gives Jung pause, and he suggests going to the cafe while they wait for their movie. Seol suggests an arcade instead, and gives him instructions on how to play the shooter game, only to have him shoot perfectly and log a record score. He sort of misses her double hi-five gesture, and she thinks how awkward this feels.
Then during the movie, Seol sighs that their tastes are different—he picked a boring foreign film, while she'd have rather seen an action flick. Yet when he asks if she's bored, she lies that it's fine.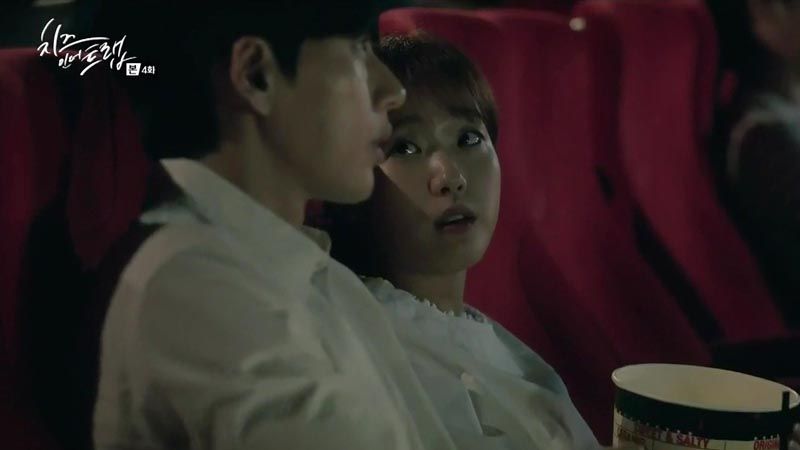 In-ha's shopping spree is cut short when her cards are frozen, and despite her best attempts to wheedle Chairman Yoo into changing his mind, he's gently firm. He reminds her that she has a job offer at the company if she gets her computing certificate, and has paid for the first month. After that it's up to her.
Chairman Yoo adds that "even Jung" felt she should learn to take care of herself, as though Jung is usually too nice. In-ha is left sputtering at Jung's sneakiness, outraged that he'd dare cut her off.
Jung takes Seol to a fancy restaurant, where the prices make her fret. She even suggests that they don't have to eat here, though he assures her that the food is good.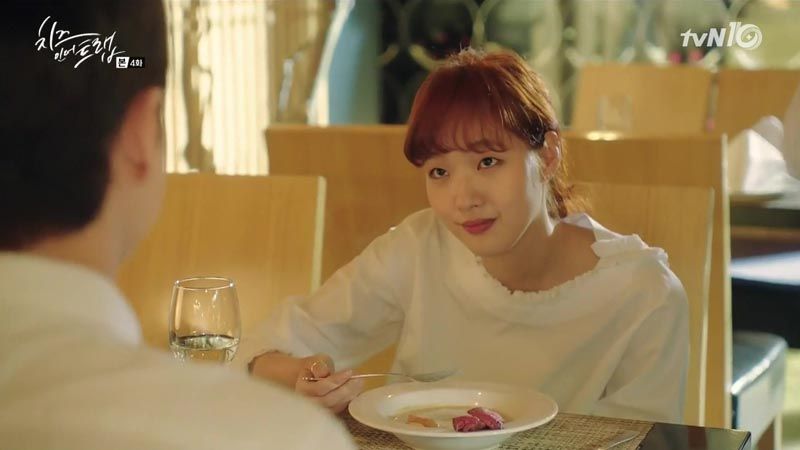 So she picks the cheapest item and assures him she's fine with plain soup, and sinks when he orders expensive wine. She sees this as more proof of their differences and thinks, "I want to go home."
In-ho takes Seol's advice and dresses in nicer clothing for his next job interview, and gets the cleaning job. Then the boss comes by and likes the look of him, and before he knows it, he's earned a nice stack of cash for shooting some ads for them.
With Jung ignoring her calls, In-ha tries her brother next, asking for money and pouring on the dramatics, insisting she's going to starve and die. Against his better judgment, In-ho gives her most of his payday, saying this is really the last time.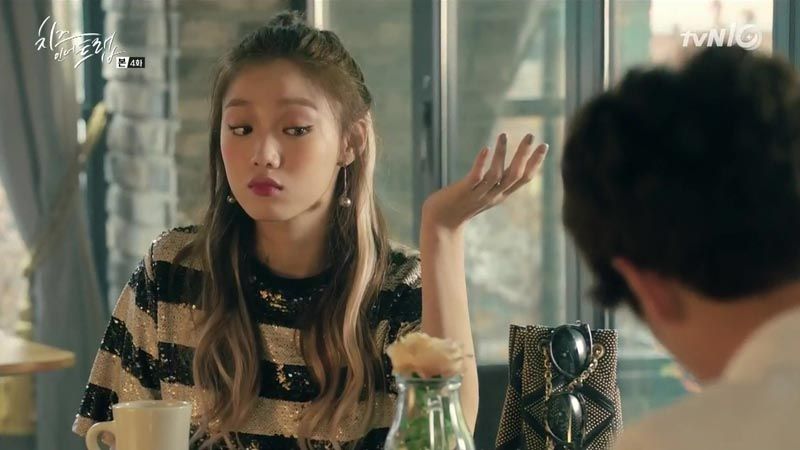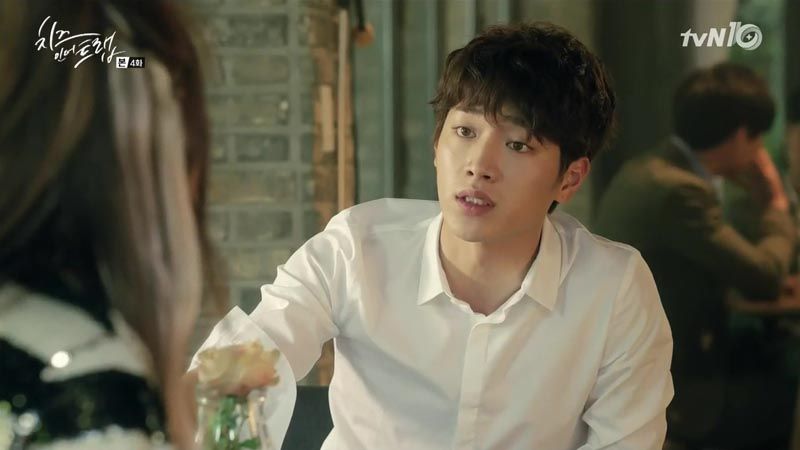 He adds the warning to wise up since Jung is intent on cutting them off, but In-ha points out that it's In-ho who's the problem: "If you both cut the pride crap and you go back with head bowed, this would all be over."
Jung drives Seol home, and makes conversation about her job. She says that she'd wanted to study English during the break but doesn't have the time for it, and he offers to put her in contact with a friend who runs an English academy, who'd give her a discount.
Once home, Seol wonders if all dates are so exhausting, then grabs for food since dinner left her starving.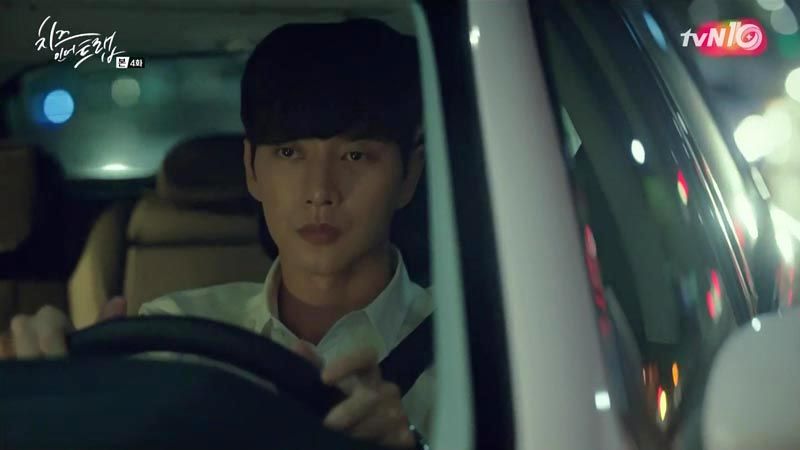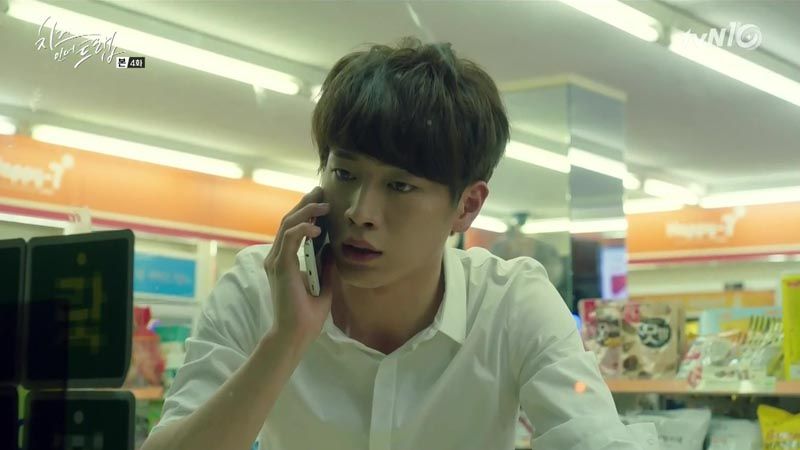 In-ho calls Jung repeatedly until he finally answers, taking issue with Jung cutting off In-ha before she could get a job. Jung merely says, "I warned you not to hang around the people near me."
In-ho doesn't get what he means until Seol steps inside the convenience store, then puts it together: She's the reason. But he doesn't want to stop hanging around her, he thinks.
Seol joins him at the food counter, and they fall into an easy bickering pattern. He notes her massive amounts of food and she comments on his improved clothing choices. He bugs her for money to buy kimchi, and they fight over the pack before splitting it down the middle.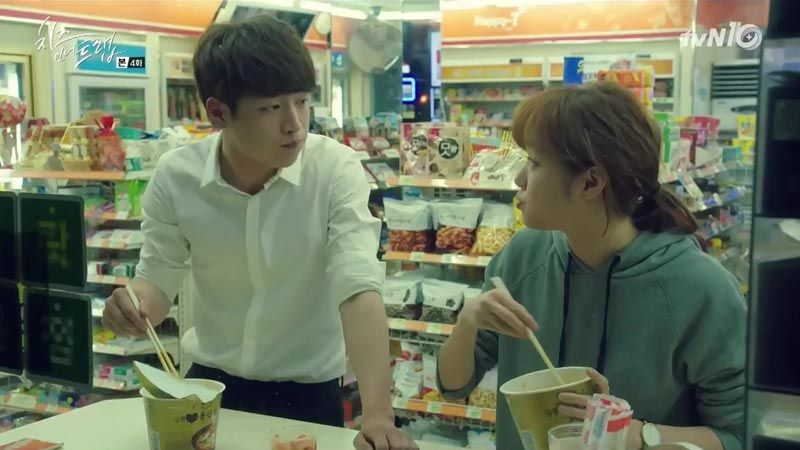 When she notices him using chopsticks with both hands and remarks on it, In-ho explains that he was left-handed before an accident: "This hand—Yoo Jung made it that way."
Seol stops and stares, and he just tells her to be careful: "If you come crying later when you get hurt, I won't help."
Jung fields a call from his father, who tells him about talking to In-ha and cautions him not to press the matter too much. Jung tells him not to worry, and turns to his sketchbook. Okay, so he works on intricate paper cutouts and colorful drawings in his spare time. Not sure what that detail will lead to, but for now, his meticulous artistic hobbies have been duly noted.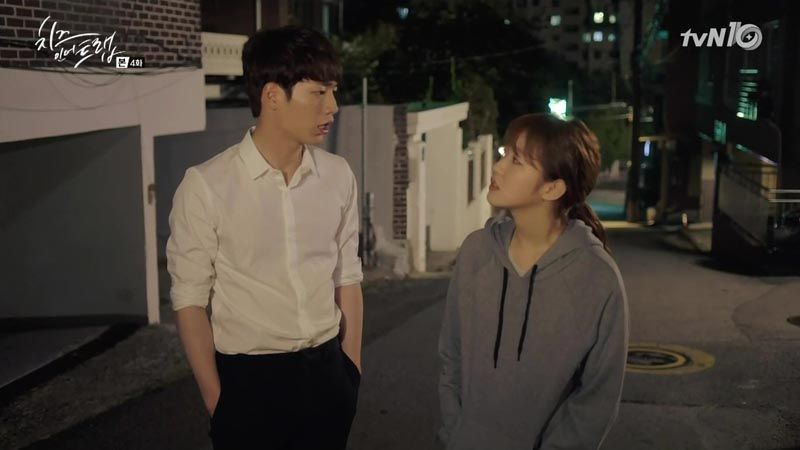 As they walk home, In-ho tells Seol the kimchi doesn't count as one of his owed meals. She sighs that she's barely managing to feed herself as it is, and complains about the job where she gets scolded no matter what she does.
In-ho asks, "So what, you just take it? Well, it did seem your life was pretty frustrating. You're always saying, 'No, it's okay' and 'Yes, I understand' and 'I'll work hard,' right? If you live like that, you'll spend your whole life only suffering." She'll always get the short end of the stick, he says.
When he suggests beef for their next dinner, she snaps at In-ho, calling him her biggest stress right now, worrying that he'll mooch off her forever. In-ho tells her approvingly to let her feelings out, just like this.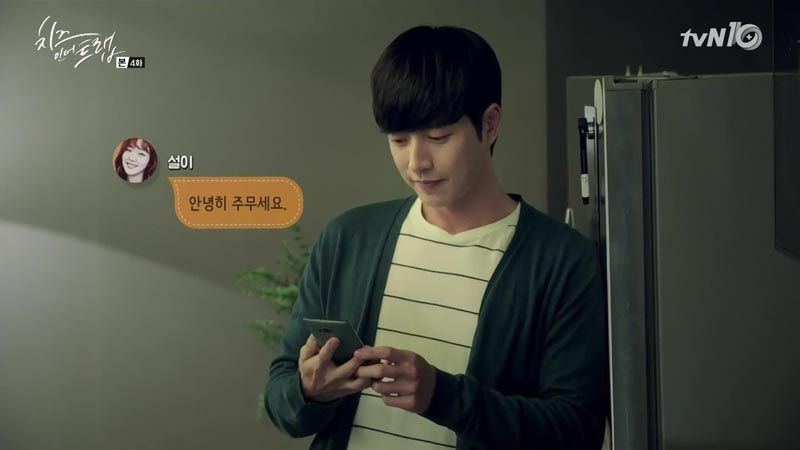 Once alone, Seol thinks that In-ho doesn't seem like a bad person, and wonders what's between him and Jung. Just then, Jung texts her to let her know he spoke with the English academy and tells her to check it out. She's grateful but can't help worrying, "Is it okay to just keep receiving things?"
She texts him a thank-you, adding, "And today… I had fun. I feel sorry to be treated to so much. Next time I'll buy dinner." He agrees, and they wish each other a good night.
The next day, Seol goes to the English academy to sign up, and finds out that she's been marked for free tuition. Then she runs into In-ho in the hall, and discovers that he works here, partly as ad model, partly as assistant, partly as janitor. He declares cheerfully that they'll be seeing lots of each other from now on, though she seems less thrilled than he does.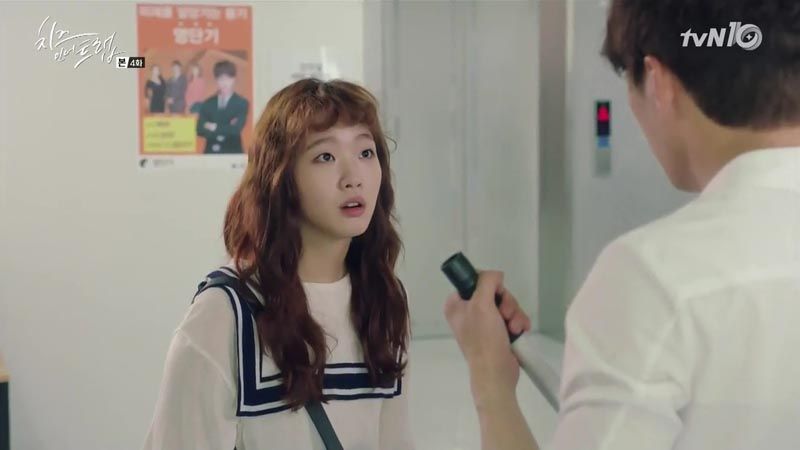 She comes home as the landlord's grandson is visiting to fix a rickety window, and asks him to take a look at hers too, especially since there's a neighborhood weirdo reportedly on the loose. Seol takes a call from Jung as her window is being worked on, and when she mentions the free class, Jung acts like it's news to him.
It isn't, of course, and he thanks the academy owner for the favor, admitting that Seol is his girlfriend. Then his eyes fall on the new academy brochures, and he freezes to recognize In-ho.
At work, the uptight department assistant dumps a pile of work on Seol and tells her to complete it by the end of the day. She thinks of In-ho's advice and stands up for herself, telling him that it's too much work for anybody to complete in a day, and he has to back down when someone else indicates it's not necessary to have it completed that quickly.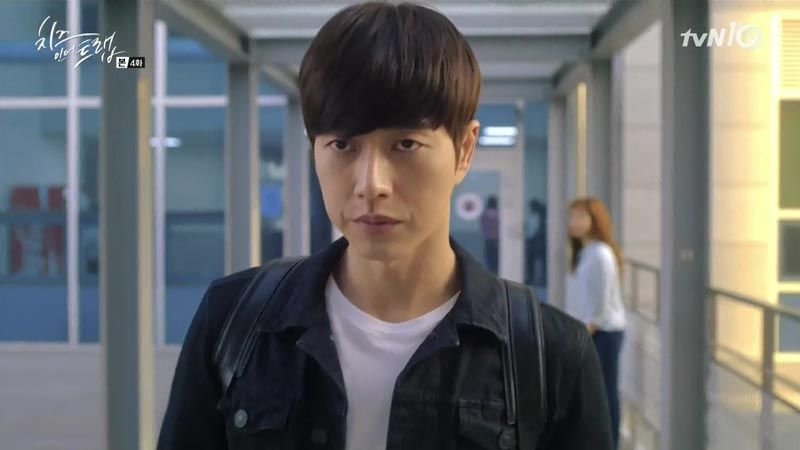 Jung drops by to take Seol on a break, and she thanks him for his help with English class. She briefly considers mentioning In-ho when he asks about the academy, then supposes it might make Jung feel bad and answers merely that there's nothing special to report.
Jung smiles and says goodbye, but his face falls as he walks off, thinking of her "nothing much" answer.
Jealous classmate Joo-yeon drops by the office, and a staffer mentions that her friend Jung was around earlier to see Seol. Seol tries to interrupt before she says too much, but it's enough to tip Joo-yeon off to their dating status.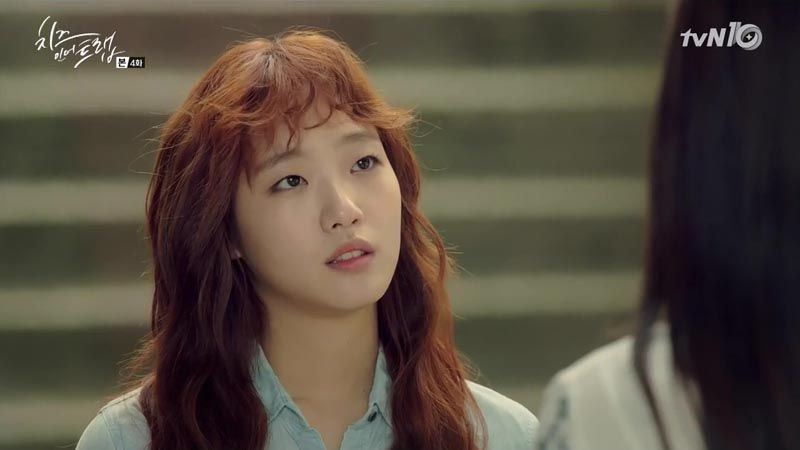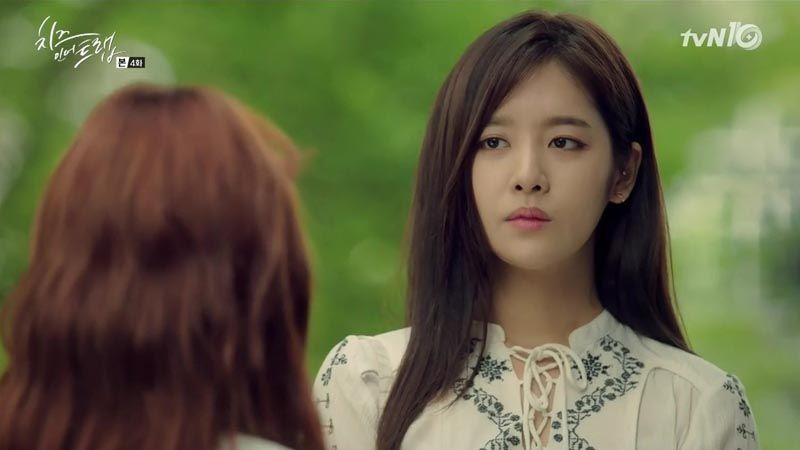 Joo-yeon asks to talk to her, and starts by explaining that she doesn't like Seol, which is why she sent the homeless man to her. She says she hadn't meant for Seol to get hurt and even went to Jung to ask for help—but Jung just left without doing anything.
Seol shuts her down when she starts to turn the blame on Jung, saying that what matters is that Joo-yeon initiated the incident. Joo-yeon fires off a passive-aggressive "Fine, I'm sorry, all right?" that sounds nothing like an apology. Seol returns, "You're not sorry in the least, are you?"
She tells Joo-yeon not to show herself in front of her again, and Joo-yeon says to herself, "You two are both really harsh."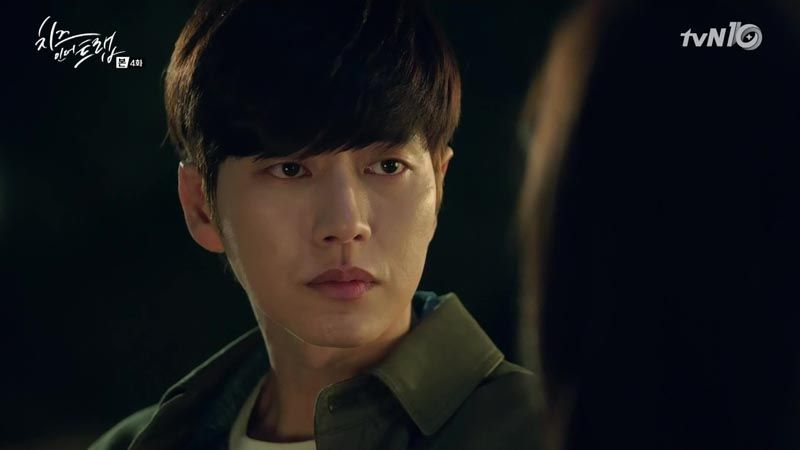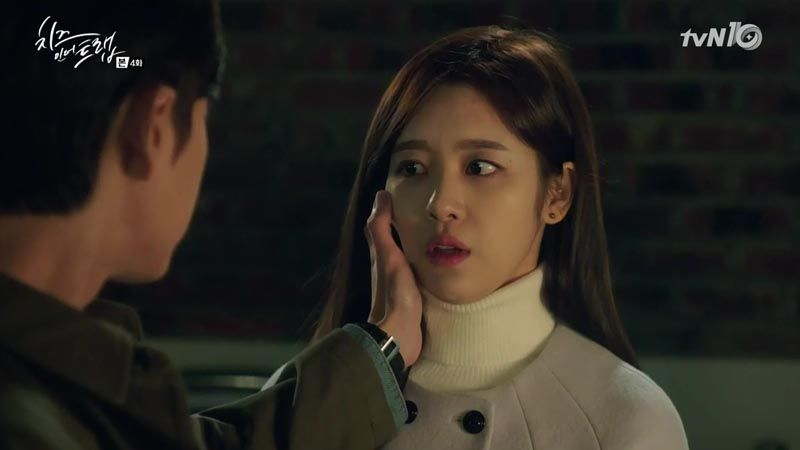 Flashback. Seol and the homeless man are escorted out of the building, and Joo-yeon watches from around the corner, feeling guilty to see Seol holding her bleeding arm. Jung joins her, having called security, and tells her she should have stopped earlier.
Joo-yeon grabs his arm pleadingly, saying she really didn't think it would go this far. Couldn't he let it go this once? Jung gives her a cold smile and agrees, "But that's it." He reaches up to cup her face with his hand, startling her, and says, "Don't show yourself in my sight again."
So Joo-yeon walks away determined to never tell Seol the rest of the story—that Jung stepped in to help, and that he's much colder than Seol realizes.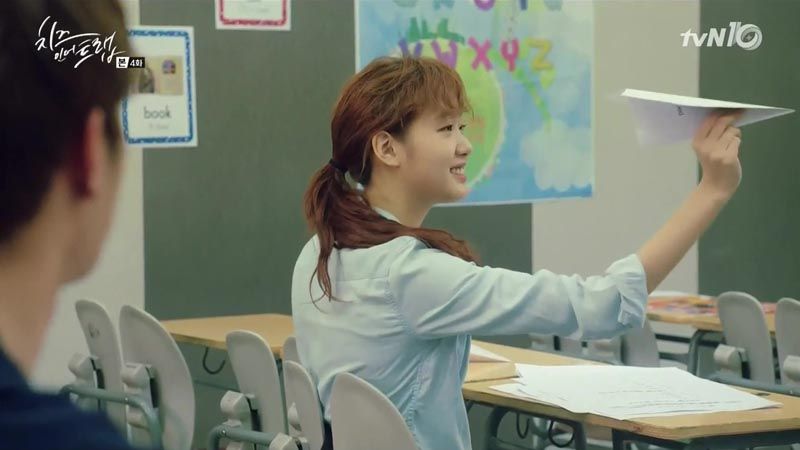 Seol can't understand why Jung would act that way, then ask to date. She ignores his call after English class, her head full of thoughts.
In-ho intercepts her and clocks her mood, then enlists her help in folding test papers into airplanes. She points out that his planes all crash, teasing him when hers outfly his. He just thinks to himself, "She smiled."
It's raining when they step outside, and neither has an umbrella. In-ho proposes that the loser of a race to the store will buy one, ignoring her protests, and starts running. Seol finds herself running after him, and they laugh as they race through the rain.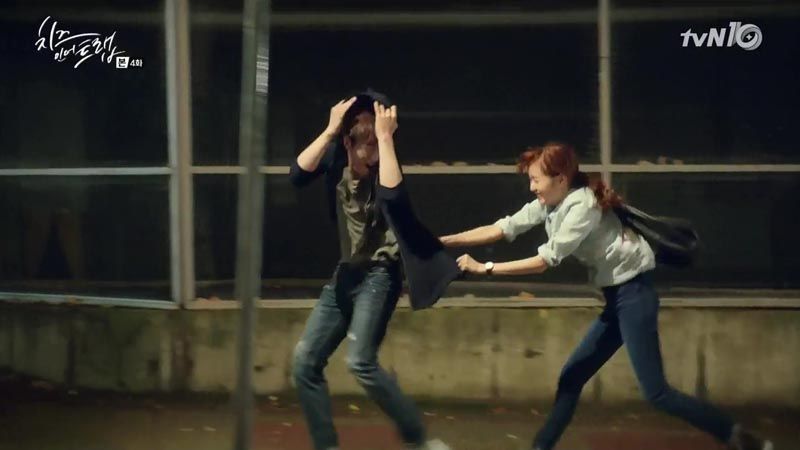 In-ho gets to the store first, but Seol yanks him back and overtakes him, claiming the victory. On the walk home, they bicker about each other's competitive spirits (and rule-breaking methods), and it's only now that In-ho asks why she looked so down earlier.
She tries to say it's nothing, but he doesn't believe her and prods for the truth. She asks if he was telling the truth about his hand, and he guesses something happened between her and Jung.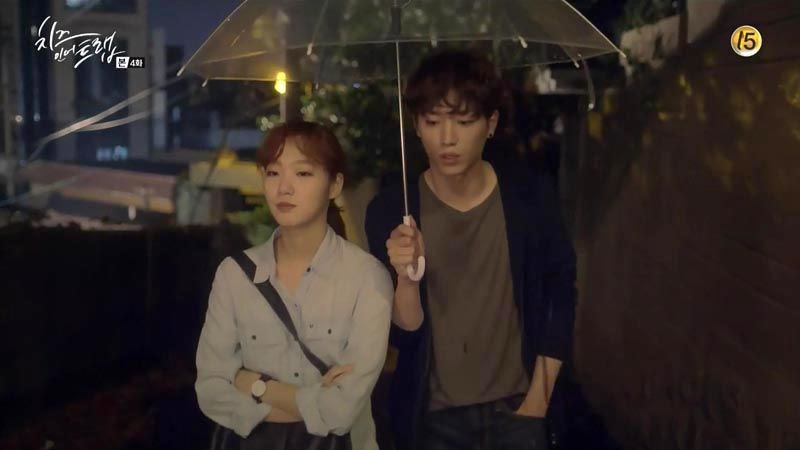 She says no, but In-ho says, "Don't just say no, and talk. You'll age yourself this way."
They round the corner, and Seol sees him first: Jung, waiting outside her front door. He addresses her only, saying he'd heard about the neighborhood prowler and checked on her windows and doors.
In-ho scoffs that the lofty Jung would spare concern for someone else, but Jung shocks him with the reply, "Because she's my girlfriend."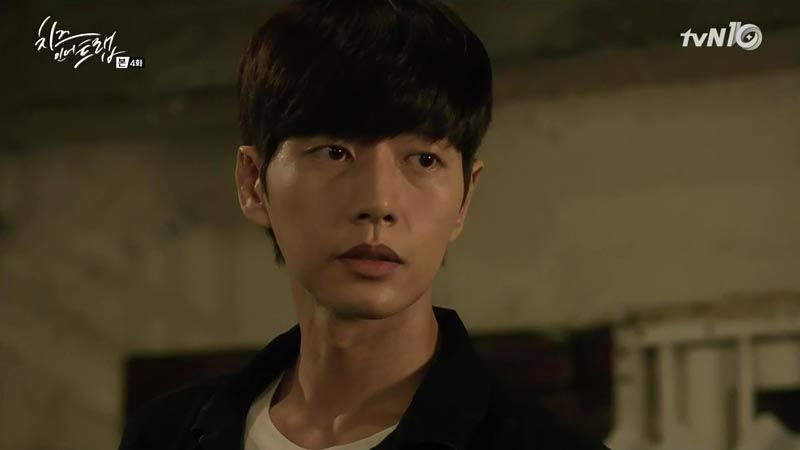 COMMENTS
From a narrative standpoint, there were a lot of things I really enjoyed about this episode, even if the plot took a less giddy turn. I wasn't disappointed, necessarily, but I do enjoy me some giddy, cute honeymoon romances so I wouldn't have complained for more sweetness. But this isn't a conventional romance drama in the sense that the focus of Cheese in the Trap isn't the couple getting together. Purely being in a relationship is no guarantee of anything, not even of the couple's feelings for each other, and especially not when both halves of the couple have some things to work through, both individually and together.
We've seen the signs that Jung liked Seol (or was at least intrigued by her) early on, but it felt realistic and understandable that she'd be confused by what she sees as mixed signals. If you have the assurance that he's being serious about his feelings, it seems like Seol is way overthinking this, but given that we mostly see everything from her perspective, it's not unreasonable that she's uncertain of his motives. Maybe it's unfair that she doesn't take him at his word, but you know what, this is the downside of being a cipher—you have to earn the trust.
I suspect that Jung feels that people need to earn trust from him, but I'd bet he doesn't see where that applies to him as well. It strikes me that as nice as he can be—and I mean genuinely nice to Seol, not the fake-nice facade he puts on for the world—he approaches the world from a mighty self-centered place, where everything is on his terms or not at all.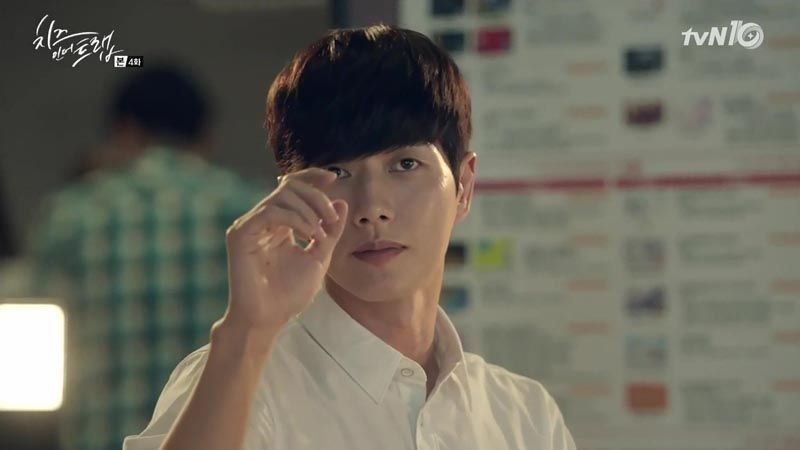 The previous episode touched on Seol's need to learn how to communicate, and we've seen how it's tripped her up in various ways—already she's had friendship hiccups (and class troubles) because of her tendency to be too inside her own head and not express her thoughts aloud. She's also cluing in to her need to fix this about herself, and it seems like this'll be one of the significant parts of her emotional trajectory.
In some senses it feels like Jung is ahead of Seol in figuring out how to deal with exploiters and moochers and standing up for himself, but other, significant ways, he feels way behind her. He also has the tendency to decide things himself and act on those decisions, just like Seol, except she's at least self-aware. He doesn't seem to consider it a problem, and I'll be interested to see how (if?) change is prompted in him.
I'm drawn to the In-ho development because so far, he feels like he's suffering on his own, still hurt by Jung while Jung has put everything coldly behind him. I'm inclined to think both guys are hurting the same, but I like that In-ho is the opposite of Jung, completely in touch with how he feels (to his detriment, sometimes, in that he has no filter).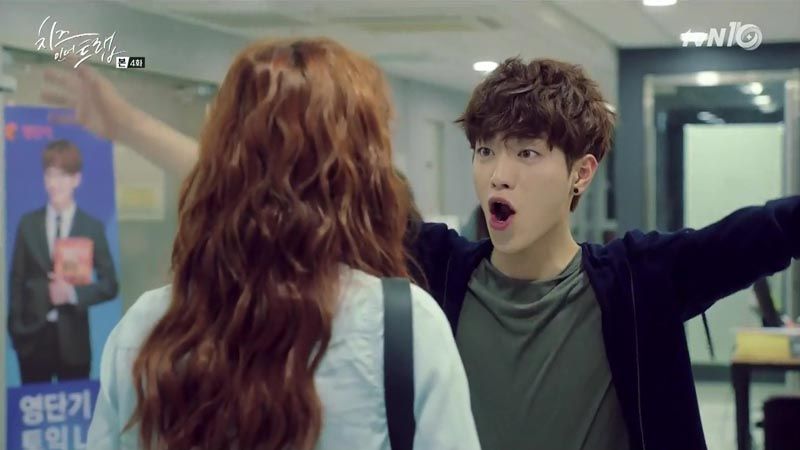 And if he's the guy who can prod Seol into standing up for herself and expressing herself in positive ways, I have to be rooting for him, at least in part. I don't know if I'll be torn on the romantic 'ship, because I'm a sucker for a good OTP, but the second leads always get my sympathies. I'm not swayed by the "he deserves her more" argument inasmuch as nobody is entitled to someone else's love, but we can't ignore how uncomfortable Seol is around Jung, and how comfortable she seems in contrast when she's with In-ho.
Of course, you can argue that things are easy with In-ho because she doesn't care about him, and she's stiff with Jung because she likes him too much to relax. But I've gotta admit to feeling a sinking feeling when she was out on a date with her boyfriend and could only think, "I want to go home." And all episode, the word she kept repeating in regards to the relationship was "awkward."
In a different drama, this would be a key sign that they weren't meant to be together, no matter how they might feel in the moment, because she wasn't being true to herself or honest about her feelings (it's this dynamic about the couple that I really loved about Let's Eat 2, for instance). But that isn't to say awkwardnesses can't be overcome, and couples can't learn to communicate. I'm happy to let the show explore that gradually, though I wouldn't mind a few kisses thrown in to help move things along…. Skinship is communication, right?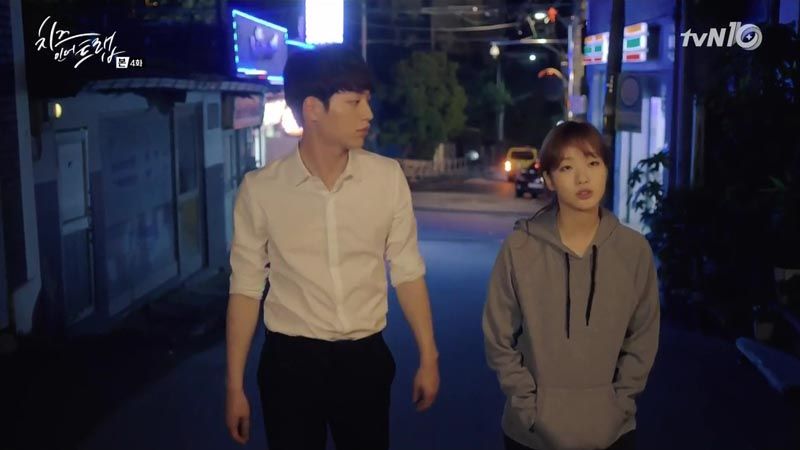 RELATED POSTS
Tags: Cheese in the Trap, featured, Kim Go-eun, Park Hae-jin, Seo Kang-joon