Cheese in the Trap: Episode 7
I do enjoy this couple so—they're awkward and halting and sometimes make me cringe so hard in secondhand embarrassment, but they're endearing as all get-out. In most dramaland trendies, I fall for the romances because they're sweet, or chemistry-packed, or bolstered by heaps of funny, witty cuteness. In this case, however, I actually find the romance enlightening and enriching, for the way it captures the lovely awkwardness of regular people figuring things out as they go, stumbling and making mistakes but letting their feelings guide them back together.
SONG OF THE DAY
Kim Sarang – "Stalker" [ Download ]
Audio clip: Adobe Flash Player (version 9 or above) is required to play this audio clip. Download the latest version here. You also need to have JavaScript enabled in your browser.

EPISODE 7 RECAP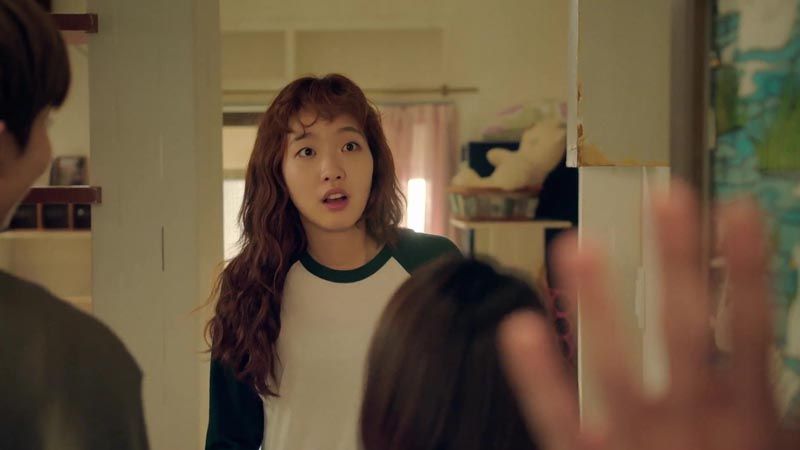 Seol packs up her rented room, and her friends drop by unannounced to help. Bora and Eun-taek have even brought along Jung, telling Seol that boyfriends should be enlisted to work in situations like this. When they ask if this is Jung's first time seeing Seol's place, they're silent just a bit too long before Seol hastily lies. Heh.
On their way to eat, their party runs into her kid brother Joon and In-ho, who apparently hasn't left town after all. It's surprising to see the two guys together, and Seol scolds her brother for staying out and shirking his packing duties.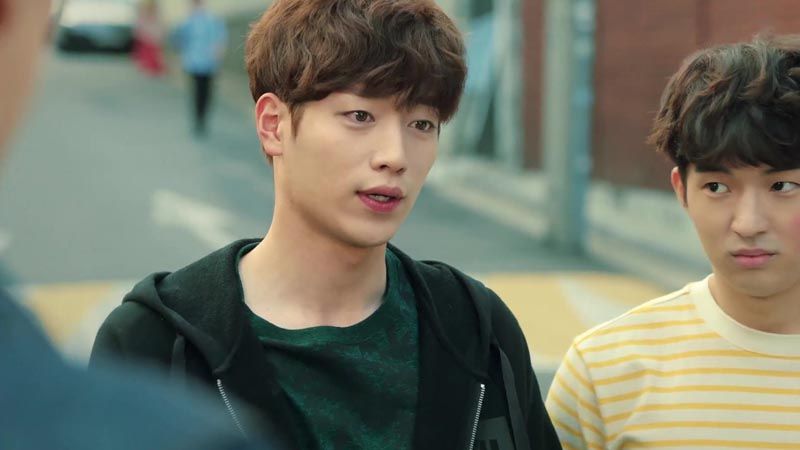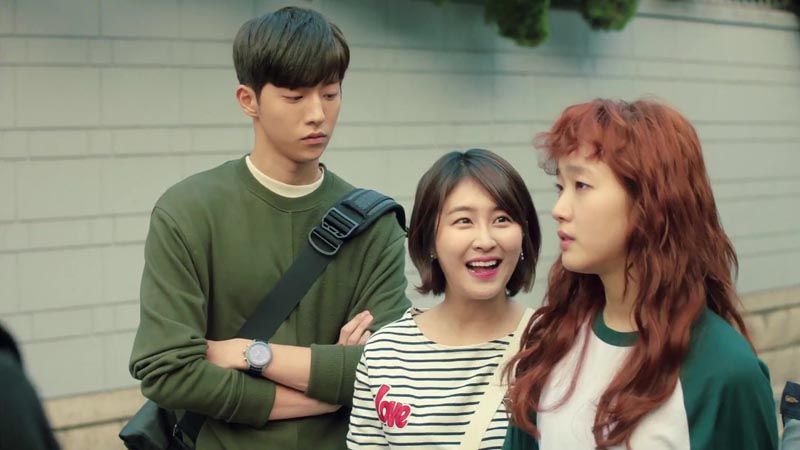 Jung suggests they all eat together, and Bora heartily agrees because In-ho catches her eye (to the dismay of Eun-taek, who works himself between them. Poor puppy). That's how all six end up dining together, and Eun-taek sympathizes with Seol's soon-to-be killer commute. He'd accompanied Seol home once when she was being harassed by that schoolmate, and at mention of Stalker Boy, In-ho joins in the conversation, having dealt with him too.
Seol tries to shush In-ho since Jung doesn't know about it, and of course In-ho just addresses it in the open, asking Jung why other guys have to protect his girlfriend. Jung is surprised to hear of it, but just asks Seol to tell him next time, and she agrees.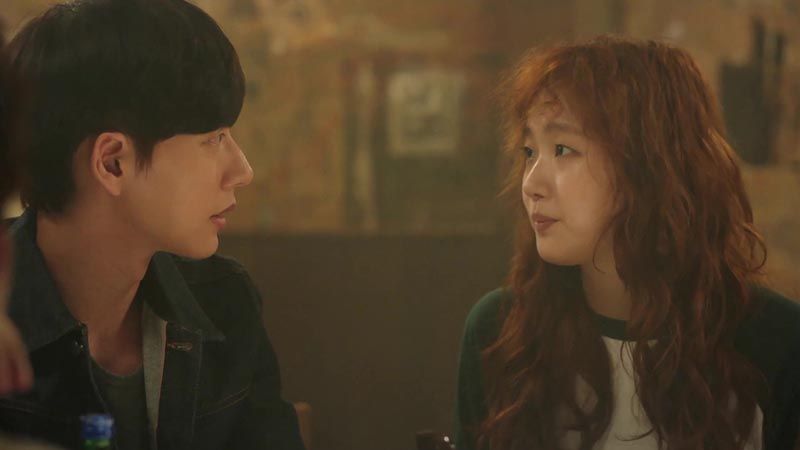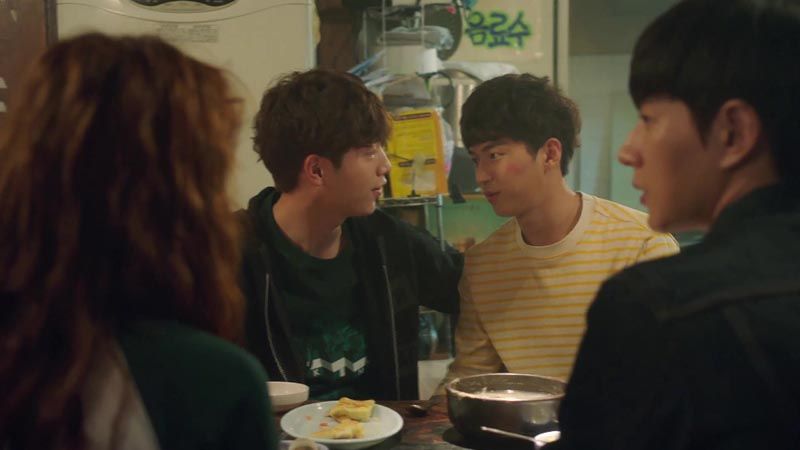 Seeing the couple moment makes In-ho grumpy, and he starts complaining about how hard it is to get a part-time job. Joon offers up a job at his mother's new restaurant, ignoring Seol's protests. Jung takes Seol's hand and tells her not to worry about it.
That night, the neighborhood prowler drills the bars off Seol's window and shatters the glass to let himself inside. Seol's group heads back to her place, and she hurries to get home ahead of the others, wanting to clean up her place before everyone sees it.
When she gets to her door, it opens and she comes face to face with the thief, who's holding her laptop. He shoves her against the wall gripping her throat, saying that he's been watching her for a while, insinuating that she's promiscuous for having so many men coming by.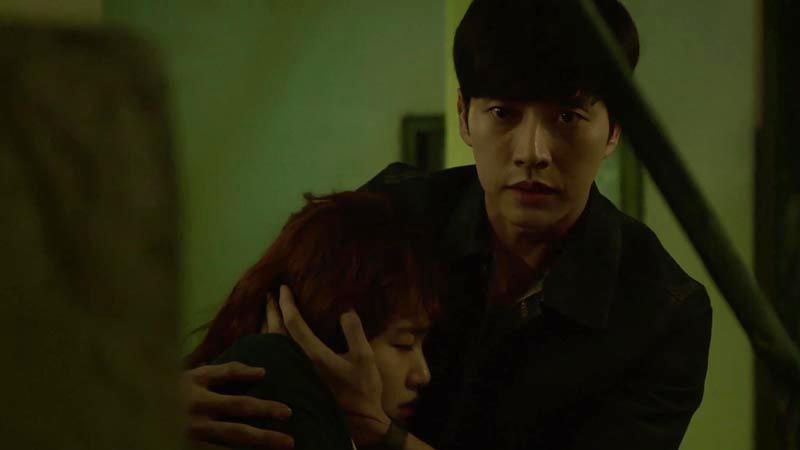 Jung arrives and sees Seol being choked, and the robber kicks her down the staircase. Jung rushes to grab her, shouting out, "Catch that bastard!" In-ho and Joon hear from outside, and In-ho recognizes the intruder as the guy who knocked out assistant Yoon-sub with a brick. The boys chase.
Jung carries Seol to her room as she revives, then heads out to join the hunt, asking Bora and Eun-taek to take her to the hospital. In-ho and Joon have no luck tracking down the perp, who hides in a dark alley until things quiet. But when he gets up to leave, it's Jung who shows up, looking cold and menacing.
Jung shoves the perp into the wall and, being bigger and stronger, hardly breaks a sweat as he knocks him around. The thief laughs, asking if Seol knows how crazy Jung is. Jung replies, "She knows—she's like me."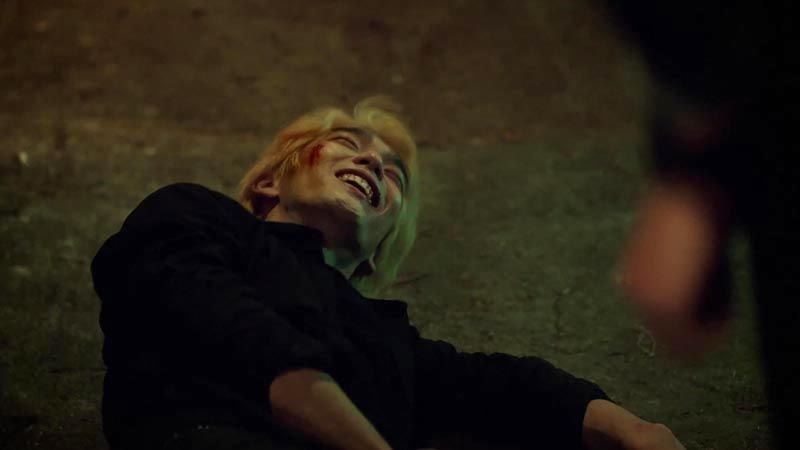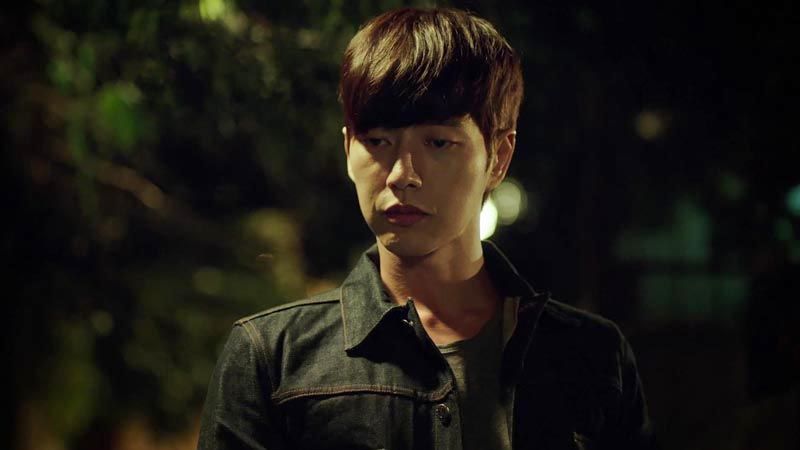 The perp scoffs, saying, "That chick won't be able to understand you. People can't understand people like us. How are you different from me?" His words seem to land with Jung, but he just keeps going, delivering more strong blows.
Police officers are called to the scene to take Seol to the hospital. One gets caught up chasing In-ho instead, mistaking him for the culprit, and Seol sends Bora to clarify that he's not guilty. Waiting alone in the empty street, she wonders where Jung went.
He's still busy thrashing the perp in the alley, who makes things worse for himself by goading Jung, laughing that he'll find himself alone in the end, and that Seol will turn her back on him. Jung coldly steps on the guy's hand, wondering if he should break the thieving hand, immune to the guy's whimpers.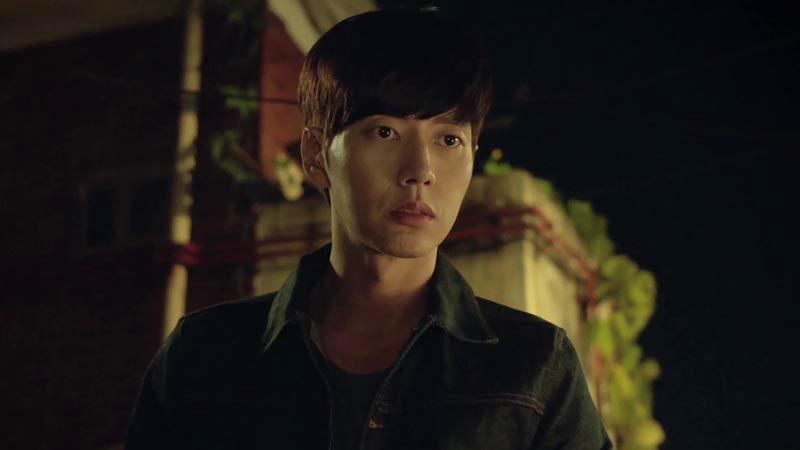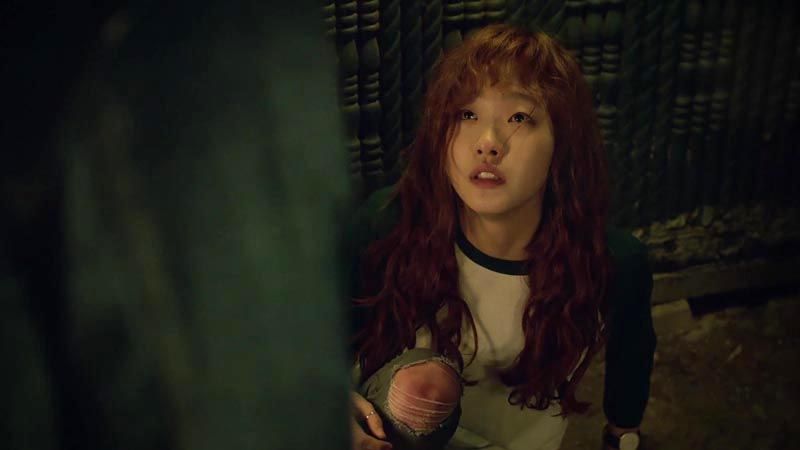 …and around the corner, Seol hears the exchange. It makes her flash back to In-ho talking about his hand, and how it was Jung who wrecked it. So when Jung finds her and reaches out to help her up, she reflexively bats his hand away, taking him aback.
Their friends join them in the street, and while the cops collect the culprit, Seol again shakes off Jung's attempt to help her, clinging to her brother instead. Jung and In-ho both notice and even exchange surprised looks.
Seol's narration fills in the rest of the story for us, telling us that Jung was let go by the police without much fuss, and that the criminal wasn't the landlord's grandson but had posed as a fake travel agent to send her on a bogus vacation package. The culprit argues to the police that he's not really that strange compared to all the weirdos out there, and says sluts like Seol are the real problem. The police, thankfully, are having none of it.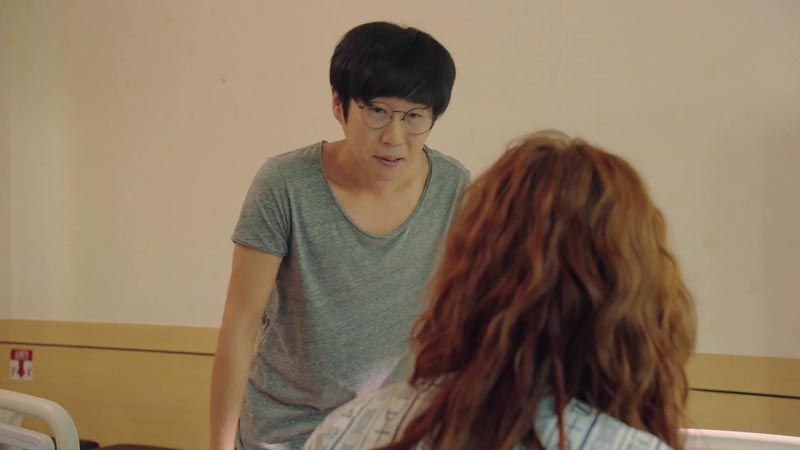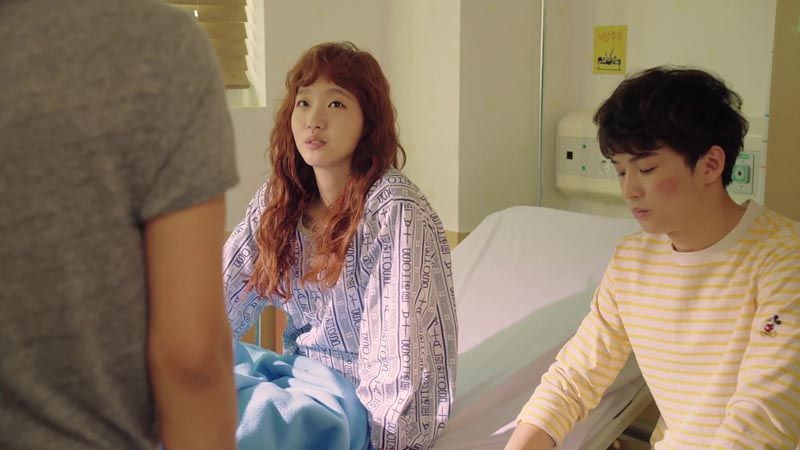 An officer visits Seol in the hospital to update her on the case (the criminal shows signs of delusion and may get off lightly if he uses his mental state as a defense). On the upside, neighbor Joo-yong has been cleared of suspicion, and teaching assistant Yoon-sub is grateful to hear it. He's also much warmer to Seol now, dropping off small gifts for the friend who helped out and telling her to take the rest of break off from work.
Her brother lets her know that Jung has been waiting outside the whole time, so Seol heads into the hallway and sits next to him. He lets her set the tone, and she tells him she's okay but asks him not to go that far again. He admits that he's regretting it too, and Seol reaches out to touch his scraped hand, telling herself that he acted on her behalf.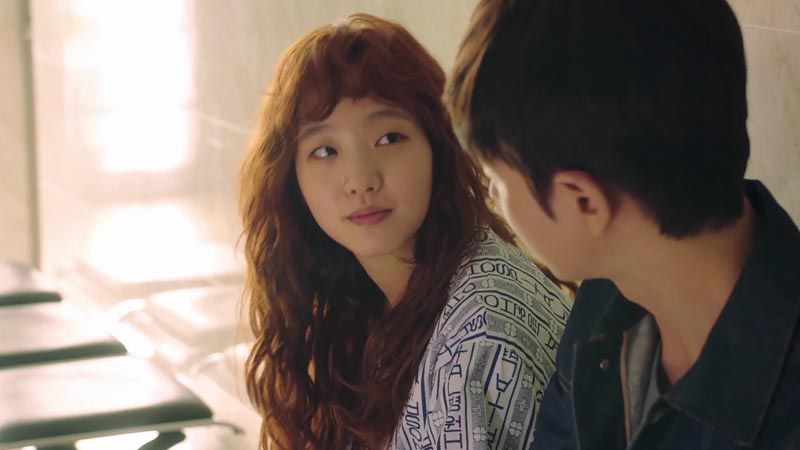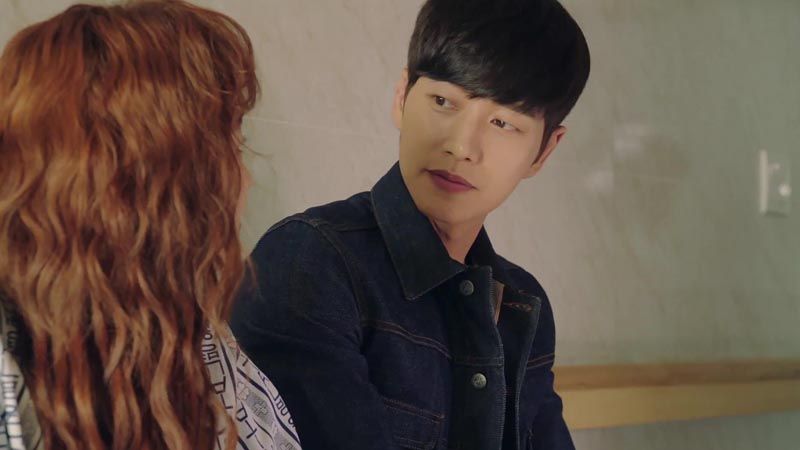 Jung looks relieved as they talk about the upcoming semester, their last one together, and takes her hand in his while she thinks, "I don't know what will happen in the future, but because Sunbae is here, things will be better, won't it?"
Of course, as the new semester begins, her four-hour commute swiftly reminds her that things aren't exactly better all around. Urg!
Seol joins Bora and Eun-taek on their first day of class and shushes them before they can mention Jung, since nobody knows they're dating. Or do they? 'Cause next thing she knows, she's being greeted by a girl who looks eerily like her—or at least a poor facsimile of her style, with curly red hair and similar fashion sense. It's her (formerly) nerdy, timid classmate Min-soo, and Seol is totally being Single White Female'd.
Bora comments on Min-soo's style change, and Min-soo says she always had this style: "I must have similar tastes to Seol." You wish.
Jung arrives in class, and Bora and Eun-taek bound up with alacrity to clear room for him. Not wanting to draw attention to themselves, Seol begs them to stay with no luck, and Jung insists on squeezing riiiight next to her. A classmate notes how they seem much closer now, and Seol starts to make up an excuse while Jung flat-out states, "We're dating."
I love her flailing response as she has a silent freakout, while Jung is perfectly unruffled by the surprise rippling through the classroom.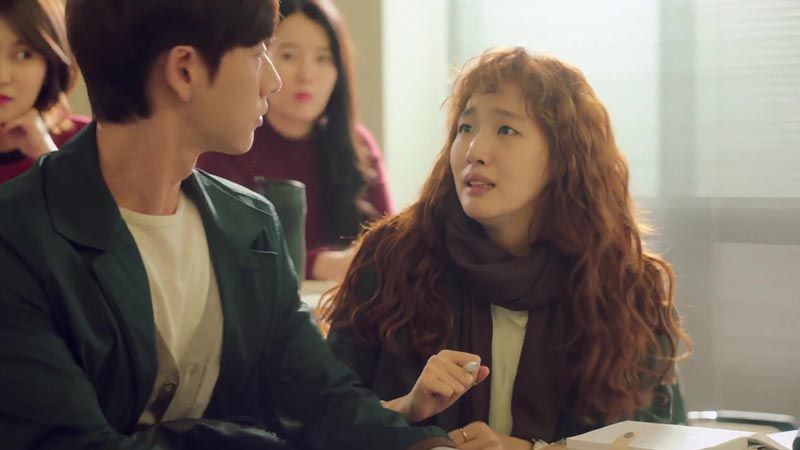 After class she's still annoyed that he sprung it so suddenly, though Jung replies that it's nothing to hide, and takes her hand. Aw, and when she tries to pull her hand away, feeling self-conscious about the public display, he keeps holding on, saying, "I'm going to go around bragging."
This stirs the ire of Stalker Boy, aka Young-gon, who waits for them to pass by and very conspicuously starts paying attention to another girl. Uh, do you think you're going to make Seol jealous that you have a "girlfriend"? Not that Young-gon seems like the brightest bulb.
Jung tells her of his upcoming internship that'll keep him off campus frequently, and says to let him know if Young-gon keeps bothering her. She's more excited about his internship, since it's with a super prestigious company that's very competitive. Ah, she doesn't know he's the chaebol heir, does she?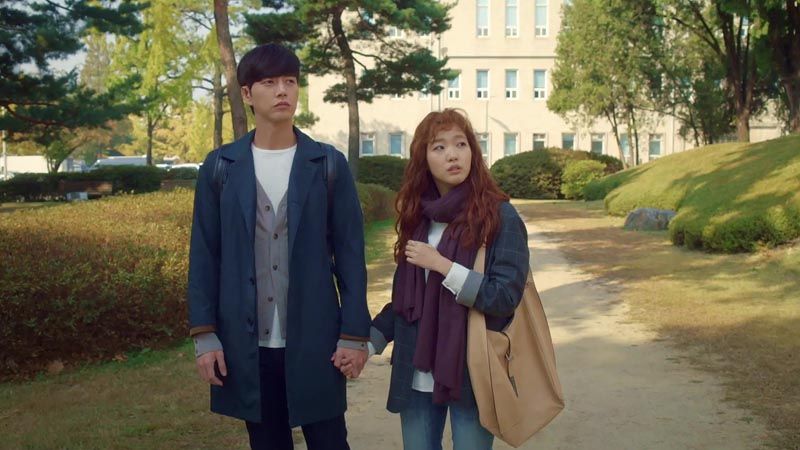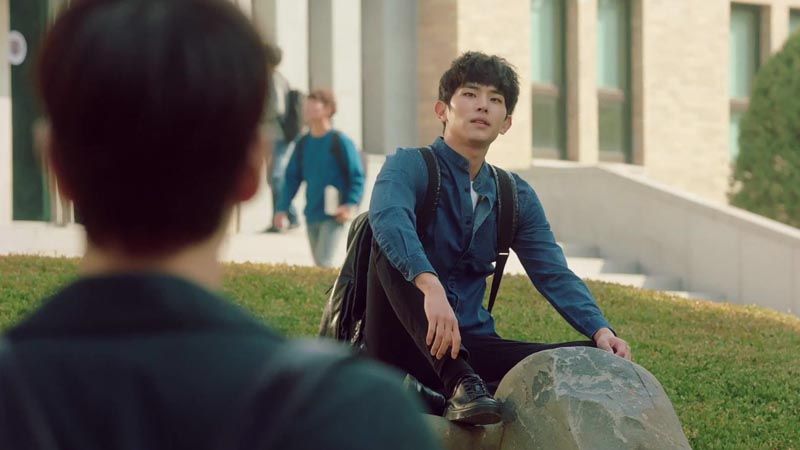 Joon introduces In-ho to his parents, and despite their misgivings about his unruly appearance, they agree to let him work there. He takes to it quickly, too, and has the added talent of ensuring that Joon doesn't wriggle out of his chores like he's used to doing.
When Seol arrives home late at night, her mother pulls her aside to ask if In-ho is really her friend, and not boyfriend. Seol answers that her boyfriend is a school sunbae, but when her parents ask where he intends to get a job, she doesn't know. Dad warns her not to date someone without a future, and Mom impresses upon her the importance of meeting the right guy (feeling the weight of meeting one who makes her blood boil daily).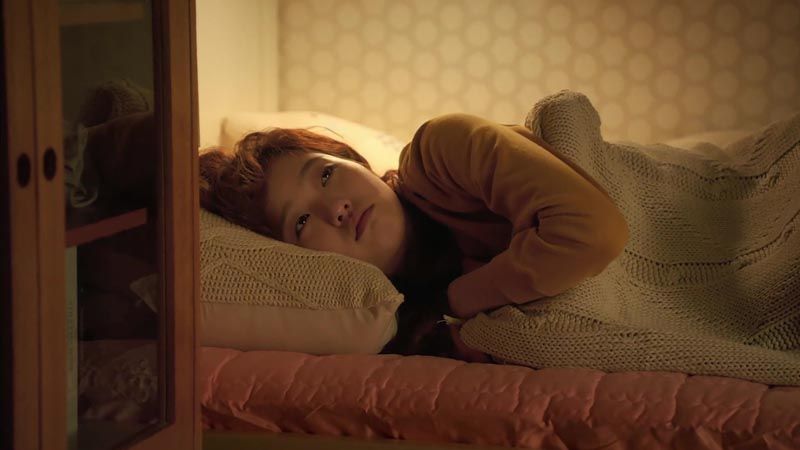 Now Seol realizes that she hasn't shown enough interest in her boyfriend's concerns, thinking that he must have career worries since he's graduating soon, though Jung isn't the type to express them. Then she wonders where she'll end up working, "…and when will I marry? And with whom? With sunbae?"
She giggles to herself at the idea, all flushed and giddy.
Stalker boy Young-gon gets online (he sure likes his internet trolling, this one) to write on the department message board about "a real pain in the ass" classmate who's dating "a loser girl." He fumes to think of how Jung egged him on toward Seol when he ended up dating her himself, thinking Jung was playing with him.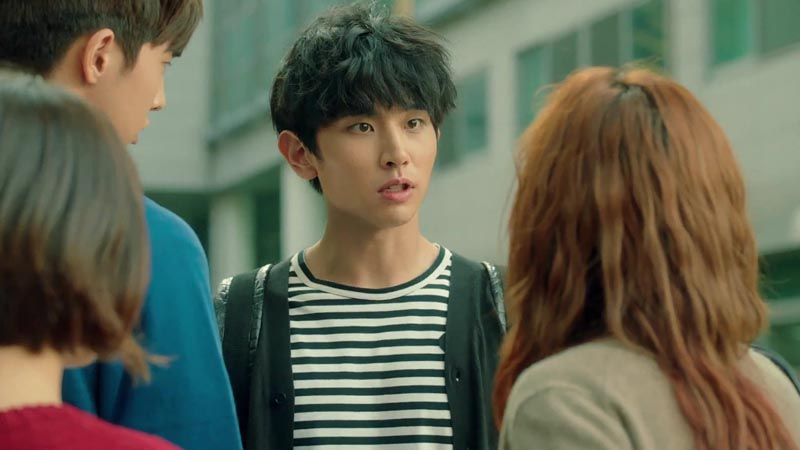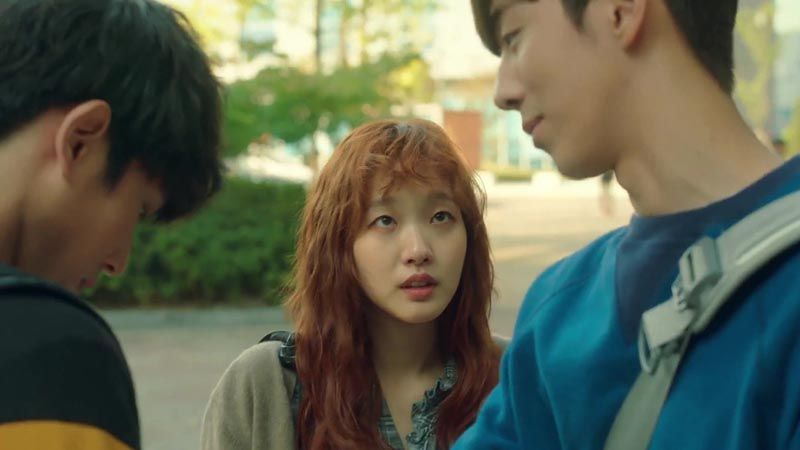 He accosts her at school the next day sneering at her fancy boyfriend while Eun-taek steps in to make sure he doesn't get too close. Young-gon points out that if she makes good on her threat to report all his prior harassment, Jung will suffer the most.
Seol thinks of the start of everything with Young-gon, recalling the time when Jung had been picking at her for every little thing, back when he'd made her life so stressful she was thinking of taking time off.
Flashback: An inter-departmental basketball game is underway, and Young-gon brags to the cheering students that he'll lead the team to victory, flirting with an uninterested Bora. Young-gon gets benched, though, since Jung is the better player, and fumes from the sidelines.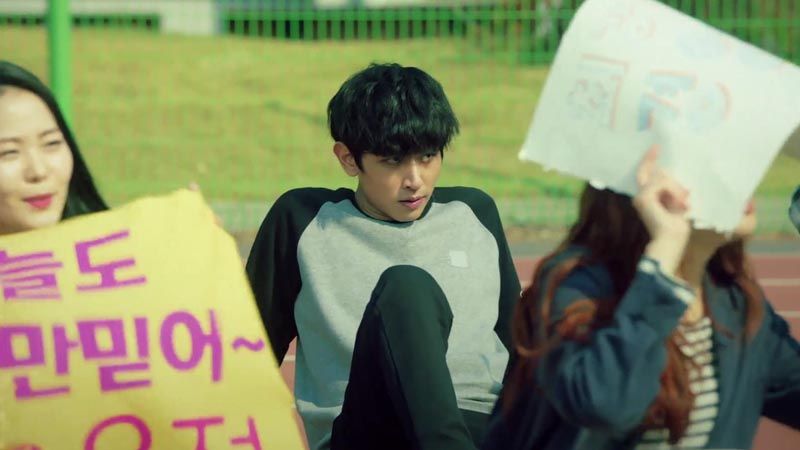 Finally he grabs Bora by the wrist to drag her aside for a talk, and as the girls argue, Eun-taek sees the disturbance and throws the ball at Young-gon, getting him in the face. A fight is ready to break out and students try to pull the boys apart, and his fist flies and catches Jung in the face.
Jung shrugs it off, but Young-gon gets angrier, saying he's putting on a fake nice act. He snaps at all the girls to wake up from their dream that Jung will have any interest in them, calling him a phony. But the crowd is firmly against Young-gon and his wild outbursts, and he's advised to apologize to Jung before things get out of hand.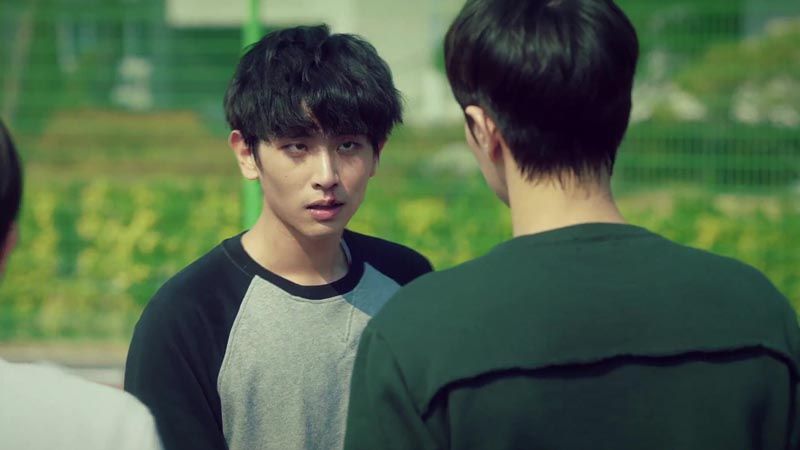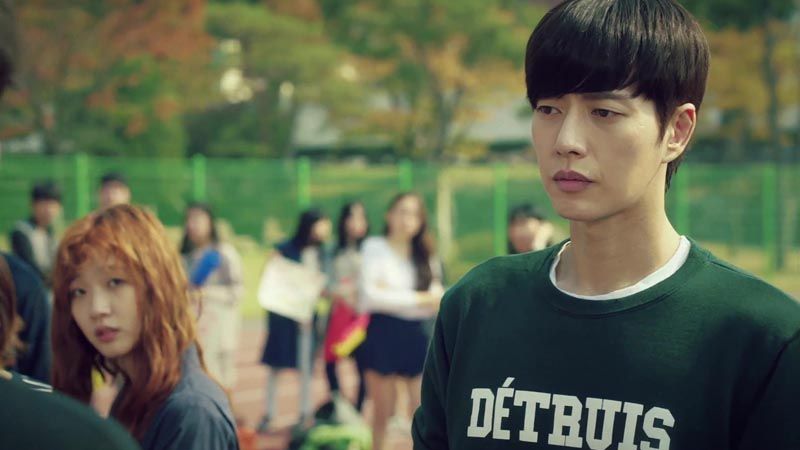 He looks around, and somehow registers that he's the object of scorn, and suddenly is all abject apologies.
Seol sees Young-gon afterward, sitting alone and looking pathetic. It stirs her sympathies, and she thinks to herself that he wasn't totally wrong about Jung. She approaches to ask how he is, and he turns away shamefaced as she tries to offer advice, saying that the girls don't like him only because they can't see his sincerity. She tells him not to force himself on them like he did with Bora, and take it slow, showing his feelings honestly.
He just stays hunched over, silent, and Seol leaves a drink for him and pats him on the shoulder. In retrospect, she now thinks, "I shouldn't have offered consolation so rashly."
She doesn't notice that Jung has seen the exchange from a distance, and tells us that that's when Young-gon's obsession with her began.
At first, his advances are mostly misguided: He waits for her near her home and tells her he likes her and is doing what she advised. When she rejects the advance, he laughs that she must be just playing the dating game and persists in plying her with attention and gifts. She tells him repeatedly not to send gifts, but he's stuck in his own narrative and says he bought an expensive gift this time—because Jung suggested she'd like something expensive.
So Seol confronts Jung at school about him telling Young-gon she was interested, egging on his obsession. Sunbae Sang-chul explains that it was in the context of Young-gon complaining that nobody cares about him in their department except Seol, and Jung apologizes, saying it wasn't his intent for things to turn out this way.
Seol sees that the guys are making it out to be only Young-gon's problem, and says flatly that she gets it. After that day, Young-gon stopped bothering her, and she always felt strange about it.
Now in the present, she tells herself that Young-gon likely lied about everything, but she doesn't seem very convinced. Jung breaks her out of her reverie by plucking a stray rice grain from her cheek, and she chides him for being so open about their relationship. Already she's getting lots of incredulous looks and once-overs from strangers, like nobody can believe she'd be dating Jung, which is annoying to say the least, though Jung finds it cute.
At the family noodle shop, Mom chats with Seol's uncle about the restaurant, and he notes that In-ho looks like a strong worker and asks if he can borrow him.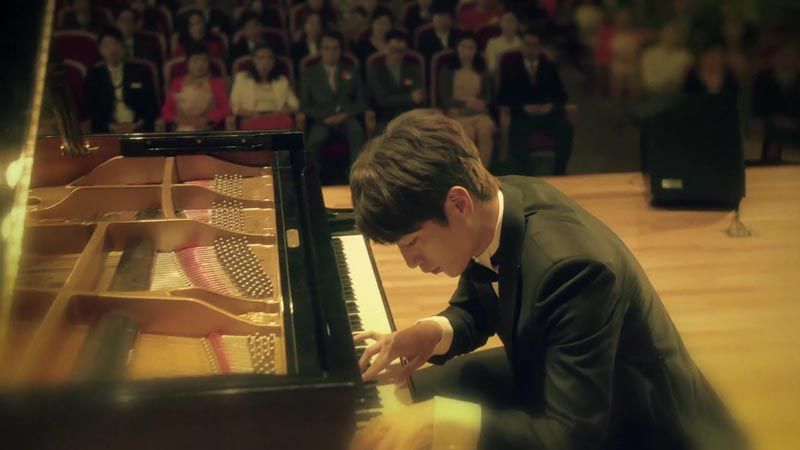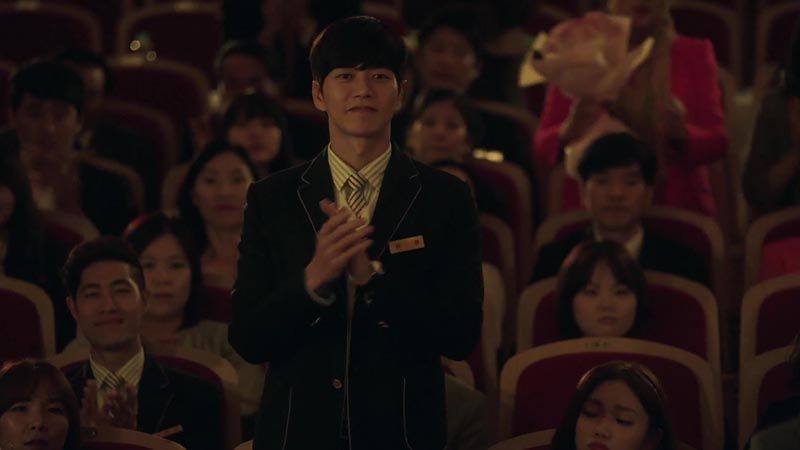 In-ho is happy to take on extra work and gets busy clearing out construction clutter from Uncle's bar… and then freezes when he discovers a piano in the corner. He stares for a long moment, then sits down before the keyboard.
Flashback. In-ho plays brilliantly during a competition, and Jung is among the first to give a standing ovation. His teacher is thrilled with In-ho's bright future, and he basks in the applause.
In-ho and Jung drop by the art studio where In-ha paints, and like the bratty little brother he is, In-ho teases his noona for her terrible work, mocking the painting that's supposed to be Jung. Jung offers a nice compliment, but In-ho says that In-ha needs to face the truth that she has no talent and give up on art, rather than working fruitlessly for something she'll never achieve.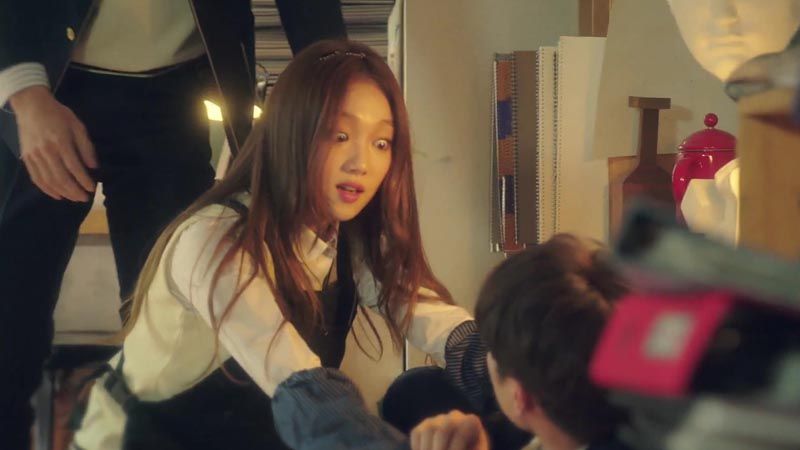 It sounds like stuff In-ho has said before, but today In-ha loses her cool and shoves him back, threatening to break his fingers with the piano lid one of these days.
Jung tells him soon afterward that In-ha has quit her art studies, and In-ho just shrugs, figuring it's time. Jung advises him to be nicer even if he doesn't mean it, because it's tough wanting to be good at something you can't achieve.
In-ha comes upon that last painting some time later, tucked away in her closet, and rips it up.
Now In-ho thinks, "I didn't know then—what it was to give up a dream. What that meant. What it feels like when you think of a dream you'd forgotten." Slowly, cautiously, he reaches for the piano keys and finally musters the will to play… and no sound comes out. It's an electric keyboard, and he fumbles around looking for the cord, only to be interrupted by Uncle. Rattled, he shuts the piano and forces a bright expression.
Jung drives Seol home, and she's full of smiles at avoiding her long train ride. She asks about his classes and plans for the future, and he says he'd been thinking of grad school abroad, though for now he'll focus on his internship. Seol's mood immediately turns worried, wondering what'll happen with her if he goes abroad.
She asks about his future job hopes, and Jung admits, "Actually… Taerang Group is my father's company." She gapes in surprise, and he asks her to keep it quiet from everyone else. Now morose, she thinks of how far away their worlds are—he's this mythical second-generation chaebol, and her family is struggling on all counts.
She asks what he sees himself doing in five years, and he supposes he'll be learning about business. It makes her feel small, and she notes that he doesn't mention her in his future.
Jung notices her mood shift and asks if he said something wrong. She says no, admitting that she briefly wondered if he'd still have her with him in the future.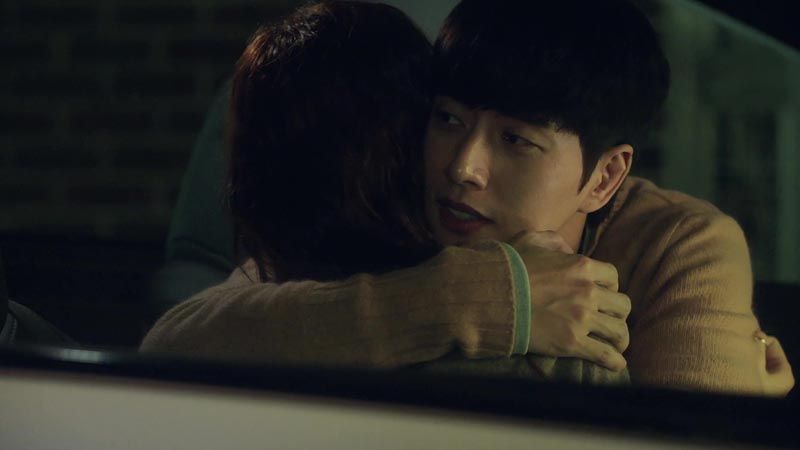 Jung arrives in Seol's neighborhood and pulls the car over. Seol reaches to get out, but he draws her into a hug, asking, "Why think such worries?" He pulls back to look her in the face, then slowly, gradually leans in for a kiss. Seol sees it coming with nervousness and waits… and flinches involuntarily at the last second.
Jung registers this and backs off, apologizing. But Seol blurts that she was just nervous, and when he pulls back farther, her mind exclaims, "No!" She grabs his hands, thinking, "If I leave him like this, I'm a rock [brain]!"
So she musters courage and grabs his face, squeezing his cheeks together with her hands, fraught with nerves. Then she puckers up comically, moving slowly closer… Oh my god, this is the cutest and most embarrassing thing, I can't even watch. I can't handle this. It's the best and worst thing, at the same time.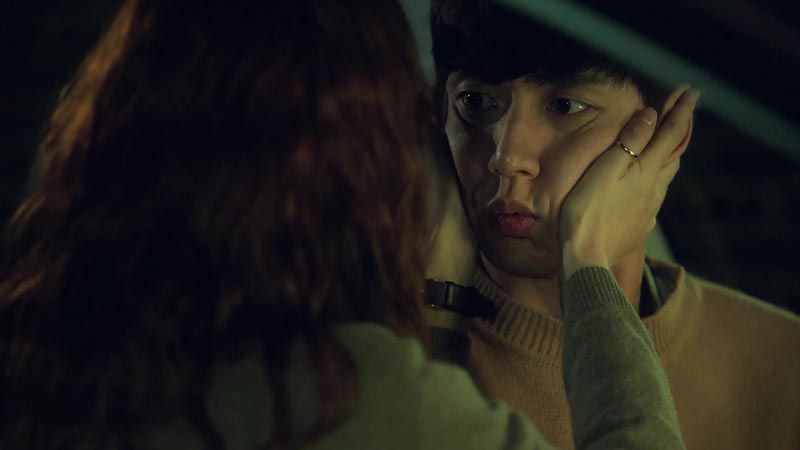 She draws his face nearer by awkward degrees, and finally drops a kiss on his cheek…ish area. Was that on purpose, or did she miss? She lets go, then is overcome with mortification and hurries out of the car, running toward home as it starts to rain.
She runs into her brother on the way, both taking cover under an awning, and then they both spot In-ho down the street, standing in front of a window staring at electrical cords. He wonders what he's doing, asking himself what he'd do if he bought a cord.
They motion him over to take cover under his umbrella, and they head off together… as Jung watches, having come out with an umbrella for Seol.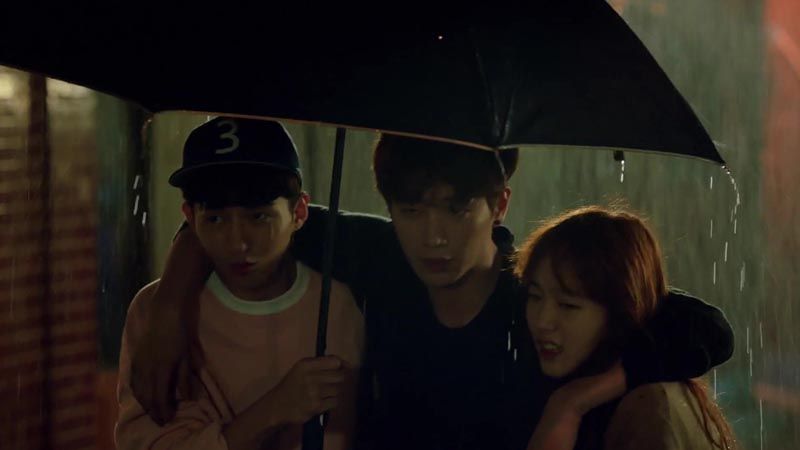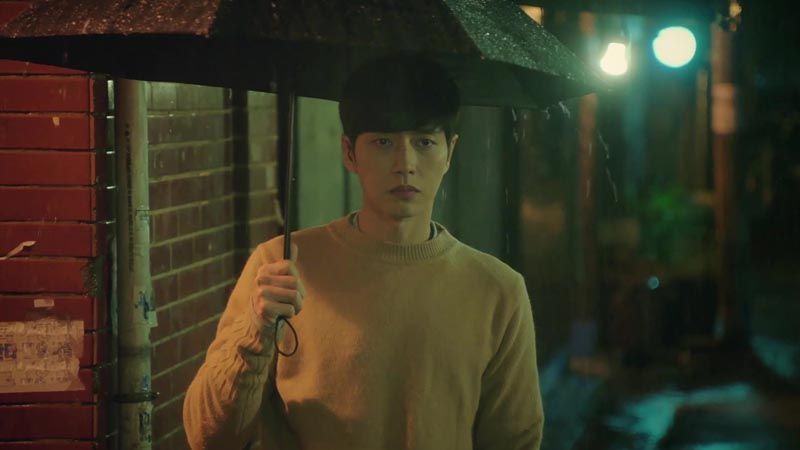 At home, Mom mentions In-ho working to clear out Uncle's storage room, and she recalls that Uncle has an electric piano there. She shows up there unannounced bearing a new power cord, having guessed that's what In-ho was thinking in front of that storefront, and also has her old piano books.
In-ho flips through and teases her for the childish scribbles, and Seol gets huffy and snatches the books back, telling him to forget it. In-ho grabs for them, and then she chirps at him, "Fighting!" and leaves him to play, making him realize she'd done it on purpose.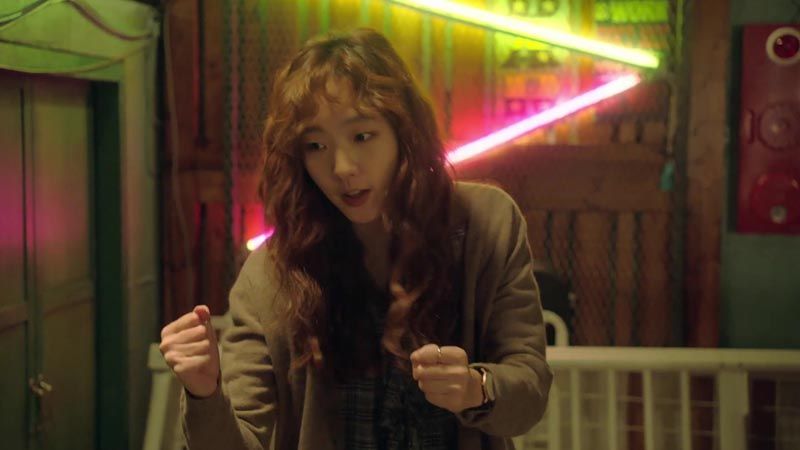 He plugs in the cord and tentatively starts to play, his heart in his throat as he tests out his fingers…
Jung sleeps restlessly, bothered at the sight of In-ho being chummy with Seol. In-ha calls to complain about her frozen credit cards, and he just tells her to move out of the apartment this month, leaving her to have a mini-tantrum.
Professor Witch hears that her courseload has been cut this semester, and assistant Yoon-sub tells her that there were complaints about her group assignment methods. He suggests taking this semester off to cool things down, but the professor takes out her frustration on her class, taking issue with their complaints. In the end, she snaps that this semester will be entirely based on individual work, warning the freeloaders to beware.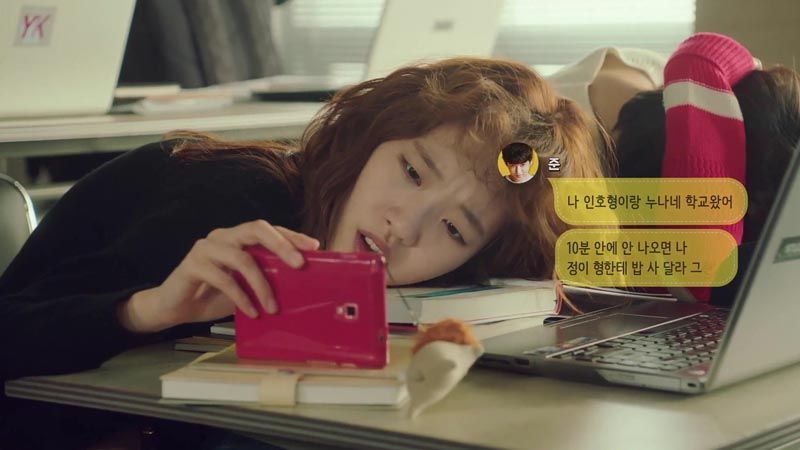 In-ho and Joon drop by campus intending to score lunch off Seol, and while Joon texts his sister, In-ho hangs back watching music majors practice on the quad. Seol bolts up at the text, running out to find Joon before he makes good on his threat to mooch off Jung. On her way out, she runs into her new clone Min-soo, and doesn't notice that she drops her lion phone charm, which Min-soo picks up.
Joon won't pick up his phone, so Seol calls In-ho and hears the music in the background. She races for the music building, and In-ho wanders inside past the practice studios filled with students. He peers in on a lesson in progress, and as luck would have it, the teacher recognizes him as his old teacher's pupil and chases him out.
In-ho tries to get away, but the teacher is insistent and even follows him out the building. Seol arrives as In-ho rushes past her, and the teacher stops her to ask about In-ho and gives her his card to pass along.
Afterward, Seol scours the yard looking for her lost lion, although Jung assures her he'll buy her another one. She digs through her bag one last time, and he sees the piano teacher's card, prompting her to explain his interest in In-ho. He offers to deliver the card, and she decides to go with him, since she doesn't want the boys fighting again.
In-ho's back in the storage room, sitting at the piano with his heart in his eyes, when Seol and Jung walk in. Jung asks, "Do you want to play the piano?" and holds out the card, while In-ho stiffens and glares.
Jung says it seems he's still got the desire to play and suggests that In-ho study abroad, offering to sponsor him. In-ho doesn't take kindly to this and tells him to shut up about things that aren't his business.
Jung tells him not to stand on his pride, and that the decision to play or not is In-ho's—but don't drag Seol into it while he waffles back and forth in indecision. He ushers Seol out of the room, leaving In-ho simmering with emotion.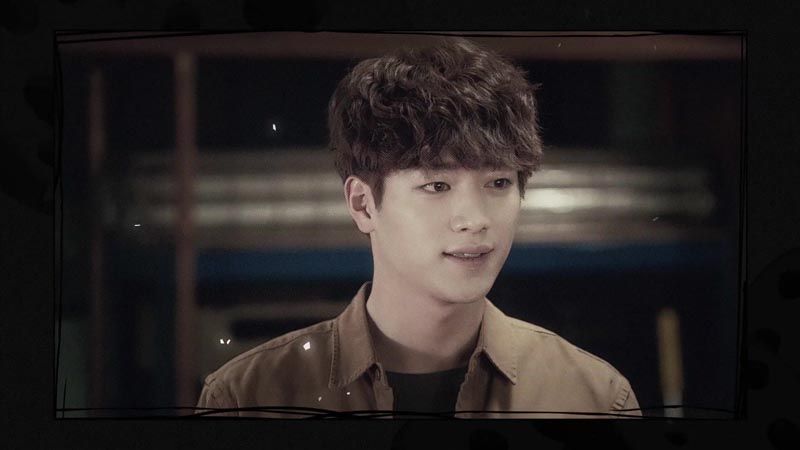 COMMENTS
I had a few favorite moments this episode (omg Seol's attempt at a kiss), but the most intriguing is the drama's continued back-and-forth with Jung, playing him light one moment, then letting him get uncomfortably dark the next. I like the character and the guy so I find myself willing to offer up excuses and explanations for his behavior, but I also feel that the drama is very clear about not making him too soft and fuzzy, or leaving lots of room for the "poor misunderstood hero" edit.
Jung has a lot of the classic Darcy elements, but I don't see him as a Darcy—at least, not wholly. Going full Darcy would soften the interpretation of Jung's character quite a bit more than we're meant to, I think, and would possibly even distort the story being told. Darcy was largely misunderstood and misrepresented, and didn't get a chance to tell his side of the story until the prejudices against him had already taken root. In Jung's case, I'm learning to wait for the full story, because history has shown us that Seol's initial impressions are often incomplete, and the full story is never quite as upsetting as her fears.
Still, we're given enough glimpses into Jung's character from his perspective, outside of those misunderstandings, that I think make him quite a different character. There's no softening the brutality of his beatdown of Seol's attacker, for instance. As Seol tells herself, he's doing it for her benefit, and she chooses to go with that thought for now, but I don't think she's fully brushed aside those misgivings, and I doubt this is the last they'll crop up.
It is reassuring that what sparks his temper and subsequent actions is often a sense of righteous anger, of doing something in the name of righting a wrong. To read him in a different light, if we were watching a vigilante thriller I think I'd be happily cheering him on—it's actually this drama's mixing of that kind of steely undertone with introspective human drama and light rom-com elements that makes it feel a little off-kilter. In a good way, I think, though it also carries with it a sense of narrative unease.
Even so, the way he acts on those feelings is problematic, and I personally can't give someone a free pass purely for meaning well; actions and intent are related, but discrete, issues. He's menacing and frightening and shows an unsettling lack of ability to empathize with others' feelings, and if I were Seol's friend I'd probably want her to steer clear. But what I hope for the drama is that rather than showing us that we've had the wrong picture of him all along—that he's really a nice guy who just wanted to do nice things for the girl he liked—we're getting a story of a guy who meant well and expressed it badly, but was guided back toward the realm of healthy communication styles and emotional expression. Power of love and all that.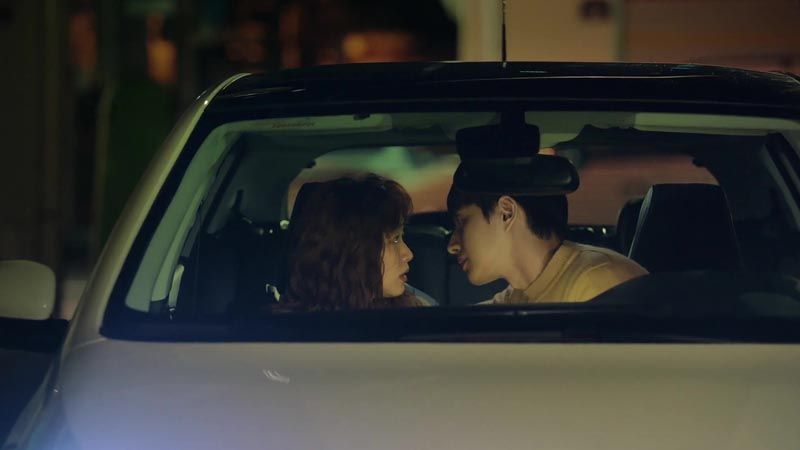 RELATED POSTS
Tags: Cheese in the Trap, featured, Kim Go-eun, Park Hae-jin, Seo Kang-joon