Cheese in the Trap: Episode 8
The more I watch this drama, the more I like the characters, and the more confused and turned around I get because I like them. It's a weird experience to wonder if it's safe to like your drama hero, but that's just the strange mix of romance laced with danger and intrigue that Cheese in the Trap brings to the table. Though the drama is slice-of-life, today's episode stretches the limits of realism a bit, because I don't know about you guys, but I don't remember college having this many stalkers and other potentially unhinged folks just milling about. Or maybe times have changed?

SONG OF THE DAY
Tearliner (feat. Surprise) – "너를 채운다. 너를 지운다." (Fill You. Erase You.) for the Cheese in the Trap OST [ Download ]
Audio clip: Adobe Flash Player (version 9 or above) is required to play this audio clip. Download the latest version here. You also need to have JavaScript enabled in your browser.

EPISODE 8 RECAP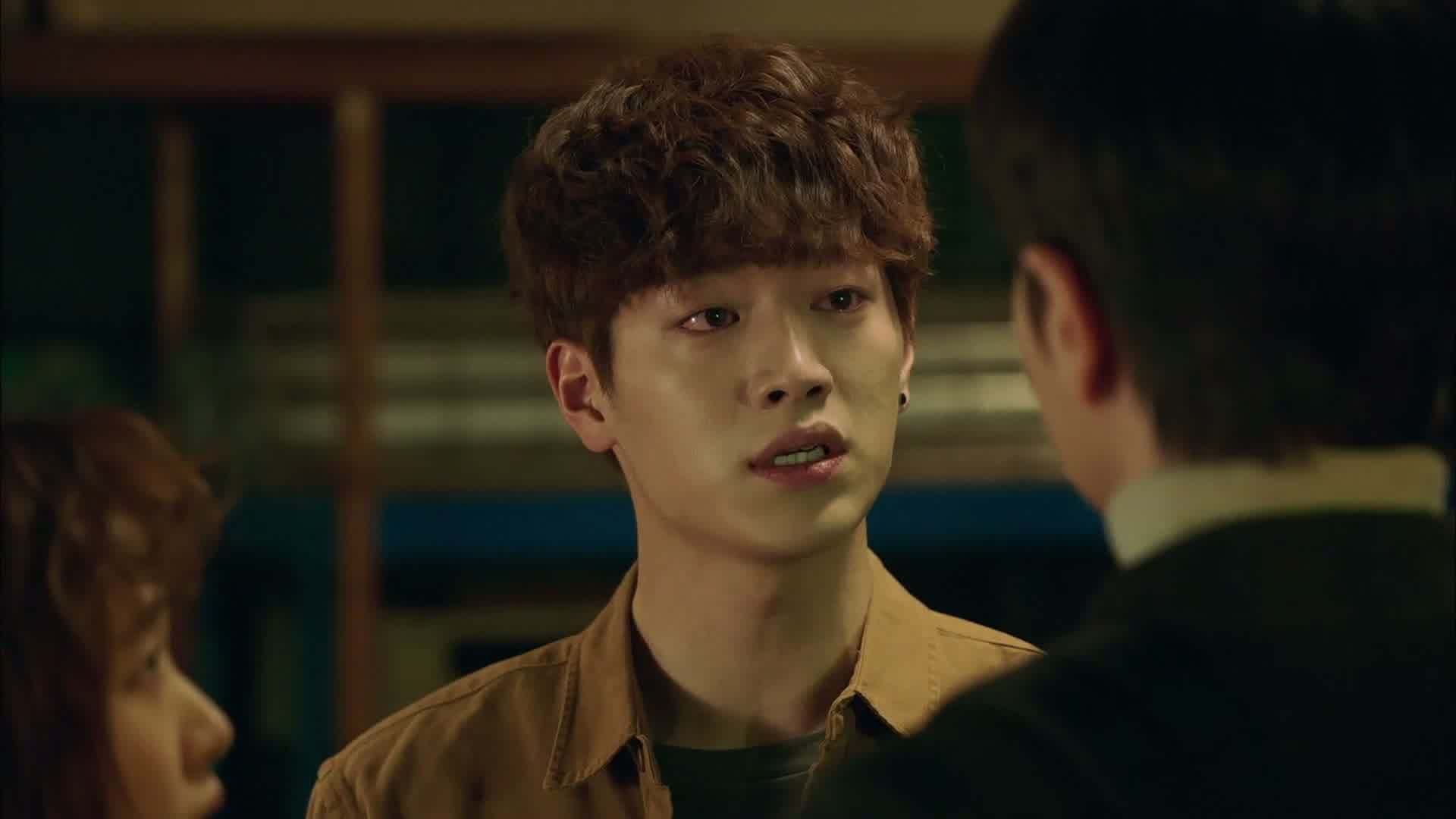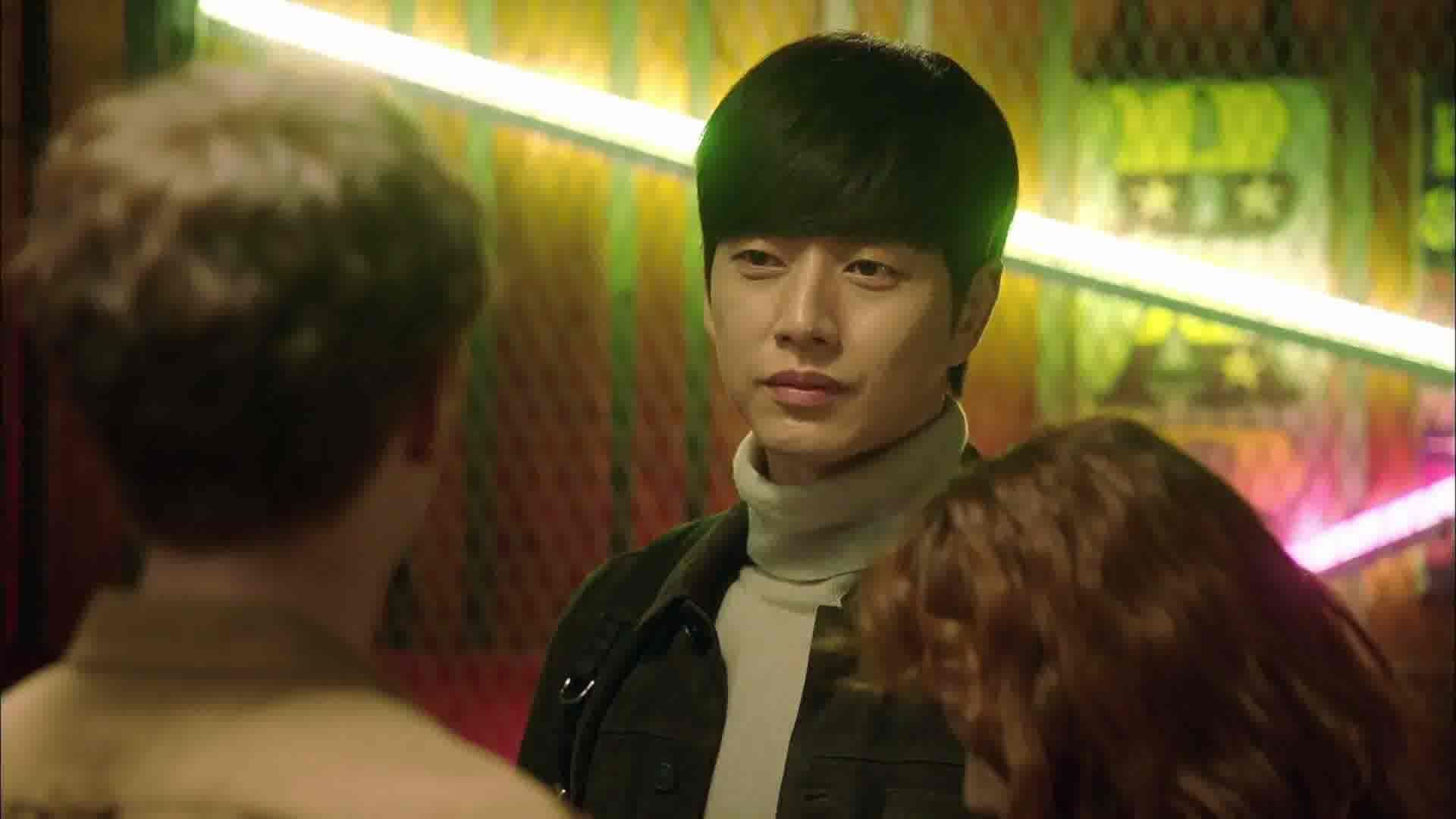 We back up a little to the confrontation that closed out the last episode, and this time we see that there's more to the conversation. Jung offers to send In-ho abroad if he still wants to play piano, which only serves to make In-ho angry. Jung tells him not to be stubborn if it's his pride holding him back, and at that Seol cuts him off and asks why he came in here angling for a fight.
She takes the teacher's card from him and puts it in In-ho's hand, demonstrating what a simple task this was supposed to be. Jung says he just feels bad for In-ho because he was talented, and this time In-ho is itching to fight and gets in his face. Seol stands between them and says that whatever is between them might not be her business, but she'd really like them both to quit fighting.
Jung says he's going to stop, because this is the last time—if In-ho says no this time, he's done trying too. In-ho looks hurt at that, but he scoffs and asks if the entire world is that easy for Jung, and tells him to get lost. Jung seems satisfied with that and leads Seol out, and she looks back at In-ho with a worried expression.
As Jung walks her home, Seol says she doesn't like it when he and In-ho fight, and Jung in turn says he doesn't like it that she's friends with In-ho or takes his side. He pulls her into a hug and asks that they not talk about this stuff anymore, and reminds her that tomorrow is his last day at school (because of his new internship). They promise to make time for dates outside of school and linger as they say goodnight.
Jung gets a text while on campus the next day, asking him to come to a classroom for something regarding his internship. At the same time, Stalker Boy Young-gon borrows Copycat Min-soo's cell phone, claiming to have forgotten his. He compliments her on her new style, saying that it's a really pretty look, but walks off muttering derisively that she thinks she's Seol.
Jung arrives in the empty classroom only to be confronted by Young-gon, who claims not to know anything about the text. He accuses Jung of being two-faced and tells him to stop messing with Seol, and fidgets with a pen in his pocket. I'm guessing it's a secret spy recorder pen.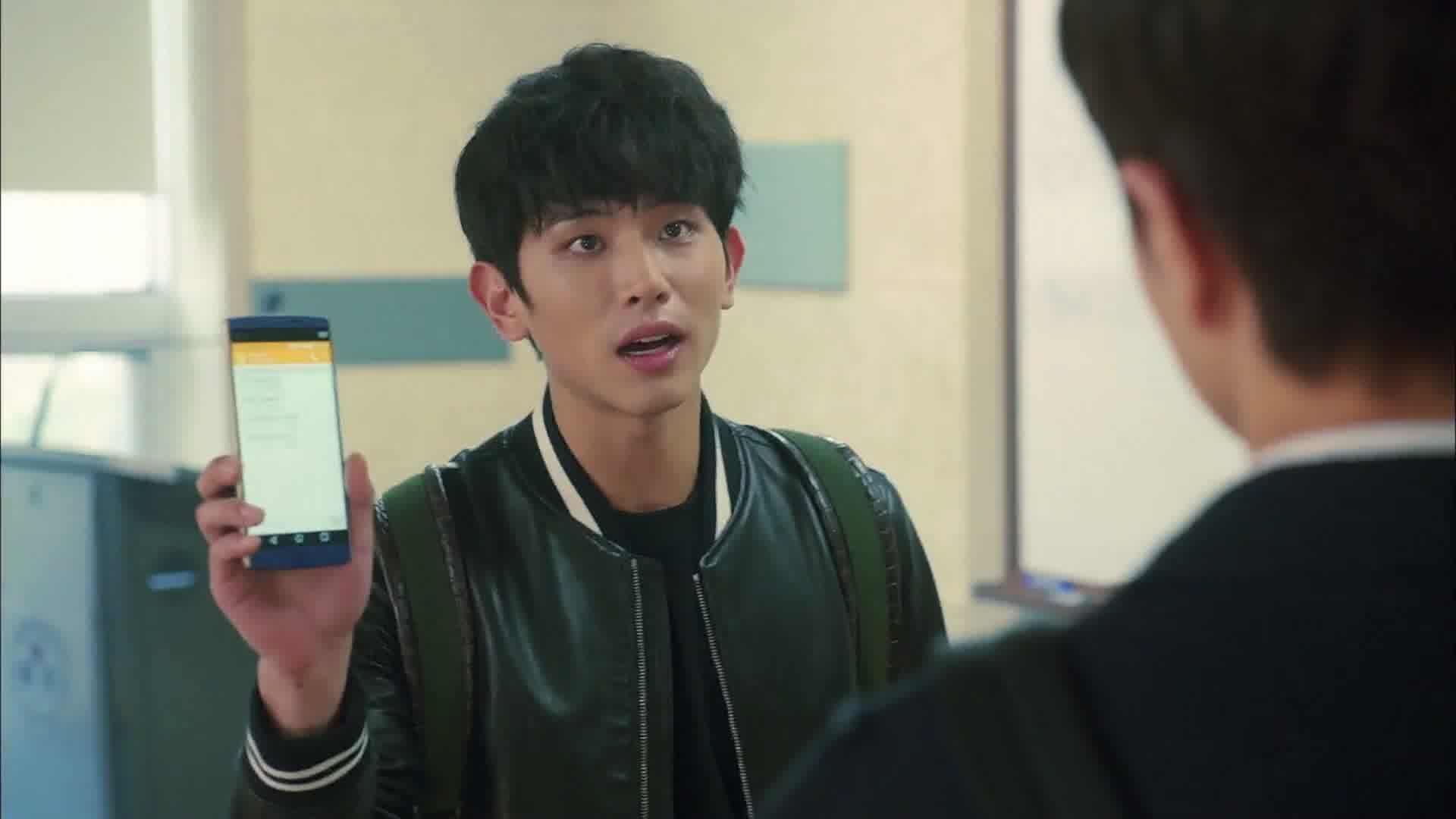 Young-gon says that Jung doesn't really like Seol and he's just messing with her, and takes out his phone with old texts from Jung, saying things like, "Seol likes you. Confess that you like her. She likes presents. Spend a lot of money!"
Jung doesn't look ruffled in the least, even as Young-gon starts dialing the number to prove that the texts came from Jung. He says he never sent those texts, and it's a woman who answers on the other end. Hm, that sounds a lot like Baek In-ha, which doesn't really clear Jung of suspicion, does it?
Young-gon flares up and grabs Jung by the collar, asking how long he's going to keep fooling people. But Jung's friends arrive and break up the argument, naturally siding with Jung and accusing Young-gon of acting crazy because he's still not over Seol. His new girlfriend stomps off in a huff, and once they're alone again, Jung calls him out on his attempt to record their conversation.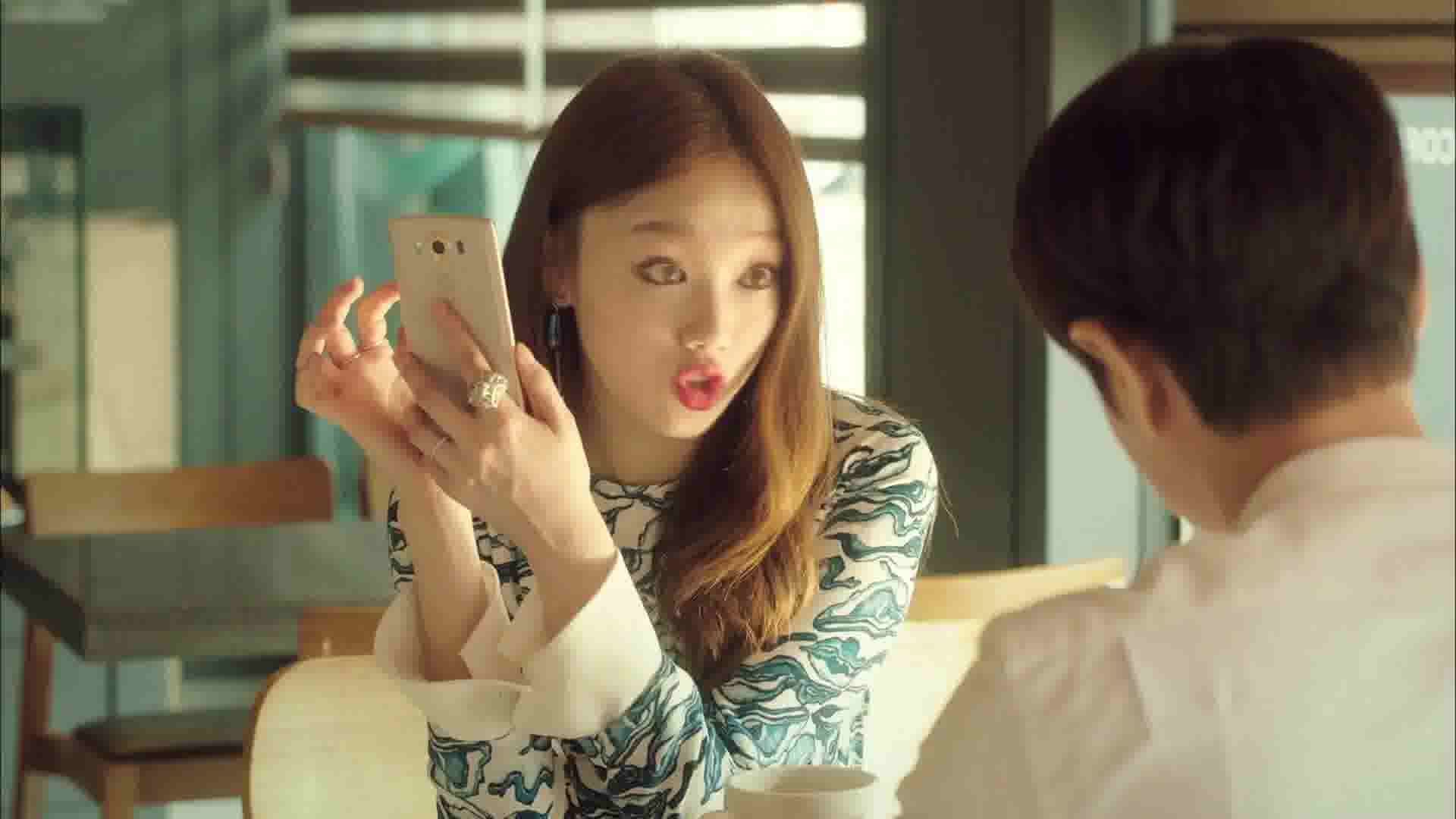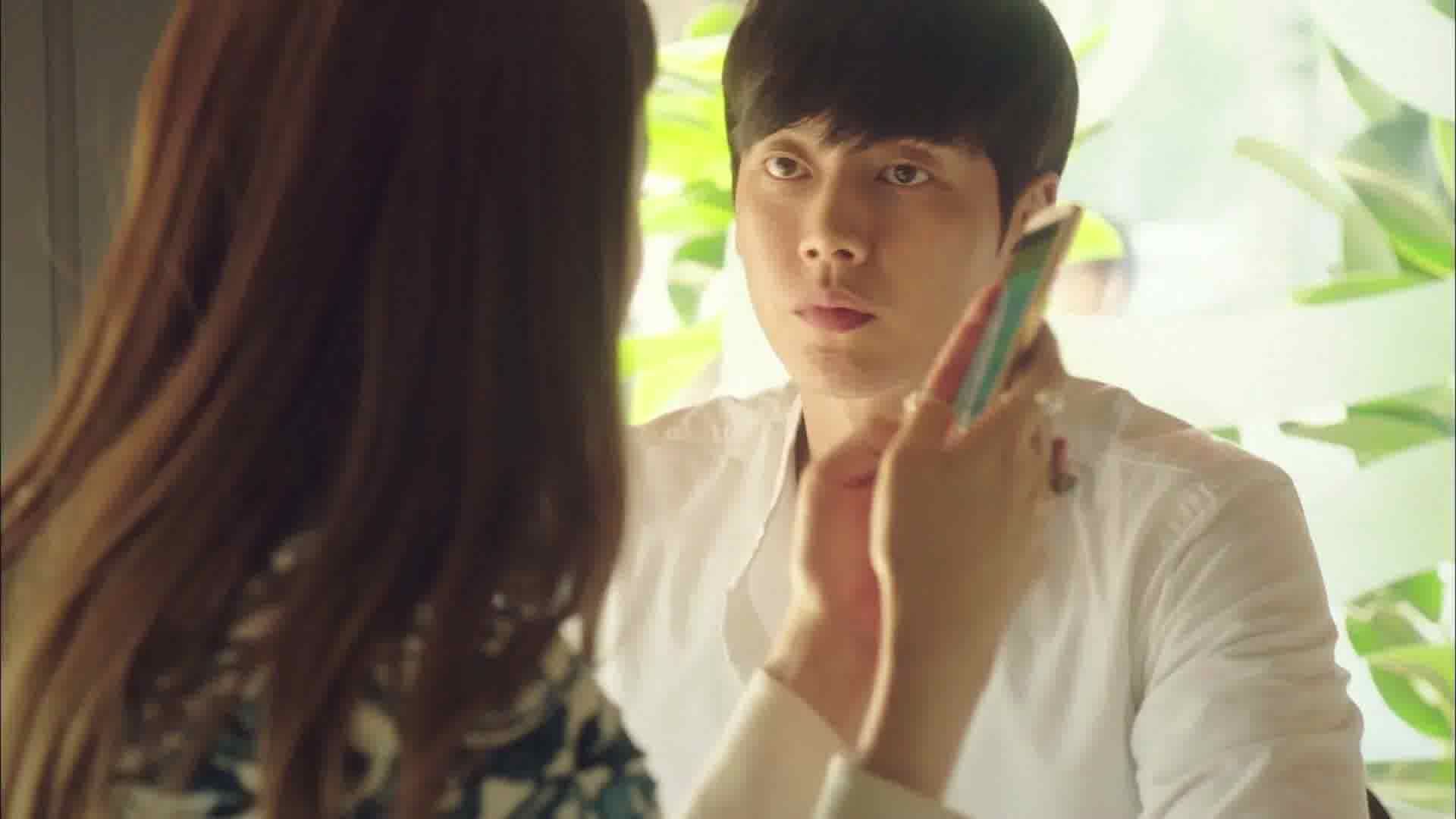 He basically looks at Young-gon like he's a bug not worth his time, and says that Young-gon's haplessness is actually throwing him off. But as he walks away, we see in flashback that Jung was with In-ha and using two separate cell phones. He was texting Young-gon, who thanked him for forgiving him over the basketball fight. Jung was the one to bring up Seol, and said that she must like Young-gon.
In-ha got curious and asked who he's texting with, and Jung said it was someone who'd been bothering him lately. She read the texts and asked if it was Young-gon or Seol, and he said both. So In-ha's solution was to send Young-gon to Seol and take care of them both, and she started texting him to go ahead and confess his feelings. Jung did nothing to stop her, and even smirked to himself.
Back in the present, Jung smirks again as he walks away. Young-gon thinks over what went wrong and realizes that Jung gave him a separate phone number just to make him look like the crazy person, and guesses that maybe this other girl is Jung's second girlfriend on the side.
Meanwhile, Seol and Jung head out for drinks, and when she mentions that everyone's talking about Young-gon confronting him today, Jung tells her to be careful and tell him if anything happens while he's away. She smiles, noting shyly that this is what it must feel like to have someone worry about you, and he pets her on the head sweetly.
Their night takes a disappointing turn when the sunbaes from their department crash their date. Sunbae Sang-chul pours Seol a big glass of beer like the pusher that he is, but Jung takes it and drinks it for her. The guys all cheer and demand a kiss, and Jung says they will… if the other two guys kiss each other too. Seol smiles in relief and looks grateful when Jung chides his friends for ganging up on a hoobae like that.
The boys proceed to get roaring drunk, and Jung gets so tipsy that he slumps over onto Seol's shoulder and murmurs that it's too noisy in here. She realizes that he's drunk and takes him outside for some air, and after sitting him down on a bench outside, she asks if maybe they should just leave now instead of going back there to drink with the guys, because they see Seol and Jung as pushovers.
She uses the word hogu, meaning a fool that other people take advantage of, and Jung says he's been called that in high school. He says that most people approach him because they want something from him, and he's found that in most cases, it's just easier to give them what they want and pretend not to notice the truth.
He says that's less tiresome, and then reaches out to pet Seol on the head as he asks, "You like me for real, right? You're sincere, right?" He admits that at first, he thought Seol was just like everyone else, and he knew that she didn't like him. He asks her not to see him in a bad light and then surprises her with a little peck on the lips.
She brings her hand up to her lips in shock, but he says it's okay because no one can see them, and then he leans in close for a longer kiss, and this time Seol kisses him back.
In-ho is standing outside the noodle shop when Seol passes by in a daze, and she can barely register what he's saying when he asks what the piano teacher said to her. He smells alcohol on her breath, and she suddenly freaks out (maybe thinking it came from Jung and not her?) and runs home flailing.
She lies awake, giddy with thoughts of the kiss, and texts Jung to see if he made it home safely. He drunkenly answers that he's sleeping, and at first she finds his misspelled text cute, and then gets huffy when she realizes that he's so experienced with dating that he can sleep just fine, while she's tossing and turning all night. She huffs that it must be nice to be him and pouts. Why is she so adorable.
The next day, Stalker Boy Young-gon chases after his girlfriend pleading for a second chance and swearing that he has no feelings for Seol. She rejects him flatly and the other sunbaes laugh and ask if he's apologized to Jung yet, and he has a fit about how it took him this long to come back to school and win people over, only to have Jung ruin things again.
Young-gon sets his sights on Eun-taek and approaches him in the middle of class, acting friendly all of a sudden. He apologizes for the basketball fight and agrees that Bora is very petite and glamorous (implying that she has a big chest), and needles: "You don't know, do you? I do."
He takes out his phone and offers to share the pictures he took of Bora last year, which he describes as too racy to share with just anyone. That does the trick and Eun-taek flips his lid, and attacks Young-gon in the middle of the lecture hall. The sunbaes immediately break it up, and Young-gon smiles like the unhinged troll that he is.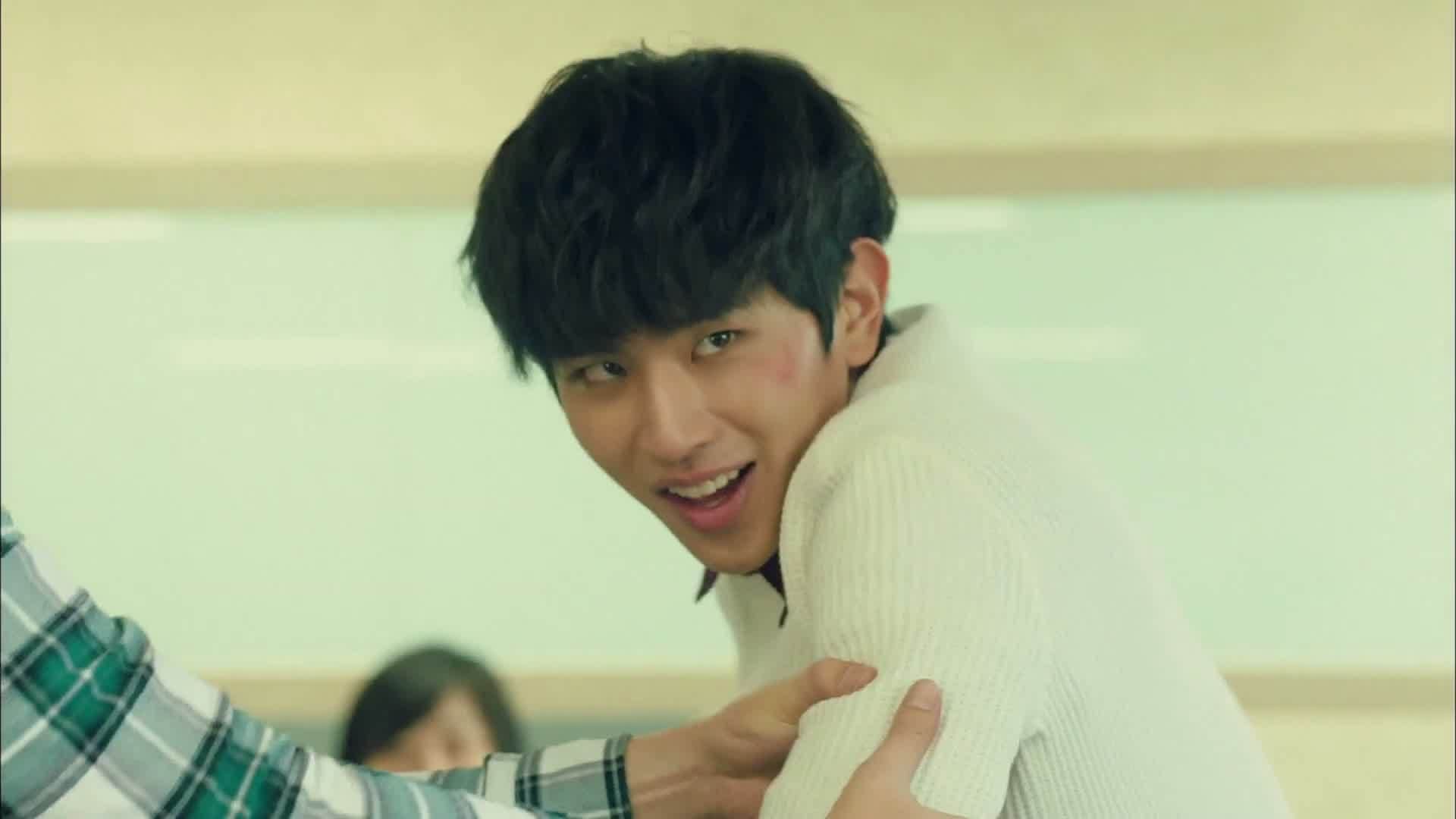 Meanwhile Seol's copycat Min-soo takes out the lion cell phone charm that she picked up, finding it cute because it looks like Seol. She plans to return it, thinking it a good excuse to have lunch with Seol and befriend her. Seriously though, how many stalker fans can one girl have?
Bora arrives at her next class and hugs Seol from behind, only to realize that it's Min-soo. It doesn't sit well with Bora that Min-soo is so blatantly copying Seol's style, and when Min-soo tries to ask Seol to eat lunch with her and sit next to her in class, Bora leads Seol away warily.
The sunbaes force Eun-taek to apologize for attacking a sunbae out of nowhere like that, and because Young-gon is holding racy pictures of Bora hostage, Eun-taek can't defend himself and explain that he was provoked. He just has to grit his teeth and bow in apology, and Young-gon even scores sympathy from his girlfriend. As he walks away, he mutters under his breath so that only Eun-taek can hear: "There are no pictures, you moron."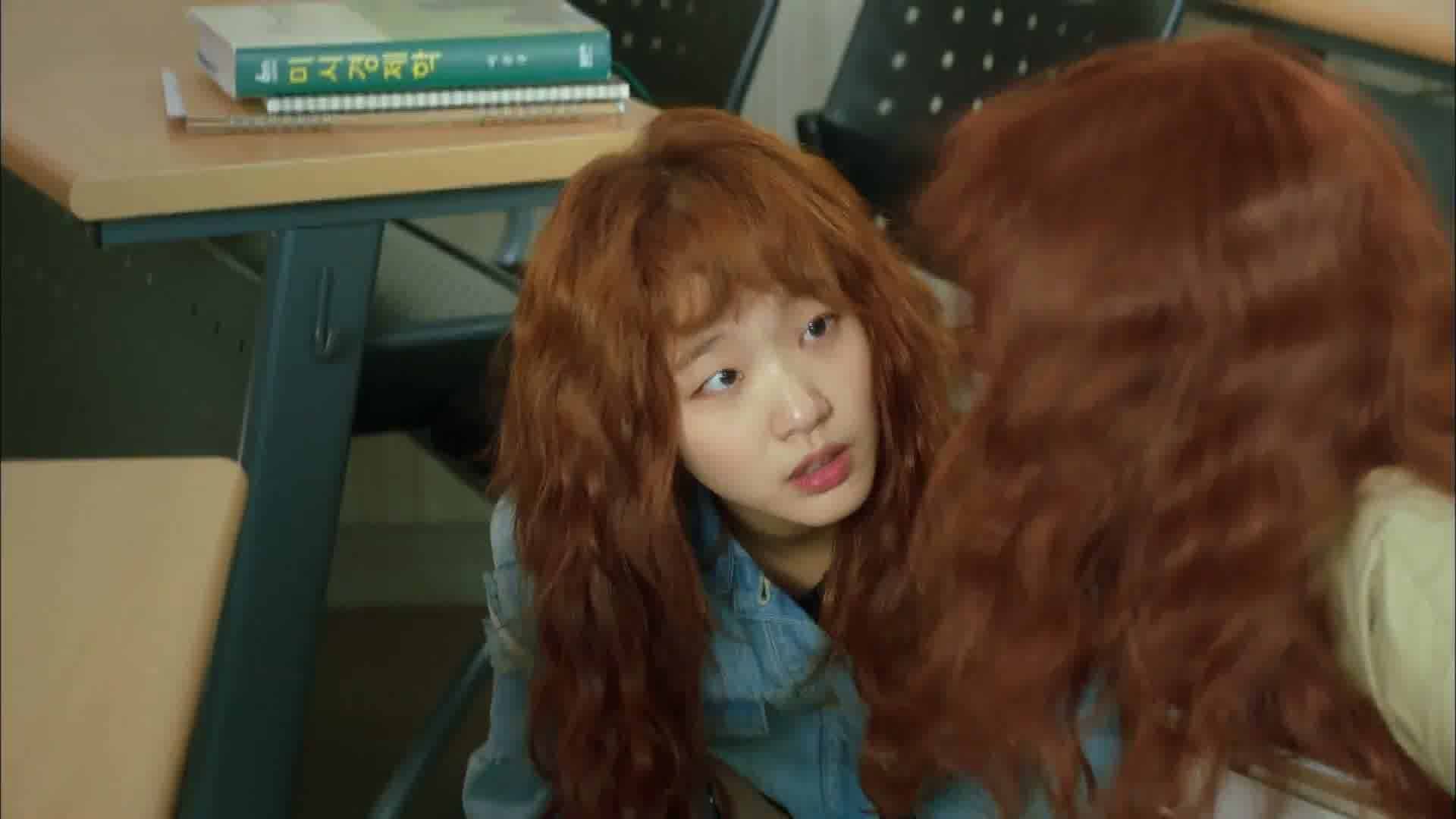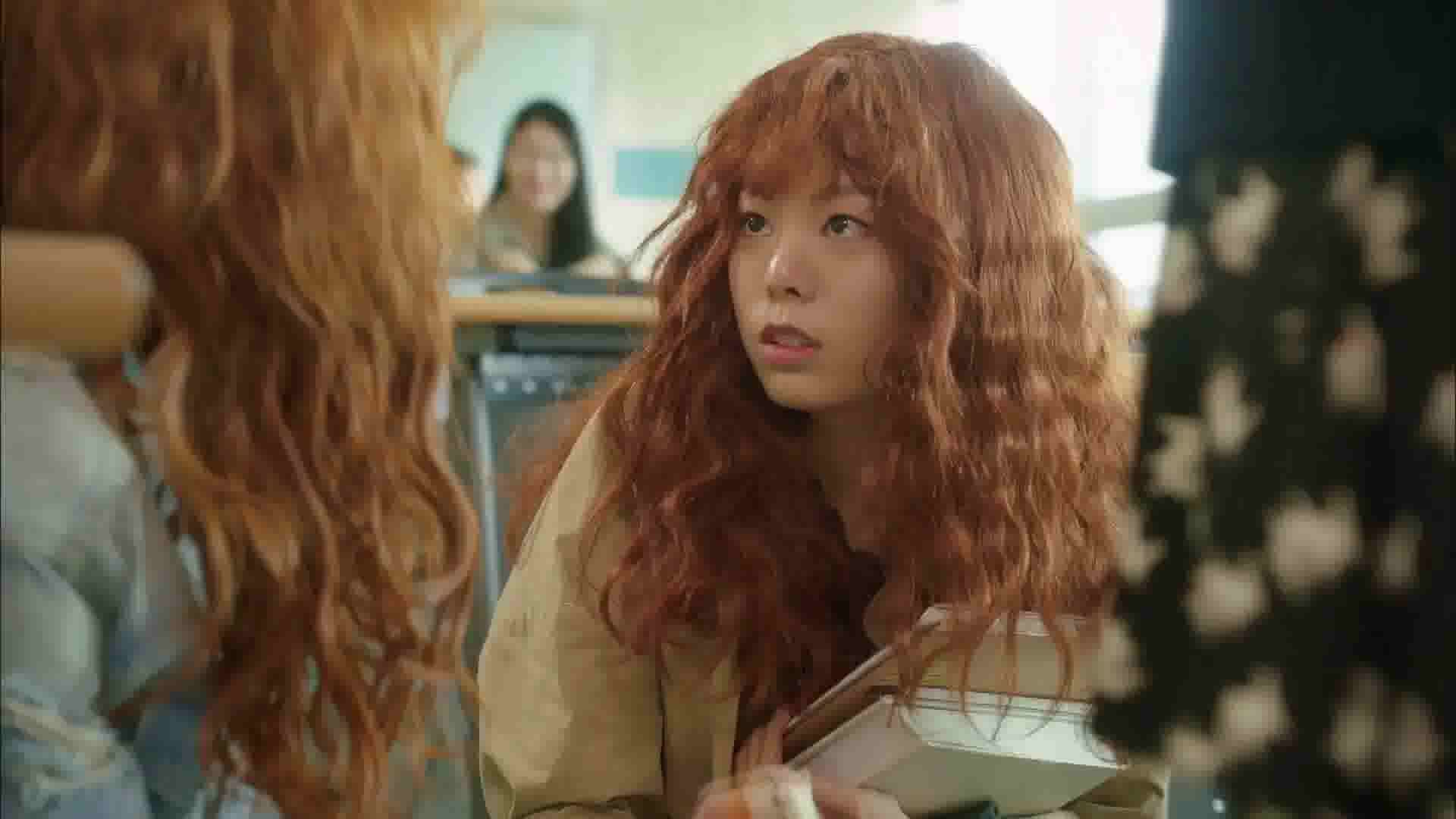 After class, Min-soo tries again to ask Seol to lunch, but Bora cuts her off and says they've already got plans. As she leads Seol away, they bump into Min-soo and spill the contents of her bag, and they notice the lion doll among her things.
Seol asks if it's hers, and Bora gets upset, accusing her of not only copying Seol, but now stealing her things. Seol tries to calm her down, but Min-soo gets defensive and declares that the lion is hers, and that she bought it herself. They don't exactly believe her, but she insists that it's hers and storms out.
Stalker Boy Young-gon waits for Min-soo to come by and feigns concern so that she'll talk to him. She berates herself for the lion debacle, swearing that she was planning to return it because she really just wants to be friends with Seol. He argues that Seol isn't as nice and cool as Min-soo thinks, and flat-out lies that Seol has been going around badmouthing Min-soo for copying her.
Young-gon says that in his eyes, it's Seol who's copying Min-soo, and that there's nothing that's better about Seol in his eyes. He argues that the only reason she's in a better position is that she has a boyfriend, and tells Min-soo that he's here for her if she needs anything. He walks away pleased with himself for finding another way to annoy Seol, and decides that with Jung gone, this world is his.
Seol catches up with her friend Ah-young, and sunbae Sang-chul happens by and immediately starts drooling over Ah-young. He introduces himself as Seol's most trusted sunbae (how he says this with a straight face is beyond me), and Seol basically has to grab Ah-young and run so that he doesn't get his claws into her.
After a lot of angst and deliberation, In-ho finally goes to see the professor in the music department, and plays piano for him. The teacher listens and says it's obvious he took time off, and asks what he's been doing for five years.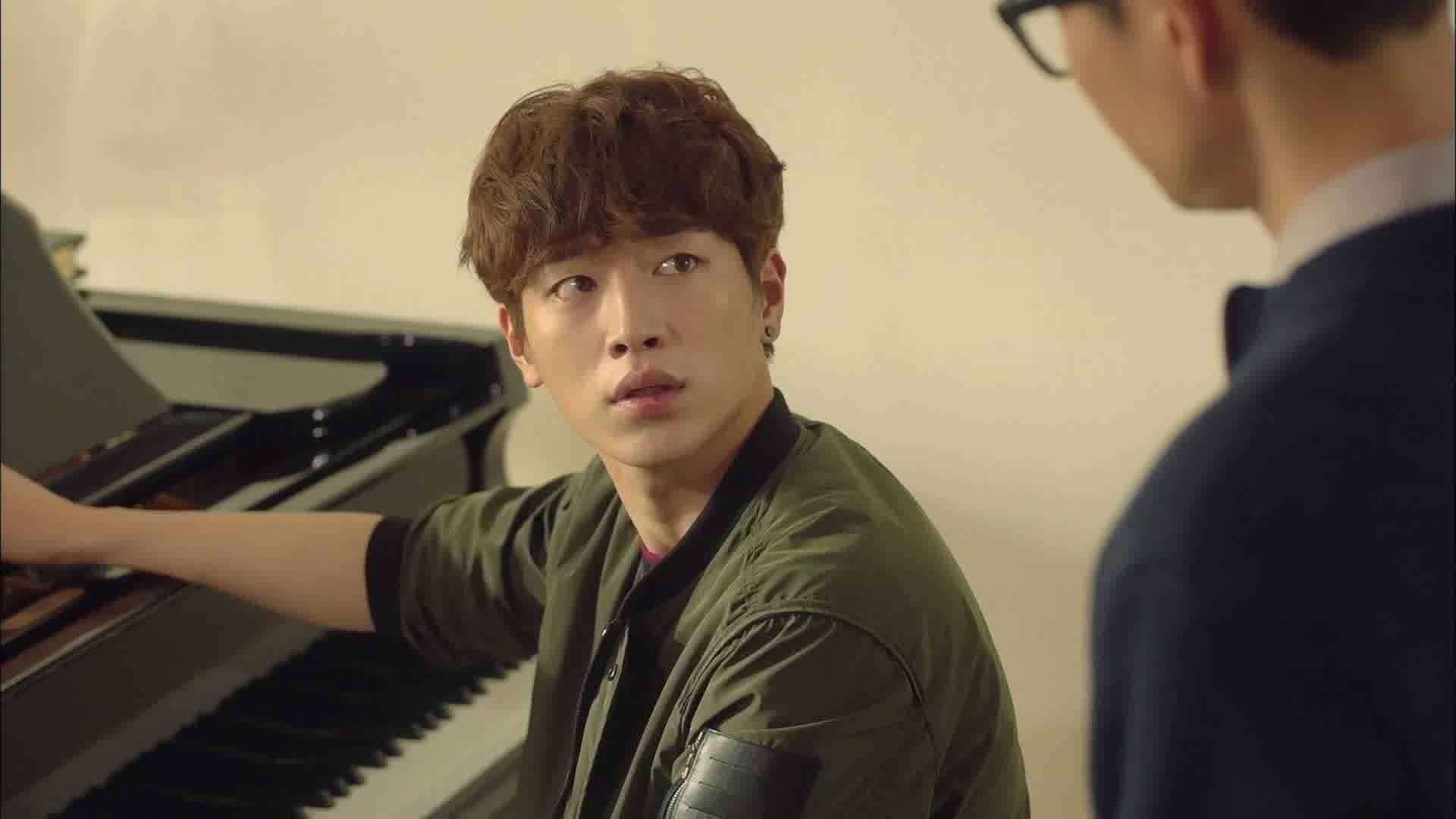 It's valid criticism, though the teacher doesn't exactly deliver it gently or constructively, having already decided that In-ho isn't worth his time. But In-ho just argues with him and asks if the teacher doesn't like his playing, acting like he's still the prodigy who's gracing people with his playing. Aw, In-ho, you always get in your own way, don't you?
The teacher simply tells him to leave and turns his attention to another of his students, and In-ho is shell-shocked to be dismissed so easily. He walks away in a stupor and is assaulted by the other student's piano-playing as he leaves, which only makes him feel worse.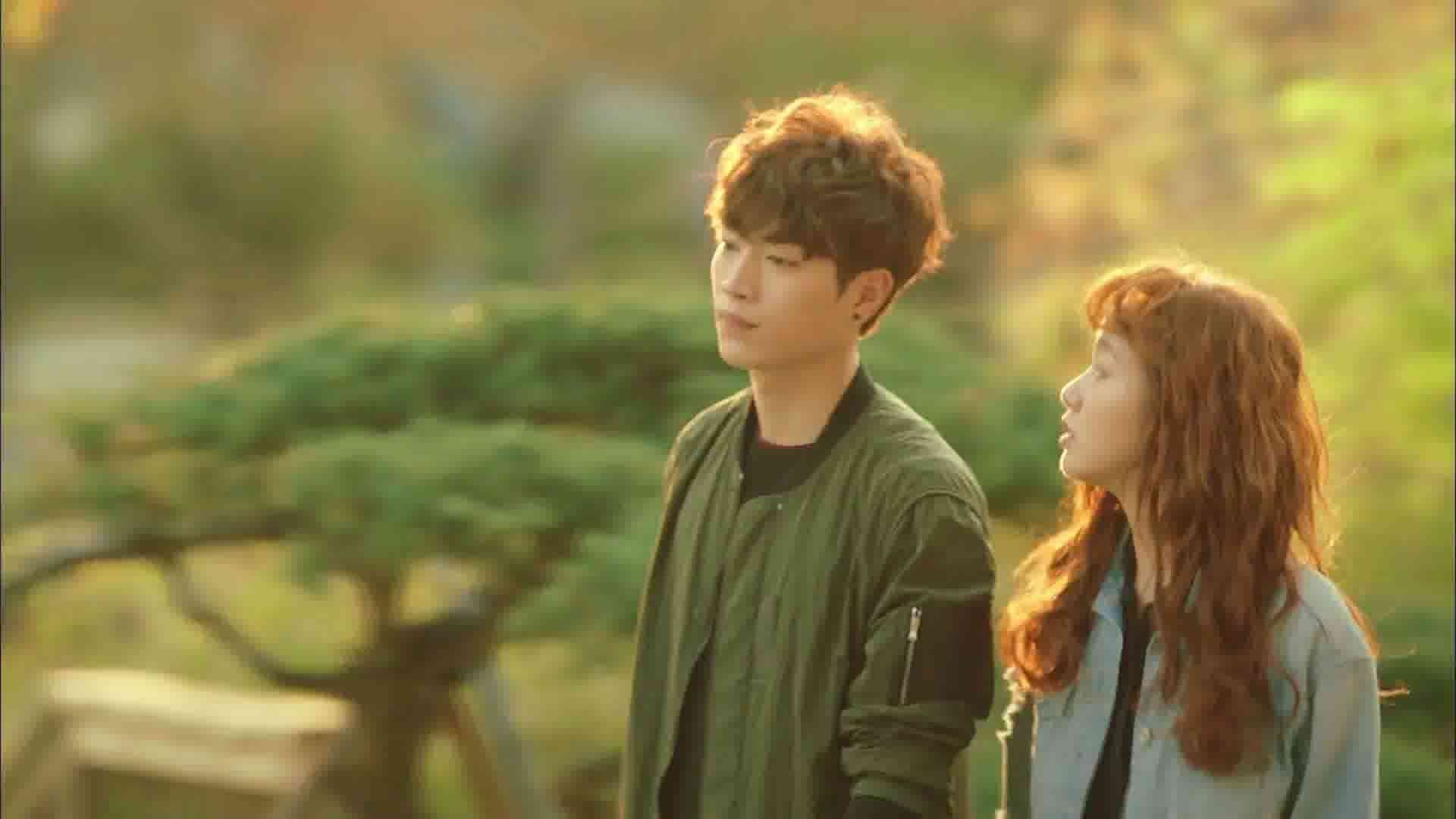 Seol walks out off campus just a few steps behind In-ho, and at first she doesn't notice because she's texting Jung (she decides not to mention the lion and Min-soo, thinking that it sounds childish). She calls out to In-ho when she sees him and guesses that he came to see that music professor, but he shakes his head, not saying anything more.
He just keeps walking ahead of her, so she runs up and asks if something's wrong. He doesn't offer anything else, so she just walks next to him. They ride the subway together and he wonders why she studies so hard, and she says she used to think that getting into college was enough to ensure her future, but it's not. She points out the salarymen on the train and says she's most envious of them, because all she wants is to get a salaried job.
In-ho doesn't see why she'd want to be like those guys, and she guesses that he's never once been envious of another person: "You look it. But that's because you're talented. I'm not, so all I can do is work hard." In-ho asks a telling question in return: "Why do you work hard? No, how do you work hard?" Seol says you just do.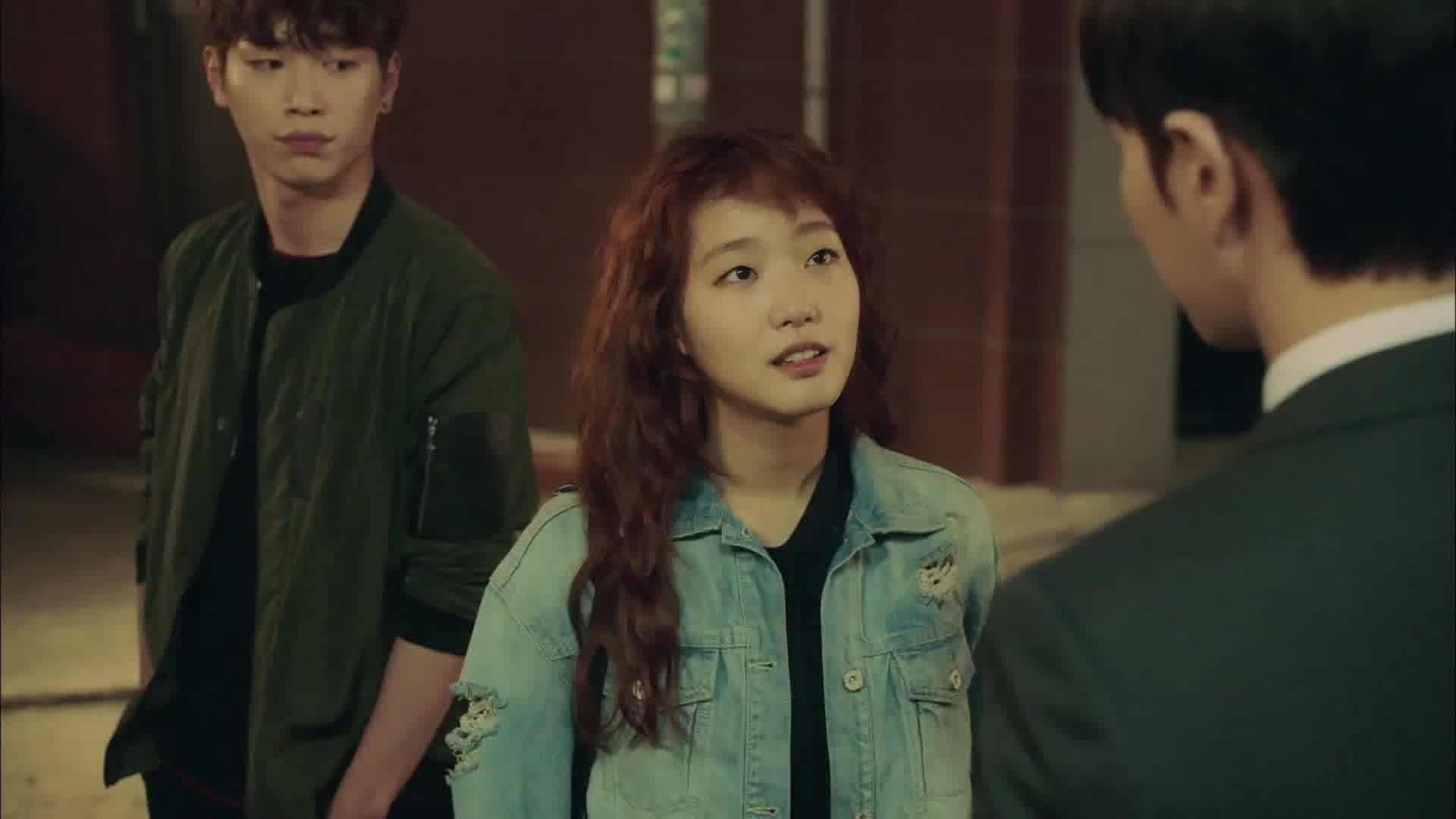 They're interrupted when Jung calls after his first day at his internship, and he's waiting outside the noodle shop when Seol and In-ho arrive together. In-ho gags when Jung acts like one day apart was so difficult, but Seol just beams.
Jung asks if he can stop in to try the noodles that Seol was raving about, but she says that her parents are at the restaurant right now. Jung doesn't miss a beat and says he'll just meet her parents then, and both Seol and In-ho freak out. In-ho tells him to leave because they'll have customers, but that just makes Jung walk on in ahead of them.
Mom and Dad sit across from Jung looking stern, and the interrogation begins. They keep getting interrupted by In-ho who's passive-aggressively clanging the dishes in the kitchen, and Little Bro Joon listens in as well.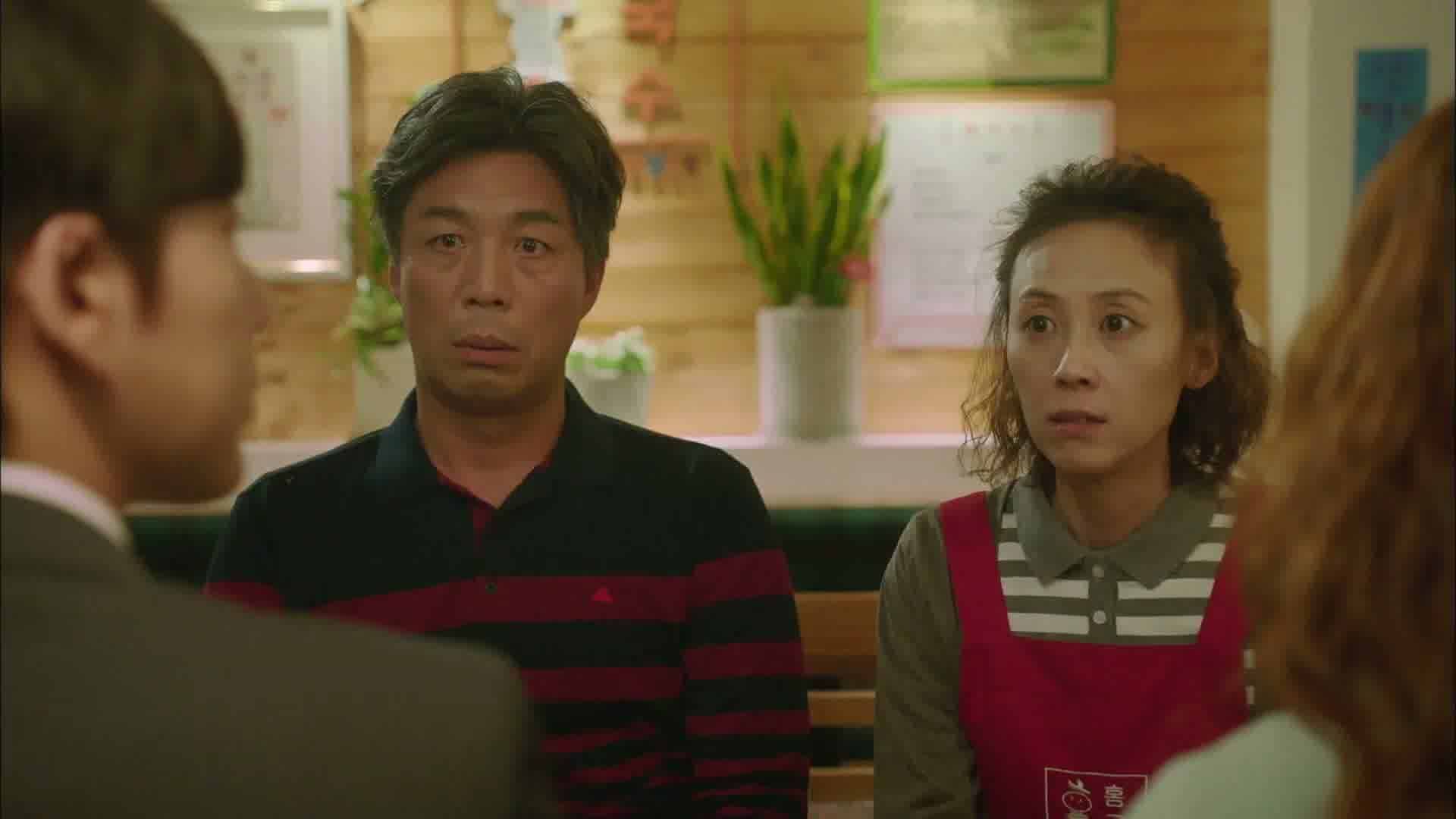 Dad asks the standard questions and then when he asks what Jung's father does, Seol tries to make them back off. But Dad pushes for an answer and Jung says it's fine, and says his father runs a business. Mom looks concerned at that, thinking of her husband's many failed businesses. She asks what the company is, and Jung says, "Taerang Group."
The whole room freezes, and even In-ho drops his knife in the kitchen. Seol tries to ease the awkwardness by asking Mom to get Jung some water, but all she does is ask In-ho to get it. That leads to angry water-pouring service at the table, and afterwards In-ho takes the trash out and blows off steam in the alley.
Dad acts aloof while Mom brings Jung a bowl of noodles and peppers him with questions and compliments. Everything goes well and the family sees Jung off, and though Mom and Joon are abuzz with dreams of becoming in-laws with chaebols, Dad says gruffly that they're from two different worlds.
In-ho comes back inside once Jung is gone, and he finds himself washing Jung's empty bowl and listening to Mom gush about how Seol might marry Jung. He thinks back to the professor's question about what on earth he's been doing for five years and wonders aloud, "What have I been doing?"
Seol walks Jung to his car and checks to make sure he wasn't put off by her family's questions, but he says they were nice, making her relieved. She asks hesitantly if he got home okay last night, and he says nonchalantly that he did and he slept well too. That's it, and Seol wonders if maybe he doesn't remember their kiss at all because he was too drunk.
Jung abruptly changes the topic to ask if In-ho is going to continue coming to school, and Seol is disappointed, thinking he surely forgot their first kiss. He asks what she's thinking, but she brushes it off and says goodnight without bringing it up. So he smiles and gives her a light kiss and says, "I didn't forget. I remember everything."
She somehow manages to hold in her giddy reaction until after he's pulled away, and wanders home in another blissful daze.
The next day, In-ho shows up at school again, this time without the attitude. The professor doesn't seem surprised, and In-ho admits that he came here to learn. Aw, yay. The professor sits him down at the piano and gives him a practice book with Hanon exercises, and In-ho scoffs to be treated like a grade-schooler.
But at the threat of walking away, In-ho agrees to play them, and the professor just tells him to keep playing until he returns after class. He can't believe he's sitting here about to play exercises, but convinces himself to just play along. He starts and then almost immediately has another fit of rebellion, but when he messes up, he wonders if maybe he DOES have to start here.
So he starts to practice properly, and two hours later, the professor returns to find In-ho still at it. He smiles and in flashback we see that he'd told In-ho's old teacher about running into him. The old teacher had asked for a favor: "Teach him that perseverance is true talent."
Bora finds it odd that Eun-taek is delivering coffee to the other sunbaes, and Young-gon's girlfriend comes up to her and tells her to keep better tabs on Eun-taek. She implies that Bora's flirting caused another fight between Eun-taek and Young-gon, and Bora tells Seol about it later, frustrated that she can't get a straight story out of Eun-taek about it. Bora is certain that Young-gon did something to manipulate the situation.
Adding to their frustration is Copycat Min-soo, who's now grown bolder due to Young-gon twisting her confidence in all the wrong ways. When Bora (who refers to her as chaktoong or chak-Seol for "faux Seol") confronts her about her Seol cosplay, Min-soo declares that Seol is the one copying her. Jung arrives at school and notes Min-soo curiously before greeting Seol with a cute wave.
Group projects roll around again, and Seol assigns parts to her group members, who agree halfheartedly to do their part. That is, all except for sunbae Sang-chul, who is full of excuses as always. This time the others in her group all agree with Seol that he has to pull his weight, and Seol puts her foot down and says she'll just take his name off the project if he doesn't contribute, per the professor's instructions.
Sang-chul raises a huge stink about it, and Min-soo thinks to herself that Young-gon was right about Seol not being very nice at all. Jung and Min-soo are in the same group this time around, and he happens to notice the little lion sticking out of Min-soo's pencil case. He doesn't say anything about it, but suddenly starts being very nice to her and complimenting her research work.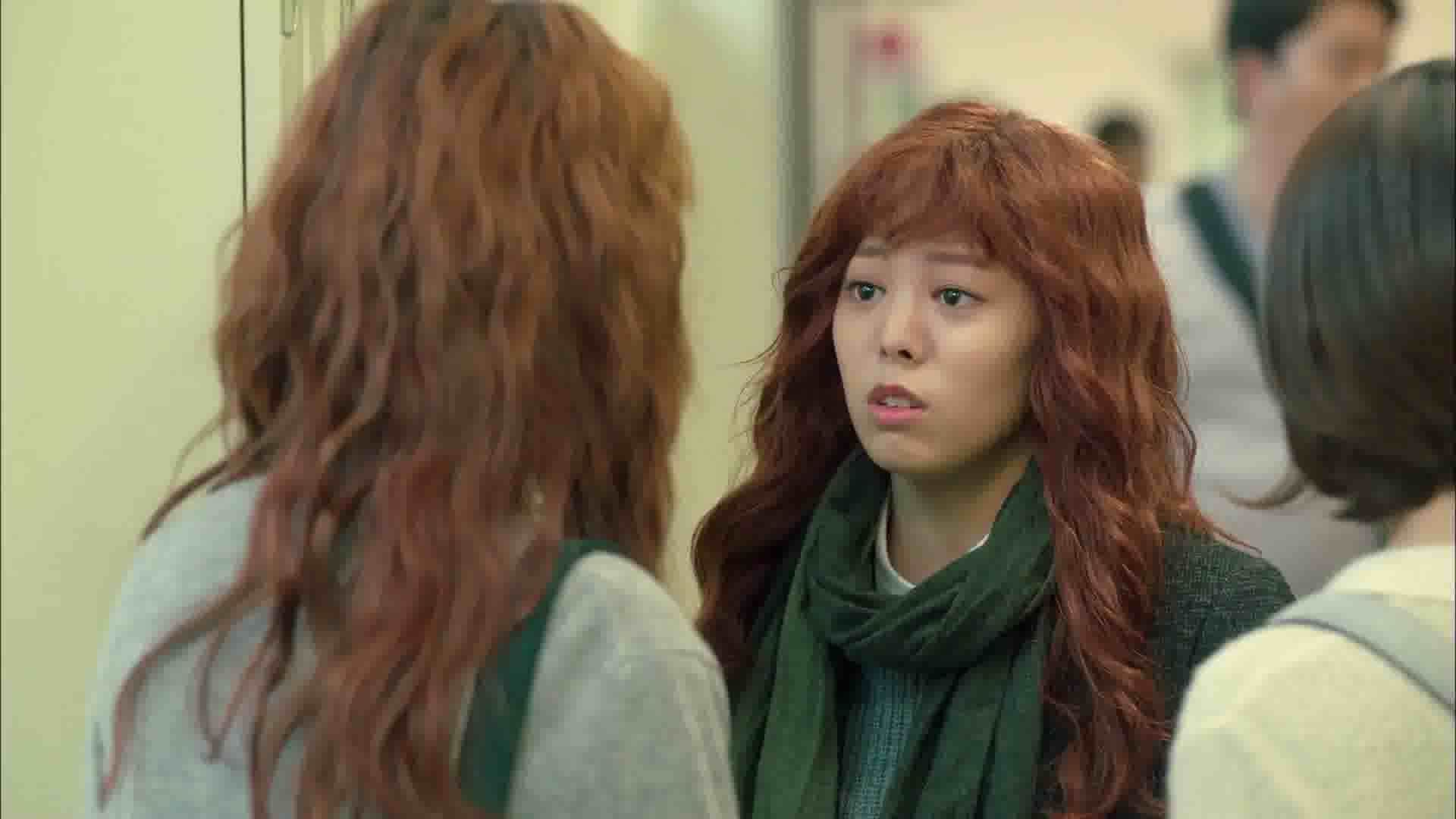 After class, Bora and Seol approach Min-soo, and at Bora's prodding, Seol asks again about the lion. Bora insists that they don't sell them at the mart where Min-soo said she bought hers, and though Min-soo is nervous, Young-gon has basically coached her to raise her voice and act the victim.
Young-gon's girlfriend is already against Bora and jumps to Min-soo's defense in front of everyone, and sunbae Sang-chul is only too happy to join in with the crowd and turn againt Seol and Bora. This place is a lot like high school. A very messed up high school at that.
Young-gon and his girlfriend assure Min-soo that they're on her side, and tell her that she's a hundred times better than Seol. Min-soo has even convinced herself of that, and decides that they're right.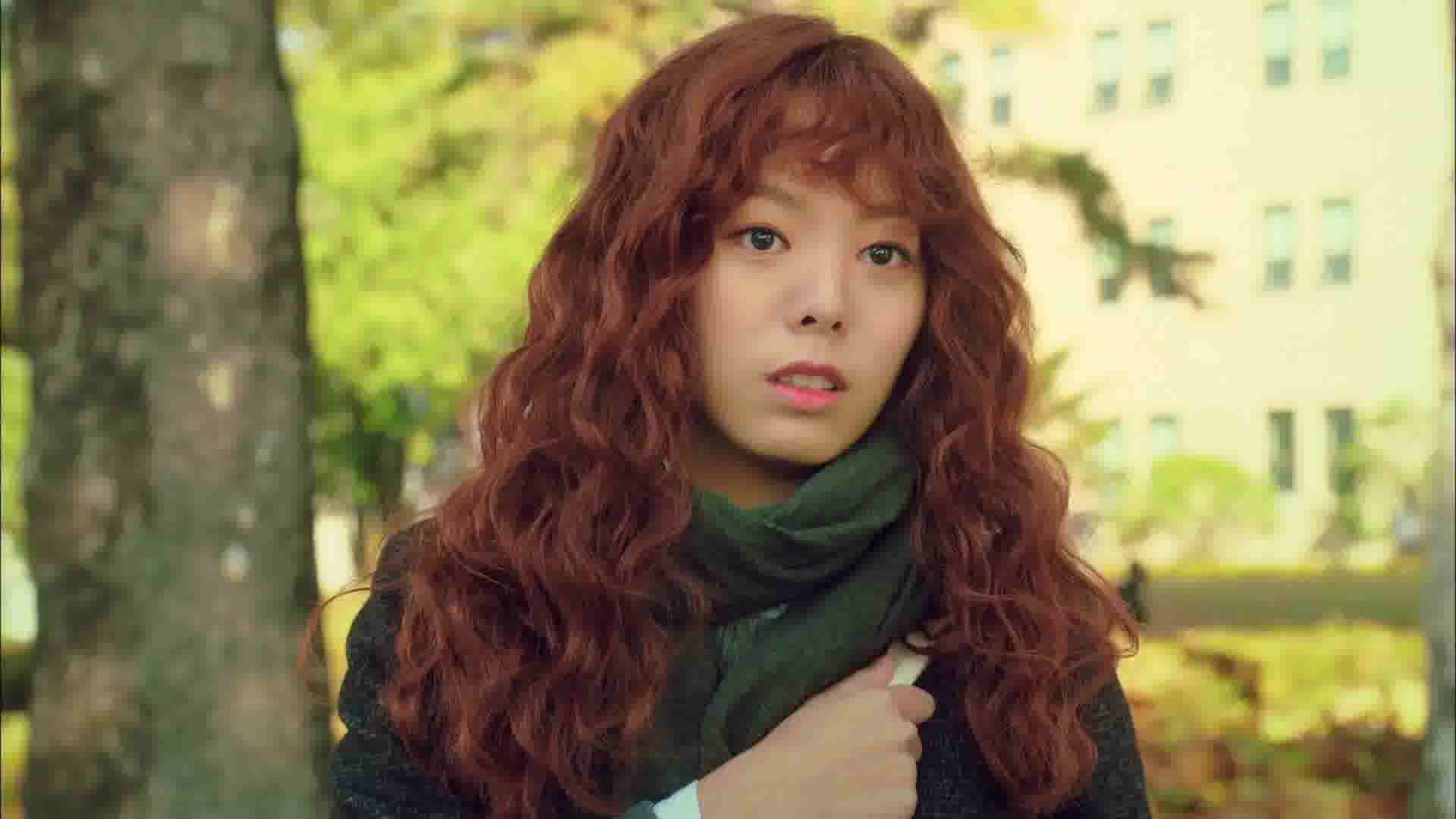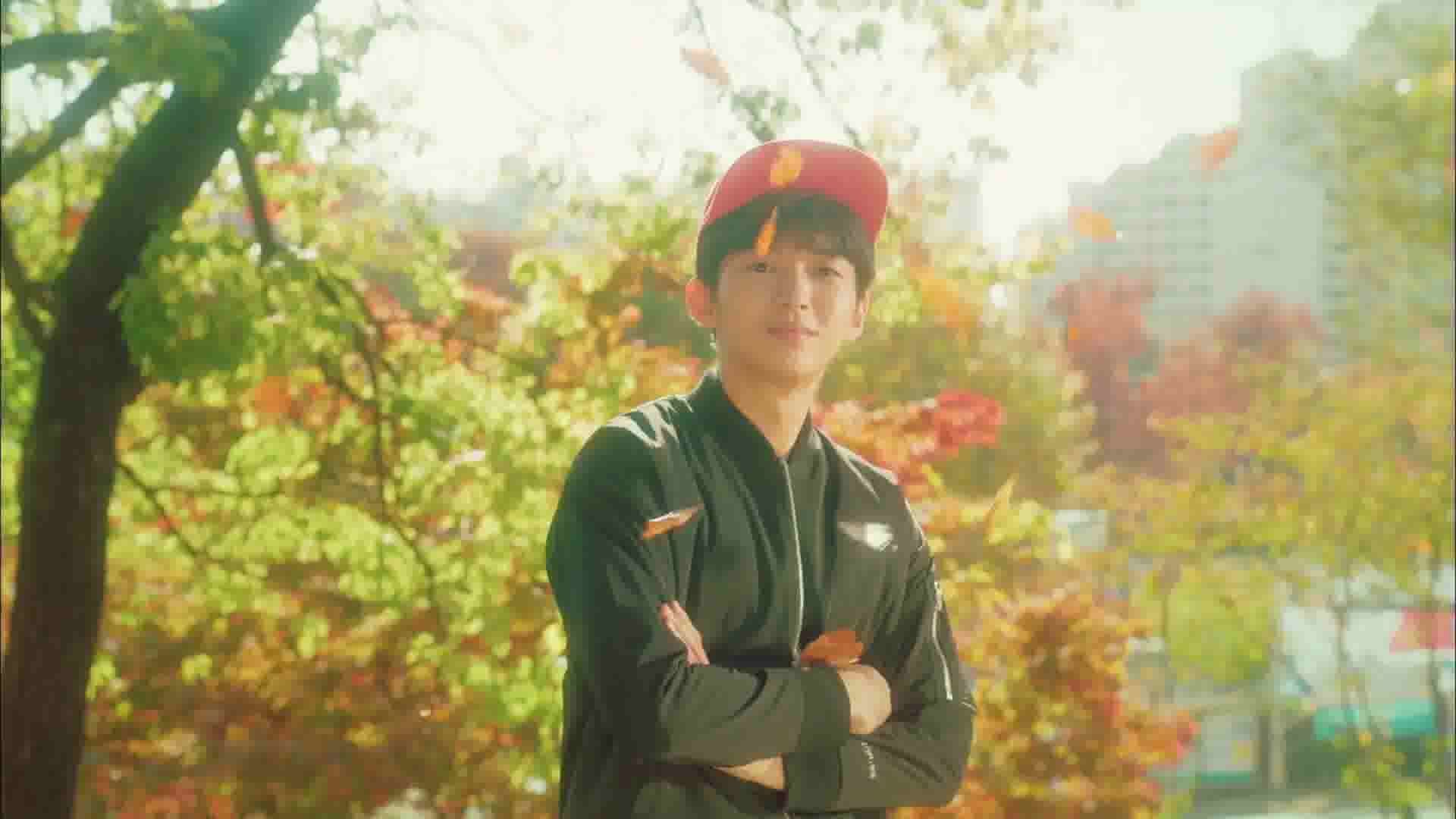 And then of all people, Min-soo happens to see Seol's little brother Joon on campus, and she's smitten instantly. He stops to ask her for directions to the art school, and Min-soo takes out her phone to show him the campus map, and sneaks a picture of him first. I have never seen a drama with more stalkers, creepers, and stalker-creepers, ever.
Seol is disappointed when Jung is too busy having drinks with coworkers to answer her call that night, and she trudges to Uncle's bar and aegyos him for a cup of coffee. Uncle says that he left the piano like she asked (awwww), and In-ho comes by every night to tinker around on it like Seol said he might. He says it's total beginner kid's stuff though.
Seol walks into the back room to find In-ho practicing his Hanon exercises dutifully, and he jumps because he doesn't notice her until she's sitting next to him. She asks if he isn't supposed to be good at piano, and says she played this stuff in grade school.
He says this is all her fault, really, and it's because of her that he's sitting here playing this. She smiles to realize that he went to go see the professor, and he gets cutely defensive about how there's a deeper meaning to these exercises and she'd never understand.
They bicker back and forth and he sputters for something mean to say and lands on, "You can only play up to Czerny!" Ouch, way to get her where it hurts, dude. Seol counters that he's the one playing Hanon exercises, and wonders if all that talk about being good at piano was a lie.
That really gets his goat and he shows off for her, and her jaw drops. He's pretty satisfied with himself and does the whole rockstar shrug, all, Yeah that's right, I'm this good, and Seol marvels at how fast his hands move.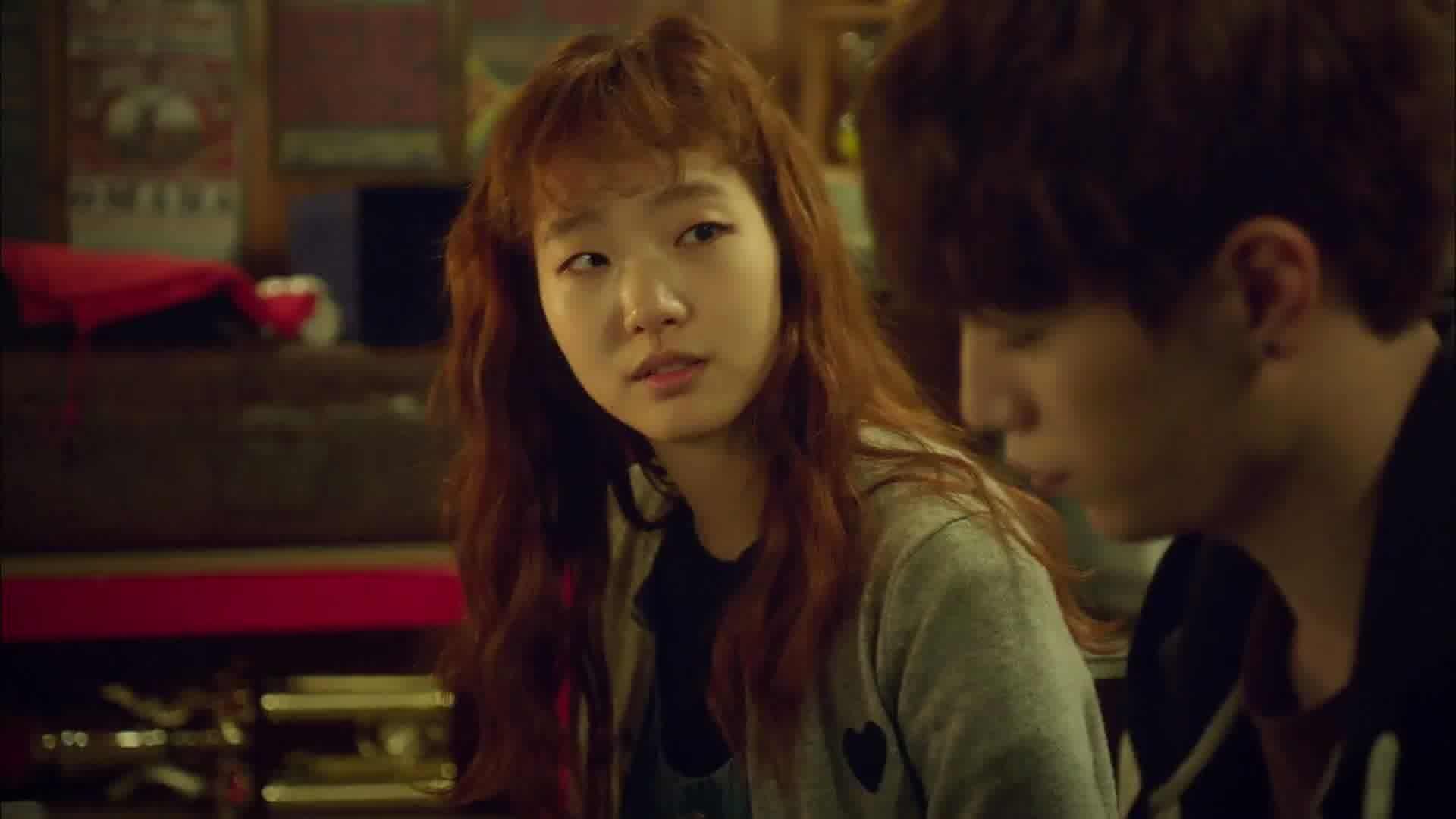 He offers to play anything she likes, acting like it's to shut her up about underestimating him. So she starts humming a tune, and he plays it. It's Satie's "Je te veux," and Seol wonders to herself as she watches him, "Was he like this in high school? It's really nice to listen to."
He makes a mistake mid-song though, and he covers it up by pretending that he forgot how the rest of it goes. Seol starts to play the melody, trying to remember the rest, and In-ho joins in. I love that they're finishing the song together.
Well, they would, except Seol switches to Chopsticks instead and they laugh adorably as they play. Seol says in voiceover, "Even though personal matters rush in like ripples, they're nothing but ripples. Like everyone else does, it can be endured."

COMMENTS
I really liked seeing Seol's thoughtful side today. I know she's already a sweet person who thinks of others first, but we've often seen how that can become a negative aspect of her personality that lends to her being taken advantage of by pushy sunbaes and thoughtless peers. But today when we discovered that she asked for her uncle to leave the piano there for In-ho and was silently hoping he'd play again, I was touched that someone was looking out for him like that. Frankly I'm glad that she's just ignoring Jung's dislike for In-ho now, because I like their friendship too much to have her avoiding him like she did at first. I suppose In-ho likes her too much already not to get his heart broken eventually, but I could settle for them just being great friends. Them playing piano together at the end just really warmed my heart, enough to shake my Jung-Seol faith.
The thing is, I often like it best when the three of them are together, and especially so when the boys are forced to play nice. It cracks me up when In-ho and Seol have very similar reactions to Jung (like when he just announces that he's going to meet her parents), and I like that In-ho challenges Jung when he's otherwise so used to winning everything and getting whatever he wants. There's important growth in learning that he can't control Seol and always get his way, so I enjoy that Seol is outright asking them to get along now, even if they don't always comply. There's a lot of bad blood there, but I have to hope that they both feel so betrayed by the other because they cared about each other that much, and that it means there's something to salvage in that broken bromance.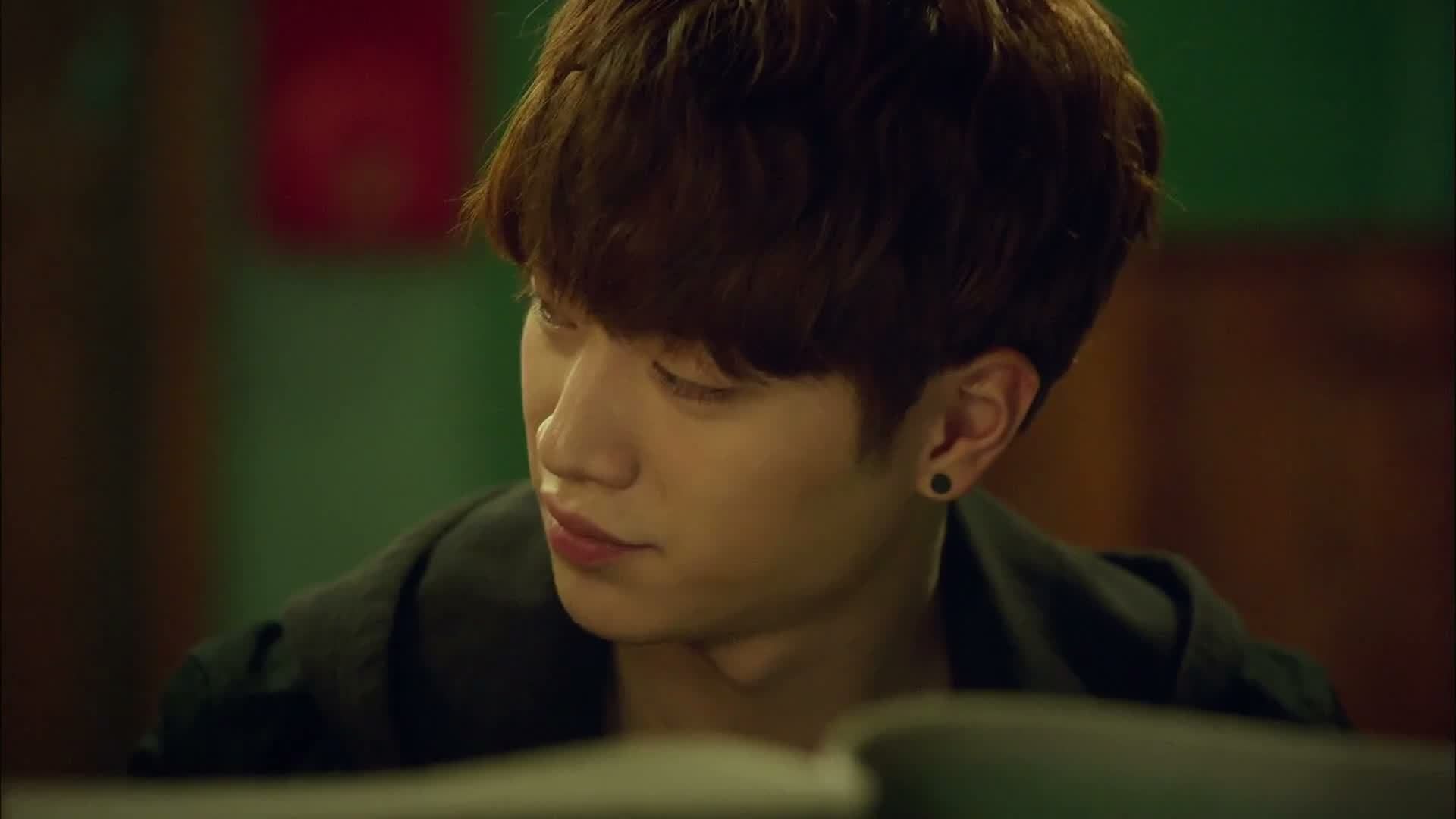 I'm worried that this latest conflict with Stalker Boy Young-gon is going to break Seol's trust in Jung past the point where she can forgive him yet again. Because Young-gon is a crackpot, to be sure, but Jung clearly did push him onto Seol back when he hated both of them, and even maneuvered it so that In-ha would do his dirty work. That's seriously crafty, and pretty alarming. It's especially discomfiting when you consider how Young-gon actually stalked Seol for a long time and genuinely made her scared for her safety. I don't know if I can forgive him for that. Maybe, just maybe, he didn't know that Young-gon would go that far and actually turn into a creepy stalker. I don't know that I believe that, given Jung's razor-sharp intuition about people, but it's possible. Even still, the fact that he thinks it's okay to manipulate people this way is deeply flawed.
But the show tells us that this is problematic—it'd be a different story entirely if this were painted as perfectly swoony behavior from a romantic hero. His feelings for her are clearly sincere, but the difference in how he treats Seol before and after they date is vast, and I wonder at what point it stops mattering how he treats her now as his girlfriend, if he was once capable of treating her so badly. It's a question I find myself asking because I find their couple moments so, so cute, and Seol can rationalize a lot of his behavior because he intends to do right by her and keep her safe, and all that good boyfriend stuff, which I love about him. But I was always taught to watch how a guy treats waiters in restaurants and strangers on the street, because how he treats the one person he likes isn't the whole picture. It's just food for thought whenever I see Jung being so different to someone he doesn't care about the way he does with Seol. And especially so when we're talking about Past Seol, who may have been hurt by Jung in ways she doesn't even know yet. I guess I'll just brace for impact and hope that their second-first kiss won't be their last.

RELATED POSTS
Tags: Cheese in the Trap, featured, Kim Go-eun, Park Hae-jin, Seo Kang-joon