Mrs. Cop 2 loses entire original cast except Kim Min-jong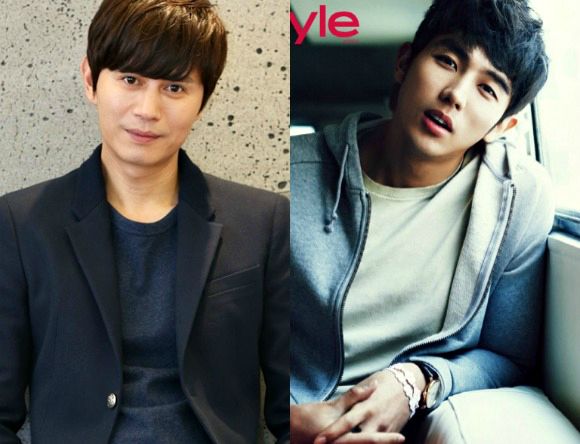 At this point I'm really confused as to why they're going to call this drama Mrs. Cop 2 when they failed to re-cast everyone from the first season except for Kim Min-jong. But SBS is intent on doing this second season/spinoff of the ajumma cop drama, despite the fact that after original headliner Kim Hee-ae dropped out, co-stars Sohn Ho-joon, Lee Da-hee, and Lee Ki-kwang all said no to Season 2 this week, leaving the new detective team leader without a team to lead.
The second season is trucking on though, and with Kim Sung-ryung (Queen's Flower) signed on as the new Mrs. Cop, Kim Min-jong has agreed to reprise his role as the section chief she'll work for. Kim Min-jong had a loveline with Kim Hee-ae's character in the first season, so I wonder if they'll write in a breakup or avoid romance altogether this time.
Kim Sung-ryung will play a new character to the franchise, an FBI-trained elite detective who comes in to take over the violent crimes team when Kim Hee-ae's character takes a leave for personal reasons. That, I understand, but this is the weird part: Since Sohn Ho-joon, Lee Da-hee, and Lee Ki-kwang turned the project down, apparently they're planning to re-cast new actors to play their original characters. But… why?
Im Seul-ong (Hogu's Love) is considering an offer to play Sohn Ho-joon's character, a dogged special-forces trained detective who had a bickering partnership and loveline with Lee Da-hee's character. I really hope this is just a fleeting half-baked idea and that they end up writing new characters for the new cast, because there's just no reason to re-cast new people in the same roles. It's not a soap opera that's been on for ten years! You already wrote a new heroine, so why not have Kim Min-jong's character move to a new precinct and get a whole new team of underlings? At this point, you either have to embrace the spinoff angle a la Let's Eat 2, or you risk confusing your audience.
Mrs. Cop 2 follows I Have a Lover on Saturdays and Sundays beginning in early March.
RELATED POSTS
Tags: Im Seul-ong, Kim Min-jong, Mrs. Cop 2, sequels