Remember—Son's War: Episode 7
The war begins, and Jin-woo discovers just how steep his downhill ride can be, trying to win this fight against the infamous Nam household. He's stealthily made progress for a chance at a retrial thus far, but with a rich powerhouse as his enemy, he'll need much more than his own willpower and memory. Although Jin-woo may seem untrusting, knowing the truth comes at a price, and he's not willing to put others in danger for his own war.

EPISODE 7 RECAP
After entering the bar with Yeo-kyung, Jin-woo greets Gyu-man with a knowing smile. Gyu-man tries to deflect his familiarity, but Jin-woo follows him to return his cellphone. As Jin-woo hands over the phone, he gets close and whispers a warning that they'll meet again soon in court. Dong-ho watches them silently.
Though Gyu-man leaves with his signature smile, he drops the façade in his car, noticeably angry about Jin-woo's interference in framing the vice president. Dong-ho reveals the hand behind the framing job — President Nam — and Gyu-man seems surprised that his father would jeopardize his beloved vice president. But Dong-ho explains that President Nam has been doing everything to ensure that his power be inherited by his son. Gyu-man best be on his game. Then, Dong-ho gets a call from Joo-il asking to grab a drink.
When Jin-woo returns to his office, he's cautiously approached by Boss Ajumma. He tells her that he coincidentally ran into Gyu-man (without divulging his premeditated plans), but just as everything is about to begin, his father can't remember who he is. And he doesn't want to force recollection, since it will only put Dad in more pain.
Boss Ajumma tries to comfort Jin-woo as he cries, telling him that memories last in the heart, not the mind. She believes that Dad remembers Jin-woo in his heart, even if he can't recognize him. But those heartfelt words don't stop Jin-woo's sad tears.
As Dong-ho shares a drink with Joo-il, he sings a few lines of Cho Yong-pil's "Dreams": Where the world is a forest, where it is a swamp / No one says . Joo-il knows that Dong-ho is referencing Jin-woo and warns him to stop Jin-woo, since it's no use trying to stop Gyu-man. But Dong-ho can't stop a son from saving his father. Joo-il sternly reminds Dong-ho that the enemies of the Nam household are also their enemies.
At the breakfast table, Gyu-man starts to ask his father about the vice president case, and President Nam updates his son with a life lesson: People are just tools — when they become old, you have to change them. Case in point: VP Kang's resignation has been processed.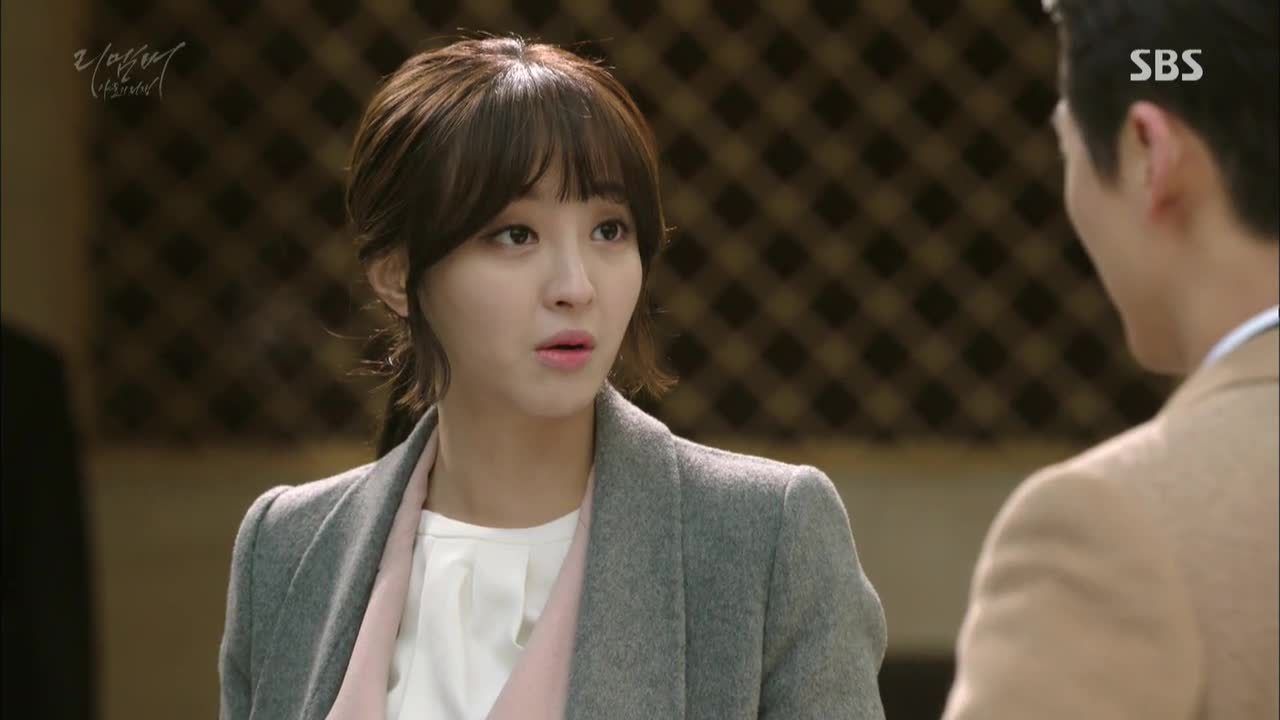 The Nam siblings walk out to see their father off to work, and Yeo-kyung looks at her brother curiously when he opens the car door for their father. After President Nam leaves, Gyu-man tells his sister to avoid "that bastard Lawyer Seo," but Yeo-kyung refuses, claiming that he's a serious and skilled lawyer. She leaves him with a reminder that their father always tells them: Don't lose your normality.
VP Kang hands Jin-woo the USB files with all of Il-ho's secret funds, which is the payment they had agreed upon. He's decided to leave the country, since his 30 years of loyalty to Il-ho resulted in betrayal. After all this lost time, he wants to be a real father and real wife to his family.
Jin-woo receives a phone call from an old man who saw the reward posters for witnesses in Dad's framed murder case. He rushes to meet the man, who claims to have seen Dad looking lost with a bag in his hand on the day of the murder. He's only now come forward because he's been away at his son's house and didn't know the case was still unresolved. Jin-woo looks ambivalent, but the old man seems more interested in the reward money.
Gyu-man signs a major contract, which gets highly publicized. Afterwards, he asks Secretary Ahn why he thinks he invited all the big trustees to this event. It was to show his father that he's capable of heading the company's business deals. He's a big boy now.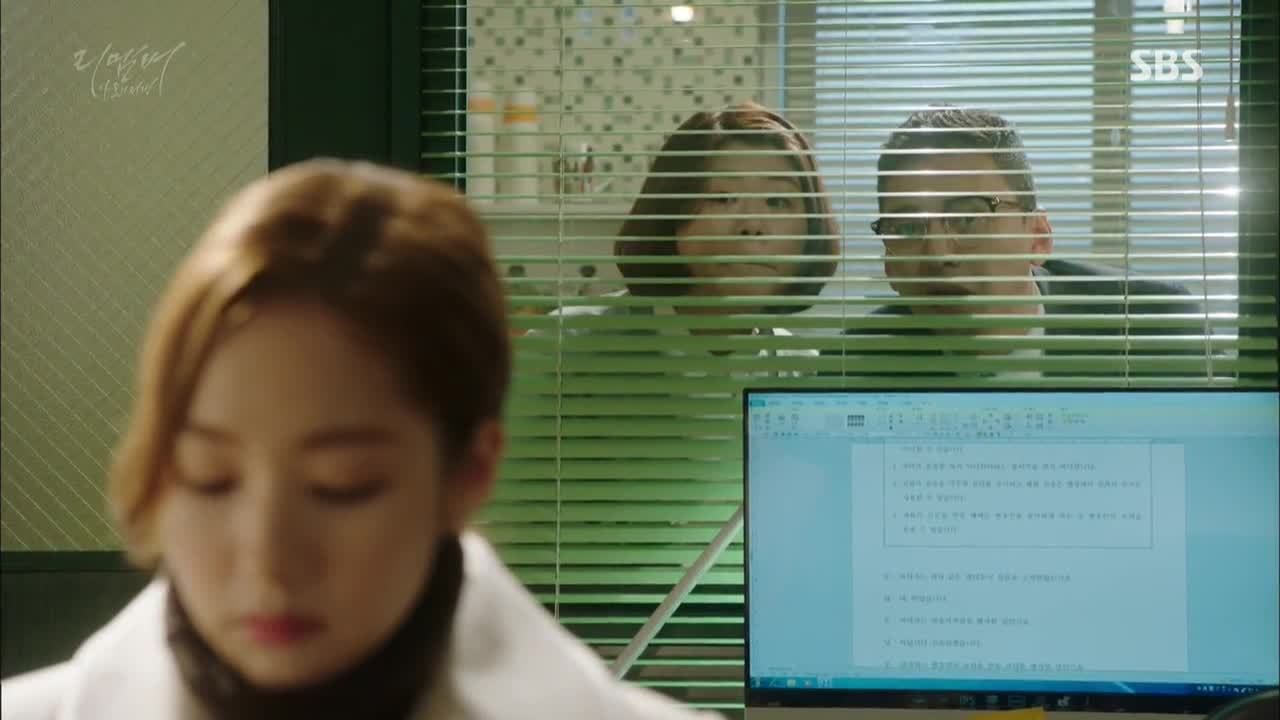 Lawyer Song asks Boss Ajumma how he got to know Jin-woo, and she laughs as she recollects what a rude scoundrel he was when she met him as a student. Their conversation is interrupted by In-ah, who drops by with flowers to congratulate Jin-woo on his new firm. Lawyer Song and Boss Ajumma peek through the blinds and hide away just as Jin-woo arrives.
In-ah greets him and asks what he's been doing to cause the scratches on his face. Jin-woo responds by commenting that her worry for other people's business is the same. He tells her that he'll be filing for a retrial, now that he's found a witness to confirm his father's alibi. "I'm going to prove my father's innocence for that noona… that noona…" Oh no.
Jin-woo abruptly stops mid-sentence, and In-ah finishes it for him. "That noona… you mean Jung-ah?" He snaps out of his thoughts and tells In-ah that he's busy before leaving her downstairs.
Later that night, Jin-woo hides away the USB in one of his books, Boss Ajumma asks why Jin-woo didn't tell In-ah everything. He says that he doesn't want her to get hurt, especially since she was the only person to believe him and his father. This is his war.
Jin-woo runs into Prosecutor Hong after filing for a retrial and tells him that he'll find the real culprit in this retrial. Prosecutor Hong seems to mock his young passion and lets him go on his way — he must be busy preparing for this trial.
Yeo-kyung catches the elevator just as it's about to close, but she's met with In-ah. They don't seem too fond of this coincidental encounter, and In-ah asks when she became so close to Jin-woo. She comments that everyone's interested in him nowadays. Before she leaves, Yeo-kyung takes a jab at In-ah's loss against Jin-woo, thinking that was the reason for her interest.
Gyu-man summons Dong-ho and tells him that he's still unsettled by Jin-woo. He wants Dong-ho to follow Jin-woo and keep him away from trouble. But trouble's already on its way, as Judge Seok-gyu looks over the request for retrial. Seok-gyu sets up a meeting with Dong-ho through Gyu-man to ask about the murder trial, since Dong-ho was the lawyer on the case then. Though Dong-ho doesn't comment further on the case, Gyu-man is clearly irked by the turn of events.
In the car ride back, Gyu-man regrets that he won't be able to live nicely because of Jin-woo. With those scary eyes of his, Gyu-man yells at Secretary Ahn to order his guys and track Jin-woo's trial progress.
In-ah visits Jin-woo's father and introduces herself as a friend of Jin-woo. But he doesn't recognize Jin-woo's name and rejects the fact that he has a son. Shocked by the progression of his Alzheimer's, In-ah storms into the prison doctor's office to demand proper care of the prisoners. They're human too, and she won't let this malpractice slide.
As she walks out, In-ah runs into Jin-woo. He suspects that she visited his father, but she lies that she has no reason to — his father wouldn't know who she is anyway. She leaves, and Jin-woo gets a message form Boss Ajumma about a key witness's whereabouts. He immediately gets on his way.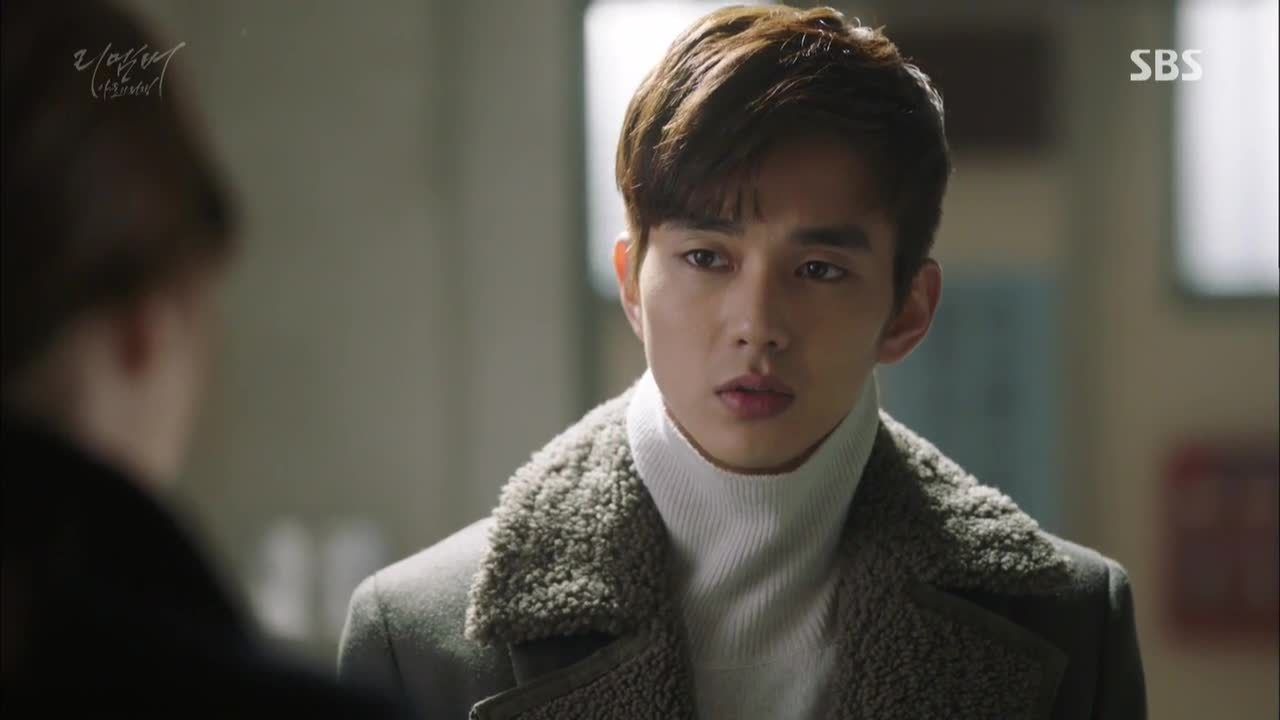 It's Dad's co-worker who lied on the witness stand, and it seems that she's been out of contact after immigrating to China. She's staying with her daughter temporarily for surgery, and while the daughter runs back to the store, Jin-woo approaches the witness about correcting her wrongs against his father. She refuses to admit any wrongdoing, so Jin-woo spots her daughter and gives her a business card in case her mother changes her mind. Secretary Ahn watches the interactions from afar.
Gyu-man meets with Prosecutor Hong and the detective who forced Dad's admission of the murder. Dong-ho enters the room and doesn't look pleased to be at the same table with his once-enemies. The detective and Prosecutor Hong ensure Gyu-man that he has nothing to worry about while Dong-ho sits silently, giving them both a long glare.
As they walk out, Dong-ho tells Gyu-man that no judge would be willing to overturn such a drastic case, but Gyu-man worries because he knows the judge. Seok-gyu wouldn't let anything stop him if he believed that something was true.
Next, Dong-ho comes face-to-face with his archenemy, Prosecutor Hong. Dong-ho finds it amusing that they both now work under someone, since Prosecutor Hong used to use that against Dong-ho. Although they were once enemies, they both work under President Nam now, so their partnership must be fate, Prosecutor Hong claims. But the looks in their eyes show that not a thing has changed about their rivalry.
Now, Dong-ho's off to meet Jin-woo, which comes to a surprise to his assistant. He explains in the car that Jin-woo was a secret enemy to Gyu-man, but now that he's publicly announced his retrial, Gyu-man won't let this unfold. Jin-woo's basically set up his own trap.
Jin-woo considers the second witness in his web of connections, and he's met with Dong-ho when he exits his secret alcove. Dong-ho tries to persuade Jin-woo to stop making himself a target and explains that his father's trial was set up to the very detail. There was no way to win. But Jin-woo isn't about to show sympathy for Dong-ho, who faced no repercussions from losing Dad's trial since Dad was poor and powerless.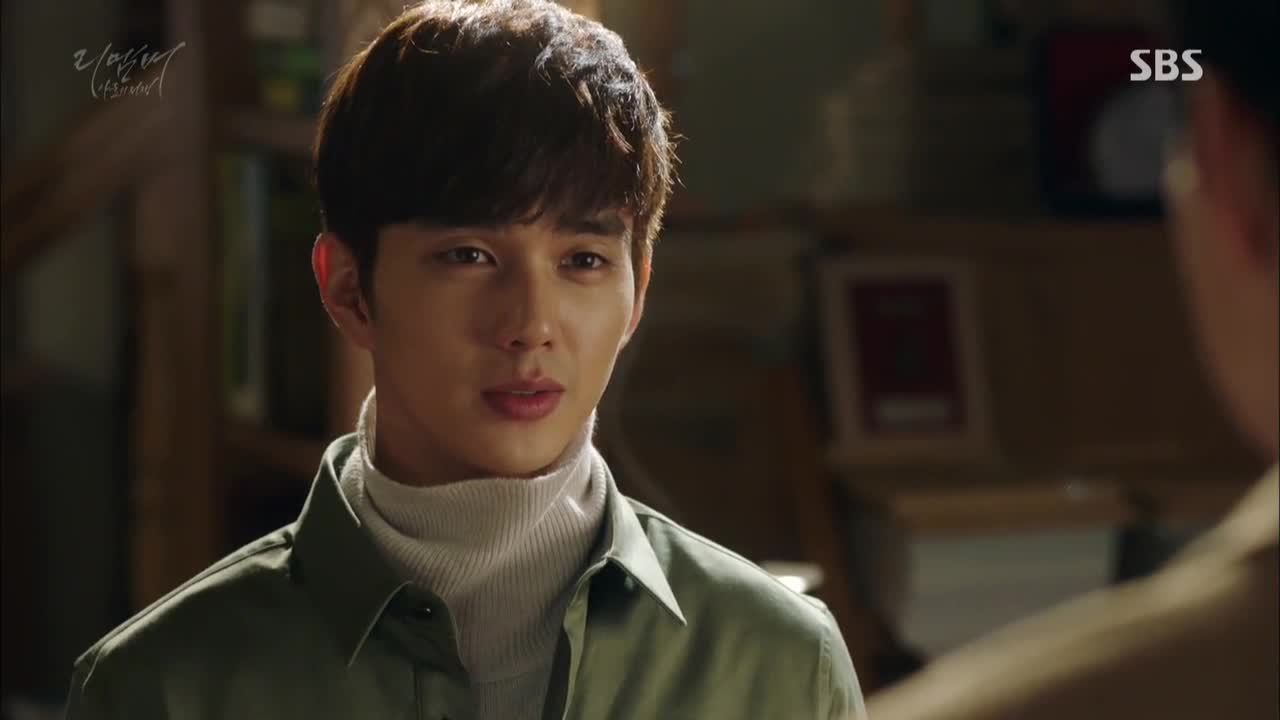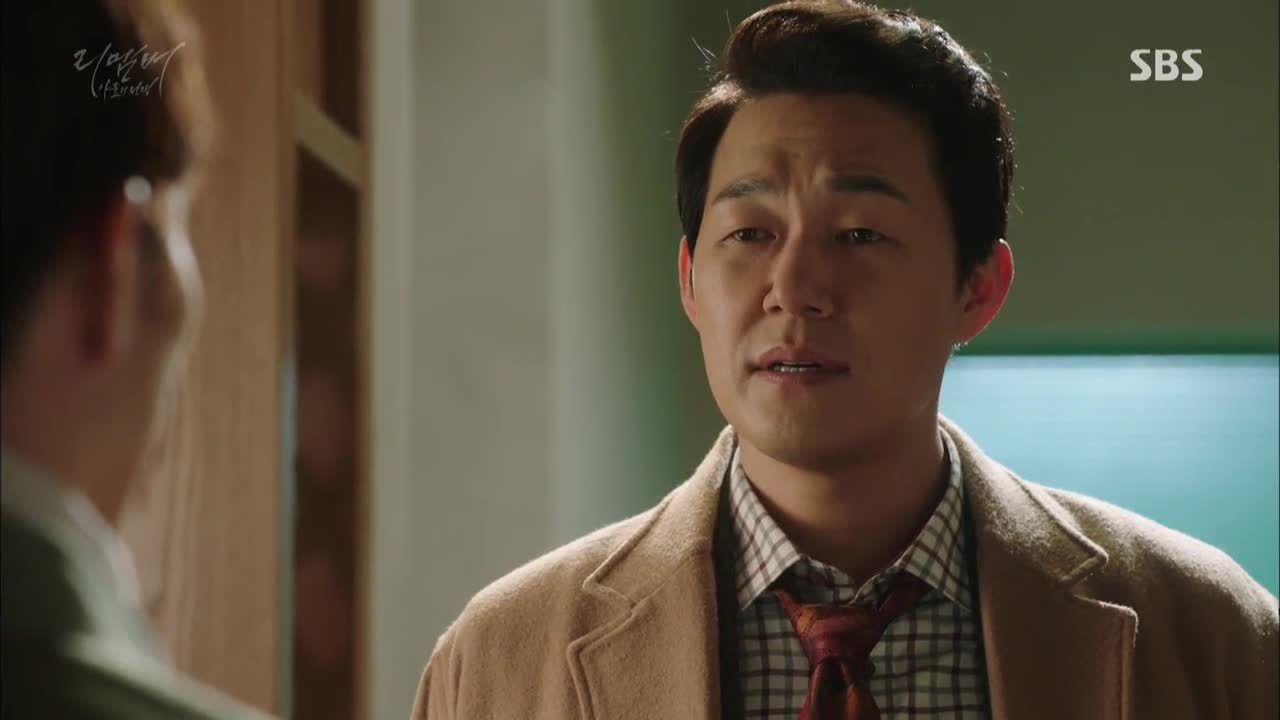 When Gyu-man returns home, Secretary Ahn updates him about Jin-woo's progress. Jin-woo's found their witness who agreed to give a false testimony to frame his father, and Secretary Ahn hints at the slight chance that this woman could force a retrial. Gyu-man casually concludes that they should kill her and orders him to take care of it.
But Secretary Ahn refuses to kill anyone, even if it's just by hiring a mercenary assassin. Gyu-man grabs a crutch and slowly walks towards Secretary Ahn. Beckoning him closer, Gyu-man throws a hard slap against his face and walks closer with his stick. Secretary Ahn begs, "Just hit me, if that will release your anger. But don't kill anymore."
Gyu-man smiles and asks, "Anymore?" He beats Secretary Ahn yelling anymore and beats him some more. When Secretary Ahn tries to convince his friend to stop, Gyu-man scoffs at his insistence that they're actually friends.
Prosecutor Hong summons In-ah to scold her for interfering in cases with what she believes is the truth. Her ruthless claim about Seo Jae-hyuk's (Jin-woo's father) health has impacted the prosecutor's office, and he punishes her by forcing her off all her current cases.
In-ah ends up with boxes of old unsolved cases. Her boss, Prosecutor Tak, erupts with anger, but In-ah calmly accepts that someone had to resolve these anyway. Over coffee, In-ah asks her boss about Prosecutor Hong. He tells her that Prosecutor Hong does however he wishes, especially after the Seo Jae-hyuk's trial. Now he and the judge on the case have been promoted to hold even greater power. No one can confront that power easily.
In-ah admits that she wants to help in Seo Jae-hyuk's retrial, since she's learned that a prosecutor's job is also to reveal falsely accused crimes. She still believes that he's innocent, but Prosecutor Tak tells her to forget it.
Jin-woo approaches the witness's daughter again and asks her to convince her mother, whose conscience should know that she's committed a wrong against an innocent man. The witness overhears the conversation and looks conflicted.
Joo-il enters Gyu-man's office, where company officials clearly older than Gyu-man are punished on their knees with their hands up. Gyu-man scolds them like small children and belittles them to do their homework. After they leave, Gyu-man greets Joo-il and asks for a favor, since the deed he's requesting would leave make his hands dirty. Joo-il offers to forget this encounter, but Gyu-man knows his Achilles' heel: Dong-ho.
Gyu-man laments that he'll have to toss this deed to Dong-ho if Joo-il doesn't comply, and no one would want that, would they? They've worked so hard to make it to this point, and they should know that their fates also lie in Gyu-man's hands. Gyu-man threatens Joo-il with a smile, and it seems that he's got no choice for Dong-ho's sake.
Secretary Ahn meets Dong-ho's assistant, who gasps at his friend's bruises and instinctively tries to makes his way for Gyu-man. But Secretary Ahn holds him back, and Assistant Peach Fuzz acknowledges that he would lose. To lift his spirits, he forces something into Secretary Ahn's hands despite his protests and tells him to stay strong. Then Secretary Ahn sees that it's a free stamp card, not money. HA.
Joo-il enters an empty clock shop and asks for a repair job. He suspiciously hands over a thick envelope of money and pictures of our witness. The clock shop man has a blue lobster tattoo on his hand and clearly offers more services than clock repair.
Our witness gets a visitor at the door (ahh, don't answer it!), but thankfully, it's just Secretary Ahn. He talks to her in his car, putting on his best threatening face. He warns her not to meet Jin-woo, but she's clearly divided on the issue.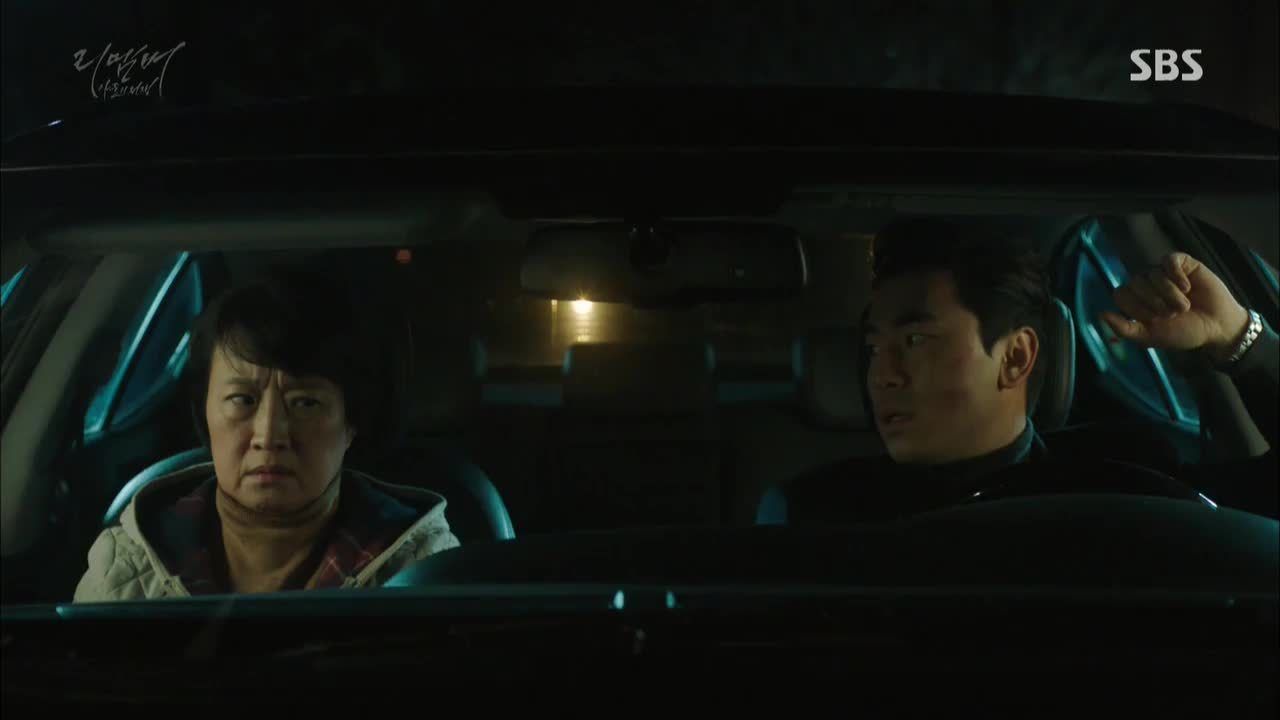 Both Jin-woo and In-ah look over the trial documents through the night. Jin-woo lays in bed thinking back to a memory with his father: Dad asks Jin-woo to pull out his white hairs, and they bicker about the price for each white hair. Jin-woo agrees to do the job at half price, and the happy memory only makes present Jin-woo hold his mother's ring necklace tighter.
The next day, Jin-woo visits Dad with homemade food. He's close with the jail warden, who takes the taped envelope on the bottom of the lunch box as if it's a regular deal. The jail warden tells Jin-woo that his girlfriend caused a ruckus the last time she came, and Jin-woo assumes it was In-ah who caused the scene.
Jin-woo introduces himself to Dad as his lawyer for retrial and offers the food. Dad seems reluctant but digs right in when he's given permission, commenting on how everything fits his taste. Then, he asks Jin-woo about who he was. "In this place, they don't remember the person, but the crime. I'm not the person, Seo Jae-hyuk. I'm number 3729, a criminal on death row. But I don't know what kind of person I was."
Tears brimming his eyes, Jin-woo tells Dad, "Seo Jae-hyuk, you were the world's greatest father." Dad seems shocked that he has a son but asks Jin-woo to relay a message to his son — that he's missing his son every single day. Jin-woo cries, and Dad blissfully continues to eat.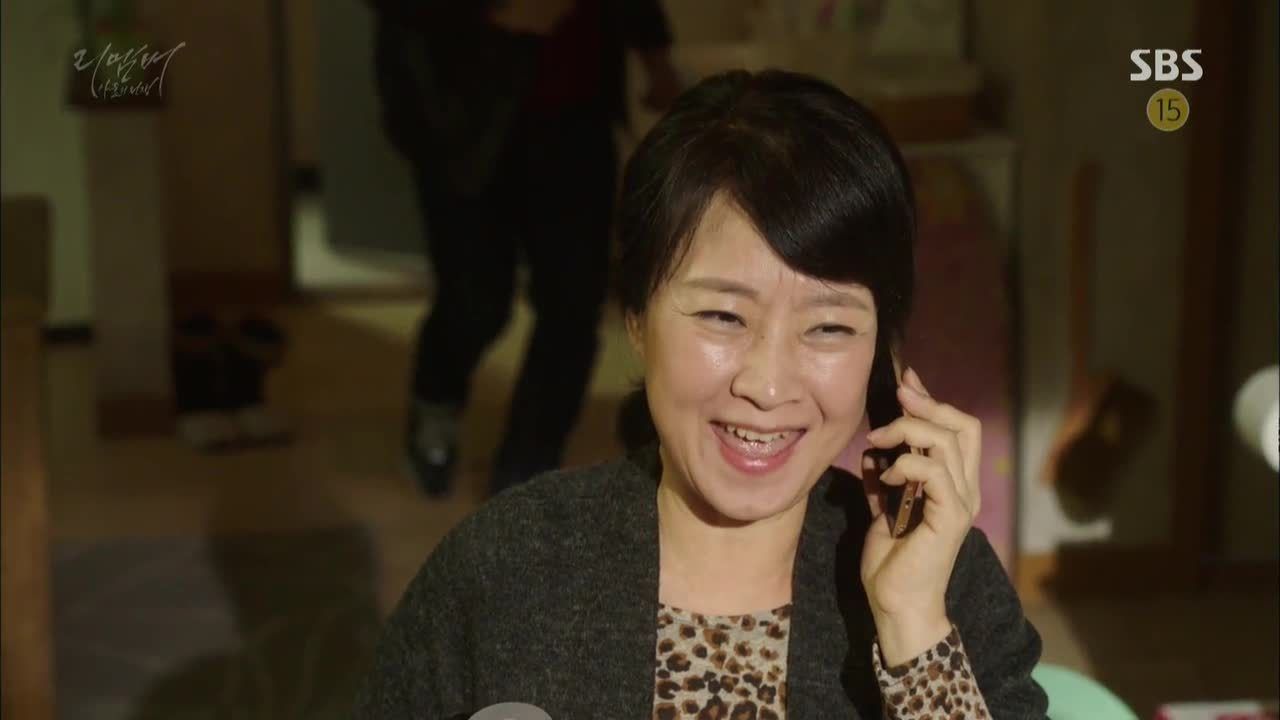 The witness gets a call from her daughter about her overtime shift and promises to buy her dinner. Behind her, Blue Lobster Hand silently enters and pulls a string out of his watch.
Dong-ho greets In-ah in the courthouse, and she tells him that the truth he ignored will win in the retrial. But Dong-ho claims that the truth is subjective and dependent on those in power. There's no such thing as an undeniable truth. But In-ah begs to differ, since Jin-woo's father's innocence is the Truth. Dong-ho shakes his head and says that in order to reveal the truth, one must have power. That's reality.
Dong-ho waves goodbye, and In-ah turns to find Jin-woo, who's overheard this encounter. At a café, Jin-woo confronts In-ah about her causing a scene at the prison. She admits to it, and Jin-woo laughs at her hotheaded actions. He's already tried getting medical help through the prosecutor's office, but he knows it's no use. He thanks her for helping, but retrial is the only method left.
Jin-woo gets a message from the witness, agreeing to tell him what he wants to hear. He rushes to her apartment and finds the door slightly opened. He walks in to find the witness on the floor with a red line across her neck. She's not breathing, and Jin-woo barely has time to process everything before the police arrive at the scene.
It's our corrupt detective who greets Jin-woo and announces his arrest as a suspect for this murder. But Jin-woo knows he's innocent and won't fall for the detective's act. Thinking quick, Jin-woo runs for the window, breaking the glass and landing hard on the ground. He gets up and makes a run for it, and a police chase ensues.
Jin-woo manages to lose the police trail, but he's already been targeted as the suspect. His face appears on the news, and Dong-ho watches with shock, as does In-ah and Yeo-kyung. His law firm is the next target, and Boss Ajumma desperately calls Jin-woo. The police break into the firm and start searching the building.
Lawyer Song argues that the police are searching their firm without consent, surprisingly not stuttering as he makes his point. Boss Ajumma seems more worried about Jin-woo's hidden alcove and demands that they go to the police station for an official search agreement.
As they leave the building, Lawyer Song complains that they have no need to agree to the search, but Boss Ajumma knows what she's doing to divert attention. Jin-woo's been waiting for the building to clear out.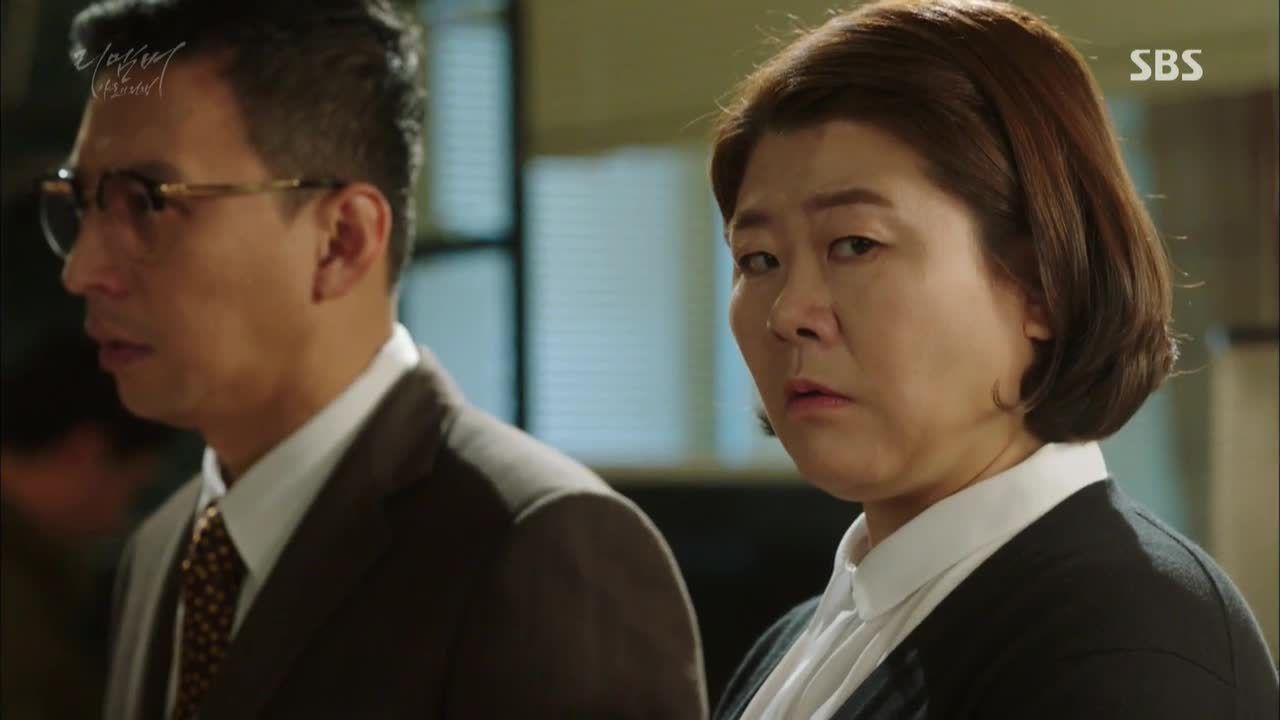 As soon as they leave, Jin-woo runs into the firm to pack his things from the alcove. In-ah arrives right after and discovers his hidden room. She finds him scrambling for his things and sees the map of connections on the wall. She realizes that Jin-woo has been preparing to fight against Gyu-man since the trial, but Jin-woo has no time to explain. "I think I've been caught Nam Gyu-man's trap."
Dong-ho also arrives at the firm and walks in. When In-ah hears footsteps, she runs out of the room and closes the entrance before Dong-ho sees a thing. He finds it curious that she's also at the firm after hearing about Jin-woo, and he asks where he is. Jin-woo silently waits from his hiding spot, and In-ah glares at him accusingly.

COMMENTS
I had such a bad feeling about Jin-woo's approach to this retrial. Knowing Gyu-man's perpetually angry self and anger management issues, I could only see Jin-woo's attempt at retrial going downhill. The moment those crazy eyes come out, I know we're in for a tough time. I wasn't expecting a clean fair game by any means, but I don't know how this can be fair for Jin-woo no matter how dirty he plays. He simply doesn't have the means, the money, or the power to make the strides that Gyu-man makes with one scary smile. I guess that makes Jin-woo the ultimate underdog, but I actually want a bit more darkness in his approach to makes things more even. Go to hell and drag that crazy-eyed murderer with you!
I do find the turn of events more interesting, since Jin-woo will have to make moves on the run. I'd like to see Gyu-man and his crew be blindsided by the sudden attacks Jin-woo has prepared, since it would make their attempt at capturing Jin-woo counterproductive. I'm starting to see more cracks in Gyu-man's rationale, especially since he's trying to model his father. He's already a weak and broken human (if he's even human), and I pity how hard he tries to please his father. In his attempt to meet these lofty expectations, he's definitely losing some loyal "tools," as Papa Nam would call them. I applaud Secretary Ahn for standing his ground and choosing not to follow orders to kill. It made Gyu-man's nonchalant attitude towards killing an innocent person all the more ridiculous, and I think he hit Secretary Ahn out of anger and possibly a bit a shame. If Jin-woo really knew who to target, he'd definitely be hitting up our poor abused Secretary.
On the downside (of many downsides), that small hint at Jin-woo's memory loss had me freaking out because things could not be getting any worse for this one. But that's just the moral of this vendetta: Just when you think things could not get any worse, Jin-woo can prove you wrong! *cries*
Oh my goodness, Dong-ho, please do something. You're dropping some real advice like the jaded lawyer sage you are, but I need you to do more. His words to In-ah about gaining power to reveal the truth ring so true, but he doesn't seem to be taking his own advice. I know his appeal is his moral ambiguity, but when he's doing absolutely nothing to fulfill his promise to Jin-woo after claiming that their contract was still valid, I start to doubt his word. He's already in this war, but if he refuses to make any moves from his position of power, might as well just sit on the sidelines.
RELATED POSTS
Tags: featured, Park Min-young, Park Sung-woong, Remember—Son's War, Yoo Seung-ho