Running Man: Episode 282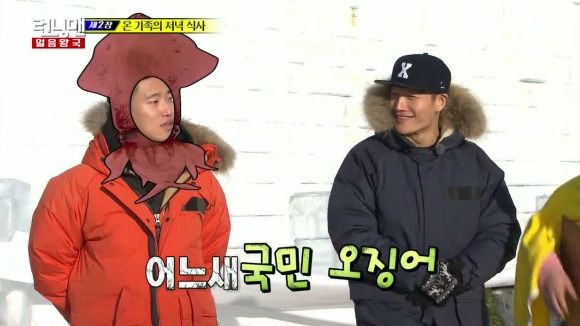 A terrible spell has fallen upon the land, and two families must duke it out to find the secret hidden in this wintry kingdom. Some will need to forage for food whilst others will be busy tending the flame at home, though all are in danger of the illustrious Ice Witch. Will they be able to escape her clutches, or remain trapped in this icy prison forever?
EPISODE 282. Broadcast on January 17, 2016.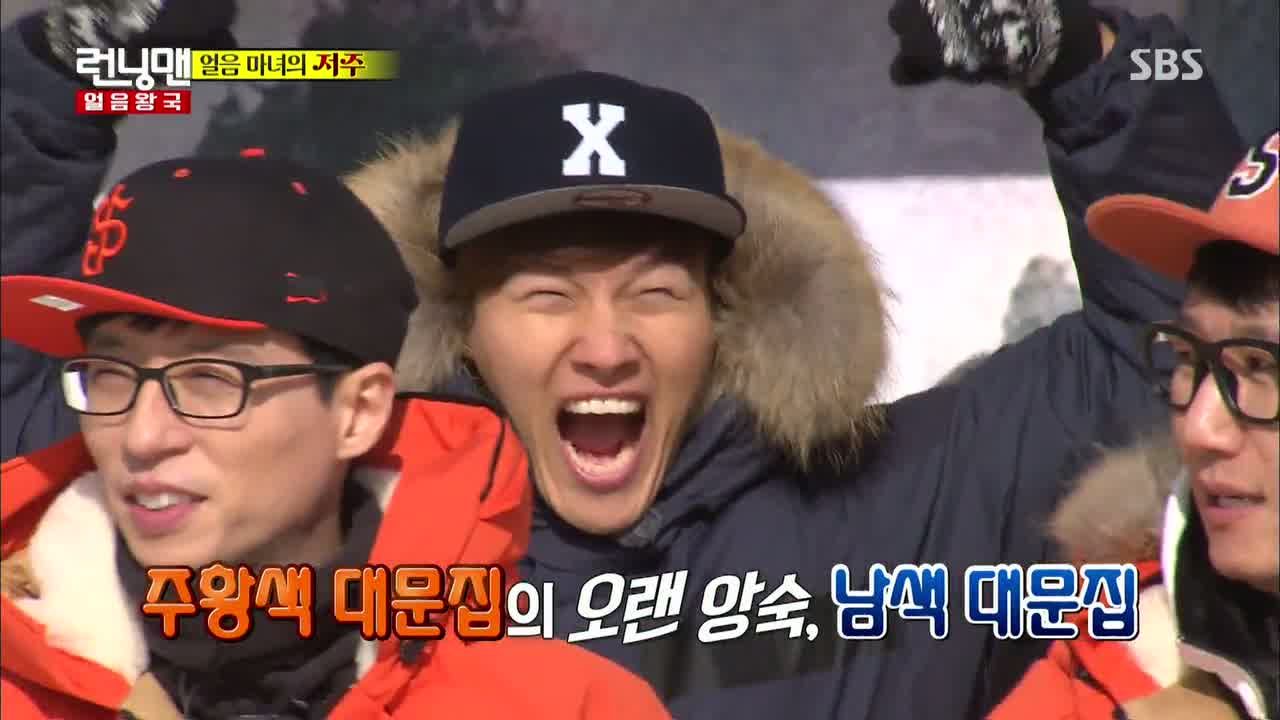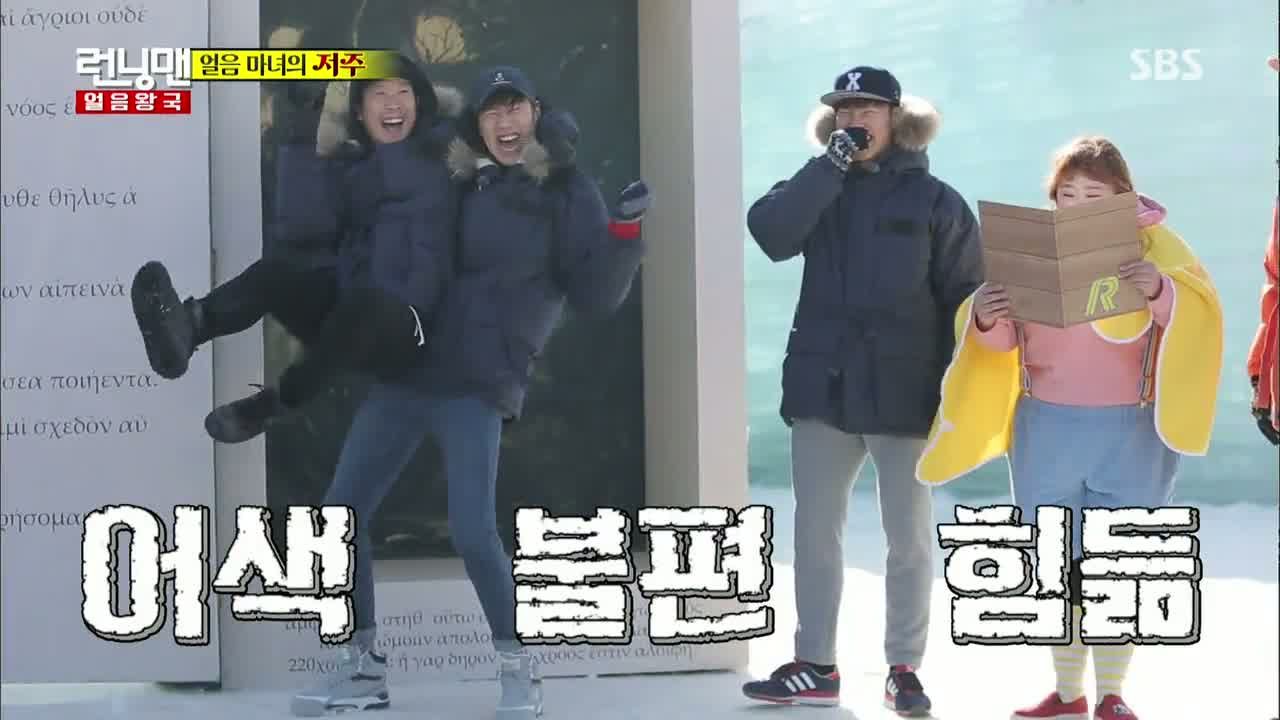 Once upon a time, an evil witch cast a spell, bringing winter to the town. Only two groups of five survived the attack: those dressed in Orange (Suk-jin, Jae-suk, and Gary), and those dressed in Blue (Jong-kook, Haha, Kwang-soo, and Ji-hyo).
It's kind of funny how everyone adapts their characters according to the narration (provided by comedienne Hong Yoon-hwa). For instance, Suk-jin talks to himself in silence… until he's told that he speaks out loud and constantly bickers with Jae-suk. And how Jong-kook overpowers both of them. HA.
Haha and Kwang-soo are twins of differing heights, and then there are the star-crossed lovers Gary and Ji-hyo who pretend to hate each other's guts in front of their siblings.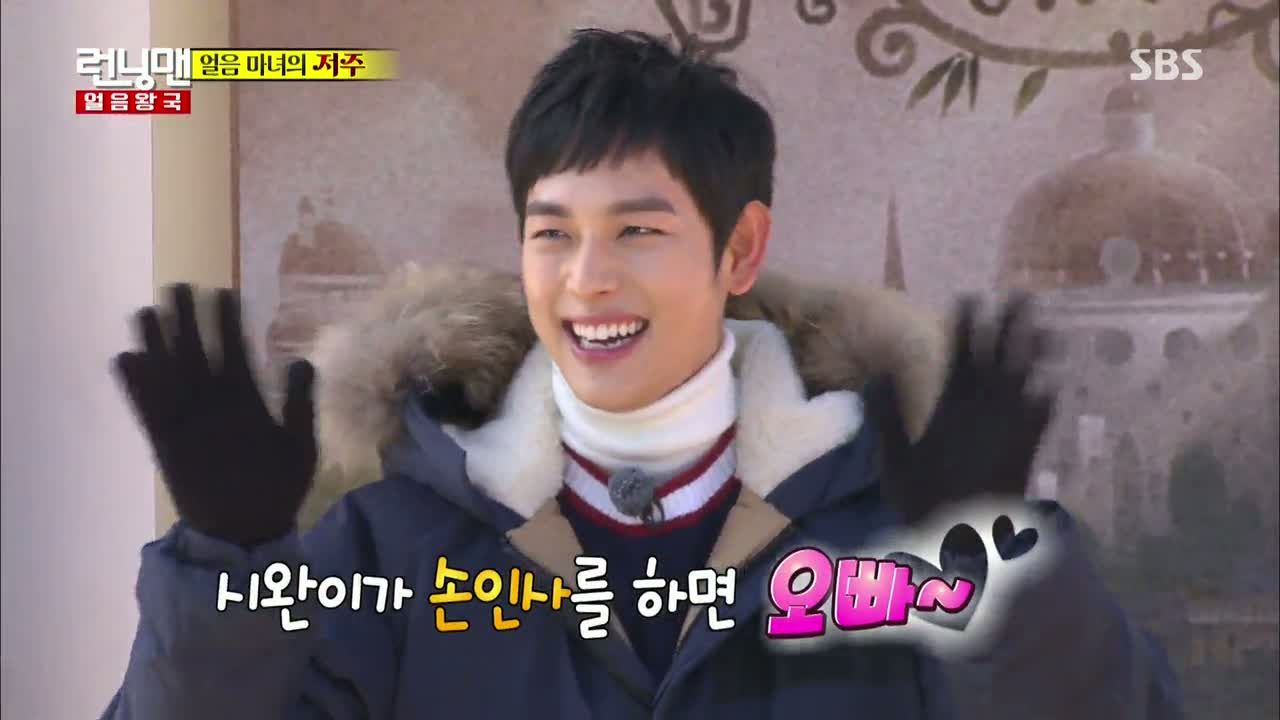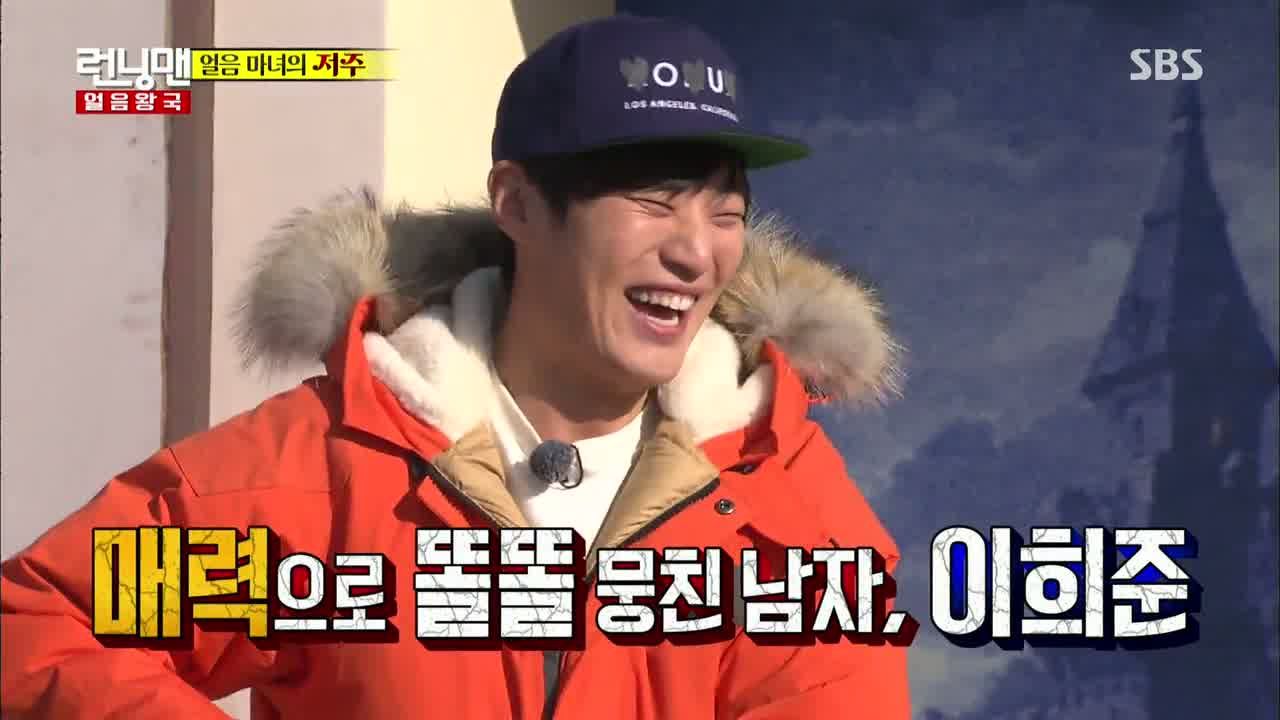 They're joined by their first guest, who's part of the Blue Team:actor and ZEA member Im Shi-wan. Then there's actor Lee Hee-jun and actress Go Ah-sung who are part of the Orange Team. All of them are here to promote the movie Thoughts of Oppa".
When Ah-sung jokingly declares that she's cold, her big brothers strip down mat hyung Suk-jin's layers to keep her warm. Hehehe.
The story continues with both of their houses swept away, leaving all but a ground layer of ice. As per usual, Kwang-soo gets carried away with the dramatics and gets promptly scolded for it.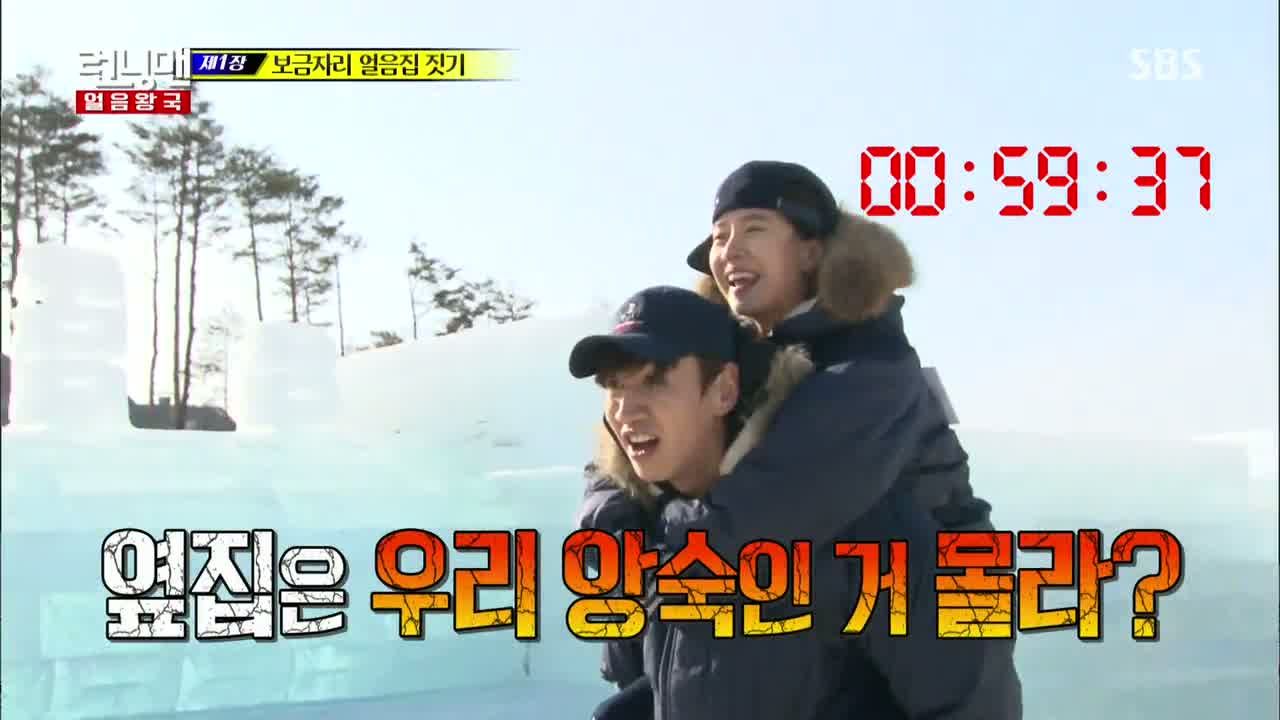 The oppas are pleased that their little sisters are asking them to "build" a house vs. buy one for them, and Ah-sung curls up reluctantly before showing some aegyo to her brothers. When Ji-hyo tries some aegyo, Kwang-soo kicks her over to stop.
After piggybacking their sisters, the guys realize that they must carry the ice blocks over to build an igloo within an hour. Since the rules state that her feet mustn't touch the ground, Ji-hyo instructs Kwang-soo to let her down so that her feet remain in the air.
That leads to Kwang-soo dragging her around until he plops her inside a sled. Hee-jun and Ah-sung do the same, as she makes room for ice blocks and some fun riding around with him.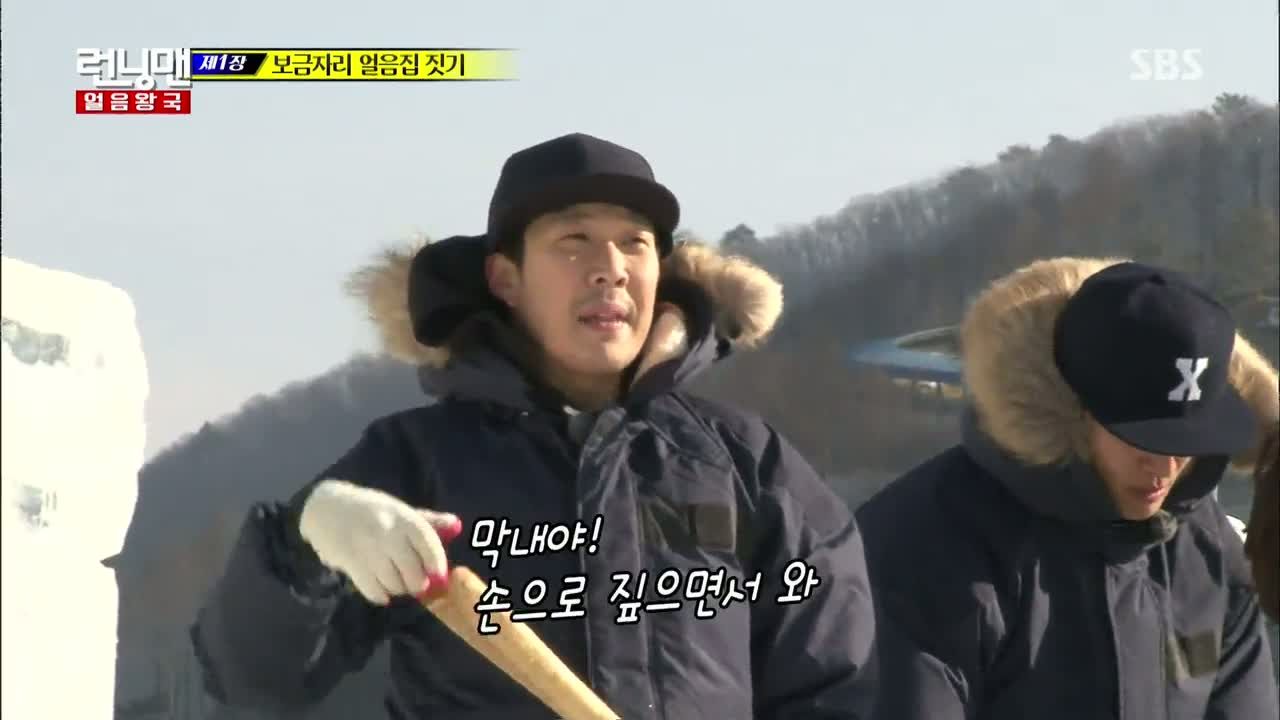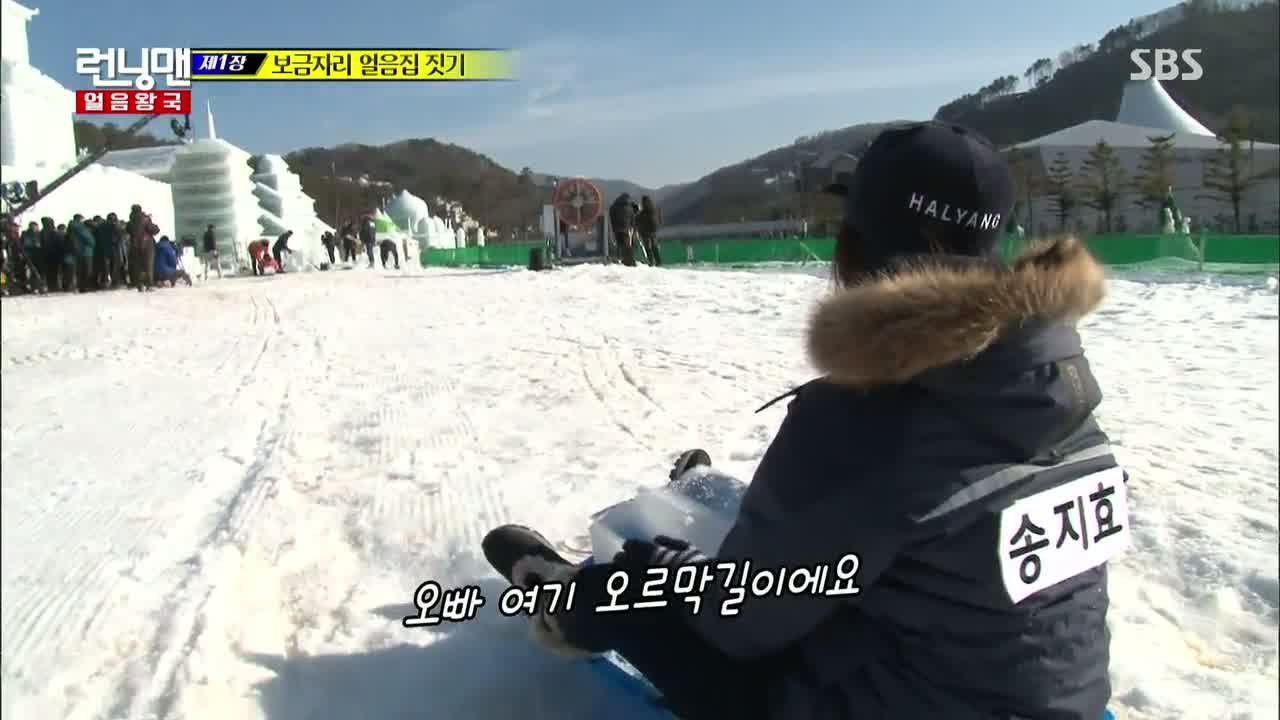 On the other hand, Ji-hyo is left stranded in her sled as her oppas tell her to crawl over. "You were good at it when you were young!" "Life is an uphill battle, anyway." Both teams have barely added to their pile 20 minutes later, so Suk-jin engages Shi-wan in a little bet for some ice blocks.
Shi-wan wins the rock-paper-scissors match and promptly takes all the ice. LOL. We see Shi-wan using his noggin and strength to his advantage (as previously seen on Law of the Jungle) to suggest that they build a triangular igloo, because why not?
With 20 minutes remaining, our narrator says a fairy came to help. That means a mini-race where the brothers must help their sister move along the platform to ring the bell first. Whereas the Blue Team strategize to slide along with the platform, the Orange Team opts to run forward to catch the platform.
The Blue Team wins it, and the "fairies" come to help build their house for the remaining time. The Orange Team try to think positive about their not-a-home, and get offended when Kwang-soo walks right into their property.
Told to choose the handsomest and ugliest brother from each team to forage for food, the Blue Team elects Shi-wan and Kwang-soo whereas Hee-jun and Jae-suk head out with Ah-sung. In the car, Shi-wan admits he's not that great when it comes to games, but he's picked up some new skills, like cooking and fishing.
Back at the base, the remaining members play games for supplies. Gary gapes at Suk-jin's suggestion that one can eat dongchimi (white radish kimchi) with water, then gets upset when Haha says grilled squid is excellent. "Try it!"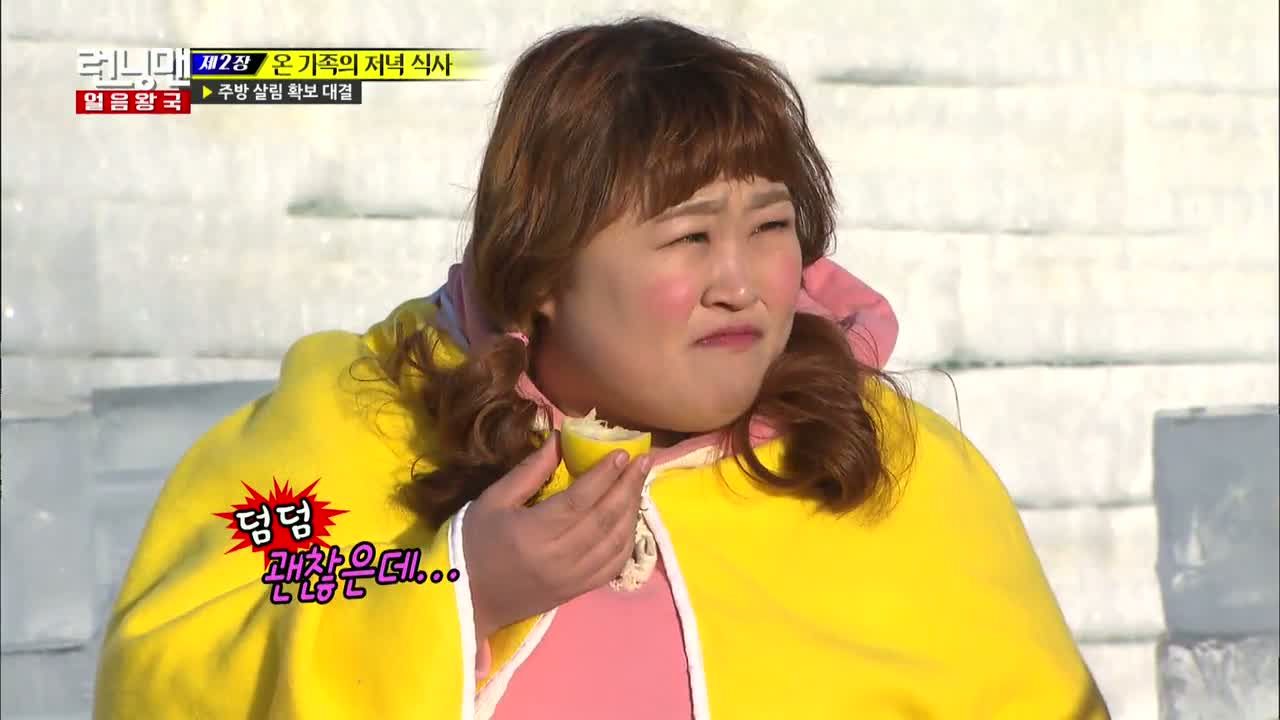 Their first game is a variation of 31 but played with lemons (they'll count in sequence—up to three at a time—and whoever ends up with the number 31 is the loser). Gary thinks Haha and Suk-jin are overacting when eating their lemon piece… until he bites into a piece himself.
Jaws drop as the guys watch Yoon-hwa eat those lemons like a regular orange, but unfortunately her eyes betray her cool facade. Soon Jong-kook's wincing expression joins the club known as the F4 in Squid Over Flowers with the trademark "Almost Paradise" tune playing in the background.
Over by the river, the Blue Team rests assured in Shi-wan for their ice fishing mission. Ah-sung punches through a used (but frozen) fishing hole, then mistakes her own reflection for a strangely-colored fish. Heh.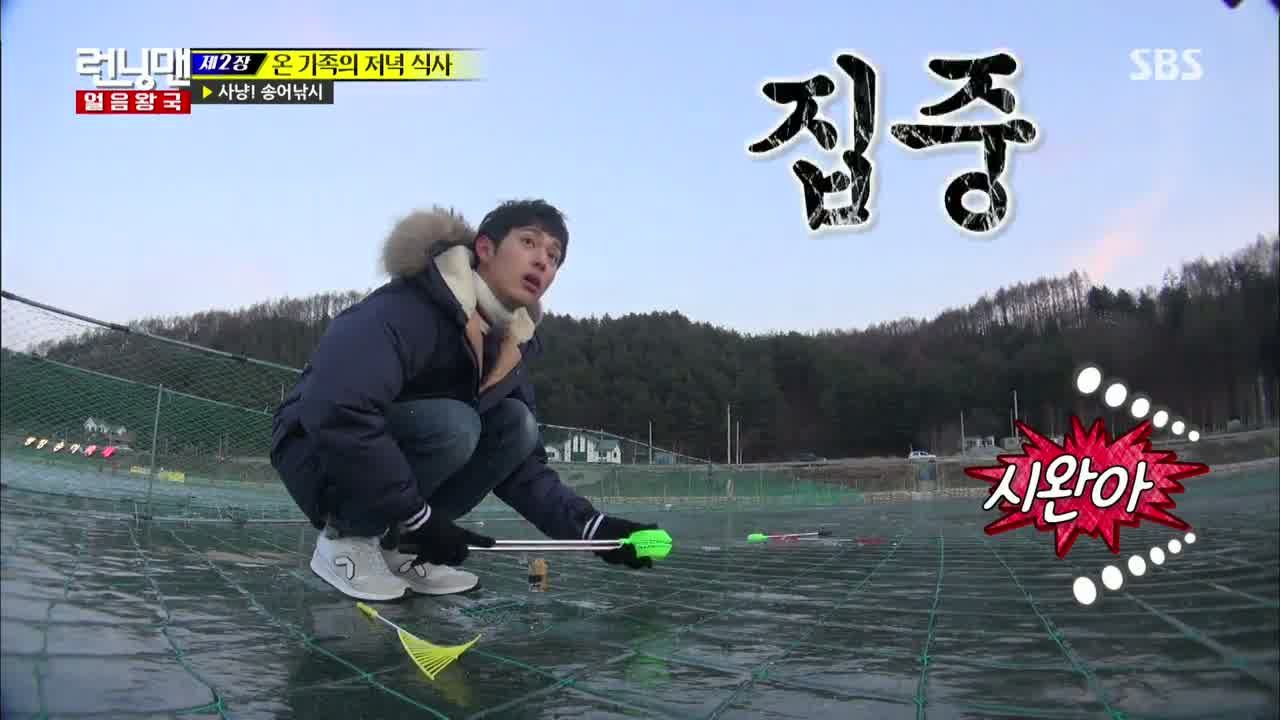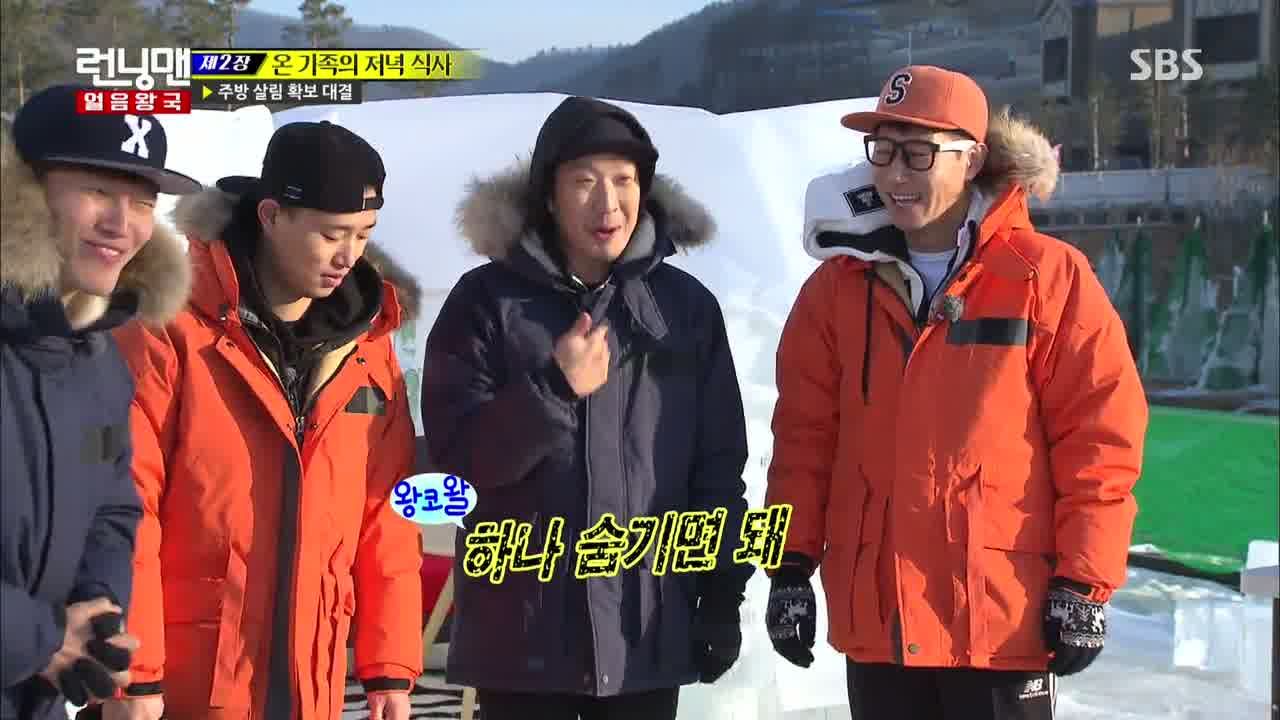 Shi-wan looks super focused on catching his fish until Kwang-soo pesters him with constant questions. He's too nice to ignore Kwang-soo, who follows him everywhere he goes. Ah-sung loses a possible catch after momentarily leaving her post and Kwang-soo simply hops over to any hot spot.
While they're busy waiting, we cut back to Jong-kook biting down on Lemon No. 26. Haha stops to note that Suk-jin tried whispering to Gary to hide a piece with him standing right between them.
So Haha eats three lemons for the win, and the Blue Team picks up the gas burner vs. the charcoal grill.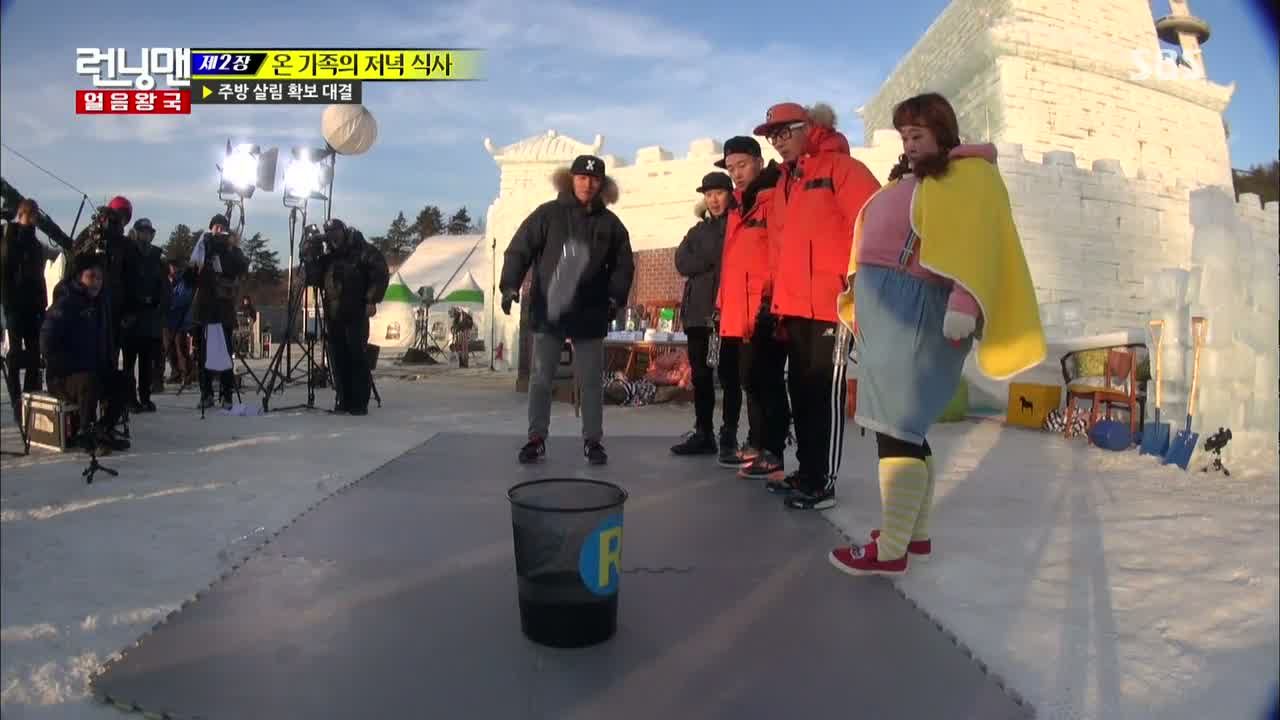 Their next game is a sock basketball game where they must make "baskets" with their feet. Jong-kook gets in one basket, and Haha tries to distract Gary with a tune about squid. Later, it's down to just Suk-jin, who makes a clean first basket… followed by a second.
Back on the frozen river, Ji-hyo's line gets a bite but she loses it moments later. This really must be Jae-suk's year because he catches the first fish he's ever caught on broadcast. Kwang-soo catches one a minute later, and Hee-jun returns to his barren hole.
Whereas Kwang-soo's feeling confident, poor Shi-wan keeps staring at his fishing hole. When the whistle blows, both he and Ah-sung ask for a little more time.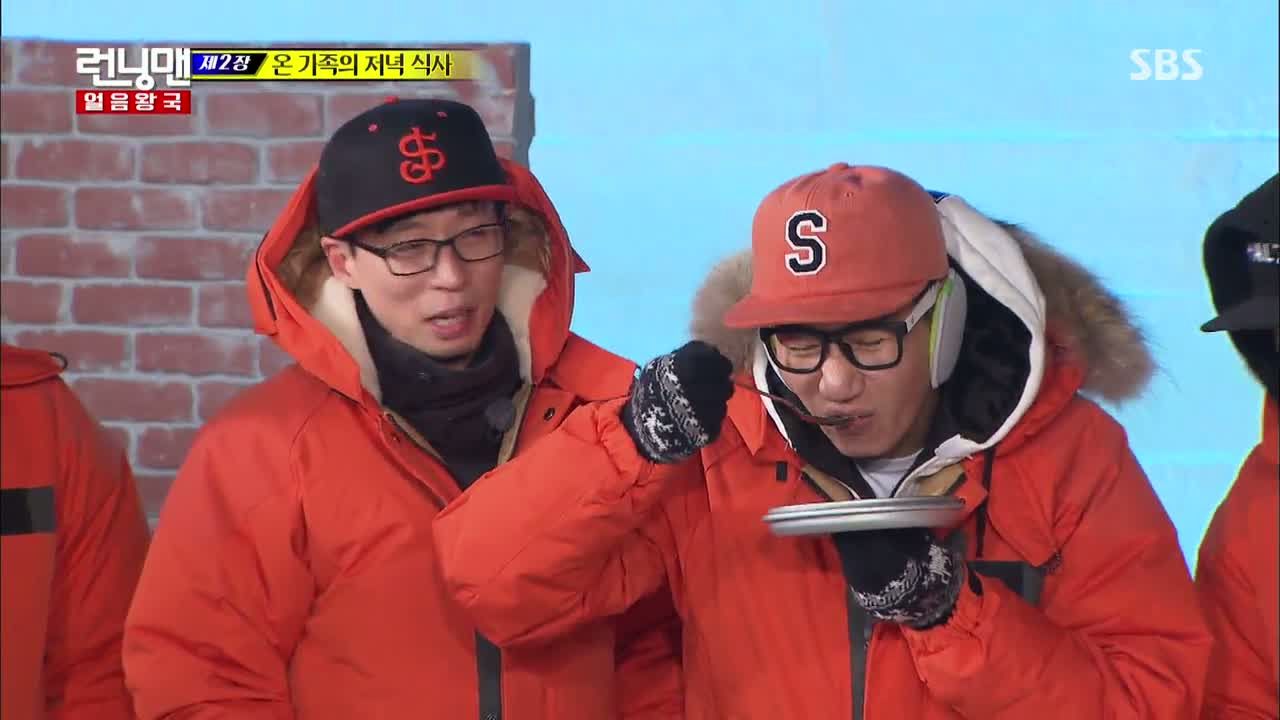 It's nightfall by the time the fisherman return with their haul (in the picture-in-picture, we see that Shi-wan caught six fish with his hands). Gary and Suk-jin openly admit that their stew is no good, which Jae-suk agrees with.
On the Blue Team's side, they've got a full-on seafood stew on the stove. As the team eats, Suk-jin complains that they're still trying to cook something on their side. A few of the guys try the delicious dongchimi.
Desperate, Jae-suk adds in some ramyun soup powder which makes the watery soup magically delicious. The Orange Team shares the scrumptious grilled fish with everyone, and later on Haha guffaws at their shamelessness in asking for hot cocoa from them.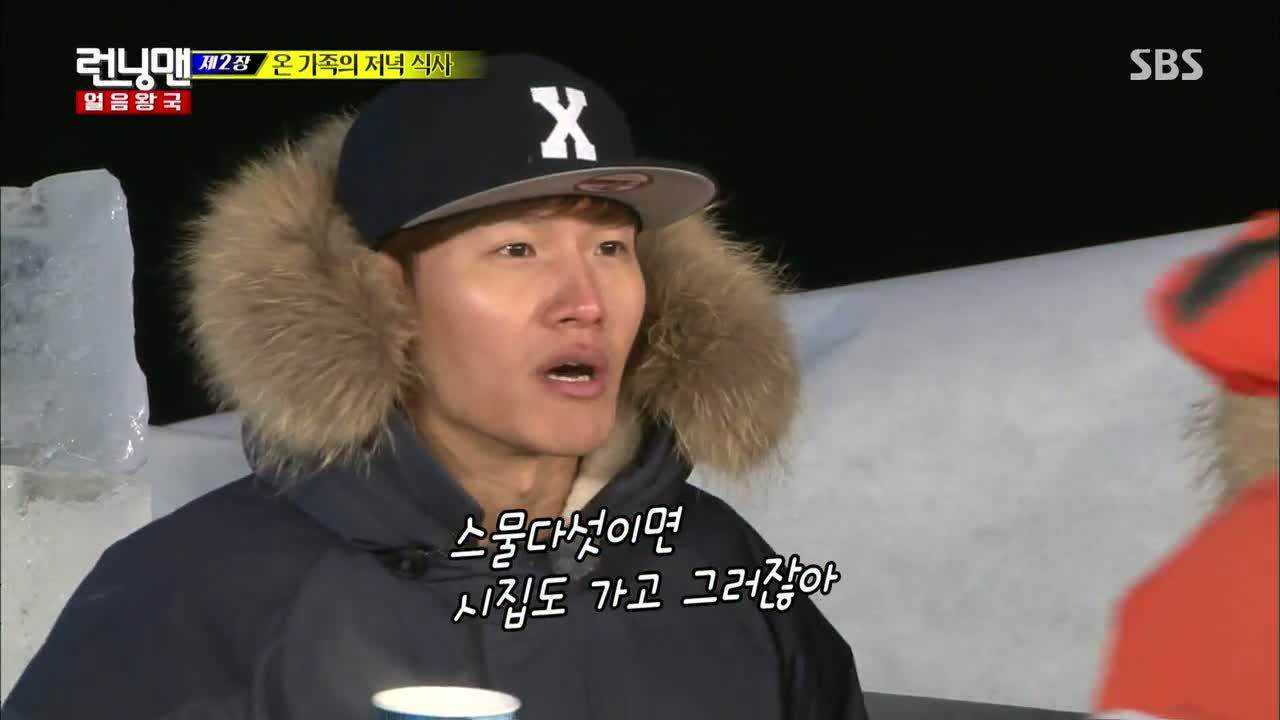 Jae-suk reminds him that Ah-sung isn't the little girl from The Host anymore, and upon hearing her age (25), Jong-kook says, "Doesn't that mean she's old enough to get married?" Jae-suk: "You're 41 and you haven't been able to get hitched!"
When the Blue Team huddles inside their igloo, Jae-suk proposes that they steal a few ice blocks to let the wind in. But on his way over, he slips into a puddle of ice water. D'oh!
A little later, Suk-jin and Jong-kook are sent out to gather firewood to warm their younger siblings. Soon, Gary and Kwang-soo are told to follow them, though they're reluctant to do so.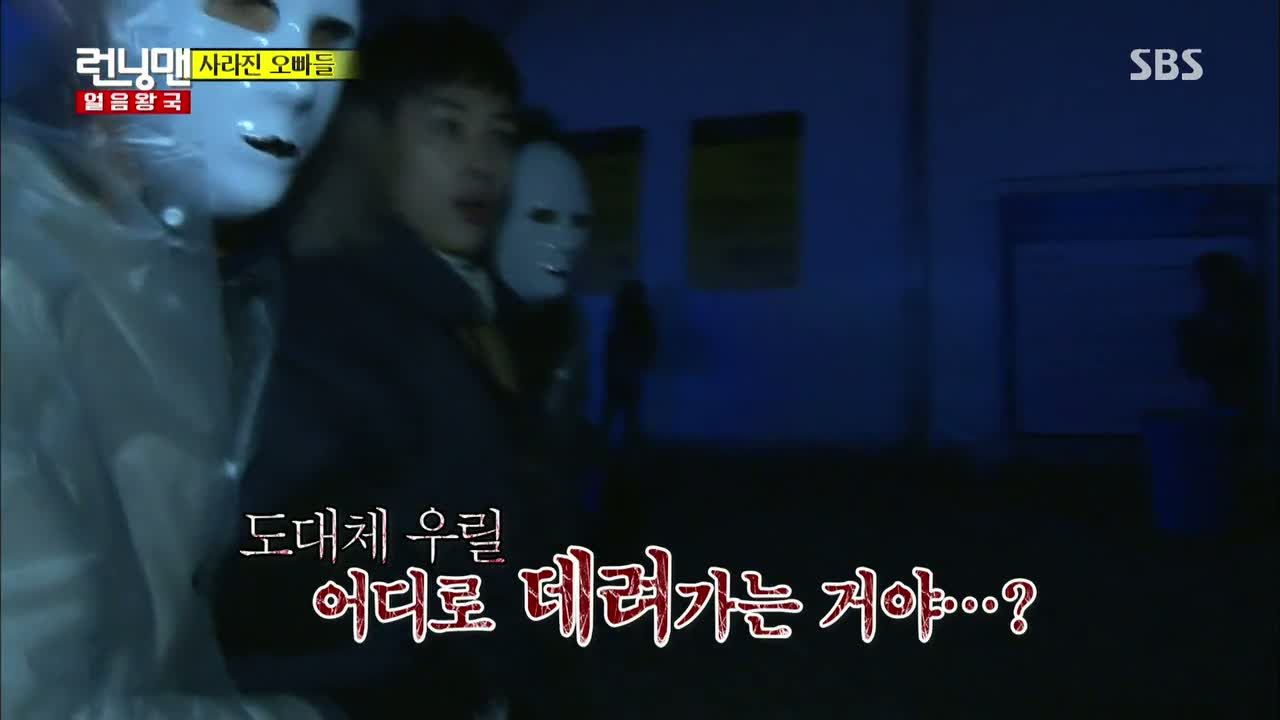 Hee-jun and Shi-wan are told to find their lost siblings, but are promptly ambushed by masked "fairies" and dragged away. Soon, the narrator leaves the two pairs of siblings behind and we're told that the evil witch is responsible for the siblings' disappearances.
Somewhere inside, Kwang-soo can't believe the staff has tied down his hands and feet. "You said this was a fairytale! This is a cruel fairytale!" He soon find his blindfold taken off by a pair of clowns, while his siblings are busy trying to look for something.
Ji-hyo stops in her tracks when she sees the masked fairy now donning a black mask versus white. We learn that if one of those evil fairies catches them, they'll be thrown into the witch's dungeon.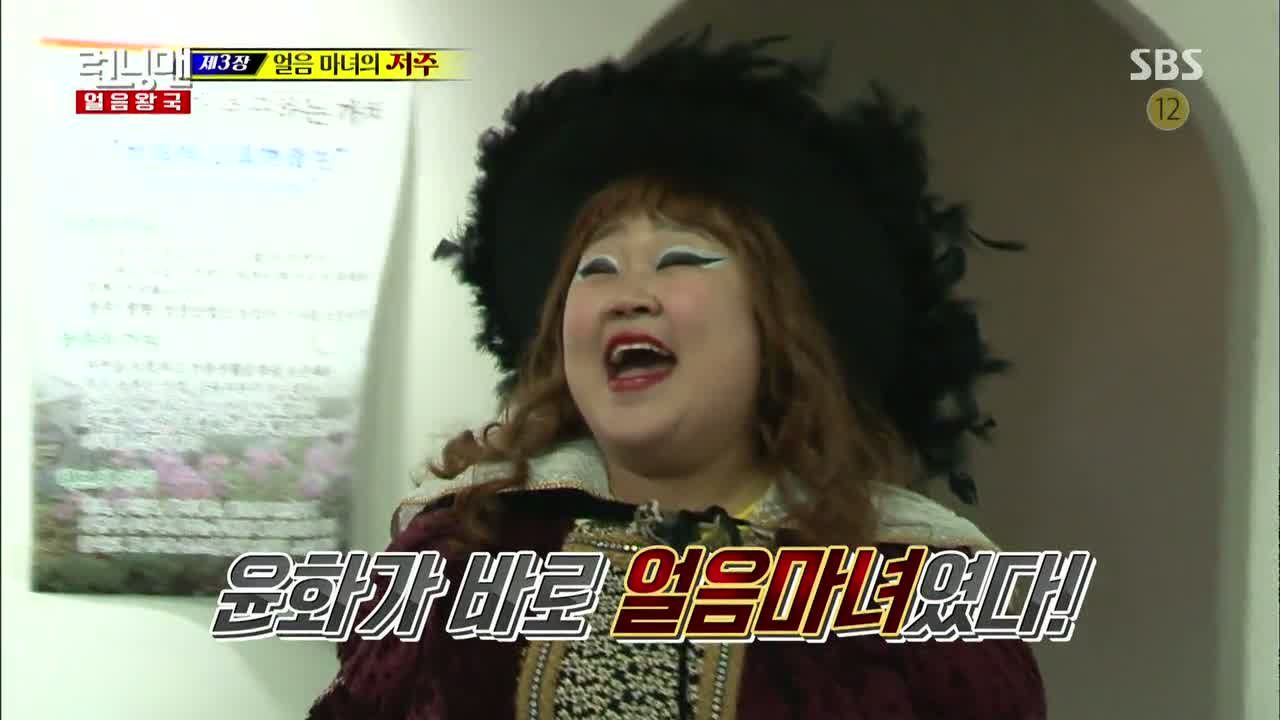 Elsewhere, the six prisoners are fed prime Hanwoo beef by the clowns. Of course only piece is given before the table is taken away. Meanwhile, Ah-sung finds one blank nametag she needs to write one of her oppa's name on. The end goal: reattach all the siblings' nametags and hurry back through the witch's gate together.
Quickly, Ah-sung jots down Hee-jun's name. Somewhere else, Jae-suk is caught by the evil fairies and hears a cackle from the Ice Witch Yoon-hwa. This entire day was part of her devilish plans, and I know she's supposed to be evil, but man is she workin' that eye shadow.
With a high-pitched cackle, the Ice Witch gleefully rips off Jae-suk's nametag.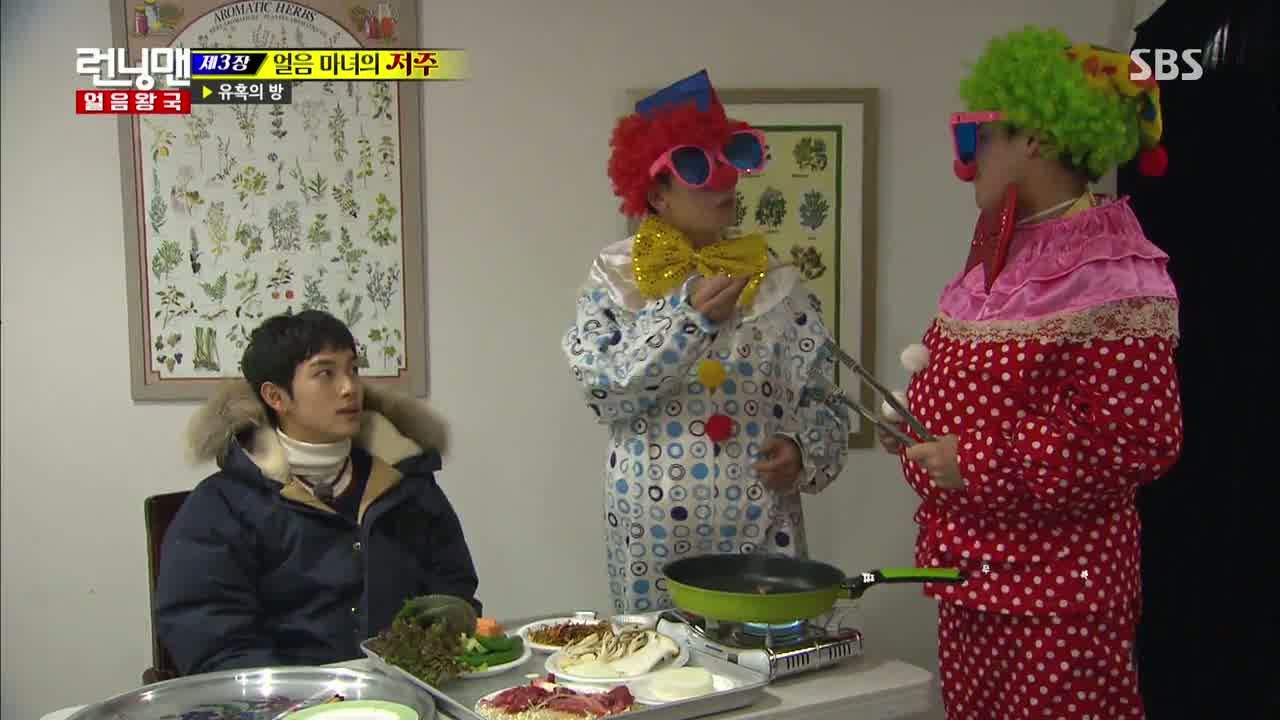 The prisoners are busy eating the meat, though you can see the gears in Jong-kook's brain already turning. Why would the clowns feed him and then back off? Shi-wan is suspicious too, so he politely declines the beef.
Eventually, the clowns give up and unlock one hand. As for Suk-jin, he wonders if he needs to reject the feeding to pass, only to succumb to the temptation anyway.
Spotting Jae-suk in the ice prison, Ah-sung sets him free by changing that nametag to reflect his name. Inside, Shi-wan remains stone-faced while watching a clip of people laughing.
Recalling a play with a similar setup of how a seemingly happy setting with clowns got progressively darker, Hee-jun declines to eat. So do the Easy Brothers, but then Kwang-soo busts a gut at the video.
Hee-jun and Suk-jin laugh too, but that's when the video is taken away from them. Curious. Haha discovers Shi-wan, and when he asks what that smell is, he's flatly told that it's meat. Hahaha.
Once Haha leaves, Shi-wan sticks it out to the end of the video so that his right hand is released. He finally lets himself have a brief laugh before the clowns re-enter. He takes the scissors that they leave on the floor, decides NOT to use them, and kicks them away.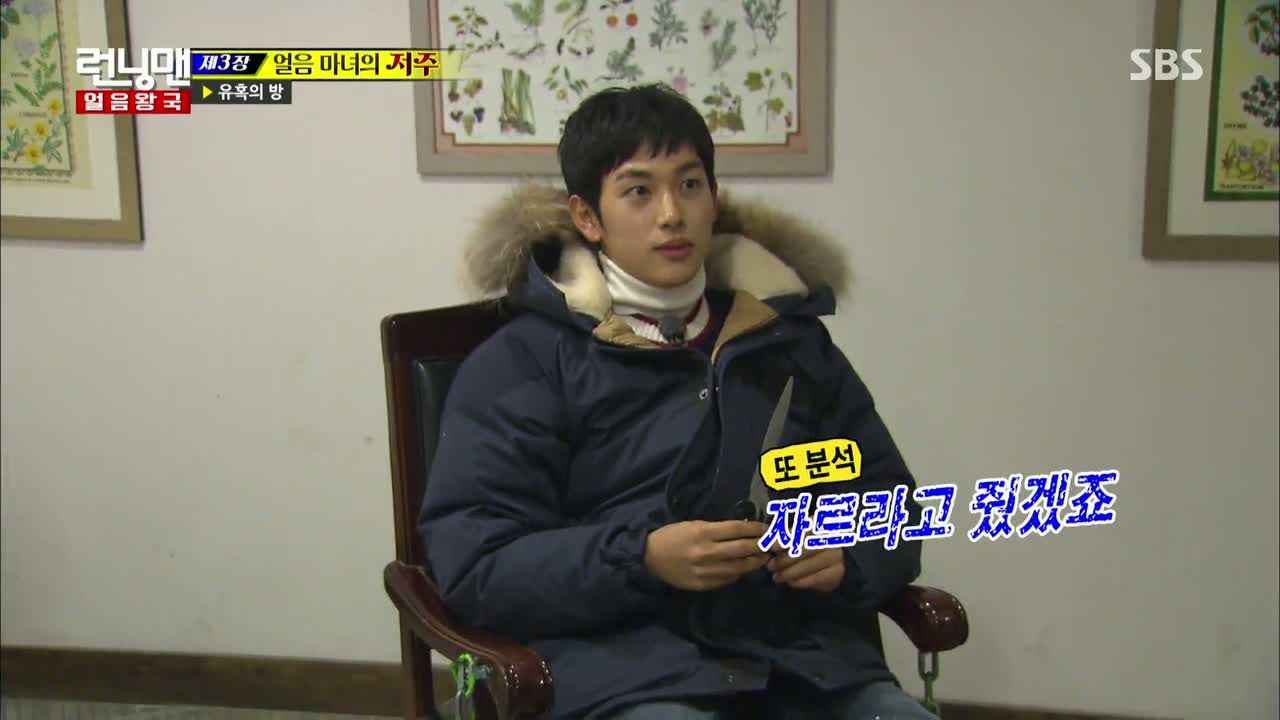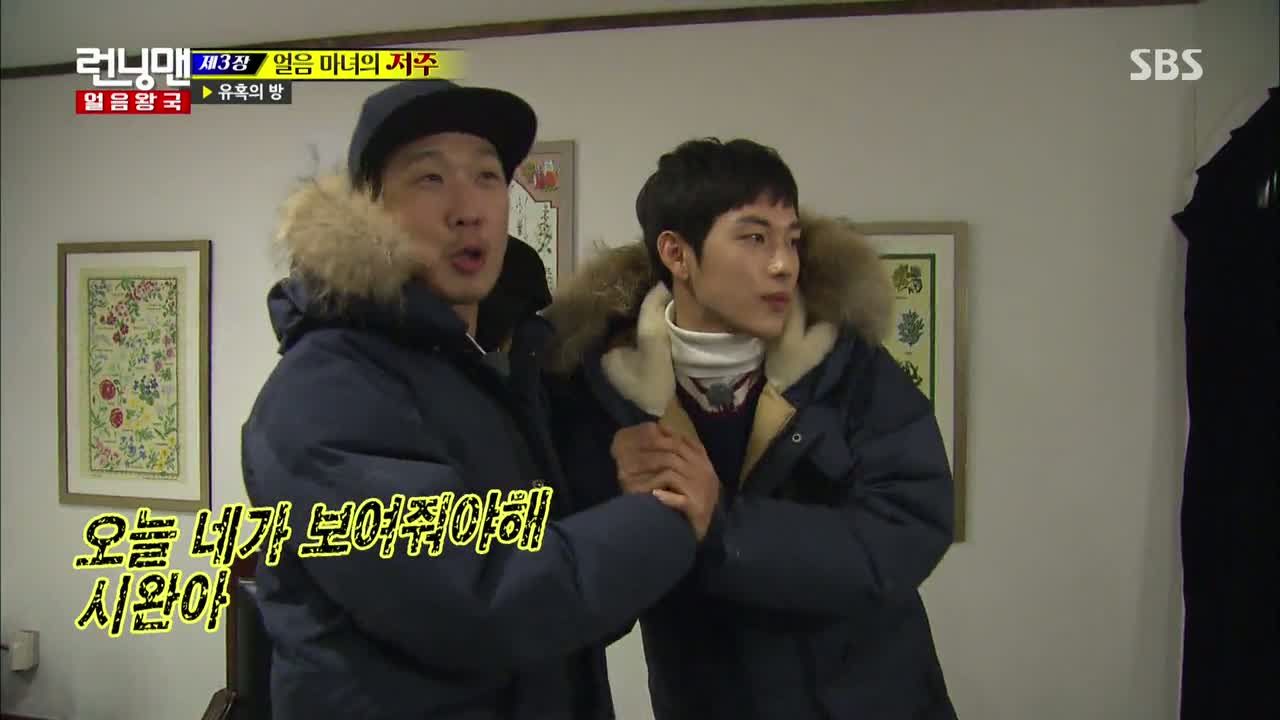 So when the clowns do return, they're confused to find Shi-wan still tied up. They silently urge him to cut his binds, even giving him a new pair of scissors. Shi-wan hops over to hide said scissors in the VJ's jacket, but again the clowns give him scissors to cut with.
Shi-wan cuts through the ropes, which turn out to be the right decision. Haha returns with the blank nametag he's found and tells Shi-wan that giving it to him goes against his usual variety persona for the show.
He knows that this could be a waste because of Shi-wan's poor track record (he's usually eliminated first), but they head out. And ha—two of the oppas are still eating: Gary and Jong-kook.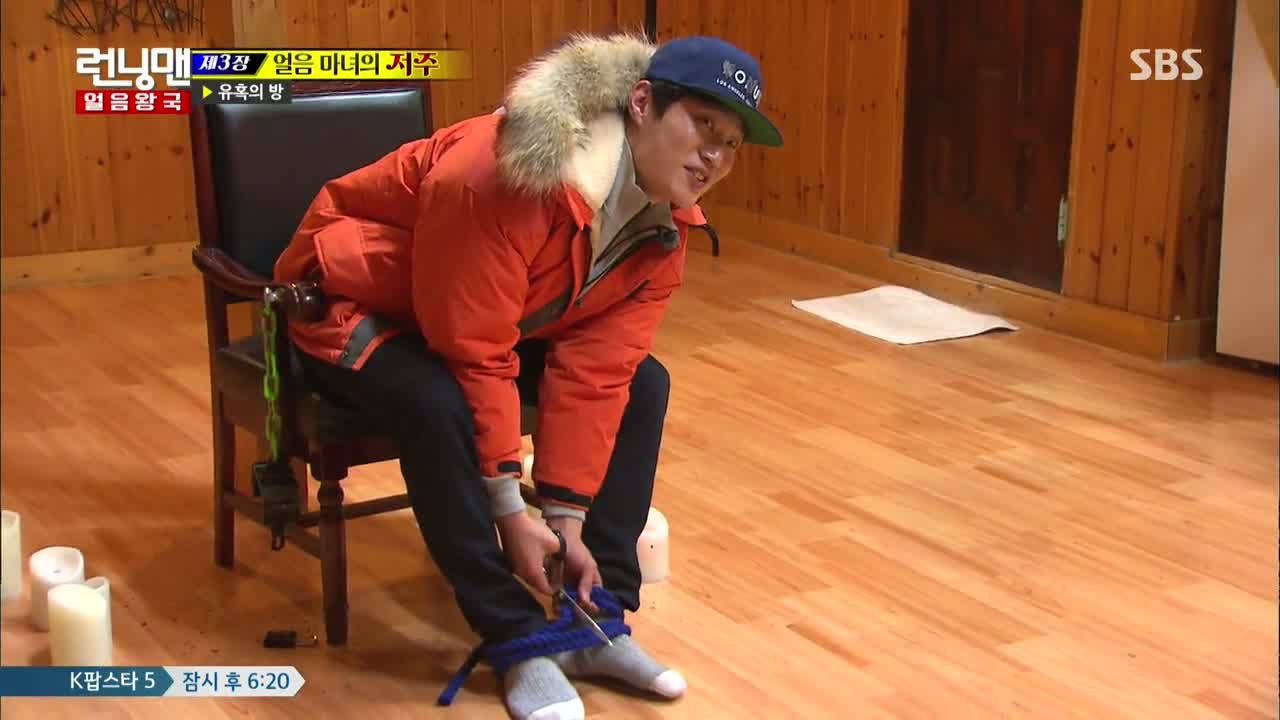 But soon Jong-kook refuses to eat too, but falls prey to laughing at the video. Suk-jin cuts himself free and so does Hee-jun. Haha, Ji-hyo, and Shi-wan head over to Jong-kook, having discovered where the Ice Witch's Gate is.
They have two blank nametags but have no idea where Kwang-soo is. He's busy trying to shed tears at the funny video and cutting himself free. Hee-jun finds a nametag for himself, and Kwang-soo runs to Ji-hyo because he saw the Ice Witch nearby.
Gary, on the other hand, finally frees himself and sees Yoon-hwa in the darkness. She claims to have been looking for him "To rip your nametag off of course!" before chasing him down the hill.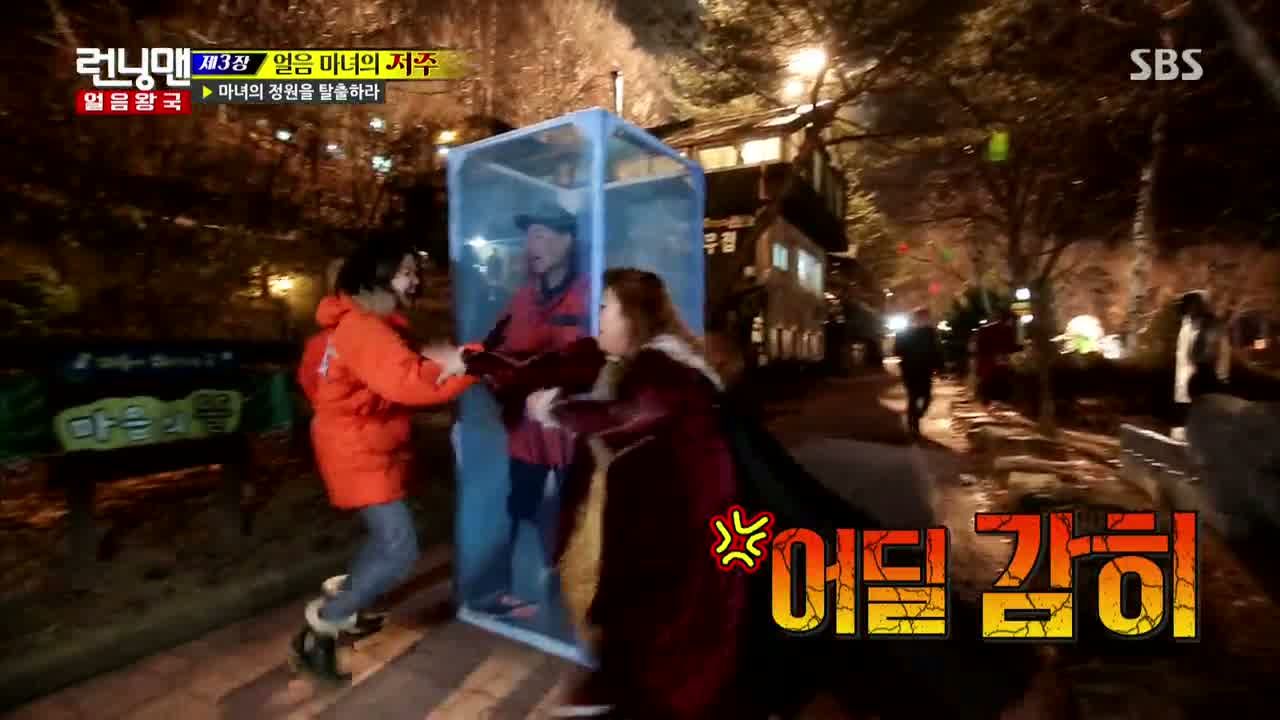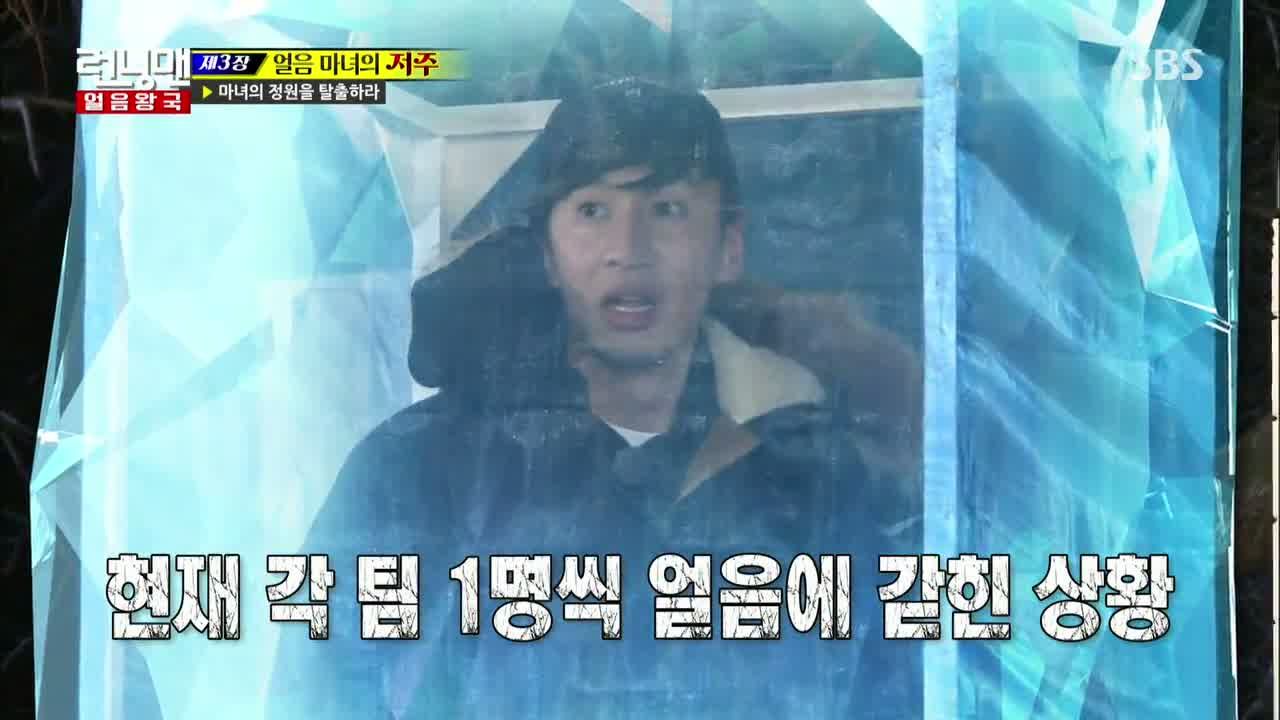 Gary is caught and placed into an icy jail, and Ah-sung is also eliminated in his attempted rescue. Hurriedly writing in her own name, she runs off.
Elsewhere the Blue Team rush out together towards the Gate. They're cut off by the Orange Team members, and Jae-suk rips off Kwang-soo's nametag. This means he'll be encased in an icy prison.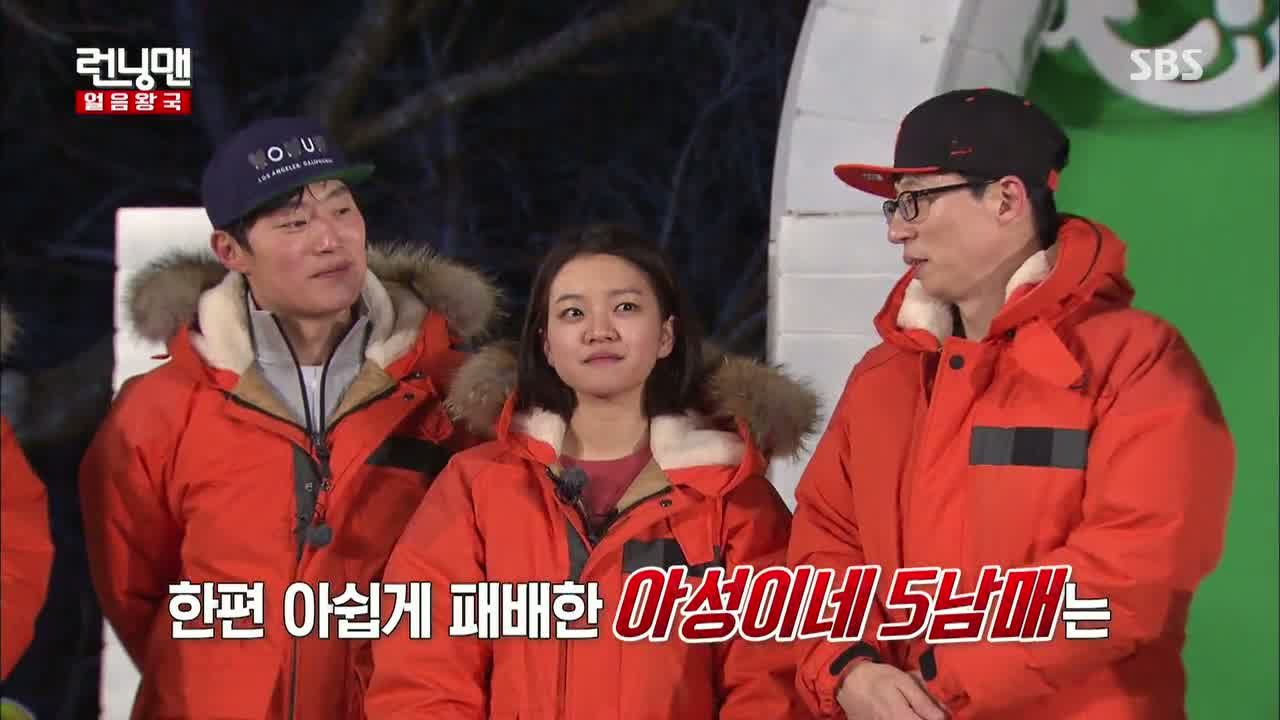 And that's when Haha takes out a blank nametag he'd found earlier from his pocket. Sneaky. All five of them head for the exit… and escape back to the peaceful village.
During the closing, Hee-jun is congratulated on his upcoming marriage to model Lee Hye-jung. Shi-wan declares that he has yet to rip off a nametag, which means he just needs to come visit again. Yes, come back to play anytime.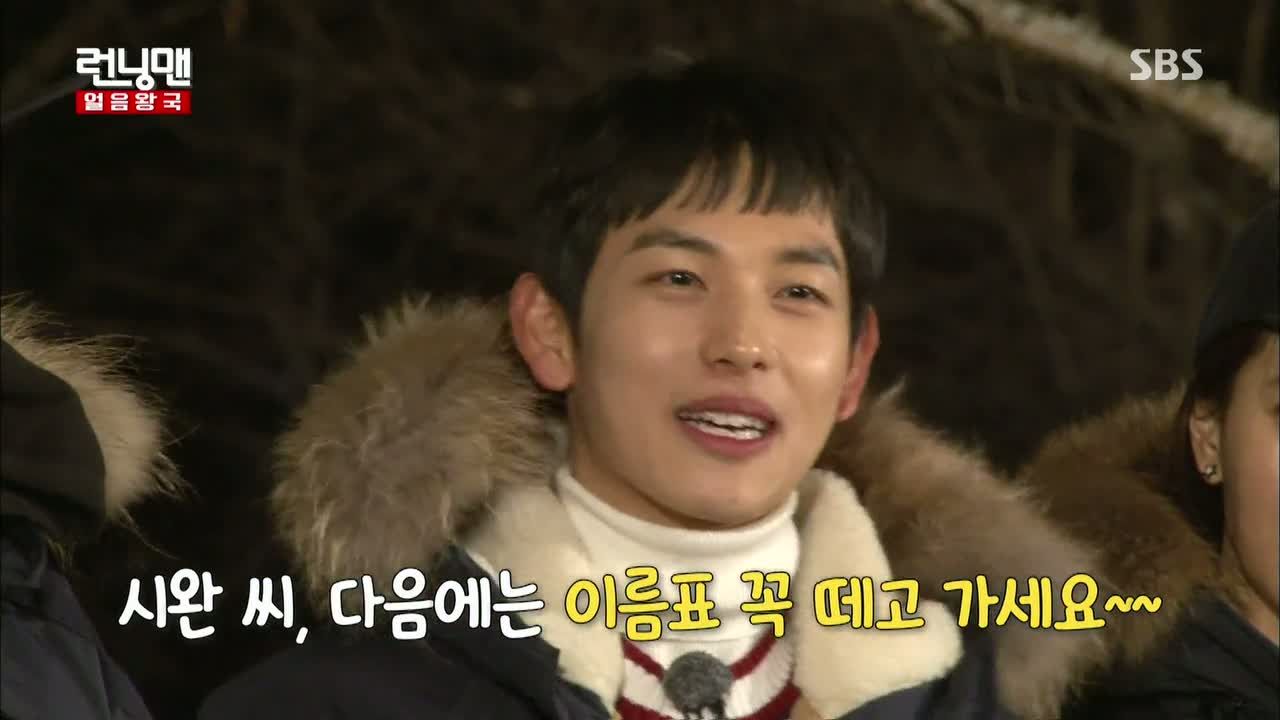 RELATED POSTS
Tags: featured, Haha, Ji Suk-jin, Kang Gary, Kim Jong-kook, Lee Kwang-soo, Running Man, Song Ji-hyo, Yoo Jae-suk