Six Flying Dragons: Episode 29
That's the face of someone who's met his match when it comes to swordsmanship, though there are plenty of surprises in store when it comes to exactly which uber talented and ultimately legendary swordsman has come knocking on our dragons' door. More is revealed about Nameless, even if it still leaves us with more questions than answers. Actually, make that all questions, zero answers. But at least we have more of them? And more is usually a good thing.
SONG OF THE DAY
2AM – "죽어도 못보내 (Never Let You Go)" [ Download ]
Audio clip: Adobe Flash Player (version 9 or above) is required to play this audio clip. Download the latest version here. You also need to have JavaScript enabled in your browser.

EPISODE 29 RECAP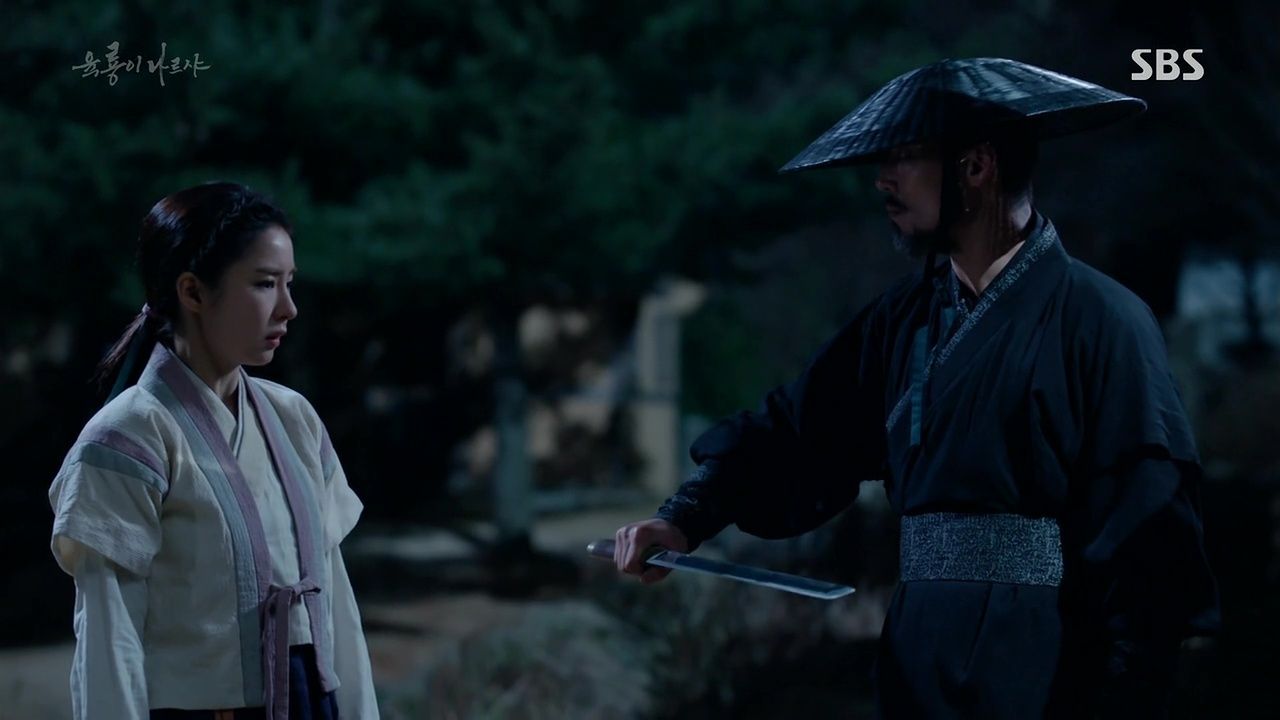 After repeating the code phrase to her would-be assassin and getting the right response, Boon-yi again escapes being found out when she responds to him having never seen her before by telling him she came from the Chunmyung Branch.
She knows that only because the man who came to her mother said the exact same thing, though she has no idea what those words even mean. It's only her and her wits to save her from certain death, since the assassin still seems suspicious that someone from the Chunmyung Branch was sent when "Master Gil" already gave his order.
Boon-yi immediately understands that the master he's speaking of must be Gil Sun-mi, the very man who spared her life once when he didn't have to. Straightening up her shoulders and summoning her most authoritative voice, she tells the assassin that she's here to set things right, because Gil Sun-mi failed his last two missions.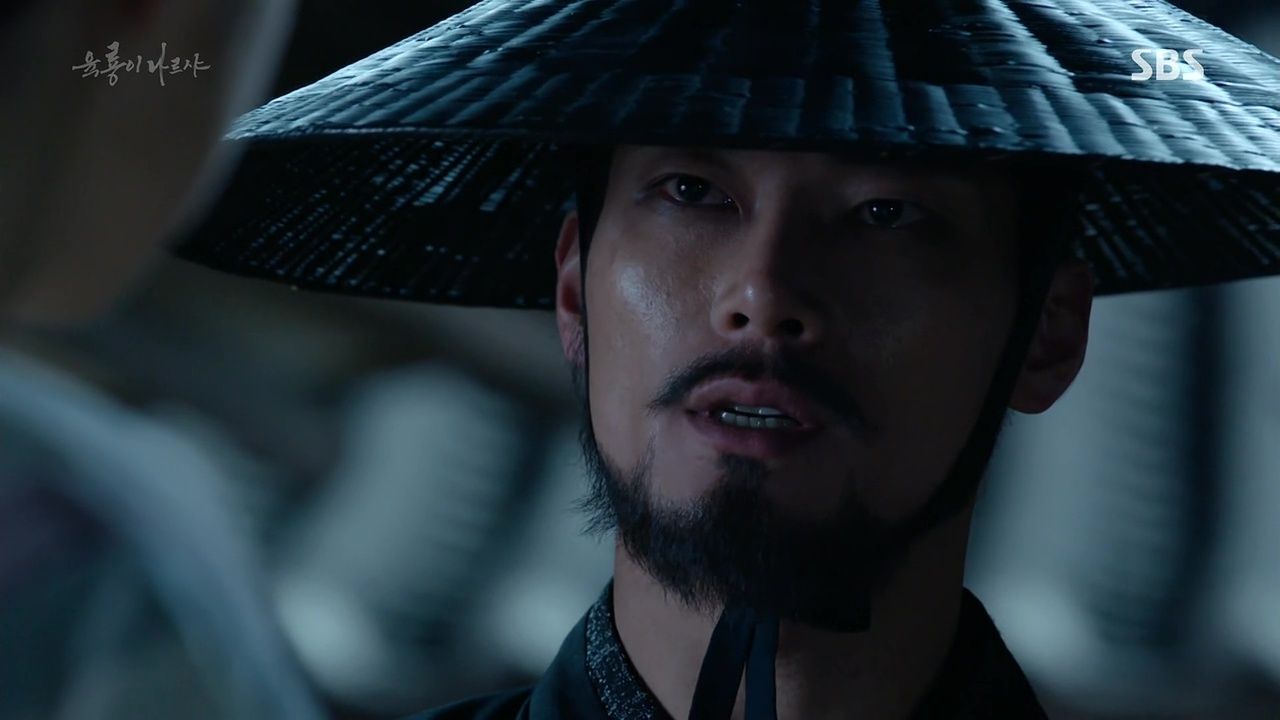 The assassin backs down, and to avoid being questioned further on things she knows not of, Boon-yi asks him where Gil Sun-mi is. He tells her, then leaves after volunteering to lead the search party away so she can make her escape. Aw, what a nice assassin.
Of course, the search party is made up of Moo-hyul and Young-kyu, so Boon-yi has no reason to hide. She loses her balance once they arrive though, letting out a few short breaths after that very, very close shave.
She tells the boys about what she learned from the Nameless assassin, which was the mysterious "One must break the ash flower's stem before it blooms" and the time and date: two o'clock in the afternoon on the fifth day of the month.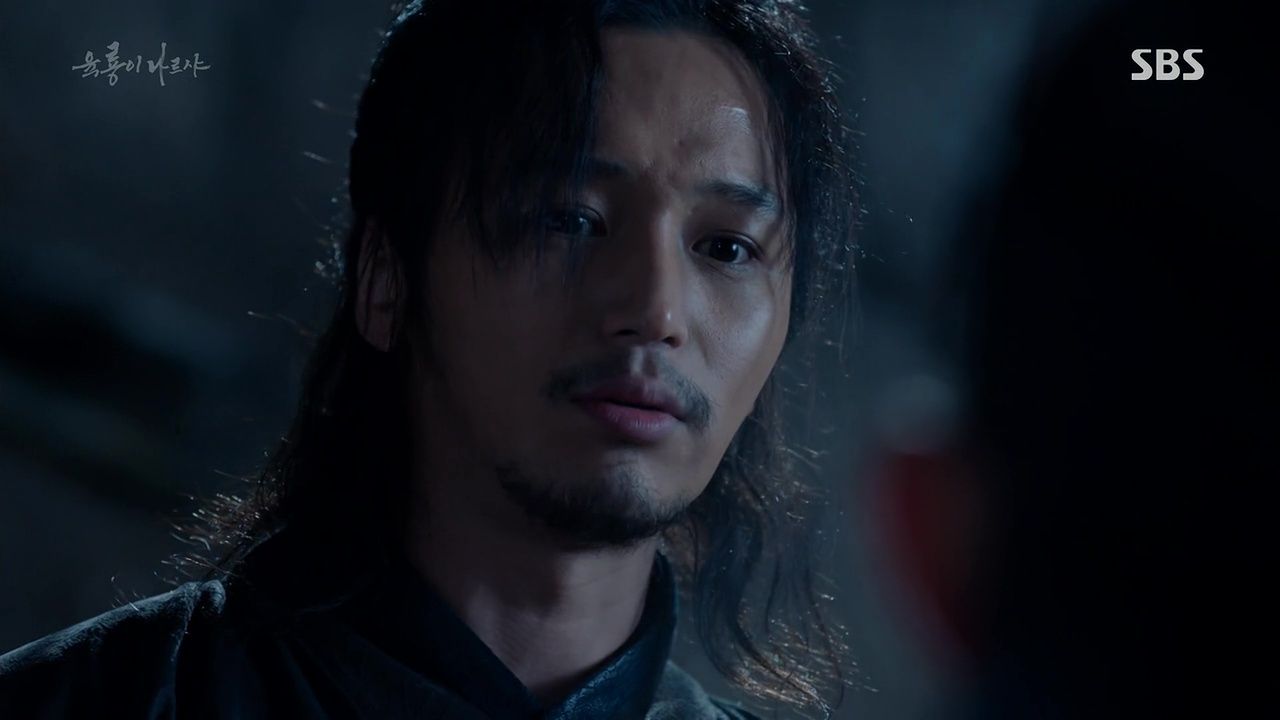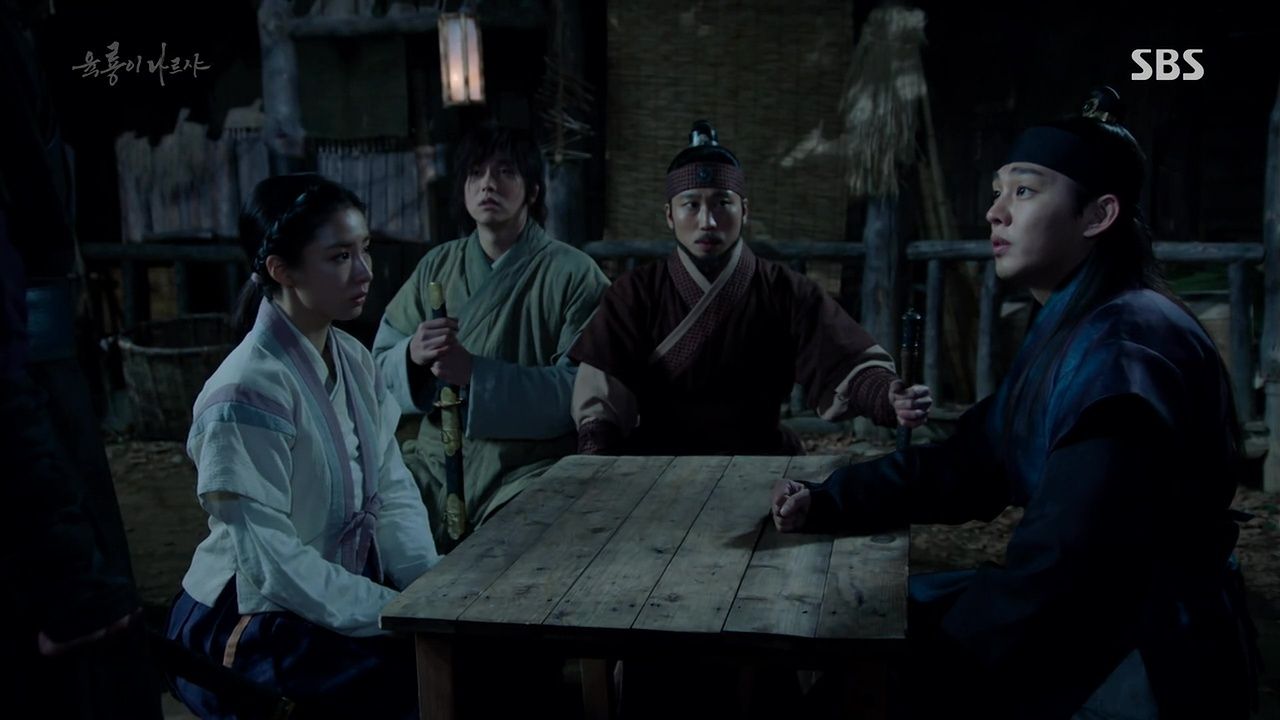 Bang-won remembers overhearing that the deposed King Woo was planning to give Lee Seong-gye a gift at that oddly specific time, which happens to be tomorrow. But more importantly, he remembers that Bang-ji just so happened to ask for tomorrow off, so he could go visit his hometown.
When Bang-ji approaches their group, Bang-won brings the question up with him. It's suspicious that King Woo's gift and Nameless' plot are happening at the same time tomorrow, and of all days, that's the one Bang-ji wanted for himself. "Does that sound like coincidence?" he asks the swordsman.
Boon-yi interjects to ask if he suspects her older brother, only for Bang-won to press him further. If it's true that he's going to his hometown tomorrow, he promises to apologize, which puts Bang-ji in an awkward spot. Luckily, he chooses to be honest, and admits that Gil Sun-mi told him that he could meet his mother at that exact time tomorrow.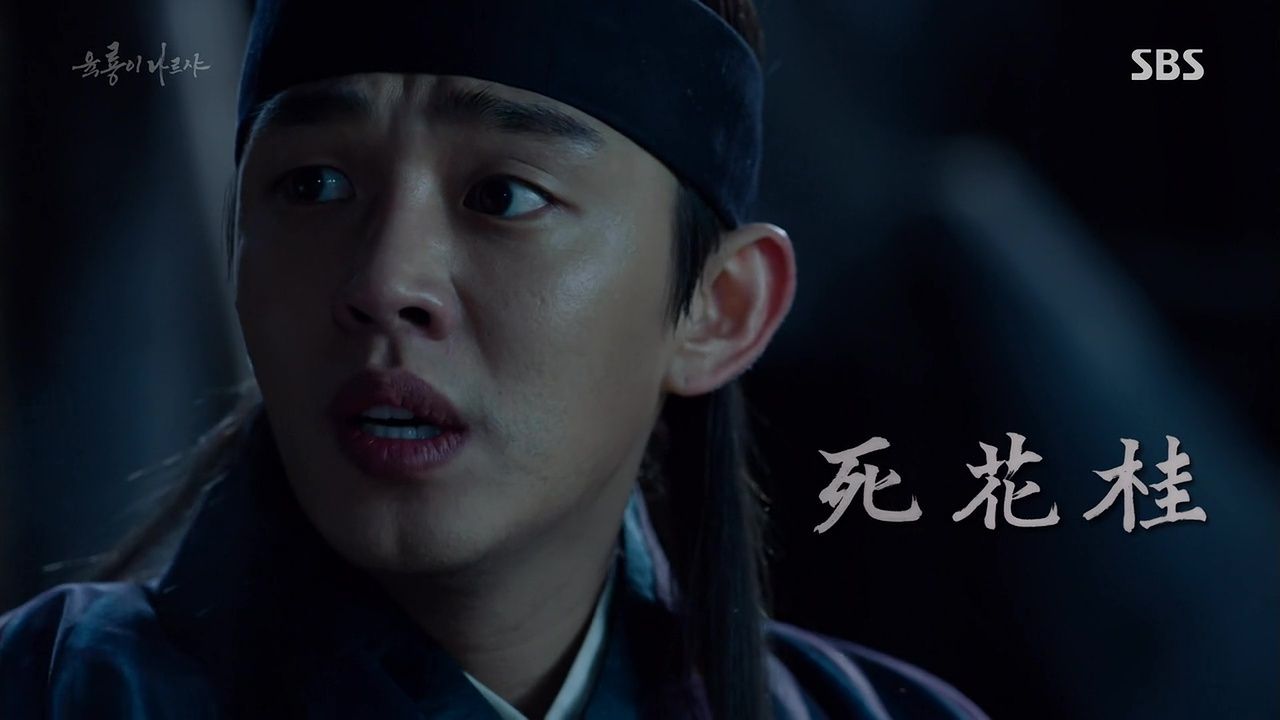 Now, they realize that Gil Sun-mi wanted to lure Bang-ji away for whatever operation Nameless has planned. And by breaking down the Hanja characters in the "ash flower" code phrase, Bang-won realizes that they're referring to his father, Lee Seong-gye. And "break the ash flower's stem" obviously implies an assassination attempt waiting to happen.
The red carpet is rolled out the next day for the kingly gift's procession, ending with great formality in front of Lee Seong-gye. Undoubtedly informed of the impending attempt on his life, the general does not drink the proffered wine, choosing to pour it out instead.
And the moment he does, all hell breaks loose. Lee Seong-gye's soldiers emerge from the nearby buildings to surround the messenger's caravan, sparking outrage from all sides.
But in a strange and chilling move, the caravan guards use the swords Lee Seong-gye's men have held to their necks to kill themselves in short order. Moo-hyul looks appalled when the man at the end of his sword does the same, while the general leading the caravan yells out "Long live the king!" on Yooksan's orders before cutting his own throat. And by that, he means the deposed King Woo.
The cart they brought with them suddenly explodes from the force of the assassin inside bursting out. It's the same one Boon-yi encountered, and he makes a flying leap for Lee Seong-gye…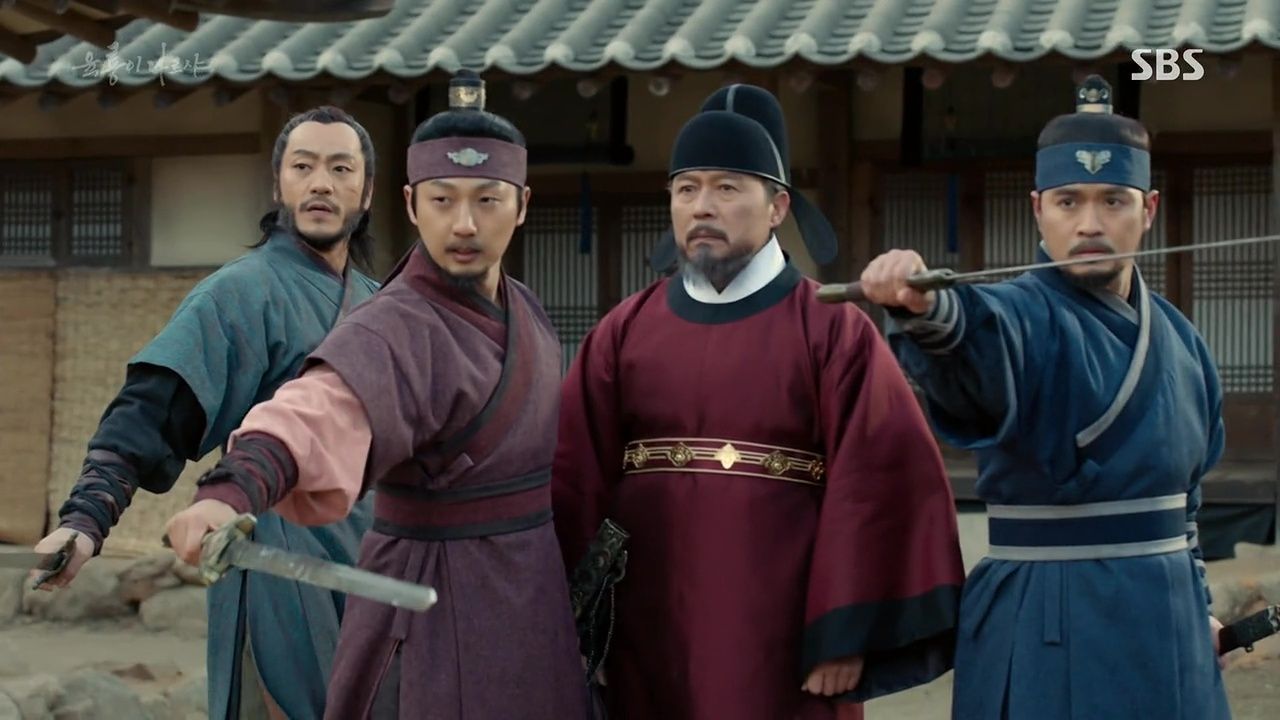 …Only to be stopped by Bang-ji's blade. Both of them are skilled in the same mysterious art of fighting, but the assassin flees, knowing he can't beat both Moo-hyul and Bang-ji. Since he gets crippled by one of Lee Seong-gye's arrows, Bang-ji runs him down and engages him again, only to realize that the assassin is still fast, even when wounded.
He blocks a throwing blade the assassin lets fly in his second attempt to flee, and again runs the man down. Moo-hyul joins in the fight, urging the man to give him his name so he can put him on his ever increasing resume. The man only gives his family name, Cheok, and says that he's from Goksan.
The name rings a bell for Bang-ji, who joins Moo-hyul in attacking the man in tandem. It's a cool but sadly short-lived fight scene between the three of them, since the assassin uses a smoke bomb to flee once more.
They track down the bloodstains to the edge of a steep cliff, where no normal man could've survived if he jumped from it. But Bang-ji knows he's no ordinary man, and guesses that he used a sophisticated martial arts technique to control his descent. He knows he's met his match.
While the assassin hobbles away on foot by patching up his more gushing wounds, Bang-gwa and Officer Nam interrogate the two ministers who traveled with the caravan. They swear they had no knowledge of the assassination plot, and that they only ended up in Yeoju (where King Woo is being held) because they had a message to deliver from Lee Saek.
Word of the general's last "Long live the king!" and the assassination attempt spreads to all four corners, including a very worried Lee Saek. If it's true that King Woo planned the assassination, it means his son, the current King Chang, won't be safe.
Even Da-kyung suspects Nameless as the chief suspect in the assassination attempt, but Bang-won knows that Jung Mong-joo's reaction will be the most important one. And it's true, since Poeun is determined to move faster than Lee Seong-gye, so he won't get his way with dethroning King Chang and stripping the deposed King Woo of his title.
It's up to Lee Seong-gye what he wants to do after that, but his supporters make it clear they want him to take the throne. Cut to everyone else reacting to recent events before we make it back to Bang-ji and Boon-yi, as he tries to reason out why their mother must be an unwilling pawn of Nameless, and not an active participant.
Boon-yi believes the opposite to be true now that she knows the code phrase her mother used all those years ago worked, but lets him cling to his fantasies.
Speaking of, Jukryong frees Yeon-hyang of her Nameless Grandma escorting duties so they can talk about Cheok's failure in the assassination attempt. She isn't worried about it though, claiming that this is something that can be easily resolved by letting things take their course.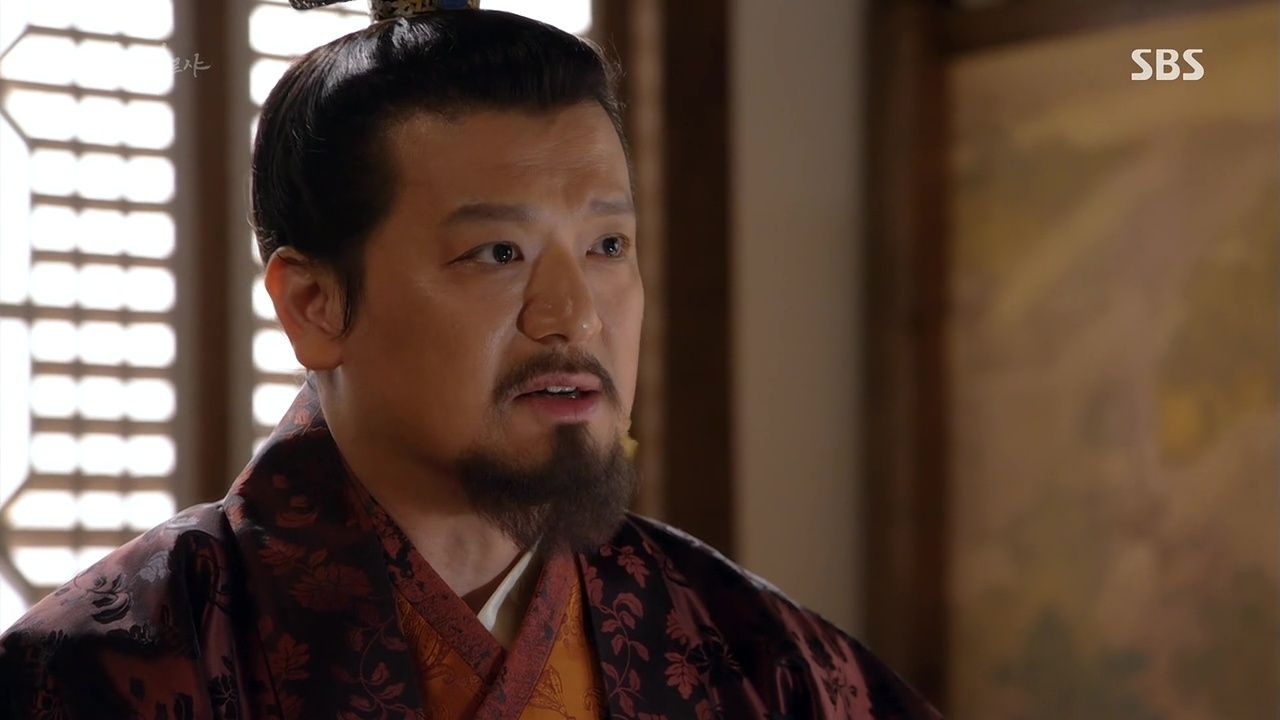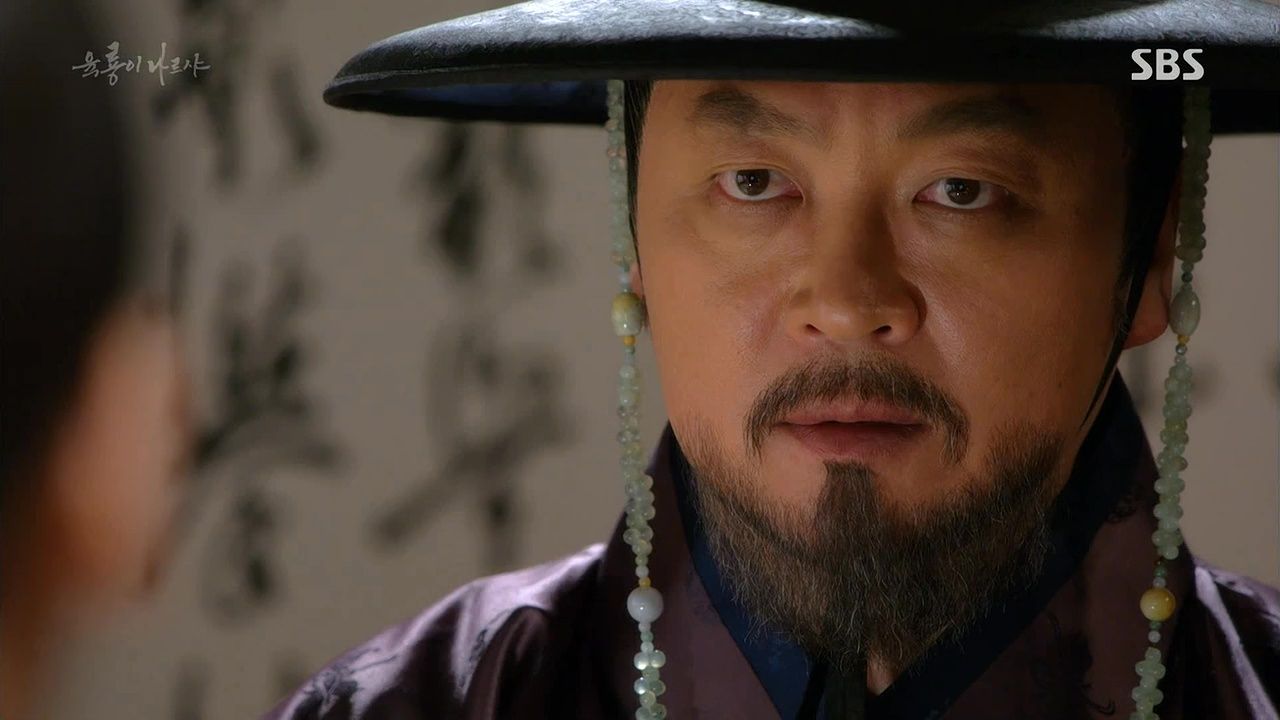 Specifically, she's counting on Jung Mong-joo to pay a visit to Prince Jungchang, which he does. He tries to prepare Jungchang for the eventuality that he will end up on the throne, claiming it's patriotism that drives him (and it probably does).
Against Jung Mong-joo's firm belief that Goryeo can only be rebuilt if a legitimate descendant of King Taejo (the first king of Goryeo) takes the throne, Prince Jungchang brings up King Gongmin's rocky reign. He was a direct descendant, but were things much better because he was king? No.
"I plan to build this kingdom back up again," Jung Mong-joo replies resolutely. "I believe that is my responsibility as a Confucian scholar. So please, as part of the legitimate royal bloodline, fulfill your responsibility." The prince agrees to think about it.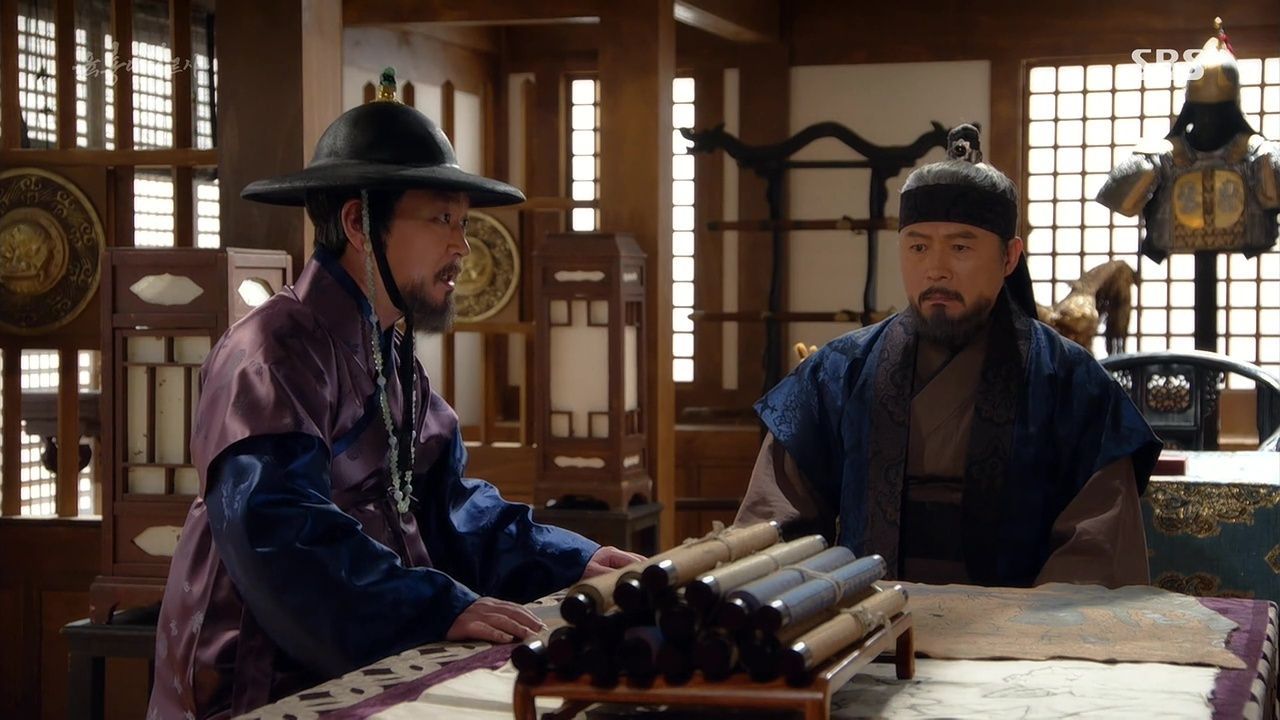 Young-kyu reports that Jung Mong-joo met with Prince Jungchang again, and that another more unexpected visitor came after—Traitor Baek Geun-soo, the Nameless man who betrayed Young-kyu and Bang-won all those years ago.
Jung Mong-joo pleads the case of putting Prince Jungchang on the throne to Lee Seong-gye and Jung Do-jeon, citing the fact that they had originally intended to place him and not King Chang on it in the first place.
But Jung Do-jeon can't shake his suspicion when it comes to Nameless' involvement, specifically in mentioning King Woo at the very end of it. It stands to reason that the general screamed that last thing before he died since it would lead to the current king being dethroned, and who'd stand to benefit more than Prince Jungchang?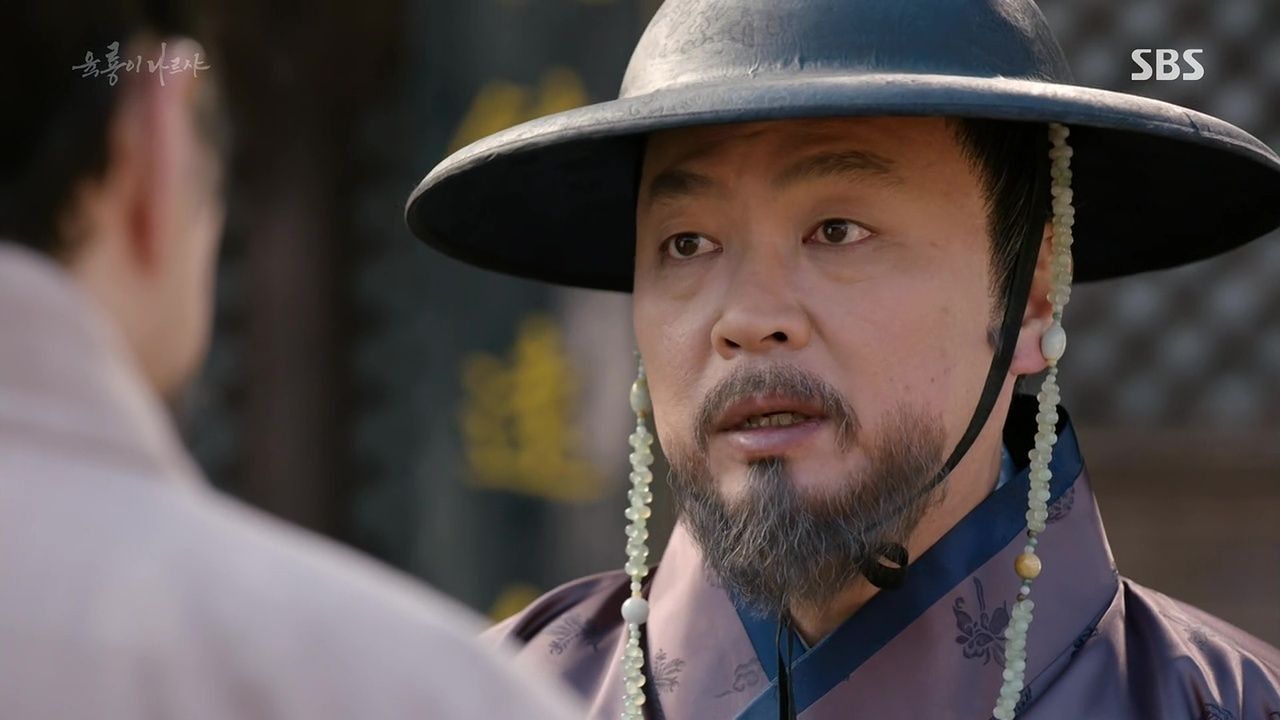 "Do you mean to say that I'm being controlled by Nameless?" Jung Mong-joo scoffs. At Jung Do-jeon's serious expression, his follows: "Or… do you think I am a member of Nameless?" Jung Do-jeon isn't sure—wasn't Nameless responsible for leading him to the New Joseon Cave?
At least he's willing to believe Jung Mong-joo when he tells his old colleague that his suspicions are misplaced, and moves on to the land reform. He gets Jung Mong-joo to agree that it must be carried out no matter what, even if it means directly opposing Lee Saek.
Prince Jungchang is up to something shady the day before his wedding, and shows it when he happens on his gisaeng bride trying on her dress. He starts crying when he sees her, and tells her that they have to leave tonight. Ah, so that's what the gold was for—he wants to leave town so he won't have to take the throne and all the risks that go with it.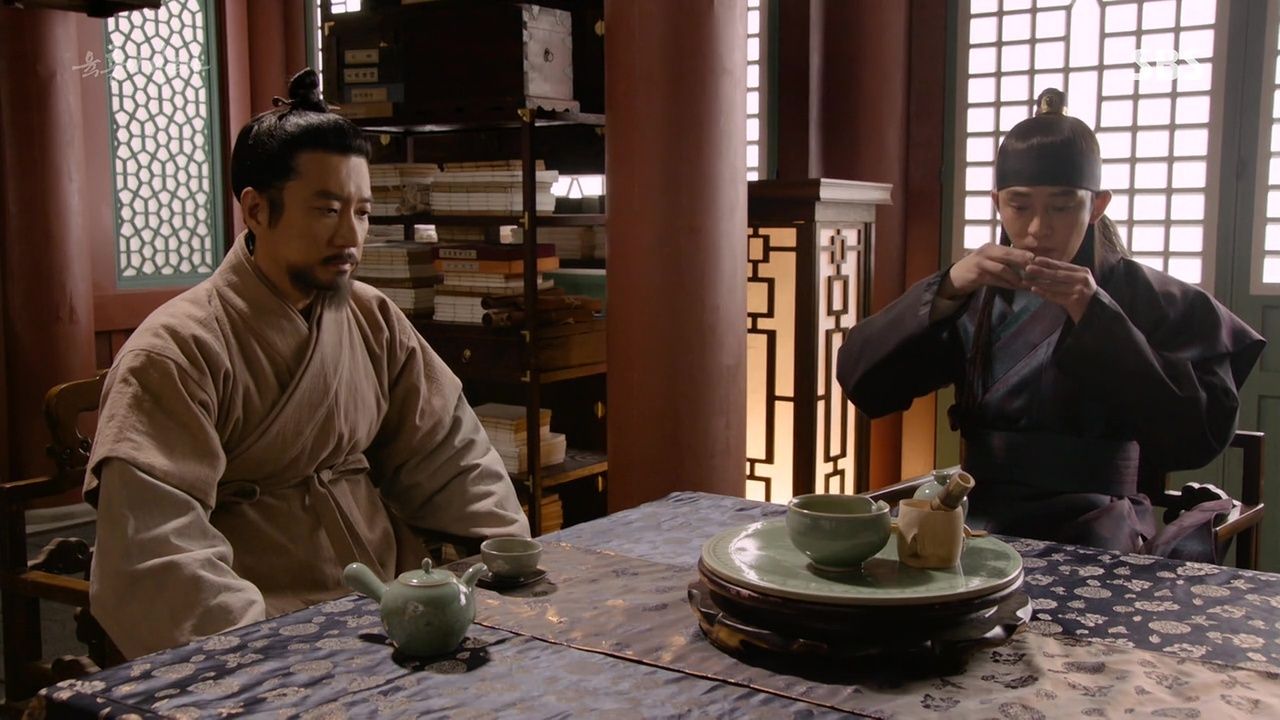 Bang-won tells Jung Do-jeon that Traitor Baek, a Nameless goon, has been seen going to Prince Jungchang's house. That, along with the general's "Long live the king," tells them that Nameless clearly wants Jungchang on the throne.
Knowing that, does Jung Do-jeon want to help them put their choice on the throne? "I believe that this moment is an opportunity," Bang-won continues. "Help my father become king!" But Jung Do-jeon shakes his head no, adding that it's not his father's wish either.
"Is this because of Teacher Poeun?" Bang-won asks. "How I envy you. I also heard this long ago… that the two of you held on until the end. One man has looked to create a nation and the other has raised people up. If those two were to join together with the same goal, what could they not achieve? And so, I fear Nameless even more."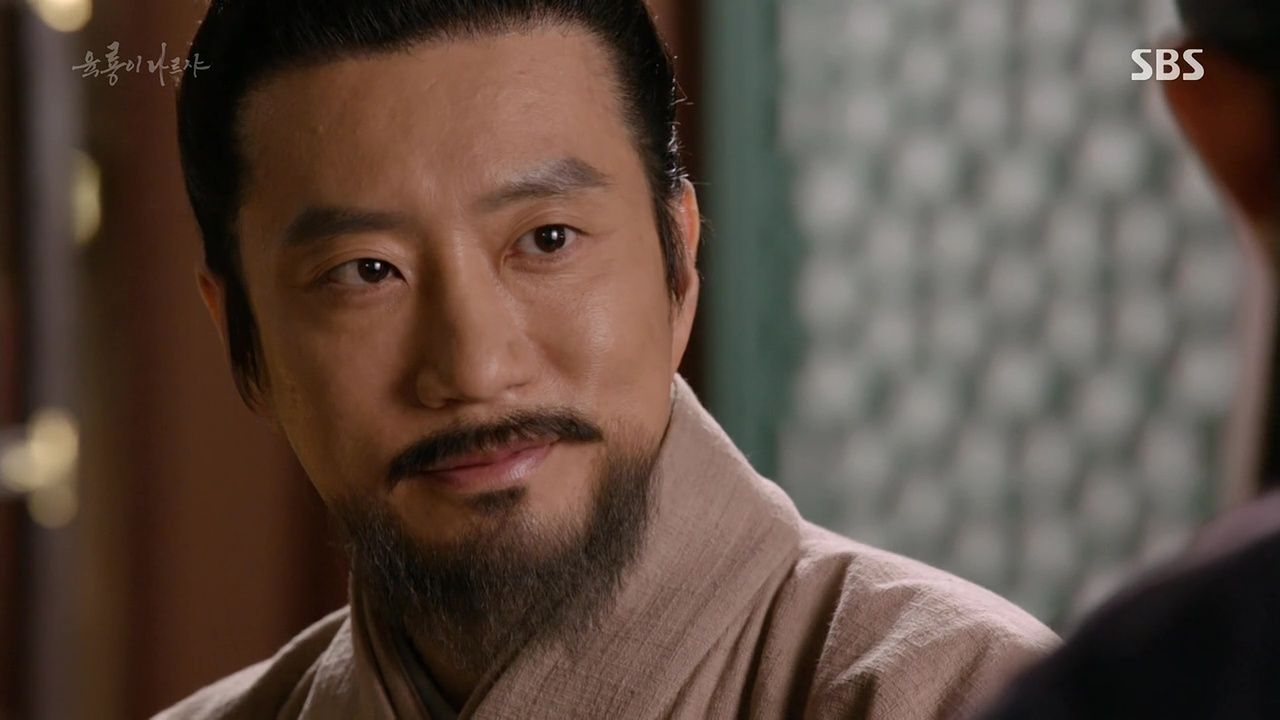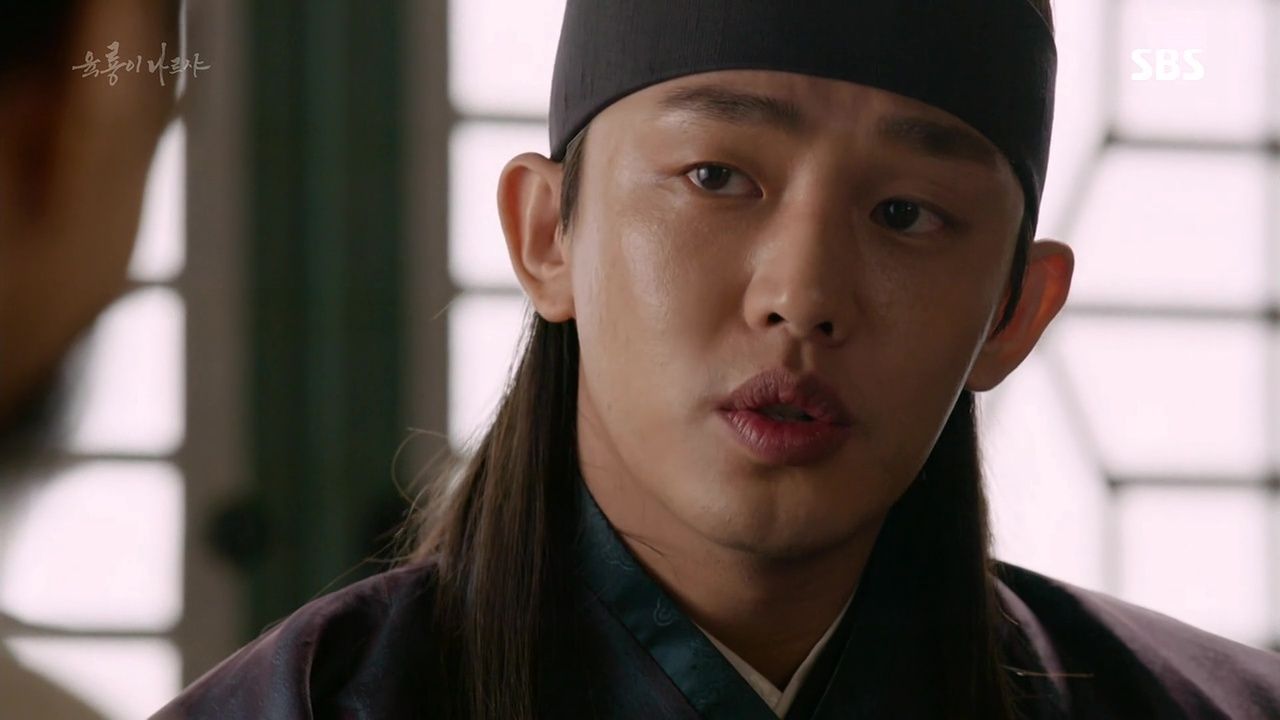 "However," Bang-won adds thoughtfully, "they sent Poeun. The man you wish to pursue this cause most with, the man you believe we need most to carry out this revolution… is the one who you are unable to speak with about a dynastic revolution." Plus, it seems like Jung Do-jeon has given up on the revolution since Jung Mong-joo came to the cave.
On that point, Jung Do-jeon firmly disagrees. He's more for revolution than he ever was before, because Jung Mong-joo is a necessary part of it. "As we move forward with the reform, Poeun will come to understand," he finishes confidently.
Because Bang-won is Bang-won, he can't help but ask what Jung Do-jeon would do if Poeun were to fall under Nameless' influence. If that happens, Jung replies, he'd put an end to Jung Mong-joo. "Are you relieved now?" he asks Bang-won. He is relieved, very much so.
Without notifying Jung Do-jeon, Bang-won arranges for assassins to bring Traitor Baek to him, since he's currently working as a bodyguard for Prince Jungchang. Meanwhile, Boon-yi asks Yeon-hee to look into Jicheontae, since Gil Sun-mi is supposed to go wherever that is.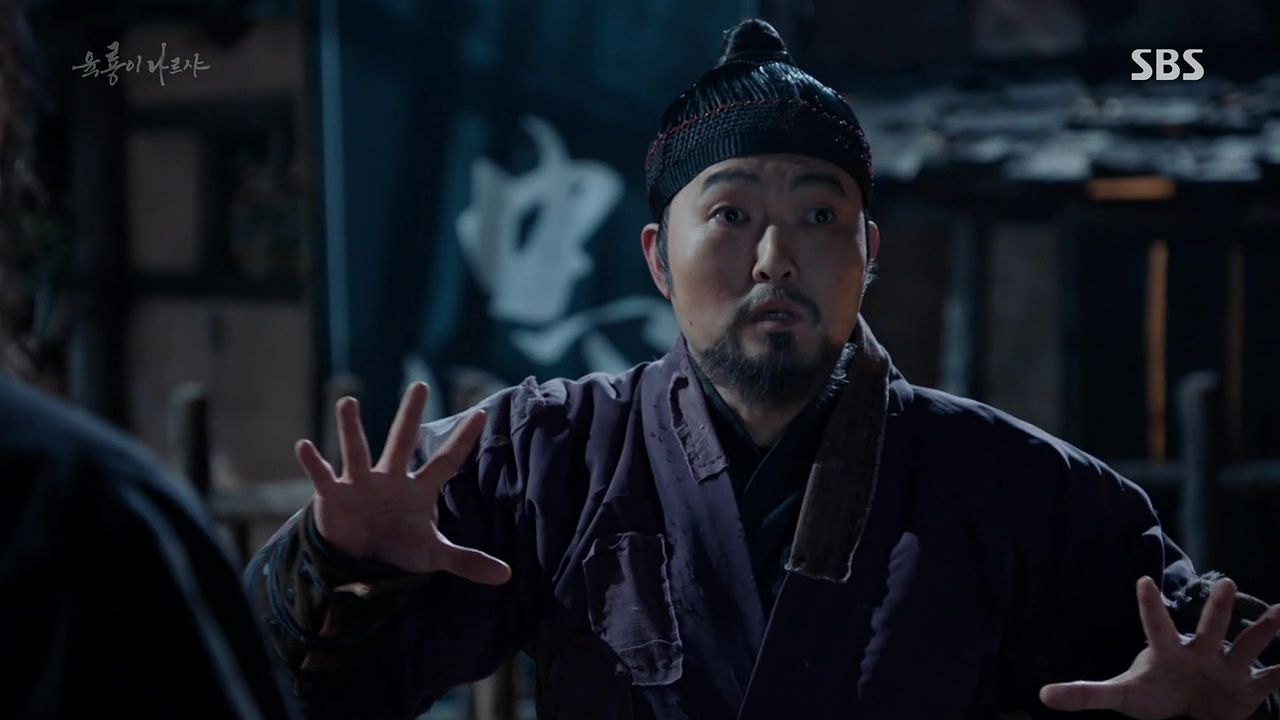 Bang-ji has an audience in Master Hong, Grandma, and Gab-boon as he practices his swordsmanship with a cup of water balanced on the blade. He even listens when Master Hong tells him why that method won't work, but immediately regrets asking him how he created a martial arts method when his own swordsmanship isn't great when Hong launches into a terribly longwinded explanation.
Master Hong comes to a dead stop in his storytelling when he recalls watching a noblewoman practicing her swordsmanship, suddenly having an epiphany about who could've inflicted those fatal neck wounds on the land surveyors.
Officer Nam and Bang-woo also realize that the assassin they encountered with Lee Seong-gye is the same who inflicted said neck wounds. Moo-hyul is on a completely different wavelength, and complains about how the assassin didn't give him his name. Just that stupid Cheok family name from stupid Goksan, whatever.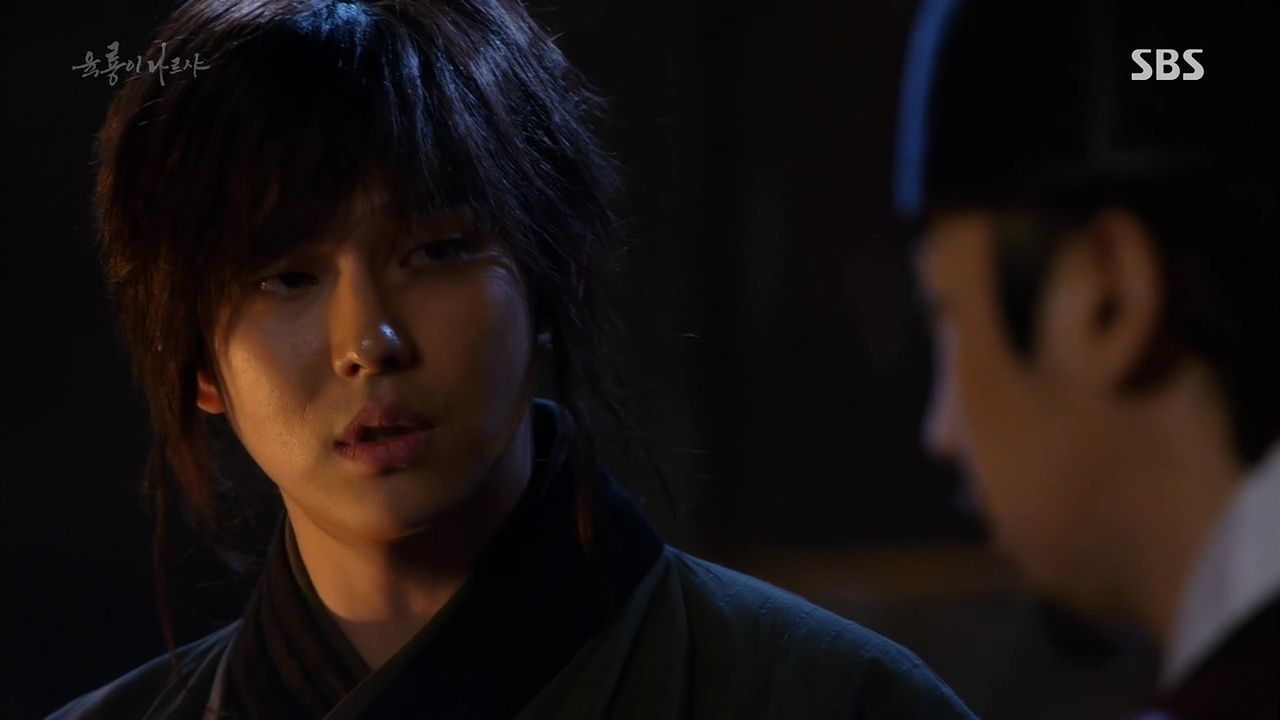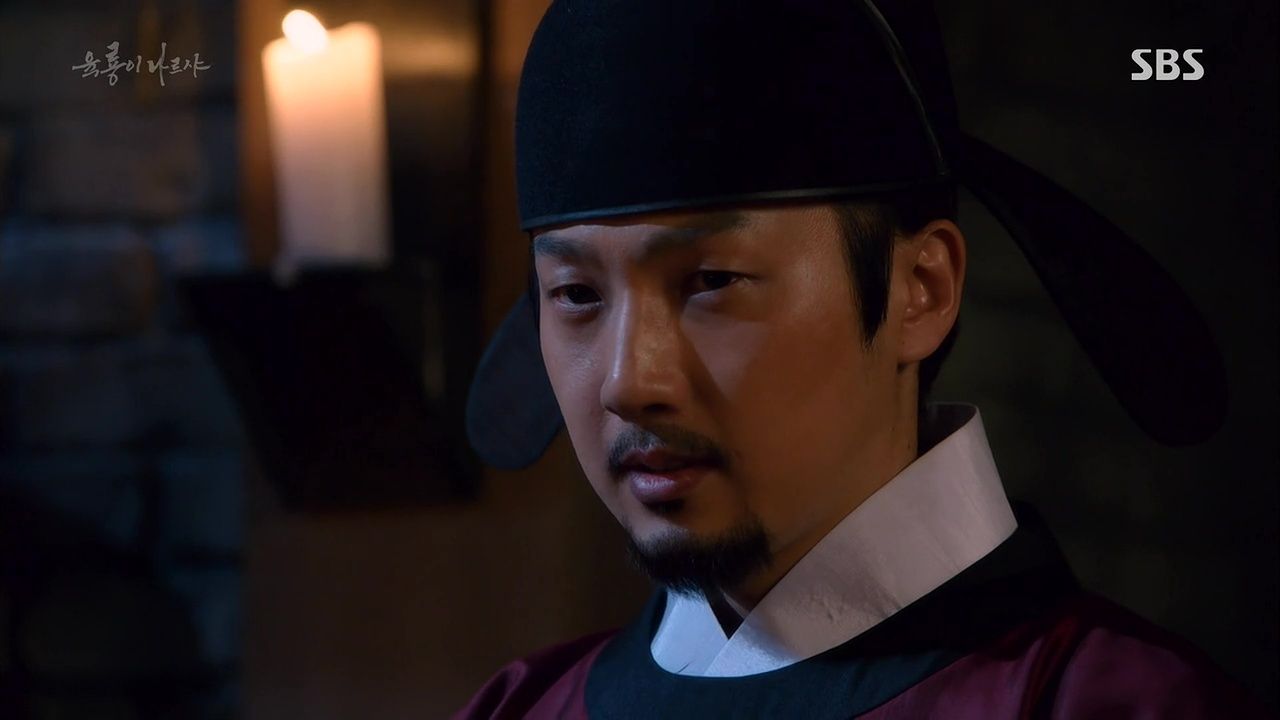 Both men turn to him with very serious expressions, leaving Moo-hyul wondering what he did wrong. There's only one Cheok family in Goksan, and the name that comes up is one we've heard before: Cheok Jun-gyeong, aka the great (and historically accurate) general whose legendary swordsmanship skills have been passed onto four generations of his children.
There's only one possible culprit, and that's Cheok Sa-kwang, which is another name Gil Sun-mi mentioned when he told the elder Jang Sam-bong who he thought had been able to kill his student. With just one blow.
Master Hong comes to the same conclusion with Bang-ji since he was once a servant of the Cheok household, and that's where he saw the lady of the house practicing her swordsmanship. It's the same style that killed those officials and the soldiers protecting Lee Seong-gye, meaning that assassin Bang-ji fought must have been Cheok Sa-kwang.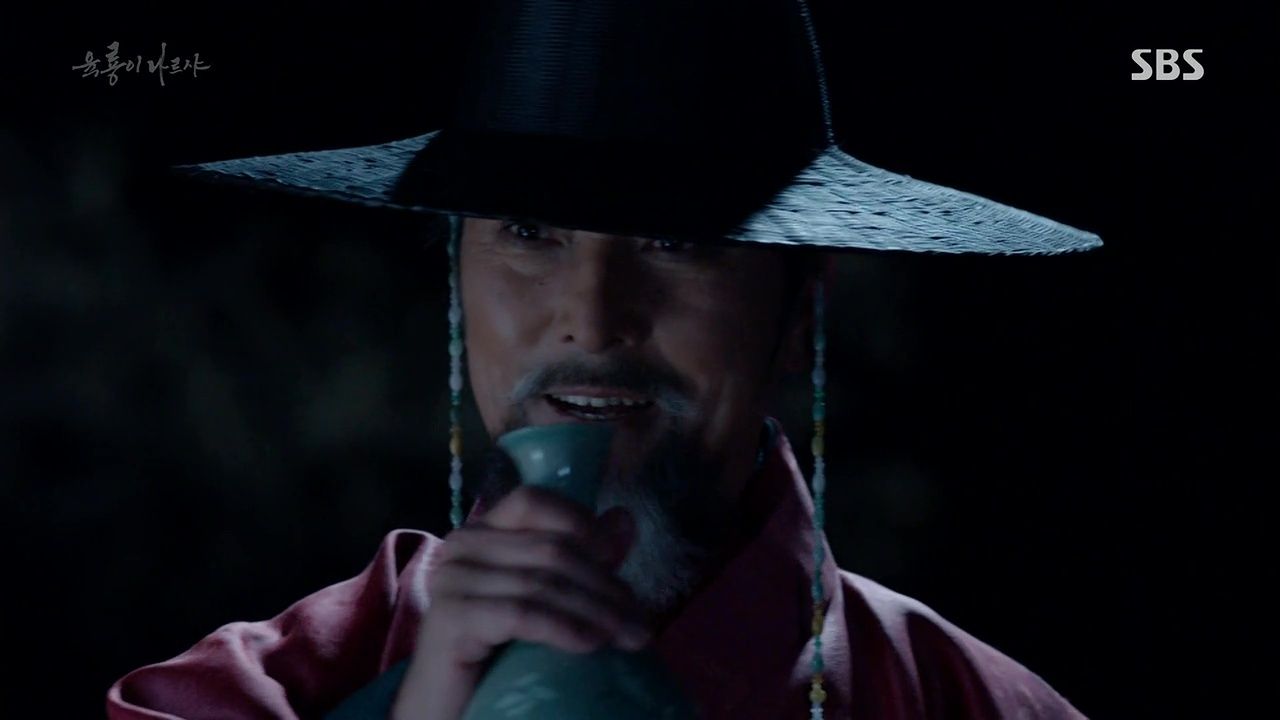 Gil Sun-mi is well aware that Prince Jungchang plans to make his escape tonight, but knows that Teacher Yooksan has a special method to take care of that. We find the prince fleeing with his bride, while men Bang-won sent to capture Traitor Baek find themselves one step behind when unseen forces shoot the fleeing prince with a poisoned dart.
Though Traitor Baek knows what kind of poison it is, he doesn't have a store of antidotes on hand. Up walks a man who does have just the right remedy for what ails the prince in the form of Yooksan, but he refuses to give the life-saving antidote without Prince Jungchang agreeing to become king.
"Who are you?" the prince asks shakily. "We have been called many names throughout the centuries," Yooksan replies jovially. "I have heard that we are referred to as Nameless in the royal family." He adds that though they didn't come up with the name, it is a very good one.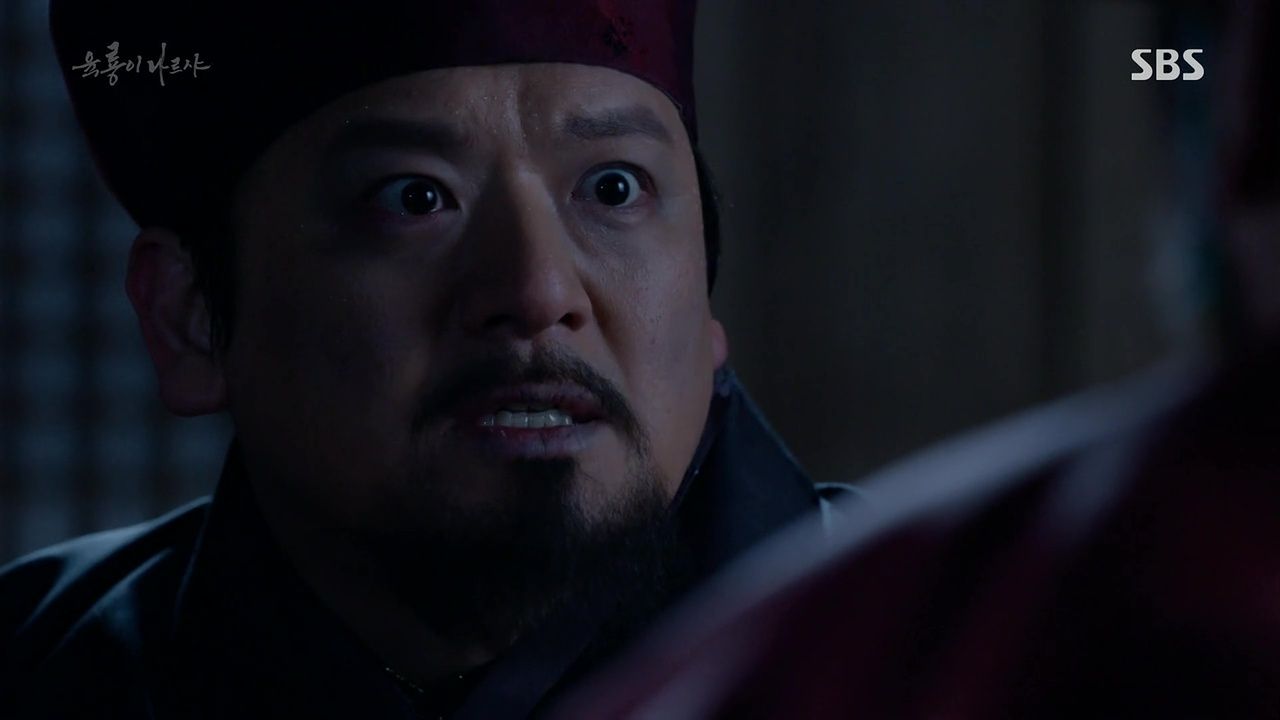 As to why he's here now, Yooksan unfolds a piece of parchment turned dark with age. He claims that it's a blood contract King Taejo signed when he founded Goryeo to ally himself with them. Since then, they've kept a very close relationship with the royal court.
That relationship will matter to Prince Jungchang if he becomes king, since he'd then inherit all of Nameless' power and connections. Yooksan reminds the prince that should he not take the throne, then Lee Seong-gye will—and if he does, he'll be sure to kill every member of Jungchang's family and any of his supporters.
Yooksan: "If you do not wish to drink it, then let it spill. If you do, we shall also cast Goryeo aside and look into another nation." And then, without waiting to see if the prince will drink the antidote, Yooksan leaves. His bride urges him to drink, but he's reluctant to become "Nameless' King." Drinking that antidote may make him king, but he'll still be a pawn in Nameless' game.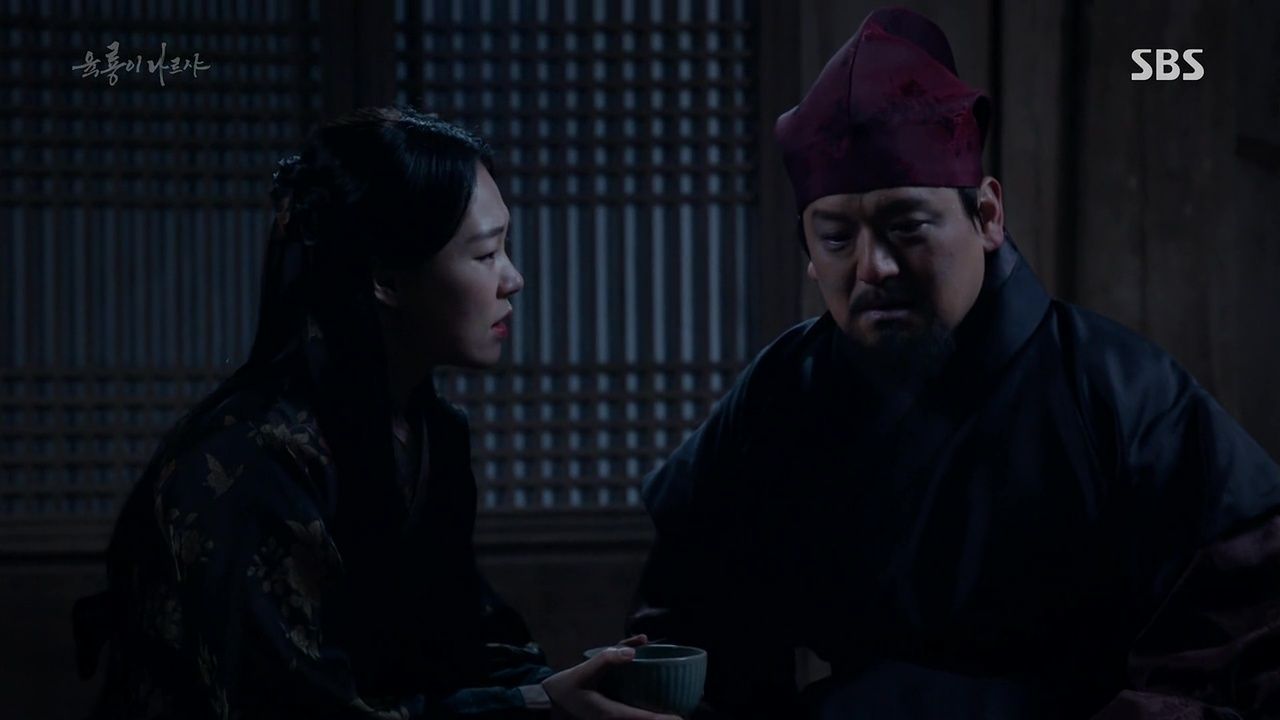 It just so happens that Cheok has taken refuge on the same mountain Yooksan cornered the prince on, and his men alert him to this fact before asking whether they should save him from Lee Seong-gye's men. Yooksan doesn't volunteer any help, since he doesn't care either way whether Cheok lives or dies.
Yoon-rang practically begs the prince to take the antidote, claiming that he can think of his next move after he's ensured he won't die an agonizing death. And strangely, she assures him that if he does want to run after taking the antidote, there is a way.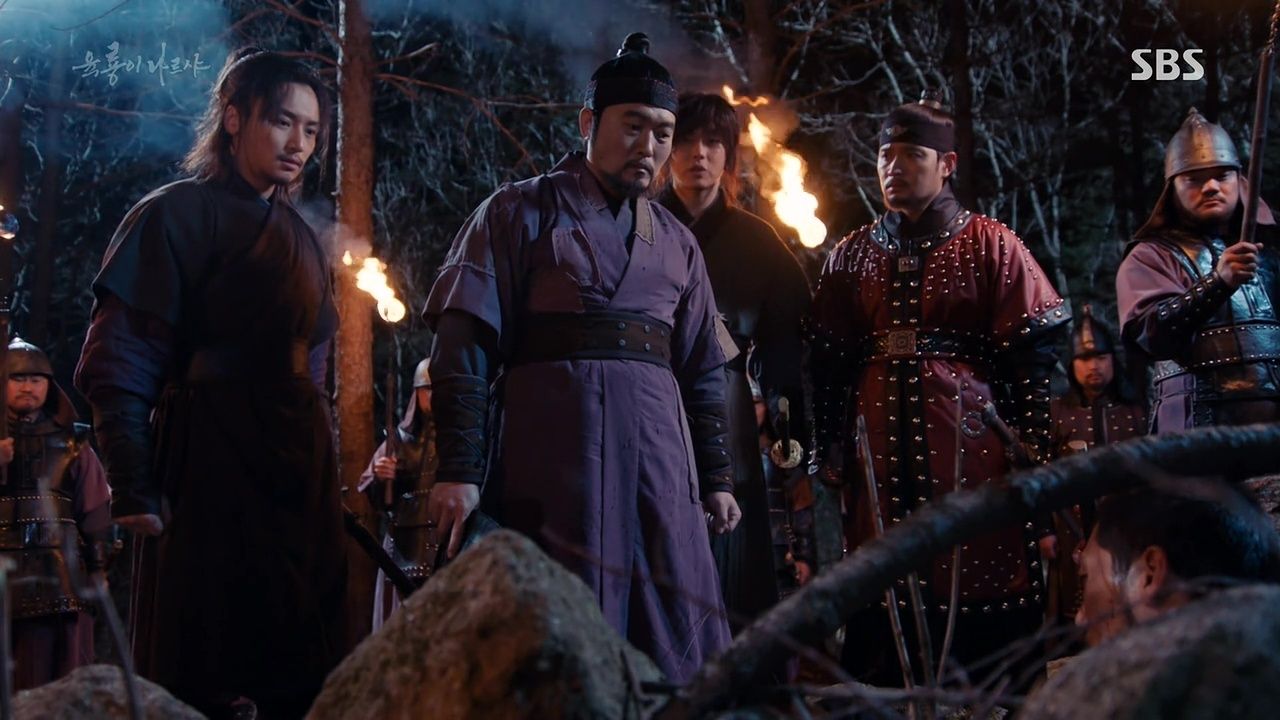 Since Lee Seong-gye's men have roughly located Cheok, Moo-hyul rallies Bang-ji to join him in tracking the skilled assassin down. He agrees, and decides to bring Master Hong along as well, since he worked for the household and should be able to recognize whether the assassin is Cheok Sa-kwang.
They find a slumped figure wearing the assassin's robes in the forest, and charge Master Hong with identifying the body. He reaches to pull the straw gat covering his face away.
Meanwhile, one of Prince Jungchang's servants picks up the antidote to beg him to take it, only to get a knife to the back from the men Bang-won sent to capture Traitor Baek. The precious cup and its contents go flying into the air…
Lucky for Bang-ji that he brought Master Hong along, since he surveys the face beneath the gat and surmises that it's not Cheok Sa-kwang. It is the assassin from earlier, but as Master Hong adds, "Cheok Sa-kwang is a girl."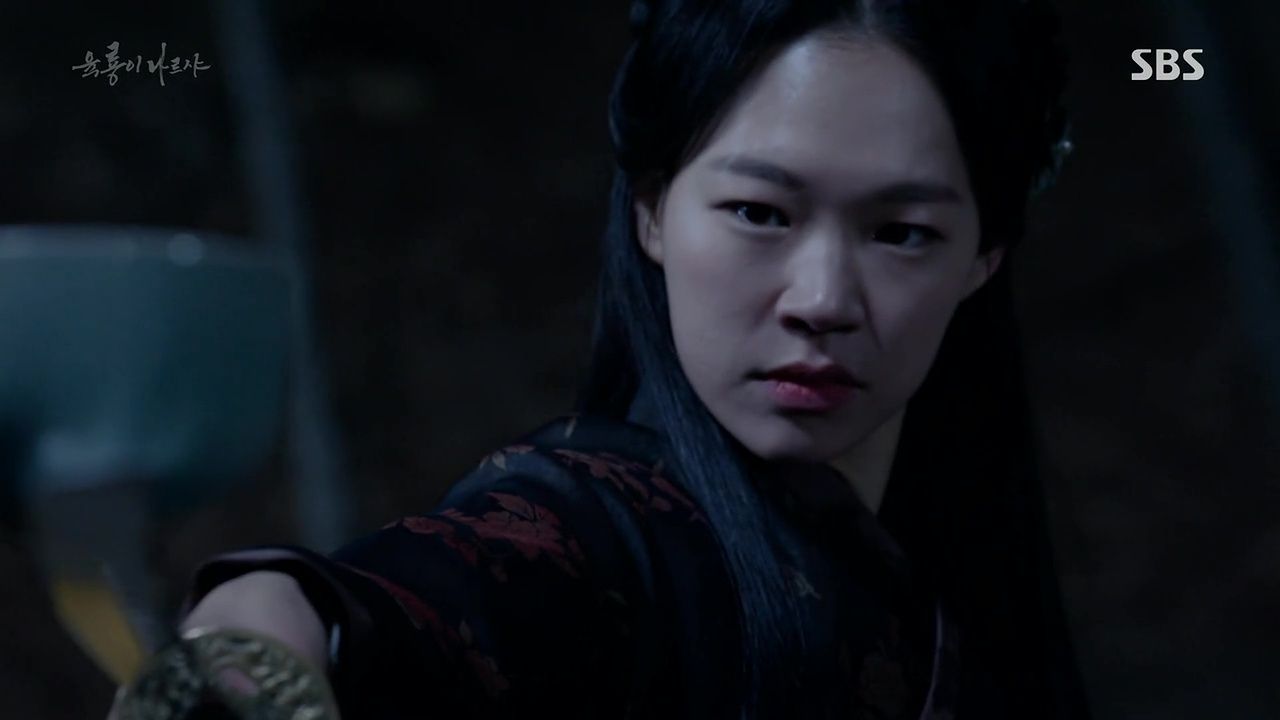 Cut to the real CHEOK SA-KWANG, otherwise known as Yoon-rang, Prince Jungchang's bride. As the cup with the antidote falls with the force of gravity, she expertly grabs a nearby sword to catch it on the flat end of the blade. Ohhhhh.
As Bang-won's men rush down to attack, she flings the cup into the air like Bang-ji tried to do, fighting them off in the time the cup is airborne. She catches it with the blade before it can reach the ground, all without spilling a single drop.
She brings it to Prince Jungchang, and with tears in her eyes, claims she wasn't trying to deceive him. "I have simply… simply…" she struggles to find the words to explain. "I simply wanted to live a different life. I grew to hate killing people. That is why I could not tell you. I had no other intentions." Then she tells him her other/true name: Cheok Sa-kwang.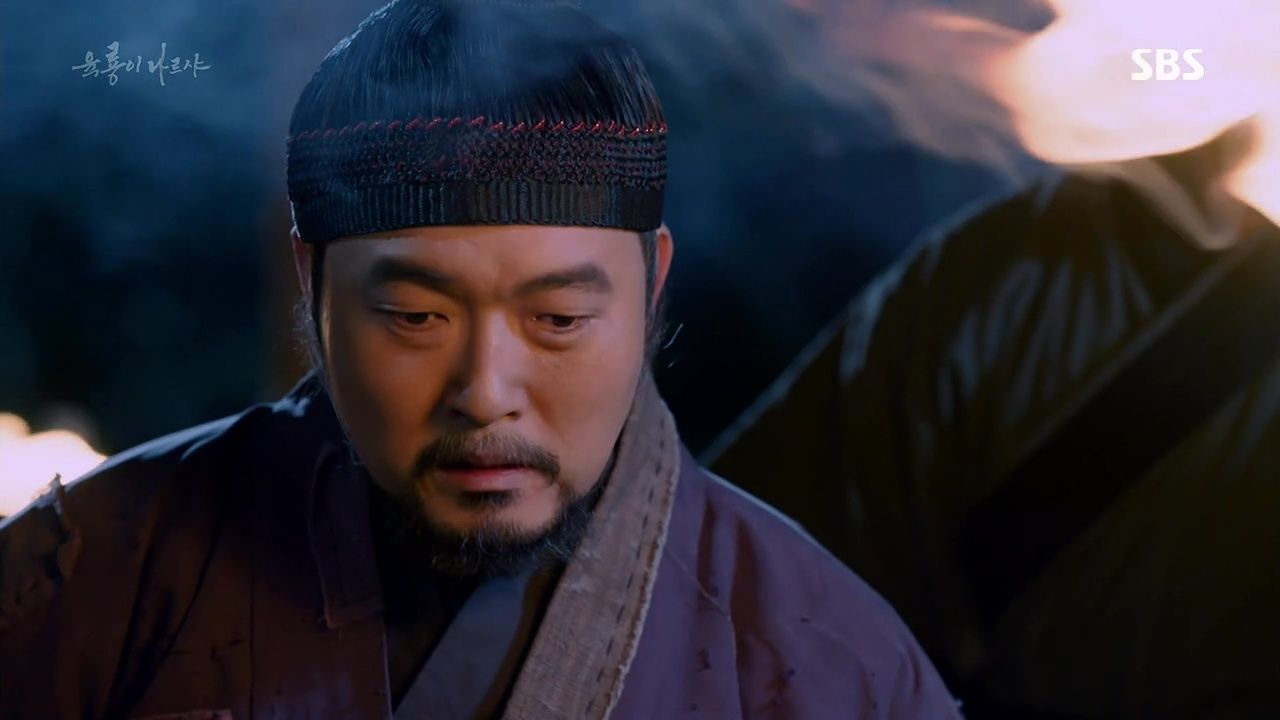 Everyone else struggles with the unbelievable revelation that master swordsman Cheok Sa-kwang isn't a man at all, while Master Hong finally recognizes the fallen assassin as Sa-kwang's older brother.
Offering the cup to her prince, Sa-kwang says, "I shall protect you. I hate the idea of living my life wielding a sword, but that is what I shall do. If I can be of help to you, I will fight by your side. So please, please drink."
Cheok Jun-gyeong's last heir to the Goksan Swordsmanship Method, Cheok Sa-kwang.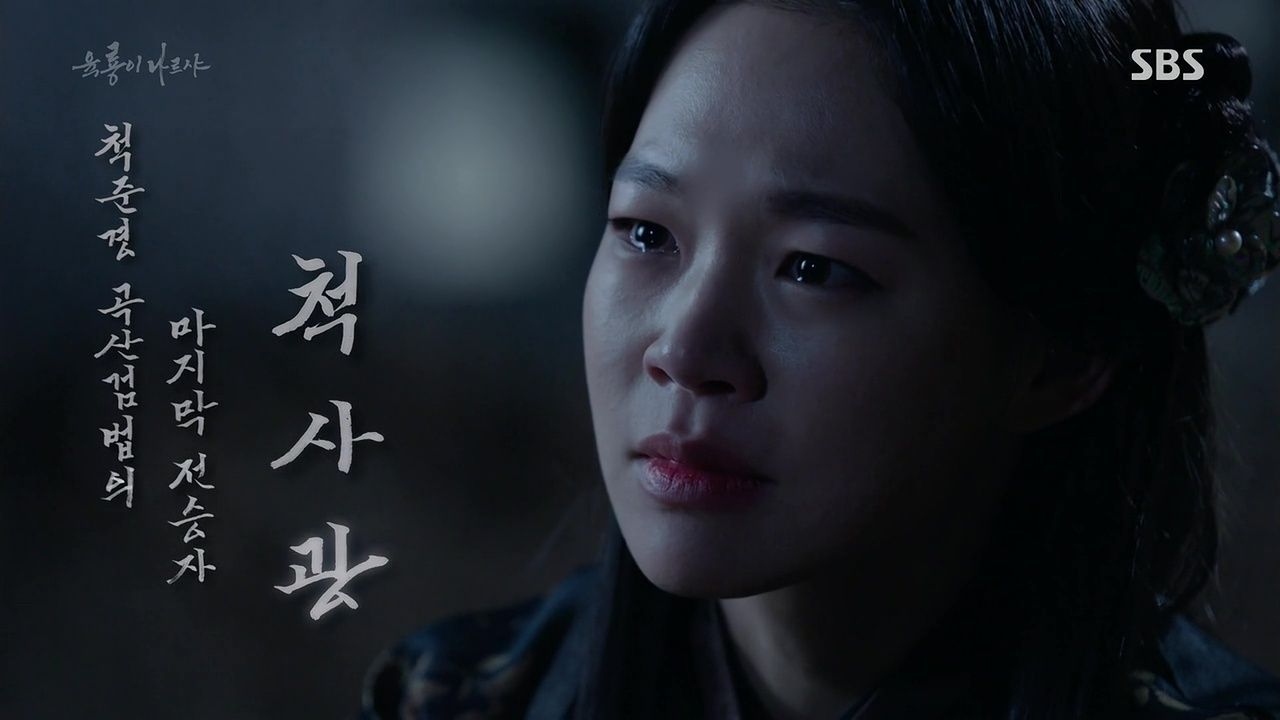 COMMENTS
What?! Now they're just being cruel. I'll grant that the Cheok Sa-kwang reveal was incredibly well done, but Moo-hyul has been waiting weeks of our time (years in the show's timeline), and for what? No chyron when we're almost thirty episodes in? What on earth are they waiting for at this point? Whatever it is, it better be suitably epic for how long we/he's waited. Moo-hyul deserves all the chyrons after this blasphemy, I say! All of them!
I know, I shouldn't hate when a cool character like Sa-kwang has been introduced to us. And to be clear, I went from mildly tolerating her in every scene to being glued to the screen, wondering how on earth I didn't see this one coming. I'm happy to be fooled in this case, not just because it makes the surprise more surprising, but because it means all those cutaways to Prince Jungchang and Sa-kwang's lovey-dovey hour will now have more, I dunno, spark? Meaning? Depth?
Really though, the show did a great job giving us that red herring in the form of Man Cheok, since he truly was very skilled, seemingly even capable of beating Bang-ji in a fairer fight. It was a bit of a letdown then to see that he'd died a lingering death from the wounds Bang-ji inflicted, though I understand now that the show needed him to lead everyone on that wild goose chase, since the grand reveal wouldn't have crescendoed the way it did otherwise.
I loved it personally, because I really had thought that the assassin might've left a dead man in his clothes in order to throw his pursuers off his trail. I fully expected someone else to be there when Master Hong lifted the veil, and was shocked not only to see that it was the same assassin, but to hear that the real Cheok Sa-kwang was not only not dead, but a bonafide girl. And that she was a character that was previously easy to dismiss, which makes me sound really sexist all of a sudden. I mean it in a good way, like it's awesome to see another strong female character in this show. Just that she was a little boring before. Y'know what, I'll just stop here.

RELATED POSTS
Tags: Byun Yo-han, featured, Kim Myung-min, Shin Se-kyung, Six Flying Dragons, Yoo Ah-in