Six Flying Dragons: Episode 30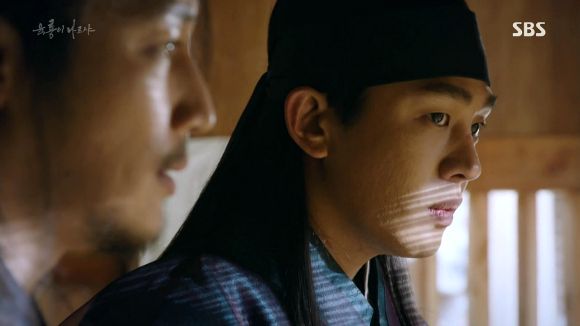 Our most cunning young dragon devises an ingenious plan to lure the most secret of secret organizations out of hiding this episode, and by using their own vanity as a weapon, he's able to poke a few good-sized holes through Nameless' impenetrable facade. It's an hour about looking to the future, of realizing one's dreams and how to make them happen, even though we know in drama speak that when you plan for the future, you may as well be signing your own death warrant. Fate is a cruel mistress that way.
SONG OF THE DAY
Gain – "열두 시가 되면 (Let's Meet When It Turns Twelve)" [ Download ]
Audio clip: Adobe Flash Player (version 9 or above) is required to play this audio clip. Download the latest version here. You also need to have JavaScript enabled in your browser.

EPISODE 30 RECAP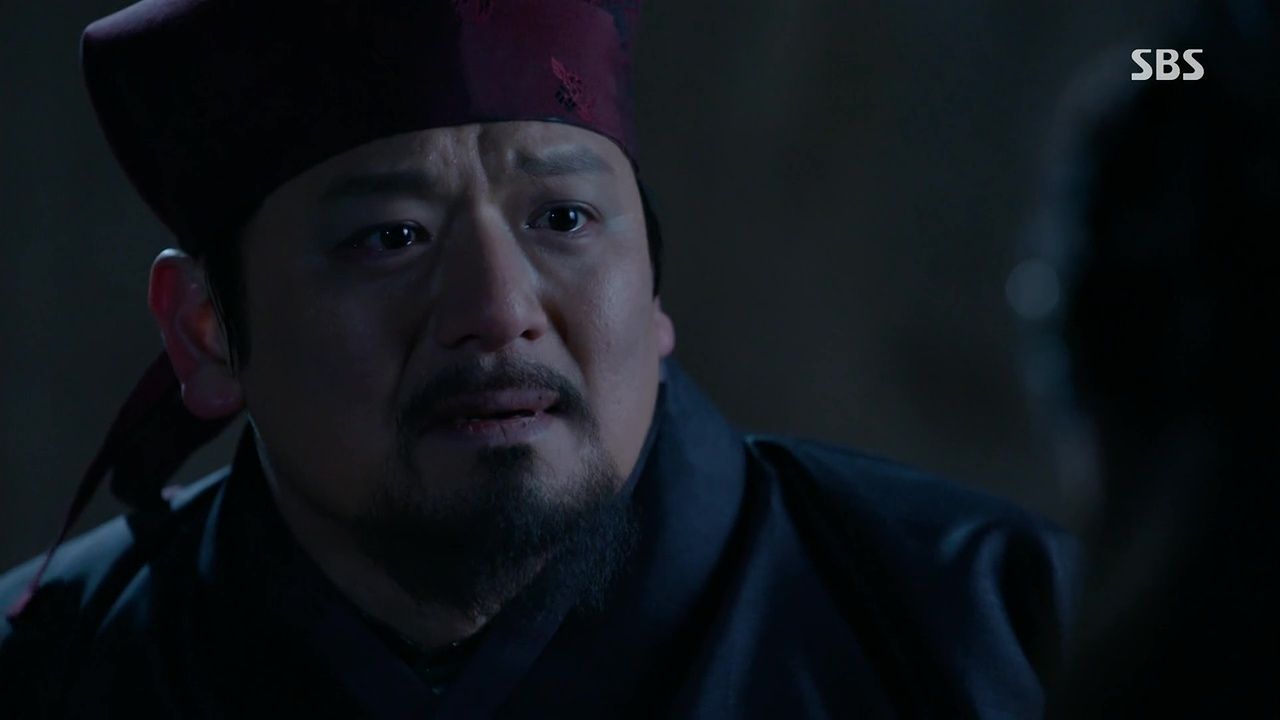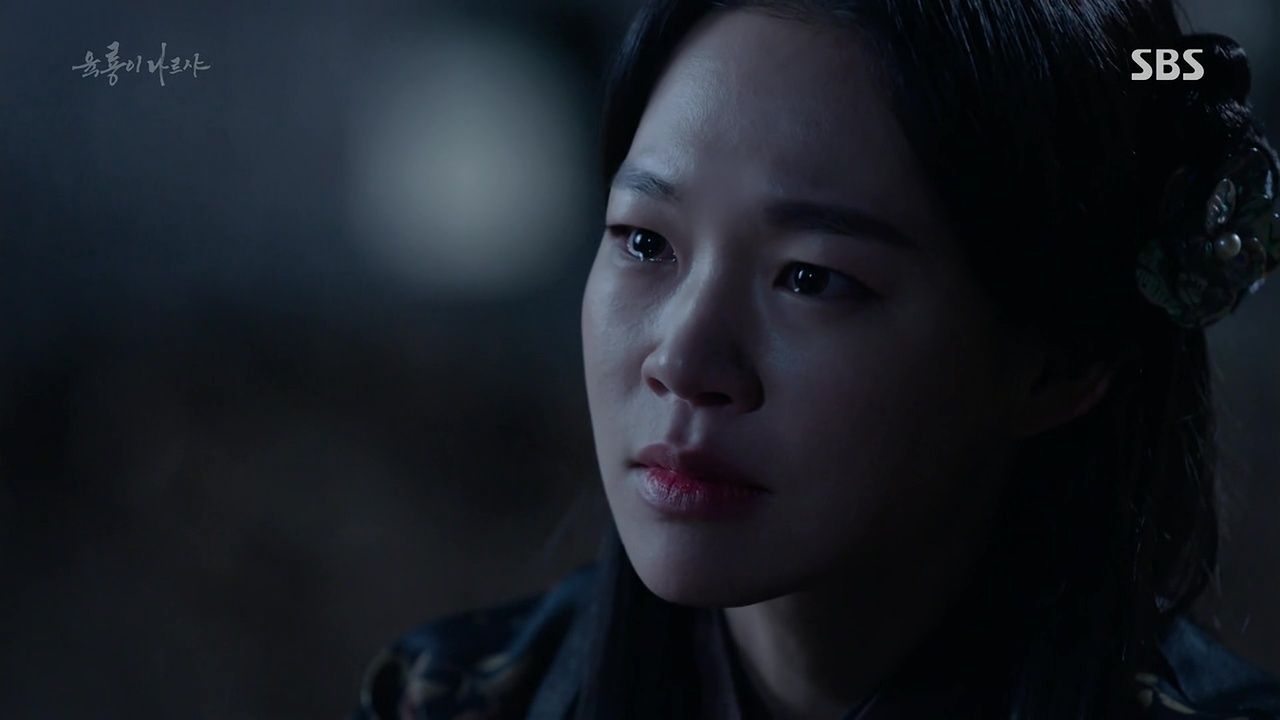 After revealing herself to be Cheok Sa-kwang, the girl formerly known as Yoon-rang begs the prince to drink the antidote, swearing that she'll protect him with her life. He believes her, and takes the proffered cup.
Neither of them know Traitor Baek is, well, a traitor, so they have no idea that he's going to take the information on Sa-kwang's identity back to Nameless… until Sa-kwang points out that he wasn't perturbed when Nameless showed up.
Thinking back, she realizes that Traitor Baek was the one who led them to the spot where they were ambushed, and reacted to the poisoned needle before he saw it. He knew it was coming, she reasons, and Baek realizes there's no way out but to reach for his sword.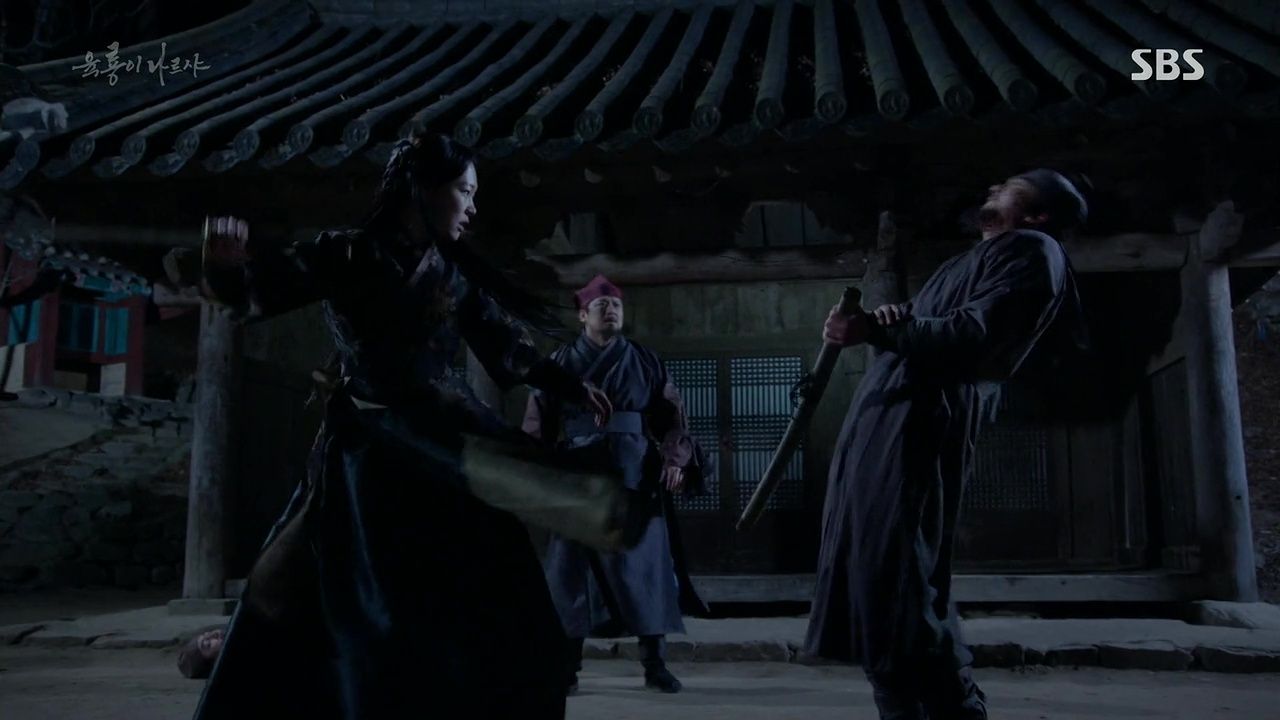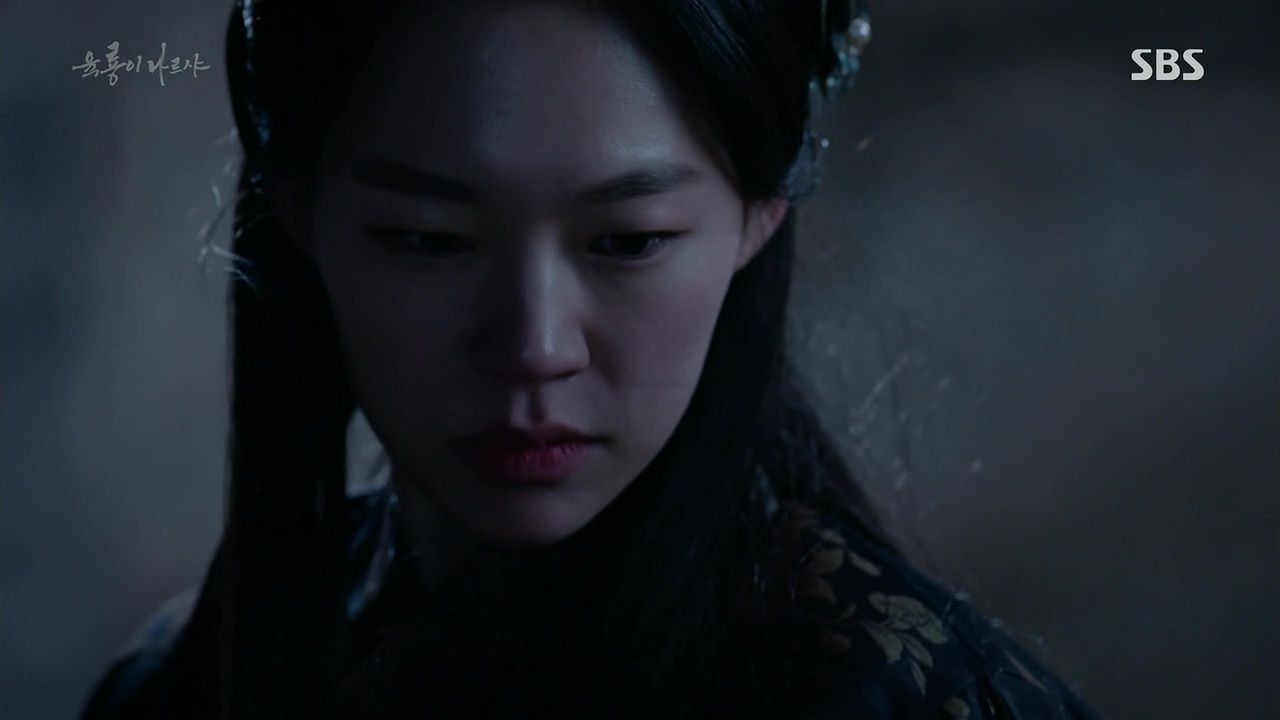 Sa-kwang is much too fast for that though, and in a few swift seconds she's broken his arm, taken his sword, and cut his throat with it. Just like that, Traitor Baek is no more.
Master Hong fills everyone in on the Cheok family story, explaining how Cheok Jun-gyeong, the original legendary swordsman, passed down his skills to one surviving son. That son became the grandfather of both Cheok Sa-kwang and her now deceased brother, and poured his training into Sa-kwang when said brother went off into the world seeking fame and fortune.
At the same time, Sa-kwang tells her story to Prince Jungchang, explaining how she never liked the training even though she'd submit to it. That all changed the day Jang Sam-bong's disciple came looking for a match against her grandfather.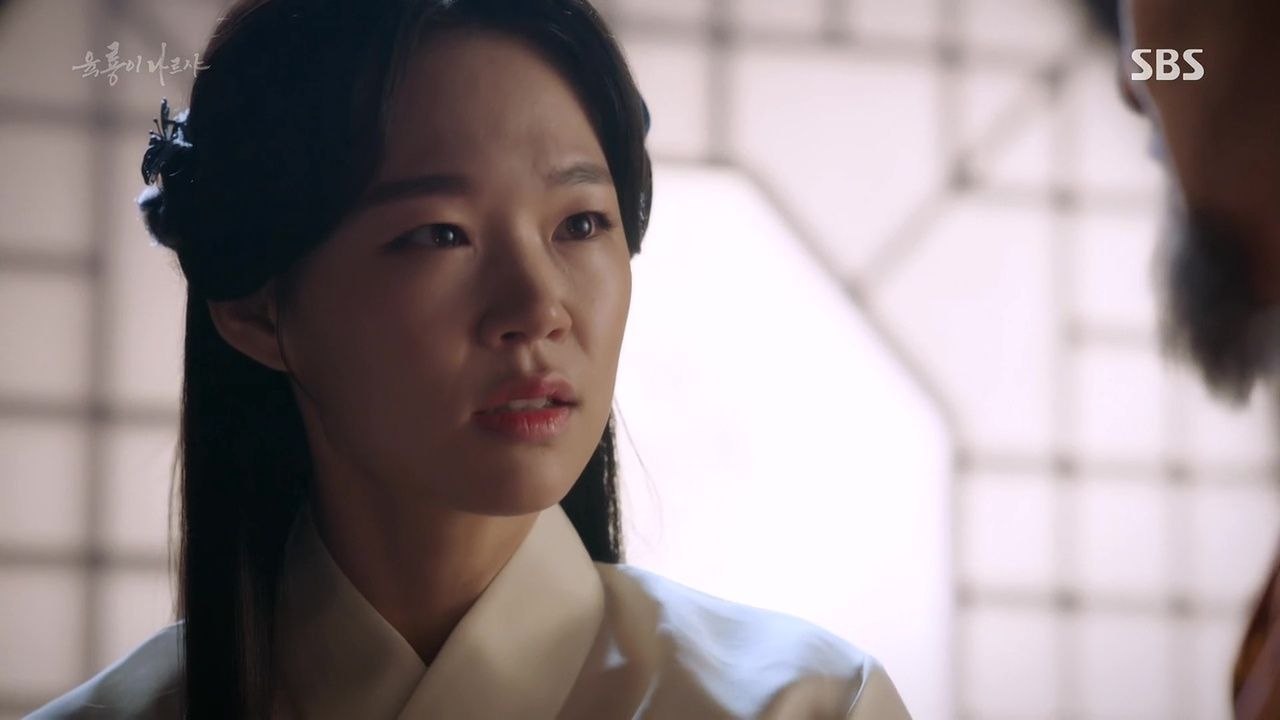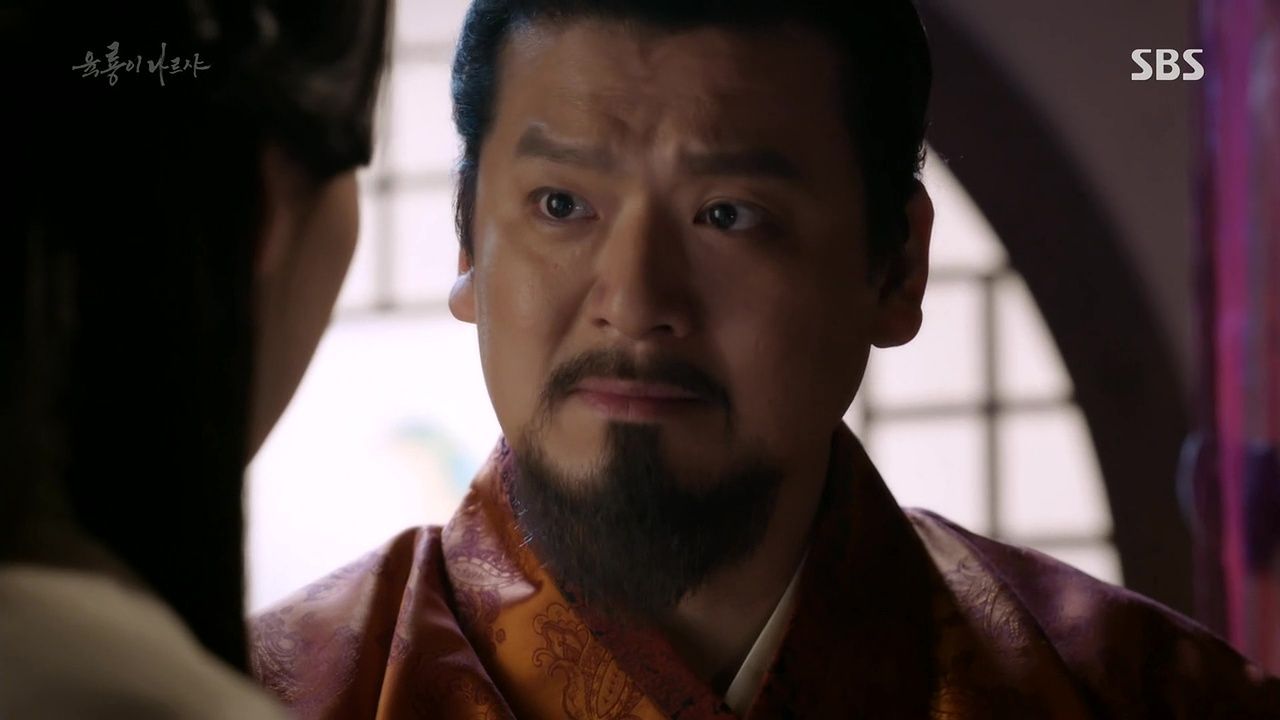 He won the match fairly and her grandfather died, but a young Sa-kwang couldn't control her emotions and killed the disciple in return. She tells the prince that she struggled more with having killed him than her grandfather dying, and that it's haunted her until this day.
She had planned to leave the sword forever that day, but out of her love for Prince Jungchang, she killed three men to protect him. And she'd do it again, so she urges the prince to be strong. In return, she'll be his sword and shield.
Yooksan returns to where he last met Prince Jungchang to find Traitor Baek and two other unknown men dead. He has Jukryong with him, who identifies the fatal wound on Traitor Baek's throat as a signature of Goksan Swordsmanship. But he doubts their man Cheok In-kwang could've killed them when he was already dying himself.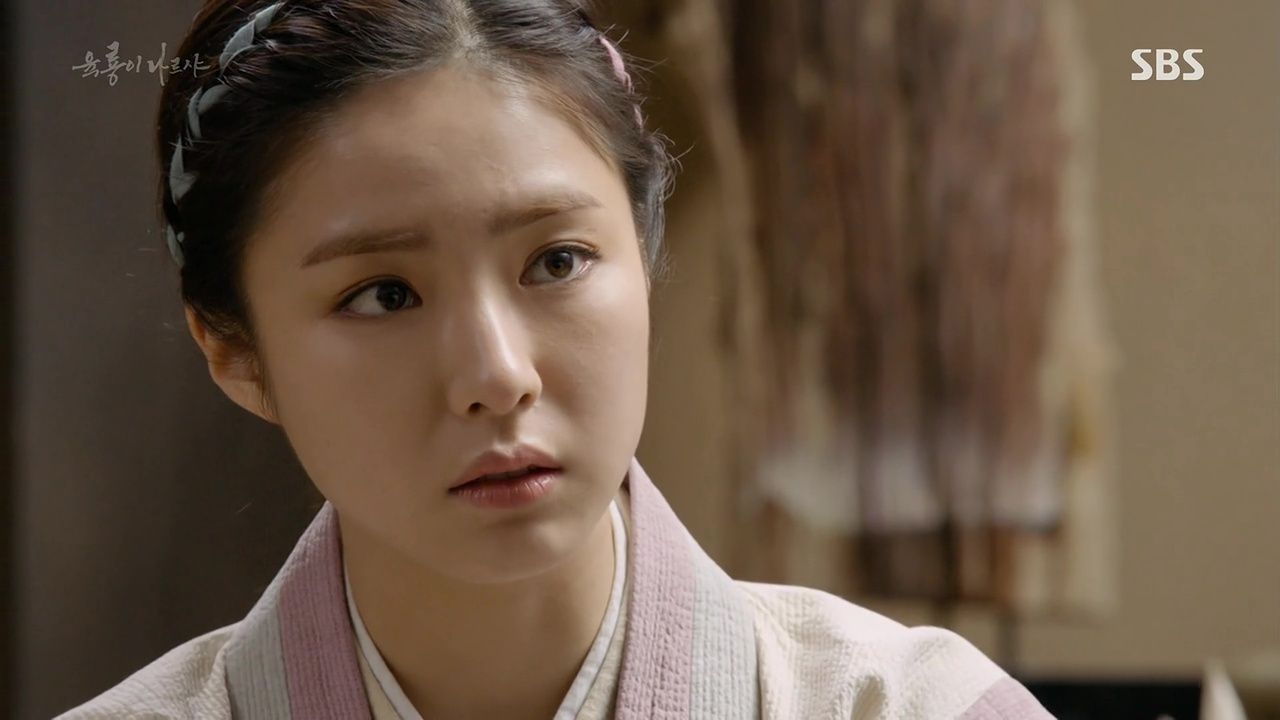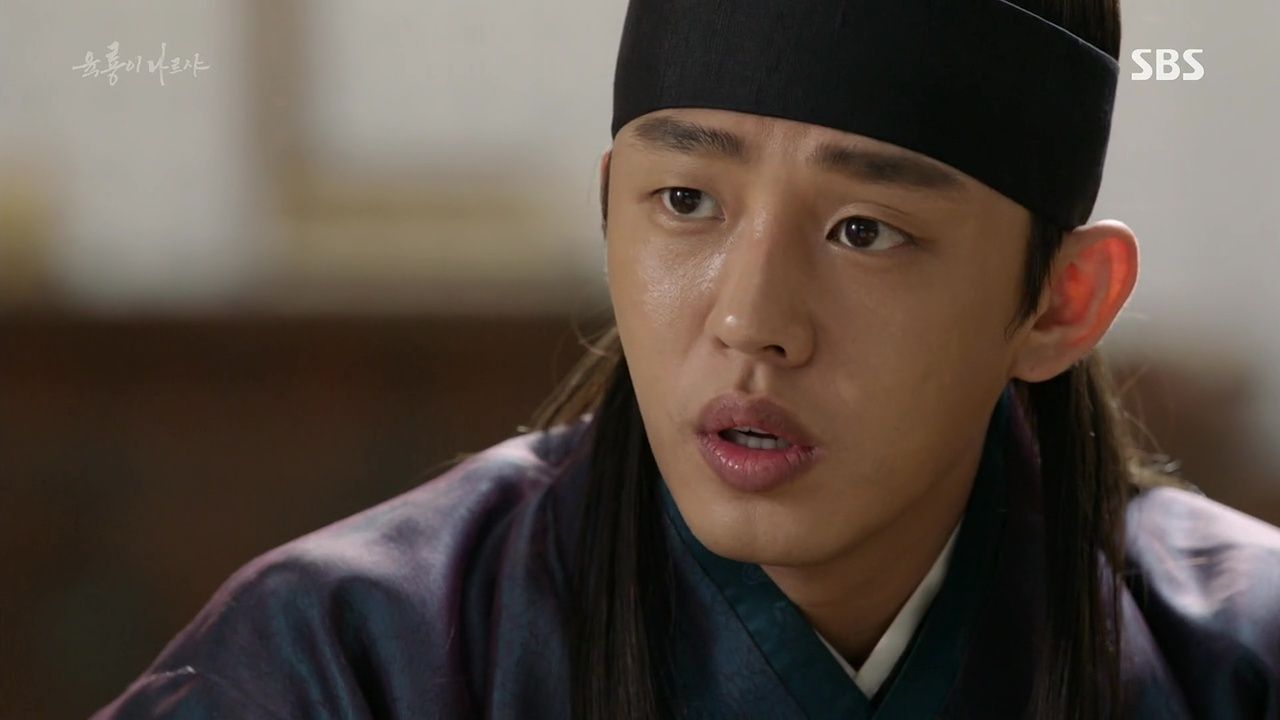 Bang-won finds Boon-yi after investigating the loss of the men he sent to capture Traitor Baek, and it turns out she didn't tell the boys how she got the information she did from Cheok In-kwang.
She tells Bang-won how the code her mother used way back when still worked in the present, which only convinced her further that her mother wasn't kidnapped by Nameless. In fact, Boon-yi is now certain that her mother is an active member of Nameless.
"Why are you just saying this now?" Bang-won asks. With a deep breath, she tells him it's because she knows her mother is now their enemy, and it frightens her. Much like Moo-hyul, Bang-won tsks at Boon-yi for her crestfallen spirit, wanting ol' General Boon-yi back.
In turn, she asks him about his sudden interest in Nameless, since he'd been preoccupied with following Jung Mong-joo around before. He explains that he's having to trust Poeun because Jung Do-jeon does, and is now determined to root out Nameless. It all starts with finding out who Ji Cheon-tae is. (I'd mistakenly thought it was a place and not a person last episode, my bad!)
Bang-won finds a self-satisfied Ha Ryun and offers to share what he knows about Nameless in return for him doing the same. He knows Ha Ryun didn't follow Nameless all these years out of loyalty to Lee In-gyeom, which Ha Ryun admits is true.
Then, chuckling, he agrees with Bang-won's assessment that he can't stand his own curiosity. "What is it that you cannot stand?" he returns in kind, only for Bang-won to give a patented answer: "Injustice. I cannot stand injustice."
But Ha Ryun knows that can't be it, and guesses correctly that what Bang-won really can't stand is feeling powerless. This strikes a chord with Bang-won, who remembers Minister Hong's prediction regarding his fear of weakness. And that fear is its own weakness, though at least Ha Ryun agrees to drop the matter and work together with him.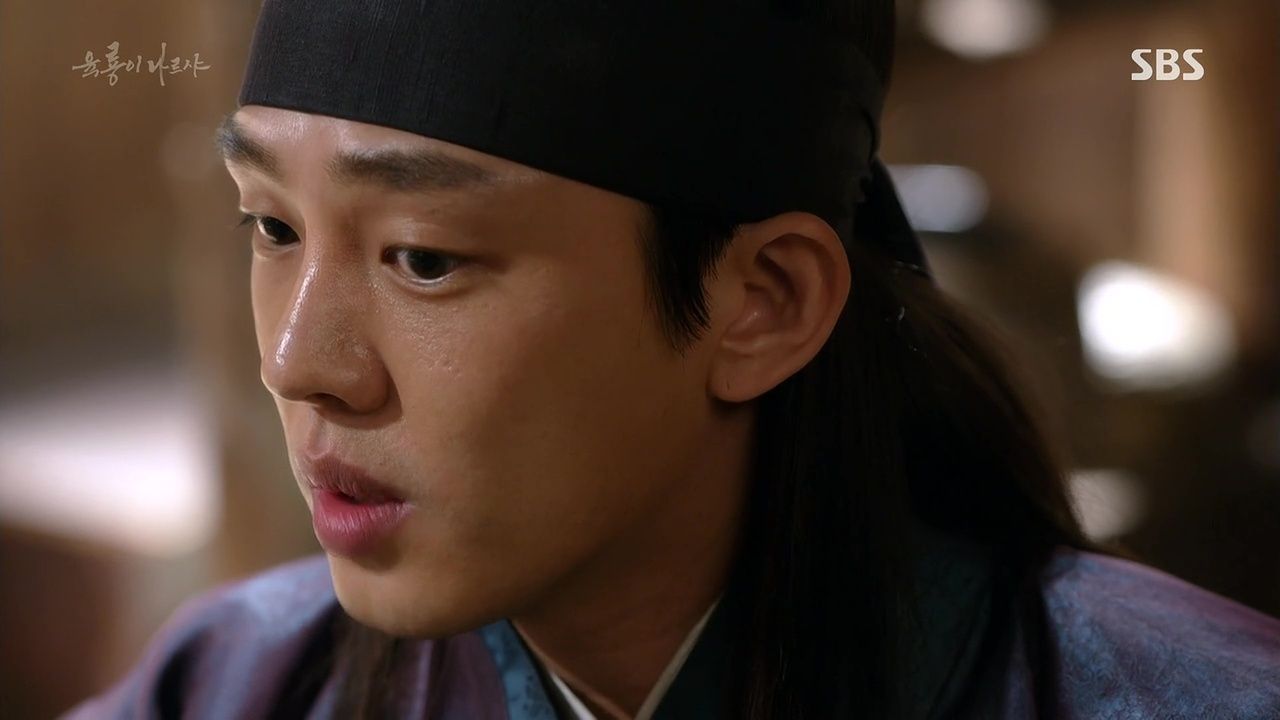 With their two heads combined, they begin to work through what they know. Ji Cheon-tae must be from either Jukryong's camp or Cho-young's, since they're the only ones who could provide the information Nameless uses to control and manipulate people.
Looking back, Bang-won now wonders whether Nameless was behind Jukryong giving him that free bit of intel on General Choi, since nothing is ever free with him. But their biggest break comes when Ha Ryun explains just how much time (three years) it would've taken someone to learn to forge Jo Joon's handwriting for the three letters he never sent out.
There is the possibility that both Biguk Temple and Hwasadan were just hired by Nameless, Ha Ryun reasons, which gives Bang-won a lightbulb moment when it comes to Ji Cheon-tae. He leaves without sharing the details.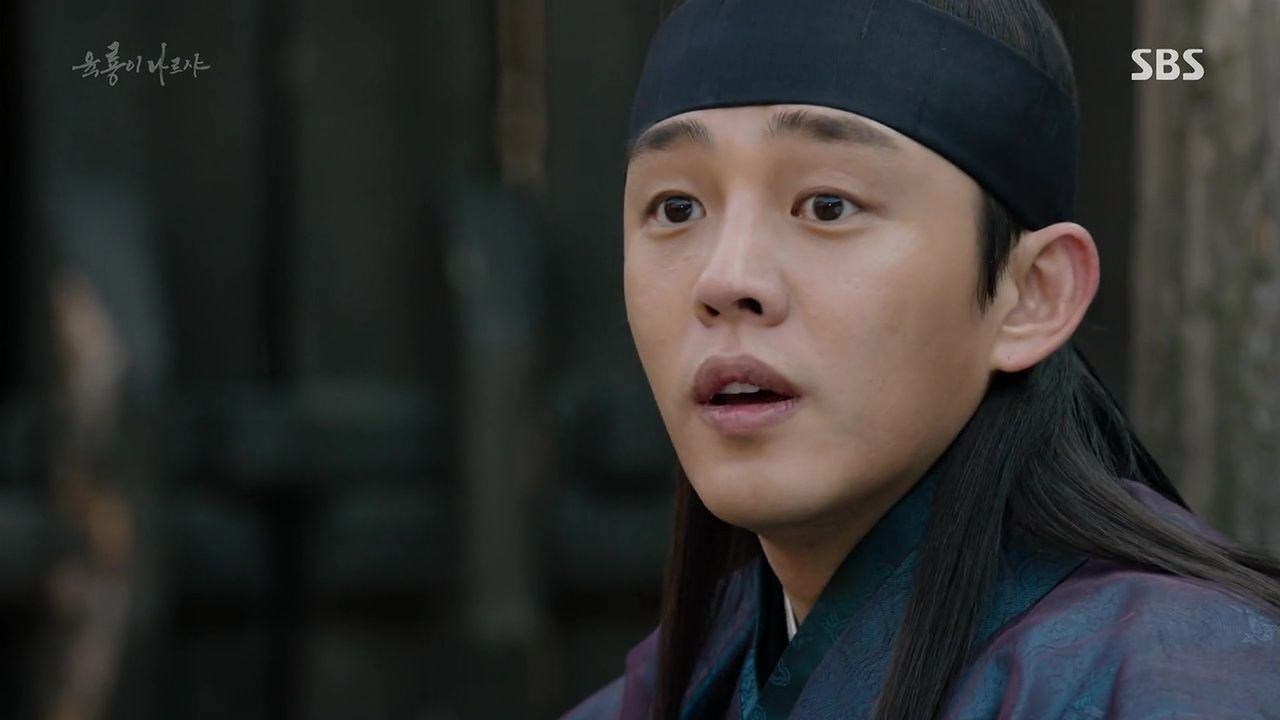 He tells Boon-yi and Moo-hyul that Nameless must be losing their minds right now trying to find out who sent the assassins, since they'd have no idea whether they were sent for the prince or Traitor Baek. He plans to use this against them and enlists Master Hong to stand in for the blacksmith who hired out the assassins to them, that way when Nameless comes looking, they'll find him.
Jo Joon is outraged when Bang-won tells him that his father has chosen to support Prince Jungchang for the throne, angrily demanding to know why the general is dragging his feet when it comes to assuming the throne. He's not convinced, even when Bang-won tells him that it's all so Jung Mong-joo will come to support their cause.
Speaking of, we find Jung Mong-joo with Prince Jungchang as he vows that he has nothing to do with Nameless. Unaware that Sa-kyung is listening in, he lights up like a Christmas tree when the prince agrees to take the throne, and is all to happy to swear his undying loyalty to him.
Bang-won ends up eavesdropping when Jo Joon and Officer Nam go to Jung Do-jeon to demand answers. He soothes them by claiming that he's using a five point plan to convince Jung Mong-joo, otherwise known as ohchik, which soothes Bang-won's fears as well.
Eldest son Bang-woo ends up overhearing their shouting match inside, and bursts in the second he hears their talk of making his father king. Having no idea that was their original intent, he's outraged at the idea that they're setting out to make his father a traitor.
At least he seems pleased when his father claims the opposite is true, and that they'll focus on Prince Jungchang. Guess they're going to put off telling him the truth for as long as they can.
Lee Seong-gye, Jung Do-jeon, and Jung Mong-joo are all who's needed to throw their support in for Prince Jungchang. Prince Chang is dethroned and sent away with exile, along with his father.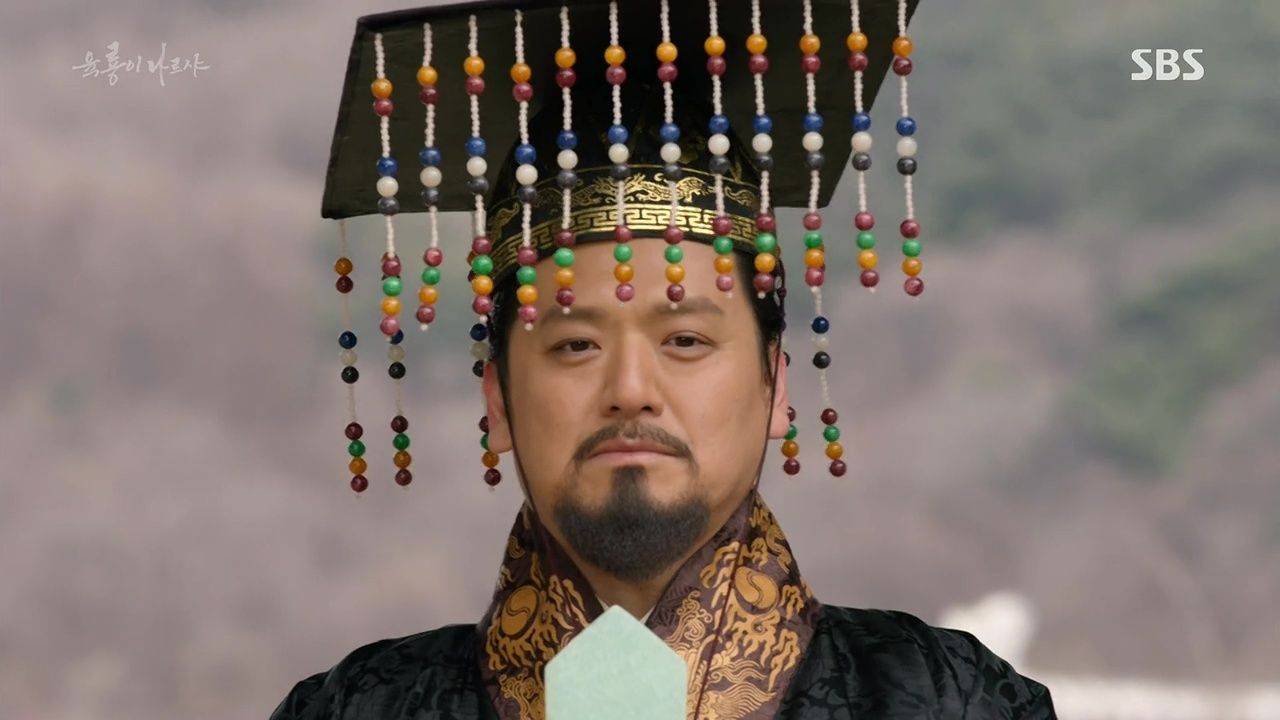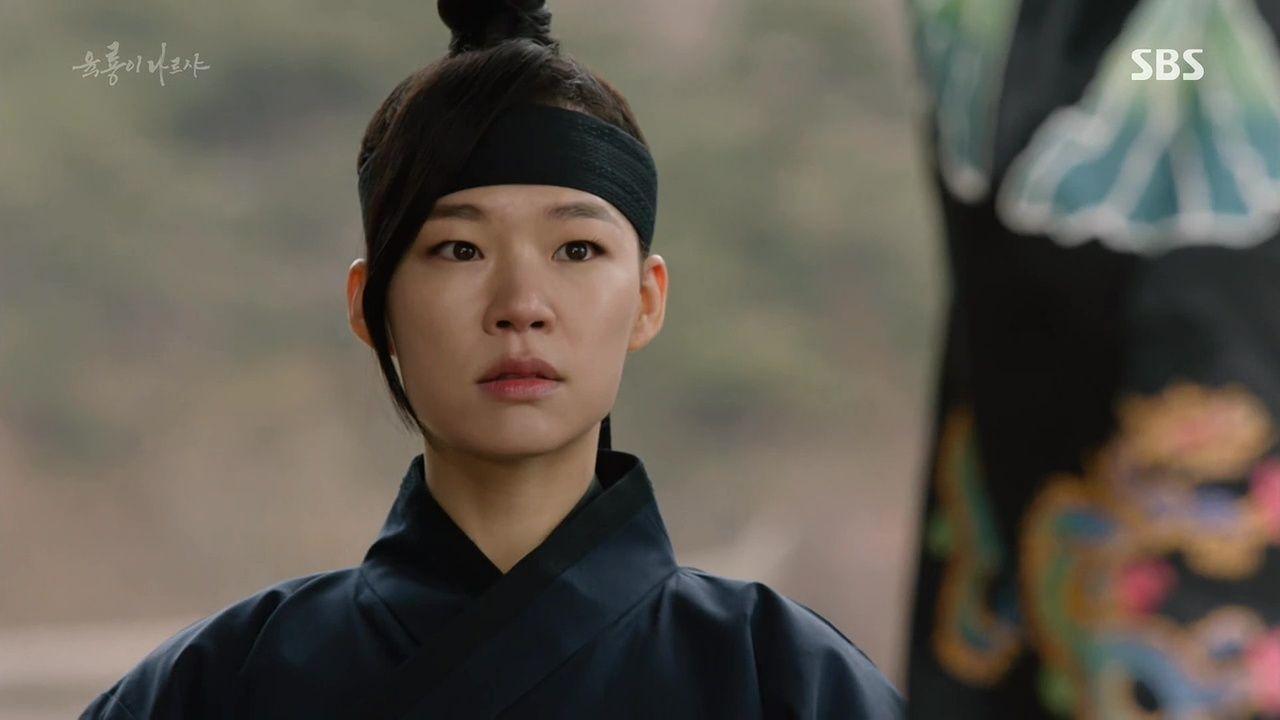 Prince Jungchang is crowned and becomes KING GONGYANG, while Sa-kyung is left to… trim her nails? It makes sense once she emerges dressed in men's garb, unable to be more than a bodyguard to her one true love now that he's king.
Cho-young sends her head Amazonian spy to Master Hong's Blacksmithery, and it's hilarious how he thinks he has to disguise his voice in order to play the part convincingly. She leaves with their ledger in hand, which of course was placed there by Bang-won.
Of course, they weren't expecting a second party from Biguk Temple to arrive looking for the same ledger, and Master Hong is quick to tell them that someone from Hwasadan already came and took it.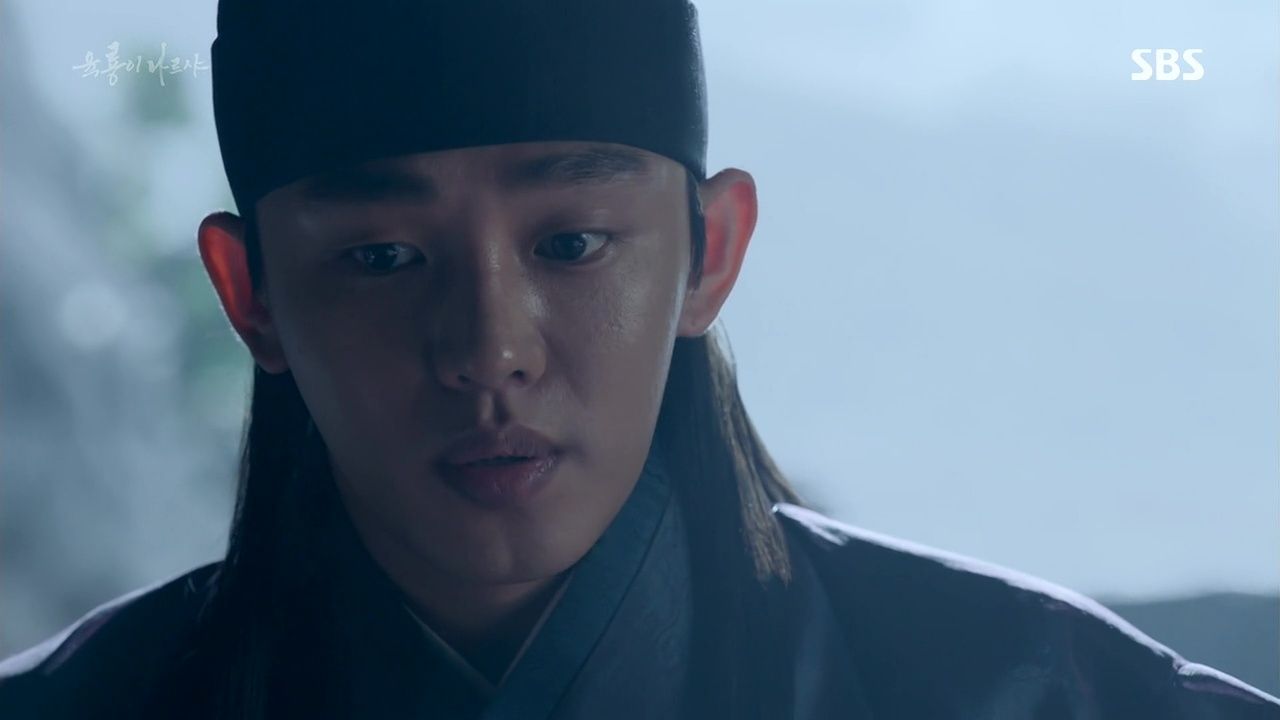 Gab-boon takes this answer back to Bang-won, though just the fact that both parties showed up doesn't mean they're part of Nameless, since they could've just been hired by them to retrieve the record. He plans to wait and draw Nameless out.
Jukryong reports to Yooksan that Hwasadan got ahold of the ledger first, and believes that they're agents of King Gongyang. But Yooksan isn't at all concerned as he invites Ji Cheon-tae in… who turns out to be none other than Cho-young.
She's just as surprised to see Jukryong as he is to see her, and Yooksan gleefully introduces them to each other. Neither knew that they were working for the same organization until now, which is why Yooksan wasn't concerned about the ledger. He knew Cho-young would bring it to him.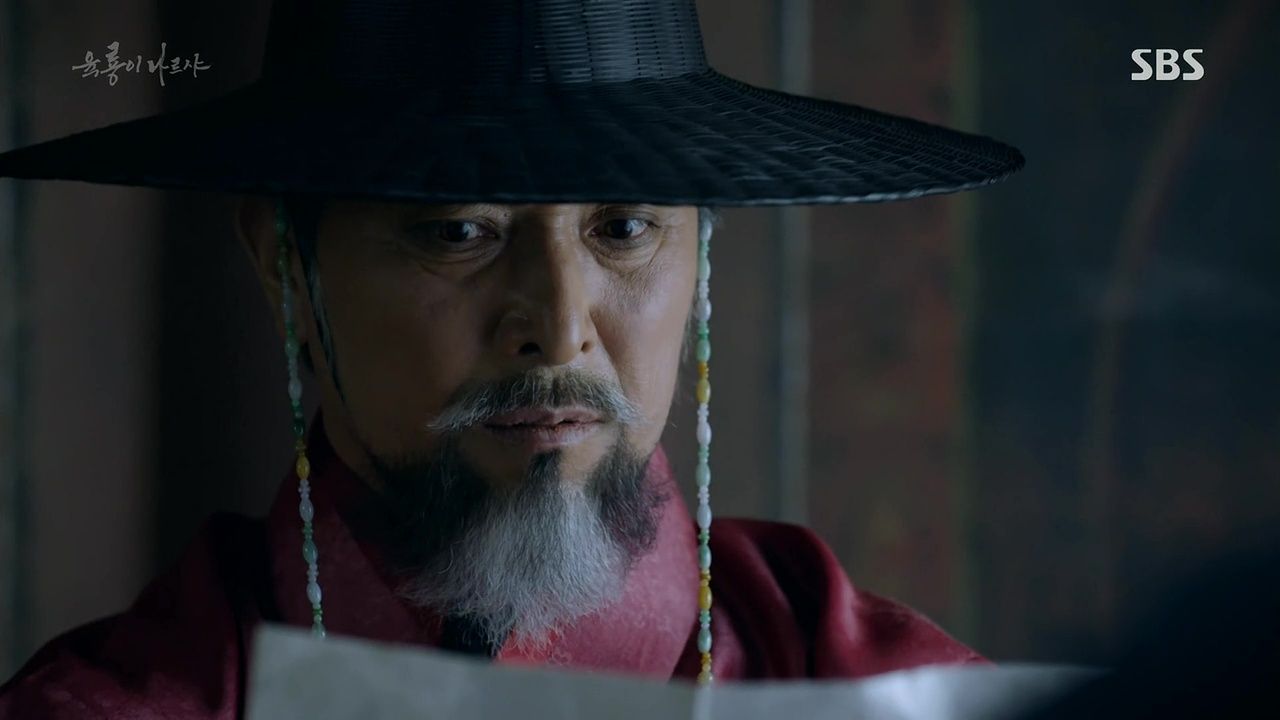 Yooksan opens it to find a letter from Bang-won inside, intentionally addressed to whoever would read it from Nameless as he baits them on their failed "break the ash flower's stem before it blooms" plan. Just like Bang-won wanted, Yooksan reels at the letter, while Jukryong wonders if there's a spy in their midst.
Da-kyung is yet another disappointed supporter when she finds out that Lee Seong-gye won't be assuming the throne, and when Bang-won tells her it's his father and Jung Do-jeon's wish, she replies that he shouldn't be such a yes-man when it comes to those two.
And though Jung Do-jeon and Jung Mong-joo worked together to make the crowning happen, there's an air of tension between the two after. Poeun is determined to make his colleague give up on his grand plan, while Jung Do-jeon is just as determined to convince him.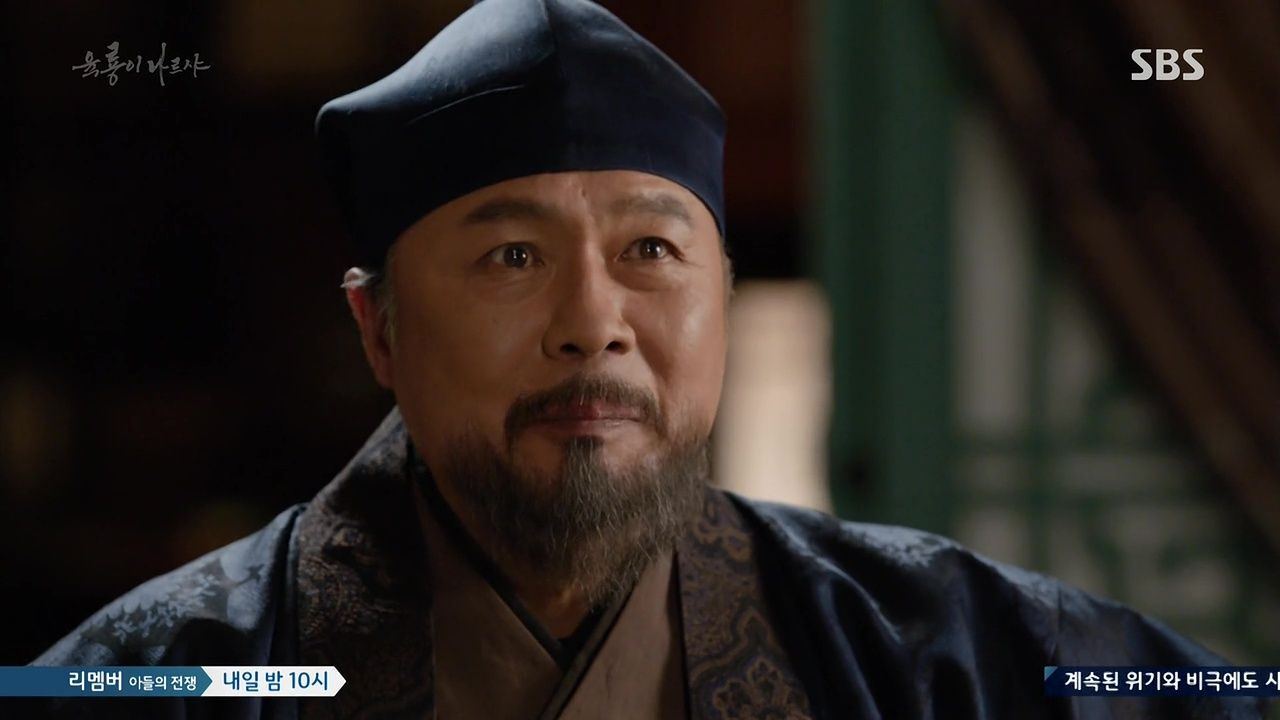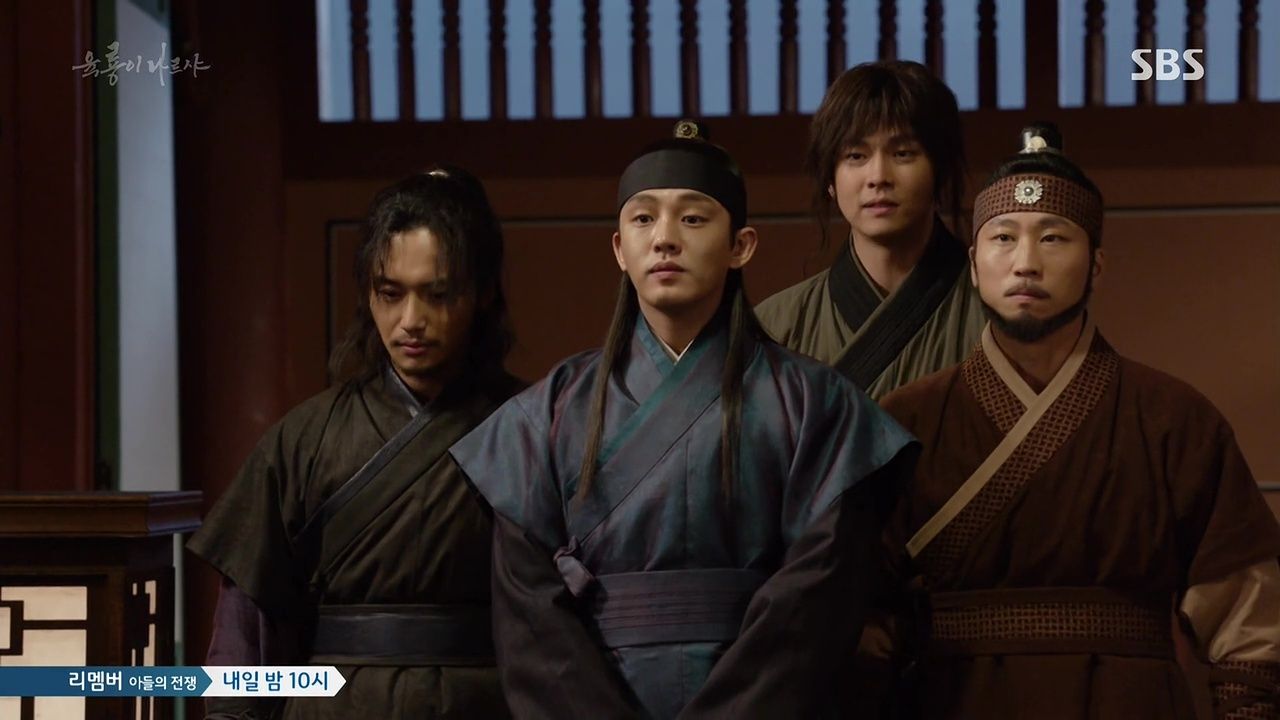 Lee Seong-gye hosts a celebratory dinner at Dohwa Manor, and Ji-ran even gets to crack wise about assassins waiting in the wings, considering how their last banquet turned out. He's invited Bang-won, Bang-ji, and Moo-hyul, having to reassure the latter two that yes, he wants them to sit at the table with him, and yes, it'll be okay.
It's a great honor for them, which Jung Do-jeon recognizes by raising his glass in a toast to an end to the turbulent times they've been living in. Everyone's excited at the thought of this regime change bringing peace and prosperity, and poor Ji-ran gets ribbed for declaring that he'd like to write a poem once peaceful times are upon them.
Young-kyu's manlier dream is to be remembered in history, while Jung Do-jeon's is to leave a record behind for future generations. Should peace come, he wants to spend all his time writing books so that everything he's learned can be kept and read for centuries to come.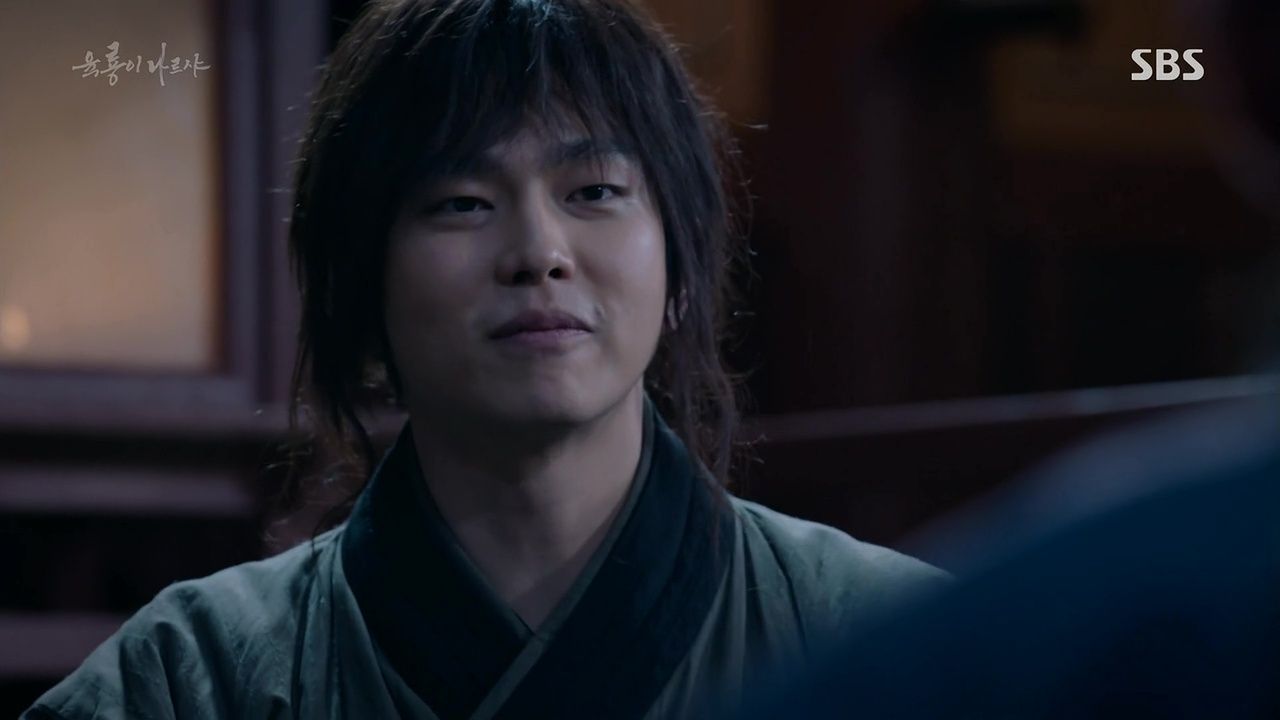 Afterward, Bang-ji calls Moo-hyul out on murmuring under his breath during the whole "What's your dream?" exchange, since he'd been preparing an answer should anyone have called on him. (Awwwwww.) It only takes the gentlest of prodding from Boon-yi for him to open up, but even then, he just says he's already told Bang-won.
Bang-won remembers that moment, and how Moo-hyul said he'd be his bodyguard so that he could witness the moment Bang-won changed the world for the better and be satisfied.
It's Bang-ji's turn next, and he admits that his is to make Boon-yi's dream come true and to find their mother. Boon-yi turns the question to the last holdout, Bang-won, who flushes from embarrassment when asked. "I want to make the people smile, and protect all of your dreams."
As for the how, Bang-won says it'll be through helpful politics, which everyone knows is a surefire way to make people happy. Bang-ji thinks he'll achieve his dream, and everyone smiles. These guys need to be together more.
It's not long before Yooksan comes calling on Bang-won, which is just what the latter wanted. Yooksan is under the belief that they got one of their Nameless captives to spill the beans about the ash flower plan, and tells Bang-won to stay in the shallow pool where he belongs.
He drops a letter for him and plans to leave with that, only to be stopped when Bang-won calls the code phrase after him: "He who was not there in the beginning exists forever. He who is nameless shall never disappear." Does he think they also wrung that from the captive?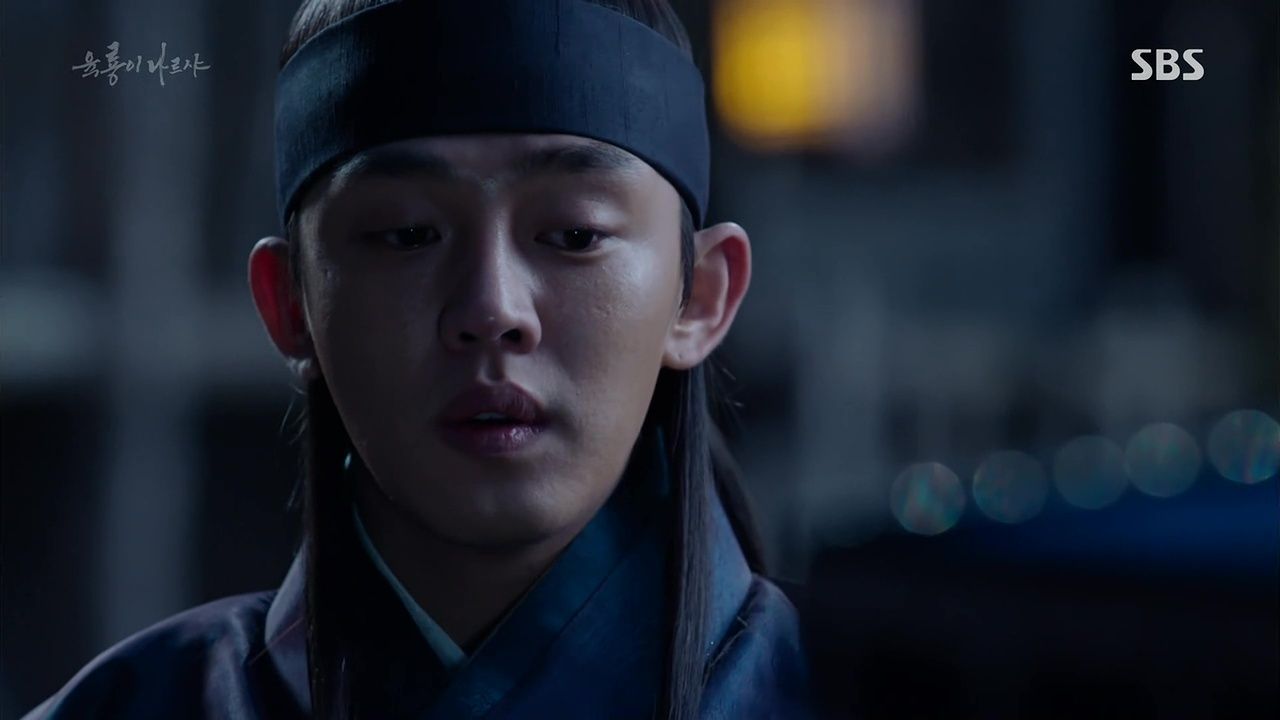 Yooksan is wary of Bang-won's motives even after hearing this, guessing that his aim is to sow discord within Nameless by getting them to suspect each other as possible traitors. That's exactly what Bang-won wants, and he gets it when he mentions a specific name: "How much do you trust Ji Cheon-tae?"
That name gets under Yooksan's skin, since there's no possible way he'd know all these things without there being a spy. He brings the issue up with Ji Cheon-tae/Cho-young herself, and charges her with finding and plugging the information leak happening on her end.
She turns to Yeon-hee as the first possible suspect, which is a consequence I'd be surprised if Bang-won thought of. Telling her that she'll remove her from her current assignment, Cho-young's last task for Yeon-hee is that she find out what Jung Mong-joo and Jung Do-jeon are planning by tomorrow.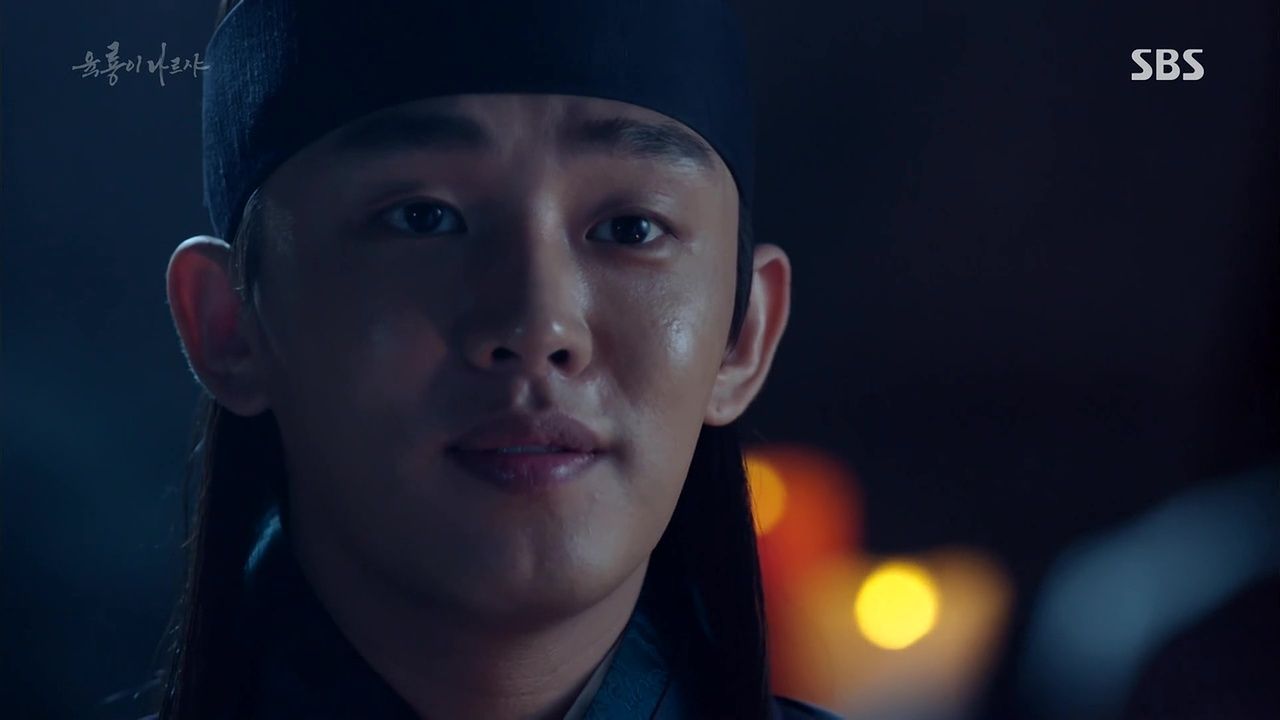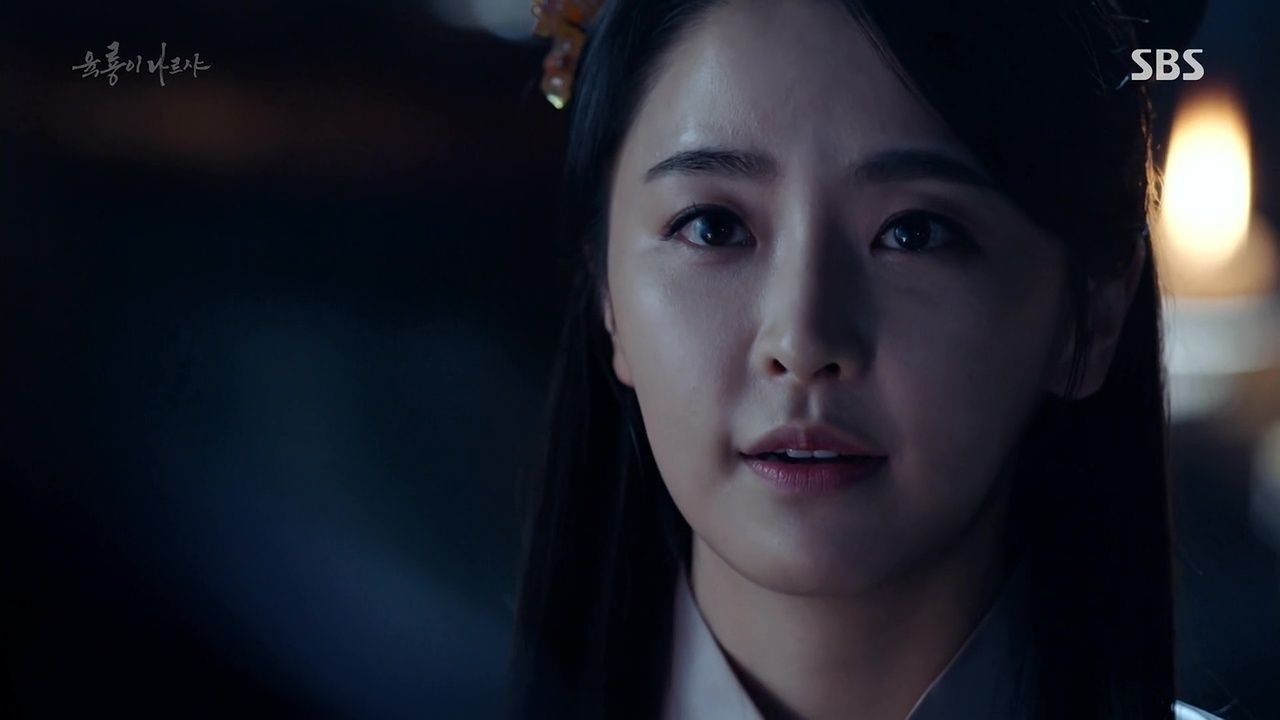 So I was wrong to doubt Bang-won, since he not only thought of Yeon-hee's involvement, but counted on it and her to report back to him whatever Cho-young said. He tells her to include the word Maengdo in her report tomorrow, and that if Cho-young responds by mentioning Maengdo Chilyak, then it means she's Nameless.
Yeon-hee's first concern is that Cho-young might have found out about this Maengdo Chilyak another way, only for Bang-won to smile and shake his head. "That's not possible. It's just a term I made up." Genius!
Bang-won arranges all his father's men to lie in wait for Yeon-hee to give them confirmation of her Nameless status after her meeting with Cho-young. If they receive it, they'll ambush and arrest Cho-young.
Yeon-hee tells Jung Do-jeon about Bang-won's plan, and he tells her of his plan to meet with Jung Mong-joo and convince him using Ohshik, his five point plan.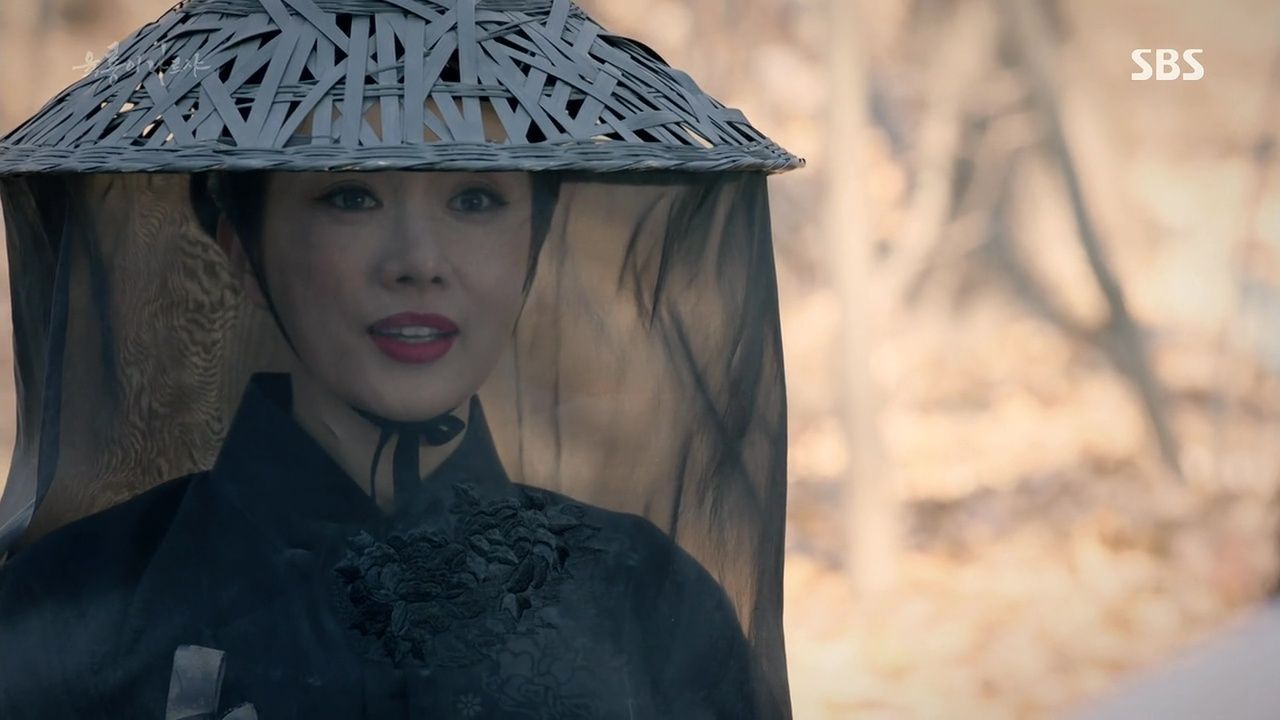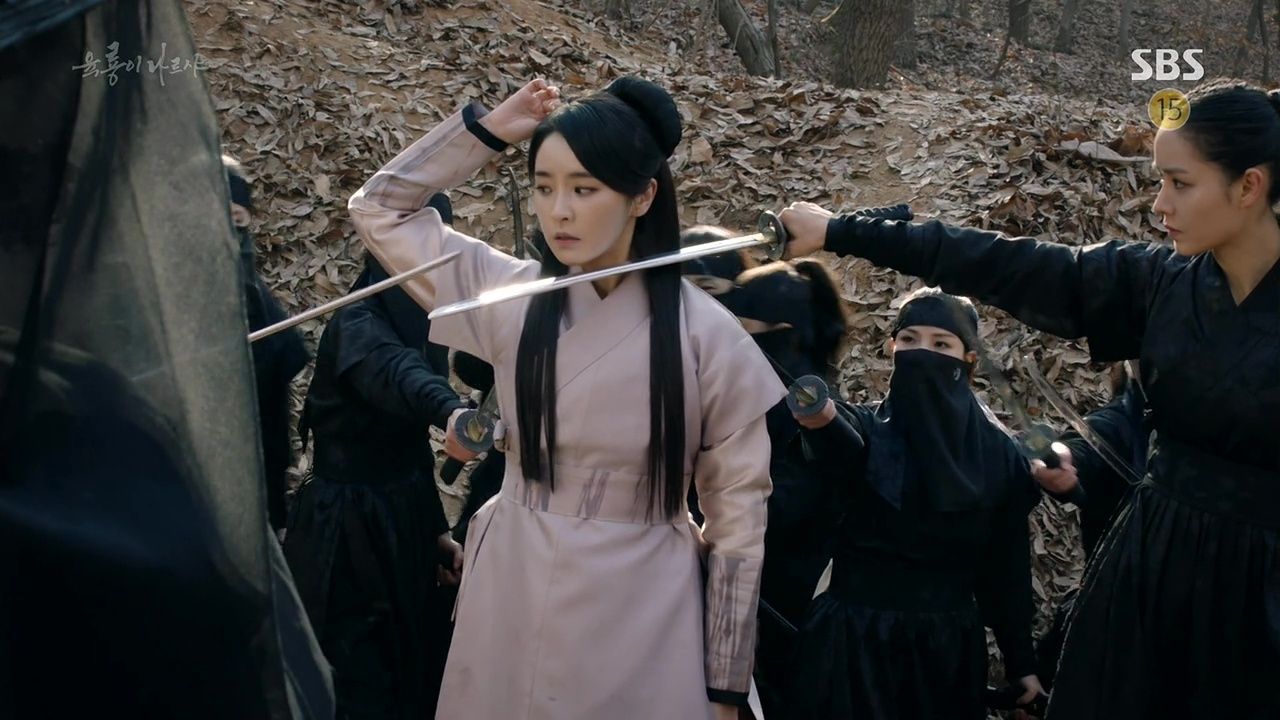 But somehow, no one's noticed Cho-young hiding in the cave, eavesdropping on their conversation. She comes upon Yeon-hee in the nearby forest, deliberately avoiding the trap Bang-won's set, and asks her where and when Jung Do-jeon will meet Jung Mong-joo today.
Yeon-hee claims she didn't hear exactly where, which Cho-young knows to be a lie. She even tells Yeon-hee so, moments before her Amazonian warriors surround her with swords drawn. "I will give you one last chance," Cho-young proclaims. "What is Maengdo Chilyak?"
And that's Yeon-hee's proof that Cho-young is Ji Cheon-tae, an agent of Nameless.
Bang-ji grows nervous when Yeon-hee doesn't show up for her scheduled meeting, but Bang-won is the one to go marching into the square to call on his men to come out of hiding.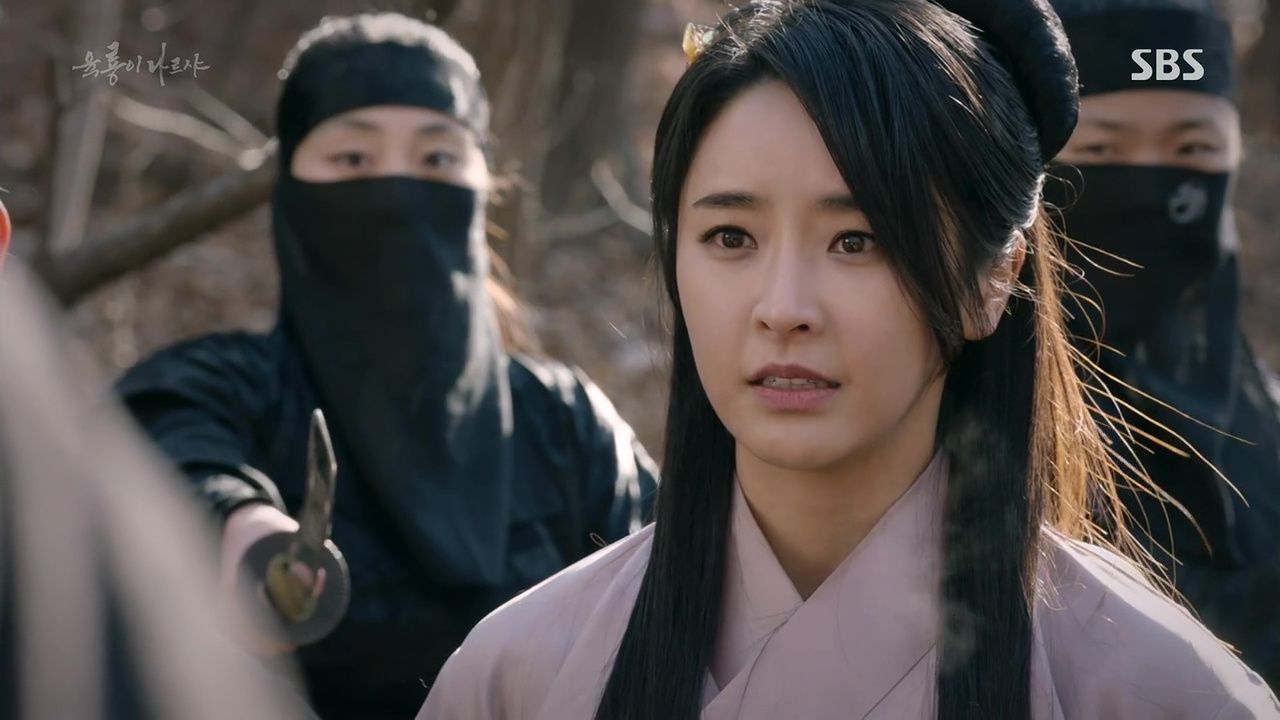 Yeon-hee is bound and gagged to be carried away, while Cho-young makes preparations to go to Jung Do-jeon and Jung Mong-joo's meeting place. She doesn't stay gagged for long, and tells all the Amazonians who Nameless is, and why it's bad that their leader is a part of it.
It seems like she might be able to sway them, but she still gets some added help in the form of Bang-won & Co. when they come to save her. Bang-won tells them that they were unwitting puppets of Nameless, and Yeon-hee adds fuel to the flames by making the girls realize they've been fooled.
The one who doesn't believe Yeon-hee gets cut down by their leader in a moment of decision, and she's quick to proclaim that they are not Nameless to Bang-won. But they don't release Yeon-hee.
Bang-won rushes off toward Jung Do-jeon's meeting place after a tip from Yeon-hee, where the worst Cho-young is doing is eavesdropping on their conversation.
She's interrupted by a sword being held to her neck, and turns to find Bang-ji on the other end of it. Bang-won saunters in and asks her if she'll kill herself, only for Cho-young to spit that that's only for the grunts.
The next room over, the scholars' conversation goes uninterrupted, and Bang-won is able to listen in. Jung Do-jeon talks about how the king of his new country should be nothing more than a flower on a tree whose roots are made up of Confucian scholars and appointed officials.
He wants to limit the king's power so that the only position he can appoint is that of prime minister, leaving Jung Mong-joo wondering what the king can do. Bang-won is likewise stunned by the words coming out of Jung Do-jeon's mouth, even though Poeun is still rapt with attention.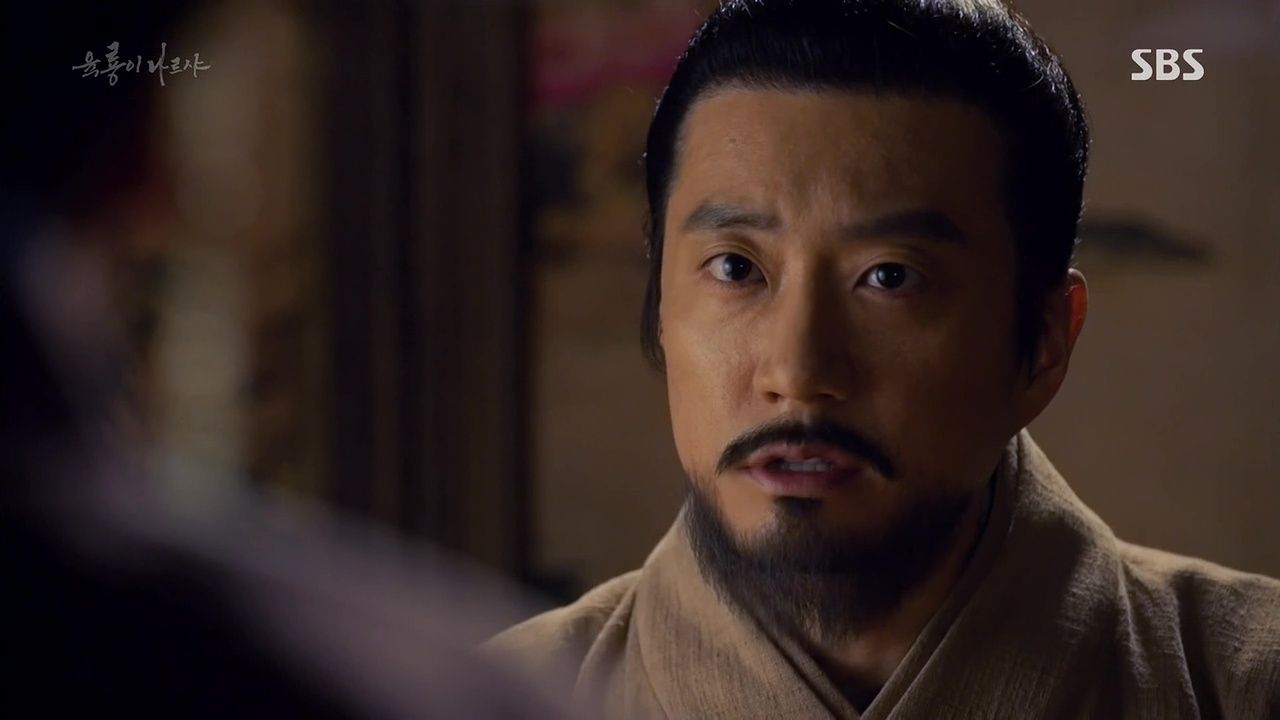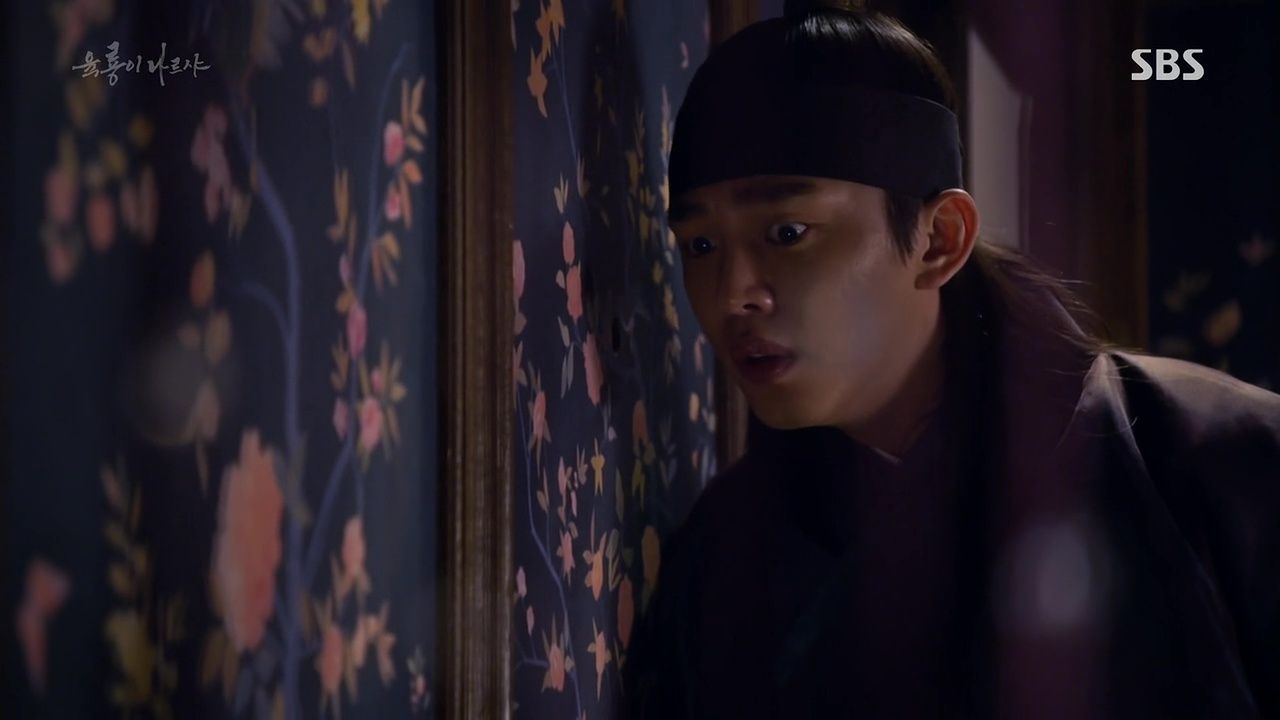 Jung Do-jeon's next edict for the new king will be that no royal family members can participate in politics, and it's only when Bang-won staggers back that the weight of this comes crashing down on him.
The dream he just shared suddenly comes flooding back to him as he realizes that he won't be able to participate in politics should his father become king.
And Ha Ryun's voice comes back to him then, reiterating his worst fear: that of being powerless.

COMMENTS
It was strangely difficult to watch that last scene without a modern perspective, since all the reforms Jung Do-jeon talks about sound perfectly sane and normal to those of us enjoying the comforts of the 21st century. I found myself watching Bang-won's shocked reactions almost impatiently, unable to comprehend why he looked like he'd been punched in the stomach while Jung Mong-joo was taking the progressive ideas in stride.
But then I realized that it wasn't the progressiveness that had Bang-won so taken aback, since he's had a pretty good idea of just how revolutionary Jung Do-jeon's cause was from the start. When it came to land reform, nepotism, and a checks and balances system, Bang-won was chomping at the bit to spill blood in order to get things done faster. So far, the only force that's been holding him back has been Jung Do-jeon, and his seemingly endless wealth of patience. If that's gone, then what?
So now, I'm beginning to see how their relationship might begin to fracture, and that's discounting how much history is a spoiler. We've seen them discuss the New Joseon plan in detail, but never before have we (or Bang-won) heard Jung Do-jeon's plan for checking the king's power. Even if it all sounds so familiar, since the basic tenants he's talking about, with the king being the decorative flower while scholars and officials make up the roots, is exactly what the secret society in Tree With Deep Roots believed. If this is a prequel, and it is, then Jung Do-jeon is setting up the foundation for what would become Joseon and a climate where such an organization exists solely to reroute the king's power.
The reason why Bang-won is so affected by this part of Jung Do-jeon's plan and not any other is because it means he'll have no position, no power, and no ability to enact the change he seeks. I'll be the first to admit that his dream doesn't at all sound like him, and the idea that he wants to make the people smile seems like a dream a Disney princess would have. Granted, said princess wouldn't say that they'd do so through politics, but the optimistic idea is the same. And I don't know why it's more shocking that Bang-won is so idealistic, when we saw him grow up and have seen the side of him that screams for justice at any cost.
And that all goes to say that I'm thrilled with this new twist Dragons has thrown in, since Bang-won had been kind of sizzling on the back burner for what feels like too long. It's effectively renewed my interest in his character and struggle, even if he'll have to do the bulk of that from within—only he'll be able to tell whether he's been in this for the cause itself, or for the power he thought was waiting on the other side. But if it means him executing more daring plans in the future, I'm down like a clown, as they definitely don't say.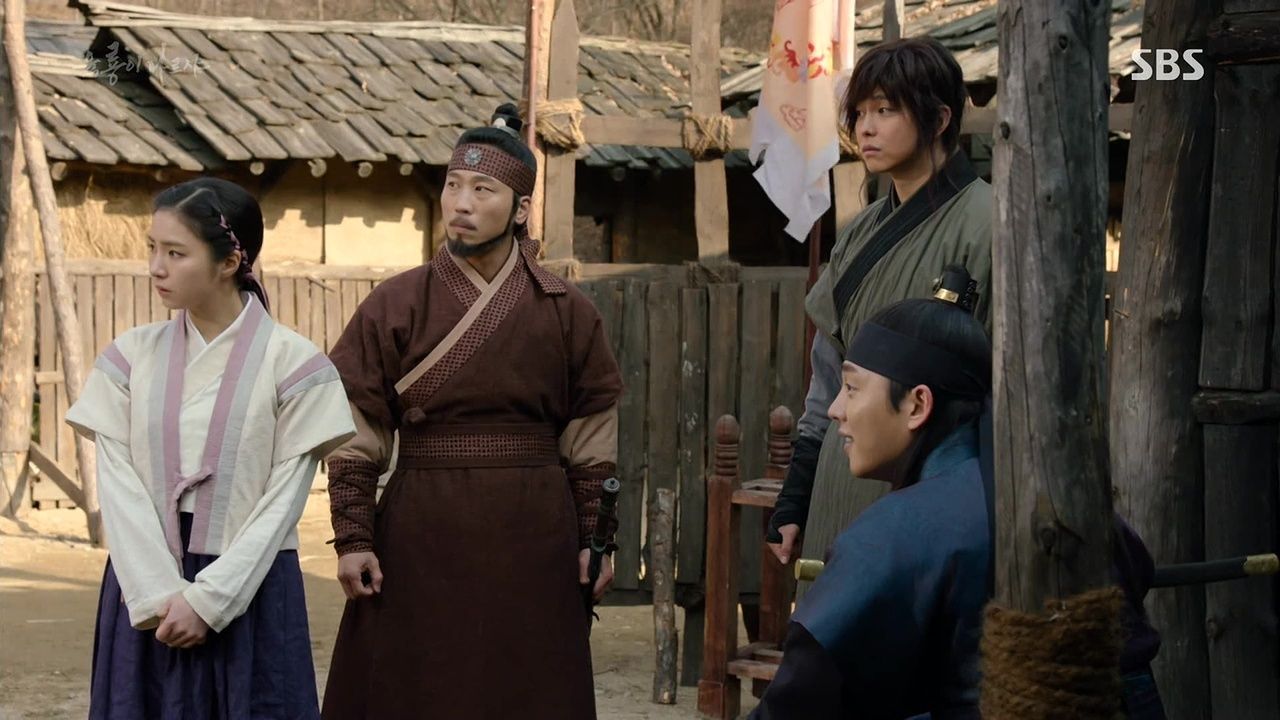 RELATED POSTS
Tags: Byun Yo-han, featured, Kim Myung-min, Shin Se-kyung, Six Flying Dragons, Yoo Ah-in