Youths Over Flowers in Iceland: Episode 4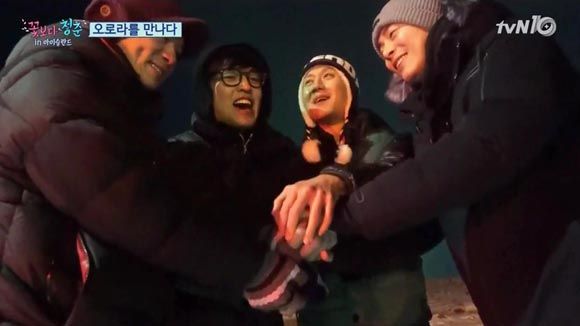 javabeans: The guys arrive at the base of a waterfall and decide to hike up to the top, and the show makes seem like this will be more of an ordeal than they're expecting. In that they're not expecting any ordeal at all. On the way up, they run into two Korean girl travelers, and it makes everyone's day to run into fellow Koreans. It actually seems like the guys are more excited than the girls are (although you know they're totally excited to run into four celebrities).
girlfriday: They're grateful for the stairs that are built into the side of the steep mountain, given the Everest-style trek they made just the day before. But something tells me that after a thousand of them, they'll be a little less grateful. After a lot of huffing and puffing and complaining of exploding thighs, they reach the top… and eek, it's a see-through platform above the waterfall.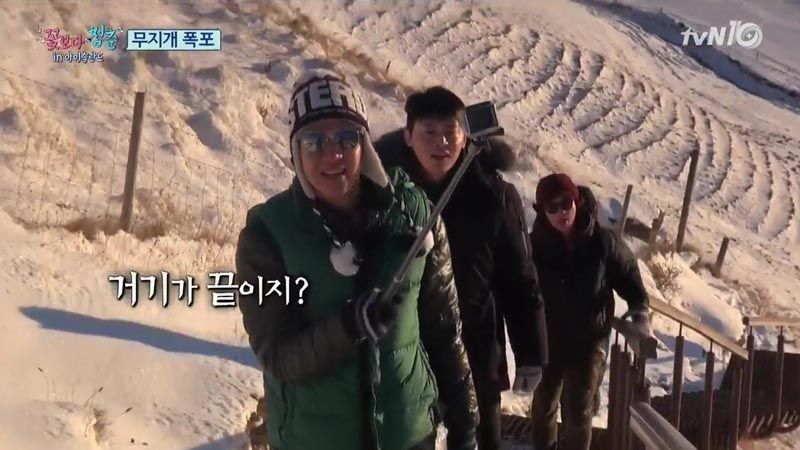 javabeans: They're back to their playful selves in no time, goofing off and being silly. They remind me of puppies who will play with anything, anywhere, at any time.
girlfriday: They take in the view, and Haneul says that being here makes all his previous worries back home seem like no big deal. Jung-seok agrees and says it makes him think about his family too. Then they get back on the road to head to Reynisfjara, to see the ocean at the southern tip of the island.
javabeans: Haneul takes the wheel, and you also thinking how he stole title of "team brain" from Jung-seok, and now role of driver? After he was clinging to that as his only consolation?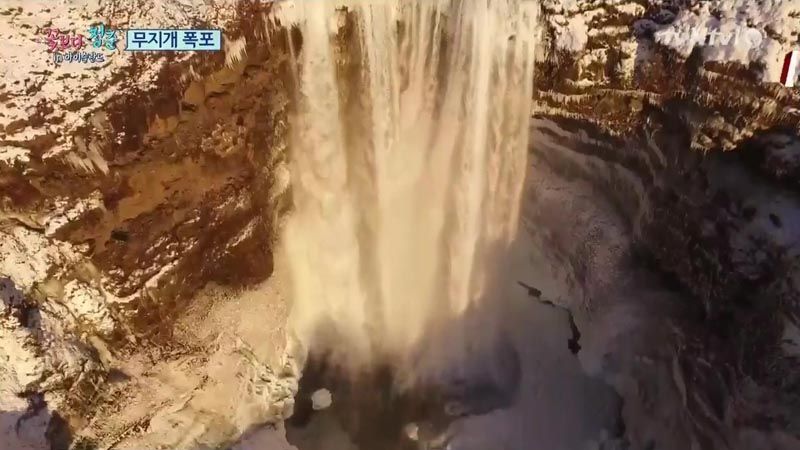 girlfriday: What will Jung-seok have left to do? They need something other than brains or stones to choose from.
javabeans: They drive on a while, and then the show starts pointing out that Haneul starts looking more and more uneasy, with his eyes looking around quietly and him biting his lip… Na PD really knows how to make you nervous about the littlest things.
girlfriday: Uh-oh, did he get them lost? They're driving along, when all of a sudden something comes flying at the driver-side window and makes a loud cracking noise. Eep, it's rock that got launched in their direction when a larger truck passed by on the other side of the road.
javabeans: Oh no! NOW I'm remembering that we saw a glimpse of that duct-taped car window before. I hope they got insurance!
girlfriday: Oh that's right. They have to keep driving just to find a safe place to pull over, and once they do, we see that the whole window has shattered. Yikes.
javabeans: In this freezing weather too! That is a huge hole too, I'm actually impressed that Haneul didn't freak out more. Based on their relatively calm reactions when it happened, you wouldn't have known the damage was that extensive.
girlfriday: The hyungs are super sweet to Haneul, all attentive and worried that he had a big fright. Jung-seok says he'll drive the rest of the way, and immediately they start duct-taping the window, because what else are you gonna do in the middle of nowhere? They're just lucky they even had tape.
javabeans: And a plastic file folder to cover the hole with. It's a total There, I Fixed It job, but what can you do?
girlfriday: Lol. Doesn't it make the boys seem more dependable though, like they'd be useful in a crisis?
javabeans: I'm just glad they all have level heads. Isn't it super Korean how they all insist that Haneul not drive, like they have to protect their baby, even though really the guy is a full-grown man and they're not that much older, or any less breakable? But they can't let him continue, purely on principle.
girlfriday: I know, it's just what hyungs do.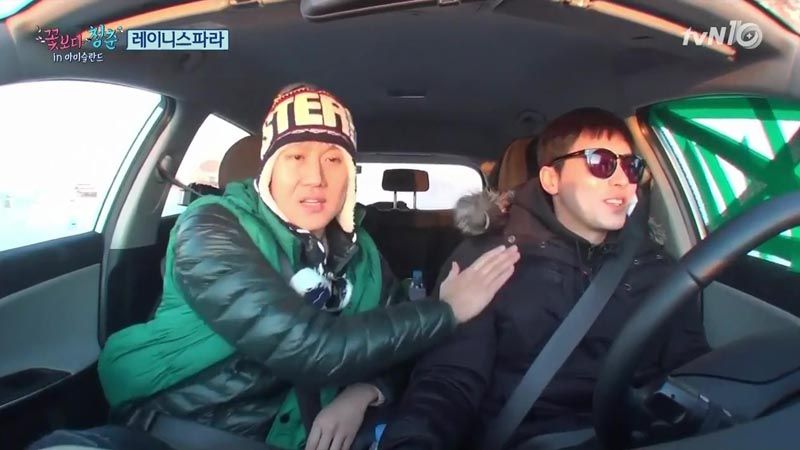 javabeans: As they drive, they wonder how they're going to handle this with the car company, because they can imagine the explanation getting away from them. Ah, the show flashes back to show us that Sang-hoon had made sure they got full coverage insurance. Phew, mat-hyung to the rescue.
girlfriday: Oh thank goodness. Life lesson: Always get the insurance! Na PD radios them to say that they talked to the rental car company, and they're going to bring them a replacement car at their next hotel. Well that's some kind of service.
javabeans: Their mood immediately lifts, and Jung-seok says he was thinking he'd use his translator app and write it down to explain the complicated situation to the rental company. His fixation with the translator app cracks me up. Especially since it's failed him repeatedly, and yet he still has such faith it'll pull through.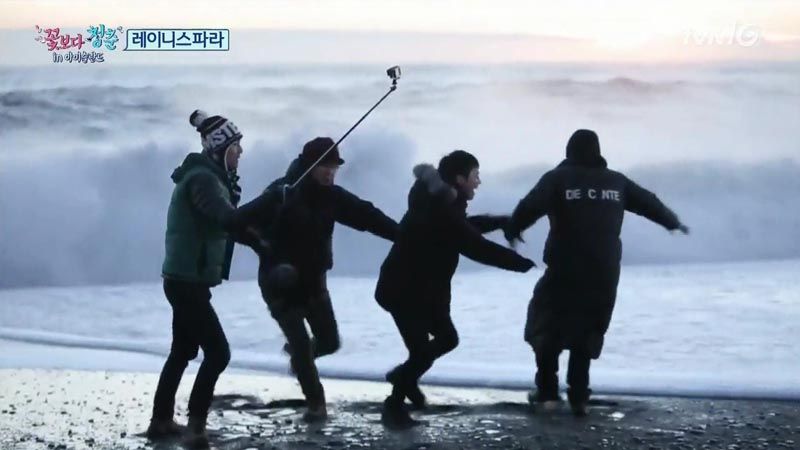 girlfriday: He heard "Hot dog world" and still wants to use that app?? After a while they reach their next destination, and they run into a mom and son who want a picture with the boys. The mom says in English that she saw Answer Me 1994, and Jung Woo is adorably smiley after that.
javabeans: That's random and cool. They reach the shoreline and marvel at the view, which is pretty impressive. They run toward the water shouting in their excited way, and jump up and down like this is the greatest thing ever. I just love their reactions.
girlfriday: Yeah they give good reaction. I've never seen ocean meet snow before, and I don't know if the sand is black or it's rocks, but the strip of black shore is strange and beautiful.
javabeans: They discover a cave and run for it, examining the cool striated rock formations in awe, and Sang-hoon bursts into random song, as he often does to serenade any given life moment. It's a talent.
girlfriday: So is the punning, in song form. Jung-seok interviews later that Iceland seems like a different planet, not a different country, and Sang-hoon says that nature has a way of humbling you.
javabeans: Haneul finds a heart-shaped rock and picks it up, and Jung Woo jokes that he wants it, and Haneul says he can have it since he has someone to give it to. Cute (since we know Jung Woo just got married).
girlfriday: Awww. After playing all day at the shore, they drive into a town called Vik where they'll stay the night, and stop at the market hoping for samgyupsal (pork belly) and soju. I… don't think you'll find that here?
javabeans: As they enter the market, they mutter quietly, "Hidden camera starts now!" We see that 10 minutes ago, the hyungs decided to prank Haneul by staging a fight between Jung Woo and Sang-hoon over whether to buy the meat, and Jung-seok jumping in in the middle, and seeing who Haneul sides with.
girlfriday: I love how the hyungs get all into it, muttering to each other about The Plan. Only the whole thing goes awry from step one because there's no samgyupsal to be fought over. Not even bacon, or anything resembling the belly of a pig.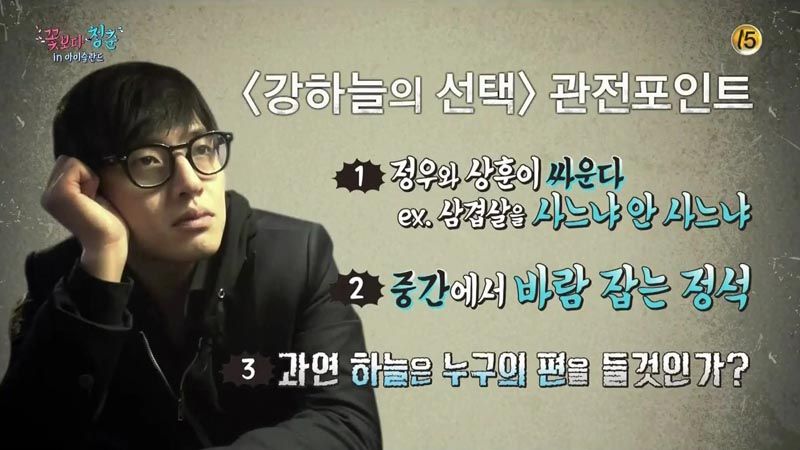 javabeans: I almost feel like they're more disappointed that their joke is dead in the water than that they won't have meat to eat. Unwilling to give up, Jung Woo starts improvising, looking around for another food item to argue about. Hee, it doesn't work when Sang-hoon just agrees that he should buy it, and Jung Woo keeps trying to make it sound like they're disagreeing when Sang-hoon isn't.
girlfriday: Wait, is he trying to start a fight over gummi bears?? Why would you choose gummi bears? Who would argue with that?
javabeans: That's absurd and therefore amazing. So then Jung-seok tries to jump in to help get their fake argument going, and is all, "Okay guys, be honest, what do you want to do about it?" Like there's something to be done about buying gummi bears!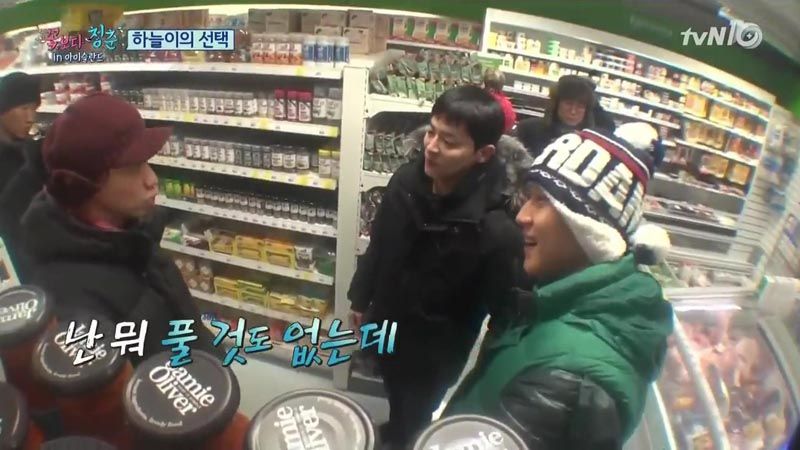 girlfriday: This is hysterical. Of all the tiny, petty things to fight over in all the earth. They somehow manage to get a worried look out of Haneul, who's sort of laughing but noticing some tension.
javabeans: The show comes to its conclusion, which it captions as "Smiley hyung + Garbage hyung = Useless hidden camera."
girlfriday: Jung-seok can't let it die this way though, and starts acting like he's being the moderator between Jung Woo and Sang-hoon, who're already pissy. He tells them to shake hands and make up, and Sang-hoon puts on an act like he doesn't have anything to make up over.
javabeans: Now they're saying things like "Don't get mad now" and "I'm not even mad" while they sigh heavily and look upset. Oh my god, then they start getting into full acting mode and Jung Woo CRIES.
girlfriday: HAHAHAHA. He cries! He spills actual tears! Over gummi bears!
javabeans: Jung Woo is way overdoing this (and the show says so) but Haneul believes it, and he links arms with him and kind of aegyos him, "Don't be upset, hyungnim." Then in the car, he sits in the backseat with Sang-hoon and just quietly takes his hand. Aww, poor clueless maknae. The mood is quiet and tense on the way to the hotel, and man, I can sort of see how it's fun to prank people, but gack, why would you CREATE tension on vacation on purpose?
girlfriday: Because they get along TOO well. They continue in that subdued mood all the way to their room, and then they open up the discussion of dinner again. Now that the mood is already tense, Sang-hoon argues that he wants seafood and Jung Woo says he wants meat, and they force Haneul to choose. Ha. Now Haneul looks like he's going to cry!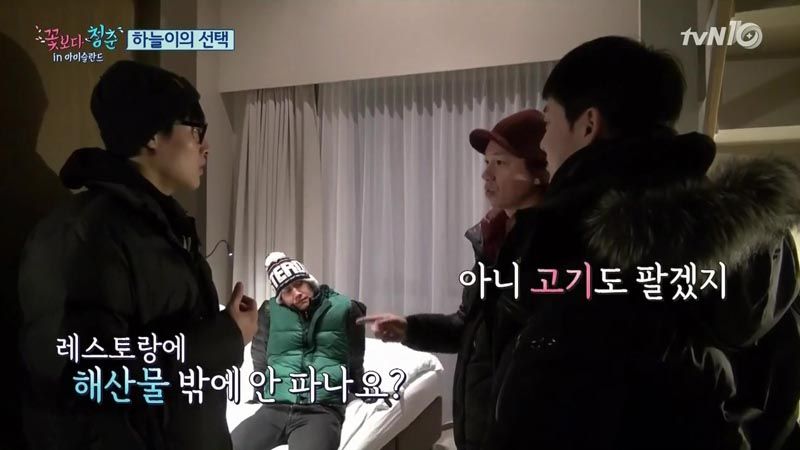 javabeans: He actually gapes uneasily and his eyes dart around, but he comes to the reasonable decision that they can go to a restaurant that sells both, and the two guys who want separate dishes can each order the thing they want. Sang-hoon once again notes how Haneul avoids making a choice, and finally says that since Haneul keeps skirting the dilemma, their hidden camera is skirting their goal.
girlfriday: He's so shocked at the reveal that he doesn't believe them at first, and then the hyungs all berate Jung Woo for his gummies, which made it hard for them to do any proper acting.
javabeans: I love that moment in Haneul's interview later where a PD asks a question off-camera that we don't hear, and Haneul bursts out, "No! Don't say my hyungs are rocks [for brains]! They aren't!" Aw he just loves his hyungs.
girlfriday: As they head to dinner, Haneul belatedly cracks up about Jung Woo crying over gummies, realizing now what an unbelievable stunt he fell for.
javabeans: I know, Jung Woo was crying like Sang-hoon broke his heart or something. The guys arrive at their restaurant, which is their first meal out. Since they'd scrimped by eating hot dogs, they decide to buy a really nice meal, deciding seafood is a must… except the menu is a hodgepodge of other food, like pizza and Thai.
girlfriday: Saaaaaad.
javabeans: Who goes to Iceland and orders quesadilla and curry?
girlfriday: People who've been eating nothing but hot dogs for four days?
javabeans: It cracks me up hearing Jung Woo using English words that mean something different in Korea. Like how "service" means "free" in Korean, so when he asks if water is service, the waitress is totally confused. Jung-seok and Haneul have to jump in to translate his English into better English. Jung Woo: "I water. We are the water."
girlfriday: How can a grown man be so cute?
javabeans: They're looking forward to going to bed because they're so tired, but set up an "Aurora check," aka a rotating watch to make sure they don't miss the lights. That's so cute. The food comes out, and instead of diving in, they pause to do this whole song and dance with the plate, like they're presenting it on a cheesy TV show or something. These boys will play with ANYTHING.
girlfriday: They really, really will. As they eat, Sang-hoon says that as the group treasurer, he discovered that the thing all four of them have in common is how frugal they are. They've been saving so much money that they have a bunch left over, and this is the first time they're splurging on a nice meal. And it isn't even that fancy!
javabeans: It's a little odd hearing them talk about how great it is to eat out this time, like eating out while you're on vacation isn't the norm! Then they start singing along to the Christmas carols playing (they'll break into song at the drop of a hat), then do impressions of various characters (Song Kang-ho in Sado, Lee Seon-kyun in Angry Lawyer).
girlfriday: After dinner they head out to deal with the rental car exchange, and Jung-seok preps with his translation app, of course. He's all stressed about how to explain that there was an accident, but the guy is just there already with a new car and a set of papers for them to sign, like, duh there was an accident, which is why I'm here.
javabeans: Their broken English is hilarious, and afterward as they settle in their hotel bar with drinks, Haneul kicks off English-only time.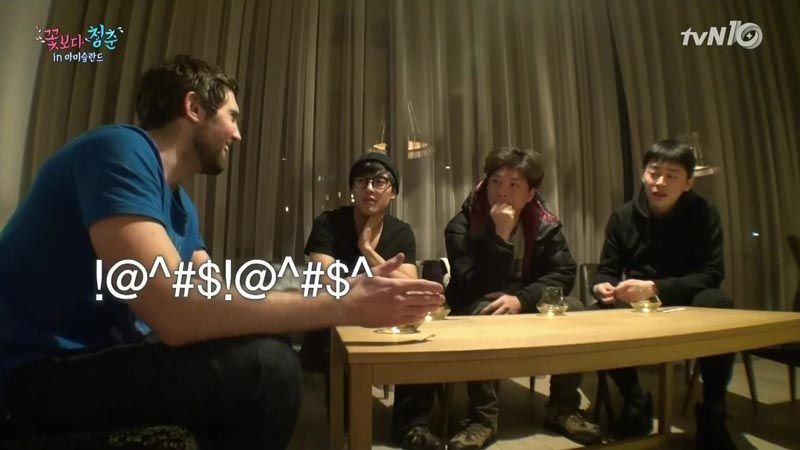 girlfriday: They're all jokes when it's just them, but when a guy from Scotland sits down to chat with them, suddenly they're all frozen and wide-eyed.
javabeans: Ha, Sang-hoon breaks into song, as is his wont, and it's way weirder in the context of strangers. Jung-seok is all, "Stop it!" and tries to explain that Sang-hoon is a musical actor.
girlfriday: I'm pretty certain they have no idea what the guy is saying to them, but they all smile and laugh anyway, and Jung-seok says (in Korean), "That was a funny joke!"
javabeans: Ooh, and then… finally the Aurora Borealis makes an appearance in the night sky. Jung Woo steps outside to take a look and sees the faint green lights, then hurries inside to tell everyone to come out. It's oddly funny to watch Jung-seok taping a solo interview when offscreen you hear a voice yelling, "Aurora! Aurora!"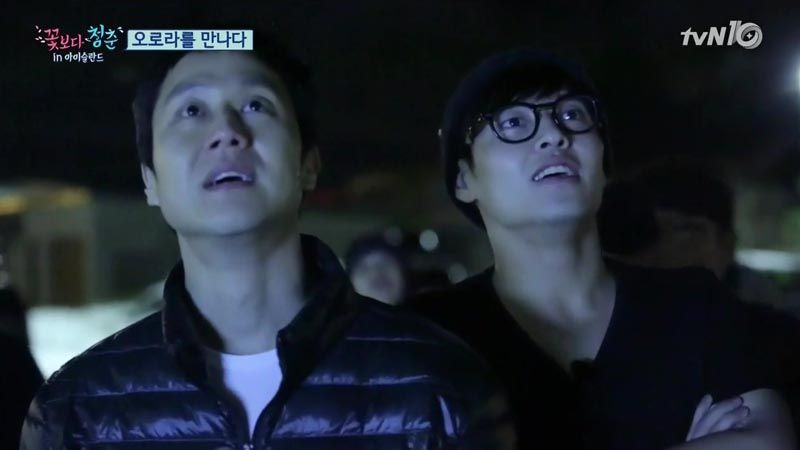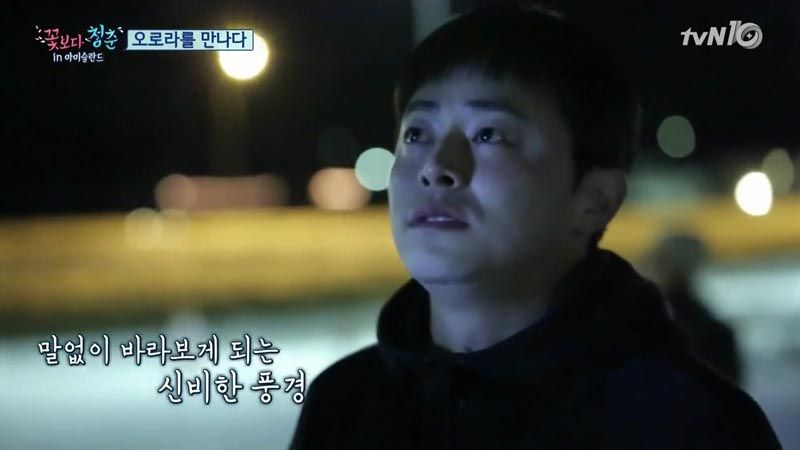 girlfriday: Hurry! Hurry! Their excitement is infectious.
javabeans: It's edited like a really big climactic moment in a human drama, like this is the thing they've waited for all their lives. But somehow it's also super touching.
girlfriday: I know, it's really emotional.
javabeans: They run to get a better vantage point, and Jung-seok tells a VJ, "Don't film us, shoot that!"
girlfriday: It's not just a short, tiny glimpse too — the lights are clear and bright, and they dance around in the sky for a long while and show no signs of disappearing.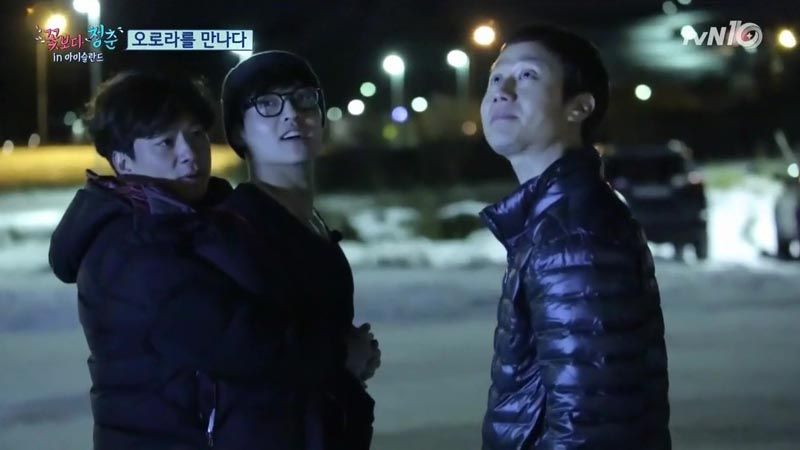 javabeans: Some people offer them a lift in their car because they're going to see Aurora from a better view. The guys decline but think that's a good idea, to just drive toward the lights. So they hurry to dress and climb in the car to follow the direction everyone else is taking.
girlfriday: I love how Sang-hoon tells Jung Woo to just go in whatever direction he feels like, only to have all three of them shouting the whole time for him to turn left or right, confusing him even more.
javabeans: It's like a sequence in a cartoon! Finally they head off in a direction and pull over where there are fewer city lights. Then they run up a hill, toward the lights that are off in the horizon.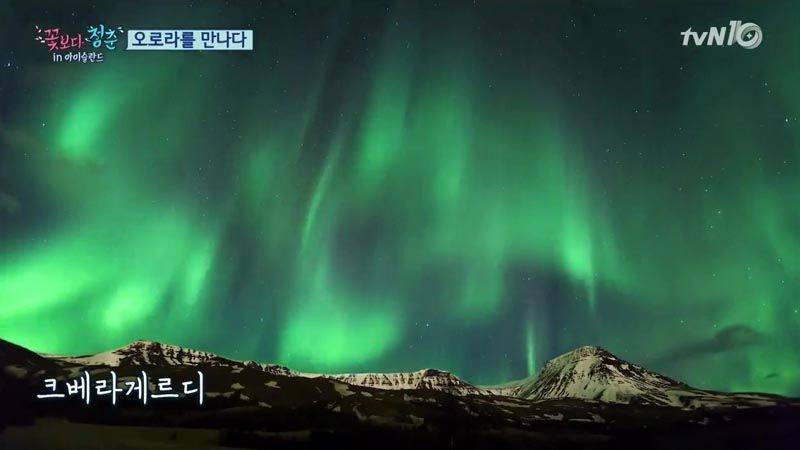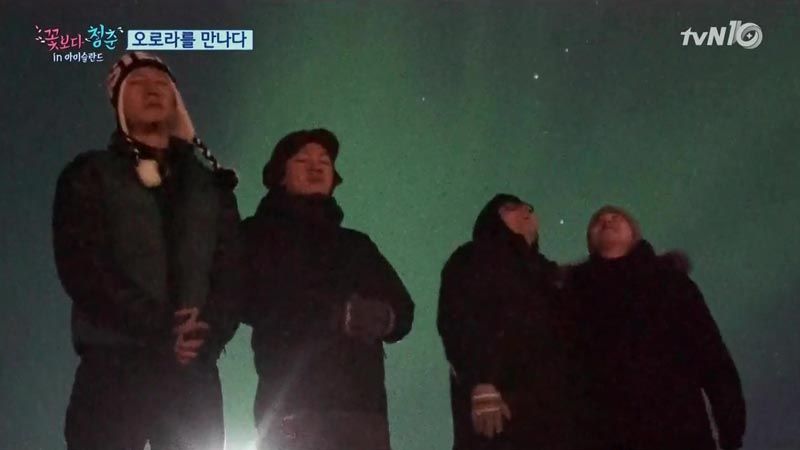 girlfriday: The trip pays off because they can see the lights stretch out across the sky without anything obstructing their view, and they stand there for a while in amazement. What's cool is that the crew has cameras capturing the Northern Lights from points all over Iceland, and you can see how it's different colors and brighter in some places, and it's happening all at once.
javabeans: It almost looks unreal, there's so much of it. Jung-seok says he's sorry now… because of the thing he saw this morning that he thought was Aurora (which was nothing compared to the real deal). "Hyung, I'm sorry I woke you for that."
girlfriday: Jung Woo says they should all make a wish, so they close their eyes and silently make wishes.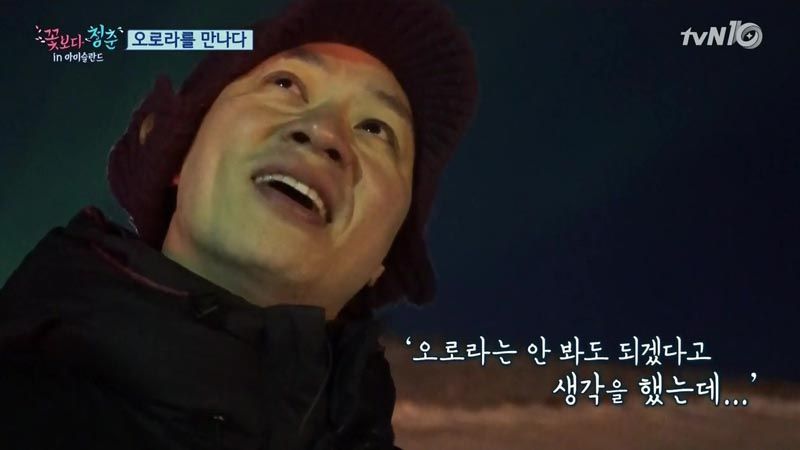 javabeans: They get all shiny-eyed interviewing about how they feel seeing Aurora, and they all have the same thought in common, which is to think of their loved ones and want happiness for them. Meaning of life, yo.
girlfriday: Seriously. Sang-hoon adds that traveling really is about the friends you go with, as we see Jung-seok say to him like he still can't believe it, "I'm seeing this here, with you." Aw, that just makes me think of their long road as poor struggling actors and how far they've come.
javabeans: I love Sang-hoon's take on it, which is that he was so happy on this trip that he felt he'd already seen his own Aurora in his heart and didn't need to see the lights. It's like seeing them is an added bonus.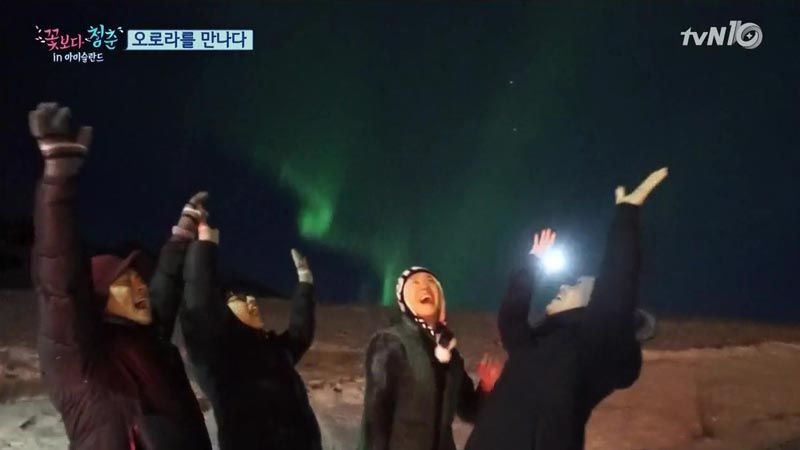 girlfriday: How can there possibly be that many stars in the sky? It looks fake.
javabeans: The guys say as much, saying that people will think it's all CG on the screen. Finally they decide to head back for the sake of the freezing staff, and perk up at the thought of not needing their night watch.
girlfriday: Back in their room, they get ready for bed and goof off for a while, still too excited to sleep. They score some soju juice boxes (whoever invented those is a dangerous genius) from the staff and have a little slumber party.
javabeans: Ha, it turns into a mini Jo Jung-seok fanmeeting as they start asking how he started in musicals, peppering him with questions and looking back on his rise, from Nunsense to Grease to Hedwig. Then it's Haneul praise time, and it turns into "Hyung really loves you" and "I love you too."
girlfriday: It's just a lovefest 'round the clock with these guys.
javabeans: They play with the lamp while brushing their teeth, pretending to be onstage in a spotlight, and seriously, if they love showbiz this much, they must be so happy just to be themselves working their jobs.
girlfriday: This is probably what going to camp with theater dorks is like.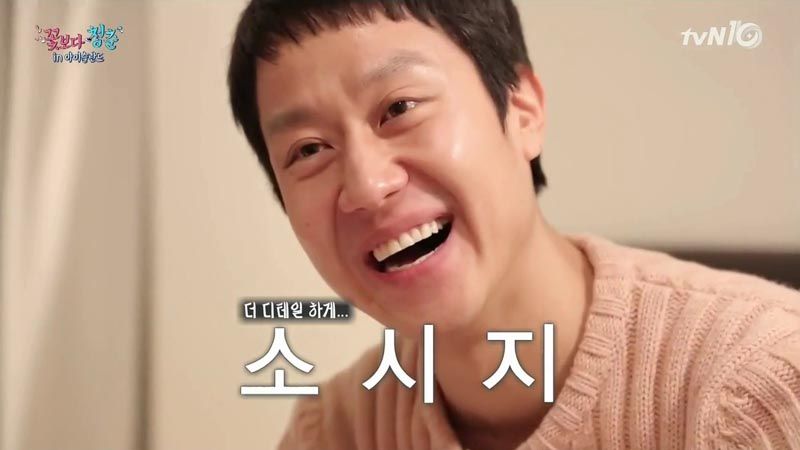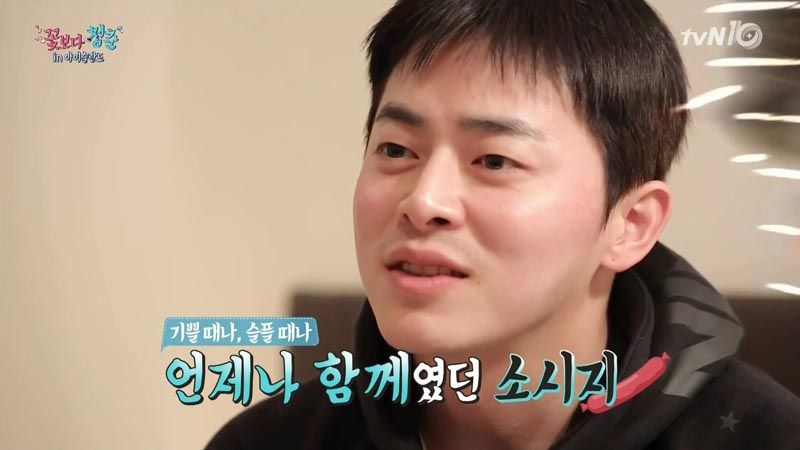 javabeans: I totally see it. In the morning, they get dressed, wishing for a change of clothing (it's their fifth day in these clothes, eek) and eat more hot dogs.
girlfriday: Same outfit, same hot dogs. It's Groundhog Day except for the changing sites.
javabeans: Even after all that, they interview that hot dogs were the tastiest thing they ate. They start talking about hot dogs like they're some kind of spiritual nourishment too, accompanying them on their journeys.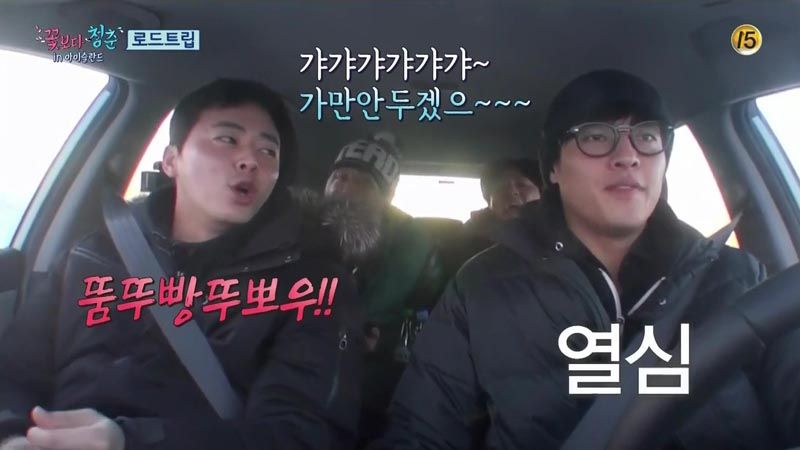 girlfriday: Haneul takes the wheel again and they head off for Skaftafell today, and they spend the road trip making up a ridiculous song that starts when Jung Woo keeps repeating a catchphrase and starts turning it into some kind of electronic remix that just won't end. It's funnier the longer it goes on.
javabeans: It just builds and builds, and at first it doesn't seem that funny but by the end my stomach hurts from laughing. Then there's a great edit where you go from this rapping blabbering climax to a sudden jump cut to silence and stone faces. It makes me wonder what Na PD thought when he discovered this footage.
girlfriday: He probably died laughing and then patted himself on the back for finding four dummies. They get to this open road and decide to pull over, and Na PD marvels at how the entire road is theirs because there isn't a single other car in sight. So then the boys get out and start dancing in the middle of the road, for no apparent reason. They are so dorky.
javabeans: They are so strange and infectiously cheery. The dancing goes on a while, and then Jung-seok walks off the road toward the field, and Sang-hoon jumps into movie director mode. He tells Jung-seok his big wailing scene is next and calls action, and automatically Jung-seok drops to his knees and bellows in grief like he's filming an epic sageuk. It's bizarre and super funny. I think what makes all this so hilarious is that everyone's so game for running with the gag of the moment, like traveling with an improv troupe.
girlfriday: I know, Sang-hoon is basically a walking improv jukebox, and the others just turn on a dime whenever he launches into some new scenario.
javabeans: Jung-seok really is like all his drama characters! He's super heo-dang and awkward and trips over his feet.
girlfriday: Ohmygah, he's like that in real life? He even tries to look calm and collected afterwards, like nothing happened.
javabeans: Sang-hoon keeps going and directs Haneul next, setting the stage as the "front line" where the "enemy army" is approaching. Haneul runs out to film his scene, which entails him ducking behind a mound, yelling at a nonexistent army, diving for the ground with his imaginary rifle, getting shot in the knee…
girlfriday: I'm dying. Why is this so funny?
javabeans: He does this whole glorious one-man army shooting thing, and then Sang-hoon calls out, "Oops, the cameras weren't on."
girlfriday: And then Haneul gets his revenge by putting Sang-hoon out there for his scene, and directs, "You're thinking of the person you love, and you start slowly taking off your clothes! Action!"
javabeans: Ohmygod I'm crying. Sang-hoon is caught off-guard and flummoxed, but it's like he respects the laws of improv too much—he can't NOT do it—and the instant Jung-seok yells "action" he starts undressing.
girlfriday: Halfway there, he shouts, "I said I didn't want to go third!" and declares the gag ruined.
javabeans: Hey, you started it, buster! You live by the sword, you die by the sword.
RELATED POSTS
Tags: featured, Jo Jung-seok, Jung Sang-hoon, Jung Woo, Kang Haneul, Youths Over Flowers