Cheese in the Trap: Episode 12
Ah, progress. Much of today takes place in the past (as in, we're in flashback central), but it has the effect of moving us quite a bit forward—and moreover, I'm feeling hopeful about the state of our characters and their relationships. This drama has always been great about showing people as a combination of positive and negative traits, as flawed people with room for improvement rather than people branded by one trait, whether good or bad. And while I feel like Jung has receded from the spotlight a bit in recent episodes, I love getting a deeper understanding of what makes him tick. I'm mostly sure now that it's not a mechanical power pack. Like 99 percent sure.

SONG OF THE DAY
Sweden Laundry – "조금만 더" (Just a little more) from the Cheese in the Trap OST [ Download ]
Audio clip: Adobe Flash Player (version 9 or above) is required to play this audio clip. Download the latest version here. You also need to have JavaScript enabled in your browser.

EPISODE 12 RECAP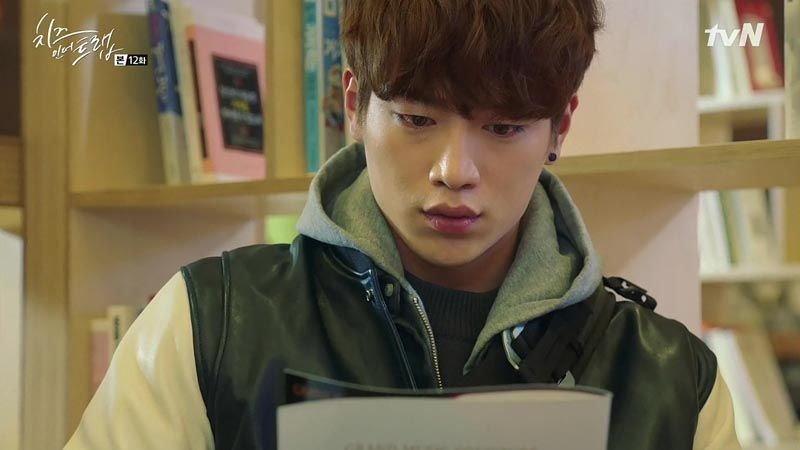 In-ho's piano teacher surprises him by suggesting he go out for a competition, and we see in a flashback that the teacher has been regularly giving In-ho's former teacher updates on his progress. Old Teach is pleased to hear that In-ho is gradually regaining some of his old feel, and that he's a little less of a hothead now.
New Teach wants to bolster his confidence, and they decide that a small competition would be best for him. They chuckle at the question of whether In-ho's ego would allow him to agree to a minor competition, but after making an initial dig at the smallness of the event, In-ho says he's grateful even for this opportunity. He asks if it's really okay for him to go out like he's afraid he might not be, but looks hopeful at the thought.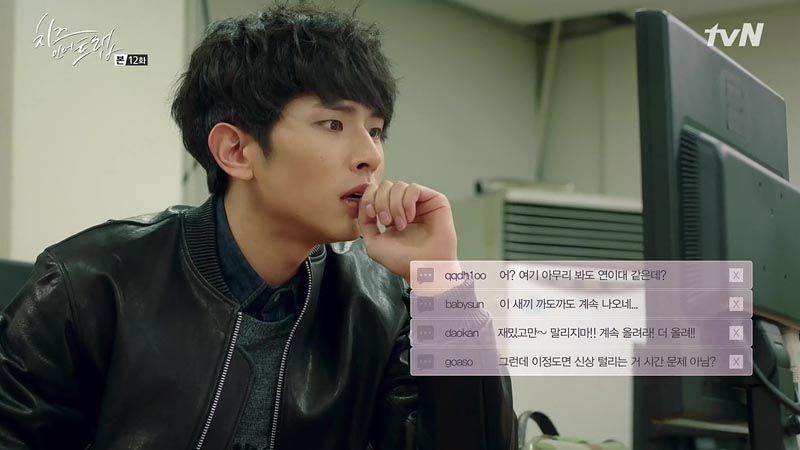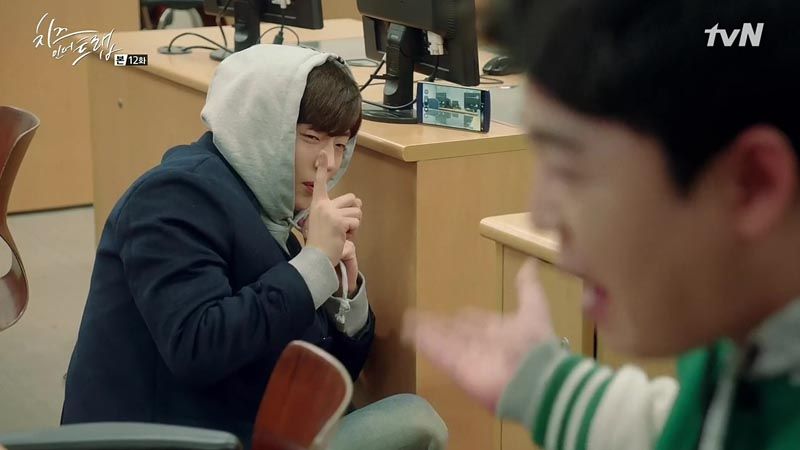 On the online message board Young-gon has been posting flamebait comments to, the anonymous other poster continues uploading photos of him stalking Seol. His face isn't clearly visible but commenters are starting to recognize the school and speculate that his identity will be outed soon.
Young-gon sweats to read the poster's warning that photos revealing his face will follow if he doesn't cut it out. He thinks of reporting these malicious posts to the police, but worries that they'll ask if he really was stalking Seol. And you can't really argue with truth, can't you?
Nearby, Sang-chul Sunbae happens to be on the same message board and eyes Young-gon suspiciously, noting his resemblance to the stalker. He looks over to see Eun-taek crouching out of sight, quietly recording Young-gon's reaction. Heh, I knew it was you!
Seol walks home that night still perturbed by Jung's reaction to her and In-ho's chumminess—he's not answering her calls and he looked pretty upset. She sighs that she should have told him before about In-ho, but they hadn't been speaking and only just made up.
She becomes aware of a presence and calls out for her follower to show himself—and Young-gon steps out tentatively, head hanging. He gets down on his knees to apologize that he was wrong to harass her, offering to sign an agreement not to approach her anymore. He begs for forgiveness and asks her to call off her punkass friend (In-ho) from posting online… while around the corner, the exchange is recorded on a cell phone.
Seol balks when Young-gon says he had to follow her home because she was ignoring him—again, he's turning his actions into her fault. But that riles his temper and he says that even he hates that he likes her, and that the sight of Jung pisses him off.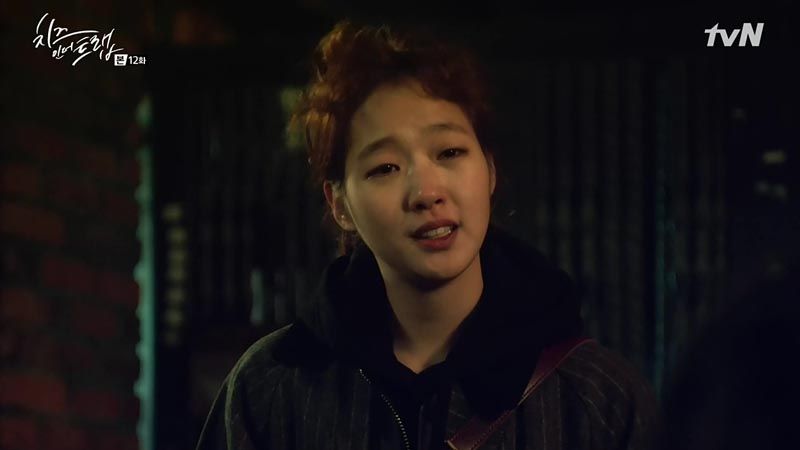 Seol retorts that she sees nothing in Young-gon that can even compare with Jung, and Young-gon's mood twists further. He asks what's so great about Jung, insisting that Jung was the one who started everything, who acts nice to your face and gloats behind your back: "He's really the one who's acted wrongly—it's him who tricked me and pulled those stunts! But why is it me getting treated like trash?"
She says that in seeking revenge on Jung, Young-gon merely used her—he doesn't really like her. He gets angrier and threatens, "Want me to actually scare you? Make you tremble every time you go home? Make it so you can't attend school?"
He advances, warning that In-ho had better erase his posts, "or I'll kill you both."
Seol tamps down her fear and declares that she was the one writing those posts, which a flashback confirms. Her friends had worried about potential blowback, but Seol had had enough.
Young-gon is stunned, hurt even. A tear falls as he asks incredulously, "You… were playing with me?"
Seol reminds him that she'd warned him, and he hadn't listened. He removes something from his pocket and growls, "I'll kill you!"
But Seol sprays him in the face with In-ho's pepper spray and runs away—and around the corner, we see that it's In-ha recording everything. She sends the video and crows, "Mission accomplished!"
Jung receives the message, then tells In-ha to send him her phone, with all the recordings she's amassed thus far. Next, Eun-taek calls, probably with another report.
Out in the street, Seol runs from Young-gon, who persists in following despite being doubled over in pain. Thankfully she arrives at her family's restaurant and runs up to her father, and immediately Young-gon slaps on a smile and acts friendly. But Dad is suspicious and displays, maybe for the first time ever, some solid fatherly skills by angrily giving chase after Young-gon—even if he only makes it half a block before he has to quit.
Seol updates her friends, who agree Young-gon is extra nuts for following her all the way home. Seol figures she has the files as evidence so she's covered even if she takes down the posts. She briefly considers telling Jung, but figures that he won't take her call anyway.
With the posts erased, Young-gon struts into school the next day and enthusiastically greets his classmates, boisterous in the face of their stony faces. He bribes Sang-chul with lunch, and Sang-chul is shockingly resistant to the offer of free meat. I'm almost impressed, except that he finally caves at the mention of galbi, and Sang-chul calls in his buddies to join in. Seol and her friends grump about how easily the boys are won over.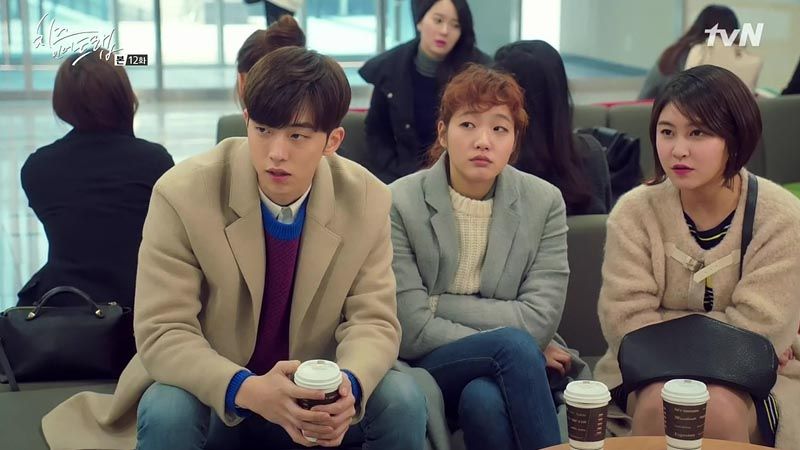 At lunch, the guys ask Young-gon if the story was true about him two-timing those girls—In-ha was hot, and thus now they regard him with admiration. Young-gon lies that he dated both girls, and basks in the attention.
But a classmate gets a text from Eun-taek alerting him to a new post on their school's message board. It's a picture of Young-gon at a computer (which Eun-taek took), accompanied by a whole slew of slanderous posts he wrote, blind item-style—not naming names, but obvious to anybody who knows who's involved. For instance, he flames one sunbae (sitting right in front of him) for preying on young girls, and mocks Sang-chul for always mooching free meals and being an embarrassment to his parents.
Young-gon tries to insist it wasn't him, but Sang-chul informs the others about the stalker accusations, and the guys turn against him. Young-gon('s past self) keeps digging his grave deeper with every slanderous post, which they read: He'd called them freeloading beggars who jump whenever Jung treats them to meals. "Honestly, guys like this should be rounded up and cleaned out," one post sneers.
Young-gon runs out in mortification, fuming at Seol, assuming she put these new posts up. When In-ha texts him about his encounter with Seol last night, he guesses that Jung put her up to this, threatening to sue her, Jung, Seol, and punkass In-ho. In-ha texts back scoffing that he has no grounds, listing all of his crimes, which include stalking, blackmail, defamation, assault—with incriminating photos to boot. This time Young-gon's face is clearly visible, sending him into a panic, babbling, "Don't show it! My face!"
Then as In-ha's next text comes in, he finally makes the connection, reading the words in Jung's voice: "You have a lot to say for someone who can't even see through pretense." That triggers a memory of Young-gon himself accusing everyone of being unable to see through Jung's pretense.
Young-gon calls Jung, who tells him to check himself if he doesn't want that video uploaded of him threatening Seol last night. Young-gon screams futilely, crying in rage.
In-ha goes on a shopping spree with the rewards of her labor, and Jung texts that he won't be asking any more from her.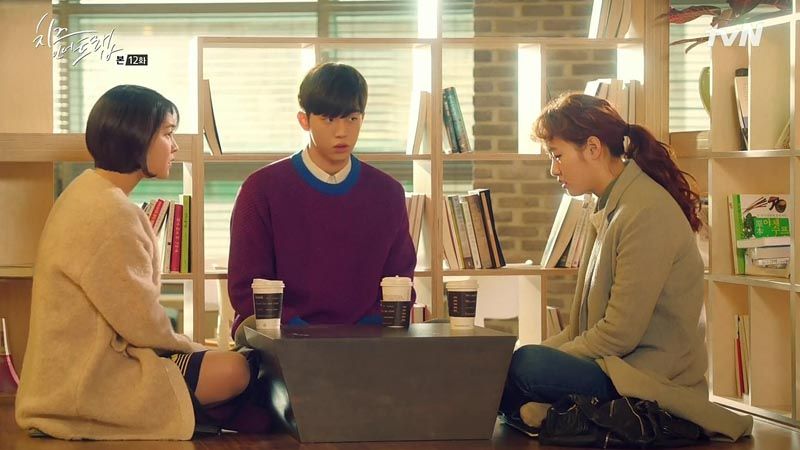 Seol wonders who uploaded the latest posts—and Eun-taek bursts out nervously that he did it. Seol doesn't think it's a good idea to tell Jung about Young-gon, and Eun-taek stammers that m-maybe, a-actually, J-jung already helped out. He reveals that he'd been keeping Jung informed and shown him the evidence they'd been gathering, and that Jung was the one who told him to write the new posts. He hadn't said anything because it seemed like Jung was waiting for Seol to confide in him.
Seol is stunned, and Bora chides her for not saying anything to her boyfriend.
She leaves with her head swirling with doubts, recalling everybody's warnings against Jung, and those instances when he'd manipulated people to do his bidding. She also recalls In-ha telling her to leave if she can't handle Jung. She starts running.
That night, In-ho spots In-ha with her new shopping bags and demands to know how she paid for it. She says Jung bought it for her, and as that is as convincing as a pile of rocks, In-ho takes her loot ransom and demands the truth.
In-ha cops to her deal with Jung to get rid of Stalker Loser, puffing herself up with importance for how much Jung relied on her help. In-ho doesn't understand why Jung would sic a stalker on Seol, and then get rid of him for her: "He's playing games right now, isn't he? It was all a game from the start!"
Seol surprises Jung by showing up at his door, and he's still withdrawn and reticent from yesterday's incident. She asks if he didn't answer her calls because he was upset about her friendship with In-ho. He demurs, saying he was just busy, and she takes that in with disappointment.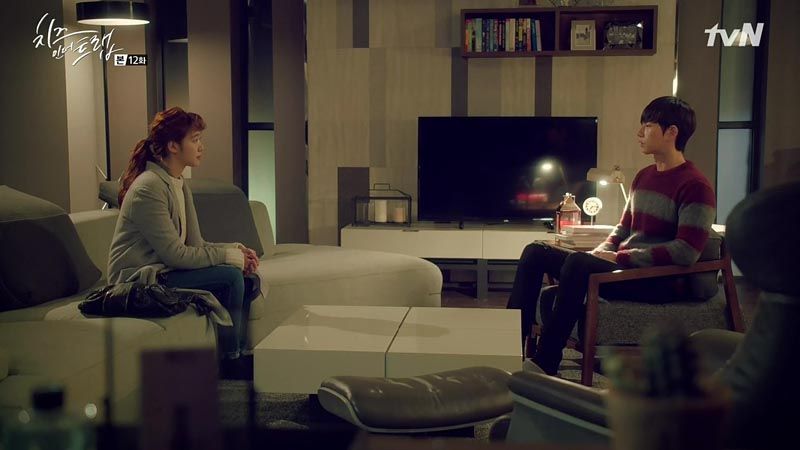 She explains that she has become friendly with In-ho, and that he'd helped her a lot and made her want to help him too, with his piano lessons and high school equivalency exam. And he already knows about Young-gon because of Eun-taek's updates.
Jung notes that she didn't want to talk about Young-gon, and she apologizes for not saying anything. But when he tries to brush aside the topic by saying that it's over, she stops him: "No, we're not done. Right now, I truly put a lot of effort into telling you everything. Now I want to hear your reply. Your honest reply."
Moreover, she doesn't want his usual answer—that he never expected Young-gon to take things so far, that he hadn't intended things to turn out this way. He asks what she wants him to say, trying again to close the topic of Young-gon.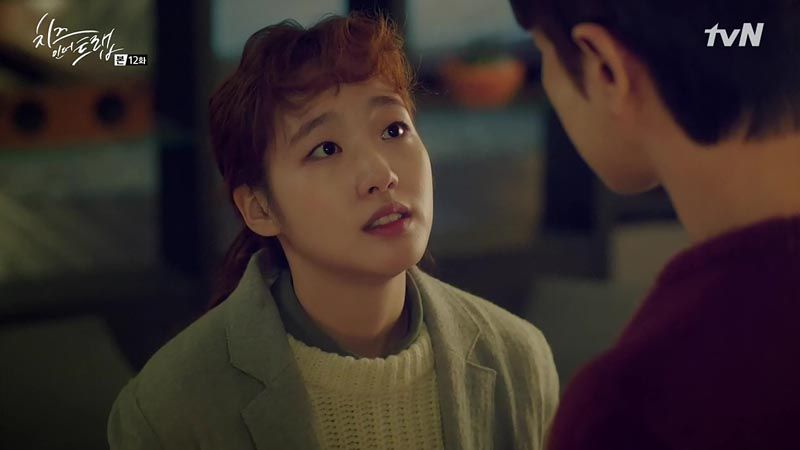 Seol grabs his arm: "This isn't a problem about Young-gon. This is your and my problem! Don't keep evading it." She challenges him to answer that he sent Young-gon after her because he disliked her, and that he didn't call because he was angry.
He asks, "Why do you want to hear those things?"
Seol says that it makes her frustrated and angry when she asks him for honesty but sees that he isn't being honest: "I thought it was all about you, but this time I realized—I didn't talk about my own thoughts and just asked for yours. I won't do that now. So I'd like if you didn't either. Without hiding anything, I want to see you, just as you are."
Jung struggles to take it in, but only says, "I don't know what you're saying." He pulls away from her grasp.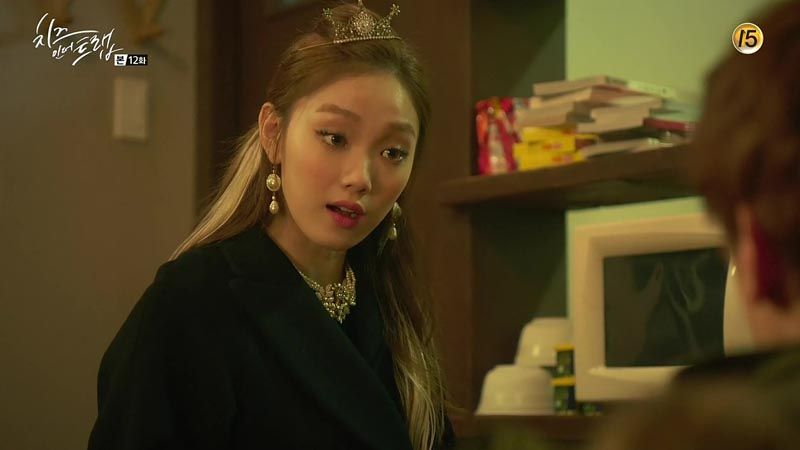 In-ho asks his sister if she has no pride, taking all these things from Jung. She counters that he has no right to act worried about her: "To me, you're the bigger bad guy than Jung."
Flashback. It's high school, and In-ho is excited that his favorite pianist is finally coming to Korea. He intends to get his autograph in person, never mind that his competition is planned for the same day; he's cavalier about the prospect of skipping out, saying that he always wins first place.
As they head to the practice rooms, they run into another piano student who's going out for the same competition, who also receives sponsorship from Jung's dad. Jung is nice to the kid, but In-ho's dismissive, telling him he plays with no soul and that's why he never wins. Jung chides him to speak more nicely, though In-ho just says he's saying it to help the guy.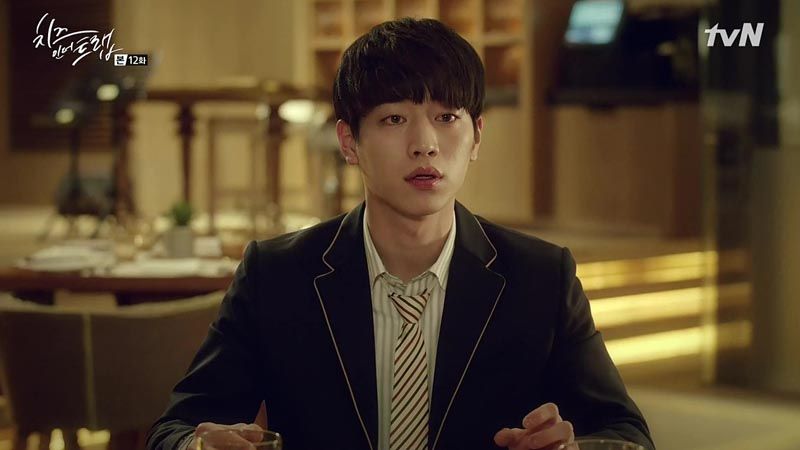 But In-ho does the competition after all, and curiously Jung misses it. Afterwards at dinner, Dad makes a suggestion that shocks Jung, In-ho, and In-ha equally: that he adopt In-ha and In-ho officially into his family registry. All three kids are stunned speechless, and Jung looks particularly taken aback, though he manages to smile at In-ho.
In-ha pouts at the idea, since she's determined to marry Jung and can't obviously be adopted as his sister. In-ho's pleased to go with Dad's suggestion, and doesn't believe In-ha when she predicts that Jung isn't onboard with the adoption.
A short while later, In-ho walks in on Jung talking to the other piano student, confused to see that Jung has given him an autographed CD of his favorite pianist… which he got by missing In-ho's competition.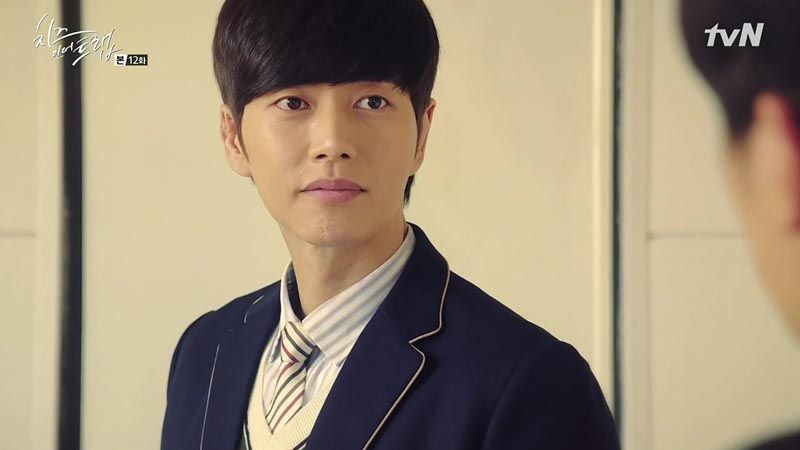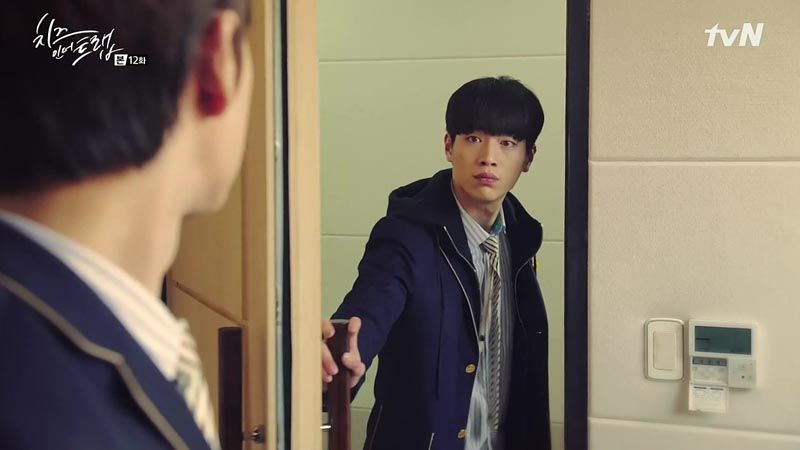 Jung acts like this is all very reasonable, but In-ho knows him enough to guess that he's angry, maybe about the adoption. Jung just keeps his calm facade in place, and when In-ho prods Jung for his thoughts, guessing that he doesn't like it, Jung replies, "It doesn't matter to me."
"It doesn't matter?" In-ho asks, confused and hurt.
Soon the other piano student is eating lunch with their group, welcomed by Jung's friendly attentiveness. Jung even starts listening in on New Kid's practice sessions, acting like this is completely normal, hiding whatever inner thoughts he's feeling.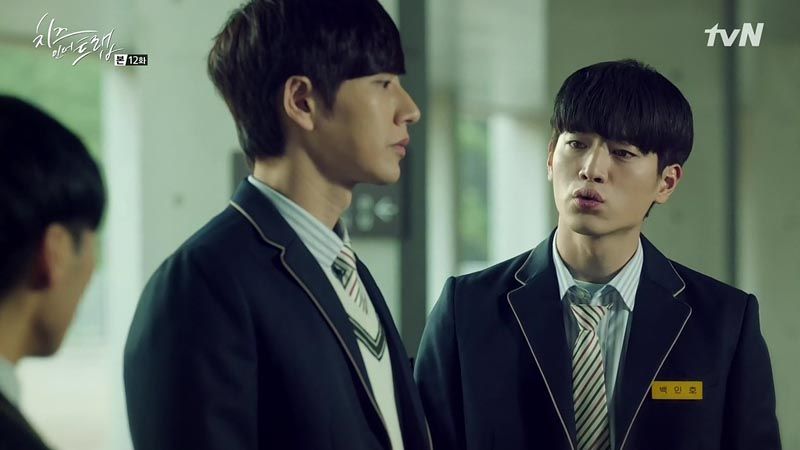 Jung gets invited to join a crowd of older students at a bar that night, and New Kid says that those kids are dangerous. In-ho overhears and echoes the sentiments, but since Jung is already angry with, it stirs tension when In-ho warns him not to go. Then In-ho barks at New Kid to practice piano rather than partying, and New Kid storms off angrily.
That night, New Kid heads out to the party thinking Jung will be there, but it's only the bullies there. The party gets raided and the students are taken in for underage drinking, and the bullies fume that they've been ratted out. New Kid thinks of In-ho overhearing their conversation and growls that he knows who reported them.
So the bullies drag In-ho to a secluded corner and begin beating him down. He does his best to fight back, yelling that he didn't do it, but they overpower him and kick him repeatedly—and from a distance Jung watches with that maddeningly impassive face.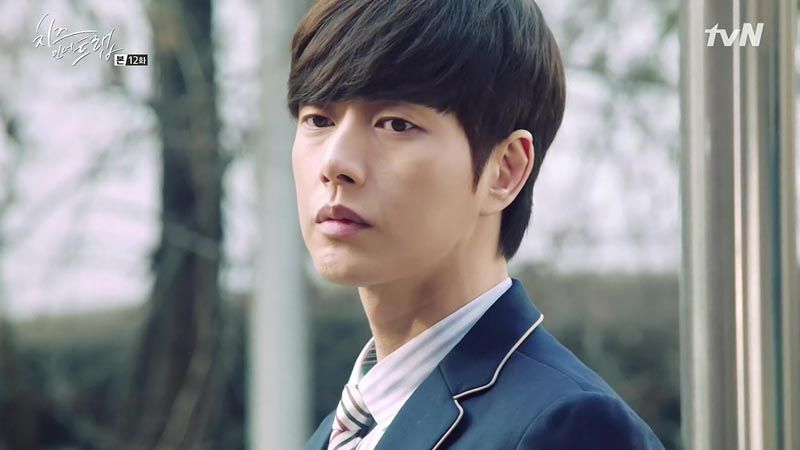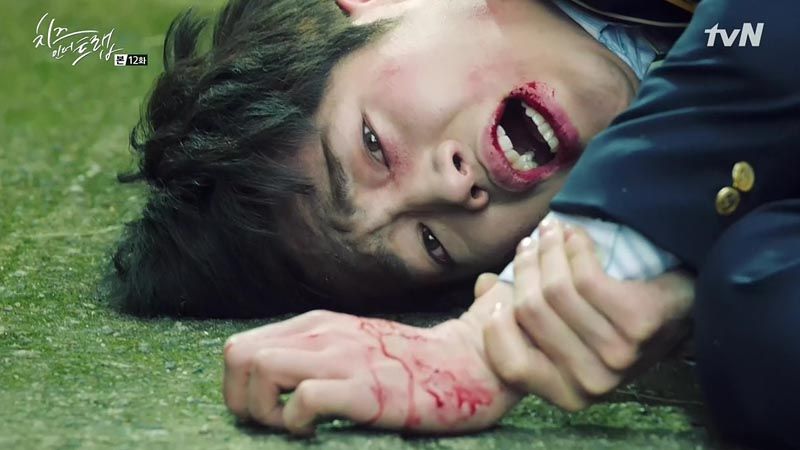 It's New Kid who slams a baseball bat onto In-ho's hand. In-ho screams in pain and writhes on the ground, and when he makes eye contact with Jung in the distance, Jung turns and walks away. Damn. That's cold.
Afterward, In-ho confronts Jung, asking, "It's not true, right? You didn't do it?" Jung asks, "What answer will make you most comfortable?"
In-ho presses, "Did you really do it?" Jung answers, "No, I didn't, you did. Think carefully."
In-ho grabs his shirt, calling him a son of a bitch, asking why he did it. Jung asks, "Why do people always want what belongs to other people? Then they delude themselves thinking that's other people's things are theirs, when in the end they lose what's their own."
To In-ho, that sounds like Jung talking about the adoption, and exclaims, "It was for that measly thing?!" Jung says tersely, "Think whatever you want."
So In-ho leaves home in the middle of the night with his arm still busted, and In-ha says in her hurt that he was always ready to leave her behind for himself. She tells him, "Go and don't come back," then watches sadly as he walks away.
That long trip down memory comes flooding back to In-ho, and now he runs out with purpose.
Jung drives Seol home, and she politely thanks him and leaves the car, though he looks like he wants to hold her back. In-ho texts to meet, and as soon as Jung shows up at the appointed spot, he grabs Jung and demands to know what his deal was with In-ha.
Jung says he's tired of In-ho receiving everything and acting the victim: "How long are you going to keep hanging around Seol? It seems you're doing it to make me mad, but don't you think that's pretty pathetic?"
In-ho suggests that they fight it out this once, one-on-one, and Jung agrees. In-ho gets in the first punch, Jung returns the favor, and pretty soon they're going at each other in a full-on, knock-down drag-out brawl.
Jung growls that he's held back as much as he could, and In-ho scoffs, "How'd a guy who's so good at beating people hold back all this while? You should've been like this at the start, you two-faced bastard. If you had, at the least our relationship wouldn't have gotten this bad."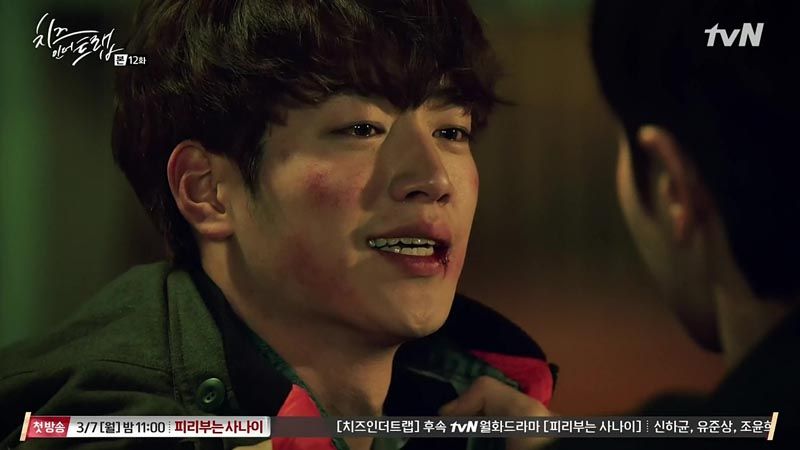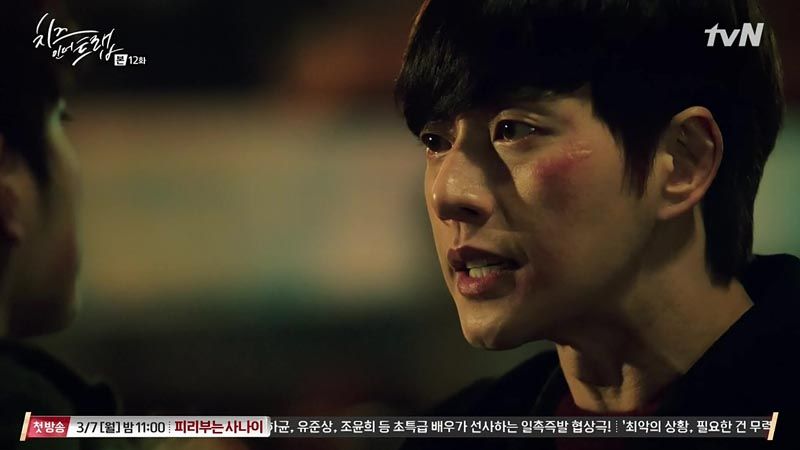 Jung sneers, "My fault again?" He accuses In-ho of a victim complex, and In-ho counters that Jung put a stalker to Seol and then got rid of him. "Still," In-ho says, "I thought you were at least sincere about [Seol]. Do you even know what it means to like someone, you bastard?"
Jung lurches forward and grabs In-ho, demanding, "What does it matter to you?!"
"Because I like her," In-ho replies. "Because I like her, it matters to me."
Well, there it is. Jung growls, "This is what you do best—acting the friend to your face, then backstabbing." He punches In-ho, who challenges, "Who backstabbed first?"
Jung grabs him in a headlock and demands that he leave Seol alone. In-ho kicks them both down, saying he won't. Jung asks, "What can you do for her?"
In-ho presses, "Then say it. Can you guarantee that you won't do to her what you did to me? Are you confident? With jerks like you, it only takes a few times to realize what kind of bastard you are." He says Seol will figure it out, adding, "People around you all get ruined because of you. The person who really needs to leave her alone is you, not me, bastard."
Though exhausted, they continue grappling with each other with their flagging strength, cursing each other.
Seol gets a text from Jung asking to meet, and one look at his battered face has her gasping in concern. Jung merely leans forward and leans on Seol wearily, wrapping his arms around her.
Seol tends to his cuts with exasperated concern, guessing that the fight was with In-ho. She asks why, since he's not the type to fight, wanting to understand why Jung hates In-ho so much.
Jung's mind flashes back to that piano competition, and how he'd skipped it to get autographs from that famous pianist. He'd pretended his name was In-ho so he could get his sheet music signed personally for him.
At the competition, In-ho had bragged to New Kid about Dad coming to see him. New Kid asked wistfully how In-ho got to be such good friends with Jung, who's so popular and nice and rich. In-ho had boasted that Jung was actually pitiable, having all that money but no dream or people to count on other than himself. And Jung, who'd been coming to deliver his autographs, had overheard In-ho's words.
When his father had dropped the bomb at dinner, Jung had forced a smile in the moment. Then, later he'd overheard his father on a phone call with Jung's absentee mother, discussing his plans for adoption, which he saw as his way of taking care of the grandchildren of his esteemed Professor Baek. He'd been certain that Jung would agree, bristling when Mom had accused him of monitoring Jung too closely, using the kids.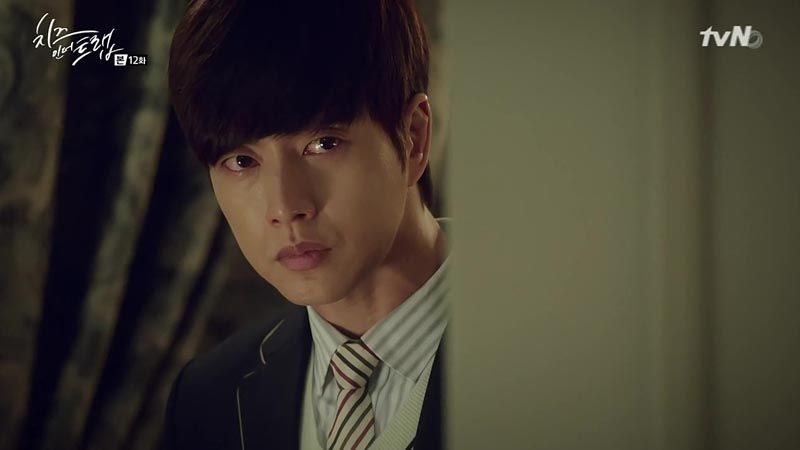 Dad had argued, "You know what kind of kid Jung is. I'm not seeing him strangely—if we don't take care, he could develop interpersonal problems, you know Professor Baek said that. If he doesn't have someone watching at his side, he can't survive. That's why he needs siblings. Ultimately, this decision is for Jung's benefit."
"That's when it started," Jung now tells Seol, confiding the whole story to her. He thinks he could have warmed to the idea of adoption, "But the thought that people I'd thought of as friends were monitoring me—that was hard to bear."
He describes how it felt to have his father constantly watching, constantly telling him to stay quiet, to yield, like he'd done something wrong. "Did he really think I was so strange?" he wonders. He turns to Seol and asks her, "Am I… really that strange?"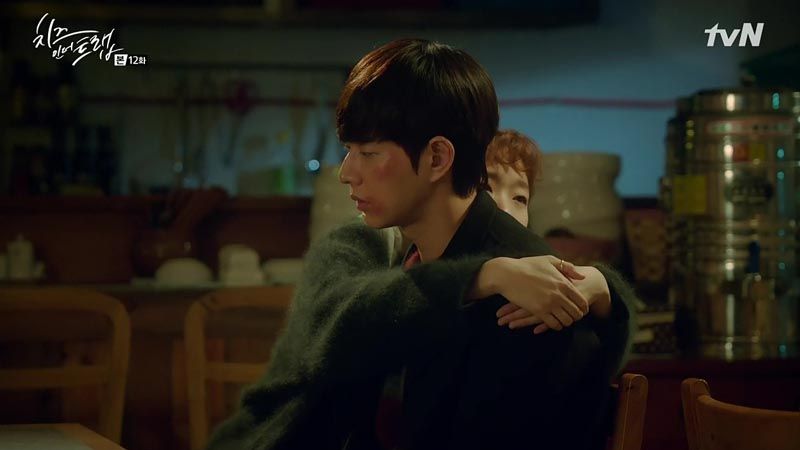 Seol leans forward and wraps her arms around him. "Sunbae," she says, "we started out on bad terms, didn't we? We treated each other like the other person was strange and hated. But thinking now, it wasn't that we were strange, but different."
She explains that people used to say she was frustrating and sensitive, and it made her worry. But ultimately she decided: "I'm just this kind of person. I don't really know, but I think you didn't have many chances to speak honestly. It must have been lonely and difficult for you on your own."
She tells him not to struggle alone anymore: "Do it with me. I really want to know you."
He admits, "I was scared. That if you found out what I was really like, you'd leave."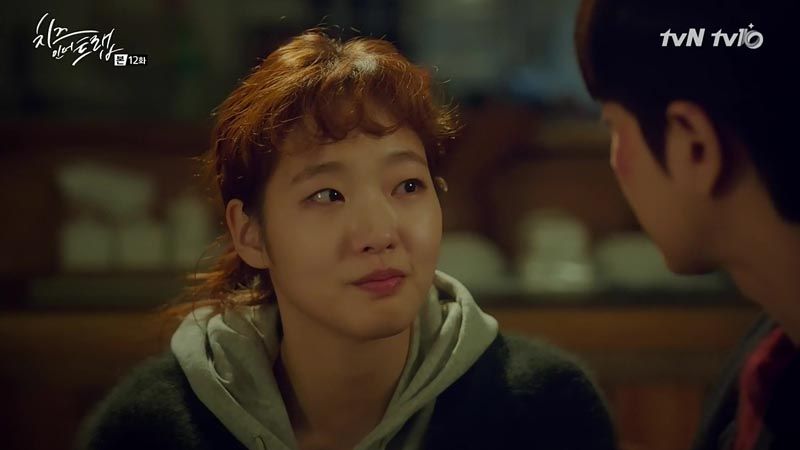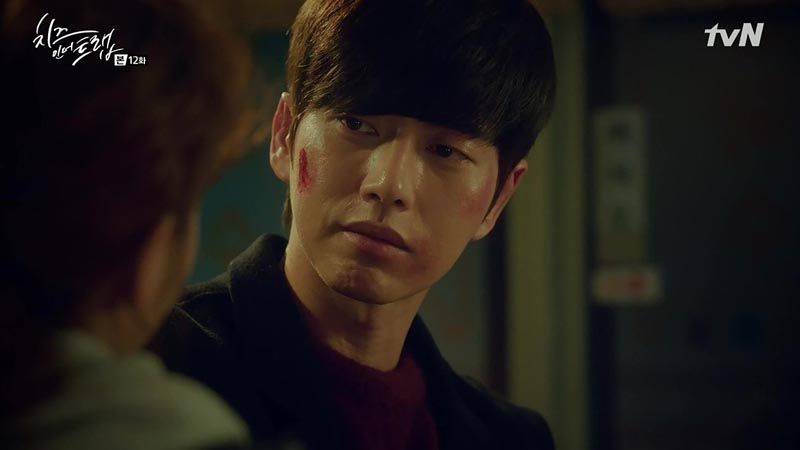 She pulls back to look him in the eye, and takes his hand in hers. "I really like you a lot," she tells him. "Much more than before."
Jung says, "You were different from other people from the start." She was open about disliking him, and oddly that had an effect on him. He must have been afraid she'd mess with him somehow, and he didn't like it.
"But not now," he says. "Now… I'm afraid you'll leave. I like you a lot too. Really a lot." She smiles and holds him again, blinking back some tears.
Outside, In-ho stands alone, battered inside and out. He heads off sighing, "Ah, it hurts."

COMMENTS
I really loved the movement in this episode, and I don't only say that because it brought our couple back to reconciliation. Many of the moments that grab me about this show are the little beats, the things that don't drive the show proper but that feel true to life in a way that stirs pathos. For instance, as odd as it seems, the characterization of Young-gon as a malicious, pathetic, dangerous force whom you know could be a really destructive force but who still makes me feel pangs of sympathy.
Ultimately he just wants to be accepted, and that base desire is roots him in humanity and makes his character relatable even as his actions are completely unjustifiable. Like Copycat Min-soo, understanding a character doesn't have to absolve them of culpability; rather, it makes them that much more compelling and interesting, while still condemnable when they hurt others or act in menacing ways. I'm always torn with Young-gon, because he's definitely someone I wouldn't want anywhere near me in real life, and he's a livewire best left untouched—but you can see that he does have a charming and cute side, which makes it a shame that he doesn't let that form the basis of his personality rather than all the scary obsessive other parts.
I have wondered whether Jung was fading a bit from the front lines of the show, becoming more of a figure for Seol to react to than anything, so I'm very pleased with how this episode brought him around. Or rather, it brought us around, finally, to that hard-to-find angle that allows us a glimpse into his mind and heart. That's the trick of this show, that Jung is absolutely a central character who's undergoing tremendous growth, but our perspective of him is actually quite limited—it's like we're getting a hero through the lens of someone else's eyes. It produces a very interesting effect, in line with the unreliable narrator aspect that we started out with.
Our past explorations of Jung's character have given us some insight into his motivations and explained his reasons, but not really gotten him off the hook for his actions. He's always been possessive of Seol, and utterly backward in how he tries to help her, and the couple's incredible lack of communication has been a huge red flag—even if it's been for well-meaning reasons, such as liking each other too much to risk showing their less-than-perfect sides. It has made me wary of rooting for them as a couple even through the show's end, much less far after the curtain closes and they head off into the after-show happily ever after. Because even when I like Jung, I'm still mostly motivated by care and concern for Seol—I want her to be happy and to find what's best for her, and I'm nervous about whether he fits that description.
I wasn't sure the show would be able to reconcile their issues satisfactorily, but then Seol challenged him to stop hiding and Jung confided everything, and wow, what a door to the future that opens up. I was holding my breath, just as Seol was, when she asked him to be honest with her and even provided him with the words to say. And I deflated along with her when he pretended he had no idea what she was talking about. Which is why I was shocked that he ended up telling her all about his past, and really touched when Seol assured him that far from running away, she actually likes him more, seeing his real self. Tear. No lie, that made me a little verklempt right there.
It's a wrench for In-ho, especially since I really do love his character and feel my heart twist whenever he looks at her with his heart in his eyes, or does something sweet without wanting credit for it. But the reason he's a great second lead is also why he won't get the girl; one of the key elements of Second Lead Syndrome is that no matter how great he is, no matter how much more you think he "deserves" her, it's never his call to make. And that In-ho sees that and accepts it gracefully just commends him more to me.
I just hope that now with Jung's long-repressed feelings finally expressed, the boys have a shot at repairing their friendship—and maybe they'll even be better people individually this time, making for an even stronger twosome. And I'll love that while they seem to be fighting over a girl on the surface, she's really a major force in bringing them back together.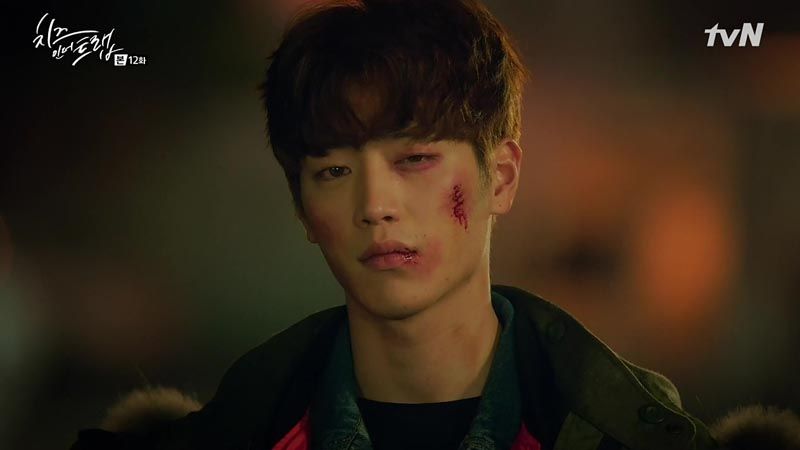 RELATED POSTS
Tags: Cheese in the Trap, featured, Kim Go-eun, Park Hae-jin, Seo Kang-joon