Cheese in the Trap: Episode 14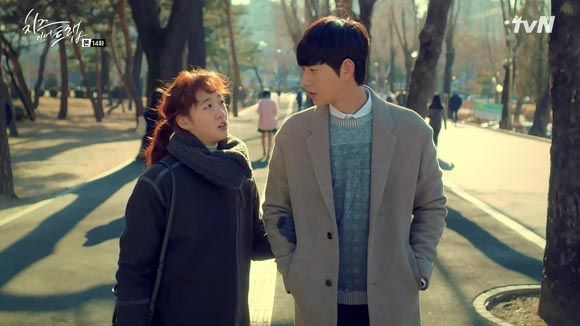 It took a while, but we do meander back to our main relationship today after taking a few side trips to explore some supporting characters. I've generally enjoyed the characterizations in this drama (even the hateful ones) so I haven't minded the detour, but I did feel like it was stretching too long so was relieved when we worked our way back to Jung and Seol.
Speaking of which, I didn't expect or intend for my comments about In-ho yesterday to be so controversial! Here's the thing: I have thought Jung was getting short shrift in the past few episodes, which I mentioned before, and I've missed him. But that didn't preclude me from finding In-ho an interesting character, and I could appreciate an episode that put the focus on him without necessarily wanting him taking over as the lead; I expected him to step back once the story shifted back to the main couple.
That said, I did find myself impatient in this episode for In-ho's scenes to resolve faster, because our hero was absent the entire first half of the hour, which felt wrong. Thankfully, he does come back, and some important steps are taken.
SONG OF THE DAY
Monni – "그대와 함께" (With you) [ Download ]
Audio clip: Adobe Flash Player (version 9 or above) is required to play this audio clip. Download the latest version here. You also need to have JavaScript enabled in your browser.

EPISODE 14 RECAP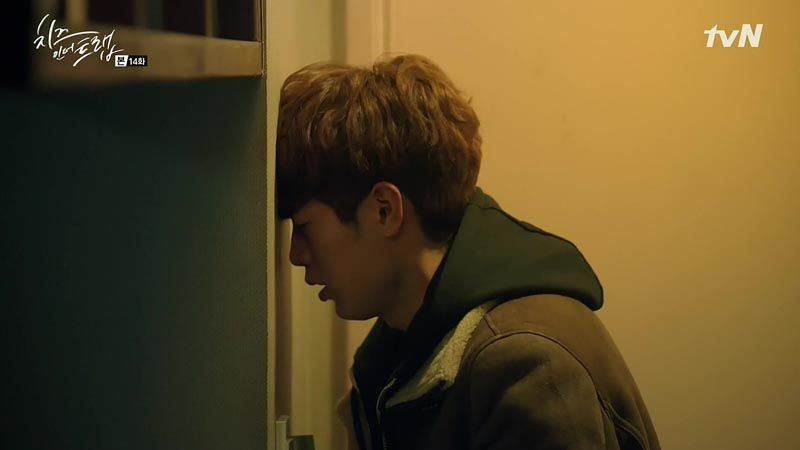 After In-ho's sudden hug, Seol comes home completely flustered, trying to figure out what it meant. She tries to rationalize that In-ho's been going through a lot and just needed some comfort, or maybe he lost his mind. Her eyes fall on the scarf he'd wrapped around her neck the other night, and the truth seems to dawn.
In-ho goes home just as stunned at his own behavior, banging his head on the wall. Hammer texts a reminder that his week is up, and In-ho has one last idea: His apartment deposit plus the salary advance from Seol's parents only amounts to part of the total… but if he wins the piano competition, the prize money will give him just enough.
Bora lights up to get a text from Eun-taek, and runs off excitedly to meet him. He asks her to pick out a pair of earrings at a jewelry store, and she happily does—and then is told that they're for another noona, the very pretty boss he's been modeling for, to thank her for helping him with his job. He thanks Bora for helping him choose, and she's visibly dispirited.
Seol sees Bora's glum mood as they wait for class to begin, and offers to buy her coffee. The girls head out to grab some… and pesky Da-young shoots a sidelong look at Seol's belongings.
When Seol returns to her seat, she notices that Jung's coveted notebook is missing, and starts looking around frantically. A couple of girls remark that Da-young was just looking through Seol's things, but Da-young says defensively that she'd just used her pen for a moment.
Da-young mentions seeing Sang-chul hovering before, insinuating that he stole it. After class, she leads the mob to him accusingly, but when they grab the copies in his hand, they're not the notes. Da-young quickly backtracks and blames Seol for suspecting him of stealing, leaving Seol to protest that she hadn't.
In-ha has dinner with Jung's father, who tells her she can stop updating him about Jung, because he'll just ask his son directly. Funny how that was never Option No. 1. In-ha pours on her usual aegyo to ask Dad for an apartment, swearing that it'll be the last favor and that she'll enroll for that tech certificate.
Dad reminds her that she said that the last time he gave her money, and thinks to himself that in the past, he'd never hated her wheedling. Which means now he does. He offers to reconsider the apartment after she gets her certificate, and In-ha, a little surprised, can only agree.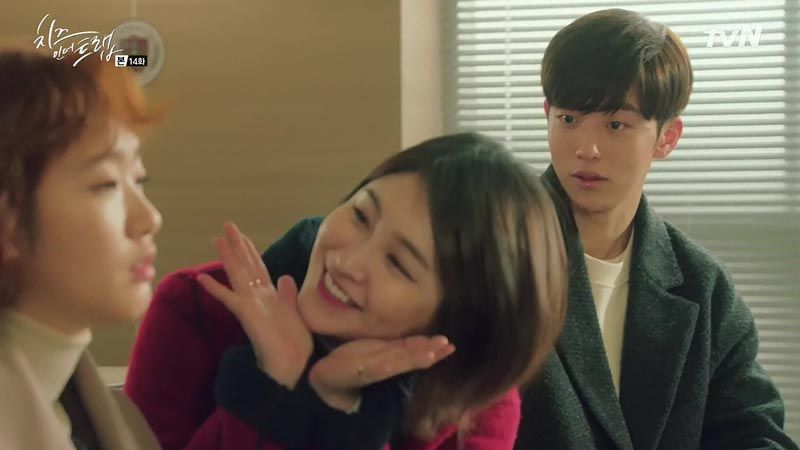 On her way out in the morning, Seol ducks out of the way when she sees In-ho, still feeling uncomfortable, and it makes her withdrawn all morning.
Bora asks Eun-taek if he gave his noona that present, deflating when he says she was so thankful she bought him dinner. She notices that Eun-taek's lips are peeling and offers him lip balm, and looks hurt when he stops her from putting it on for him.
At lunch, both girls are distracted with their dilemmas. Seol asks Bora for her advice about "a friend" who's having a problem—she's got this boy-who's-a-friend who seems to like her, but is it better that she keep ignoring it?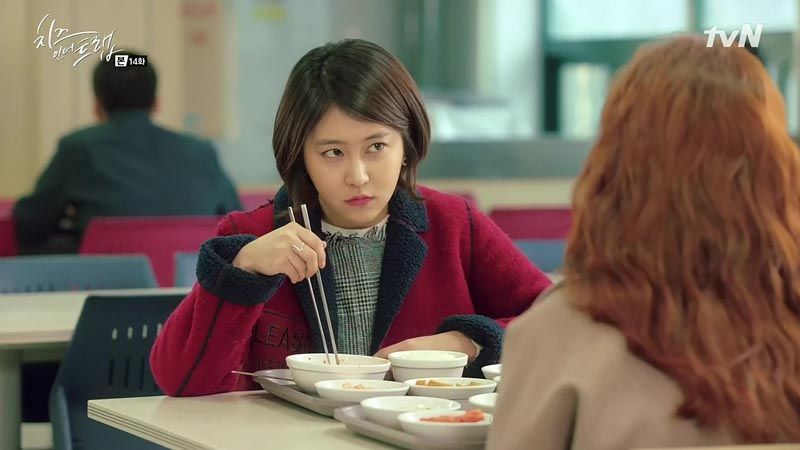 Thinking Seol is referring to her, Bora tells Seol to tell her "friend" that if she ignores it, he'll find another woman right away, and that women are wrong to assume the guy will just keep liking her, and that no amount of regret will change anything. Bora grumbles that she'll let him go coolly, hmph.
Nearby, Sang-chul sits down with a friend, and Bora still finds him suspicious as the notebook thief. Seol reminds her that they already saw that he didn't make copies, but he's being remarkably blasé about his graduation exam, drinking all night and not worrying about studying.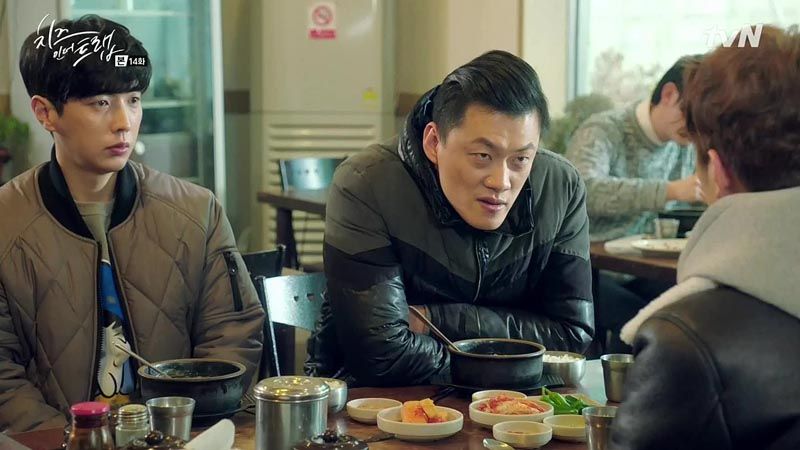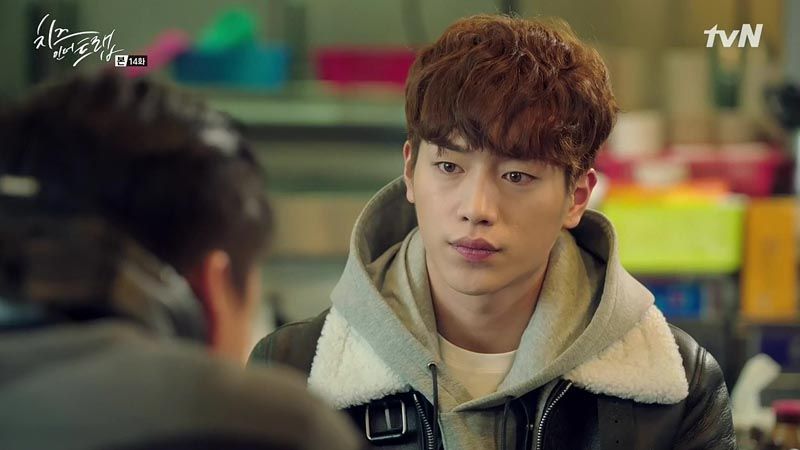 In-ho meets with Hammer to request one month to come up with the 10 million won he owes. Taking In-ho now means he won't get any money, but if he waits until after the piano competition, In-ho can get him the full amount. Plus, he points out, he could always run away again, in which case he'd be out both In-ho and the money. Hammer gives him the month, though he's not intending to honor In-ho's promise—he'll keep the money and In-ho.
Hammer's timid sidekick sneaks out to catch In-ho before he goes, and presses an envelope of money into his hand—it's his own savings. He says In-ho looks a lot happier here than he was in Busan, and hurries back inside. Awww. He's a good kid. Won't someone save him from a gangster's life too?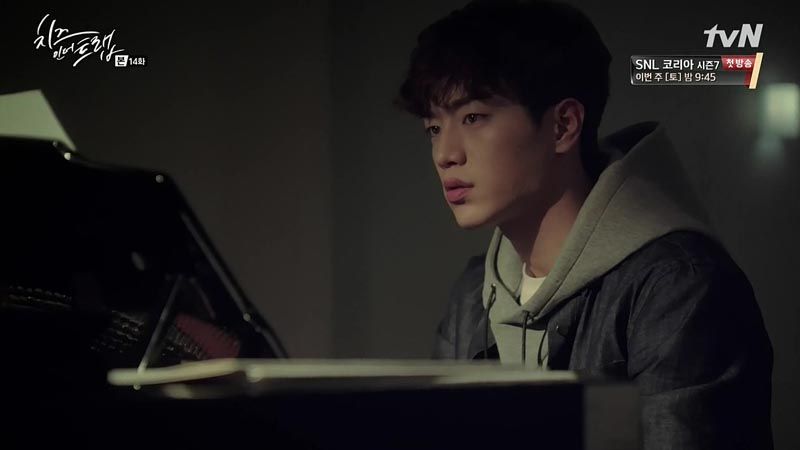 In-ho begins practicing in earnest, spending hours in the rehearsal room, telling himself that he's got one month.
Seol calls her mother on her way home, intending to eat dinner at the noodle shop. But after checking that In-ho's there, she changes her mind and decides to eat out to avoid running into him. She ends up in a convenience store eating instant noodles, but In-ho sees her anyway and stops by, joining her inside.
Seeing how stiff she is around him, In-ho asks point-blank if he makes her that uncomfortable, and how long she's going to avoid him.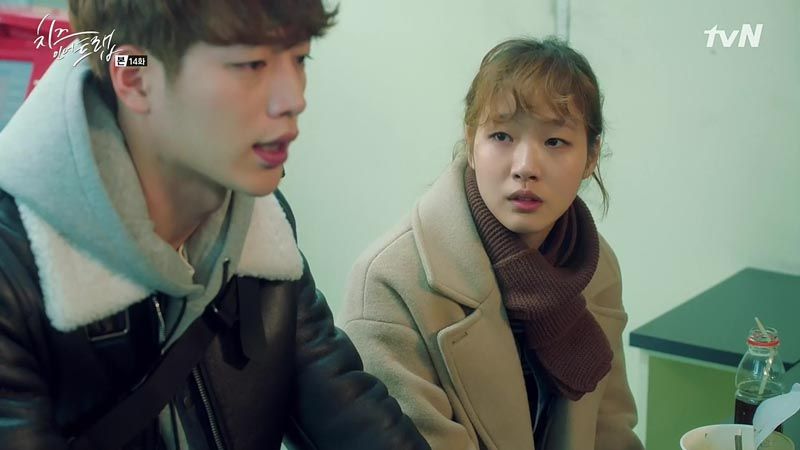 "It's true I like you," In-ho says. "But I'm not asking you to acknowledge it or do anything about it. These are my feelings, so I'll take care of them."
Then he lightens the mood, calling her Dog Hair and telling her not to avoid him anymore, which only makes things more awkward. He gives her the packet of kimchi he just bought, and heads off telling himself, "Let's just be happy for one month."
He runs into In-ha on their way home, and asks if she has any intention of getting her certificate, or maybe running her own clothing boutique. She asks sarcastically if he'd set one up for her, and he replies yes—though not right away. He admits that he's planning to leave, and suggests, "Come with me."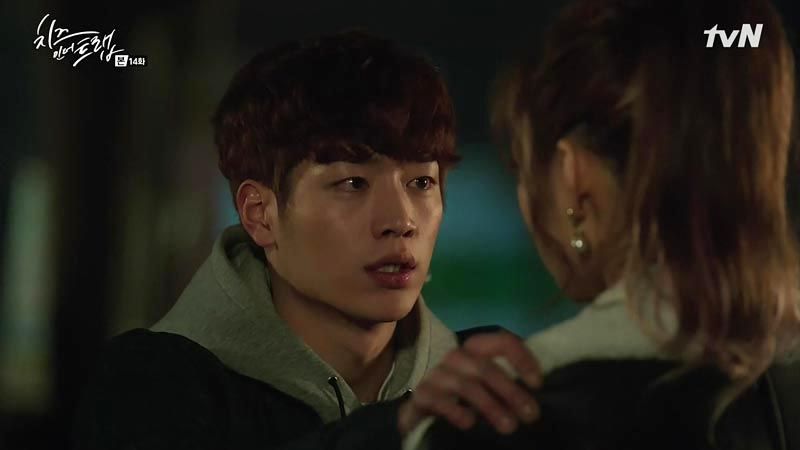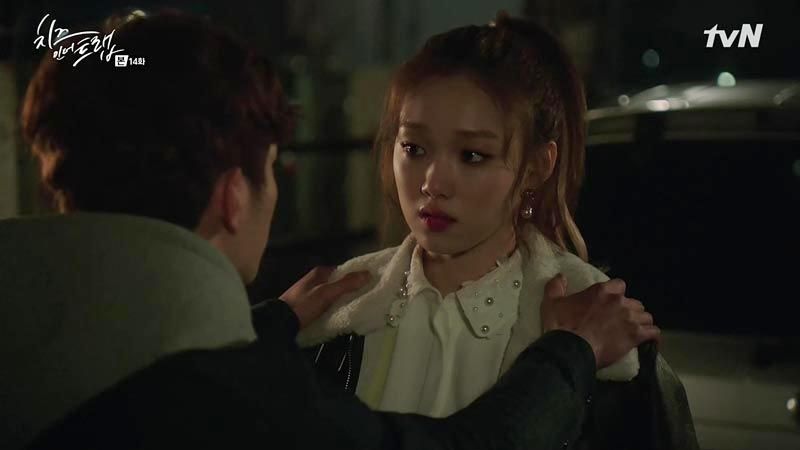 In-ha scoffs, but looks at her intently and says he's very serious. He asks her to think about it and, for once, calls her noona.
She shrugs him off, though, and tells him to go alone.
Graduation exam results come in, and Seol passes—and, to people's surprise, so does Sang-chul. He even brags that the test was pretty easy, although Seol found it rather difficult and Da-young mutters that she failed it. Hm, are you not the thief after all? Even more out of character, Sang-chul offers to treat everyone.
In his lesson, the piano teacher notes that In-ho's left hand is making a lot of mistakes. In-ho attributes it to over-practice, assuring the teacher that he'll be fine. But as he continues playing, the pain keeps up and even he wonders what's wrong.
Seol buys Bora a birthday gift, then passes by a local bar where she overhears Sang-chul talking with Da-young outside. Da-young's still peevish after failing her exam, and Sang-chul insists on helping her—and voila, out comes the stolen notebook, which he swears her to secrecy over.
Furious, Seol marches up and says he should be ashamed of himself. Sang-chul tries to turn it around on her for being a thorn in his side, but she rightly points out that he's playing the victim when really, he was the one to commit the wrong in the first place.
Angered, Sang-chul raises a hand threateningly to Seol, and she flinches and falls to the ground. In-ho happens by to see it and goes charging in, punching Sang-chul and getting kicked himself. Classmates intervene before the fight can escalate, and Seol hurries him away.
There's a brief awkward moment between them when In-ho takes her hand to check the damage, but he adopts a cheerful demeanor to cover it. Seol's the one who stops him and addresses the matter head-on, saying that it's only right that she tell him honestly.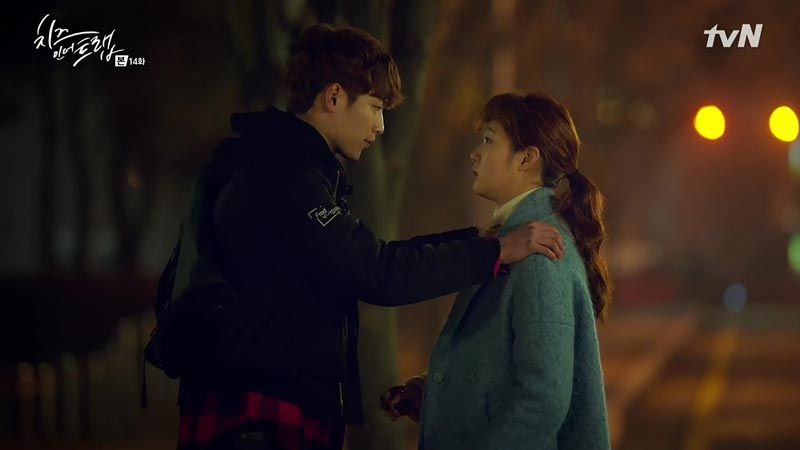 She's interrupted by a call from Jung, and In-ho just puts her phone away and says that he knows what she's about to say. He asks for just one month to return to how they were before, without all the hiding or avoiding, and when she asks what happens after the month is up, he replies that he'll work through his feelings and get over them.
Jung hears from a classmate that Sang-chul has lined up a final interview for a job with a smaller company. It's no secret that Sang-chul wanted a job at a large corporation (along with most of Korea) and he's also applied to Jung's company, Taerang, but without any expectation of making the final cut.
Jung files away this information, then drops in on a senior executive with whom he's friendly, asking for a personal favor.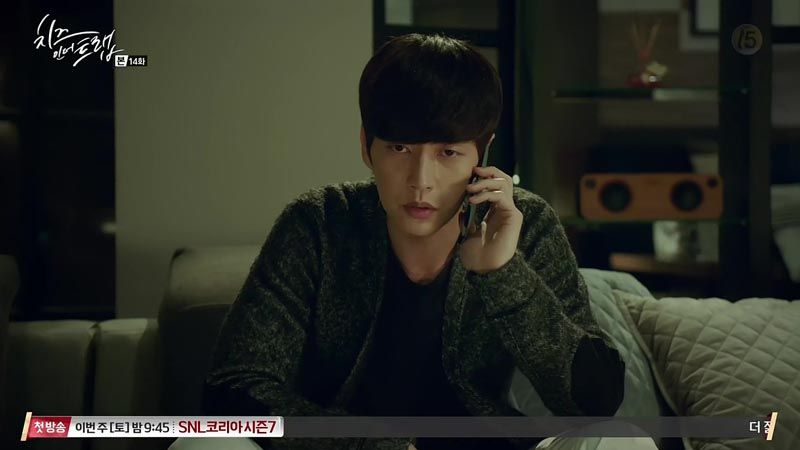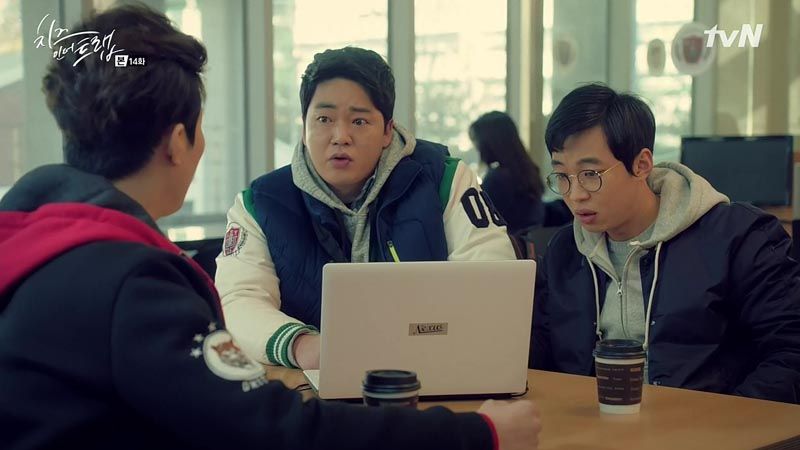 So when Sang-chul checks his email and reacts in shock, it's not because he failed, as did his classmates—it's because he's made it to the next round. The problem is, the interview conflicts with his other interview.
Bora insists on not making a big deal for her birthday, but Seol makes dinner reservations for them, assuring Bora she told Eun-taek to come too. They spot Jung sitting with Sang-chul on campus, which is curious because Seol already informed Jung of the notebook theft and expected a stronger reaction. But there he is, chatting pleasantly with Sang-chul, telling him he has a shot with Taerang.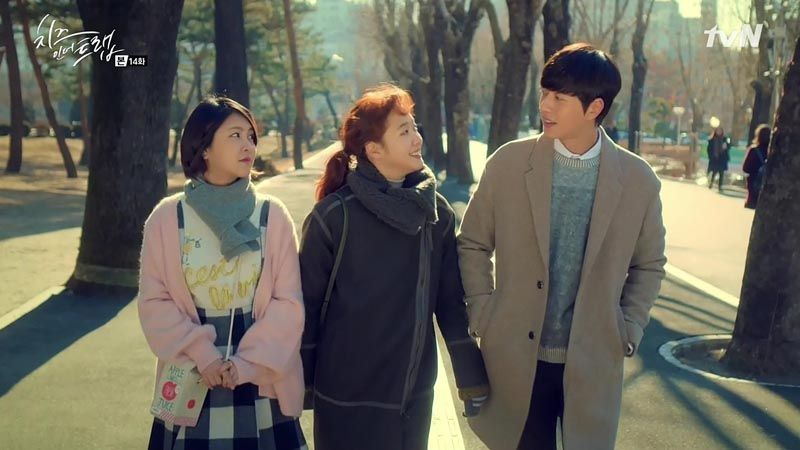 Jung joins the girls, and Seol invites him to Bora's birthday dinner. Bora feigns disgust at their lovey-dovey ways and urges them to go on a date instead, promising she'll be fine with just Eun-taek. Seol advises Bora to have a good talk with Eun-taek tonight, and explains to Jung that the two have been a bit rocky lately.
But Eun-taek runs late with his job and tells the two noonas to have fun together, leaving Bora to drink by herself.
She's surprised to find Eun-taek waiting in front of her house, having gone to the restaurant late hearing belatedly that she'd been alone all night.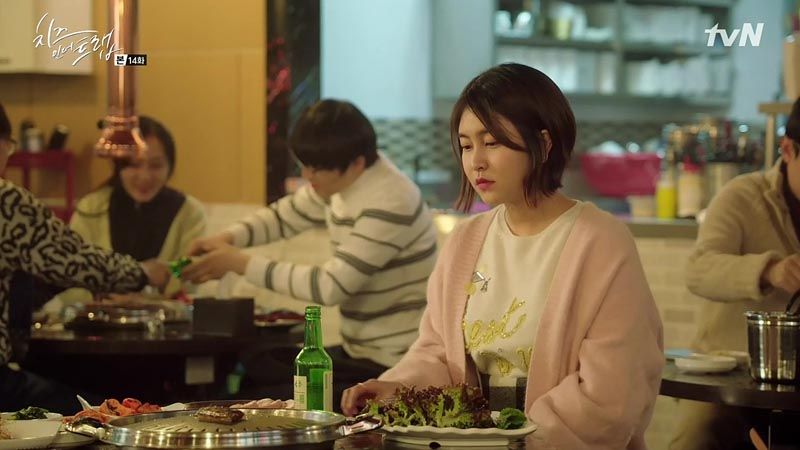 He hands her a box and wishes her a happy birthday, and inside she finds the earrings she'd picked out. She asks about the other noona, and he chides, "Who do you take me for? Why would I give this kind of present to another woman?" He'd only pretended that so he could surprise Bora.
Then Eun-taek looks her in the eye and asks solemnly, "I'll ask for the last time. Will I really not do?"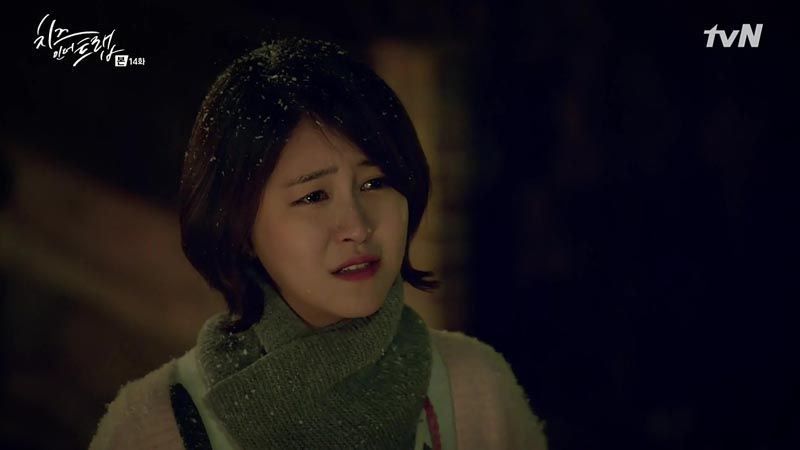 Getting tearful, Bora starts in on her usual line about wanting to be friends forever, but he interrupts: "Then are you okay with me dating other women? That's what it means for us to keep being friends. For me to be with a woman other than you, and for you to be with another man other than me. Are you really okay with that?"
She doesn't have a ready reply, and he turns away looking disappointed. So Bora blurts, "I don't want to split up with you! I want you to keep being with me. That's why I can't date you, dummy. I don't like you dating other women. I don't like you turning into an adult on your own without me. But I don't like being separated from you even more. I really don't know what I should do!"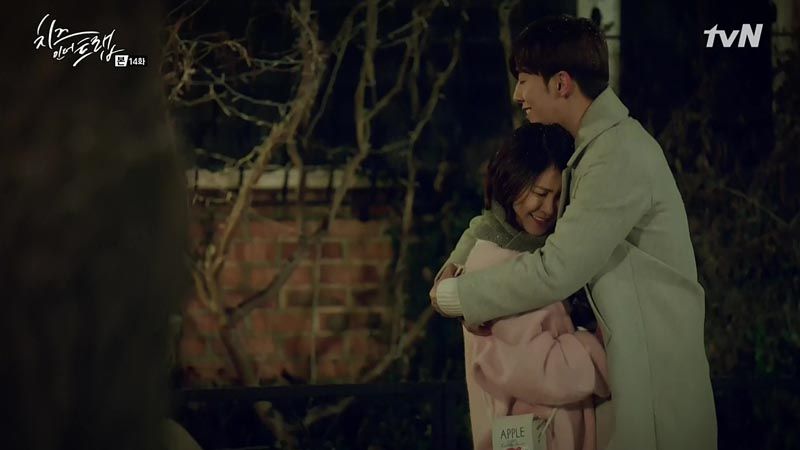 Eun-taek freezes, and then a smile starts to work its way onto his face as he interprets that to mean that she likes him. He takes her hand and promises not to date anyone else, or leave her alone, or even fall ill or die without her permission.
"I'll promise that we'll never break up," he adds earnestly. "So noona, go out with me."
Bora finally smiles and nods, and he pulls her close in a relieved hug. They stand there amidst the first snow of the season, and over in Jung's car, Seol lights up at the sight of snow.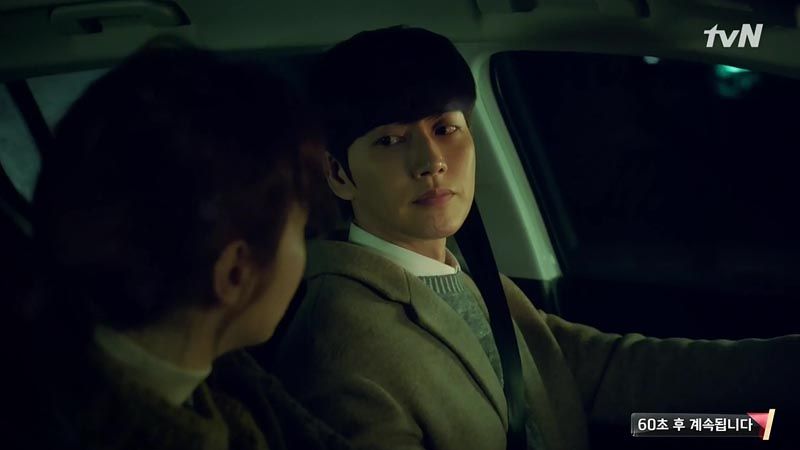 She asks about Sang-chul, having expected Jung to be much angrier. She recalls Sang-chul boasting about getting a full-time position at another company, and asks if he means to give that up for a shot at Taerang, which is a much riskier prospect.
Jung acts as though it's normal for him to be talking shop with Sang-chul, but Seol can't quite figure out his reaction, until it occurs to her that Jung's intention may be for Sang-chul to risk his safe job. Not that he betrays that there's anything else going on.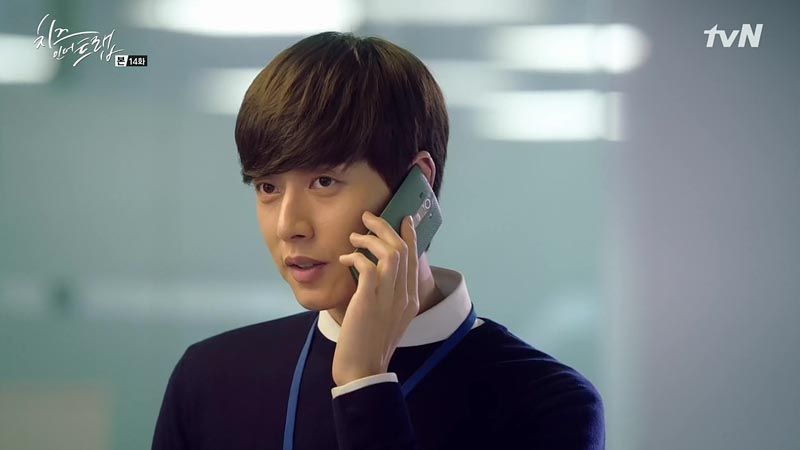 There is a lot more going on, of course. When Sang-chul goes to Jung for advice, feeling nervous about giving up a sure thing to try for something better, Jung plays on his hopes, saying that he'd have things set for life if Taerang worked out for him.
Jung's tone is encouraging and he volunteers his interview notes to help Sang-chul prepare, adding that the company is particularly interested in the Chinese market. He offers his help "any time," but hangs up with a stony look on his face.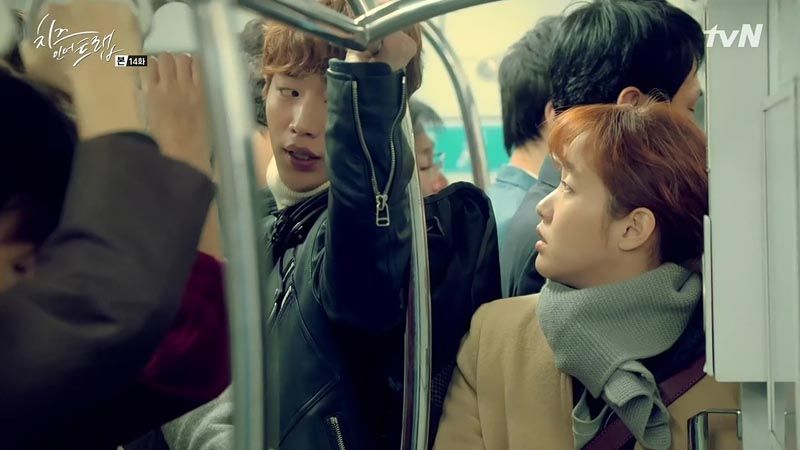 On a particularly beastly morning commute, Seol gets jostled around by the crowd and shoved into the door. In-ho works his way to block her from the crowd, giving her some space to breathe.
In-ho invites Seol to his upcoming competition, and seems almost surprised when she agrees. She tells him she likes his playing and tells him to practice hard.
Then she pulls out his scarf and returns it. He says she doesn't have to, but she replies that she should, "Because it's not mine." Aw, they're not talking about the scarf, are they?
In-ho's left hand continues to bother him, and he pauses frequently in practice to massage it. Uh-oh. Don't break, not now!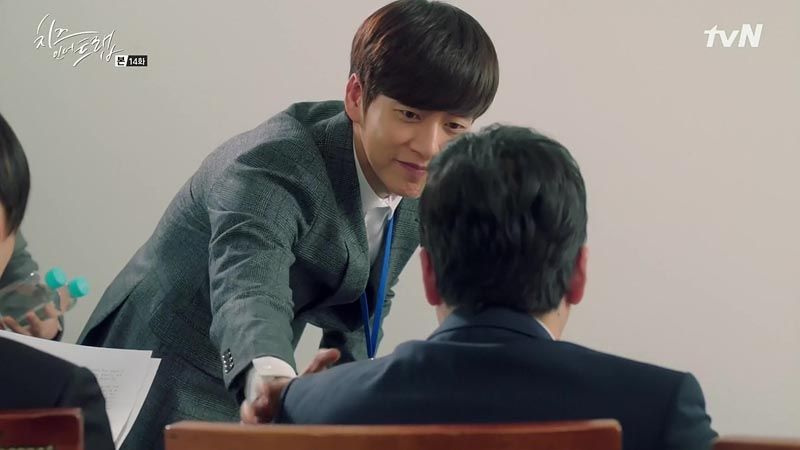 Sang-chul shows up for his Taerang interview, bewildered when he's singled out by one of the interviewers (the one Jung's friendly with) who knows his name. Jung comes by and wishes him good luck, telling him to just do as practiced.
So when Sang-chul is asked about the Chinese market, he comes out strong, citing facts and figures for why Taerang's expansion into China is necessary. The interviewers' faces cloud immediately, however, and he is informed that they've already taken opposite in the opposite direction, noting that he doesn't seem to have a very good understanding of their company. Gulp.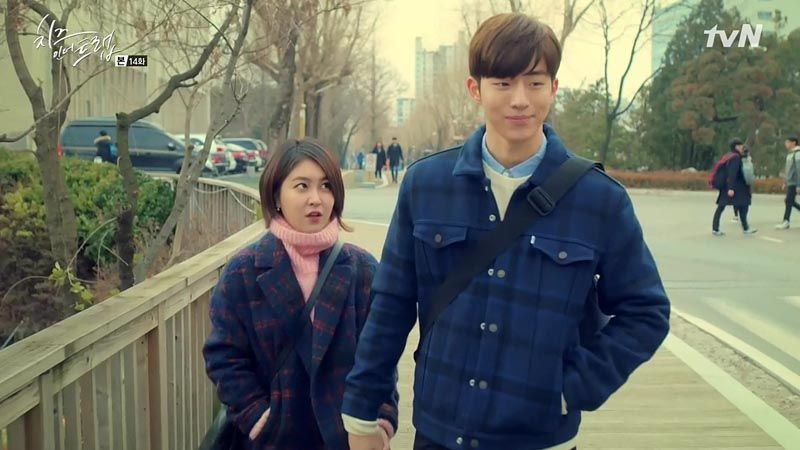 Our newly minted couple holds hands on campus, and Bora's particularly bashful, which Eun-taek teases her about. Seol spots them from a distance, and when she shows up, Bora jumps back and drops hands hurriedly.
Bora tries to act like nothing's different while Eun-taek starts to explain, but Seol interrupts: "Next time, let's double-date." Hee! Now both Seol and Eun-taek tease Bora about her embarrassment, rubbing in all the things she'd said about Eun-taek before that contradict her now.
Sang-chul slinks into school after bombing his interview, and by now word has spread that he stole Jung's notes, so he's left to marinate in his misery alone. Seol's friends have no problem thinking he's just getting what he deserved, but she's plagued by misgivings.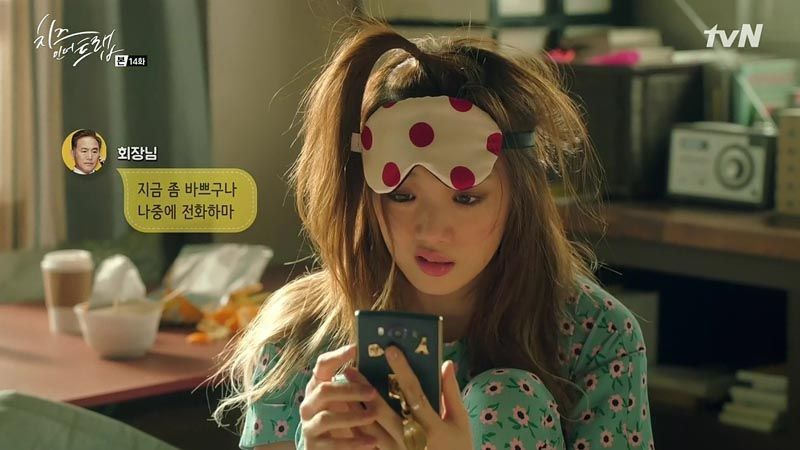 In-ha thinks over In-ho's suggestion to leave together, though she quickly resorts to her usual method of calling Jung's father. Today he texts that he's busy, and when she whines to Jung about turning Dad against her, he advises her to think over her past actions to figure out why Dad's changed.
Seol gets accosted by Sang-chul that night, who insists on buying her a drink. He's contrite and apologetic, and admits that he does have a sense of shame—it's just that he pushes it aside and barrels on out of a sense of self-preservation. Sang-chul explains growing up in a small rural town where people hailed him as a golden boy genius, throwing him a village feast when he got accepted to their prestigious university. But once in Seoul, he found himself a tiny fish in a pond full of people smarter and better than him.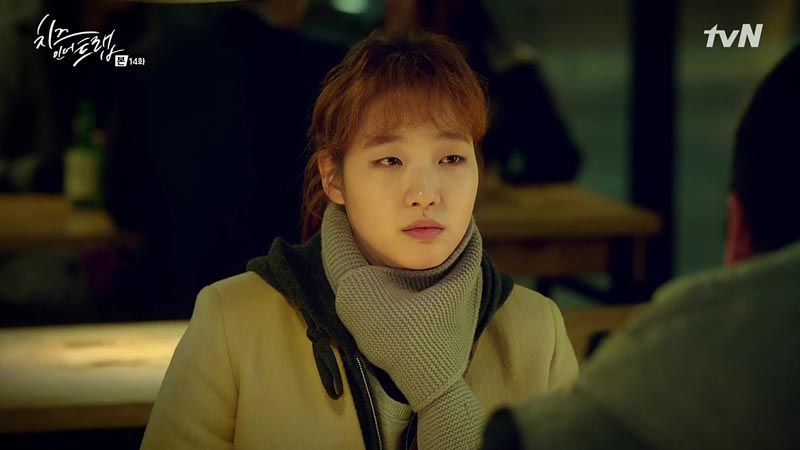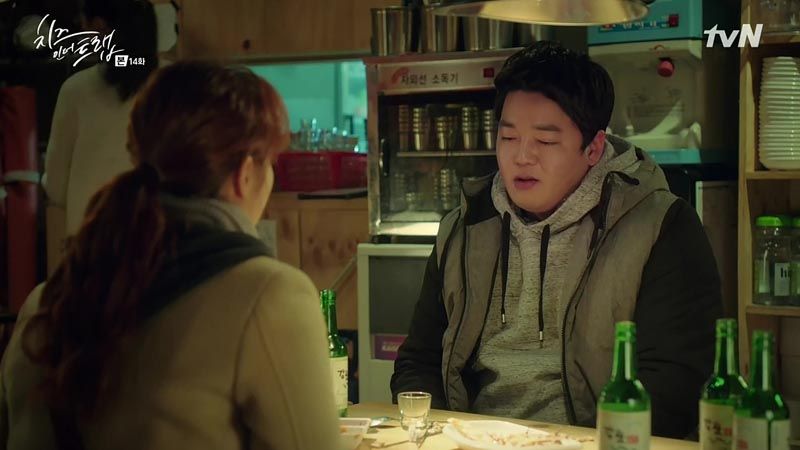 He cries that he truly wanted to go to Taerang despite knowing he's unqualified, and is desperate at the thought of not being able to find a job.
That's when In-ha walks in with their classmate, the nerdy guy she'd once flirted with, who keeps contacting her now. She insists on sitting at Seol's table, and when Jung's name is mentioned, Sang-chul says glumly that he feels bad because Jung went so far out of his way to help him prepare, giving tips and lending his notes.
While Sang-chul rushes to the bathroom to be sick, Nerdy Guy wonders whether Jung is just nice or dumb, and In-ha demands the full story.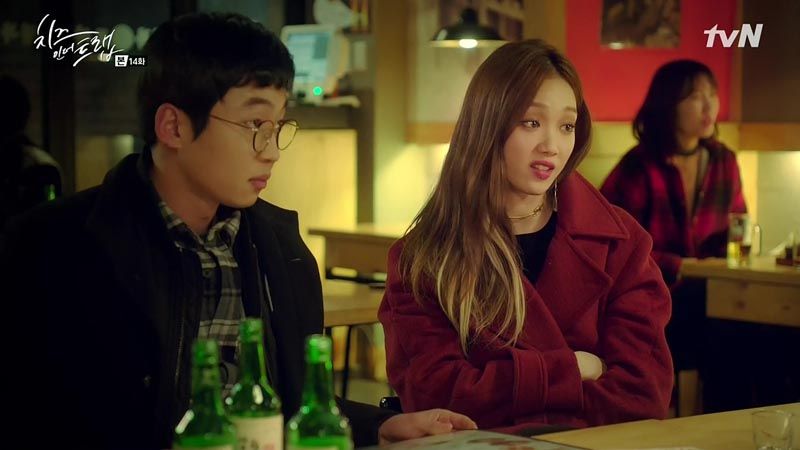 Sang-chul suggests calling Jung to thank him for his help, and In-ha regards him with scorn, saying he's simple-minded to trust that Jung would help him after he'd harassed his girlfriend so much. It's obvious to her what happened: Jung screwed him over.
"Eye for an eye, tooth for a tooth, notebook for a notebook!" In-ha declares. "That's so like Jung."
Sang-chul protests that Jung has no power to do that, but In-ha reveals that he's the chaebol heir. The truth slowly dawns on Sang-chul, who fills with outrage.
As the ladies stare at each other over the table, In-ha guesses that Seol already knew this. "Why are you so disturbed over something like this?" In-ha asks. "There's a whole lot more to learn about Jung. Someone like you can't handle Yoo Jung."
Seol trudges to her uncle's bar for coffee, tired not from schoolwork but because "People's relationships are more difficult than studying." She'd thought that accepting that she and Jung were different would make things better, but instead, they're harder. Uncle chuckles that this is where real relationships begin—you fight, argue, work things out, and become more like each other.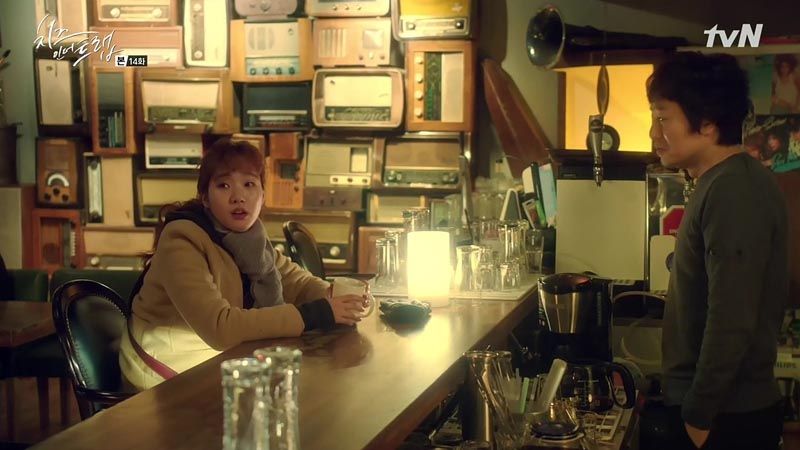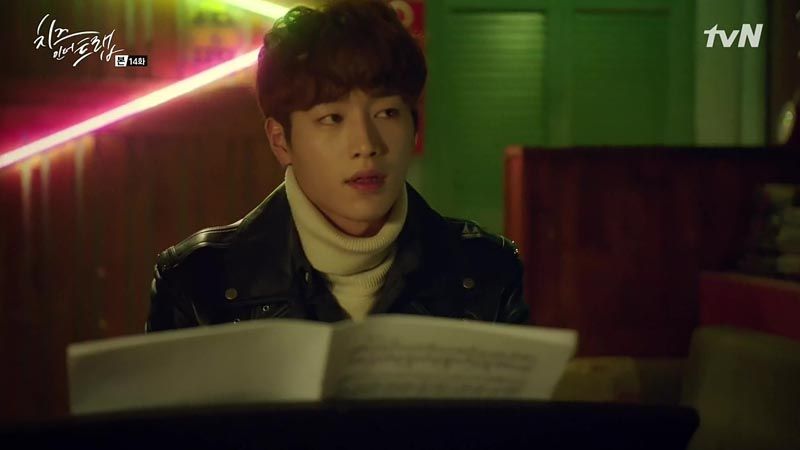 Sitting at the piano in the next room, In-ho overhears the conversation, then starts playing that tune Seol had once requested. (It's Satie's "Je te veux," or "I want you.") He'd once messed up in the middle, but today plays readily.
The next day, Sang-chul barges into the Taerang office screaming Jung's name, accusing him of sabotaging him. Jung tries to leave with him quietly, but Sang-chul keeps bellowing, and worse yet, he outs Jung as the chairman's son. Sang-chul is quickly escorted away, but the damage is done, and the employees begin murmuring.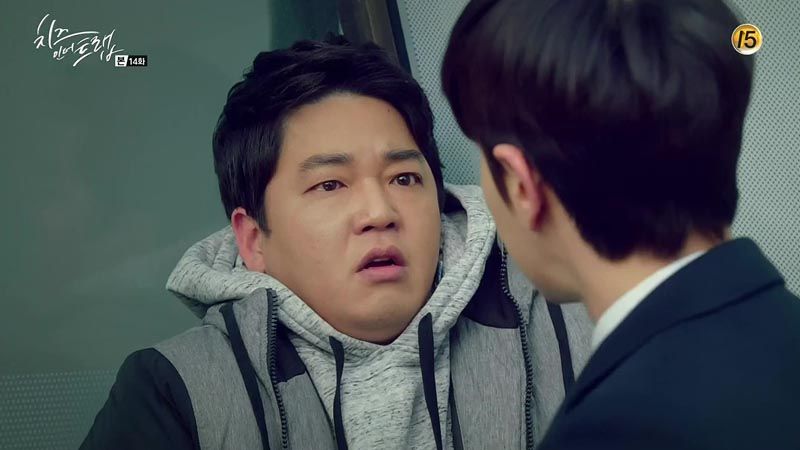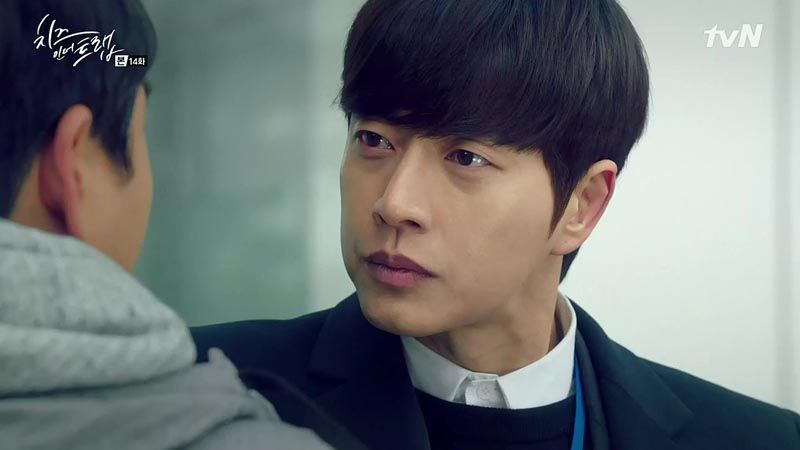 Sang-chul is kicked out of the building, and that's when Jung grabs him, shoving him against the wall, outraged that he'd dare come here and make such a scene. He reminds Sang-chul that he'd been the one to decide to proceed with Taerang, and that it was his fault for not preparing properly. Half-angry, half-unnerved, Sang-chul asks why Jung is doing this—is it just because of that measly notebook?
Jung takes issue with that, saying Sang-chul considers his things precious and everyone else's things as trifling: "Shouldn't you feel it yourself—what it feels like to lose a measly job opportunity?"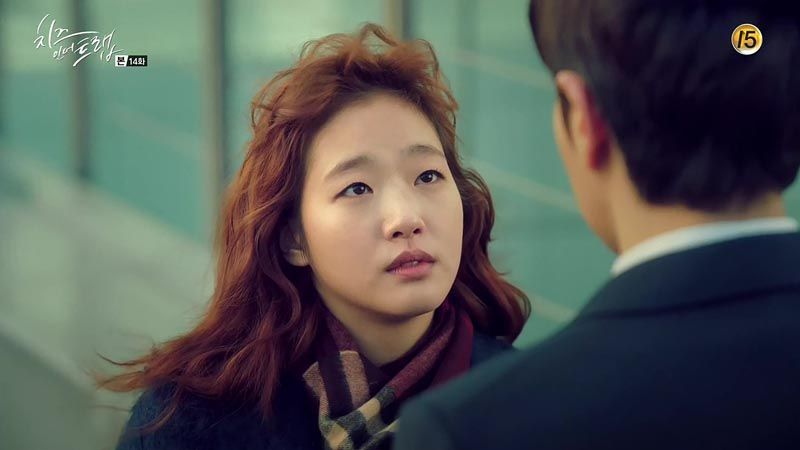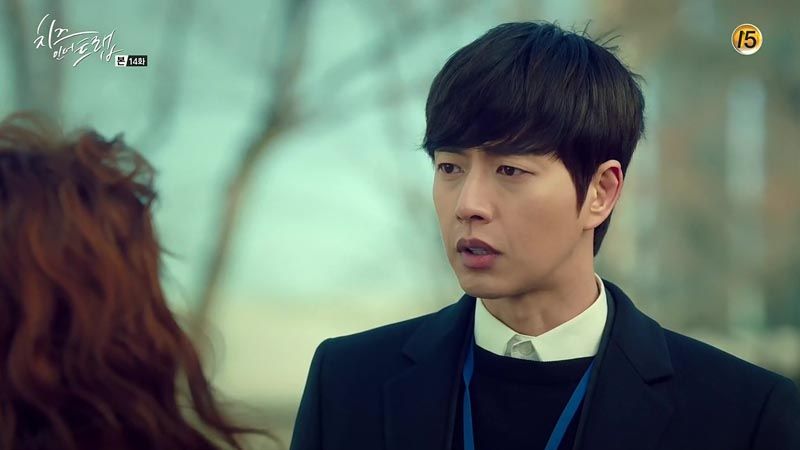 Jung leaves him spooked, and heads back toward the building… where he comes face to face with Seol. She's here after having no luck trying to reach him, and he freezes to see her. Are they going to have another fight?
But to his surprise, Seol simply steps forward and wraps her arms around his waist.
"Don't say anything," she says. "I know what happened, and why it happened. And I also know how you must be feeling now. So don't feel uneasy. I won't run away."
She holds him close. He wraps his arms around her and holds her closer.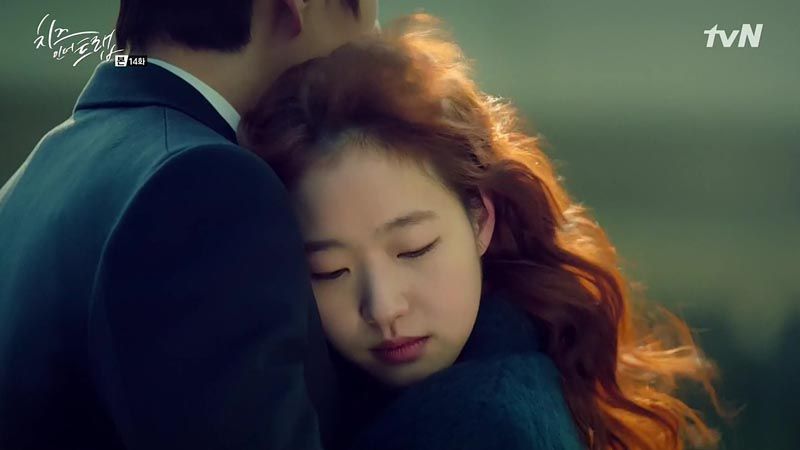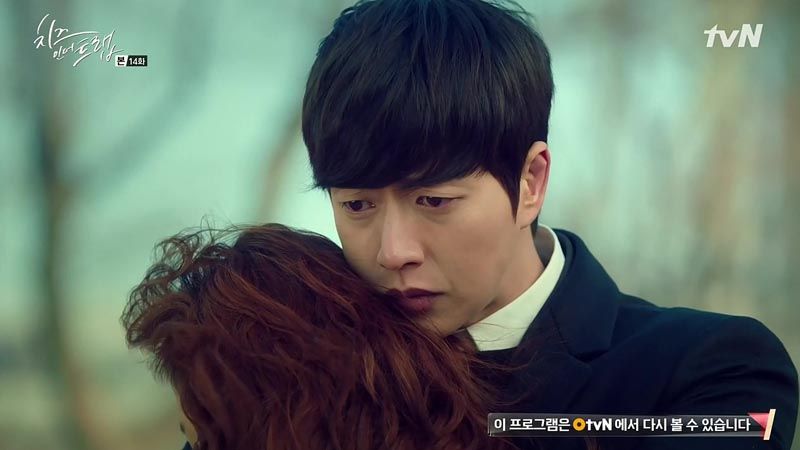 COMMENTS
I'm super relieved that this situation resolved differently than it looked like it might, not just because I want Jung and Seol to be happy, but because this pattern is starting to feel too familiar. I like that their differences aren't easily fixed with one argument, as though having one meaningful conversation could be the magic fix to a major relationship obstacle or a lifelong personality trait. And I also like that the drama has been good about differentiating each time Seol and Jung have this conflict so that each situation has its own nuances.
It's just, at a point you get a little fatigued with the same issue cropping up, and the characters reverting to their old ways. I certainly understand that in real life this is what we do, and that real people are much less likely to change their ways for good within the time spanned in sixteen episodes. But it was a major, major relief for me that Seol took a different approach today, and addressed the underlying fear first—that she would leave Jung over it—and offered comfort. I'm sure she'll talk it out with him and not just let it go at this, but it was lovely to see the understanding come first.
It's part of the reason I love Seol so much, both as a character and as a person. It's admirable that she doesn't just decide on a truth and stick to it—she's open to self-examination, and very attuned to the need to adapt and re-evaluate her thoughts as necessary. It's that trait that has gotten her walked over in the past, but we've also seen her figuring out a balance point between being a good person and standing up for herself, so I don't worry that she'll relapse.
I like that we can credit Jung for a lot of that growth, both in challenging her to acknowledge this trait in herself and in showing her a way to address it. If you look at Cheese one way, it can almost seem one-sided, in that Seol is teaching Jung things and helping him heal his scars—she gives and he receives. But I don't think that's quite right, and when you look at it another way, you can see them more as two opposites—they're the same type of person in the way they are used to being taken for granted, but they react to those scenarios in very opposite ways. And over the course of their relationship, they're slowly finding their way toward each other—somewhere between them is a healthier middle ground. It's a nice thought to consider that their emotional growth and movement coincides with the movement of their hearts toward each other. Maybe that's not even coincidence.
RELATED POSTS
Tags: Cheese in the Trap, featured, Kim Go-eun, Park Hae-jin, Seo Kang-joon