Cheese in the Trap: Episode 15
Man, I go away for one week and Cheese implodes. I don't know if it's due to recent controversy over Park Hae-jin's airtime, but at least the focus is back on Jung in this episode. Perhaps it's too little, too late, but at this point with one more episode left to wrap up our story, I'll take what I can get, even if things do go a little crazy.

SONG OF THE DAY
Tearliner feat. Kim Go-eun – "이끌림" (Attraction) for the Cheese in the Trap OST [Download]
Audio clip: Adobe Flash Player (version 9 or above) is required to play this audio clip. Download the latest version here. You also need to have JavaScript enabled in your browser.

EPISODE 15 RECAP
In the aftermath of Jung's revenge against bully sunbae Sang-chul, Seol tells Jung that she understands why he did it. She says she can't judge him because she's felt the same way towards Sang-chul herself, and knows that he did all this for her.
He takes her hand quietly, and Seol says, "At one point, I began to think, 'It's okay as long as Sunbae isn't like that to me.' But you know that hurting someone means that it'll come back to you. I'd like it if you didn't do that to other people. You're such a good person to me—you could be that way with other people too, yes?"
So glad she finally said it point-blank. He doesn't answer, but gives her the faintest little smile.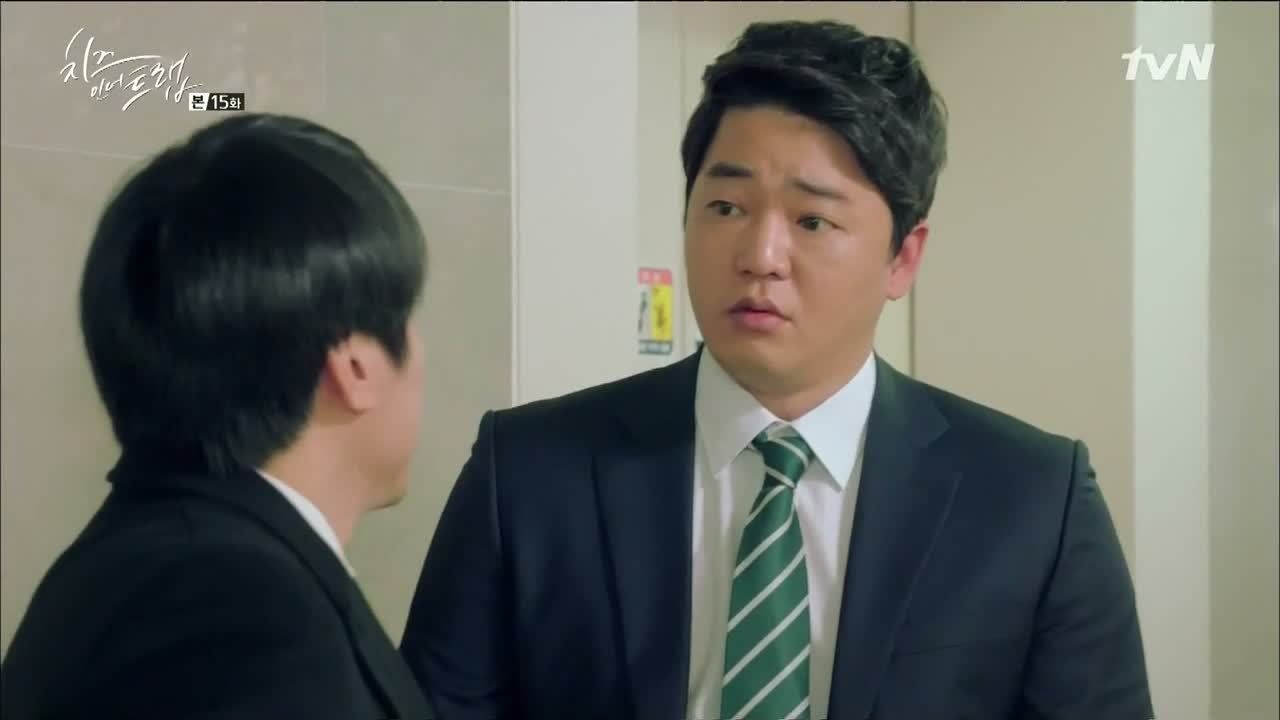 In-ha gleefully takes credit for letting Seol know about the whole Sang-chul scheme, and tells Jung that this is what happens when she opens her mouth. She's expecting some kind of reaction from him, and when she doesn't get one, she calls to try and speak to Jung's father.
Sang-chul gets woken up early in the morning and rushes into work, surprised that the small company he initially interviewed with is willing to take him back. His sunbae there assures him that he covered for his absence the other day, and mentions that he didn't know Sang-chul had a connection to Taerang Group. Neither did Sang-chul.
The gossip mill at school is already churning with the news of Jung's chaebol background, and mean girl Da-young is especially catty about it to Seol, openly accusing her of approaching Jung because she knew he was rich.
Everyone's heard about Sang-chul as well, and Bora says strangers have been coming up to her all day asking about Seol and Jung. Seol tries not to let it get to her, and her friends promise to act normal around Jung so that he doesn't find out how much people are gossiping about him at school. Seol stops in her tracks when she notices Bora and Eun-taek wearing couple rings, and says they should've started dating eons ago.
Jung isn't able to escape the gossip mill anyway because news has already spread at work that he's the chairman's son. Immediately women begin to sidle up to him with lunch invitations, and sunbaes bring him coffee to ask for favors. Sigh.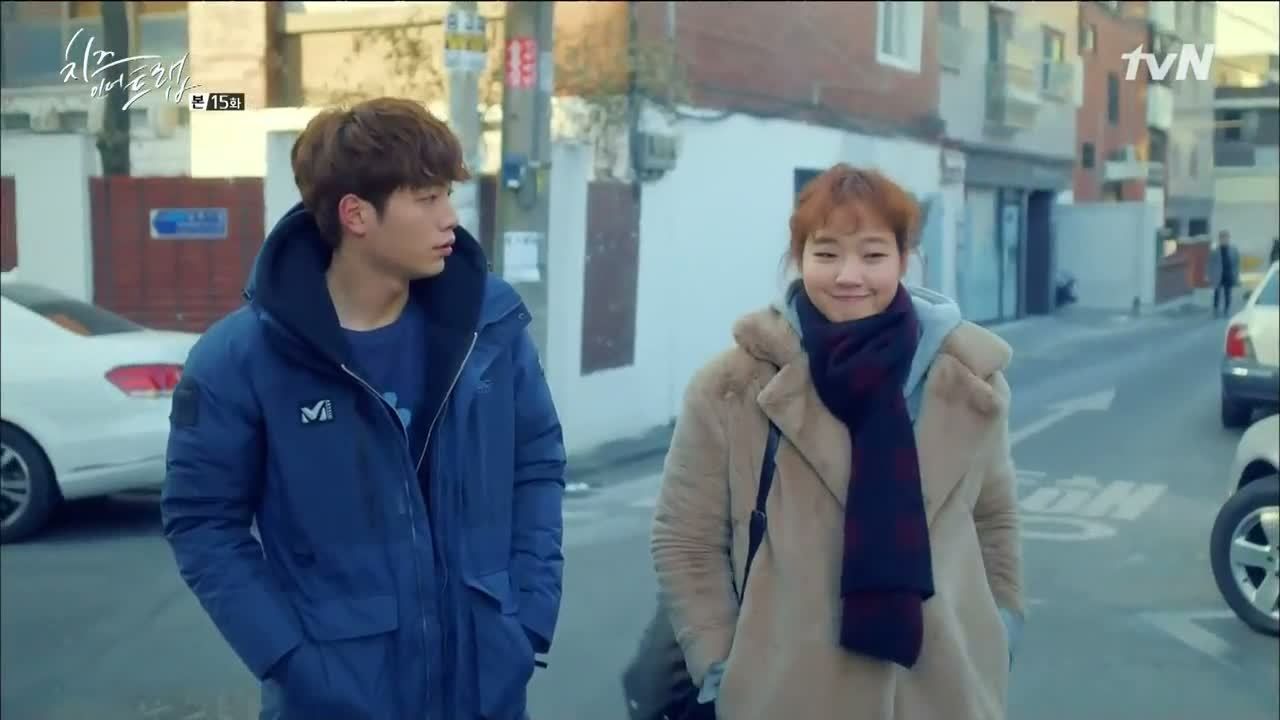 When Seol sees In-ho approaching across the street, she instinctively hides… then remembers his request to be normal for just a month. She tells herself that he's more uncomfortable than she is, and runs up to him with a slap on the back. He's shocked at first but they return to their old banter in no time, and In-ho tacks on a little "Thanks." Aw.
Seol arrives at school to find Jung surrounded by their classmates, who are only too happy to fawn over him in person. She quickly interrupts to take Jung away by the arm, but Sang-chul comes up wanting to speak to Jung in private.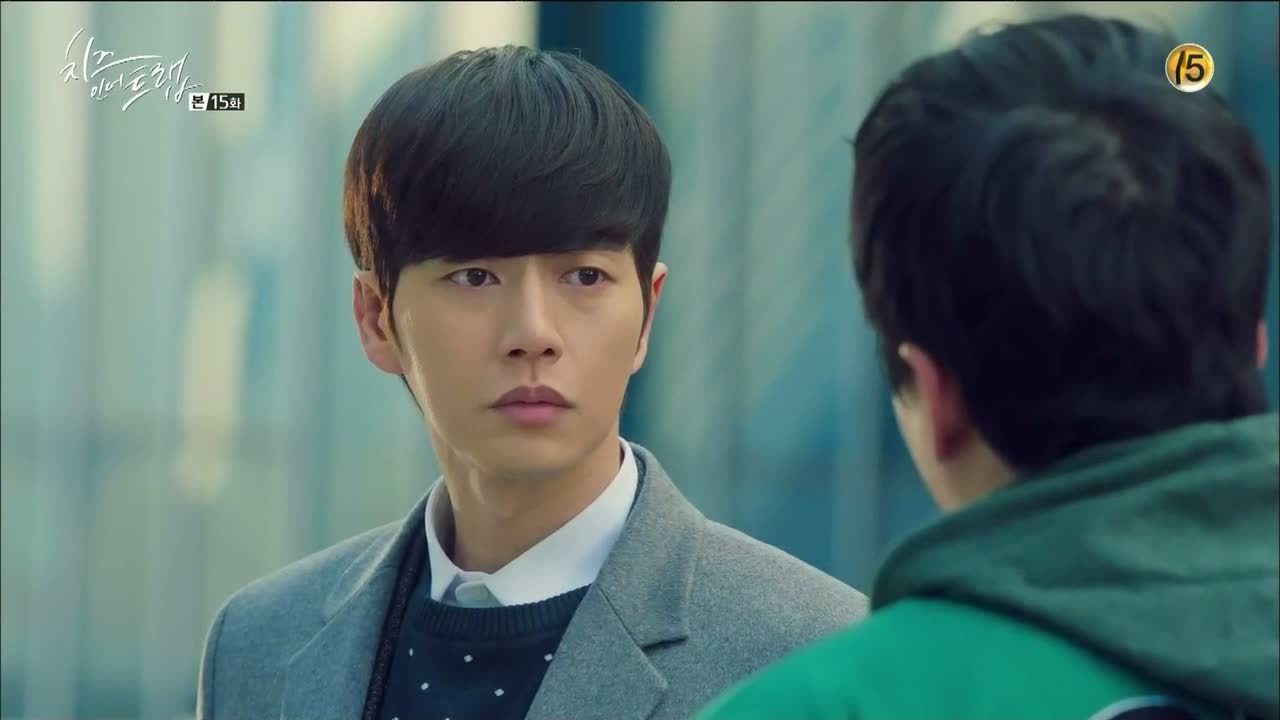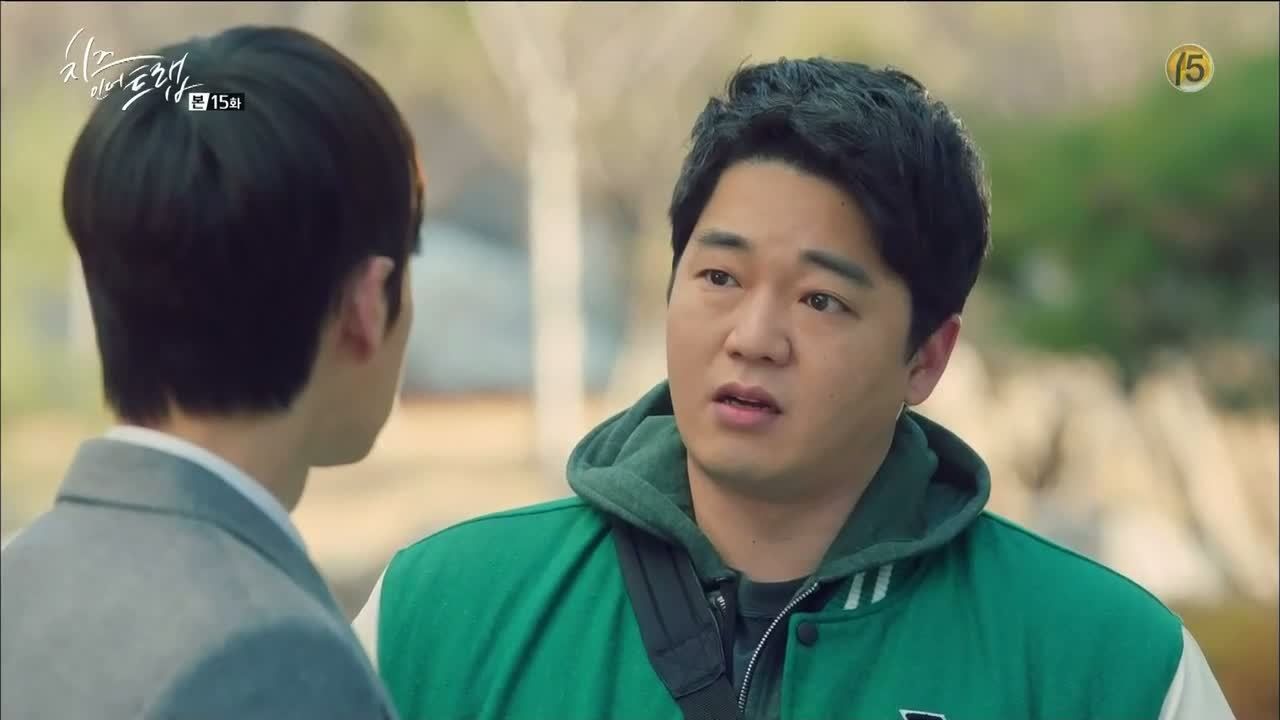 Sang-chul knows that Jung had Taerang make a deal with his new company on the terms that they'd re-hire him, but Sang-chul says it's not exactly a thing he can be grateful for. Jung doesn't seem all that interested in the conversation, but Sang-chul makes an impact when he tells Jung that everyone can see through his façade, and that he doesn't hide everything as well as he thinks he does.
Sang-chul tells him that everyone knows how Jung sees them and judges them: "You're not the only one who's seen us; we've seen you too. So don't just put up walls and look down on people. Because among those people are some who sincerely wanted to be friends with you." Sang-chul figures they won't be seeing each other again, and says he's sorry before walking away.
On their way home that night, Seol mentions her relief that Sang-chul was re-hired at his company, and Jung says nothing about having made it happen. He asks if she'll go on a trip with him during her break since they'll both be busier when she's a senior, and Seol agrees happily. He worries about her getting permission to stay out overnight, but she says everyone just lies about that stuff to parents.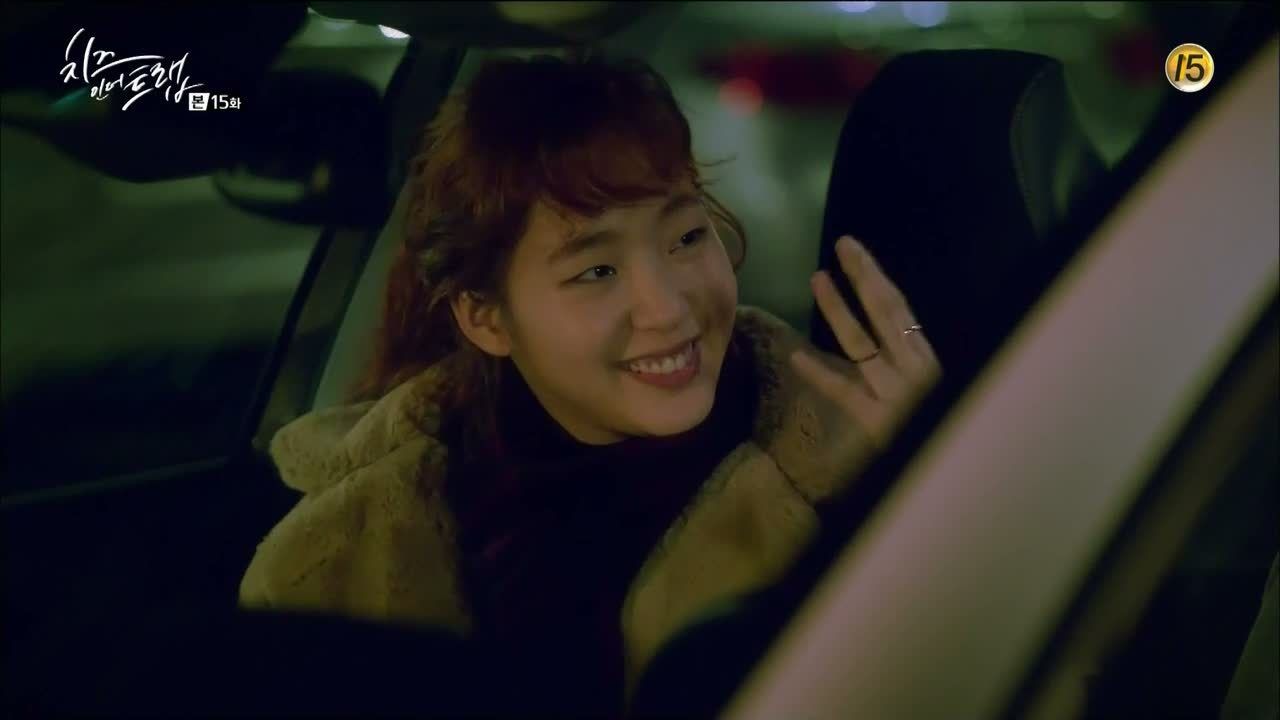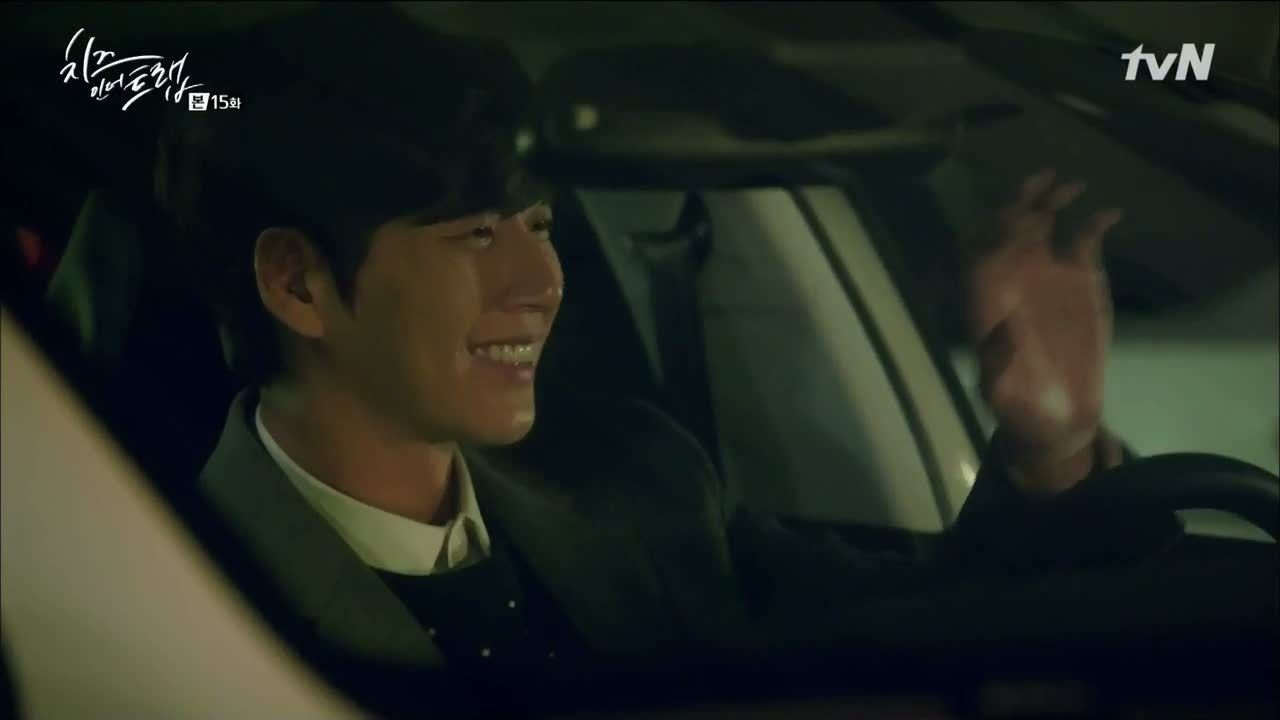 When they reach her house, Seol asks to see Jung's hand, and takes out a ring to put on his finger. She squeezes it on and beams when it fits, and says in her adorable rambling way that they've been dating for six months and he hasn't even bought her a ring, so she just went and bought them herself. That's so cute.
She shows off the matching couple ring that she's already wearing, and he lights up. He doesn't say anything though, so she starts to get nervous, but he says it's just because he's so thankful. He asks what he should get for her, and she just asks him never to take it off or lose it.
Then she looks around furtively before planting a kiss on his lips and runs off before he can even react. Jung just sits in his car smiling at his ring and looking the happiest I've ever seen him.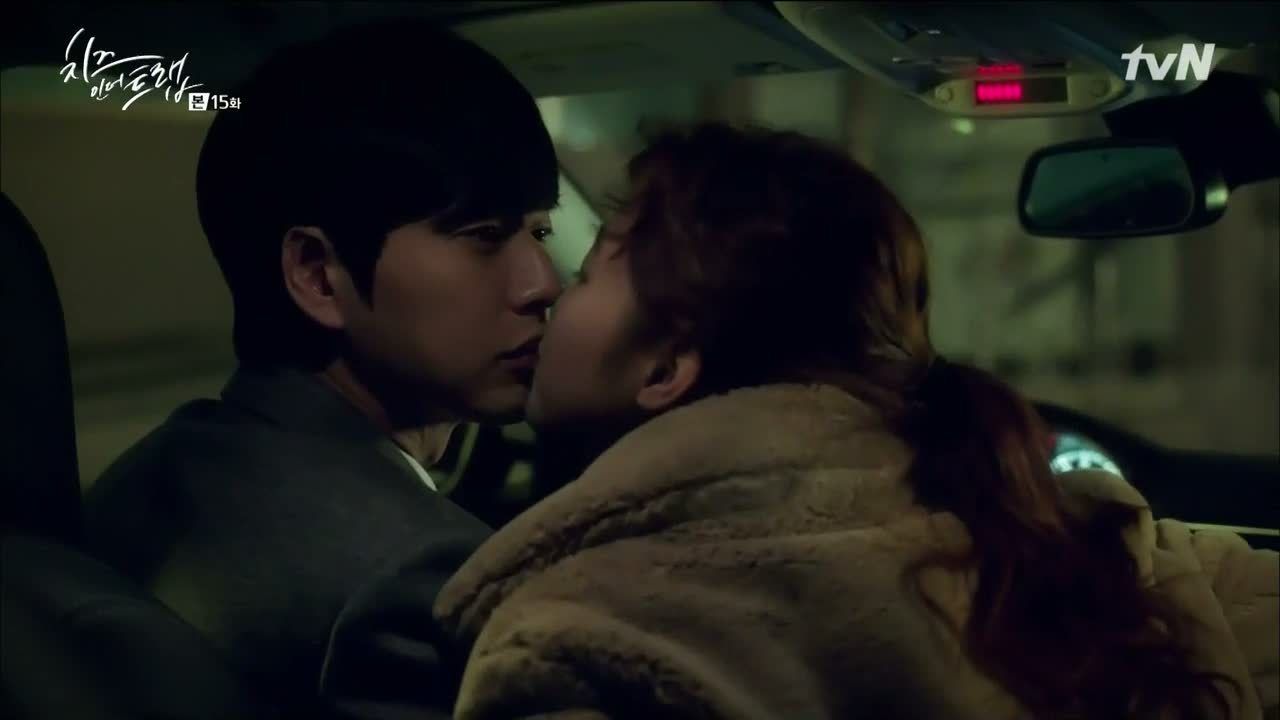 The next morning, In-ho wonders why In-ha is dressing up so nicely like she's going on an interview, and she says it's something close to that. She's really headed to see Jung's father, probably to do something regrettable.
In-ho goes to practice in the auditorium today, which his teacher borrowed for an hour at his request. His hand continues to bother him though, and when he pauses, his teacher's other student claps. He says that he looks up to In-ho, and mentions that he'll be on the judge panel for the competition. He notices In-ho's hand but leaves quickly to let him practice.
In-ho's hand is bothering him enough that he finally goes to see the doctor about it. The doc says that the metal pin they put in his hand has an infection, and asks if he's gotten any cuts or scrapes recently. The fight with Jung flashes through In-ho's mind.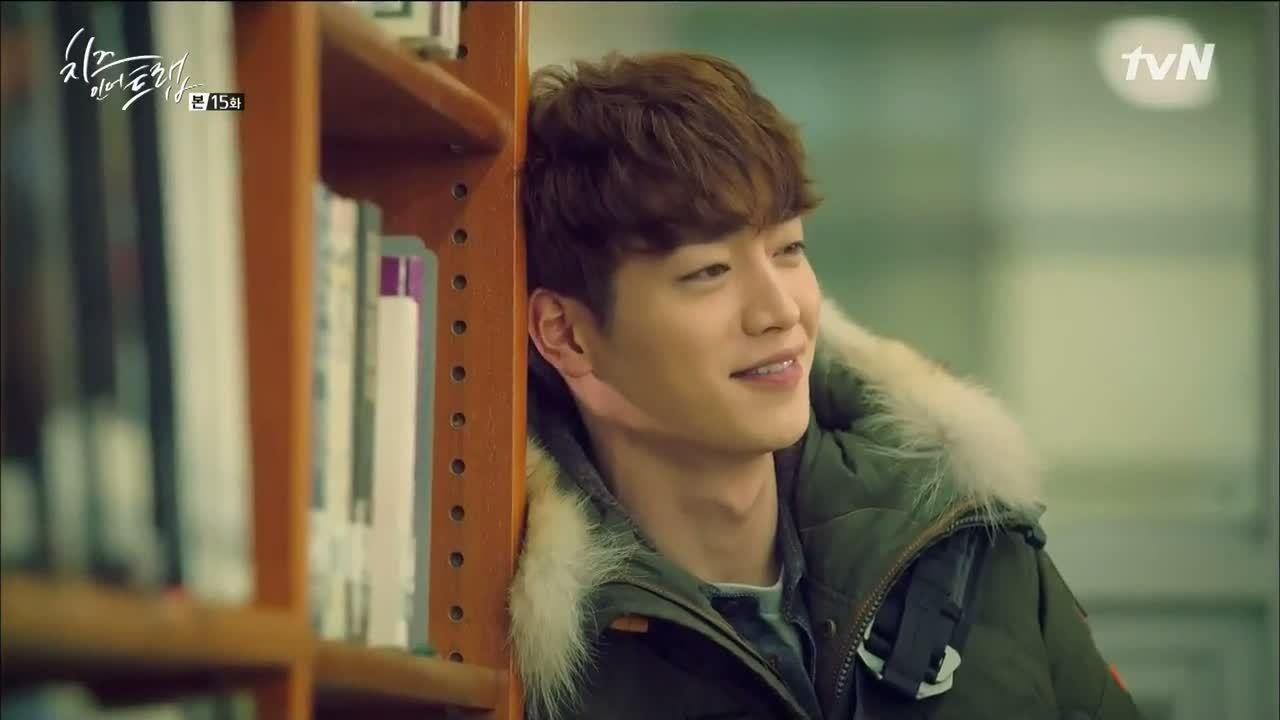 The doc says it's an easy fix with a quick surgery, and he'll be back to normal. Except he'll need two month's recovery time after the surgery, and until then, he's not to strain his hand. Augh, nothing ever goes right for this guy.
In-ho goes to the library to gaze at Seol from far away, and he's immediately in better spirits at the sight of her. He chuckles to see her falling asleep, and when she gets up to go get coffee, she finds a coffee already waiting at her seat.
In-ha goes to Chairman Yoo as planned and tells him all about Jung's new girlfriend, acting like a worried friend. She says that Seol approached Jung knowing about his wealth, and that the recent events surrounding Sang-chul were at Seol's request. You evil troll.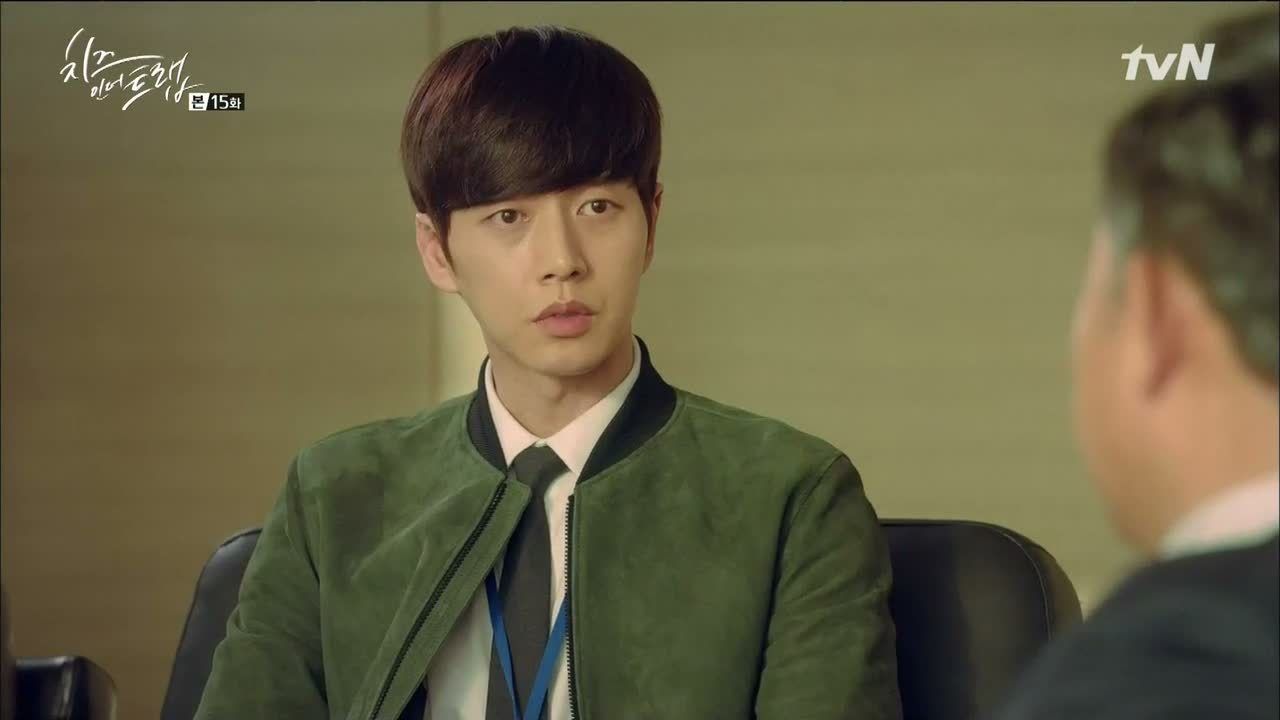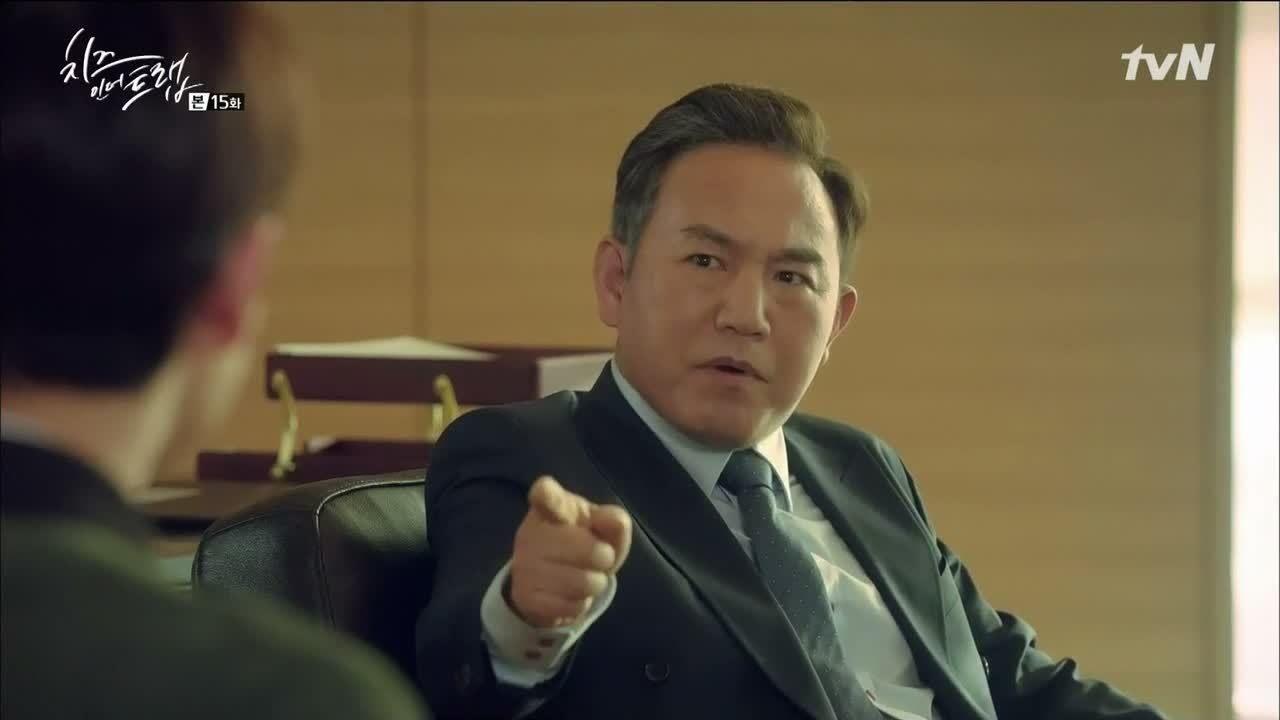 Jung spots In-ha leaving the building, and soon after he gets called up to see Dad, who's bought In-ha's version of the story hook, line, and sinker. He doesn't even bother trying to hear Jung's side, and tells him to break things off with his girlfriend and prepare to go work for the Europe office soon. Ack, no!
Jung knows right away that this was In-ha's doing, but Dad refuses to believe Jung, thinking that Seol is the reason that he's been talking back and giving him attitude lately. He says that the launch party for their cosmetics brand will be the last thing he does before being transferred abroad.
This takes us to a flashback to Jung's childhood, where he was at a party with Mom and Dad. He'd made a little girl cry by pushing her, and Dad scolded him for retaliating and making a public scene. Jung was told to smile in front of people no matter what, and go play with the girl.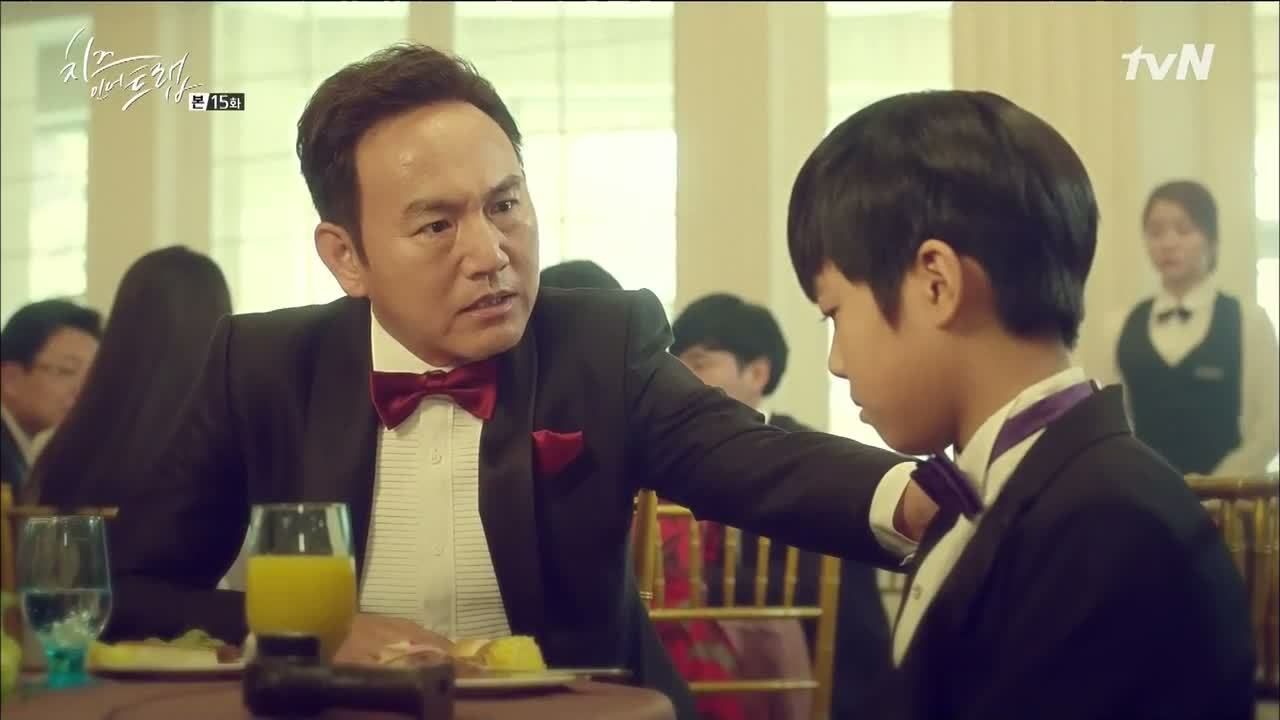 So Jung smiled and offered to play with her like she wanted, but when they got outside, he knowingly passed her a cup of juice that he saw another kid spike with wine.
Jung's dad had consulted a professor about Jung, worried that he might've passed on his anger issues to his son. The professor said that Jung didn't display any anger, but that worried him more—Jung was expressing his anger in his own quiet way, and if that continued, he would have a hard time making any sincere connections to people. His recommendation was to give Jung siblings. Well that explains why Dad was so eager to adopt In-ho and In-ha.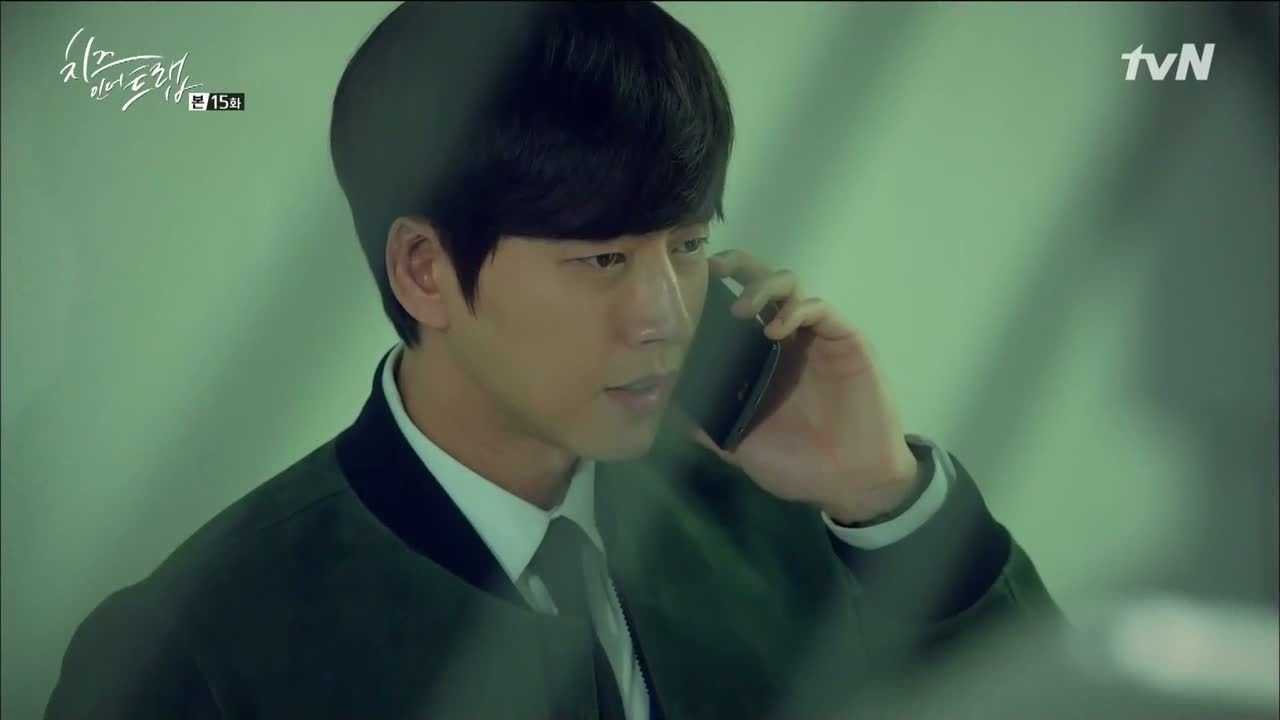 Back in the present, Jung calls In-ha, temper flaring. He says he's already let things slide once before, but In-ha says she interpreted that as him letting her continue. He says he's out of patience with her, but she retorts that she's long been out of patience too, and says she'll see him at the launch party. Later that night, Jung calls a coworker to add some names to the party invitation list.
Seol sees her brother Joon just lying around in bed looking depressed and wondering what to do with his life. She tells him to think about what he wants to do after college instead of what he wants to study, and reminds him that he's smart and talented, and needs to find his dream instead of just following Dad's dreams.
Joon heads to campus looking for Ah-young, and when he sees her with a few art sunbaes, he introduces himself as her boyfriend. It doesn't really help his self-esteem when she's busy working on an exhibition, and he's just killing time doing nothing. He can't even bring himself to ask her to the movies and shoves the tickets back in his pocket.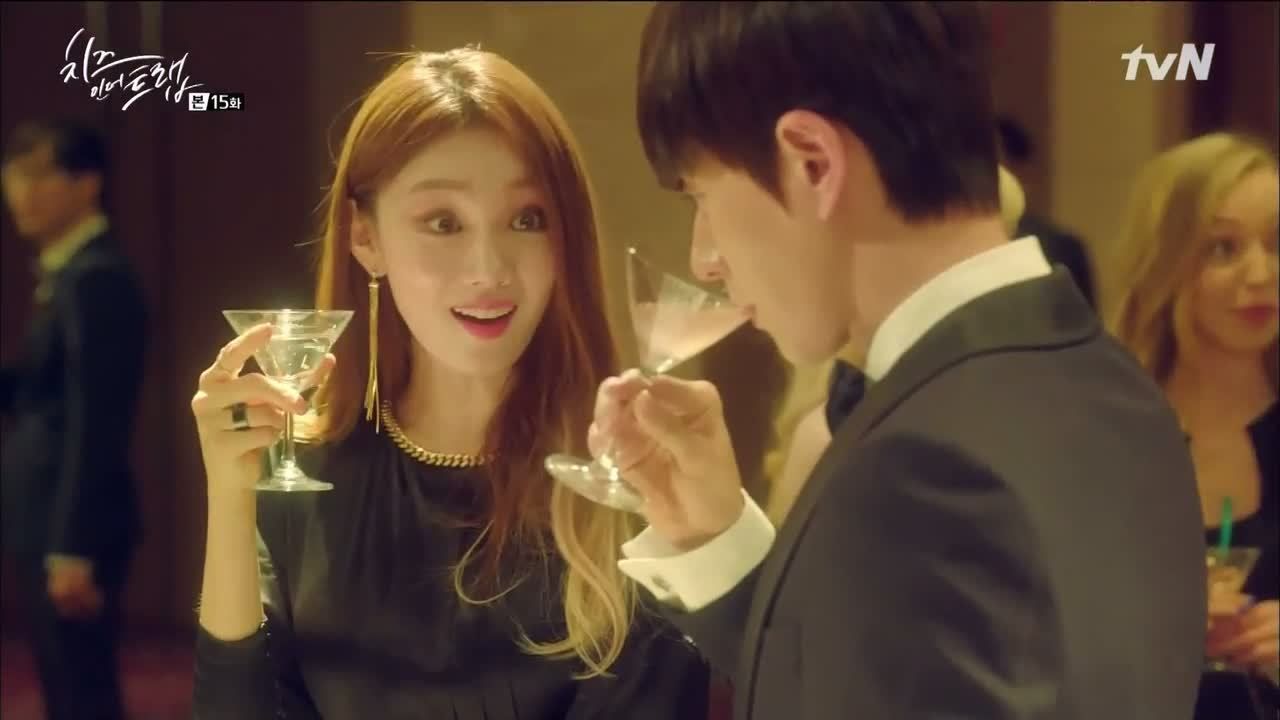 In-ha gets all dressed up for the launch party and balks when Nerdy picks her up in a small domestic car, muttering to herself that she thought he was richer than this. He asks how she knows Jung, and she tells him they grew up together and the chairman thinks of her as his daughter.
When she walks into the party, Jung is surprisingly pleasant. In-ha sighs happily and says this is where they belong. She figures that Jung got into a lot of trouble with Dad and offers to smooth things over, saying that the chairman will melt with one word from her.
One of In-ha's exes walks up to her and wonders how she got into such an exclusive party, asking what sucker she's lured this time. She scoffs that he's too high up for the son of a middling company like him to touch, and that's when another ex walks up. The two guys know each other, and Second Ex says he played with her for a while because she was pretty, but she didn't know her place. First Ex asks how many men she's seduced for money, and In-ha throws her drink in his face.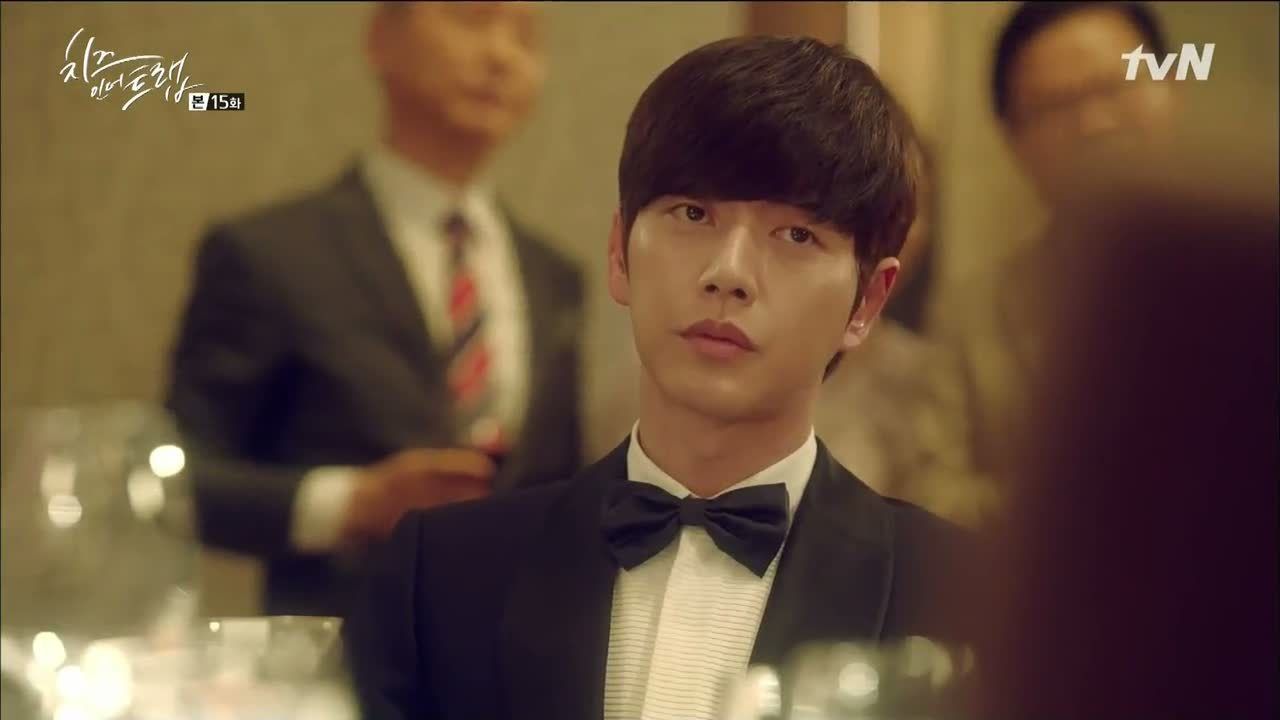 They each grab her by an arm and demand an apology, creating a huge scene. She shouts, "Do you know who I am? I'm Taerang Group Chairman Yoo's daughter! You're the ones that don't know your place!"
But as she's saying it, Chairman Yoo orders the security team to escort her out, and doesn't even glance her way as she's dragged out of the party screaming, "Ajusshi! Ajusshi!" Jung just sits back at his table and watches with a satisfied look on his face, and In-ha gasps when she sees her two exes walk up and thank Jung for the unexpected invite.
In-ho is shocked when he comes home to find In-ha sprawled out on the floor, looking like something out of a Tim Burton movie. She looks like she's not all there, and all she can mutter is that she's going to kill Jung.
Jung leaves the party to take Seol home from school, and they're both giddy with excitement over their trip tomorrow, after her last exam. Seol says she told her parents she'd be with Bora, and Jung laughs and asks what they would've done without Bora. They adorably hold hands and Jung gives her hand a little kiss.
In-ha tells In-ho about the party, and still can't fathom why Chairman Yoo was so cold to her and didn't say a word. She decides that there must be some sort of explanation and that she'll go over there to ask him. In-ho stops her and says that they're just pets to that family, there to play a role and nothing more.
She doesn't believe him, insisting that Chairman Yoo wouldn't do that to them. He begs her to snap out of it, finally screaming, "Noona! Please, get it together. I'm begging you. If you're like this, what am I supposed to do?"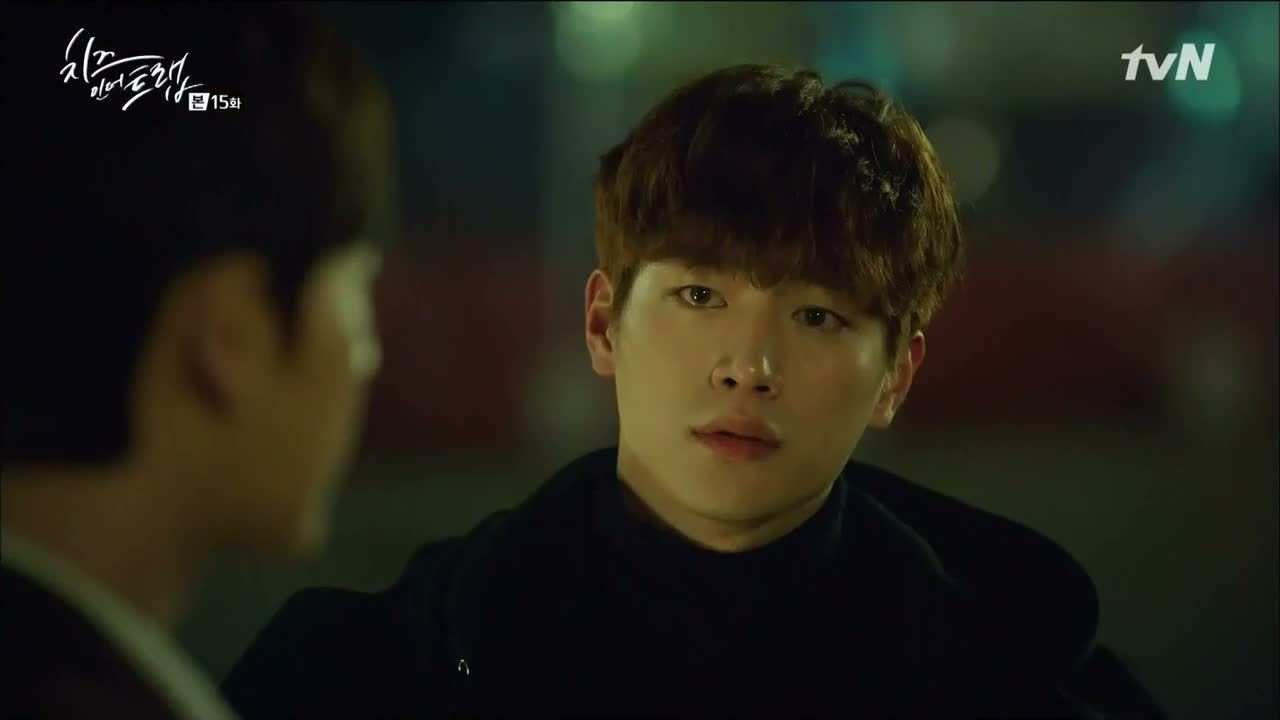 In-ho goes looking for Jung outside his building and demands that he get out of the car. He asks if Jung did this to In-ha because he wouldn't leave Seol, and offers to get lost like Jung asked, begging him to leave them alone. But Jung asks them to leave him alone, and says that if In-ha mouths off about Seol one more time, he doesn't know what he'll do.
In-ho has no response to that, and wonders what his sister did to Seol. In-ha wakes up the next morning to find medicine on her nightstand, and she pauses to look at herself in the mirror. There's an eerie beat where she starts fixing her hair as she says aloud, "I can't lose, not like this. Not after what I've done to protect it."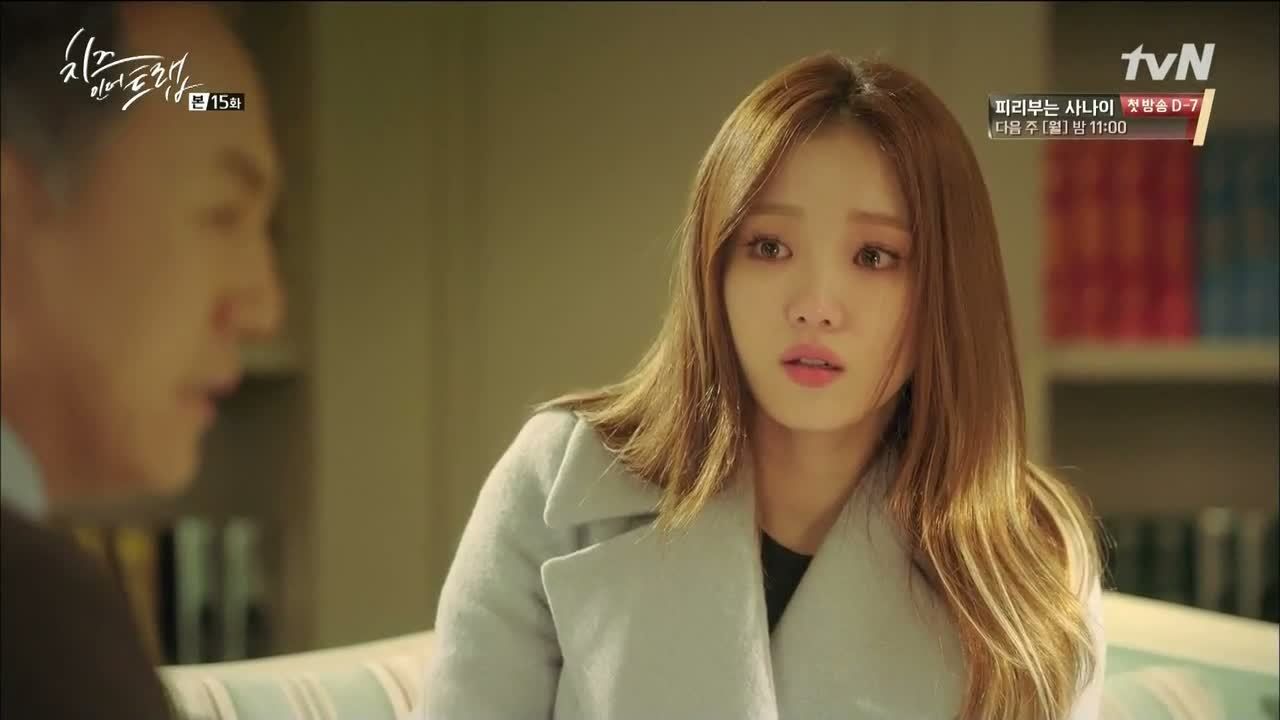 She cleans up and goes to see Chairman Yoo, acting cheery and insisting that this was all a misunderstanding. But he's firm with her and asks if she didn't think it would come out eventually if she's been dating the sons of families they all know. She asks if Jung said that about her, and says defensively, "Don't trust Jung's words. You know he's strange."
Chairman Yoo flares up at that and asks if that's how she's seen Jung all this time, and wonders if she hasn't been saying these things elsewhere. He calls it a mistake to have brought her and In-ho into this house in the first place, and In-ha is genuinely shocked, having believed all this time that they were considered family.
Chairman Yoo says that's when he thought they might be of help to Jung, but he doesn't see why he would take them in when they're causing more harm than good now. He tells her that it would be best to end their relationship here, and tells her not to call or come by anymore. She leaves the house in a daze, muttering, "I'm going to kill that bastard Yoo Jung."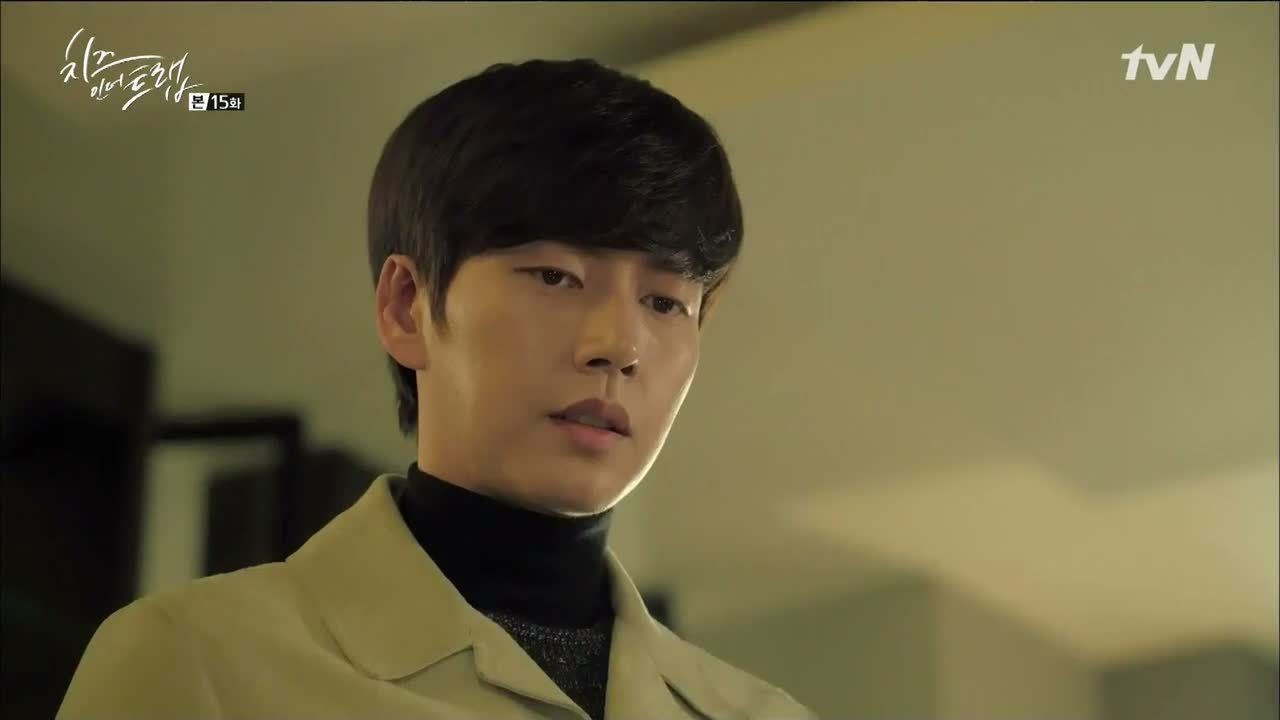 Seol finishes her last exam and happily heads off to meet Jung for their overnight trip, and he packs his bag too. But In-ha shows up at his door, pounding at it so hard that she's probably going to break it down. She eventually does, and stomps in to slap Jung across the face.
He asks how low she plans to go, but she says she's got nothing else to lose and asks if he really doesn't know why she's doing all this. She says he's acting this way now because of Seol, but In-ha insists that no one knows him like she does, and no one will understand him like she does. Jung: "So what if you understand me—does that mean I have to love you?"
Since when is this even a question? Whatever. He suggests that they not see each other again because that's best for both of them. At that, she starts trashing his place in a hysterical tantrum, beginning with the picture of Jung and Seol. She screams that he can't throw her away like this, not after everything she's done for him.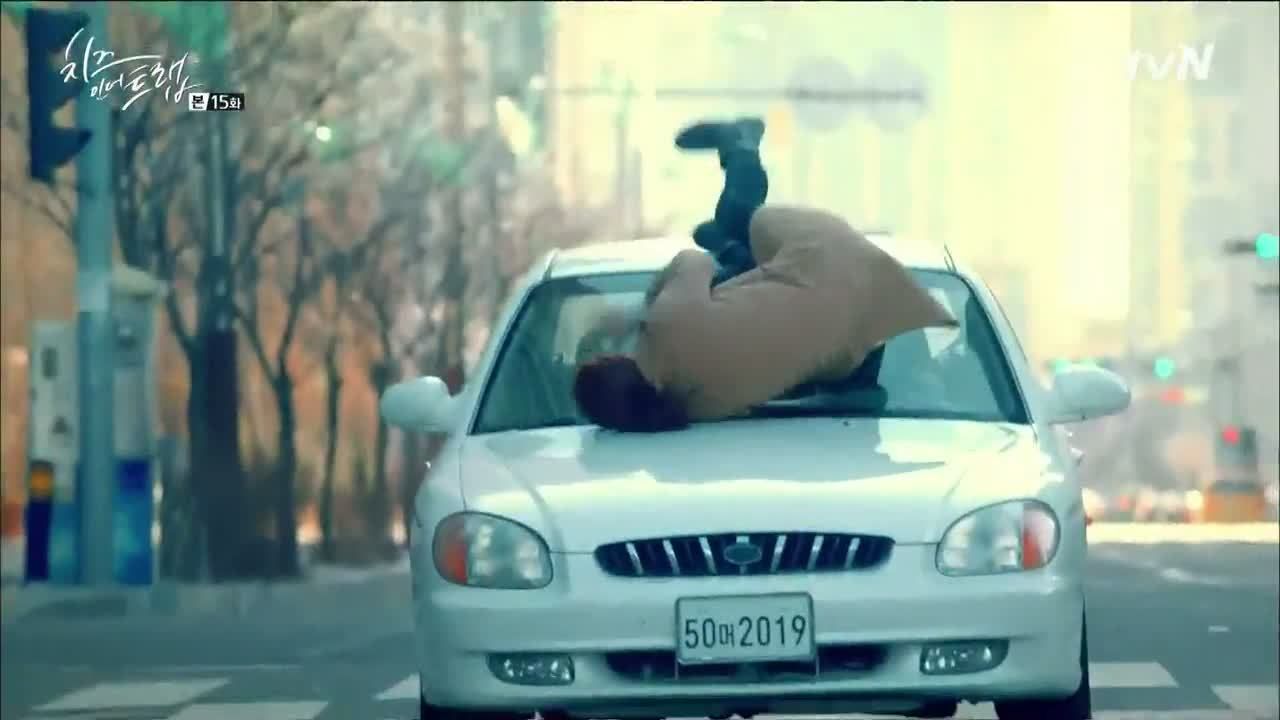 He literally has her dragged out of his apartment kicking and screaming, and even after being thrown out of the building by security, she throws herself against the door, screaming at the top of her lungs.
Oh noes, Seol chooses that time of all times to come meet Jung at his place, and texts him that she's on her way as she crosses the street towards his building. In-ha spots her and eerily declares, "I can't be the only one to lose everything. Yoo Jung, you have to lose too for it to be fair, no?"
In-ha storms over to Seol and pushes her to the ground, saying, "Die. If it weren't for you… If it weren't for you!" They struggle, and In-ha pushes Seol so hard that she lands in the street this time.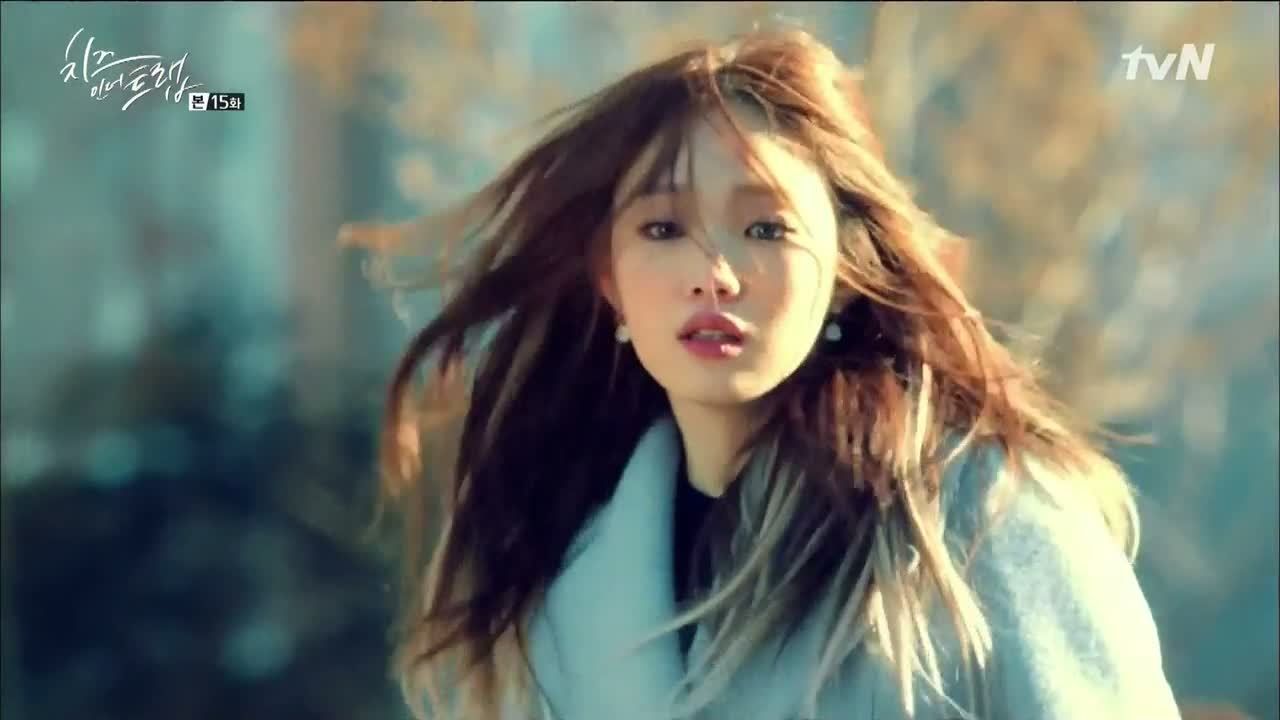 Thankfully there aren't any cars nearby, and Seol stands up without too much trouble. But suddenly a car turns onto the street at high speed and rams right into her, and Seol rolls onto the hood and windshield before tumbling back into the street. Aaaaaagh.
Jung gets Seol's text as he's about to head out, but then he gets a sinking feeling as the sound of sirens comes closer and closer. He runs out, and down in the street below, blood begins to pool around Seol.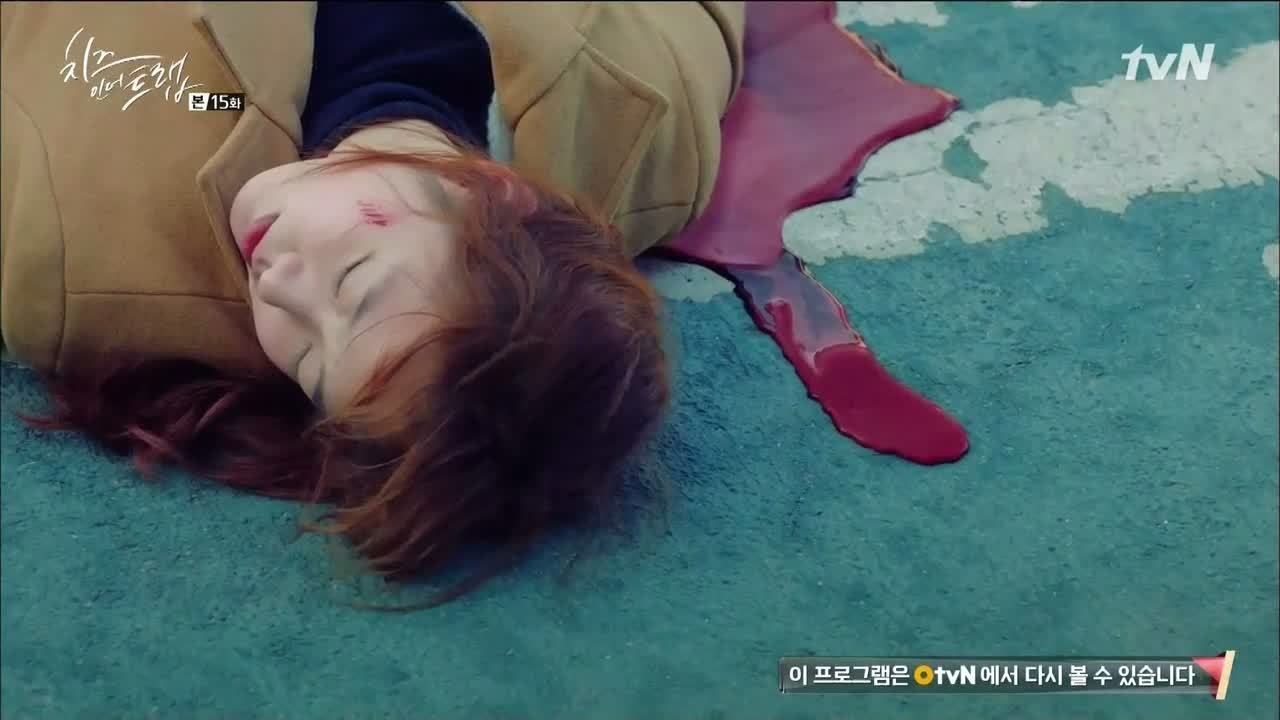 COMMENTS
Really, a car accident? Why do we need a car accident? Did we step into a whole new drama in the last ten minutes? I know we've had stalkers and copycats and thieves, and I know that In-ha has a screw loose (or three), but I feel like this is a rather hackneyed turn that feels disappointing for Cheese in the Trap. Not that we can't mine some romantic development and drama out of Seol being hurt; I just think there's already plenty of conflict that could have existed in Jung and Seol's relationship without In-ha having to play such a major role in mucking things up for them.
But as the thorn in everyone's side, I guess we do have to deal with In-ha before wrapping things up, and at least she's finally being cut off for good and forced to fend for herself. I actually found her as pitiable as she is hateful—at least up until she went completely off her rocker and started pushing people into traffic—because in that moment when Chairman Yoo cut her off and showed his true intentions, she seemed genuinely surprised because she believed she meant more to Jung and his father. In-ho was disillusioned early on, but for all of her nasty behavior, In-ha clearly still believed deep down that she was part of their family. It's sad, really, not that it justifies any of her insane antics. Mostly I hate Jung's father more than anyone for creating their messed up relationships in the first place, and for taking away Jung's ability to trust in people's intentions. It's no wonder Jung manipulates every situation to his liking—it's what his father does and has always done his whole life. And rather than give his son the benefit of the doubt, Dad had decided early on that something was wrong with him and began trusting In-ha's word over Jung's. Talk about your warped perspectives.
As much as I dislike Dad, he informs Jung's character and his motivations, so I'm glad to get the insight into his character, late as it is. There was something so sad about the moment when Sang-chul told Jung that sometimes, the people who approach him genuinely want to be friends. His pattern may have broken with Seol, but Jung probably could've had lots of real friends before her if he'd only risked trusting people once in a blue moon. I don't blame him for being guarded though, since Dad singlehandedly managed to take away his trust in human beings when he planted In-ho and In-ha in his life, made him think they were best friends (which ironically, they were), and then pulled the rug out from under them. I suppose In-ho and Jung are better off for having found out early on, whereas In-ha was fed a delusion for years. (To be clear, she's still plenty crazy all on her own.)
I just hope there's a chance of salvaging the bromance between Jung and In-ho that was once very real, even if it means going their separate ways on amicable terms. A renewed friendship would be even better, but I don't think there's time for that kind of mending at this point. Besides that relationship needing closure, Jung's father is the only thing left standing in the way of our couple's happy ending (which we ARE going to get, so don't tell me otherwise LALALALALALA). Okay, other than Seol living, of course, but who's worried about that with one episode left to go? Ultimately I'm disappointed that a couple that had such rich, dynamic conflict early on became so settled and conflict-free for the latter half of the drama, and it's truly regrettable to see the show rely on clichéd plot turns at the last minute when it began as something so fresh and interesting. I'll take my happy ending with a side of fries to go, please.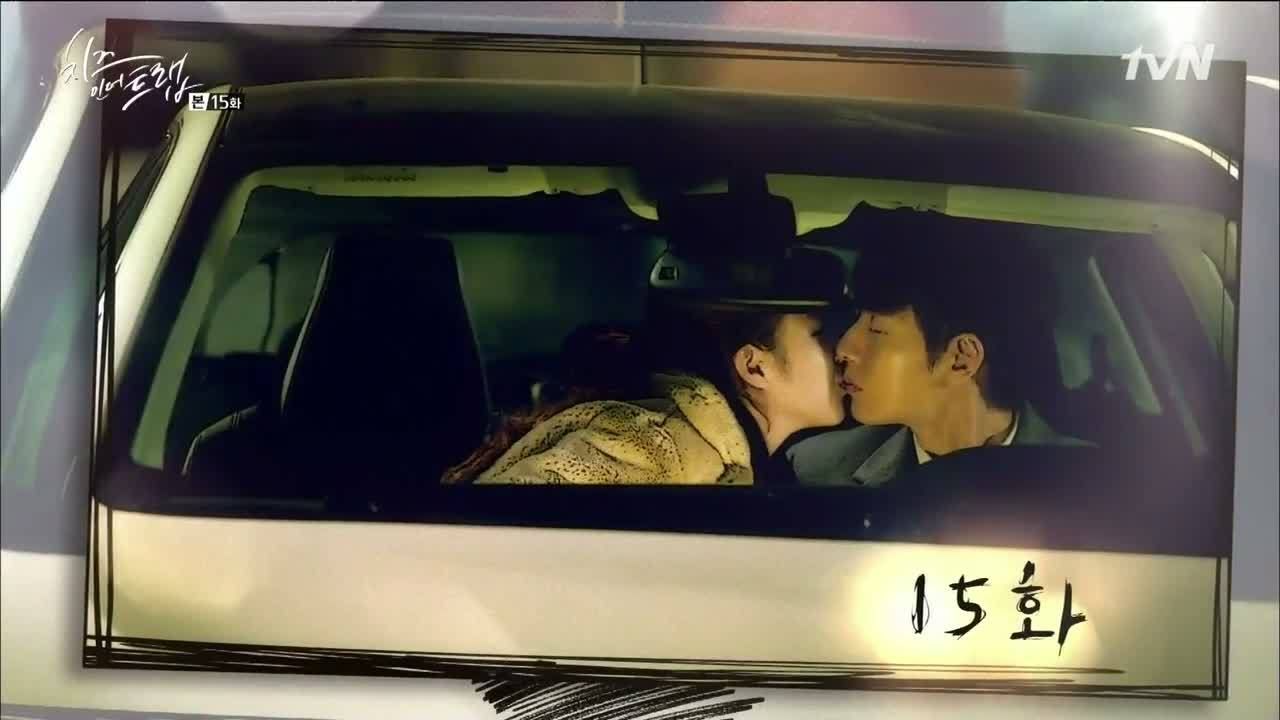 RELATED POSTS
Tags: Cheese in the Trap, featured, Kim Go-eun, Park Hae-jin, Seo Kang-joon